Introduction
A baby shower is a very special event for any expectant mom. A time when all their friends can come together to celebrate a very important time in their life. But sometimes it is difficult to find a fun game or baby shower idea to keep everyone entertained. For this reason, many baby shower hosts will find an exciting baby shower game idea to keep everyone occupied.
If you're struggling to come up with baby shower game ideas that will keep everyone occupied, then we might have just what you are looking for – baby shower Pictionary!
Throw a Virtual Baby Shower so Everyone

Can Celebrate!

• Free Trial – 7 Day Refund for any reason
• Only 1 Minute Setup!
• 40+ Custom Themes & Matching Invites
• Use Any Online Registry
• Send Unlimited Invites and Updates
• Baby Shower Games with Scoreboards, Give Prizes!

Build Your Shower
---
Baby Shower Pictionary
A Traditional Game with a Twist! Nearly everyone has played Pictionary, or at least heard of it – right? Well, Baby Shower Pictionary puts a new twist on the traditional game, and it's sure to be a hit at any baby shower! Baby Pictionary is an excellent way to get all your guests involved in some guessing game fun!
Baby Shower Pictionary is a baby shower game that's fun, free, AND printable! It is also one that is guaranteed to create interaction among your guests, no matter their age or gender! We also have our Printable Favor Tags and Thank You Cards so everyone can help welcome your new baby!
If you aren't familiar with the classic game of Pictionary, the concept is pretty simple. Basically, you and your guests are divided into small teams, and one person on each team takes turns drawing a picture while the rest of the team guesses what they are trying to draw. It's a bit more complicated than this, so below we will give some step-by-step instructions.
By the end of this article, you will be able to see why our free printable baby shower Pictionary is the perfect baby game for your guests!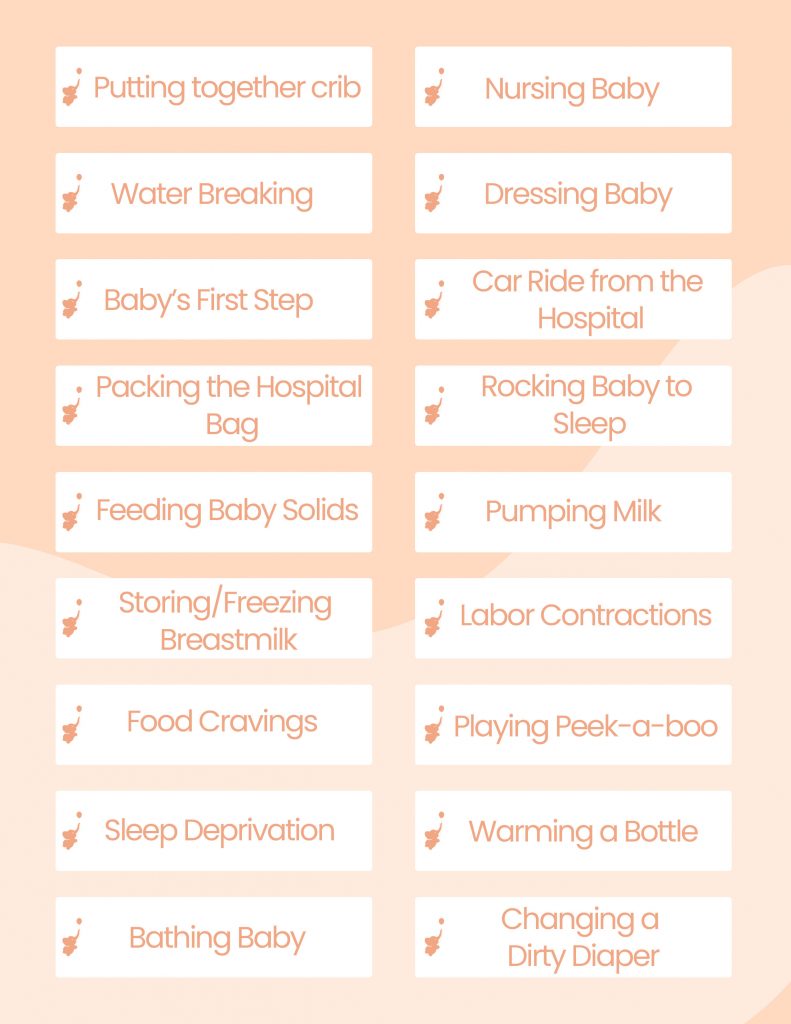 How-To-Play
Pre-Game Prep. Baby Shower Pictionary requires very little pre-game prep, saving you tons of time – we promise! This is one of our printable baby shower games so you can do it all from home. Before the baby shower, print off the Baby Shower Pictionary prompts with a baby-related item or action to draw. Then cut the prompts into strips. Seriously, it's that easy!
And unlike many other services for a baby shower party, WebBabyShower Pictionary is completely free!
Drawing Prompts. Fun Baby Shower Pictionary prompts include items, like a diaper bag, baby bottle, diaper pin, baby bump, pacifier, and stroller. Plus, actions like Labor Contractions, Playing Peek-a-Boo, Singing a Nursery Rhyme, Feeding Baby Food, and Changing a Dirty Diaper. Basically, anything goes, and you have the freedom to make it as wild and imaginative as you want!
As long as it is at least loosely baby-related, then you can make a whole bunch of fun prompts for your guests to guess.
Game Day Play. It's the day of your baby shower! Gather drawing paper and markers. If you have a bunch of guests, it helps to have a big drawing surface, such as a whiteboard, so that everyone can see what the person is drawing.
You'll also need a container, like a bowl or a bag (with the pre-cut strips of Baby Shower Pictionary Prompts inside for guests to draw from). Each drawer will take turns choosing a card from the bowl to select their topic.
Don't forget a timer – the one on your phone will work! Often, 1-minute intervals are chosen, so that turns to go by relatively quickly and everyone is able to stay engaged.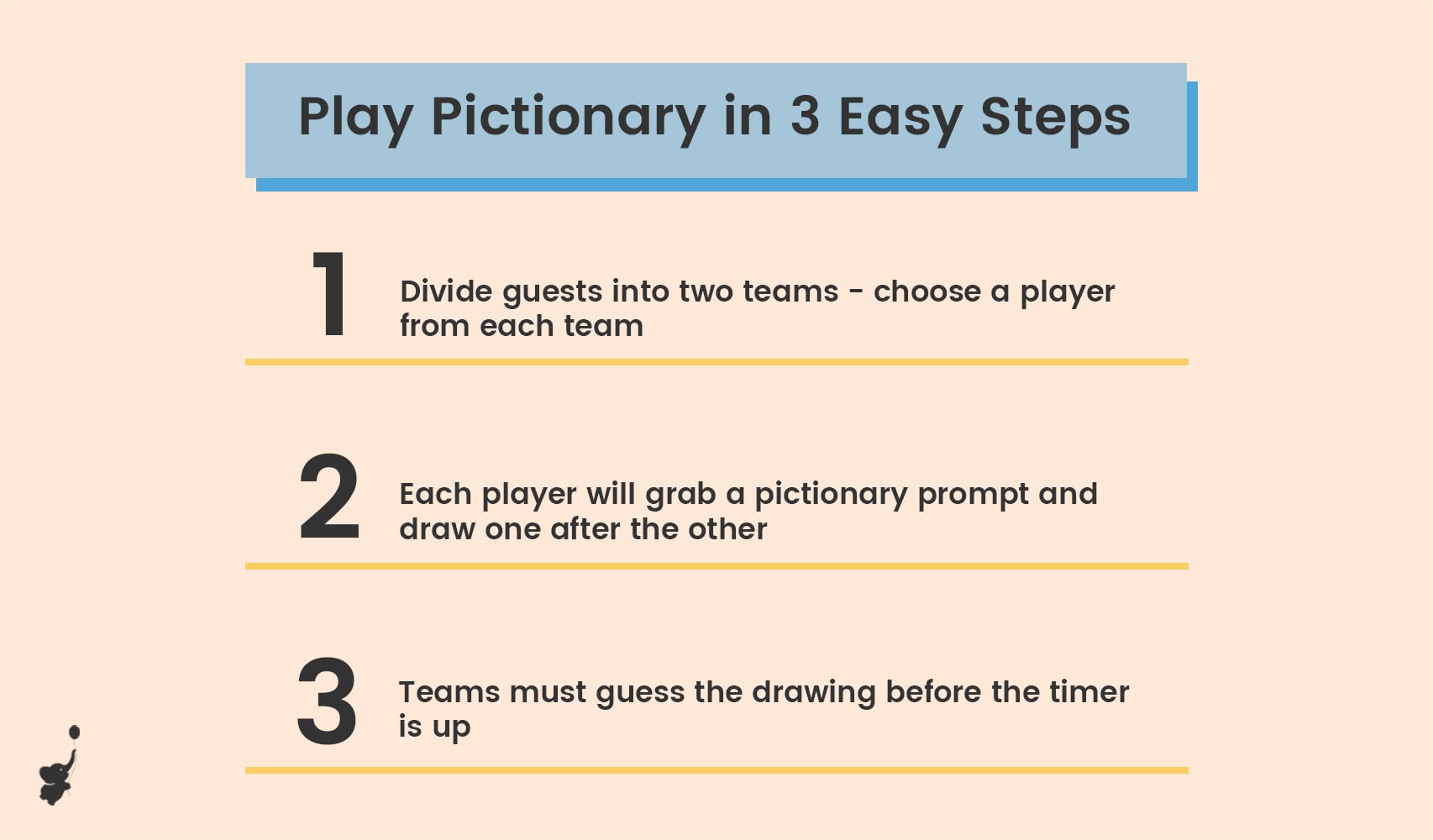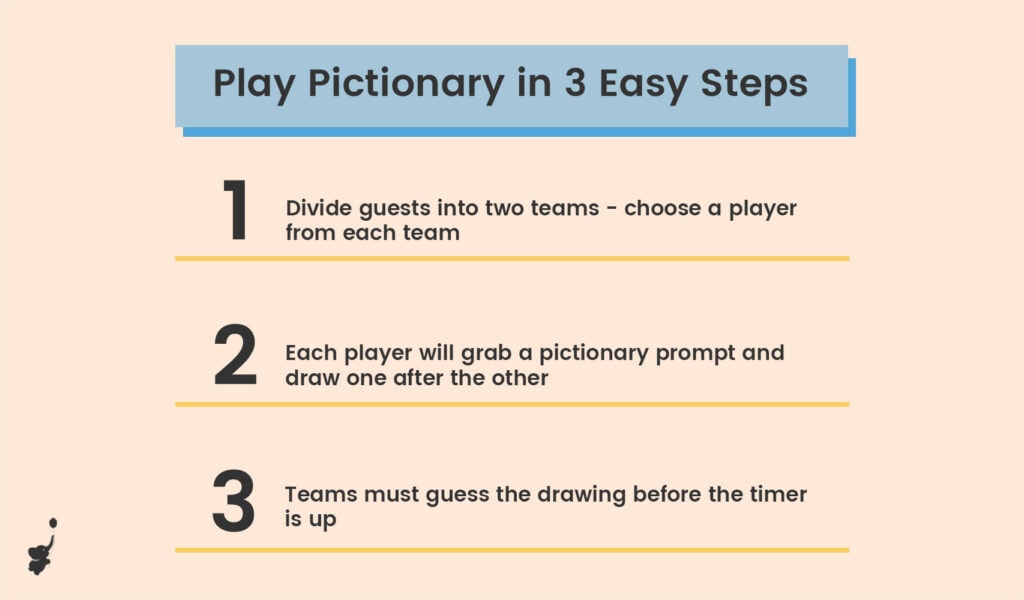 Baby Shower Pictionary Instructions. Divide guests into two teams. Team One will choose a player to randomly grab a Pictionary prompt from the bowl. That player will have one minute (or any pre-determined set time) to draw the prompt item – like Food Cravings – for example.
Shhhhh! Player One isn't allowed to talk or make any gestures. And Team Two can't make any guesses, or they lose their turn. If Team One can guess correctly before time runs out, they get a point! Then it's Team Two's turn. Gameplay continues until there are no drawing prompts left.
Keeping Score. Keep up with the number of points each team earns for a correct guess. The team with the most points at the end of the game is crowned the Baby Shower Pictionary Winner – all bragging rights included!
Print and Play. Now that you've learned how to play Baby Shower Pictionary, we hope you'll print and play our printable version of the game at your baby shower. And whether your baby shower is online or in-person, WebBabyShower is here to ensure it's a success!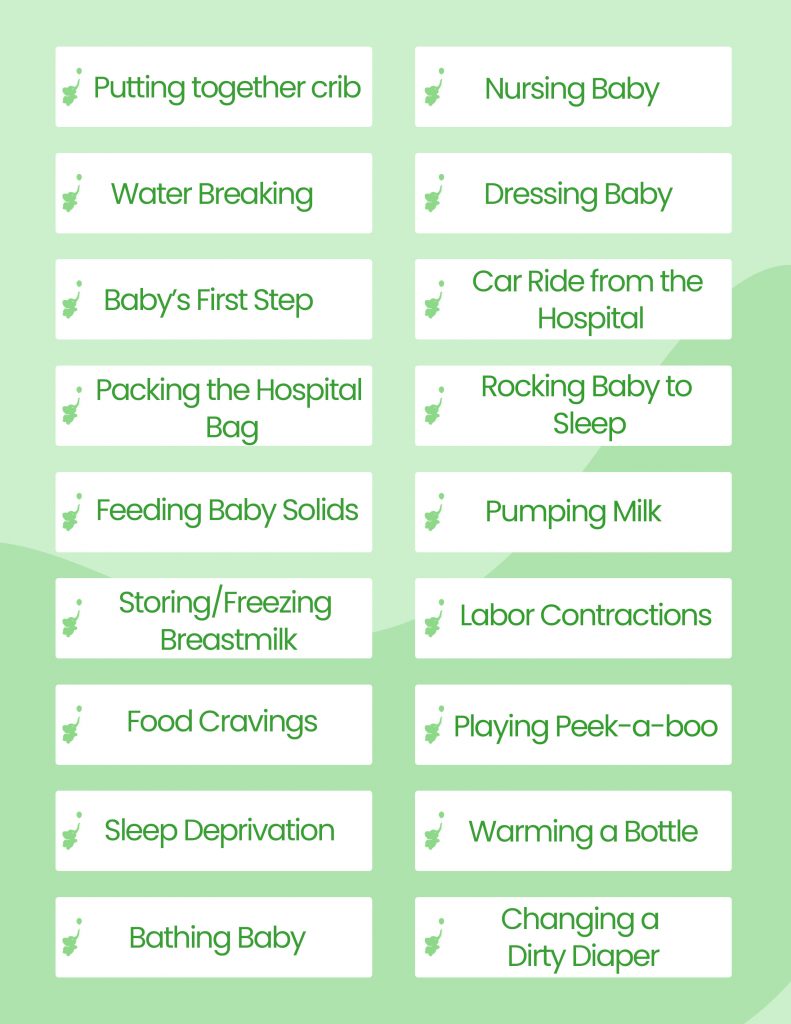 Emoji Baby Pictionary
Guests are shown different emojis that can be translated to a baby-related phrase, it works just like regular baby shower Pictionary but with a modern twist using emojis. Download our free Baby Emoji Pictionary printable today and enjoy playing with your guests at your very own virtual, in-person, or hybrid shower!
Why Have Games at Your Baby Shower?
Before we wrap up, it's important to note that at the end of the day, this is your baby shower. This means that it is up to you to decide which activities you want to include for your shower guests. The number one consideration should always be making it into an ideal day for the mom-to-be.
Often, a fun baby shower game is a perfect way to do this, but it obviously will depend on the preferences of the hosts and the guests. If you are unsure whether or not you want to have games such as Pictionary at your shower, then it can help to understand why so many parents allot some time for their favorite baby shower game.
See how a great online baby shower works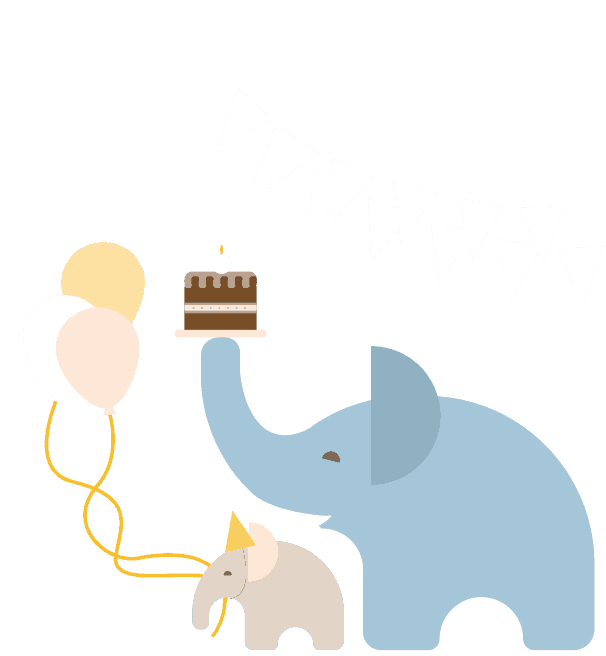 Advantages of Games
The reason that most parents settle on games is that they are simply so much fun! They're a great way to allow some time for some excitement, some energy, some teamwork, and some laughs.
Games are also a great way to ensure that things don't get stale. Games occupy time so that your guests are having fun the entire duration of the shower. But if you think that your guests will have a great time regardless, then there's nothing wrong with simply letting the conversation lead wherever it goes!
And finally, games are a great way to be sure that everyone feels included. Games give everyone a role, and a common goal to work towards. No one feels left out or like they don't have anyone to talk to. This can be a common issue at baby showers, as it is often an overlap of different families and people from different friend groups. A fun game is a great way to bridge this gap!
Why Choose Printable Games?
Don't forget, at WebBabyShower we offer a wide variety of printable games, and they are all free! A printable game is an excellent choice because it allows each person an easy method of keeping up with the game and keeping score on their own. And after all, is said and done, each person has a fun memento that they can have at home with them!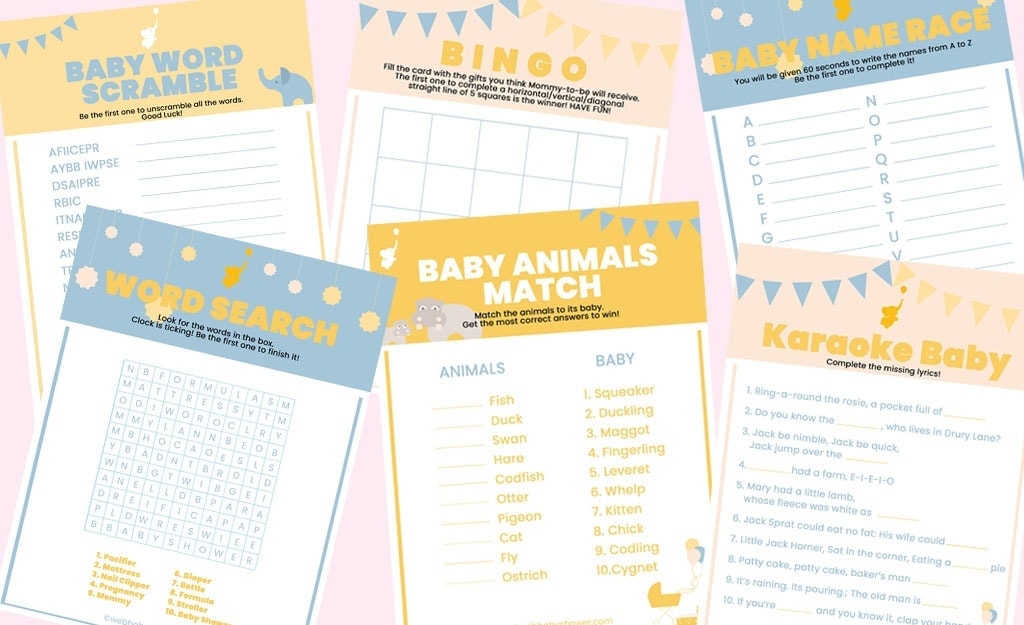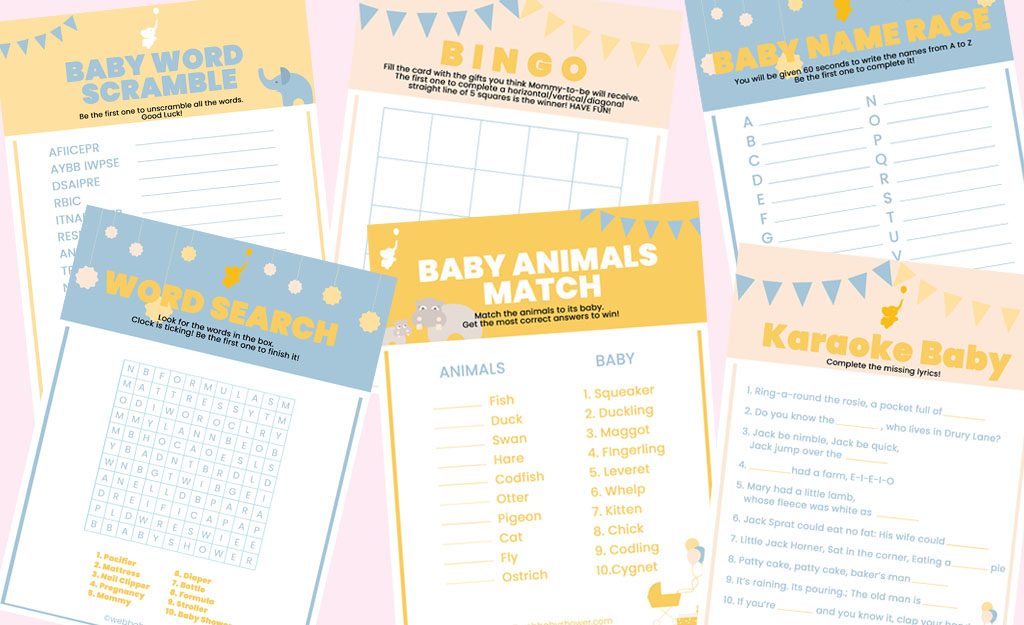 Conclusion
Thanks so much for reading our guide to Baby Shower Pictionary. We hope this article has helped you to make the decision as to whether this is the right game for your baby shower. After all, the number one focus is planning the perfect baby shower for the expectant parent. So, if Pictionary sounds like the right way to do this, then don't hesitate to include it in your plans!
Any other questions and comments you may have, feel free to leave them below!