With 2020 in the rearview mirror and news stories of the COVID-19 vaccine making the rounds, you may think guidelines for gathering with others to celebrate milestones and major events in life might be somewhat relaxed. While this may be the case in some areas, it is still important to exercise the utmost caution when spending time with family and friends to celebrate life's big moments, including your baby shower.
WebBabyShower will help you celebrate the arrival of your new baby. We provide a simple, fun and easy-to-use platform that will keep guests talking about the event for days. As the first virtual online baby shower service, WebBabyShower stands as the No. 1 market leader in virtual baby showers, known for its simple set- up, customizable details, gift registry page, games, and so much more. We take the guesswork out of the equation, so it all adds up to pure fun and joy for you.
Where to Have Baby Shower During COVID
Having a baby shower is no doubt a highly anticipated event, and the current pandemic shouldn't stand in the way of this noteworthy celebration. You can still enjoy a fantastic COVID-safe baby shower! Using new and imaginative ideas, you can make the party one of the most memorable occasions of your life — next to the actual birth of your baby, that is! Best of all, you don't have to come up with wording to use when canceling a baby shower because of COVID.
You Don't Have to Cancel Your Baby Shower
A year ago, many of us might not have imagined the current COVID-19 pandemic extending into 2021. But it has, and we have all had to adopt new habits as we go about our daily lives. Health protocols, such as wearing masks and social distancing, have become familiar terms and a part of our lifestyle.
We've also expanded our ideas of how we approach personal celebrations with family, friends and even coworkers; having work baby showers is not uncommon. Sometimes you just have to exercise a bit of creativity and be willing to think outside the box. Luckily, virtual baby showers are a fun option for parents-to-be, and they ensure the health and safety of everyone involved.
Five COVID-safe Baby Shower Ideas
To stay safe during the pandemic, many parents-to-be and their loved ones have turned to socially distanced or virtual baby showers to celebrate their bundle of joy. These baby showers are fun, exciting, and super easy to arrange and host. Online baby showers only require an internet connection to attend!
Guests can make new parents feel special no matter where they are, and luckily there are many ways to get guests involved that go beyond simply sending them invitations and requesting gifts.
Let's take a peek at some of the awesome COVID-safe baby showers you can have!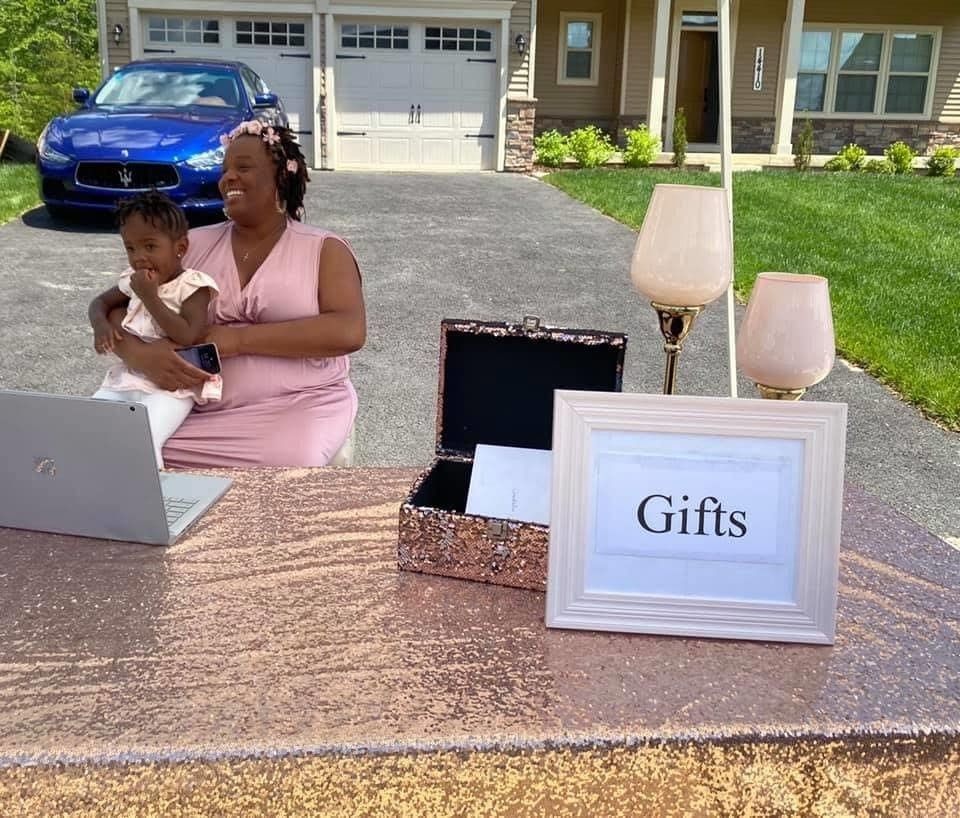 1.WebBabyShower
This is where all the fun of an in-person baby shower meets the ease and convenience of a virtual platform. With WebBabyShower, you can set up a baby shower in minutes. This easy-to-use platform includes a gift registry, a guest book, a games page, the ability to send and track invitations, and video and photo albums to commemorate the big event. WebBabyShower allows you to create your own personalized space where stories and photos can be shared to your heart's content.
As the No. 1 market leader in virtual baby showers, WebBabyShower has been making thousands of families happy for years. Plus, with its six-month or one-year plan, you can keep your guests continually updated on the latest news and photos/videos of your new baby. WebBabyShower lets you share all of the joy and fun with family and friends all over the world. Try to do that with a traditional shower, as not everyone from out-of-town will be able to attend.
2. Facebook Baby Shower
Online baby showers have all of the fanfare and hoopla of an in-person baby shower. You'll send out invitations and even play a few traditional baby shower games. The main difference is you get to connect with family and friends from all over as they gather to celebrate you and your new baby! For a Facebook baby shower, you just have to confirm that all of your guests have access to Facebook. You can throw a "live" event and create a page where guests can leave a message. With a live event, only the host will be on camera, so guests will not be seen. It's more like a video streaming of the event that others can watch and comment on. Luckily for anyone who can't attend the shower, you can save the video so they can watch it later.
Here are tips to get started. First create a group on Facebook, which you can keep public or private. Decide on a catchy or personalized name for the group. You can even customize or decorate the page for the baby shower. Add in some instructions for the shower and mark that as the announcement. On this page, you can share posts and photos of the parent-to-be leading up to the shower to build excitement.
3. Skype Baby Shower
Another virtual option, a Skype baby shower is great for those who already have the app installed on their phones or computer. Skype is free and operates as a video, audio, and text communication app, so it's an excellent way to include family and friends in an online baby shower. Skype, however, does limit the number of people who can participate during one gathering – you can host up to 50 people for up to four hours. (This is actually good news, as, before 2019, Skype only allowed for up to 25 people to participate simultaneously.) If you are planning on a much larger gathering, you may want to consider another online service through which to host the virtual baby shower.
Skype can be rather finicky on an Android device and can sometimes present with video lags during a conversation, but it does allow for screen sharing and is open to international calls. Skype also allows you to record the event, which is great for those who cannot attend the online baby shower.
4. Zoom Baby Shower
By now, nearly everyone is familiar with Zoom. It works wonders for business meetings, conferences, and family phone calls, and it's a terrific option for hosting a COVID-safe baby shower. A Zoom baby shower is not only fun, but it also keeps your budget in check, is easy to plan, and allows you to invite all of your family and friends to participate, no matter where they live around the world.
Zoom is free for everyone to use until you surpass 40 minutes of meeting time. At that point, there is a monthly fee of $14.99. But hey! You would have spent more renting a venue for an in-person baby shower, so the price is right!
Overall, Zoom is a pretty good service, but this platform may present certain difficulties for those who are not comfortable using technology. For those individuals, you might consider sending them the Zoom call's link in advance so they can make sure they know how to navigate Zoom and become comfortable and familiar with it.
5. Drive-by Baby Shower
You have probably seen the drive-by tributes people have thrown for birthdays, graduations, and other momentous occasions. Why not implement one for your baby shower? This trend lets you celebrate your pregnancy with friends and family while still adhering to health protocols suggested during the pandemic.
Think of this type of shower as a party parade. Friends and family can cruise by your home in their cars, leave a gift, and maybe even pick up a quick baby shower treat or party favor. What a great way to briefly see your besties while still remaining safe and properly socially distanced? You can plan this parade-style or opt to have cars stop one by one for a few minutes to chat with you from a safe distance (wearing a mask, of course) as they drop off their gift or card.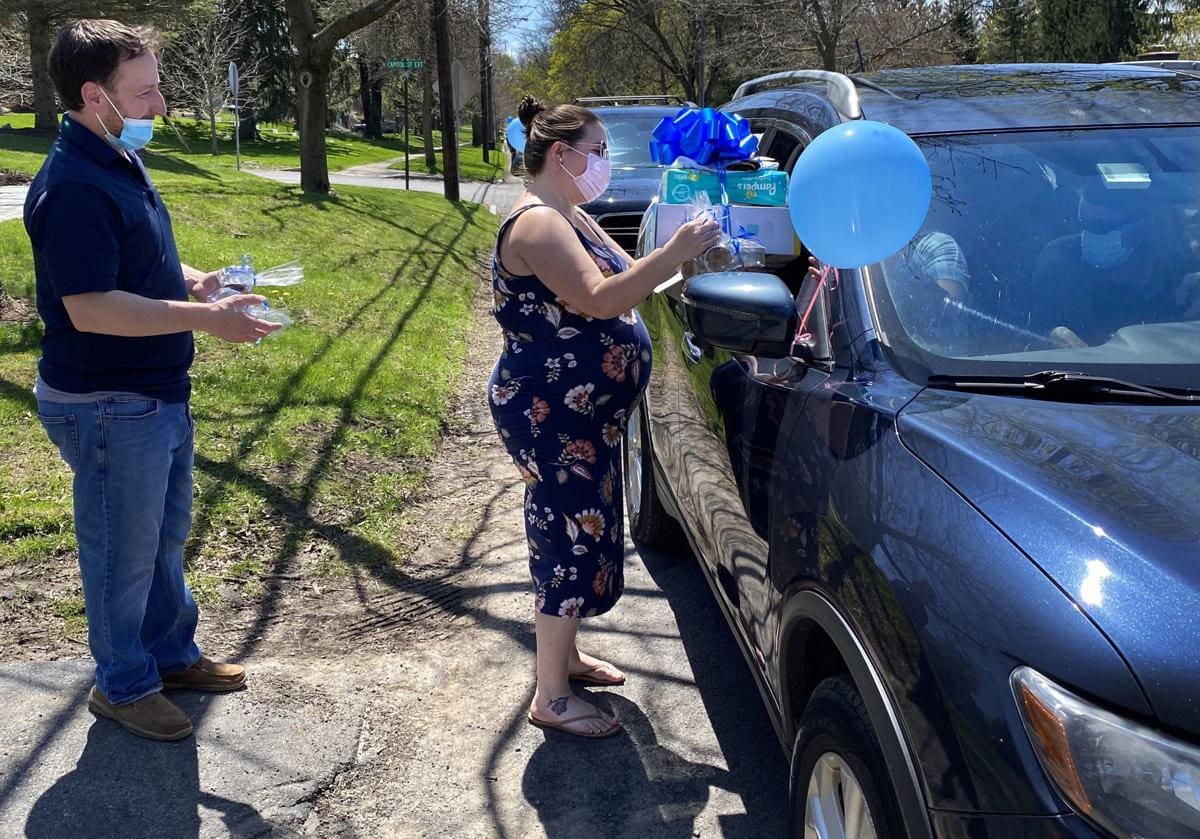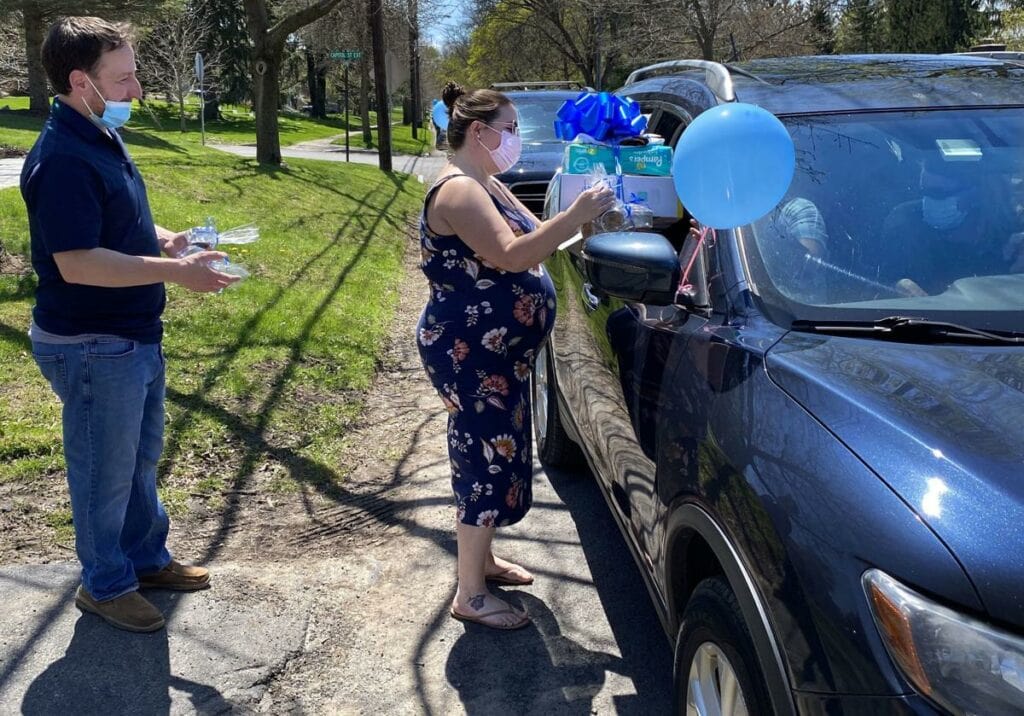 Another great aspect of a drive-by baby shower? You don't have to clean up your house before the big event! It's easy to arrange: Simply settle on a date and offer a window of 30 minutes to one hour when guests can drive by, honk, wave, and cheer on the parents-to-be. If they want to drop off a gift, then they can place it on the driveway, adhering to social distancing guidelines.
Granted, there won't be any party games and you probably won't serve refreshments, but guests can still celebrate with you in this unique fashion that you'll never forget. A drawback to this type of shower, however, is the sometimes lengthy window of time in which guests can drive by. To maintain an energetic pace throughout the party, aim for a drive-by shower to last just an hour or so.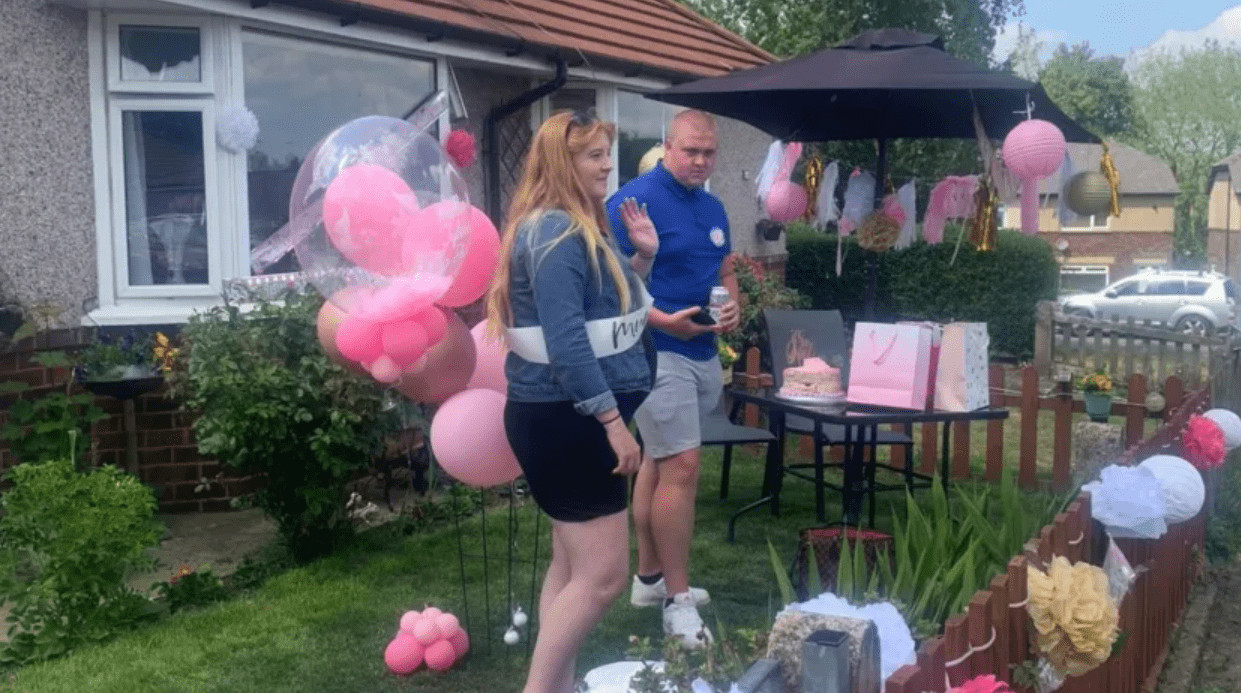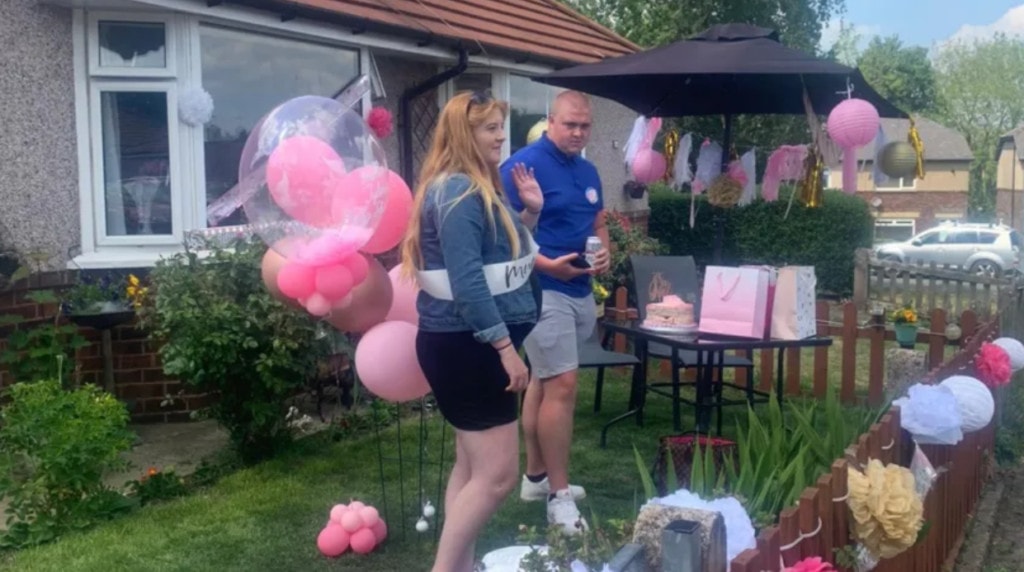 The WebBabyShower Difference
If you struggle with the technical side of things, WebBabyShower has a phenomenal tech support team on hand! Translation? No stress and no worries. Furthermore, with a host-controlled panel dashboard, YOU are in charge and in full control of your virtual baby shower. And if this virtual option is still relatively new to you, WebBabyShower has a help section to answer your questions and offer tips, tricks, and ideas so you can make the most of this exciting way to host one of the best baby showers you can imagine.
With WebBabyShower, you can even do a joint in-person and virtual shower. If you decide to do this,you may want to request that in-person guests be tested for COVID-19. Here's how to phrase a request that guests receive a COVID test prior to attending your baby shower.
Baby showers are significant events in life. Throw one so everyone can celebrate with you!
Celebrating the arrival of your new baby is important. After all, the birth of a baby is a significant event in life to be shared with parents, family members, and friends. No matter how you choose to welcome in your new bundle of joy, remember it is less in how you structure the event and more in the memories you create. Every parent and pregnancy deserves to be celebrated. We wish you all a safe and beautiful spring and an equally beautiful spring shower. We hope you enjoyed this list and that it has inspired you to embrace some new, fun, and exciting ideas as you plan your baby shower. A virtual COVID-safe baby shower can be a spectacular event and may be the perfect choice when it comes to celebrating your new baby.
Every woman and pregnancy deserves to be celebrated. We wish you all a safe and beautiful Spring.
Learn more about how an online shower works.
– How it Works
– Features
– Etiquette
– Our One Minute Setup
-WebBabyShower
I googled how to throw a virtual baby shower and a link from babypalooza.com stated it. I really appreciate this you have no clue! Thank you so much. So many things are being taken from us first time moms right now, and stress and anxiety and so high. You're really doing a great thing!

– Tia Guerin
We are so sad not to be celebrating my daughter-in-laws shower in person, but realize it's just not possible at this scary time when we are all sheltering in place. Thank you for creating this site so we 'virtually' celebrate the coming event! You even had a llama style to choose from, similar to the paper invitation we had already sent.

– Tamara Bryan
I'm thinking of going with a zoom baby shower for my cousin who is due in July. I offered the idea of throwing one after the baby is born, but who knows how long this will take to blow over? I just want to show her she is loved and supported just as much as if we were there in person.

– Breanne Hentschel
We bought a home in Vegas and decided to remodel it. Then we found out we were having a baby. With my family in San Francisco and his family in New Jersey, we were scheduled to have 3 baby showers in total. One with each of the families and then on in San Francisco for our friends from Los Angeles and San Francisco. We've cancelled all 3, as we just can't safely travel even if and when the restrictions might lift, plus the size of the gatherings.
We are grateful for our health of friends and family, and grateful that we can build a central place for everyone to gather and come together to keep everyone involved.

– Megan Blattspieler
My shower was planned for January of this year, but my boys decided to come early so we had to reschedule. We planned again for April 18th, only to have a stay at home order put in place. Our venue cancelled on us on account of the Coronavirus so once again we had to change plans. I was so happy to find WebBabyShower because it is allowing all of my friends and family to be involved in welcoming the boys, and it is even letting more people be involved than we were originally planning, since distance is no longer a factor for participation. I was very happy to see how easy the site was to setup, and being able to personalize it has been fantastic. Thanks for making my baby shower happen, third time's the charm!

– LeeAnn Kinsel
We began to realize that an in-person shower would not be available to us because of health guidelines due to COVID-19. Therefore, we began researching creative ways that we could have a virtual baby shower. We discovered WebBabyShower and it was a great solution for a changing situation! It provided an immediate calm knowing we could make it work no matter the changing scenario while keeping everyone healthy and the ability to reach further beyond the original invite list of local guests. It's given folks something to do while being stuck at home. Thanks for this creative celebration tool!

– Katie Stutts
Thank you!
My daughter is expecting her little boy in May. We had invitations out for her baby shower now for some time. We were planning on a huge celebration at our church, but with the current situation and guidelines, we just don't want to limit anyone from participating in the celebration. We also want everyone to stay safe.

– Christi Lynn
First time mom here and I was so looking forward to my shower on April 5th to celebrate my baby boy Riley. Never in my wildest dreams did I expect it to never happen. I've been talking about it for months. I've held off on cancelling, giving myself false hope that I wouldn't have to. But it recently became apparent that I had no choice but to cancel. I was immediately devastated, feeling robbed. Not only would I be missing out on fellowship with my friends and family during this special time, but almost all the items on my registry are still there! The possibility of getting to do some sort of alternative has truly lifted my spirits!

-Sarah Newton
Infertility has robbed us of so much for years and when we finally got the chance to celebrate being pregnant we felt like we couldn't. WebBabyShower gave us back the opportunity to still celebrate our pregnancy in leu of an in person shower. The more we thought about, it was almost for the best because now those who are in other states can still join without having to travel or being upset that they couldn't attend. We're looking at it as a win win!

– Felisha Lees
I am due to have my first baby in May and my baby showers were scheduled for this month and next. With the onset of COVID-19 and all the precautions that we have taken as a nation, all of my showers were cancelled. Webbabyshower gave me the option to still conduct a baby shower without everyone physically being able to gather. After years of struggling with infertility, I have been looking forward to the day I could have my very own baby shower. This option has been a great assistance to me and really is playing a vital part in continuing life with some semblance of regularity in an unknown time. Thank you WebBaby Shower!

– Shannon Smith
We had to unfortunately cancel our in-person baby shower due to the current circumstances. It was very heartbreaking to do since this is my very first baby and would be my first shower. I also will miss out on having a work shower as well I'm a Kindergarten teacher and was looking forward to celebrating with my colleagues as well. However, since this is out of our control we have decided to do a virtual baby shower. Hopefully family and friends will understand and will join in with us. I'm due in Early June and hope I'll have enough supplies for the baby. Glad we have found an alternative and can't wait to use WeBabyShower.

-Mary TCharlotte, NC
Hello! I am one of the many new moms that cannot have a traditional baby shower due to covid-19. I planned on flying home to have the party with family and friends next month when I wasn't too pregnant to fly. My due date is in late June. While researching virtual showers your website popped up. On the site it mentioned you are giving away a discount code because of the virus. I would really appreciate it if that is true.

I think webbaby is the closest to recreating the traditional baby shower for this first time mom.

– Danielle Pearson
My name is Christina. My husband comes from a large Italian family (in which he will probably be the only one to continue the family name!), and family is the most important thing to him, but he is 100% infertile so IVF was our only option. We have been trying for 5 long years with many disappointing egg retrievals, 1 chemical pregnancy, and a 3 more failed embryo transfers. All while my family reproduced like rabbits around us! On top of that, we are both only children and therefore having our parents first grandchild…no pressure, right?! Everyone has been looking forward to our baby shower for years and we don't even know if they understand our shower cannot be in person. There's a small chance we may be able to have a small shower closer to my due date in July, but we don't want to take that risk and have no back up. We are hoping to figure out how to run a virtual shower and are so happy that there is a company that specializes and excels in it! We cannot wait to celebrate our baby girl with our families in a new and innovative way.

– Christina Piroso
Hi there,
I am planning a virtual baby shower for my beloved friend and coworker. We are both ICU nurses, went to nursing school together, have worked in the same unit for years, and are pregnant with our first babies 2 weeks apart later this summer! Since COVID, it has been difficult to feel all the exciting things that pregnancy offers, like having family over to help with the nursery or having the world see your bump. I want to plan something special for my friend so that she knows how

– Anna McCord