Ready to welcome a new baby by celebrating with friends and family? When you're staring at a guest list, it can be hard to determine who gets an invite. This easy guide will help you figure out the number of people you want attending your baby shower, as well as offer ideas to plan around Covid 19 restrictions.
The right invitation list can make your party one of the most memorable and extraordinary times of your pregnancy. And with WebBabyShower, you can create a one-of-a-kind event with a guest list that extends as far as you like!
How Many Guests Should There Be at a Baby Shower?
Maybe you're wondering, how many people can I invite to a baby shower? The quick answer is, it's up to you, especially with a virtual event. But here are some data points that might make your decision easier. Most of WebBabyShower's hosts invite about 40 people to their party. And, over 70% of people have more than one shower. That means more opportunities for you to celebrate with different guests. You might choose to have a party with just close friends and family, and another for a wider circle of acquaintances, church group, or work friends.
Besides making a Zoom call more intimate, there are other reasons we advise having multiple calls for a Zoom shower. Many hosts run into a common issue, the pure chaos that comes with 50+ people being on one call. When you have too many people on Zoom, you have guests talking over each other, technical issues the host can't quickly pinpoint, and an all-around cash grab vibe.
Many new parents struggle with how many people to invite to a baby shower. As the guests of honor, they decide how many people they are comfortable celebrating their pregnancy with at once. Some people prefer a smaller group, while others might want a large celebration. It depends on the personality of the mother-to-be and what kind of baby shower you're planning.
COVID friendly in person shower
During these crazy times, most events are being moved online however you can still have a safe small gathering along with a virtual event. Having an outdoor baby shower enables you to still have an in-person gathering, if the weather is too chilly you might consider a smaller more intimate guest list.
In an invite to a small baby shower how to phrase the request for a COVID test prior to attending?
Covid baby shower invite wording can be tricky, but friends and family will also understand any wishes the mom-to-be has, she is the one everyone will be honoring after all. Why not encourage people to wear masks and to stand 6ft apart? You could easily put a friendly reminder on the invitation to your guests – this is not rude, you are simply keeping mama, baby and guests safe! You might also want to ask the guests to get a COVID test before attending. This could also be phrased simply in the invitation:
Is There a Difference When Throwing a Virtual Event?
We're glad you asked – yes! Since WebBabyShower is a virtual baby shower service, you can connect with guests from all over the world at once. And with Covid-19 restrictions still quite prevalent, virtual showers give you the tools you need to have a great party without shortening your guest list. You can practice social distancing while also being connected to everyone important to you. With traditional showers on hold, why not throw a virtual baby shower so that everyone can celebrate the pregnancy? Build a baby shower here.
You are also unlimited as to how many invitations you can send out. We make it simple to get everyone on your list to be part of the fun. And if you're working with a lot of different time zones, that's no problem. WebBabyShowers are designed to help you coordinate games, video, and more without having to hold to a specific time. Your guests can celebrate with you over the course of a few days, a week, or whatever you prefer. You can create activities, and your guests take part when they're available.
You can also plan things more traditionally if you like. You might choose to have all the guests gather at the same time and have a video chat. However, there are many different ways to get everyone together. WebBabyShower gives you the most options for celebrating your pregnancy.
Throw a Virtual Baby Shower so Everyone

Can Celebrate!

• Free Trial – 7 Day Refund for any reason
• Only 1 Minute Setup!
• 40+ Custom Themes & Matching Invites
• Use Any Online Registry
• Send Unlimited Invites and Updates
• Baby Shower Games with Scoreboards, Give Prizes!

Build Your Shower
---
Who to Invite to a Baby Shower
It's a difficult question because there's not a "correct" amount of people. In any case, you should keep these things in mind. First of all, the host has a lot to do with the number of guests. Although you don't have to decide on a space that can accommodate everyone with a virtual event, you will still want to send invitations, play games, and coordinate the details. Who your host is and how much time they can devote to the party will help you decide how many friends to invite.
Another thing to consider is the social circle of the guest of honor. If you have a large family or friend group and everyone is close, you may want to plan a sizable party. But keeping things small is great, too.
Suppose you want to know what the averages are. In that case, a typical number of guests for a shower will usually fall between 20 and 50. You may choose to host more than one event or get everyone together at the same time. Whatever works best for the guest of honor and the host.
Also, remember that it is perfectly fine to keep your event small if you wish. Baby showers tend to be very personal, and so there's no reason to feel guilty for not inviting everyone you know.
There are ways to keep all your friends involved without inviting them to the baby shower if you want to celebrate with just those closest to you. You might consider sending out a birth or pregnancy announcement, or gender reveal to your larger circle of friends while keeping the party guest list short. That way, everyone is involved and knows that you care about them.
Who Not to Invite to Your Baby Shower
It generally comes down to how well everyone gets along and how well the guest knows the parents-to-be. If your family members or friends tend to disagree, you might consider hosting multiple events.
Your closest friends and family should be on the list for sure, but if the honoree met a new acquaintance a month ago, they might not make the cut. Use good judgment when deciding.
If you're still confused about who not to invite to your baby shower, check out this article. It offers ideas about who shouldn't be asked, including very distant family members and people from work that you don't know well.
What About When You're Hosting a Shower for Someone?
First of all, if you volunteer or are requested to host, make sure you have time to do all the planning. It's an honor to be asked, and your guests are expecting a fun event!
When hosting, it's a good idea to communicate with the mother-to-be about whom she wants to invite. She will likely want siblings, grandparents, and other family present. Ask the guest of honor to make a list to keep things simple, and inquire about how many people she envisions having at the party.
Making your expectations clear as a host, including how much time you have to plan, and what you're comfortable helping with, is important. It's essential that you know who is responsible for what when planning. Make sure you start planning right away, probably the week you are asked, or at least a couple months before the shower.
Then make sure to set aside some time to get organized. You'll need to plan out decorations, activities, and invitations. Think about the guests and parents-to-be so that you can decide on a theme, colors, and what type of atmosphere you should create for the party.
Finally, enlist the help of a couple of people. See if you can ask a family member of the honoree to aid you the week of the party. They can be there to help you by making sure everything gets accomplished before the date of the event.
Do You Invite Work Friends to a Baby Shower?
That depends on what type of shower you're having. It's crucial that your guests are comfortable around one another and can get along. Although the baby shower is about the pregnancy and parents-to-be, an important part of keeping a good party atmosphere is to have like-minded groups who will be gracious during the event.
Your work friends might have a very different dynamic than your grandmother and aunts. If this is the case, it is okay to host separate showers. Or to opt for a shower with just family and close friends. While inviting co-workers to your event is fine, if you think they will clash with other guests, it is also not imperative for them to be there.
However, with a virtual baby shower, it's simple to include groups of people from many different walks of life. Since there's no limit to how many invitations can be sent or how many guests can participate, you can celebrate with everyone at once, if you like. And if you want to have a large party but are concerned about the dynamics, you can always opt for a baby shower without a specific meet-up time.
If you go this route, then you might choose to have guests send in videos for the guest of honor rather than having everyone on camera at once. You might also decide to handle communication through email. You'll get your guests involved, and everyone can celebrate without any awkwardness.
See how a great online baby shower works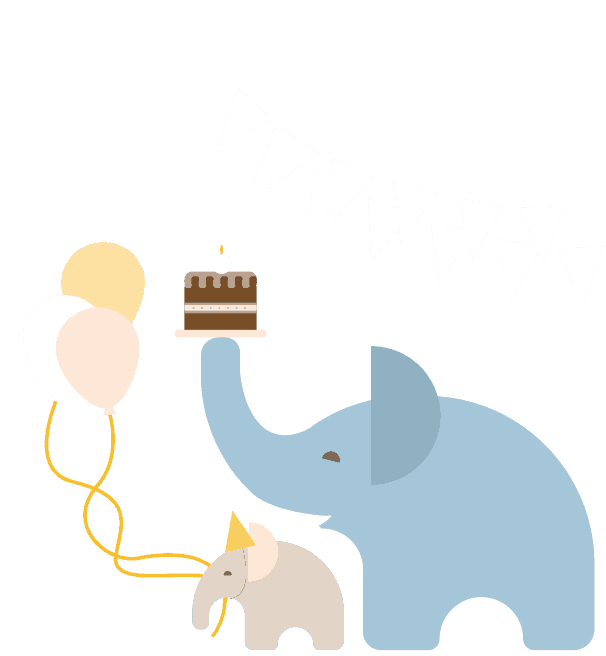 Are Guys Invited to Baby Showers?
Years ago, a baby shower was often an all-female event. However, times have changed but you may still be asking do men go to baby showers? Some parents now prefer to have a co-ed shower or a Jack&Jill baby shower as some people call it. While it is still fairly common for a baby shower to be just for the ladies, parties that include both genders are gaining popularity. It gives you a chance to invite grandfathers, brothers, and friends who may want to be part of your special day. 
If you do plan on hosting a co-ed baby shower, there are a few things you should keep in mind. First, be clear that both men and women will attend the shower. Otherwise, you run the risk of having only 1 or 2 men show up, and they might feel uncomfortable. So when you send invitations, make sure everyone knows your intentions for the day.
Next, plan events that will interest all parties. That means being conscious that guys and ladies will be there, so you plan games and activities accordingly. It could mean having a guys vs. girls contest or choosing decor that is not gender-specific.
When to Send Invitations?
Guests need time to mark their calendars, RSVP, and buy gifts. So giving plenty of notice should be a priority. It would be best to send out invitations a month to 6 weeks before the party will occur.
Even with a virtual event, it is still important to allow time for your guests to prepare. They'll need to mail presents and make time for any video meetings or games. Try to follow the same rules as a traditional shower, and let them know far in advance.
Do Your Guests Have to RSVP?
It is both expected and appreciated. Although you should plan for a few guests who did not RSVP to show up, most will do so. Letting the host know who will be at the party can make the event run a lot smoother.
Not only does it let you know who will be there, but it also gives the host time to plan. They need to know how many people will participate in activities, how long each part of the party will take, and whom to send party favors to. It's not just polite to RSVP; it can change the whole day for the better.
As stated earlier, you should plan on a few extra guests who forgot to let you know they'd be there or weren't sure of their plans until the last minute. However, try to communicate nicely on the invitation how important it is to let the host know if you'll be present, at least a week or two in advance. That way, fewer surprises will occur the day of.
We've covered how many people to invite to a baby shower, whom to invite (and not invite), and other etiquette details. This article also addressed how to deal with frustrations of uninvited guests, when it's appropriate to invite co-workers and the details of co-ed baby showers. Armed with this information, you're probably getting excited to start planning out a party to celebrate your pregnancy. Hopefully, these ideas have been informative, simple, and fun to read.
What did you think of this blog post? Is there anything else that should be included?