Is one of your co-workers expecting a baby? Work baby showers are fun but are different from ones thrown by close friends and family, so it can be tricky to figure out what kind of party is okay to throw in a professional setting. And with our "new normal" and so many people working remotely, should you go the route of a virtual event?
As the first virtual baby shower service online, WebBabyShower is here to make the process simple. We'll answer all your questions about work baby showers and how to throw one.
Are Baby Showers at Work Appropriate?
There are conflicting opinions about whether someone should host a baby shower at work. Work baby showers give people the chance to celebrate with their co-workers and they can be a morale booster. An office baby shower can work out really well if all of your co-workers get along, feel included, and are willing to be part of the event. You have to decide if that matches your work culture.
Some believe that the workplace isn't the right atmosphere for this event. They think that baby showers are too personal and that family and friends should be the hosts.
As with most events, it's important to exercise good judgment by thinking about the people involved in the party and what they would like. Chances are it's fine to throw a work baby shower, and everyone will have a good time.
A great alternative to an office baby shower is a virtual one. You can celebrate with those in the office, whether they're working remotely or not. You can plan it for any time, which takes away some of the questions about whether you should host the event during work hours. So overall, it's less pressure and simply a great way to say congratulations.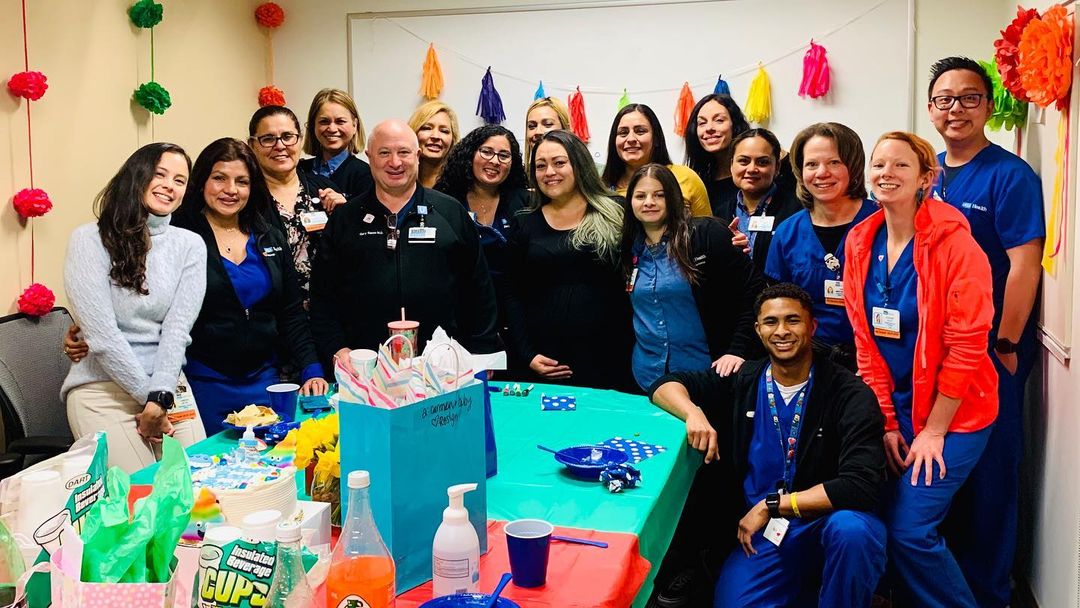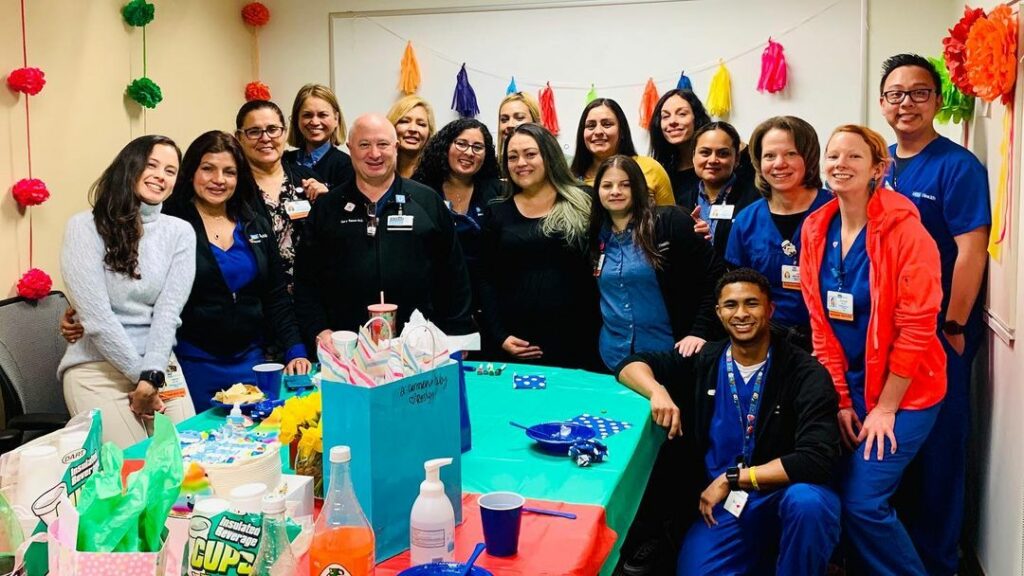 Have a Virtual Baby Shower to Accommodate Everyone
A big concern with work baby showers is how they get in the way of what's going on at the office, but WebBabyShower can help remedy that with a virtual baby shower. You can create an event that isn't time-sensitive, so coworkers can check out the party whenever they have availability and not when they're in the middle of a big project. They can leave a nice message for the expecting parent in the virtual guestbook or buy a gift from the registry the parent-to-be provided if they want to do so. It frees colleagues up to enjoy the baby shower without feeling pressured at the office. Plus, it makes attending possible for those who work remotely.
When it comes to hosting a virtual event, WebBabyShower makes your job easy by providing invitations, a customizable website, games, and more. You'll love all the options offered on our platform.
How to Throw a Baby Shower in an Office
As for throwing the party, what do you do for an office baby shower? Here are a few tips: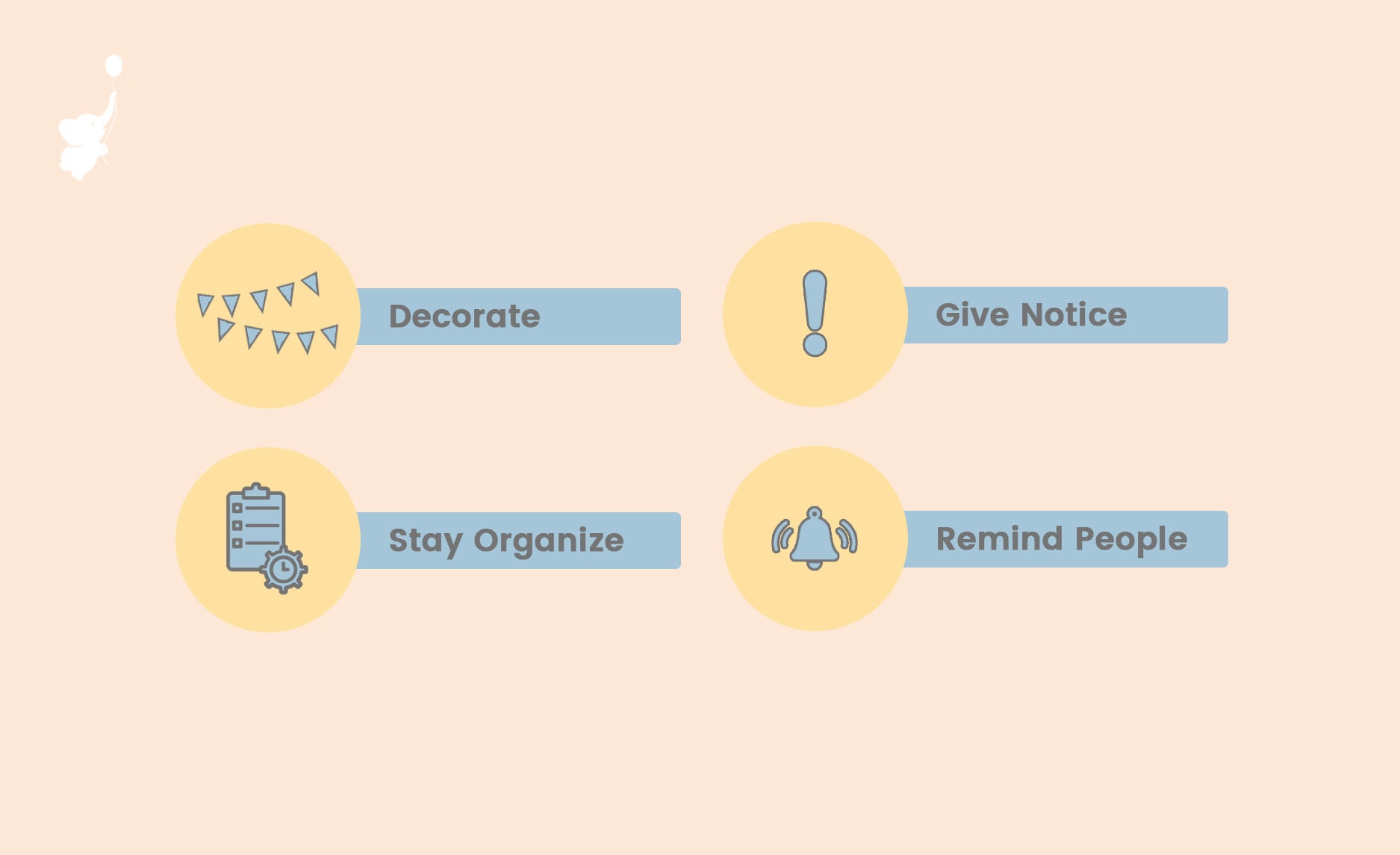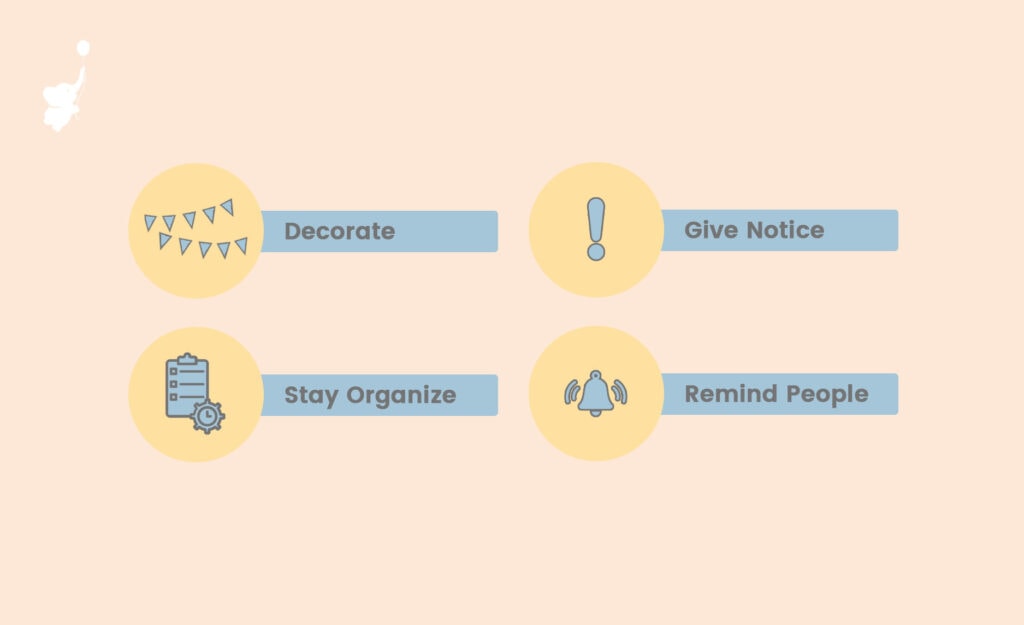 Decorate: It's always nice to decorate for a party, but since you're in a place of business, keep things professional. Always ask about office policies for parties before you start buying confetti and glitter. You'll most likely be allowed to add a few things to the room where the event will occur. If that's the case, go ahead with some balloons, a banner, and maybe a few other items — just don't take over the whole office with streamers.
Give notice: Let coworkers know about the party ahead of time, so they can mark their calendars. And be understanding if someone can't be at the event. Save them a piece of cake, and be nice about it. Remember, your office is first and foremost the place where you work.
Stay organized: Plan the event with the intention of keeping the baby shower short and simple. Ensure you start on time and keep things moving so no one feels that they're wasting hours at the party. If there's a card to sign, let everyone know right away or pass it around before the event. As the host, it's your job to make sure that everyone else knows what to expect.
Nicely remind people: Since colleagues tend to have a lot on their minds at the office, take the time to kindly remind those who've RSVP'd of their commitment to come to the baby shower. A friendly email the day before that includes the time and location should suffice.
Throw a Virtual Baby Shower so Everyone

Can Celebrate!

• Free Trial – 7 Day Refund for any reason
• Only 1 Minute Setup!
• 40+ Custom Themes & Matching Invites
• Use Any Online Registry
• Send Unlimited Invites and Updates
• Baby Shower Games with Scoreboards, Give Prizes!

Build Your Shower
---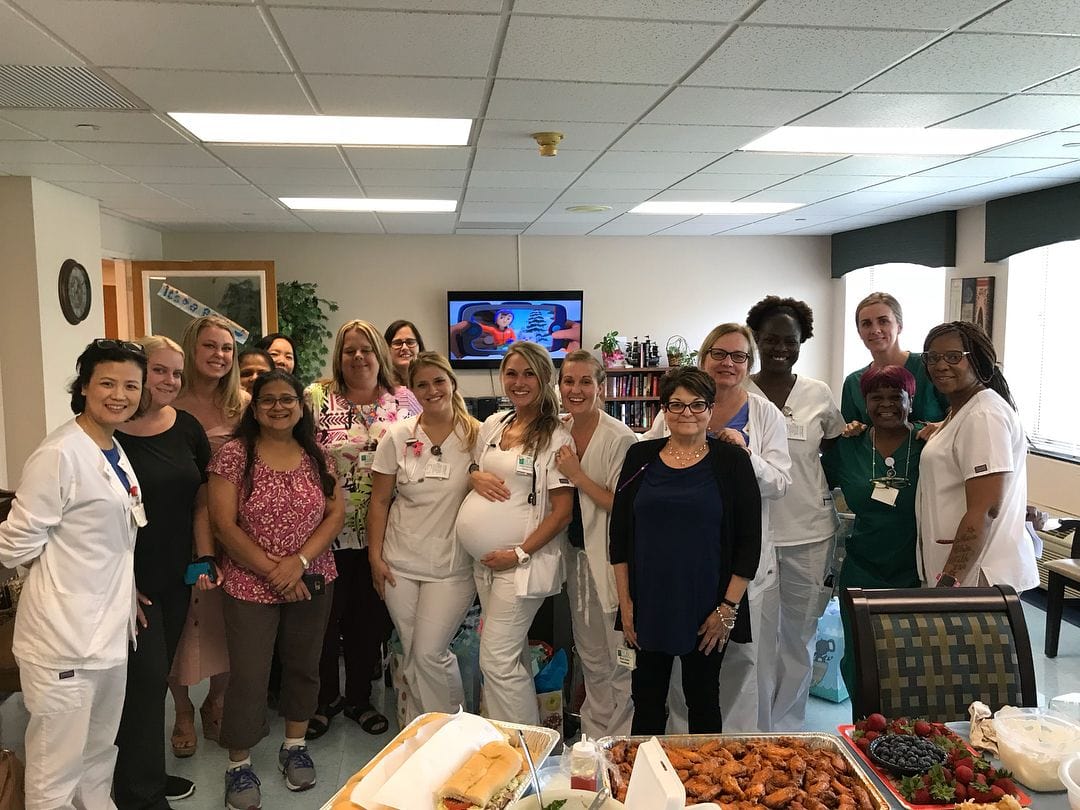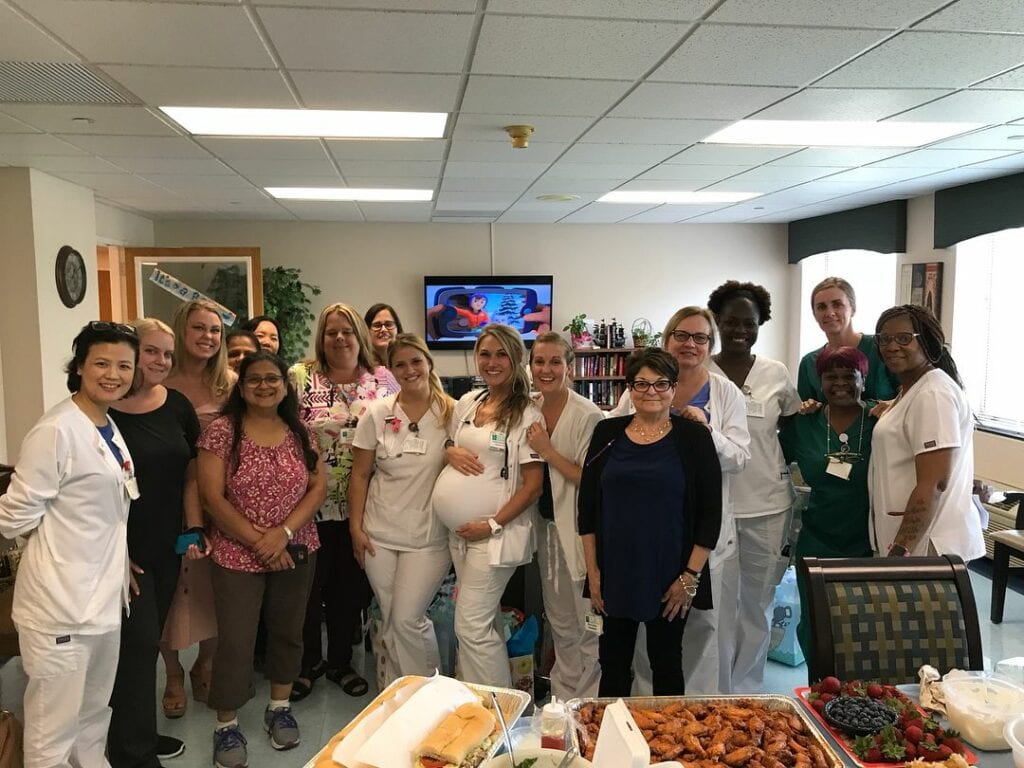 Etiquette Around a Work Baby Shower
One of the things that makes people uncomfortable about attending baby showers is people being pushy about attendance or gifts. It can make coworkers feel like avoiding the event or the person planning it. So be inclusive and sensitive to anyone who may or may not want to stop by.
You could also run into a scenario where one or two coworkers always feel like they must plan everything. Perhaps it's an unspoken thing they've always done, and now they feel exhausted by the idea of hosting. It would help if you took turns planning any office events to avoid this burnout. One way is to set up an office calendar or dry-erase board with a list of important upcoming milestones like birthdays and pregnancy due dates, so long as people are comfortable sharing this information. That way, everyone knows about these special days and can talk over who should plan the parties.
As with any work parties, try to keep it low-key. Aim for a casual approach that allows people to give gifts if they'd like without any pressure, and don't plan too many activities.
You can also keep the baby showershort. Allow employees to join in for a 10-15 minute event. That's enough time to congratulate the new mom or dad, have a piece of cake, and mingle for a bit. Keeping the party short means that you don't take up too much valuable time in the workday when people have projects to complete. Alternatively, set up a decorated table in a common area with cake and a card from the group for everyone to sign as they go about their workday.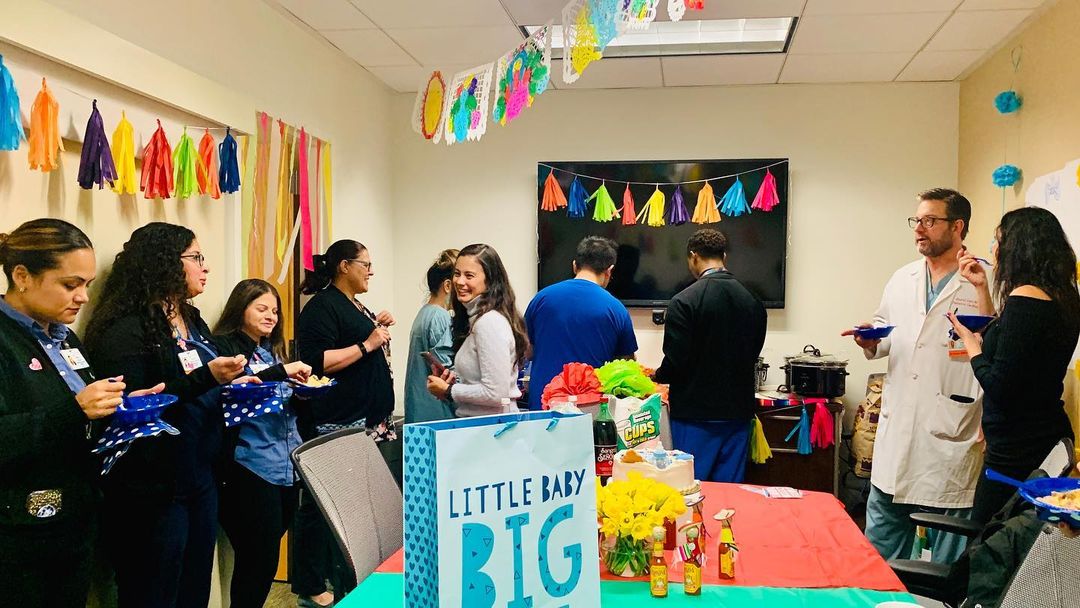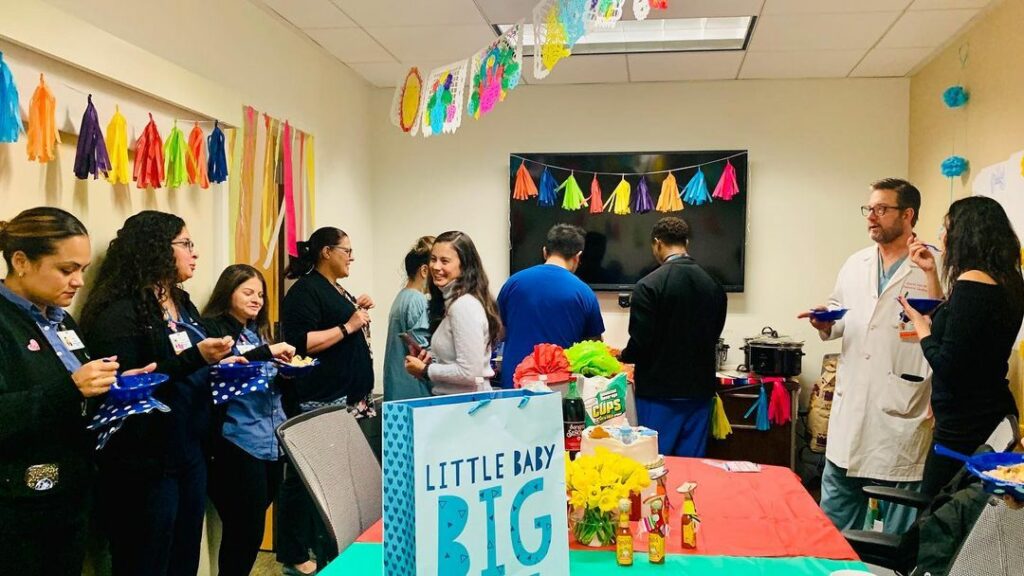 When you use WebBabyShower, guests can check in any time they want, so even if they're busy, they won't miss all the fun. With a laid-back approach, colleagues won't worry about being uncomfortable or not being able to attend due to a last-minute meeting.
How Guests Can RSVP
After receiving a work baby shower invite, it's important to respond. If you are swamped at work or uninterested in attending, gracefully decline, saying you're too busy at the moment with work projects or you just can't make it. It's perfectly fine to say no to a party, and you shouldn't feel guilty about it.
If you want to attend, you still need to let the host of the event know, as it could affect some of the activities. An office baby shower invite will most likely be sent through email or other virtual platform. If that's the case, you can quickly reply if you will be attending. If you aren't sure, try to get back to the host as soon as possible so that they can plan accordingly. If you receive a mailed invitation, follow the instructions for the response. It may also be acceptable to call or text the host and tell them if you'll be there.
WebBabyShower has a built-in invite system to make RSVPing super easy. Invitations are sent out via the platform and can be tracked to keep everything as simple as possible.
Should You Throw a Large Co-Ed Work Baby Shower?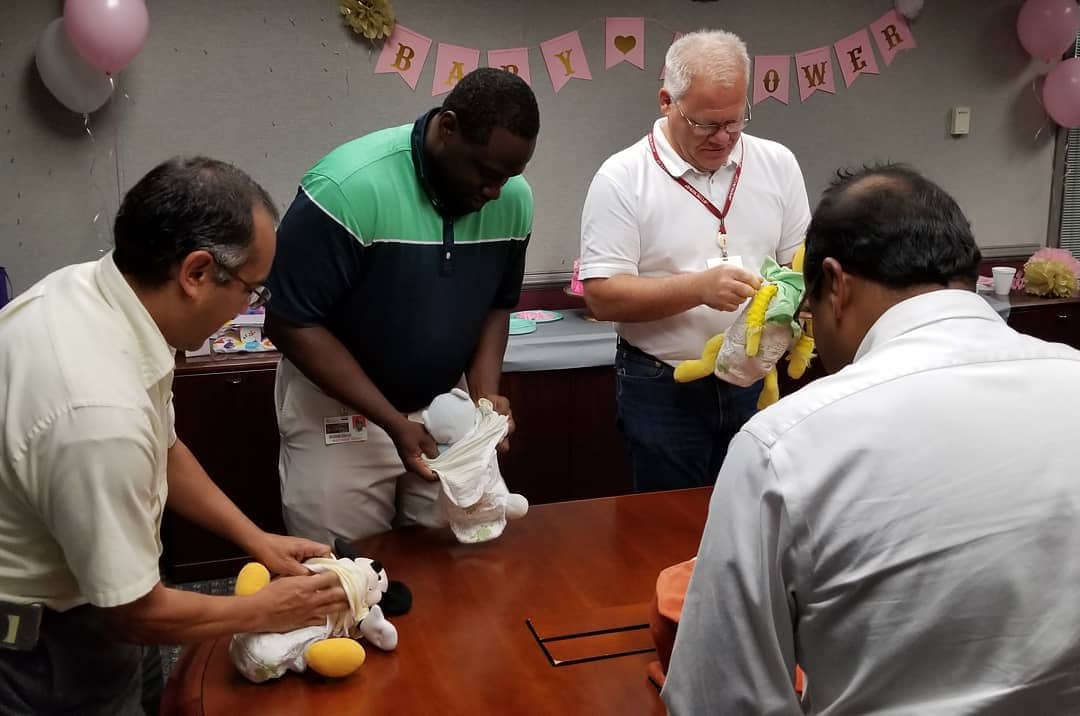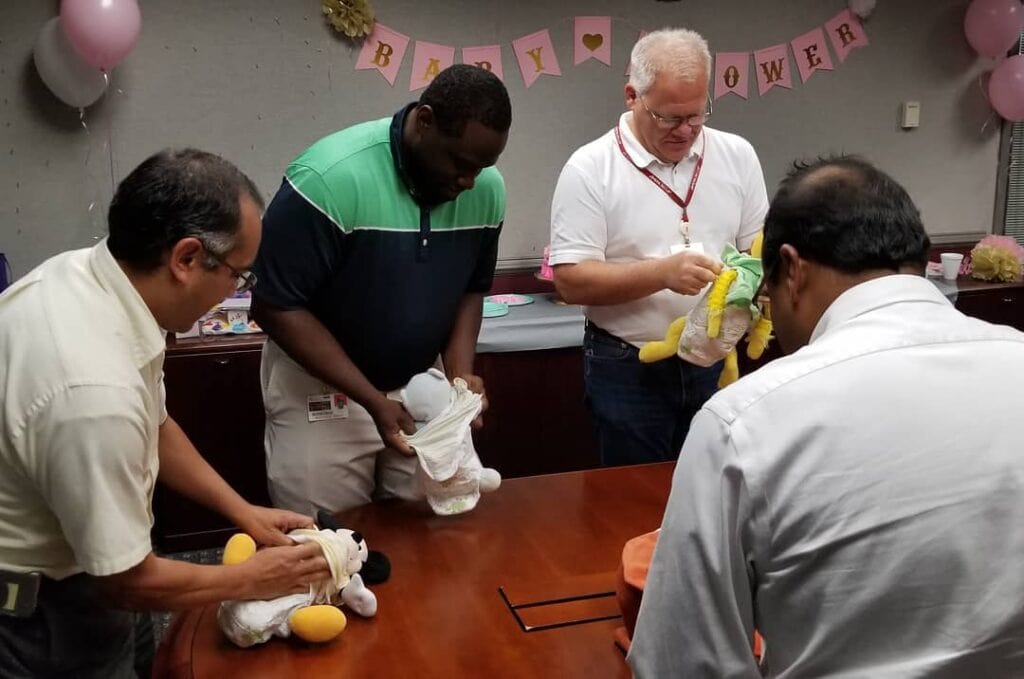 Deciding whether or not to host a co-ed shower depends a lot on your workplace culture and the preferences of your colleagues. You'll encounter those who are excited to participate, but others may not feel the same way.
There may be men and women at your workplace who are child-free and don't want to be obligated to attend a baby shower. Knowing that people expect them to be part of something that won't be reciprocated for them can be frustrating and take more time and money than they'd like. Another thought is that if you work at a large company, there could be multiple baby showers in a year. It could prove too much even for those who want to be part of the event, leading to burnout.
Consider making the baby shower more inclusive, for starters. All colleagues should be invited if you're considering this a work event. The exception to this is if the guest of honor is uncomfortable with a co-ed baby shower. However, many people today are not just okay with an inclusive baby shower, but they encourage it. And fathers-to-be deserve to be congratulated, as well. They may want a party at their workplace to celebrate their growing family!
If you have child-free colleagues or coworkers who don't want to join the party, be sensitive A virtual baby shower is an excellent solution to this issue. You can include everyone who wants to be part of the event without making colleagues who'd rather not participate feel awkward or defensive. And since the party is online, there's no need to stop in the middle of the workday for the event, freeing up time.
How Much Do You Give for a Baby Shower at Work?
It should go without saying, but if someone is not going to be a part of the baby shower, there is no need to give money towards a present. If they are attending, a gift may be appropriate if they're able to give one.
In general, most people say $25 is the maximum amount to spend for a colleague's baby shower present. However, when you're contributing to a group present, things are a bit different. Many companies use a chip-in system. Everyone gives what they can (which could be $5 or more), and the money is used to get one joint present for the guest of honor. No one is obligated to give, either, which helps people to feel more comfortable saying no.
See how a great online baby shower works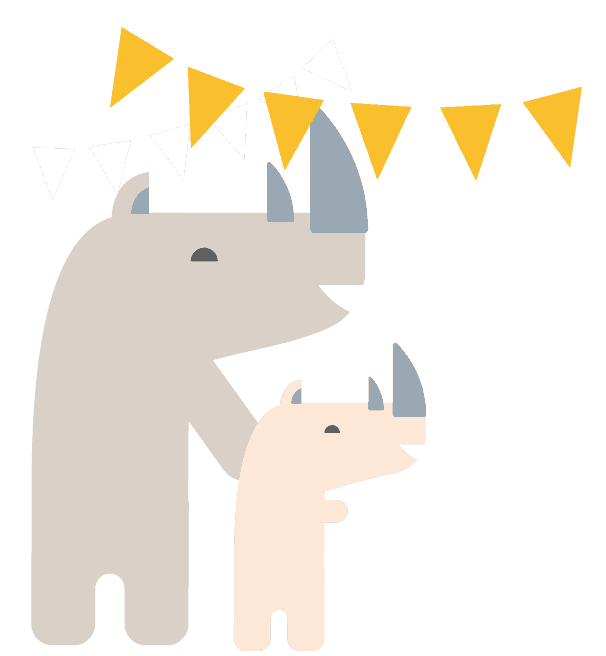 Final Thoughts
Whether you're hosting, are a parent-to-be, or are a potential guest, a work baby shower is different from any other. It's fun to get together to celebrate your colleague and let them know you're there to support them during the pregnancy, but there are things to take into account. There are many different opinions about work baby showers, so consider the thoughts of those in your office before planning. Better yet, opt for a virtual baby shower through WebBabyShower..
Did you find this article helpful? What do you wish people knew about work baby showers?