Your co-worker is expecting. Everyone is buzzing about a baby shower. You're in charge of arranging the perfect party.
Stressful? Not anymore! Our work baby shower ideas will make your job easy.
This guide covers ideas and etiquette for a work baby shower. Soon, you'll be ready to throw the best baby bash your office has ever seen!
Are Baby Showers at Work Appropriate?
Usually, work baby showers are a great morale booster and an opportunity for co-workers to celebrate together. Most people love a good party! That said, sometimes a work baby shower is not a good fit.
As you consider whether a baby shower is appropriate for your workplace, consider these questions:
Do your co-workers generally get along well?
Can everyone be included in the celebration?
Will the majority of your co-workers be excited to participate?
Does a baby shower fit with your work culture?
Are there rules that allow office events?
If you answered yes to these questions, then a work baby shower is a great idea!
Now let's consider colleagues who think that the office isn't the right atmosphere for this event. They may feel that baby showers are personal celebrations that should be hosted by family and friends. Even if you disagree with this opinion, you should take it into account as you consider the baby shower.
A great alternative to an office baby shower is a virtual one, as these offer maximum flexibility. You can celebrate with in-office employees, as well as those working remotely. You can schedule the event for any time, any day, and everyone can be included. Overall, virtual showers are a simple, low-pressure way to say congratulations.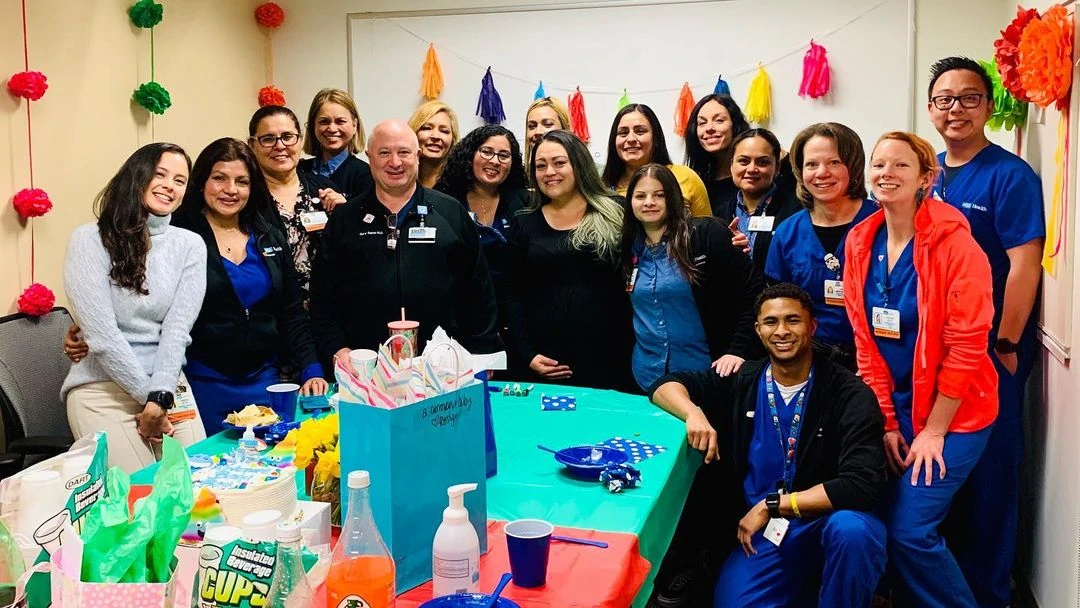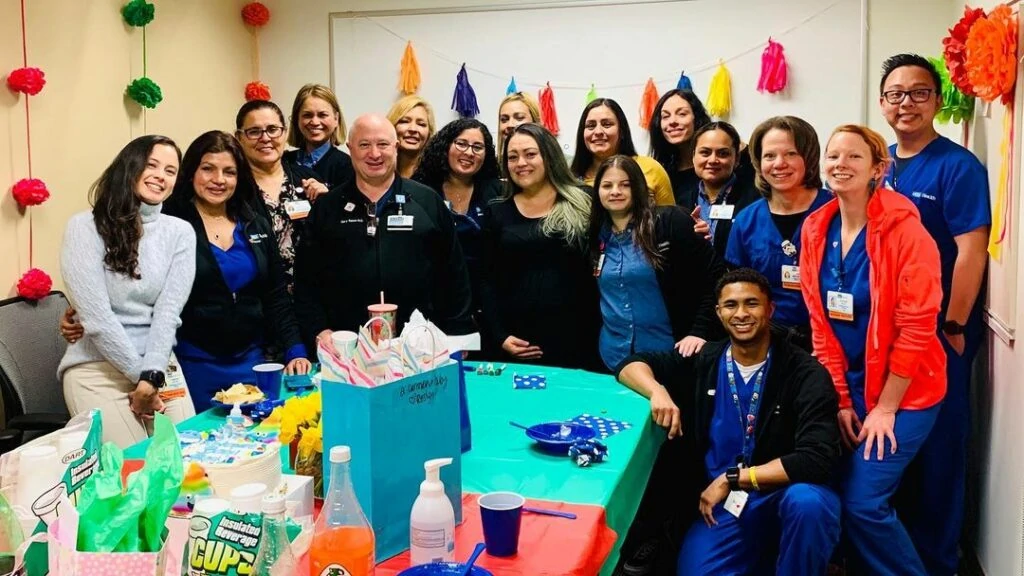 Have a Virtual Baby Shower to Accommodate Everyone
Is your management team worried that a baby shower will be a distraction or exclude certain employees? Then they'll probably love the option of a virtual baby shower.
Using a company like WebBabyShower, you can create an event that isn't time-sensitive, so coworkers can check out the party whenever they have availability and not when they're in the middle of a big project. They can join the fun from home or from any office location. Everyone can easily participate!
When they have time to join the party, they can leave a nice message for the expecting parents in the virtual guestbook, play a virtual party game, or look at the registry.
Your colleagues will be totally free to enjoy the baby shower without stressful office deadlines or work tasks.
WebBabyShower makes setting up your virtual baby shower quick and easy by providing invitations, a customizable website, games, and more. You'll love all the options offered!
Throw a Virtual Baby Shower so Everyone

Can Celebrate!

• Free Trial – 7 Day Refund for any reason
• Only 1 Minute Setup!
• 40+ Custom Themes & Matching Invites
• Use Any Online Registry
• Send Unlimited Invites and Updates
• Baby Shower Games with Scoreboards, Give Prizes!

Build Your Shower
---
How to Throw a Baby Shower in an Office
Now onto throwing the party — what do you do for an office baby shower? Here are a few tips: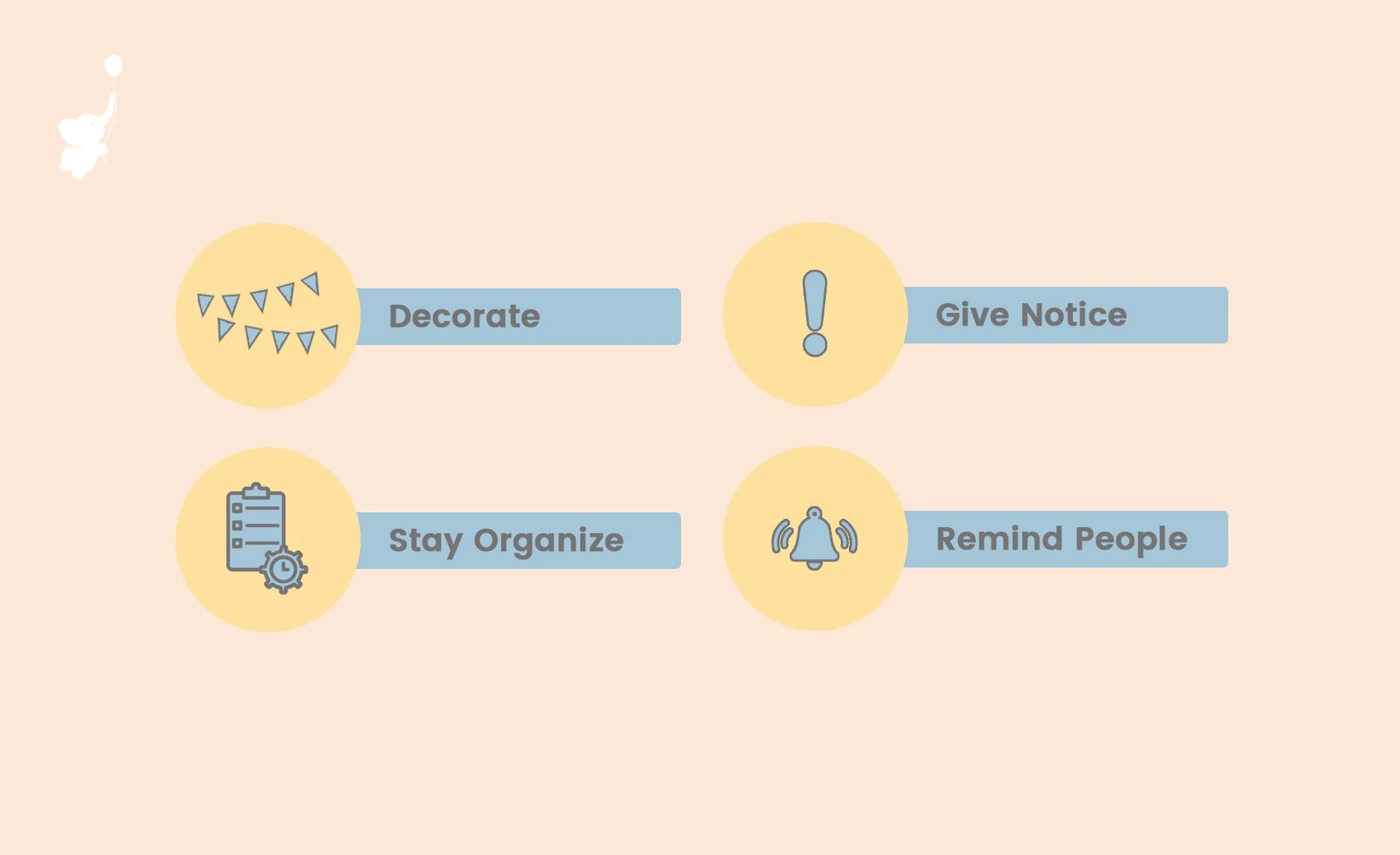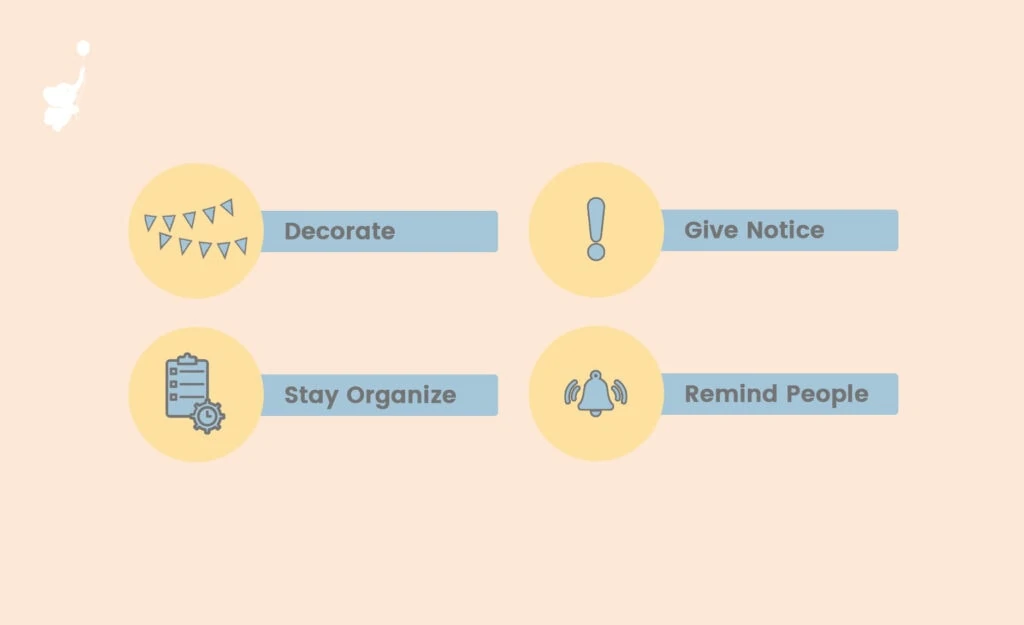 Decorate: It's always nice to decorate for a party! But, since you're in a place of business, keep things professional — always ask about office policies for parties before you start buying confetti and glitter. You'll most likely be allowed to add a few things to the room where the event will occur. If that's the case, go ahead with some balloons, a banner, and maybe a few other items — just don't take over the whole office with streamers.
Give Notice: Let co-workers know about the party ahead of time, so they can mark their calendars. If someone can't make it, be understanding and save them a piece of cake. Remember, your office is first and foremost the place where you work.
Stay Organized: Plan the event with the intention of keeping the baby shower short and simple. Ensure you start on time and keep things moving so no one feels that they're wasting hours at the party. If there's a card to sign, let everyone know right away or pass it around before the event. As the host, it's your job to make sure that everyone knows what to expect.
Kindly Remind People: Since colleagues tend to have a lot on their minds at the office, take the time to kindly remind those who've RSVP'd their commitment to come to the baby shower. A friendly email the day before that includes the time and location works great!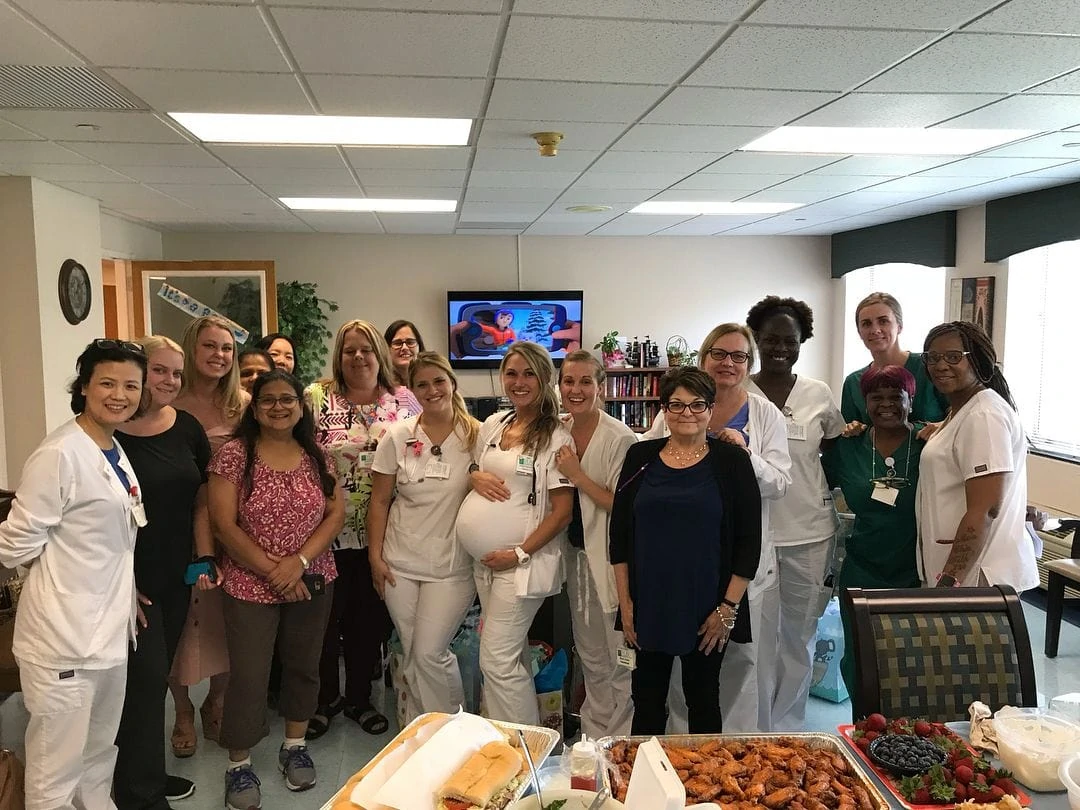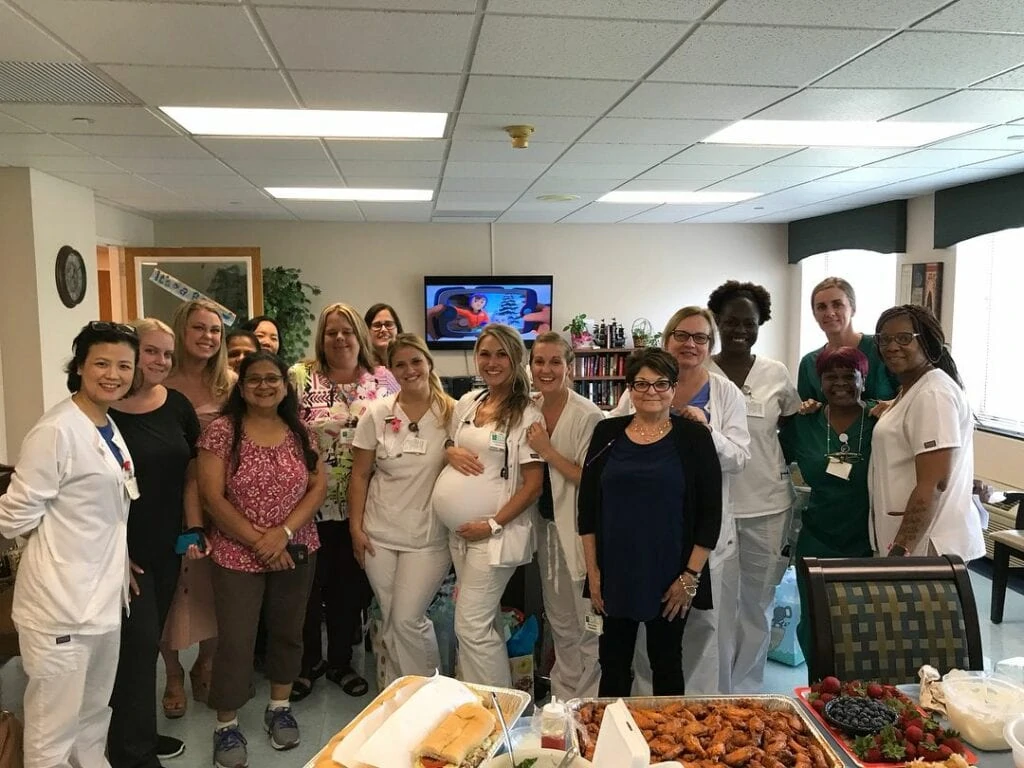 Etiquette Around a Work Baby Shower
If your co-workers feel required to attend the shower or purchase a gift, they can quickly become uncomfortable. You don't want to cause office drama or damage work relationships. So, be inclusive and sensitive to anyone who may or may not want to stop by.
You could also run into a scenario where one or two co-workers always feel like they must plan everything. Perhaps it's an unspoken thing they've always done, and so now they feel exhausted by the idea of hosting. Taking turns planning any office events prior to yours can help avoid this burnout.
One way is to set up an office calendar or dry-erase board with a list of important upcoming milestones like birthdays and pregnancy due dates, so long as people are comfortable sharing this information. That way, everyone knows about these special days and can talk over who should plan each party.
As with any work parties, keep it low-key. Aim for a casual approach that allows people to give gifts without any pressure, and don't plan too many activities.
You can also keep the baby shower short. Allowing co-workers to join for a 10–15 minute event keeps things light and breezy. It's enough time to congratulate the new mom or dad, have a piece of cake, and mingle for a bit. Keeping the party short also means that you don't take up too much valuable time in the workday when people have projects to complete.
Alternatively, set up a decorated table in a common area with cake and a card from the group for everyone to sign as they go about their workday.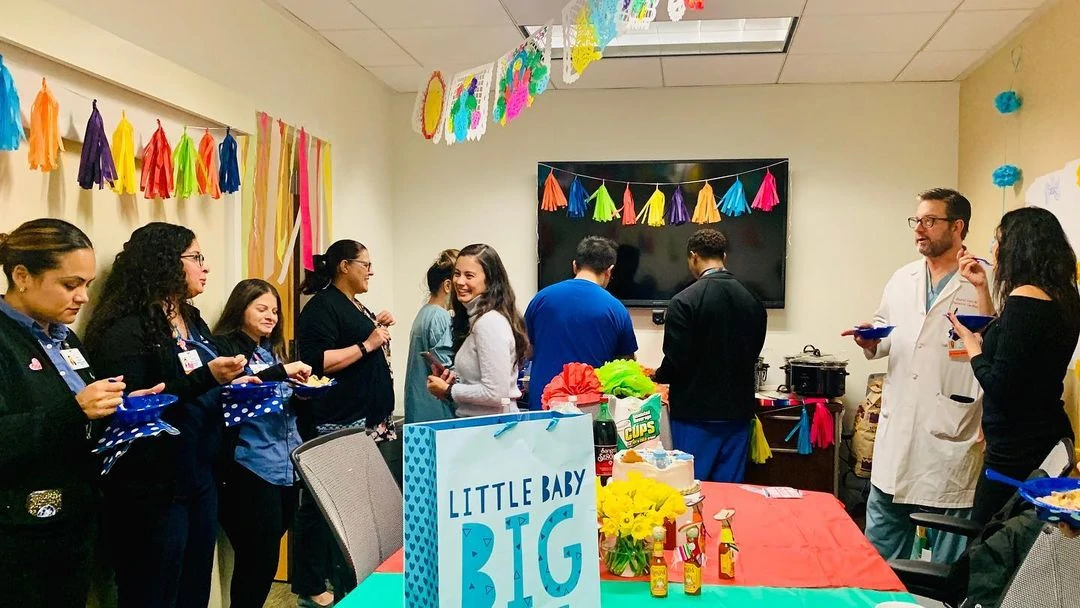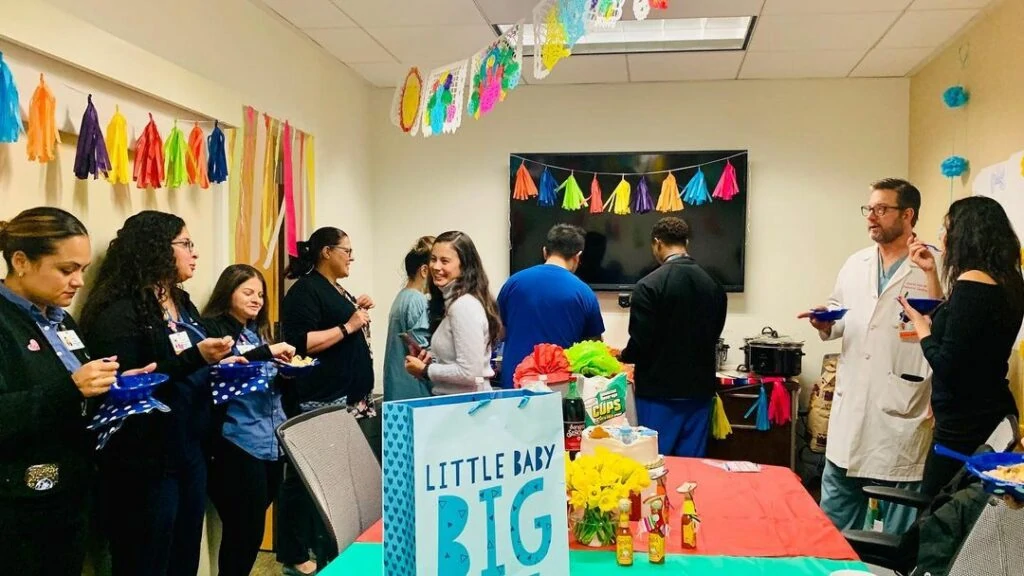 When you use WebBabyShower, guests can check in any time they want, so even if they're busy, they won't miss all the fun. With a laid-back approach, colleagues won't worry about being uncomfortable or not being able to attend due to a last-minute meeting.
How Will Guests RSVP?
As you consider your ideas for the baby shower, be sure to plan the invitations and RSVP instructions carefully.
Email is the #1 preferred communication format in modern business, so an email invitation is easiest for both the party planner and the party guests.
Using a platform like WebBabyShower, you can create a beautiful and themed work baby shower invitation. And, the best part of the WebBabyShower invite is the built-in RSVP function to help you gather and organize responses quickly!
Regardless of how you distribute the invitations, include clear instructions on how to RSVP, and remember it's okay if some people are unable to attend.
Should You Throw a Large Co-Ed Work Baby Shower?
Deciding whether or not to host a co-ed shower depends on your workplace culture and the preferences of your colleagues.
You'll encounter those who are excited to participate and those who might not be.
There may be men and women at your workplace who are child-free and don't want to be obligated to attend a baby shower. Or, there may be some men who wish to attend, but feel like they can't due to typical baby shower traditions.
Another thought is that — if you work at a large company — there could be multiple baby showers in a year. It could prove too much even for those who want to be part of the event, leading to burnout.
Consider making the baby shower more inclusive by including all your colleagues. This isn't too much of a stretch, as most people prefer an inclusive baby shower and modern baby shower etiquette has evolved.
Fathers-to-be deserve to be congratulated, as well, and they may want a party at their workplace to celebrate their growing family!
If some colleagues or co-workers don't want to join the party, or if there are people who won't be able to attend, be understanding. A virtual baby shower can be an excellent solution to this issue. You can include everyone who wants to be part of the event without making colleagues who'd rather not participate feel awkward.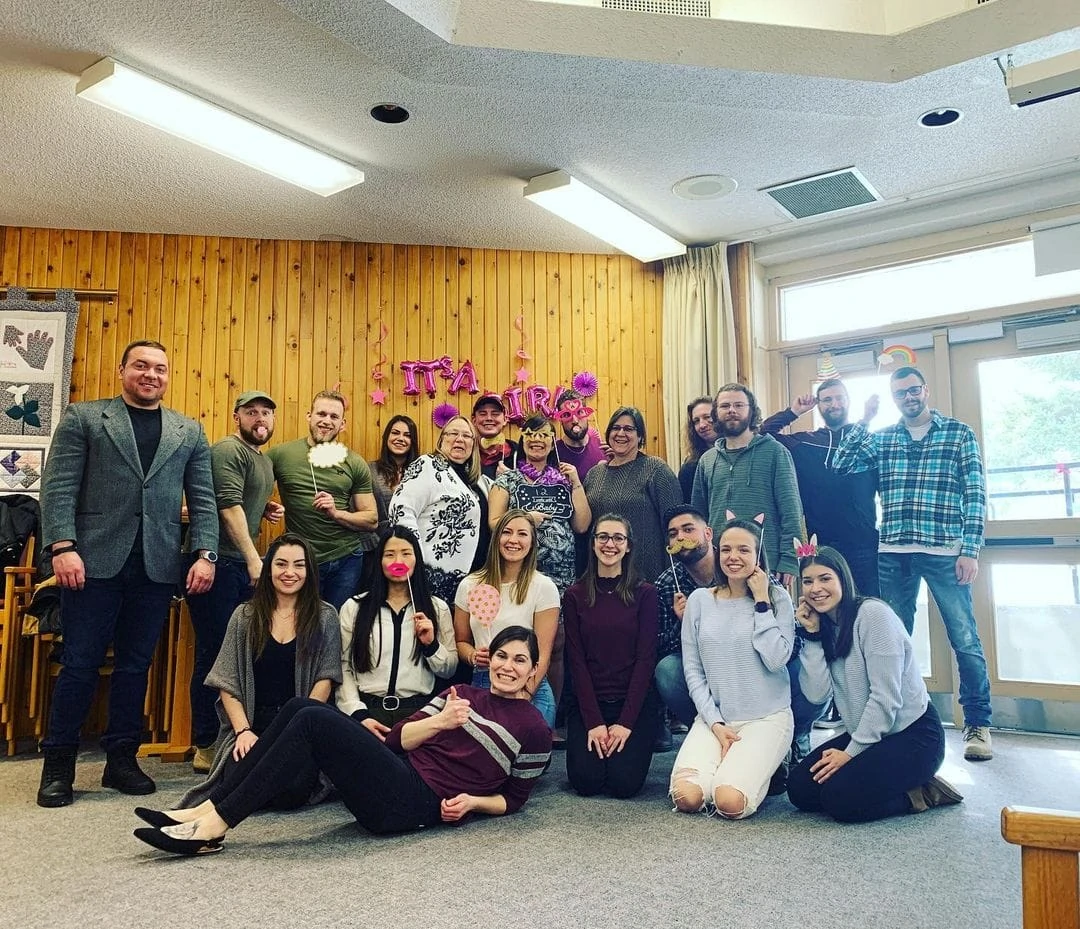 How Much Do You Spend on a Baby Shower at Work?
When money is involved, feelings can run high. To keep everyone happy, follow these basic guidelines:
People who are not attending the shower might not want to contribute money or a gift. That's okay.
People who are attending the shower may have personal reasons for not giving money or a gift. That's okay, too.
Consider setting up a chip-in system in which everyone gives the amount they can afford. You can provide a recommended range ($5 to $25) while also telling guests that contributions are optional.
Keep in mind that most people say $25 is the maximum amount to spend for a colleague's baby shower present. This works as a good maximum amount for each person to give towards a group gift as well.
Ideas for Having a Fantastic Baby Shower at Work
If you are hosting a baby shower at your workplace, these ideas will help you throw a fun, memorable event!
Office Potluck
Everyone loves a good potluck lunch! An office potluck is a tasty way to celebrate the mother-be and her new baby. Plus, it gives your work team a chance to show off hidden culinary talents!
Before planning the big celebratory meal, check with your managers. There may be special rules in place regarding food at the office. Plus, it's always a good idea to get a managerial blessing before planning a work-related event.
Once you're in the clear, spread the word by inviting your co-workers to bring food and enjoy lunch. Be sure to set up a sign up sheet where guests can write down the dish they plan to bring.
Keep the party stress-free by giving plenty of food sign-up suggestions. Encourage your guests to bring homemade recipes, store-bought favorites, or even an ordered pizza. Oh, and don't forget the dessert! Lots of dessert means lots of happy party goers!
Lunch at a Local Restaurant
Make your celebration extra special by arranging lunch at a local restaurant. Most people love an excuse to get out of the office and enjoy a change of scenery.
As you choose a restaurant for the shower, paying attention to certain details increases the chances that your baby shower will be a homerun for the whole office:
Can the restaurant accommodate large groups or small groups?
Does the restaurant have a wide range of menu options with dietary choices like gluten free, vegan, nut allergies, etc?
Are there added fees for parties or large groups?
A restaurant baby shower has a lot of perks, including more flexibility with food choices, minimal planning, and no clean-up.
If you decide to plan a lunch outing for your work baby shower, consider asking everyone to pool their funds into one large item or generous gift card to the parent-to-be. This avoids the hassle of bringing gifts back-and-forth from the restaurant. Plus, the guest of honor will be thrilled to receive a big exciting gift!
Smart Food Choices for Your Office Baby Shower
Perhaps you plan to organize a traditional baby shower for your office with food, games, and mingling.
When planning the menu, reflect on your guests and your venue. Then decide:
How will the food be transported to the office or to the event location?
Will you be able to keep foods at certain temperatures?
Do any co-workers have dietary restrictions?
What are the favorite foods of the parent-to-be?
Once you've evaluated these questions, you can decide on the food that will be suitable for your group, location, and event timing.
If your mind is stuck on empty and you can't think of any creative food ideas, check out our recommended baby shower recipes. This list includes simple grab-and-go options like banana coconut muffins, as well as more formal dining choices like feta, sun-dried tomatoes, and basil frittata.
Ideas for Work-Appropriate Games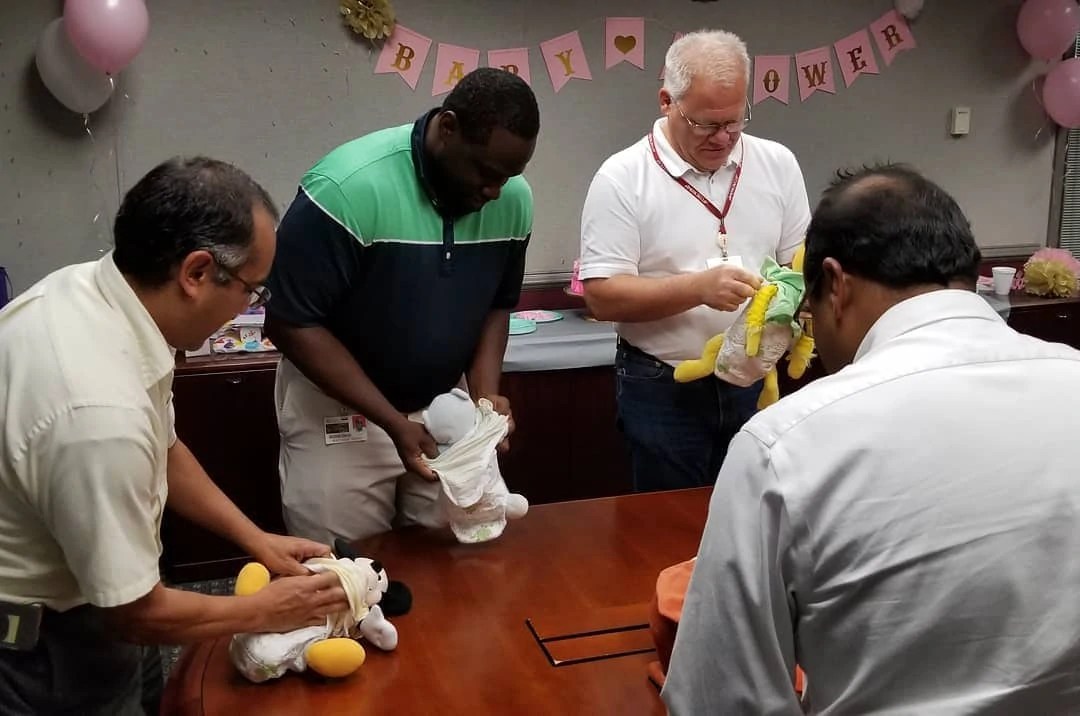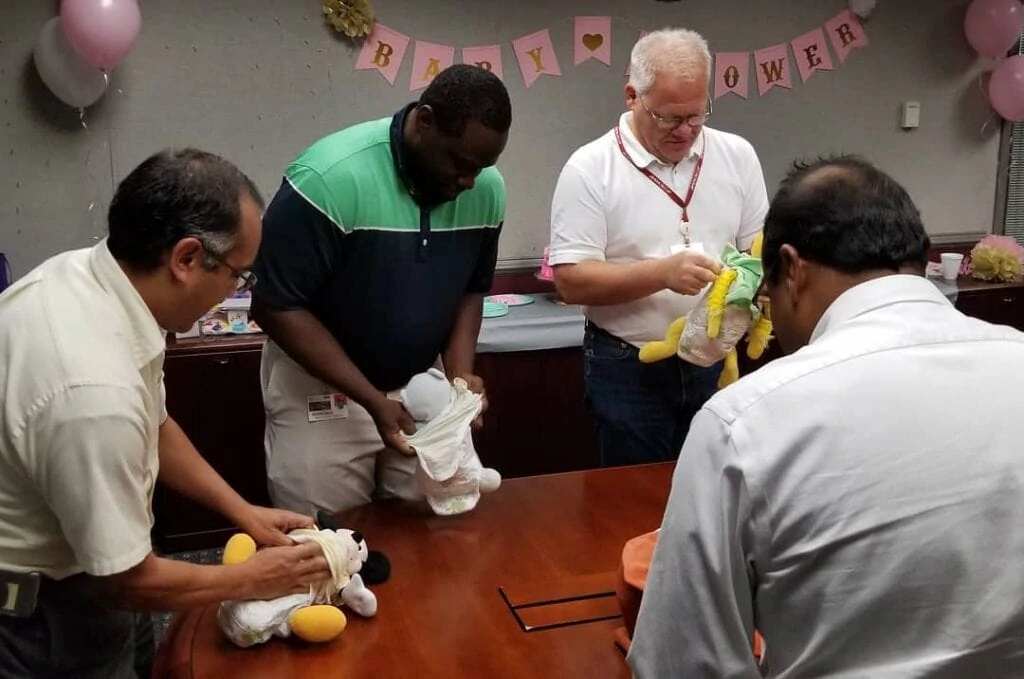 Break up the workday monotony with an office baby shower that's packed with fun and engaging games. Baby shower games can liven up your event, but make sure they're suitable for the workplace.
As you choose the party entertainment, pick inclusive games that everyone can enjoy. All of your guests will want to join in — regardless of gender, age, child/no child status, and so on. Games like "Baby Animals" is pretty safe for a work environment, and can keep things light and fun. Everyone loves baby animals!
Planning a virtual work baby shower? You can (and should!) play games. No need to stress the virtual format — there are easy and free options, designed specifically for web conferences like Zoom or Google Meet.
Then look at perking up your party with exciting prizes (which can be something as simple and small as candy!). Before each game, show off your rewards for the winners — your group will grow more competitive by the minute, and everyone will get engaged in the event!
Perfect Gift Ideas for the Parent-to-Be
Having everyone in the office sign a greeting card is standard procedure, and you can go above and beyond with a thoughtful gift. An impressive present is the perfect way to make your work baby shower extra special for the parent-to-be.
So, how can you find a knock-your-socks-off gift for the future mom and dad? These 21 proven baby shower gift ideas will help you find a fabulous present quickly and easily.
Final Thoughts
Your work baby shower is a unique and special event. It gives your team the chance to connect and celebrate something bigger and more important than your day-to-day business: a new little person coming into the world!
Although the parent-to-be will probably be thrilled to have your support, you still need to consider your workplace rules, culture, and etiquette. There are many different opinions about work baby showers, so consider your colleagues' viewpoints before planning.
Better yet, avoid the challenges that accompany an in-person work event by opting for a virtual baby shower through WebBabyShower.
Explore our platform and ask us how others have used WebBabyShower to create the perfect work event!