How Many Types of Baby Showers Are There?
Baby showers definitely aren't all the same! Before you start planning a party, you'll want to know what sort of baby shower is the right choice for the parents-to-be. But how many types are there? What should you know about each one? Having helped over 10,000 families enjoy online baby showers, WebBabyShower knows all about celebrating a new baby and new parents. Our platform is built specifically for virtual baby showers, and we make it easy for you to send email invites, build your very own webpage, and play games online with your guests.
There are 14 main types of baby showers and several other alternative ideas. This gives you a ton of options when planning the perfect party! If the number 14 feels overwhelming, don't worry. Included here is an overview of each type of baby shower to help you make a choice easily. From hybrids to gender reveals to sip and sees, there are a ton of fun ways to celebrate a new baby. Check out the best ideas here.
In-Person Baby Shower
This is first on the list because it is still pretty standard, and most people have been to one before. An in-person baby shower is an event where you gather the friends and family of the parents-to-be to celebrate together. The pros to this type of party are getting together with friends and relatives, and, well, simplicity. A lot of guests already know what to expect from an in-person shower, so these aren't difficult to plan. One con, however, is that this kind of shower does have its limitations. For example, you can only invite so many people. However, a good way to remedy this is to expand the party further with a virtual meeting space. That way, you can gather all your loved ones together and not compromise on the guest list.
Virtual Baby Shower
A virtual baby shower moves the party online. The flexibility of a virtual baby shower is what sets it apart. You can use any virtual service like Zoom or Facebook with WebBabyShower to make this happen. This option is great because you don't have to cut down on the guest list, and people can join in no matter how far away they live. WebBabyShower has mastered the art of the virtual baby shower and has incredible options available for you. Here's how everything works and how to create a virtual party in no time.
Hybrid Baby Shower
A hybrid baby shower is both an in-person party and a virtual event. We think of this as an inclusive baby shower. It gives you a way to gather everyone — near and far — together. So how do you do it? By hosting an in-person baby shower and a virtual one on the same day at the same time. You can even host a video chat so those joining virtually can be part of the party. This type of event is great if you want to include everyone, no matter where they live, inone big baby shower. Any event can be a hybrid one; you just need to add in-person and virtual options.
Baby Shower During COVID-19
If you're planning a baby shower during the COVID-19 pandemic and are wondering about restrictions and how to plan a safe event, we've got the answers you need. Our helpful guides advise on how to best prepare for a baby shower during this time. With this type of party, virtual baby showers are best. That way, there are no health risks, and even those who might not usually join in can be part of the celebration. WebBabyShower can help ease your concerns and keep the planning process easy.
If you'd still like an in-person shower during the pandemic, you could host the baby shower outside or in a venue where guests can be spaced six feet apart.
Baby Tea
This is a perfectly adorable idea for a fun and small gathering! Are you wondering about a baby shower vs a baby tea? A baby tea party creates the opportunity for close family and friends to celebrate the new mother-to-be in a small and intimate gathering. A tea party also gives the host a chance to use the fancy silverware and china and serve delicious appetizers, tea, coffee, and cake. It's great to host a tea party baby shower in the late morning or afternoon. Outdoors is even better, especially if you can host it in a garden or pretty backyard.
WebBabyShower has several cute themes for your tea party's webpage, including the floral teatime theme.
Gender Reveal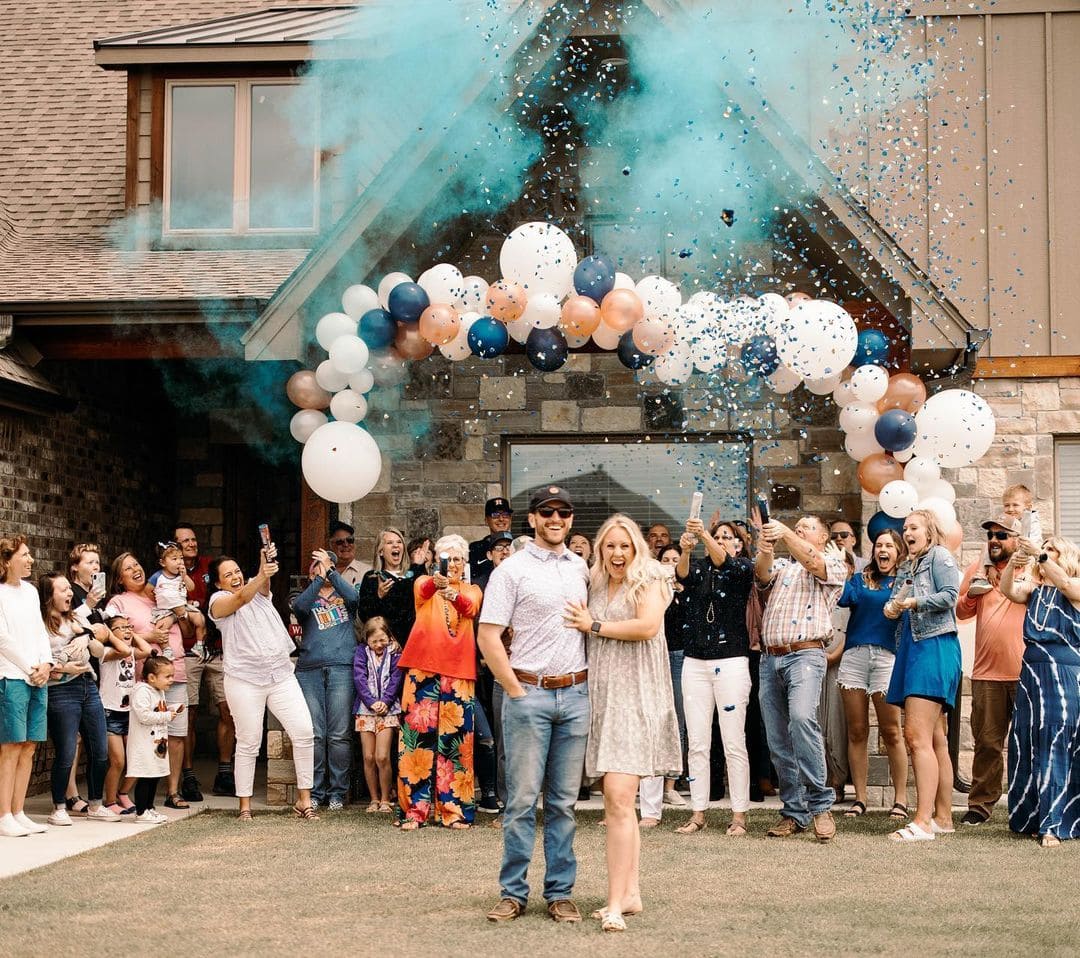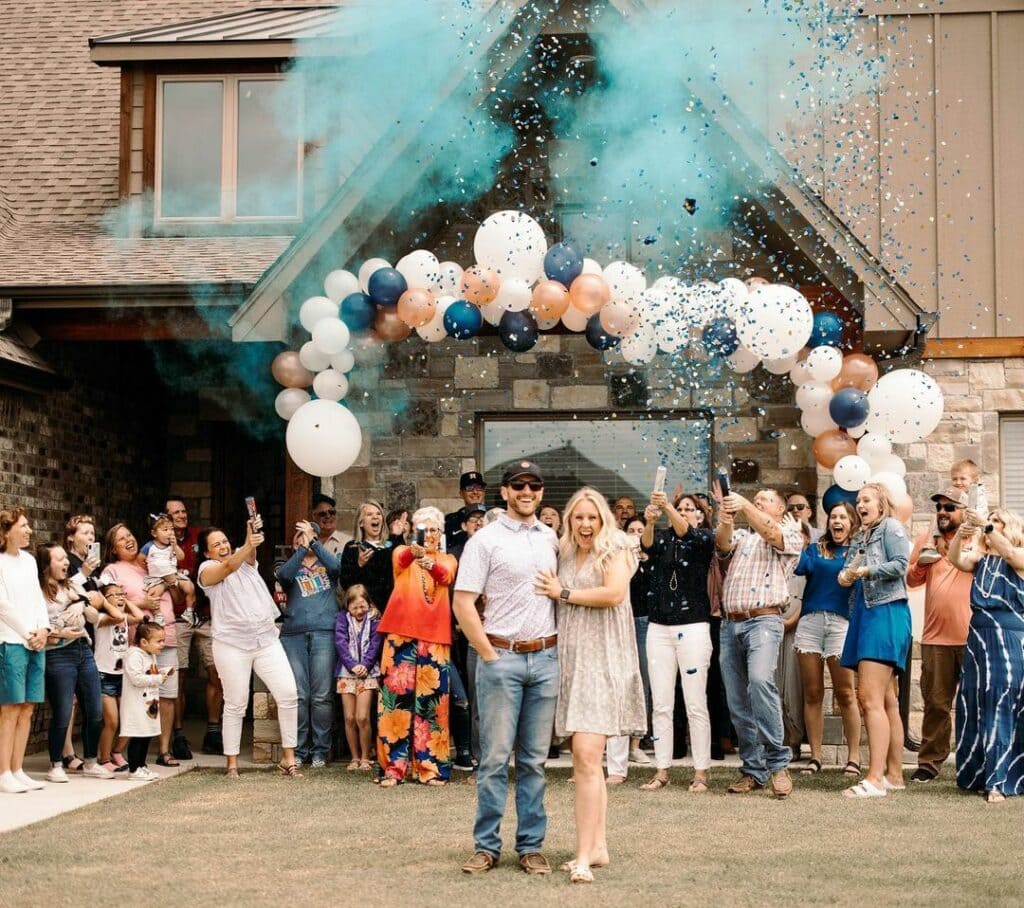 A gender reveal party lets all your friends and relatives know the baby's gender. You can choose to have a gender reveal during your baby shower or you might make the two events into different parties. Either is acceptable, though throwing just one party can save you some time. See our guide for combining the two for a spectacular time.
Since WebBabyShower gives you access to ourplatform for a minimum of six months, you can easily reveal the gender any time you'd like by updating your baby shower webpage. You can even upload a video to your gallery, sharing the gender reveal. What a fun way to keep everyone in the know about the new baby!
After-the-Birth Baby Shower
After-the-birth baby showers can be exciting because guests will get to see the baby, possibly for the first time. It's a fun way to introduce the new little one and celebrate the new parents. It will also give the new mom a chance to relax while guests take turns holding the baby. Another pro is that gift-giving can be a lot more specific. For example, you'll know the baby's gender and precisely what the new parents need for the nursery or household. For added fun, you can have both a baby shower and an after-the-birth event.
Sip and See
These are a fun southern tradition! A sip and see gives guests a chance to see the new baby while enjoying a festive drink. These are easy to host in-person or virtually. Hosting a zoom call is a simple way for the new parent to chat with friends and family and show off her new baby all without going anywhere. If you go the virtual route, you can send out some cocktail and mocktail recipes in an email so guests can participate in the fun with a themed drink. If hosting in person, you can have some punch and other drinks set up for guests to try.
Adoption Baby Shower
Adoptive parents also deserve to be celebrated and have their loved ones share in their joy. This type of party can be different from other baby showers depending on the age of the child. For example, if the child is not an infant but is a bit older, the parents may request different gifts than you'd need for a newborn. However, it can also be similar in many ways to a traditional baby shower. We've got the perfect guide for baby showers for adoptive parents, including when to host the party and ideas for presents.
Work Baby Shower
Sometimes co-workers may want to throw a baby shower for someone in the office who's expecting. This type of party works a little differently than others. It may be shorter and can be either virtual or in-person.. Since this may be in a work environment, there is a lot to consider to make sure co-workers don't feel uncomfortable or think they have to participate. Here's the ultimate work baby shower guide and all the answers to your questions.
Baby Sprinkle
A baby sprinkle is a party to celebrate a second child. By this point, the parents likely have many of the big-ticket items they need, such as a stroller or crib. Because of this, a baby sprinkle usually involves smaller presents like wipes or diapers. This is also usually a smaller event than a baby shower, and it can be thrown either in-person or virtually. For presents, you'll want to check out our gift ideas specifically for a baby sprinkle.
Co-ed Baby Shower
At a co-ed baby shower, both men and women are part of the party. This is an excellent choice if both parents want to be present for the event. Typically, games and decor will be more gender-neutral, and it can be a ton of fun! Also, since it's co-ed, the guest list is usually quite a bit larger, and both parents have the opportunity to celebrate with their friends. These types of baby showers are becoming more and more popular in the coming years. They can be hosted virtually or in person, depending on the parents-to-be's preference.
Jack and Jill Baby Shower
Jack and Jill baby showers are also events that women and men attend — just with a catchy name. These parties are a great way to allow both parents to prepare for the new little one and usually involve a lot of co-ed games. It's a chance to celebrate the baby while also enjoying some fun competition and laughs. If you're wondering how to plan something like this, check out our article about Jack and Jill baby shower organization, including pros and cons, themes, and venue ideas.
Long-Distance Baby Shower Party
This is the ideal solution if your family and friends live in a lot of different places. With a long-distance baby shower, even if you have family scattered across different states or countries, you can still get together. Everyone can get connected and congratulate the new parents from various corners of the globe through virtual games, emails, and video calls. A virtual shower makes this process simple to set up and more convenient than ever. Check out our specialized guide for long-distance baby showers, including costs and a Q&A section.
Alternatives to a Traditional Baby Shower
Maybe you're looking for something else entirely. Perhaps you want an event that includes religious or cultural traditions, or is a bit more unique than a standard baby shower. There are some alternatives to a traditional baby shower and the other ideas above. Remember, there is no wrong way to celebrate new parents-to-be. Any event that honors them is a great choice. If you want some more thoughts to help you begin, these ideas will help you get creative and think outside the box for the big event.
WebBabyShower has some great ideas for baby shower alternatives. Chances are you've heard of a few of these, like virtual showers and sip and see events. Some others that aren't as well known are events like a Blessingway, an intimate pre-birth gathering for prayer and gifts. The parents-to-be may also like the idea of donating gifts or making donations to various organizations that help parents. The options for baby shower alternatives are endless. We'll look at a couple of them in more detail here.
Host an Open House
An open house is an awesome idea for new parents who want to keep things casual. You know how people host an open house when they buy a home? This is like that except it's for the new little one. Guests can drop by any time in a specified period to say hello and meet the baby. It's a lot like a sip and see, but without the formal structure. You don't have to play games or decorate, though you can if you want to! It's more about spending time with those you love in a casual setting.
Celebrate with a Godh Bharai
A Godh Bharai is a traditional Indian baby shower. It gives the family a chance to bless the mother and the new baby and show their excitement through presents and amazing food. These types of events tend to be more for the family than acquaintances of the new mother. There are many traditions involved, and each host may plan the event a bit differently, according to the mother-to-be's preferences. For more information about what to wear, various traditions, game ideas, and song selections see our guide for a beautiful Godh Bharai celebration.
Gather Online
While you may be more used to in-person baby showers, online ones are also very popular. If you choose to host this type of event, it will usually involve creating an online space for everyone to gather, such as a webpage. From there, you can plan virtual games and send invitations and updates through email. You may also want to host a video chat so guests can say hello to the new parents, although this is not a requirement. Finally, suppose everyone's schedules don't line up. In that case, you can host a baby shower that doesn't involve meeting at a set time. Flexibility is what makes this type of party great!
With a virtual baby shower, your guests can show up over several hours or even days to celebrate with the new mother. They can check out the photo gallery, play games, and see the registry. WebBabyShower allows you to do all of this and more using our virtual platform, where you can create your event quickly and without added stress. In addition, you can make the perfect look for your event with our completely customizable options that allow you to host your party anytime and anywhere.
Are you an organization looking for something grander? Check out our guide on community baby showers and how to have one.
Choose a Baby Shower That's Right for the New Parents
Using this guide, you can select the very best option for your baby shower. Yes, there are many types, but you'll usually find one that really speaks to you and is the perfect fit for your event. Feel free to make use of these ideas when you plan a party or combine them into something entirely new.
There are many ways to celebrate a new baby with the parents-to-be and their guests. You'll just need a place for everyone to gather together, either virtually or in person. Beyond that, all details are up to the host. Don't be afraid to try some fun new ideas or to stick with a more traditional approach if that seems appropriate. Know that WebBabyShower is here to help with ideas to make the day fun and a breeze to prepare for. To find even more suggestions, check out some of our favorite websites. Enjoy planning!