Pregnancy is a beautiful time in a mother's life that she should celebrate with her family and friends. The traditional Godh Bharai event is an Indian baby shower that is all about food, games, and blessings for the new mom and the new baby. There are many details involved in this kind of party, from the decor and clothing to the types of gifts the mother should receive.
As the market leader in online baby showers, WebBabyShower understands what makes a baby shower special. If you want to find out more about Godh Bharai, here's what to know about the traditions and history, as well as the best ideas for hosting an Indian baby shower.
Indian Baby Shower Traditions
Godh Bharai is a type of baby shower that is a traditional party for Indian mothers.. It offers a great time to gather as a family and enjoy all the Indian traditions handed down for generations, as well as take part in blessing the new family.
Another form of baby shower is Shimant, which is a Gujarati baby shower. During this event, several rituals are done, including spreading a type of red powder on the mother-to-be's face called "kankoo-kumkum." The traditions include the mother-to-be, her sister-in-law (or another female figure), and her youngest brother-in-law. Puja (a type of religious ceremony) is included in the event, as well.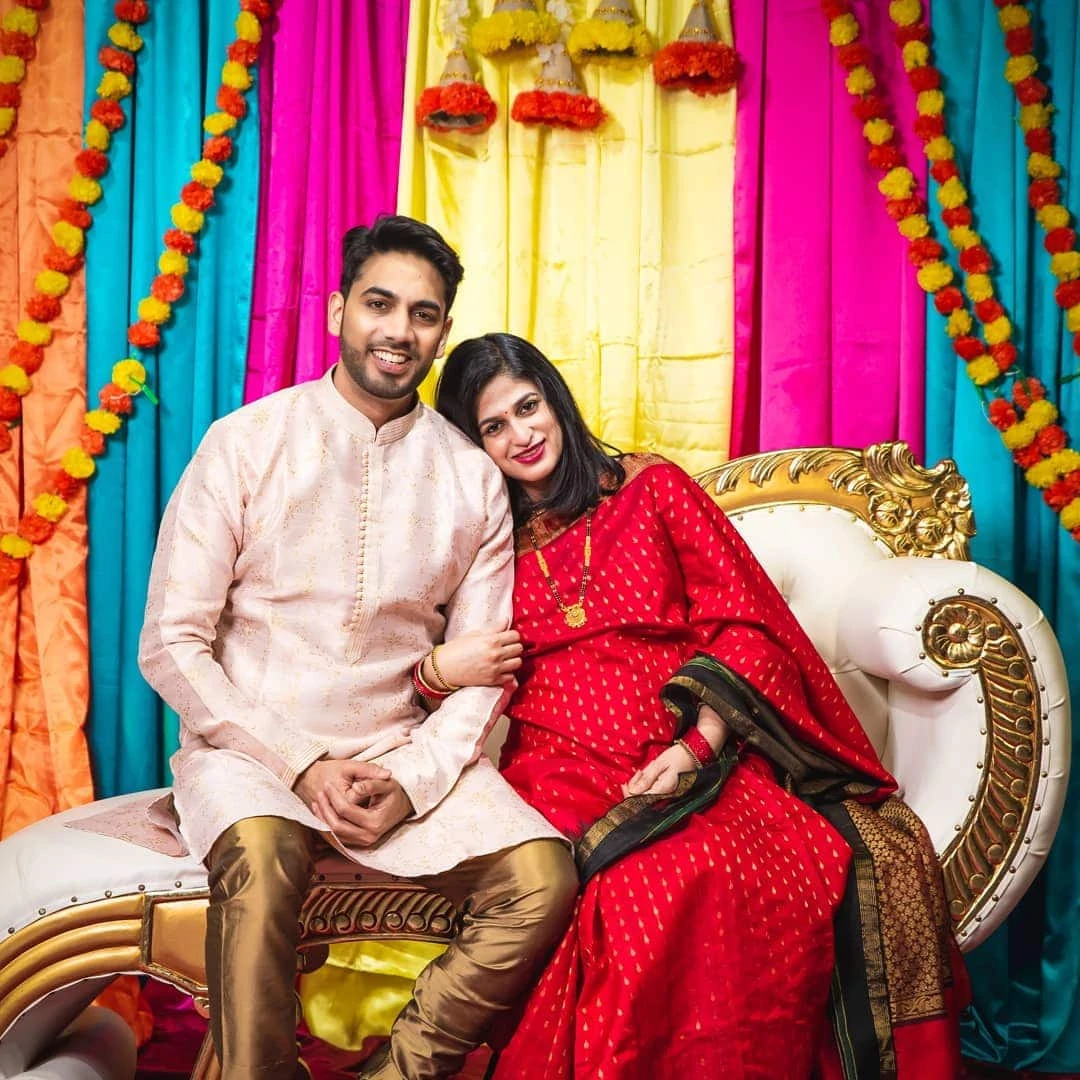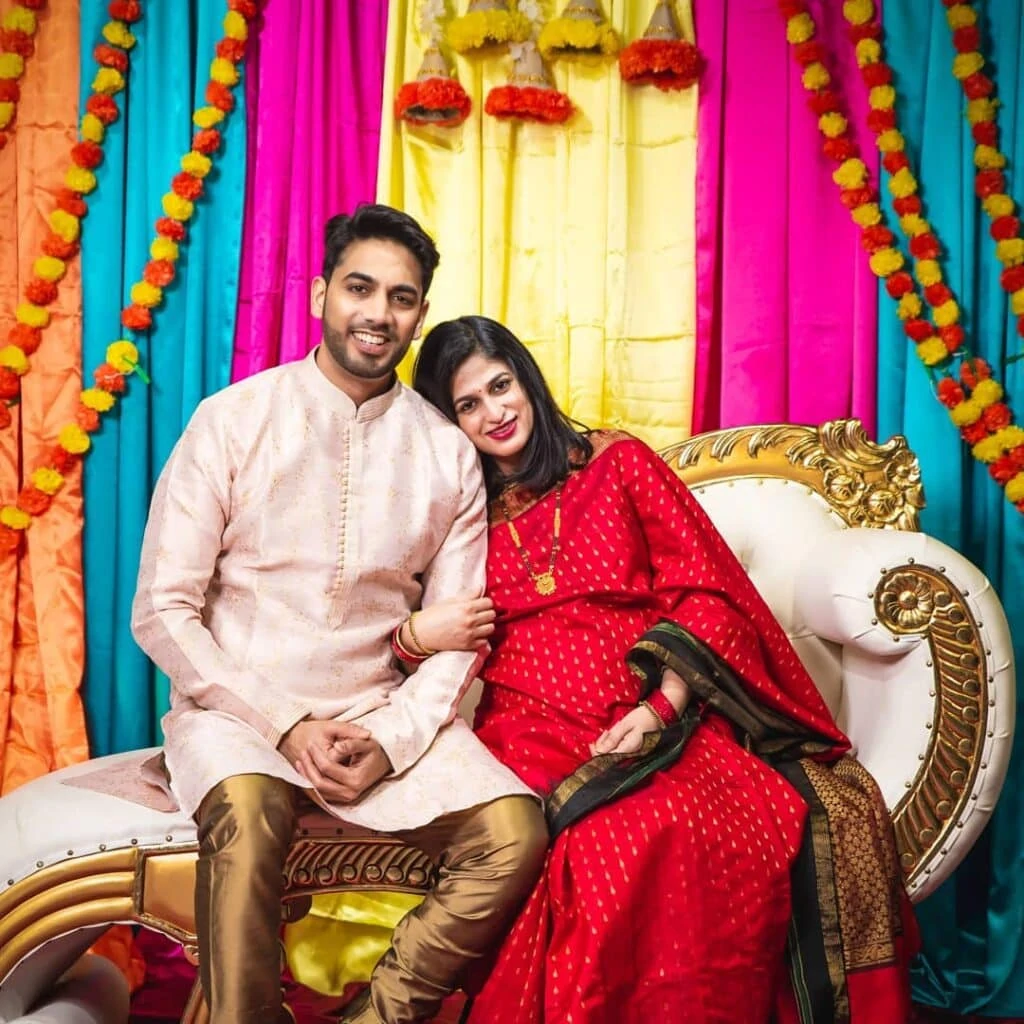 How to Throw a Virtual Baby Shower
There are a few ways to host a virtual shower. You may have a semi-virtual event — where some family attends the party in person and others join in online. You can still find ways to observe traditions in this environment, even if some people are included via video chat. There is the opportunity to give presents, talk, and enjoy the party through the baby shower website and Zoom.
If nearly everyone in your family is far away, you can host an entirely virtual baby shower. WebBabyShower is the premier platform for this type of event, and we offer many extras to make the party fantastic. Using our platform, you can create your own website, find a theme, send out invites and reminders, keep track of games, and more.
When throwing a virtual shower, you may wish to include as many elements as possible from an in-person shower. Decorations, gifts, games, and any other traditions that you add can make the day an exceptional experience. If you're looking for fun ideas about how to host a virtual baby shower, WebBabyShower can help you celebrate in style. See how a great online baby shower works by checking out our website examples.
WebBabyShower Themes to Go with Godh Bharai
Our platform makes planning and decorating easy with our baby shower themes that will adorn your event's website. And we have some that are perfect for Godh Bharai. Some great options include:
Mandalas: This theme features lovely pinks and has flower patterns scattered throughout.
Floral tea time: Embrace a blue, green, and yellow color scheme with a floral and plant background.
Pink daisy: This pink and white daisy pattern is classy and cute.
Islamic green: This WebBabyShower theme has various shades of green and white, perfect for a traditional Indian baby shower.
Blue sun: Go for a classic blue and white theme to welcome your guests to the party.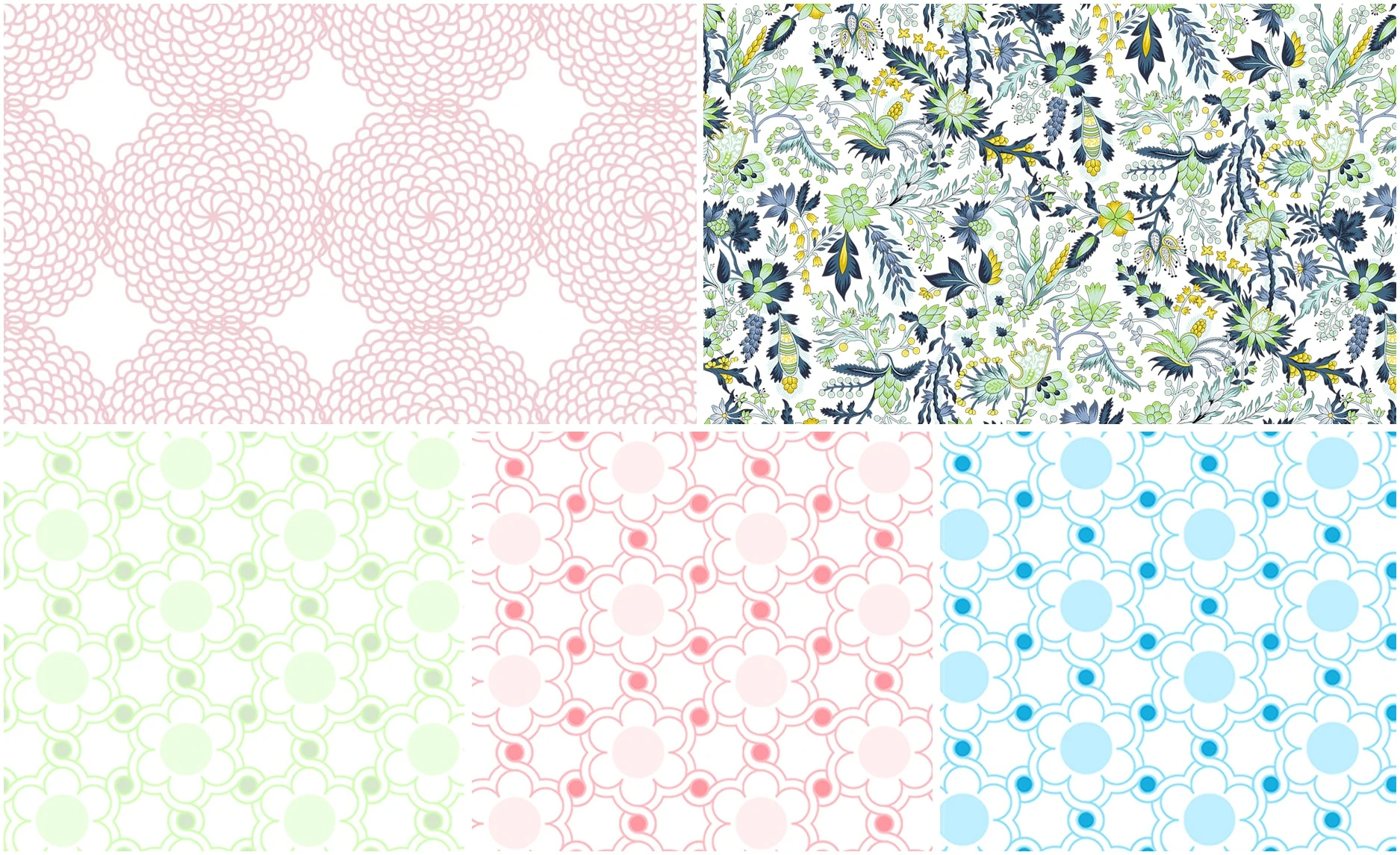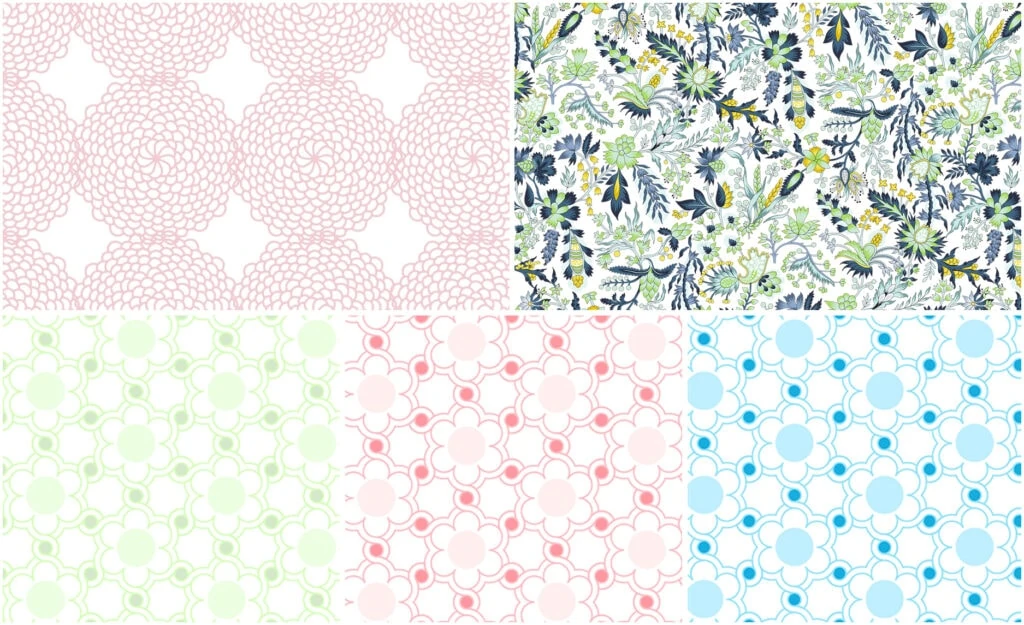 You can find all of these themes in our theme gallery. Check it out for unique and colorful baby shower options. There are many more to look through on our website, but these ideas will help you get started.
What Is Godh Bharai?
Godh Bharai is a beautiful Indian tradition that blesses the new mother and baby. In Hindi, Godh Bharai translates to "fill the lap" with abundance. Generally, the mother's parents or her in-laws will host the event. It is a party and a time for women to gather with the mother-to-be, give presents, eat food, and play games. This may sound similar to a traditional baby shower, but the focus is on the new mom and the presents are usually for her. However, this is just one type of ceremony. There are several other traditional Indian parties, depending on what part of India the celebrating family is from.
When Is Godh Bharai Done?
The right time for Godh Bharai is whenever the mother-to-be prefers to have the party. However, traditionally, this ceremony takes place around the seventh month of pregnancy, though some do happen later than this.
What to Wear at a Godh Bharai Event?
Typically, the fashion for a Godh Bharai ritual is a bit fancy. An embroidered sari is what most people will wear to the event. The mother-to-be may dress exceptionally well, as wearing upscale, traditional fashion is typical for the party. The new mom may also choose to wear a black sari to keep away the "evil eye," according to the Hindu religion.
How Is Godh Bharai Performed?
There are some variations with the order of events and the details of Godh Bharai depending on a family's traditions. However, a Godh Bharai event will generally begin with Puja. Puja is a traditional prayer that the family uses to give honor to a deity, often presenting offerings, or to pray for someone. After all, Godh Bharai is a way for the family to give blessings, protection, and honor to the expecting mother.
During Godh Bharai, the mother's lap will be filled with gifts of jewelry and other presents. There will be a table of delicious food for the meal, including fruit and desserts. And there are usually fun baby shower games too. .
Unique Ideas for an Indian Baby Shower
Depending on what part of India the family comes from, different traditions may be observed during the celebration. Some areas of India (the south and west) have a ritual for creating happiness. The expecting mother will sit on a swing decorated with flowers, and the guests will swing her, which is said to bring joy to her life.
There are so many lovely traditions for Indian baby showers. These are some of our favorite customs to include:
Valaikappu: The Bangle Ceremony
The mother-to-be will receive bangle bracelets from mothers in the group as a way to bless her. The bracelets should stay on until the birth of the child because it is said to protect the baby from the "evil eye" and give safety to the little one.
Seemantham: South Indian Tradition
It is similar to Godh Bharai but comes from a different region of India. Usually, the in-laws of the expectant mother will host the celebration. The mom-to-be will receive fruit, food, flowers, and glass bangles, and guests will call upon the Hindu goddess Lakshmi. This gathering is to celebrate the new mother and ask for a blessing for her baby.
List of Beautiful Songs for Godh Bharai
We've gathered the best songs for your Godh Bharai celebration to help create a great ambiance during the party. Your guests may remember some songs fondly and end up dancing to some of the others!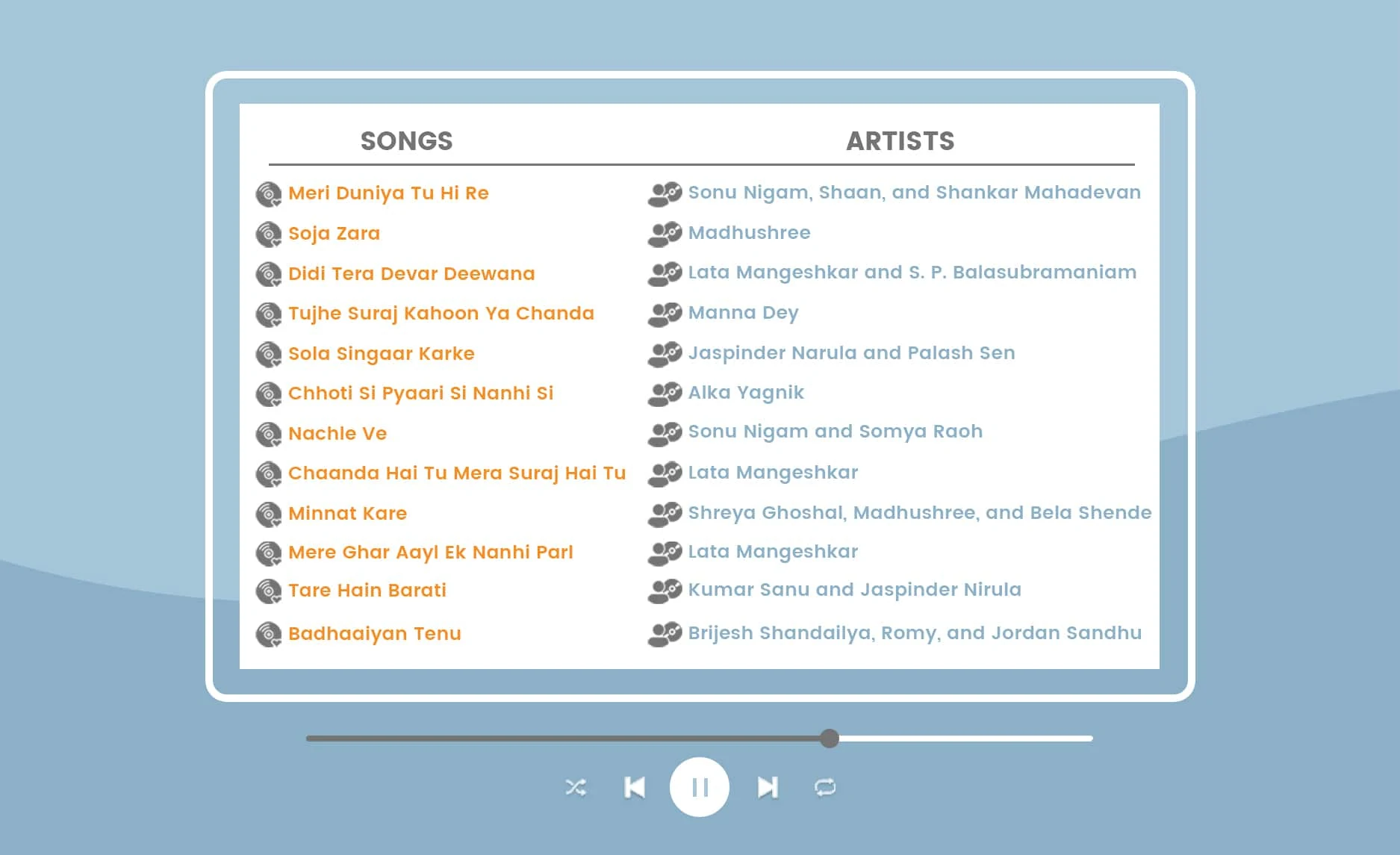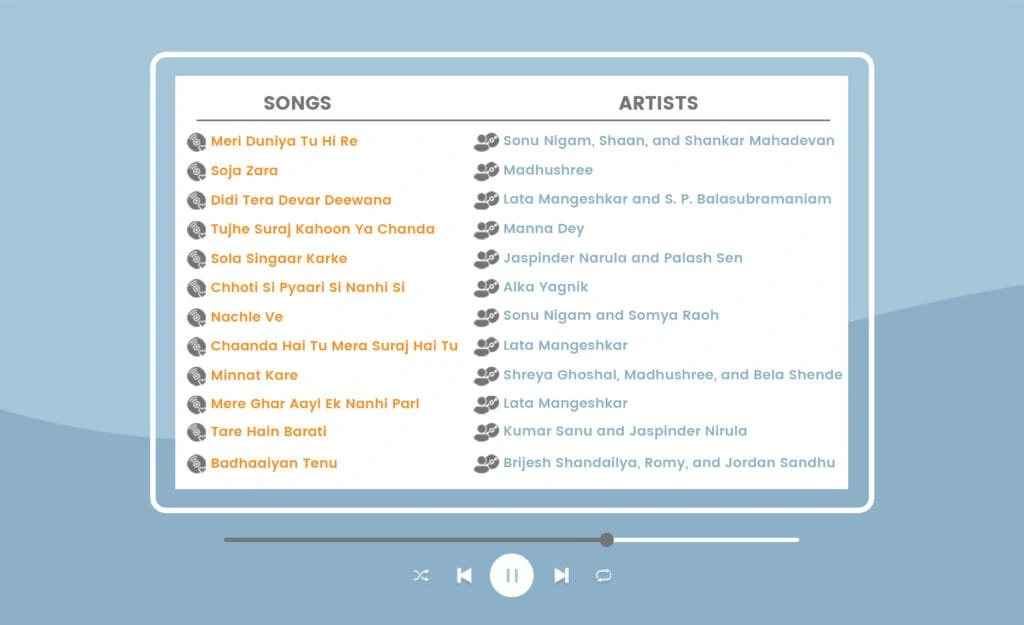 1. Song: "Meri Duniya Tu Hi Re"
Artist: Sonu Nigam, Shaan, and Shankar Mahadevan
This song comes from a romantic comedy called Heyy Babyy. It is a heartwarming song that's perfect for celebrating a new little one.
2. Song: "Didi Tera Devar Deewana"
Artist: Lata Mangeshkar and S. P. Balasubramaniam
This song is from a romantic drama called Hum Aapke Hain Koun that is wildly popular.
3 .Song: "Soja Zara"
Artist: Madhushree
This song is a part of the soundtrack from the movie Baahubali 2: The Conclusion; it has a lively melody and is an excellent addition to your list of party songs.
4. Song: "Sola Singaar Karke"
Artist: Jaspinder Narula and Palash Sen
"Sola Singaar Karke" is from the movie Filhaal, and it's a great pop song for an event.
5. Song: "Tujhe Suraj Kahoon Ya Chanda"
Artist: Manna Dey
From the extremely well-known movie Ek Phool Do Mali, this is a sweet song to include at a Godh Bharai celebration.
6. Song: "Chhoti Si Pyari Si Nanhi Si"
Artist: Alka Yagnik
This classic song from the '90s is featured in the movie Anari.
7. Song: "Nachle Ve"
Artist: Sonu Nigam and Somya Raoh
This fun, fast-paced song is from the film Ta Ra Rum Pum.
8. Song: "Chanda Hai Tu Mera Suraj Hai Tu"
Artist: Lata Mangeshkar
This song is from the soundtrack of the famous '60s movie Aradhana, which will no doubt be recognized by guests.
9. Song: "Minnat Kare"
Artist: Shreya Ghoshal, Madhushree, and Bela Shende
This Hindi song comes from the movie Paheli and is just what you need to get your guests dancing.
10. Song: "Mere Ghar Aayi Ek Nanhi Pari"
Artist: Lata Mangeshkar
This melody is often sung by mothers to their daughters and is a sweet song to play at a Godh Bharai event.
11. Song: "Tare Hain Barati"
Artist: Kumar Sanu, Jaspinder Nirula, and Anu Malik
Perfect for dancing, this song is from the movie Virasat.
12. Song: "Badhaaiyan Tenu"
Artist: Brijesh Shandailya, Romy, and Jordan Sandhu
From the film Badhaai Ho, a family classic, this Bollywood dance song is a great one for your playlist.
Want all these great songs in one place but don't have time to do the work? We've taken care of that for you. Check out our playlist with all of these favorites for you to play at your event. It's the fastest way to create the perfect Indian baby shower music selection.
Godh Bharai Game Ideas
Games are a very traditional part of the Godh Bharai ceremony. Some are specific to a Godh Bharai event, but others will work for any type of baby shower ceremony. We have some great ideas that are fun to play in groups. Here are a few suggestions:
Baby Animals: This matching game involves guests matching an animal to its baby. It sounds simple, but some of the names can be very confusing. Guests can mark their answers on their paper, and the person who guesses more correct answers than anyone else is the winner.
Famous Mothers: With the host stating facts about famous actresses, singers, or comedians who are also mothers, guests will try to figure out the celebrity in question. Again, the winner is the person who gets the most right answers.
If you're hosting a virtual or semi-virtual event, this website has some fun games to keep the party entertaining. We'll mention a few here:
Ribbon Game: Guests try to guess the mom-to-be's tummy size by using ribbon. If you're doing a virtual game, ask guests to mail in their cut ribbons ahead of time, and then the mother can try on each ribbon to see which one is the closest to her size.
What do You Think I Should Know?: All the guests must think of three questions about babies for the new mother to answer. These can be questions about how often to feed the baby, at what month babies usually start crawling, or anything else people come up with. The person who writes the card with the most thoughtful questions wins. For a virtual game, guests can jot down their questions and then read them aloud over video chat.
Draw the Baby: Guests must hold a piece of paper to their foreheads and, using a pencil, attempt to draw a picture of the baby. It will obviously be difficult, and the results will be far from accurate. The expectant mother picks her favorite drawing as the winner. This game is perfect for video chats and doesn't require anything other than paper and something to draw with.
Godh Bharai FAQ
What to Do During Godh Bharai?
One of the main traditions is to give presents to the mother-to-be and be part of blessing her and the child's life. Food and games are also essential aspects of the day.
We have some fun game suggestions for your party at your WebBabyShower. These games are easy to play, and we guarantee you'll have a ton of fun! Check out favorites like Baby Word Search or Baby Jeopardy, or use our site's ideas to come up with your own unique games.
What Is Different About a Baby Shower and Godh Bharai?
While baby showers tend to include friends, family, and even co-workers, the Godh Bharai ceremony is family-focused. And though some baby showers are co-ed,  Godh Bharai usually involves just the women in the family. Several traditions are generally observed during Godh Bharai, including Puja, presents, and a delicious meal. The mother also usually wears a sari. With baby showers, the dress code can be casual or fancy, food is usually included but isn't as elaborate, and games and presents dominate the day.
What Should We Give for Godh Bharai?
The traditional presents for this event include clothing, money, or bangles for the mother-to-be to wear. You may also give her things like desserts or other food items. If you're the host and wondering how to politely ask guests to give cash as a present, read our advice.
Which Month Is the Baby Shower Done in India?
Typically Godh Bharai is held during a woman's seventh month of pregnancy, although you may see some events that happen in the eighth month. However, the time can be adjusted depending on the preferences of the new mother.
Wrapping Up
You can use so many unique Indian traditions to help welcome a newborn baby into the world. The most important part of a Godh Bharai event is blessing the mother-to-be and her child. It's a chance to make the mother feel appreciated and know that her family is there to support her.
If you are Hindu, you may want to include some of the more traditional rituals at your Godh Bharai ceremony. You can keep it purely traditional, or you may choose to add in some modern games or other fun ideas. Whatever traditions you decide to include, WebBabyShower is all about making your special day perfect. We have ideas, articles, and expert advice to help you on your baby shower journey.
Godh Bharai is a time for family members to come together and enjoy long-standing traditions. If you have family in many locations, you might choose to combine an in-person baby shower with a virtual one. Using our WebBabyShower platform is the best way to keep everyone informed, share photos, send invitations, and play games. At WebBabyShower, we're all about bringing together families and celebrating milestones with those closest to you, wherever they are.
Did you enjoy reading about Godh Bharai traditions? What other customs should be included in this list?