What Is a Tea Party Baby Shower?
Most people have been to a baby shower, but have you ever been to a tea party baby shower ? This type of baby shower is whimsical, elegant, and sure to delight guests of all ages.
Traditional baby showers are typically an unstructured, mix-and-mingle social event with a few central elements — namely, games and gifts. During a tea party baby shower, you have the opportunity to create a more structured, demure event. A tea party baby shower is perfect for the mommy-to-be who is an avid fan of Downton Abbey or the royal family — or one who is just an Anglophile in general.
As the No. 1 market leader in online baby showers, WebBabyShower knows just what makes a baby shower memorable. In this article, we are going to show you how to throw the most elegant, delightful tea party baby shower ever. We will give you ideas for tea party baby shower themes, menu suggestions, and attire. Let's dive right in!
How Do I Throw a Tea Party Baby Shower?
There are two ways you can throw a tea party baby shower: in-person or virtually using WebBabyShower. No matter which option you choose, we have everything you need to make this tea party a smashing success.
How to Throw an In-Person Tea Party Baby Shower
Baby showers are often held in person with lots of close friends and family members, and this is a great way to host a tea party baby shower. An in-person baby shower is also typically women-only, but at WebBabyShower, we believe in throwing an inclusive shower that fits today's world. Remember, while a tea party baby shower might be a little more formal and elegant, that doesn't mean it has to be stuffy or old-fashioned!
How to Throw a Virtual Tea Party Baby Shower
A virtual tea party baby shower can be just as fun as an in-person shower — it just takes a little planning, creativity, and support! With WebBabyShower's features, it's so easy to have a virtual tea party baby shower. When you organize your virtual shower with WebBabyShower, you get help with setup, invitations, and design — we even have a list of great baby shower games to help you make the most of your event. In this article, we'll give you some specific suggestions on how to use WebBabyShower to throw the best virtual tea party baby shower.
Choose an Elegant Tea Party Theme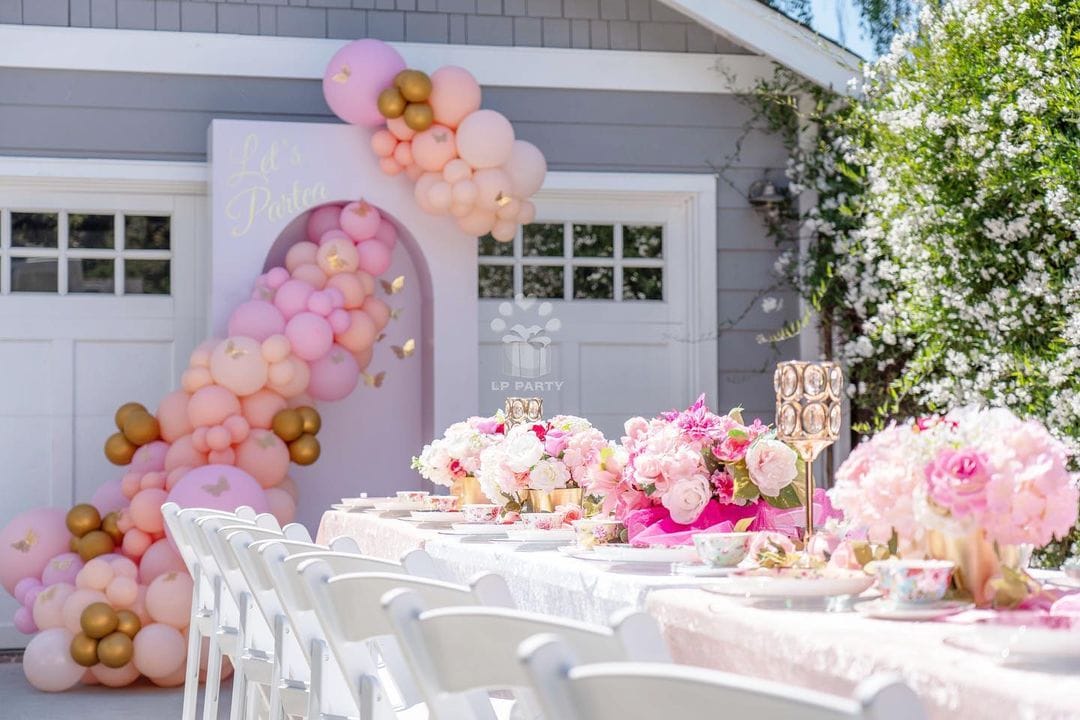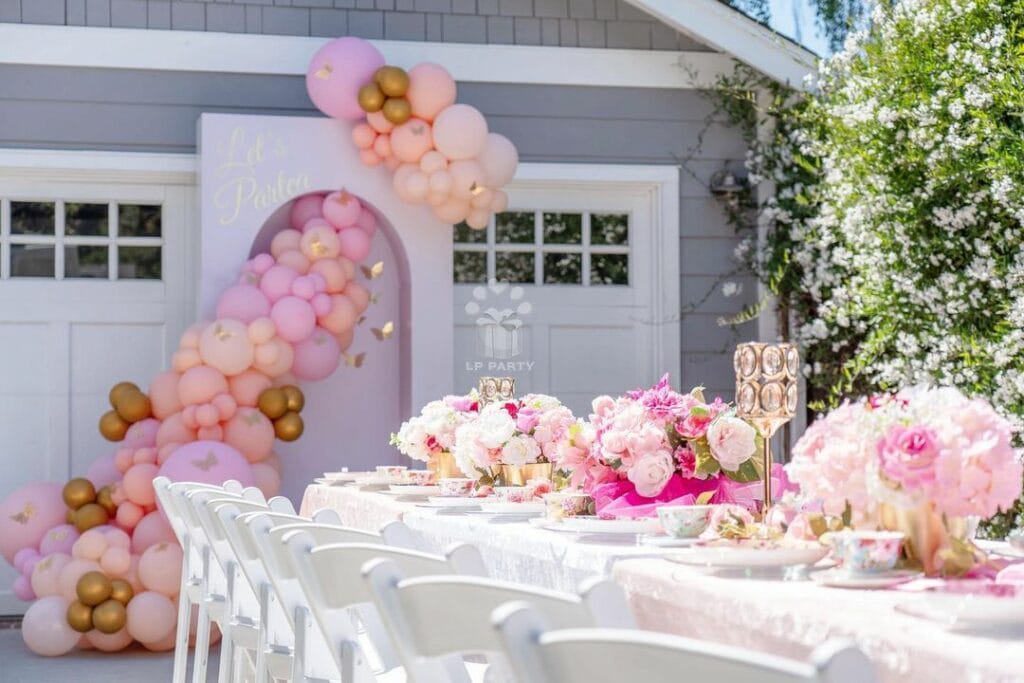 Let's talk about one of the most fun parts of baby shower planning: the theme! Tea party baby showers can be more traditional or modern and casual. A traditional tea party theme could look like lots of florals, shades of pink, purple, and yellow, and plenty of lace. A more modern or casual tea party theme might look a little less frilly and a little more earthy. We even love the idea of throwing a whimsical tea party baby shower — think Alice in Wonderland-style. A quirky, eccentric "Mad Hatter" tea party baby shower would be perfect for a mom-to-be who marches to the beat of her own drum.
Flowers
Flowers are a must for any tea party baby shower. If you're throwing an in-person tea party baby shower, we love delicate arrangements of roses, carnations, and chrysanthemums on the tables. If you're going for whimsy over a classical feel, try something like daisies, baby's breath, or sunflowers.
Tableware
For traditional baby showers, paper plates that match the shower theme are common. But for your tea party baby shower, elevate things by choosing china tableware. Now, you don't have to go crazy or break the bank — you can get china tableware from thrift stores. You'd be surprised how much there is! The pieces don't have to match. Actually, mismatched china will help add charm and authenticity to your tea party. For tablecloths, choose lace for a traditional look or something with polka dots or another interesting pattern if you're going the whimsical route.
Virtual Tea Party Baby Shower Themes
We didn't forget you virtual baby shower hosts! We have adorable themes that will perfectly complement your virtual tea party baby shower.


Classic Bouquet
Our Classic Bouquet theme is perfect for that classic, elegant tea party baby shower theme. It features a beautiful watercolor-style bouquet with lots of lovely colors.
Floral Teatime
Floral Teatime is great for a tea party baby shower that's less formal and more casual, playful, and whimsical.
Lilacs
This baby shower theme features lots of purple with just a splash of pink and green.
We have lots of more elegant baby shower themes here!
Use Teacups for Party Favors
Mail your guests a cute teacup and a selection of teas for them to enjoy during your WebBabyShower. Both virtual and in-person guests can keep the teacup and tea as party favors!
Select the Menu
The time of day that you throw your tea party should dictate the food you serve. If your tea party is held before noon, having a menu suited for a morning tea party is best. Go for a menu of sweet treats and snacks. Afternoon tea party food is a little bit different — savory bites with some sweetness mixed in is a good idea. Here are some ideas for your menus.
Scones
Scones are a traditional and timeless tea party food. They are delicious and easy to make at home! Scones can be sweet (perfect for morning tea parties) or savory (for your afternoon events). Whether you serve a cranberry scone or a bacon cheddar scone (uh, yes please), these will be a hit at your tea party baby shower!
Sandwiches
Finger sandwiches are a must-have for any afternoon tea party. There are so many delicious ways to prepare tea party finger sandwiches. We're particular to sandwiches like egg salad, pimento cheese, cream cheese and cucumber… okay, we have to stop — we're getting hungry! Cut them into little triangles for Instagram-worthy deliciousness.
Pastries
Pastries are delicious and so versatile! You can serve so many different types — savory, sweet, large, small — these are the perfect options for both morning and afternoon tea party baby showers. Whether you serve croissants, danishes, eclairs, or a combination of all of the above, pastries are essential.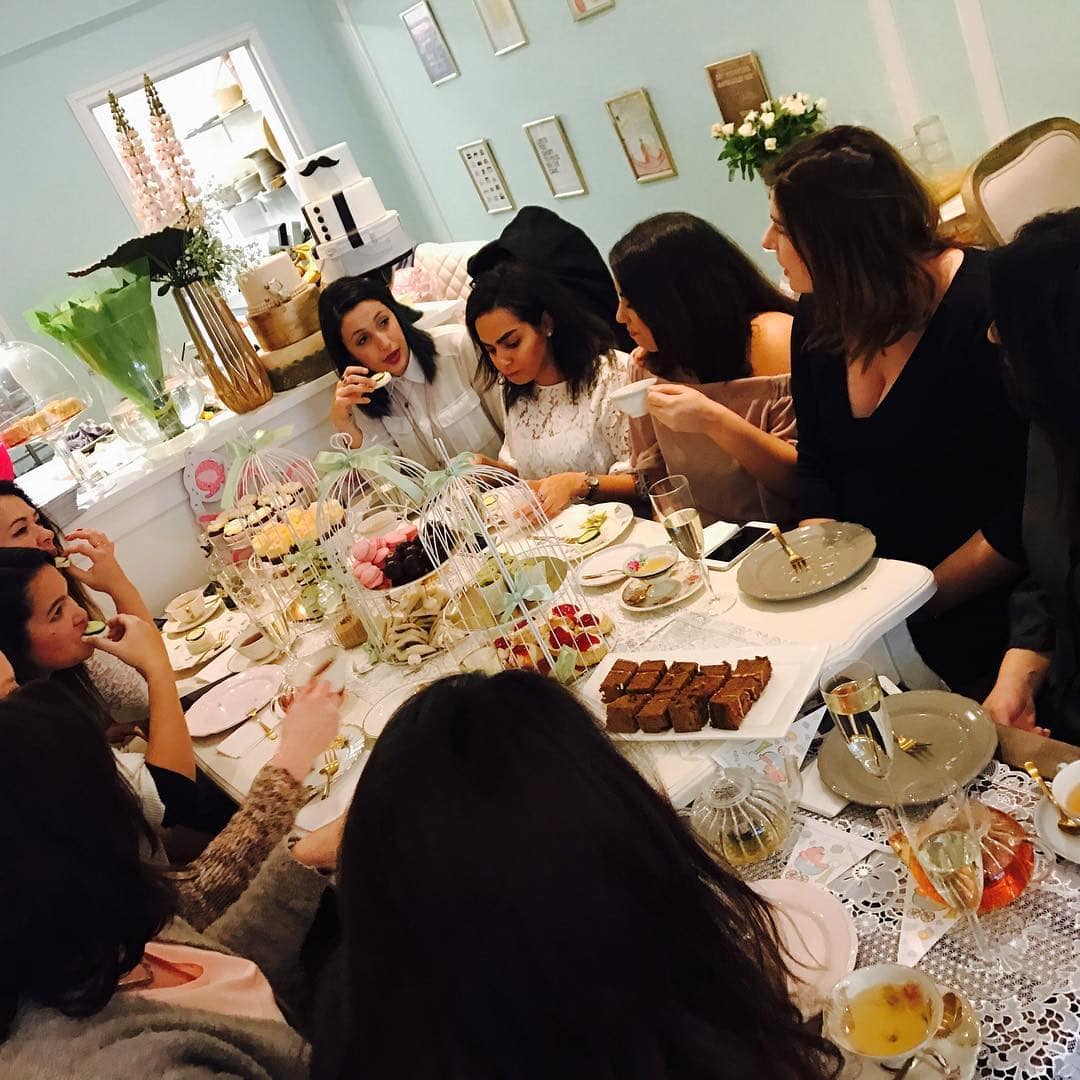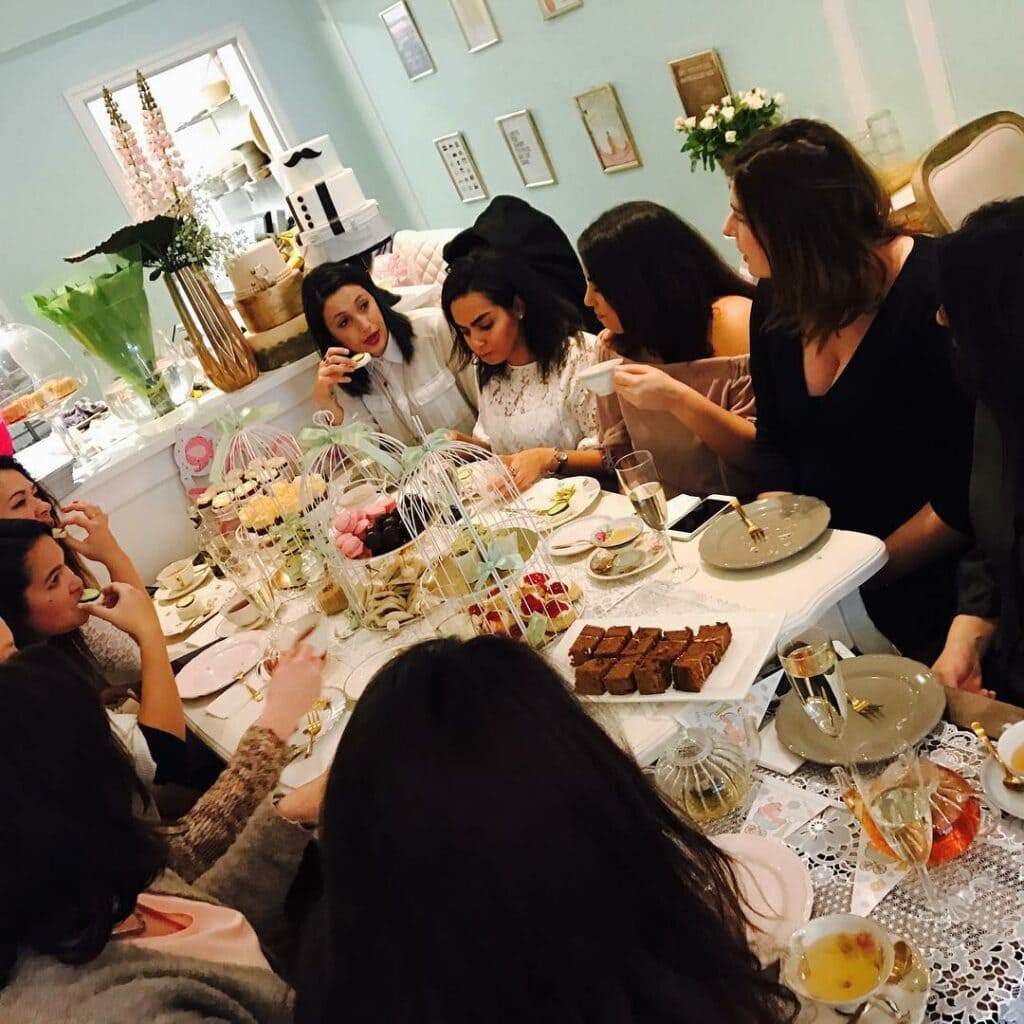 Macarons
Macarons: they're sweet, they're colorful, they're cute, and they're oh-so-delicious. Talk about an Insta-worthy snack; who doesn't love to swoon over colorful piles of pillowy macarons?
Cupcakes
Who doesn't love cupcakes? Whether you choose simple, bite-sized cupcakes or elaborate works of art, cupcakes complement any tea party menu perfectly.
"Virtual" Food
Virtual baby shower folks, we haven't forgotten you! You can still treat your virtual guests to a tea party full of delicious treats. Many of these foods can be mailed ahead of time (but not sandwiches, unfortunately). Send your virtual baby shower guests a sweet little package of macarons or cupcakes.
Another fun way to get everyone involved is to choose a recipe (for scones, cupcakes, or macarons) and send it to your guests ahead of time. Virtual guests can make these treats at home and eat them during the baby shower. It's so fun to see what everyone whips up!
We love this list that includes recipes for tea party food, no matter if you throw a morning or afternoon tea party baby shower!
Choose Tea Varieties
Once your menu is decided, it's time to pick some teas! Here are a few blends we love for a baby shower tea party:
English breakfast tea: This is perfect to pair with scones and jam, but it's also great for rich foods. English breakfast tea is higher in caffeine, which makes it a popular choice for morning tea parties.
Mint tea: This lighter tea pairs well with desserts like lemon cake. It's a refreshing palate cleanser.
White tea: This tea has a delicate flavor and goes perfectly with light dishes like salads or finger sandwiches.
Chai tea: This spicy favorite goes well with cinnamon buns.
Oolong tea: This floral, fruit blend pairs well with fruit and sandwiches.
The great thing about tea is that it can easily be mailed ahead of time. That way, your virtual guests can enjoy the tea you select!
What Is Proper Tea Party Attire?
Traditional tea party attire is adorable — think dresses with lace and floral patterns, white gloves, and fascinator hats.
Another thing to consider is where the tea party is held. Is the party in someone's home, or is it held at an outside venue? Many people love the idea of dressing up to go somewhere, but may be less inclined to do so if the party is in a home.
Some people may think that this type of attire is a little too traditional, but ultimately it's up to the mom-to-be to decide what sort of vibe she wants for her tea party baby shower. Ask her what she's feeling and go from there. Here are some general ideas for what to wear to a tea party baby shower.
Dresses
Dresses are typically what women wear to tea parties, so it stands to reason they'd be a popular choice for a tea party baby shower!
For traditional baby shower attire, we love knee-length dresses with floral patterns. Depending on how traditional the mom-to-be wants to go (remember, this is her day!), you can elevate your outfit with some white gloves.
If you're sticking to a more casual tea party, encourage guests to dress in whatever makes them feel comfortable. We love maxi dresses for a casual get-together or even a comfy, cute jumpsuit!
Fascinator Hats
The fascinator hat has a long tradition dating all the way back to the 1700s — but the styles we know today became popular in the 1960s. Fascinator hats are typically worn for formal occasions like weddings, galas, and yes — tea parties!
Wearing these elaborate statement pieces can be so much fun. How often in life do you get to dress to the nines and top it all off with a fancy hat?
Fascinator hats are very traditional, so if the mom-to-be wants a fancy, traditional tea party, make sure guests are made aware before the big day.
Tea Party Baby Shower Invitation Wording
Since tea party baby showers aren't the norm, invitation wording is important. This is your chance to set expectations for guests. Tea party baby shower invitation wording may be slightly different from regular baby shower invitation wording.
Here are some ways you can let people know that the shower is a tea party:
"A Spot of Tea to Celebrate Mom-to-Be!"
"A Baby is Brewing! Join Us for a Baby Shower Tea Party!"
"You're Invited to a Tea Party to Celebrate (Mom's Name)!"
When you make your invitations, make sure you set expectations for attire and games — with tea party baby showers, the games will be a little different from those at a more traditional baby shower.
What do I buy for a baby shower party?
Usually the parents-to-be will have a gift registry so knowing what to buy for the baby shower will be easy peasy! If they choose WebBabyShower to host their party there will even be a page dedicated to the gift registry.
Here are some gift ideas to get you started if you don't have a registry to choose from:
A cute diaper bag
Mom and Dad mugs
A Night light
A Baby carrier
If those don't take your fancy check out our 11 best eco-friendly baby shower gifts here.
Best Games for Tea Party Baby Showers
Since a tea party baby shower is a little different than traditional showers, some games won't be suitable. Can you imagine playing the What Chocolate Is in the Diaper game at a fancy tea party?!
For a tea party baby shower, you'll want to come up with some easy, passive games that can be played anytime and won't interrupt the party. The Don't Say "Baby" Game is a great choice because tea parties are very social with lots of conversation.
Another great activity is for everyone to write messages of advice or encouragement for the mom-to-be on slips of paper, put them into a bowl, and then have her read them out loud and try and guess which guest gave the advice.
Make sure to choose games that are simple, fun, and don't require a lot of moving around.
Tea Party Baby Showers: A Fun Alternative to Traditional Baby Showers
A tea party baby shower is a fantastic alternative to a traditional baby shower. It's an especially appealing choice for a mom who may want a small gathering with her nearest and dearest or for a traditional mom who loves to dress up. Tea party baby showers are a great choice for moms who are shy and don't want anything too centered around games or aren't interested in being the center of attention.
Looking for other types of baby showers? Here is a comprehensive list of different kinds of baby showers to spark your creativity!