So you've decided that you're going to go the virtual route for your baby shower – awesome! You've just joined a very cool club of people who've realized that websites for baby showers are just as awesome as in-person baby showers.
Now it's time to decide on a website to help host and/or advertise your big day! Thankfully there are several options out there to help with this step, but everything that glitters isn't gold. For your baby shower, you should have nothing less than the best.
WebBabyShower, for example, is the premiere destination for virtual baby showers. It's serviced over 10,000 families since its conception, and purchasing a plan with them grants customers a long list of features to use to plan and host their baby shower.
There are, however, other options out there. And while most of them are originally geared towards weddings, the services they offer can be modified for a baby shower.  Keep reading to find out the pros and cons of each website!
Throw a Virtual Baby Shower so Everyone

Can Celebrate!

• Free Trial – 7 Day Refund for any reason
• Only 1 Minute Setup!
• 40+ Custom Themes & Matching Invites
• Use Any Online Registry
• Send Unlimited Invites and Updates
• Baby Shower Games with Scoreboards, Give Prizes!

Build Your Shower
---
Custom and Modern Event Website!
There are plenty of options out there for your virtual baby shower website. Due to Covid-19,  it's more important than ever to invest in an event website with custom features and modern themes that make your baby shower feel fun and festive! Here are key things to consider before committing to any website! 
Virtual Baby Shower Considerations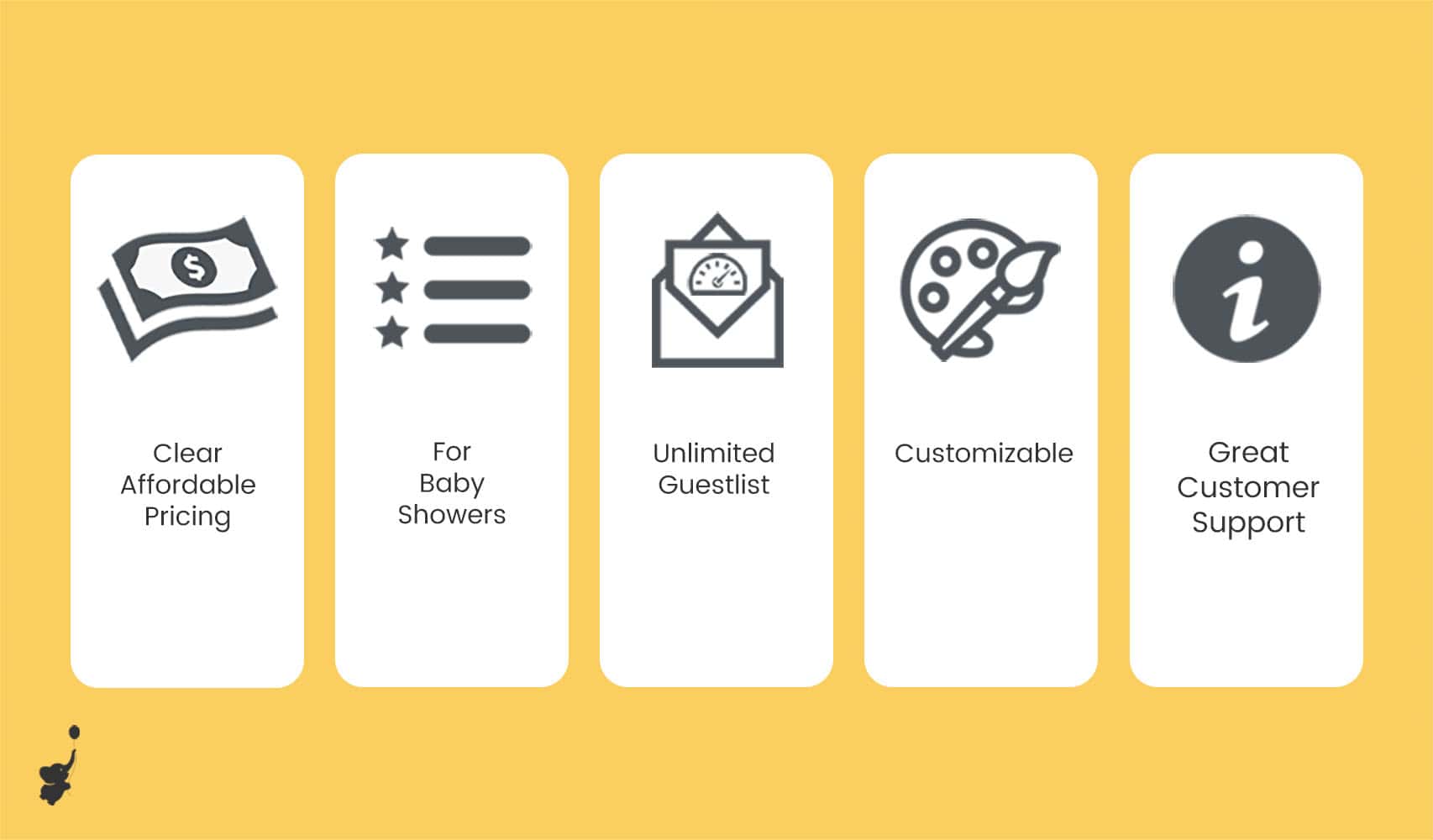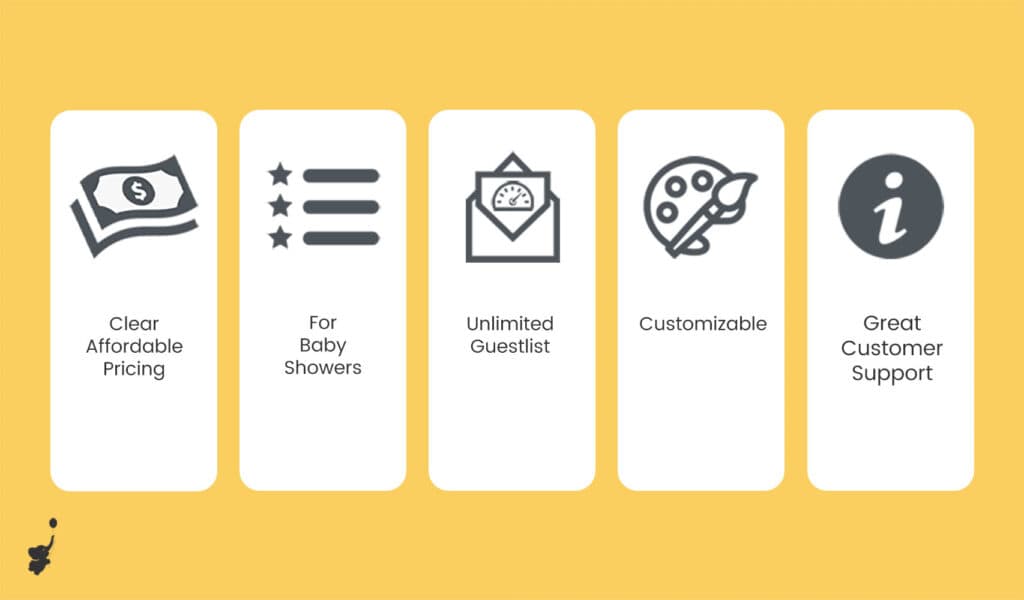 Price
Babies might be expensive, but your baby shower doesn't have to be. Especially if you're going virtual! The site you choose should, above all, be affordable and accessible. Make sure that the price requested is equal to the services being offered, and steer clear of any website that has hidden fees!
Features
Ideally, the website you choose should be designed specifically for baby showers. Some companies try to be "Jack of all trades," but end up neglecting certain demographics. Websites dedicated to baby showers only will be more likely to fulfill your needs. However, it is possible to find what you need from other services. It should also house all the features in one website and have everything an in-person baby shower has to offer.
Invitation Limit
Most baby shower websites have some kind of invitation service built in. While that's great, it's important that it's able to accommodate the number of guests you want to invite without paying additional fees!
Themes and Design
A site's selection of themes is one of the most important aspects to consider when shopping around. The right graphics will help to make your online shower feel celebratory. You should make sure that the website you choose is customizable and user-friendly enough to let you select themes easily and has lots of options that can help you design your shower.
FAQ Resources and Customer Support
It's also important that the website has a robust FAQ section and either email or phone-based customer service! It'd also be nice if the website has included a how-to guide for customers to refer back to.
Possible Baby Shower Websites
The Knot is a wedding planner website with over a hundred of free wedding themes, which can be hacked for a baby shower.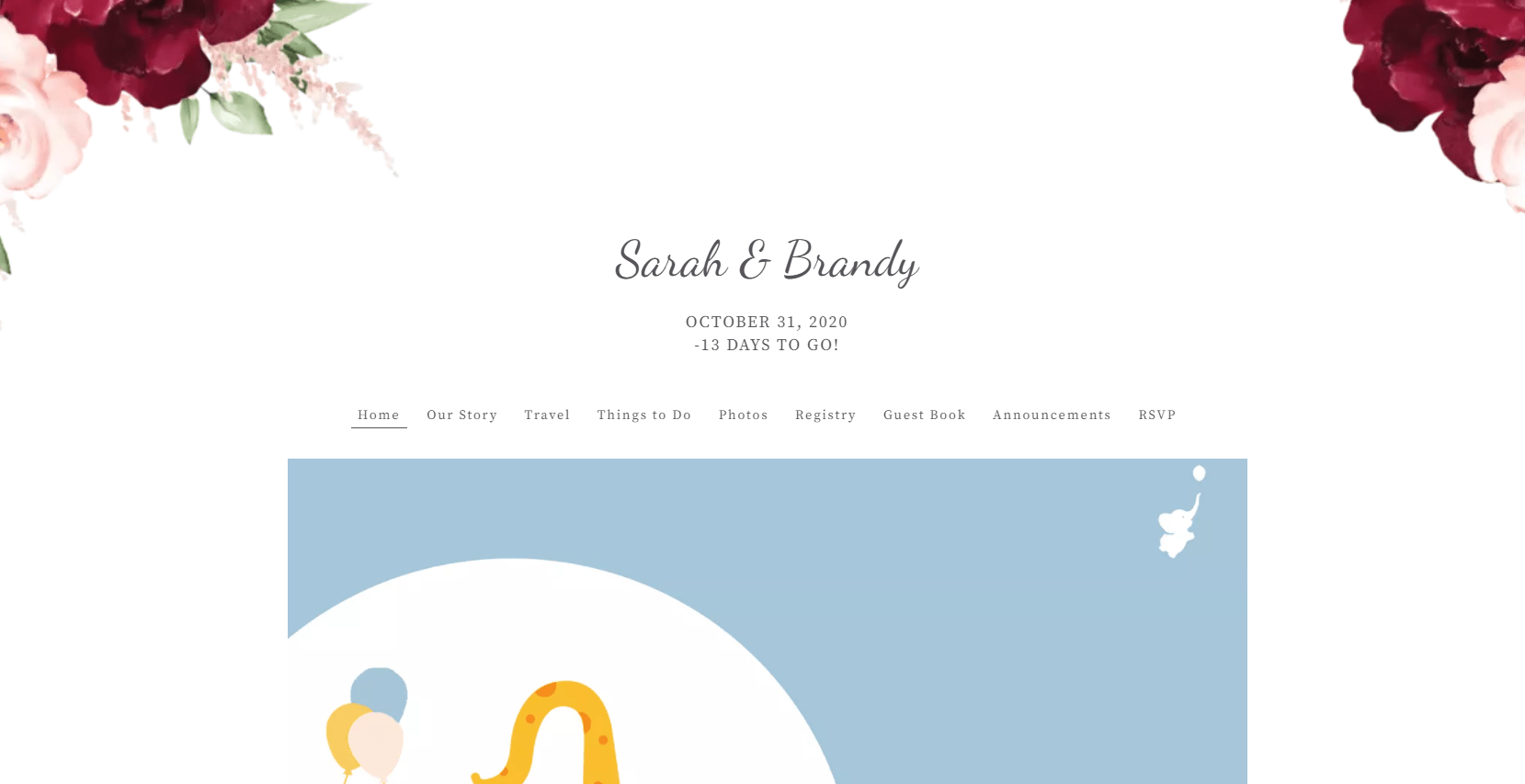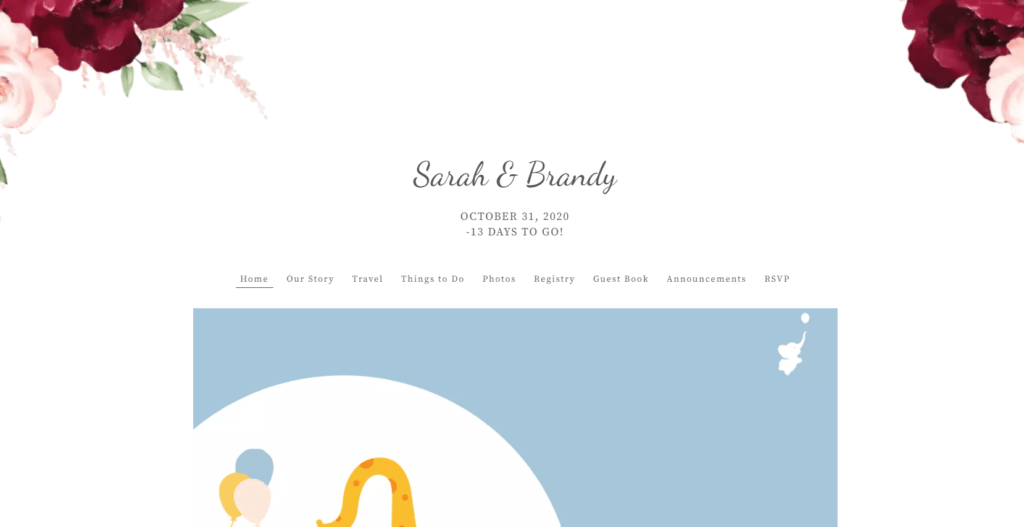 Features
The Knot comes packed with many features. It includes an option for guests to RSVP, a photo timeline gallery, links to a registry and cash funds.
The website offers multiple pages, which you can reorder, disable, or edit the page name. Default pages include Home, Our Story, Travel, Things To Do, Wedding Party, Photos, and a Registry Visibility option.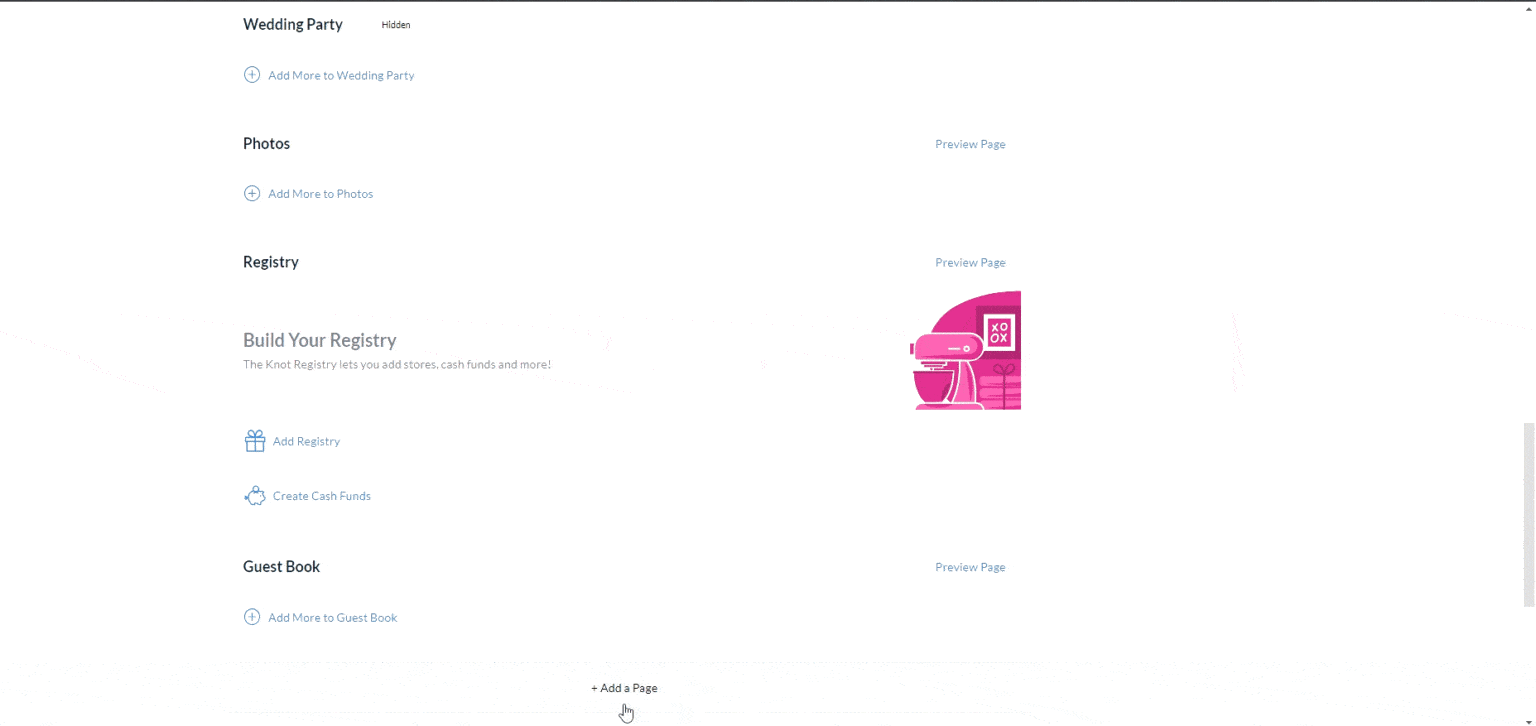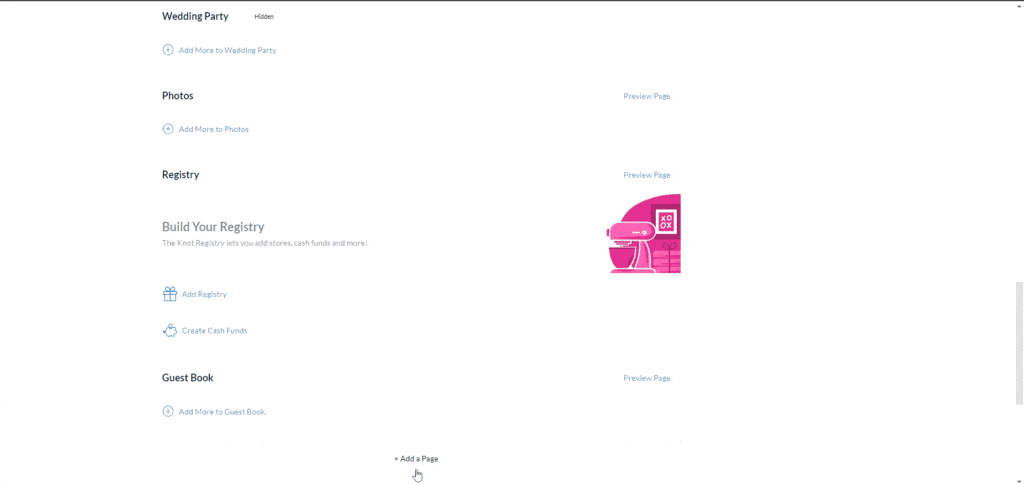 You can turn the visibility on if you want to let your site appear in search engines. This way guests can find your site without needing to memorize your URL. In addition to those features, The Knot also offers password protection, and allows you to add a link to your video chat.
Guests can also add the event to their calendar after Rsvping. The Knot also allows guests to download the ICS file (a calendar file saved in a universal calendar format) and add it to their computer's calendar.
Invite System
The Knot's Invite system is better than most. You can share the website through email or sms, create and send a custom message, share livestream information, remind guests to RSVP, and also let them know what changes you'll be making to your event!
Price
The Knot allows users to access all features for free, but users who want a custom domain, as opposed to a subdomain, are charged $20.
Example of a free subdomain: https://www.theknot.com/us/sarah-blake-and-brandy-blake-oct-2020
Pros
Overall, The Knot gets major kudos for having multiple invite system options and prioritizing users' privacy. Plus, users can also share the website and send RSVP through SMS.
Cons
Unfortunately, their invitation is plain and not customizable. You also can't customize the font color and style of the website. Lastly, The RSVP wording also defaults to 'Wedding' and can't be changed.
Zola is an online wedding registry and planner that lets you create a wedding website for free and can be customized to use for a virtual baby shower.
Features
Zola offers users a multi-page website that users can edit, hide, and reorder. The default pages include: Home, Schedule, Travel, Registry, Wedding Party, Photos, Things To Do, FAQs, and RSVPs.
The website is password protected, includes a form for RSVPing, and comes with a registry that can be integrated into other registry sites.
Price:
Zola is free to use, but users who want a custom domain must pay $14.95.
Pros
Users can add guests right from their phone contacts. The website includes a great guest list feature and robust privacy settings.
Cons
Zola's' in-house registry only has newlywed related items, but you can still add a registry from other sites. There are also very limited layout options and tools. Only a few templates have matching invites.
Joy is a free wedding planning website and app that offers free wedding websites with guest list tools, save the dates and invitations and plenty of built-in templates.
Features
Joy's wedding planning website comes with a dedicated design center, which users can use to edit the design of their template. It can also be used to add personal photos. It's invitation section allows guests to RSVP, users to send invitations and Save The Dates.
Though this is a wedding website by default, the Guest Q&A, registries, schedule, story and video are readily applicable to baby showers.
The website's page manager allows users to reorder, show/hide and edit pages. It's also incredibly secure, requiring guests to input an event password, only allows access to those who RSVP'd and offers search engine privacy.
Best of all, Joy is completely free.
Pros
It included many nice templates that are easy to use!
Cons
There is no option to purchase a custom domain. This is how the free domain will look: https://withjoy.com/brandy-blake-and-sarah-blake.
You also can't access all features and options on the mobile web and app, like the rsvp tracking and other guest tools. Lastly, there is no built-in video uploader. Their video feature will only let you upload to Vimeo and YouTube.
Minted isn't so much of a baby shower hosting site as it is a design marketplace. Therefore their designs are sourced from different artists, who offer plenty of classy templates.
Features
A website from Minted comes equipped with a built-in RSVP tool, gift registry, photo album, events, announcements, and the option to add a new page.
Price
The basic features are free for all users. A premium account consists of all the basic features plus a custom URL, photo gallery and increased website privacy.
Pros
Minted is incredibly user friendly and great for people who might not have the best technical skills. It offers four different layouts and color themes that you can choose. There is a multiple or single page option.
Cons
Minted's free features are limited. The website also isn't very customizable. Plus the default URL doesn't look good.
Riley and Grey is a digital platform for weddings that has custom features. It comes with a beautiful collection of designs and sites that look professional.
Features
Its features include multiple pages, a RSVP tool, a photo album, a party schedule, the ability to add and arrange pages and accommodations.
Price
Riley & Grey's service costs $35 per month. For this price, you get a custom domain, mobile access, a personalized RSVP System, the ability to design whenever you want, fast response customer service and more. You can cancel anytime as well.
Pros
Riley & Grey's offers plenty of different theme styles, which are customizable. They also offer great customer support.
Cons
Unfortunately, this service is not free or even budget friendly. It also takes a lot of time and effort to set the site. For people who are not tech savvy, the process might seem complicated.
WebBabyShower is the first ever, and by far the most notable, online baby shower website. From start to finish it handles every aspect of your virtual shower for a super incredible price!
Price
If you want to see our current pricing and plans, check out our pricing page.
Pros
WebBabyShower was created just for virtual baby showers. This means its themes are specific for baby showers, which creates more options for the users. It offers a customizable website and invitations for customers. Plus, there is no limit on the number of guests! The best part is that all of this can be set up in only 60 seconds!
Cons
WebBabyShower is pretty much the perfect option!
See how a great online baby shower works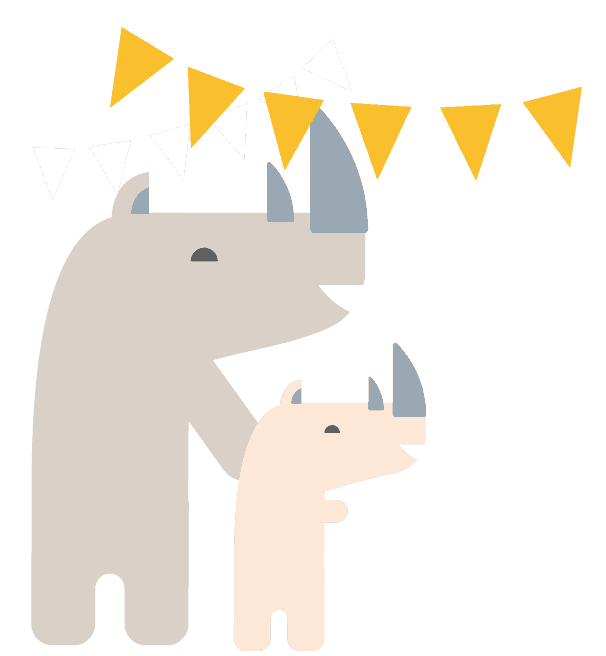 Everyone automatically gets the following with ALL our plans:
Each plan includes a multi-page baby shower, which allows users to change the theme, background photo or color, fonts and the option to add their own images. The invitation manager allows invitations to be sent to an unlimited number of guests. There are also multiple theme options available. Plus, the feature tracks the number of people who opened and clicked the invite.
No baby shower is complete without games and this platform includes some in the fold. There's also a section for birthday bets and a way to keep score! But that's not all! It also offers free and exclusive printable resources. 
Lastly, each package included a photo and video album, a guestbook page for guests to sign and leave messages, and gift registry links.
Time to Choose!
Now that you've read the pros and cons of each website, it's time to make a choice!
While there are some great options on this list, which come with many pros, all but one share one major con: they're wedding websites. Now, weddings are awesome, of course, but they differ greatly from baby showers and a service built for weddings won't serve the requirements for a baby shower.
Fortunately,WebBabyShower was built with baby showers in mind. Every single detail, from top to bottom, was put together and packaged for women and families in the baby shower planning stage. With them, you won't run into limited baby themes, or awkward wording, meant for weddings! You also won't have to pay out an arm or a leg to receive quality, secure service.
Of course, the final decision will be left up to you. But we know what we'd do, if we were you! Need more convincing? Check out these reviews made by real customers who've utilized the service!
Did you like this article? If so, be sure to bookmark it for later reading and share it with your friends and family on social media!