Baby showers are very special events, but the process of planning and organization can be a lot! From who to invite, what to do, when to have it, and more. And nowadays, a major consideration is whether to have a traditional baby shower or a virtual party. This decision will be the focus of our article. 
So, let's say you've explored all your options, and now you're ready to plan your virtual baby shower. Congrats on making it this far, Mama! But maybe you're still wondering how many people to invite to your shower or perhaps, "What happens at a virtual shower, anyway?"
We get it – you've got questions, particularly in the midst of the Coronavirus pandemic. Luckily, WebBabyShower has the answers! Read on for our How to Throw a Virtual Baby Shower top tips. Also try to read our article: How to have an awesome long distance baby shower?
What is a Virtual Baby Shower, Anyway?
First things first, baby showers are pretty rooted in tradition. So you may not even be aware of this new trend that is picking up steam. Just what is a virtual baby shower?
Just like a traditional, physical in-person baby shower, virtual baby showers bring together all of the people – family and friends – who are special to the new parent. The primary difference? Guests from all across the globe can attend via the Internet, without ever leaving their homes.
Additionally, the virtual baby shower doesn't have to take place all at once. Guests can drop in periodically to leave well wishes, send messages, and more. Typically, there is a lead up to the event in which guests can message the expectant parent and work on getting a gift, and there is a live, scheduled video call at a certain point. But the main benefit of a virtual shower is flexibility, so you can really plan it in the best way that suits you!
Simply put, a virtual baby shower can be hosted completely online, with tons of unique and customizable features, such as the ones we offer. It's easy, convenient, and super casual. And most importantly, just like any traditional shower, a virtual celebration is to honor the Mom-to-be AND her new little one. So get connected with your loved ones – virtually!
Throw a Virtual Baby Shower so Everyone

Can Celebrate!

• Free Trial – 7 Day Refund for any reason
• Only 1 Minute Setup!
• 40+ Custom Themes & Matching Invites
• Use Any Online Registry
• Send Unlimited Invites and Updates
• Baby Shower Games with Scoreboards, Give Prizes!

Build Your Shower
---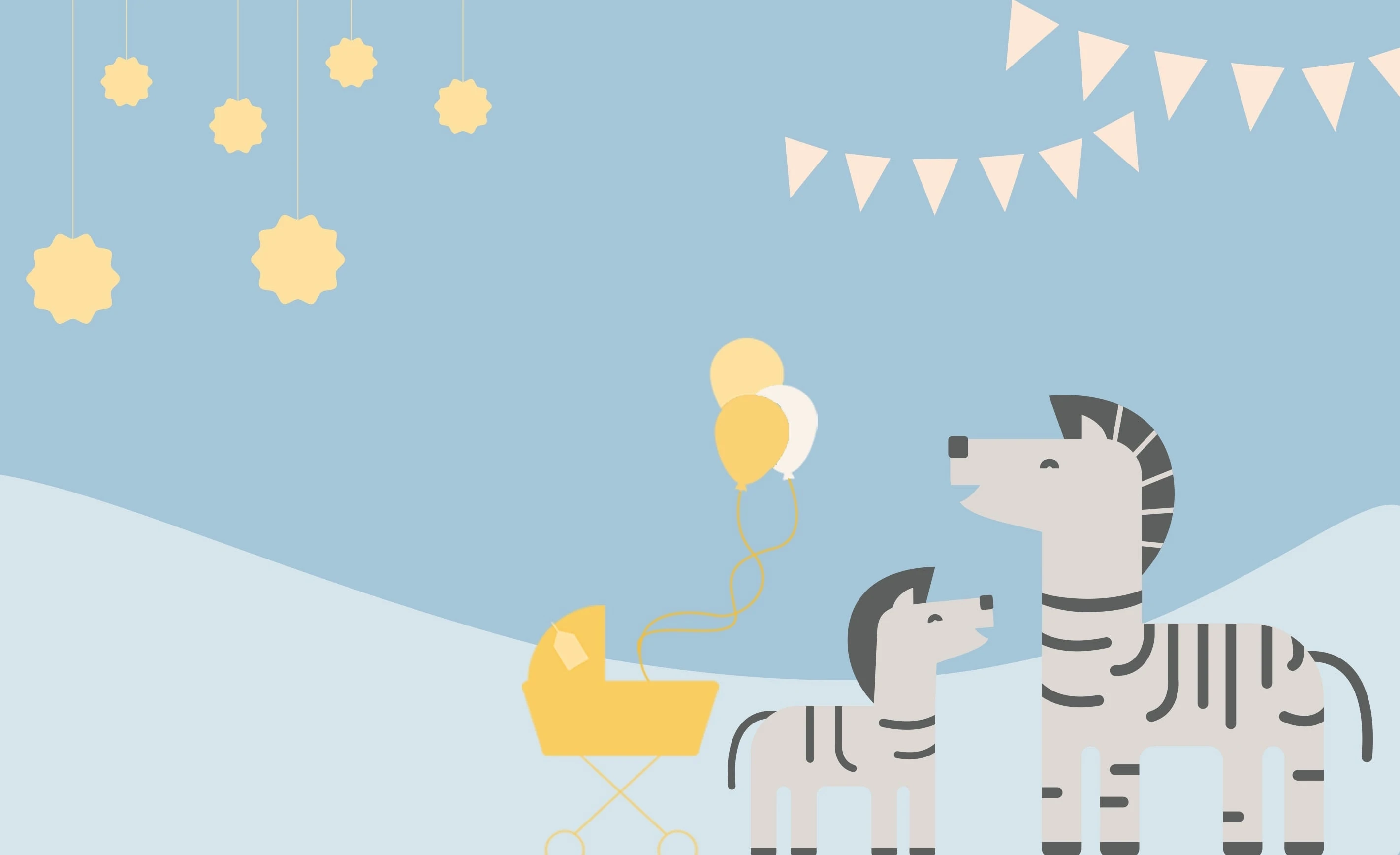 The Best Things About a Virtual Shower?
For one, everyone can practice social distancing COVID-19 style, while still enjoying a party. (Yes, it's hard to be apart! But a virtual shower makes social distancing easier.) Not only will the new Mom stay safe, so will all of her guests, including those who are most vulnerable to illness but still want to celebrate this joyous event. What to Expect writer, Jessica Migala, notes that while more pregnant ladies may be hosting online showers due to the ongoing Coronavirus outbreak, the concept certainly isn't new. Many new moms were already previously hosting virtual baby shower bashes "to connect with family and friends around the country or world who can't make it to their scheduled event."
Who do they quote in that article? WebBabyShower. They reached out to us to understand how it works.
"The key advantage to a virtual event is that no one has to travel, a bigger group can be invited and it's much less expensive compared to [an in-person] event," – WebBabyShower
Plus, why not enjoy the benefits? For example, invite as many guests as you'd like. Virtual shower sites typically don't have a limit as to how many people can be invited. So plan a 115-person guest list (Or 215. Or 3…it's totally up to you!) That said, Babylist recommends keeping the guest list at a number that is manageable for you as "too many guests can get chaotic on video chat."
"For under $80 (cheaper than the average in-person shower), WebBabyShower offers an all-in-one place for all your baby shower needs"

Other perks? Online baby showers are considerably less expensive since there's no budget for food and drinks, including restaurant catering. No food also means no after-shower messy cleanup! Another way to save? No shower venue rental fees equal more cash savings. Ka-ching!
Additionally, it's so much easier to schedule around everyone's busy commitments. With no travel time, and just needing to get everyone in front of their computer, it's so much more accessible to plan and schedule.
And because an online shower is done at home, there are zero travel expenses for family and friends. Your main expense? You'll just need to pay for a virtual shower platform. Oh, and don't forget the game prizes – if you decide to give them!
How to Have a Virtual Baby Shower
Platform – WebBabyShower is the #1 dedicated virtual baby shower service, which is why we are recommended by BabyCenter, What to Expect, Essence, and even Martha Stewart!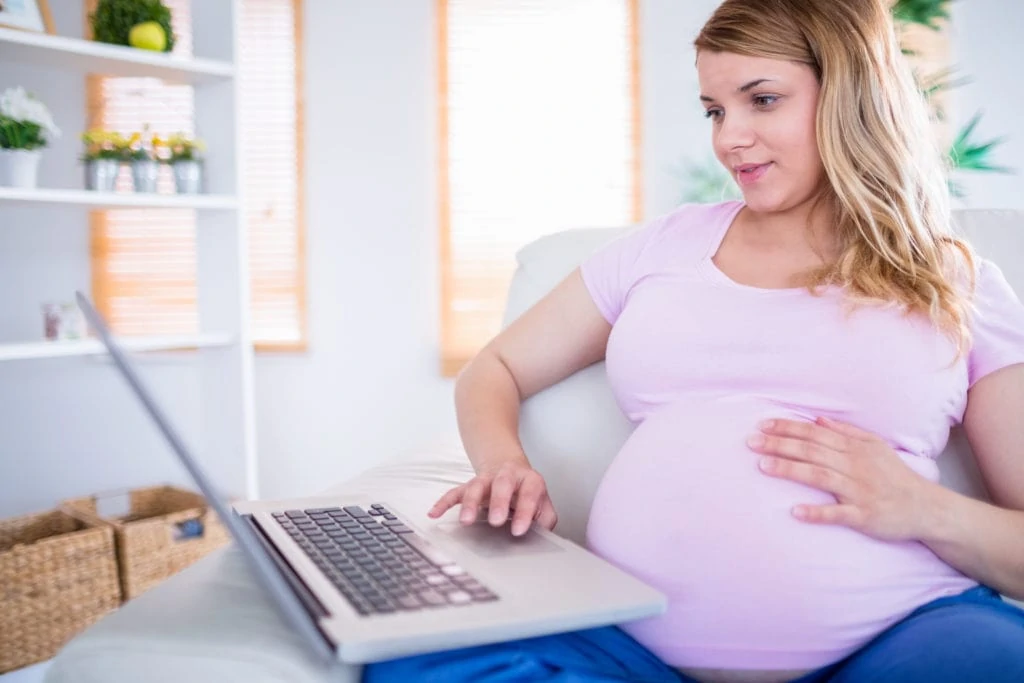 Then choose what video service you want to use. Most people prefer Skype and Zoom. Both are FREE and fairly easy to navigate, even for the tech-challenged crowd. Still not sure which service to choose? Test the service ahead of time while you're still in the shower planning stage, to work out the kinks, and avoid potential problems.
Babylist points out that "the free version of Zoom allows up to 40 minutes of meeting time per room; additional time is available for purchase, but you can also close out the room and start a new one." Be sure to check out our matching Zoom backgrounds. And keep in mind, Zoom can handle the most shower guests in Gallery mode.
Got a desktop, tablet, or mobile device? Then you can Skype with shower guests! Skype allows up to 50 people for a video chat versus 100 Zoom participants (add up to 500 in Zoom for an additional charge). With Skype, you get a lot of great features, such as enabling live captions and subtitles in order to read the words that are spoken. In a Simply Made Fun article, author Teresa details her personal virtual baby shower experience utilizing Skype via her laptop that was connected to her TV for viewing shower guests on a bigger screen.
Due to screen share in Zoom you could also do something cute and unique like a baby shower slideshow, it doesn't take long and can be a great addition to the shower.
Host/Co-Host – WebBabyShower offers both Host and Co-Host options. For example, one person can pay for the shower services and another can help out with decorating or invitations. Who should host the baby shower? It can be the Mom-to-be herself, or the new dad (Yep, that's totally cool!), the grandmother, close friends, or anyone else you want! Even if the host doesn't live nearby, you can still coordinate long-distance party planning.
This really speaks to one of the key advantages of holding an online shower. Anything goes! You really have the flexibility to plan things your way. Baby showers are so rooted in tradition, but the only tradition that matters is what makes you happy. Opting for a virtual shower sets a new precedent, and you can host your party in any way that makes you happy.
Design – Did you know you can design your virtual shower to match your own unique style and preferences? It's true! With WebBabyShower's 60 Second Setup and our pre-made designs for easy setup, personalizing your baby shower is a breeze!
Decorations – Just because you're not hosting an in-person shower, you can still opt to have decorations if you'd like, but on a smaller scale. According to Babylist, "there's no point in decorating an entire room when only one part of it will be seen." Instead, plan to decorate the space your guests will actually see on-camera during the video. Think fun themed décor or even balloons to set a festive baby shower scene. Or choose a virtual background, such as those used on Zoom, to really WOW your guests! And YES, we have matching Zoom backgrounds for every WebBabyShower theme.
Registry – Most Moms-to-be prefer online registries. That way, family and friends – near or far – can easily send her gifts from the comfort of their own homes. WebBabyShower works with all major online registries, like Babylist, Amazon, and Target, or you can insert any link you'd like for custom shops. Still deciding on a registry? Check out our baby registry how-to guide!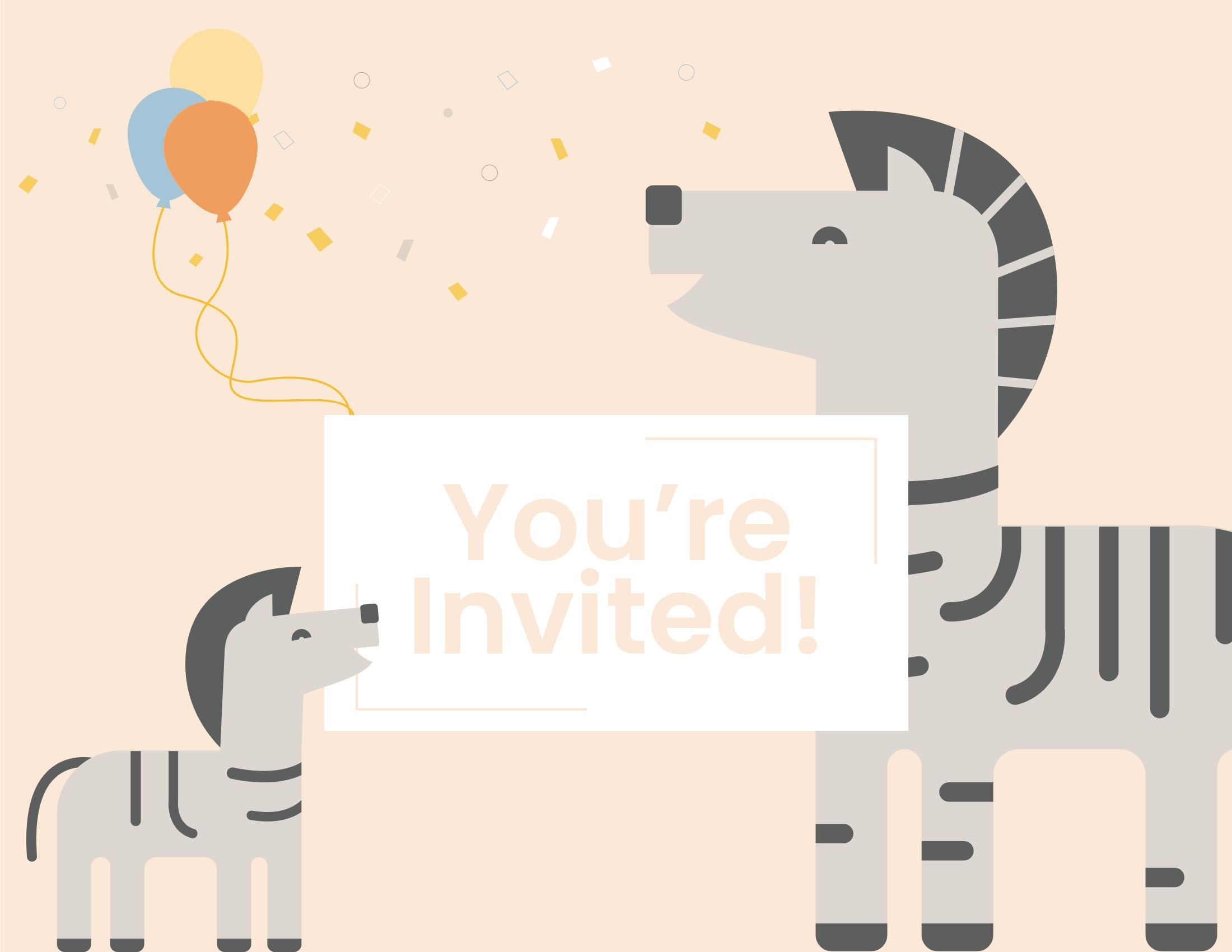 Invitations – Create and send matching virtual invitations to all your guests. WebBabyShower features customizable invitations. You can use our matching look templates or create your own! Include your photos or artwork, but first, preview everything before you send on the page or send yourself a test. Add people one by one or just upload your invite list all at once. When the invitations are sent, you can receive unlimited updates and track who's opened their invites…and who's slacking!
Not sure what to say in your invitations? Not a problem! We have examples of baby shower invitation wording here. One of the most frustrating parts of managing invitations is keeping track of RSVPs. But by putting your invitations online, you don't have to worry about it yourself!
Note: If preferred, you can still snail mail your invites. (We have some super cute printable designs just for you. Print as many as you'd like!) And after the shower, don't forget to send thoughtful Thank You cards or emails to all your guests. Our note-writing tips will help you get started!
How to Send Virtual Baby Shower Invitations
It's easy! With a virtual baby shower, there's no writing invites and addressing envelopes for hours until your hand cramps. Instead, you can simply invite your family and friends via email or social media! Obviously, before emailing invites, you want to make sure you have updated email addresses for all the guests on your invite list. And remember, you can easily invite Facebook friends and other friends you may have through any social media account via your baby shower link.
When sending your invitations, be sure to clearly explain what the invitation is for – especially for those non-techy family and friends. It's important that you make it very clear that it's a virtual shower because many people might not even have a clue that this type of thing even exists. You want to provide clear, concise details, as you would with any invitation. They can always reach out to you with questions if they get confused.
This is also the perfect time to instruct your guests about any particulars that are unique to your personal shower, such as your gift registry or the video chat schedule. Don't forget to add the host and co-host's name(s) to the invitation. Get more WebBabyShower invitation tips here!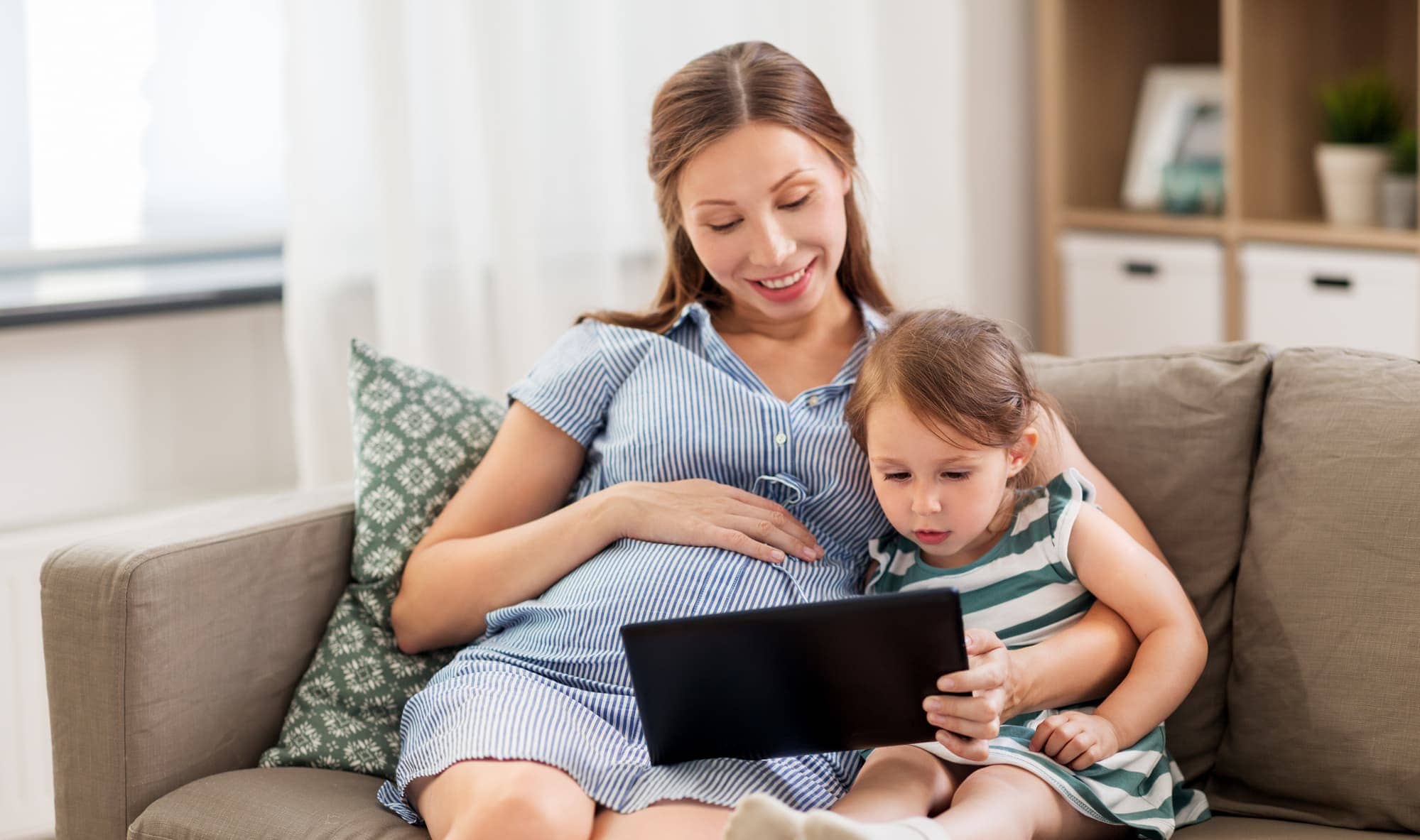 What Happens at a Virtual Shower?
Play Games and Birthday Bets – Yes, you CAN still play games at a virtual baby shower! In fact, you'll probably be surprised at the online options you have, from Bingo to Pictionary and lots more. Birthday Bets is another fun shower activity, giving guests the chance to guess the date baby makes his or her grand entrance into the world. Be sure to check out WebBabyShower's game ideas to get you started. For even more virtual shower games and activities, check out our game suggestions, including directions for playing baby shower Jeopardy game with PowerPoint download!
WebBabyShower has printable versions of many games as well! This allows each guest to print off their own materials and prepare right from home. It also makes it much easier to manage the games, as keeping everyone coordinated can become a challenge.
Oh, don't forget game prizes – think e-gift cards for something simple and easy! No extra time or cash for prizes? That's okay too! Bragging rights are a big deal among shower guests.
Just Conversation – Remember, this is your shower. You do what you want. Games are a fun way to pass the time, but you don't have to play them if you don't want to. You know your guests better than anyone, and if they are the type who are simply satisfied with the conversation, then that's totally fine! The key is keeping the guests and the expectant mom happy, and sometimes just the opportunity to see everyone and converse is all that they need!
Guestbook – Each guest will have the opportunity to write personalized messages to the Mom-to-be and the new baby. These can be sweet notes of encouragement, tips, and advice – whether serious or funny and best wishes to the expecting parents. Be sure that guests are aware of the guestbook and encourage everyone to sign it! With WebBabyShower's online guestbook, these messages can all be saved into a printable file when your shower wraps.
If you're not on WebBabyShower, you can get creative with your virtual baby shower guestbook with What to Expect's template on Google Slides. It's completely customizable and can be shared with guests to fill out. Just open this link, click "File," "Make a copy," and then "Entire presentation." From there, What to Expect notes that you can edit the information before sending it off to guests, asking them to fill in their advice for the mom-to-be either before or during the shower.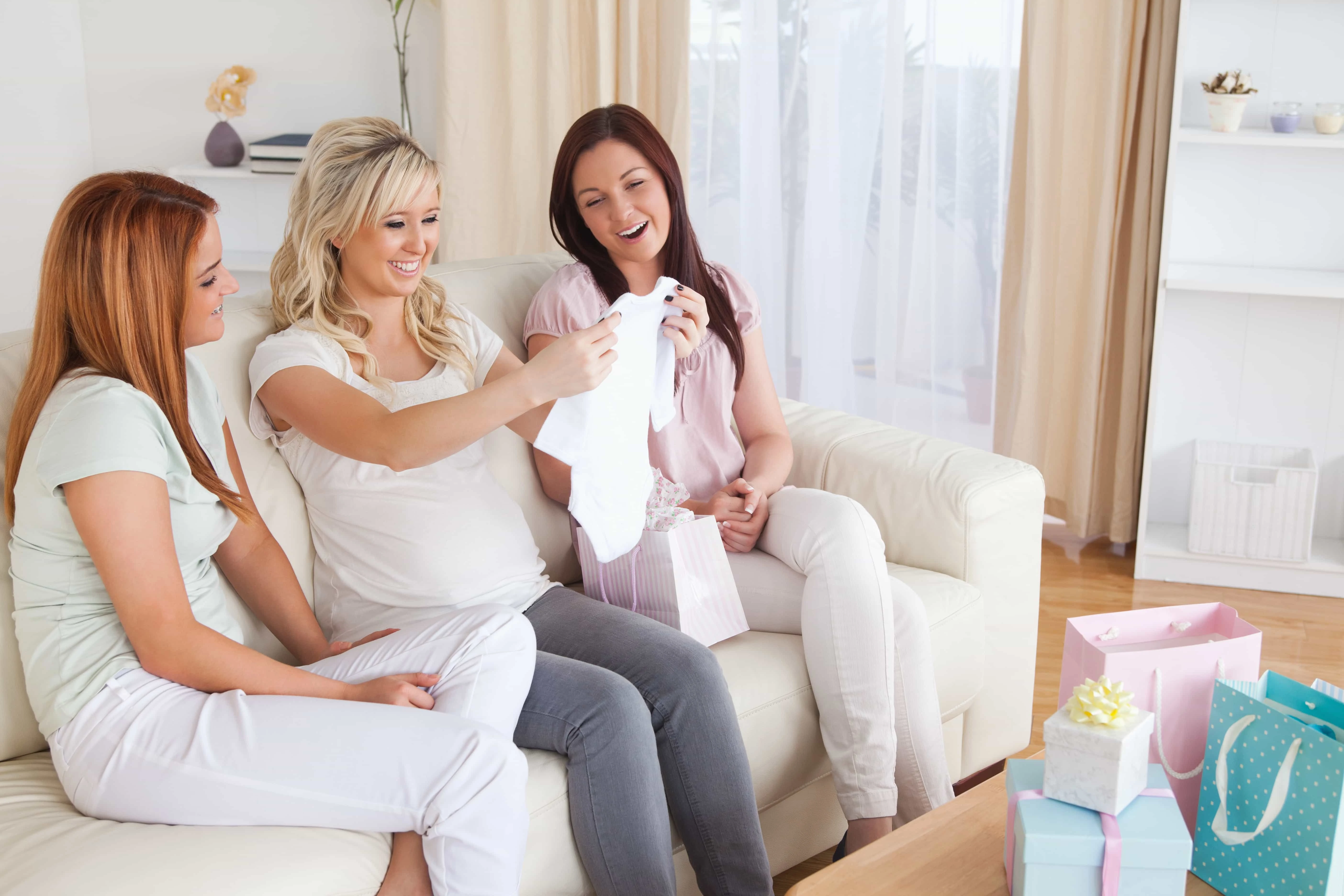 Send Mom-to-be the Gifts – Once the invitations have been sent out, the shower invitees will almost immediately wonder, "What about a gift for baby?" That's why it's a good idea to let your guests know right away about your personal preferences, whether to gift…or not to gift. Early on, this avoids a lot of confusion and potential stress for gift-givers.
It's also important to let guests know the details of any baby registries the new Mom is signed up for. That way shopping is a snap for guests, and the Mom-to-be gets the items she really needs/wants – a definite win-win! If guests are sending gifts, other than gift cards, you'll want to make sure they have an up-to-date mailing address to ensure proper delivery.
Basically, you want to simplify this process for guests as much as possible. Let them know exactly what you want because confusion will annoy them more than anything.
So What About the Opening of Gifts?
When it comes to gift openings at a virtual baby shower, you have a couple of great options to choose from. One idea is for guests to open the gift for the new mom to see during the video chat. They can then mail it to her after the shower.
A second idea is for family and friends to send the gift to the Mom before the shower. This way, the happy Mama can open her gifts at one time for all to see during the video chat. Or do both! "In case some guests want to send their gifts sooner, but others won't be able to ship the gifts to you in time," suggests Babylist.
Video Chatting
Tips – First, spend some time exploring different video chat services, such as Skype or Zoom, and make sure it fits your needs and preferences. You'll also want to ensure you have good Internet speed for a smooth call. Ensure your devices are compatible with the app you're using. For a top-quality image, you'll also want to be sure you have a good camera/webcam. We recommend always testing out your selected video chat service a few days before your shower to ensure well in advance that everything is working properly on your computer, TV, and other devices.
On the Day of Your Baby Shower – Nothing can be as frustrating as technical glitches, like a low battery. Make sure your gadget is well-charged and ready to go, or have a charger ready in standby, just in case it's needed.
For the best picture quality, spend some time playing with the lighting in the space you plan to video chat. Then choose an area that provides as much natural lighting as possible. If it's too dark, you'll disappear into the background. The flipside? Too much light, and you'll appear washed out on-camera. Also, try to reduce background noise as much as possible. After all, your family and friends want to hear you talking – not your neighbor's roaring lawnmower!
See how a great online baby shower works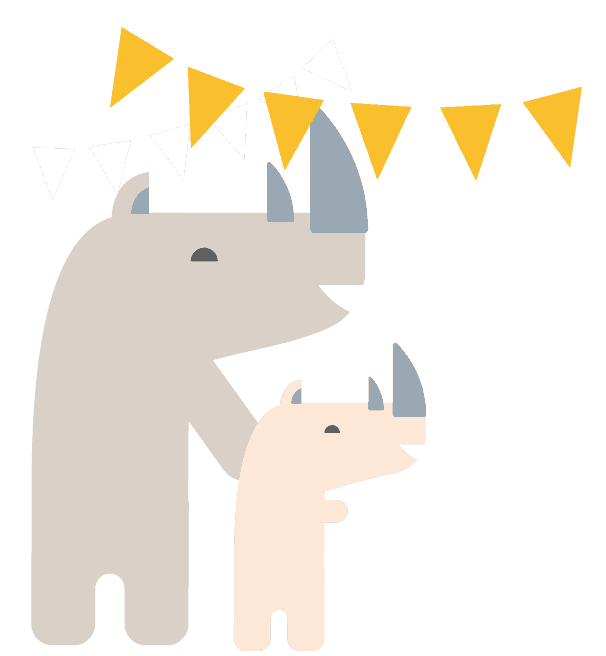 Virtual vs. In-Person
Of course, we recognize that a virtual shower is not the same as an in-person baby shower. We want to emphasize that this is your decision. What you really need to do before making this choice is to make a list of the things that are important to you in a shower. You need to carefully consider what it is that you want so that you can see which format better suits your needs.
Both of these shower options offer unique advantages. The in-person offers the obvious advantages of having everyone together in the same room for a party. However, the virtual shower offers scheduling advantages, and the ability to bring in more people regardless of distance, not to mention the numerous other benefits we mentioned above.
At the end of the day, you need to decide what is most important to you. There are no wrong answers!
A Successful Virtual Baby Shower
We hope you enjoyed WebBabyShower's tips and ideas for how to throw a virtual baby shower! Like any in-person baby shower, the most important thing is to support and celebrate the Mom-to-be AND her new baby. And above all, just have fun! For a successful virtual baby shower, if you've got Internet connection, then you've got a party!