So you want a game that's not a snooze fest right? And maybe even one that's a little bit risqué?? Look no further and try the Labor or Horror; the Movie Scene game! It will get everybody laughing but maybe don't invite your aunt Karen as she might not approve.
How to Play the Game
Here's how to play, is this a horror movie or a birth scene?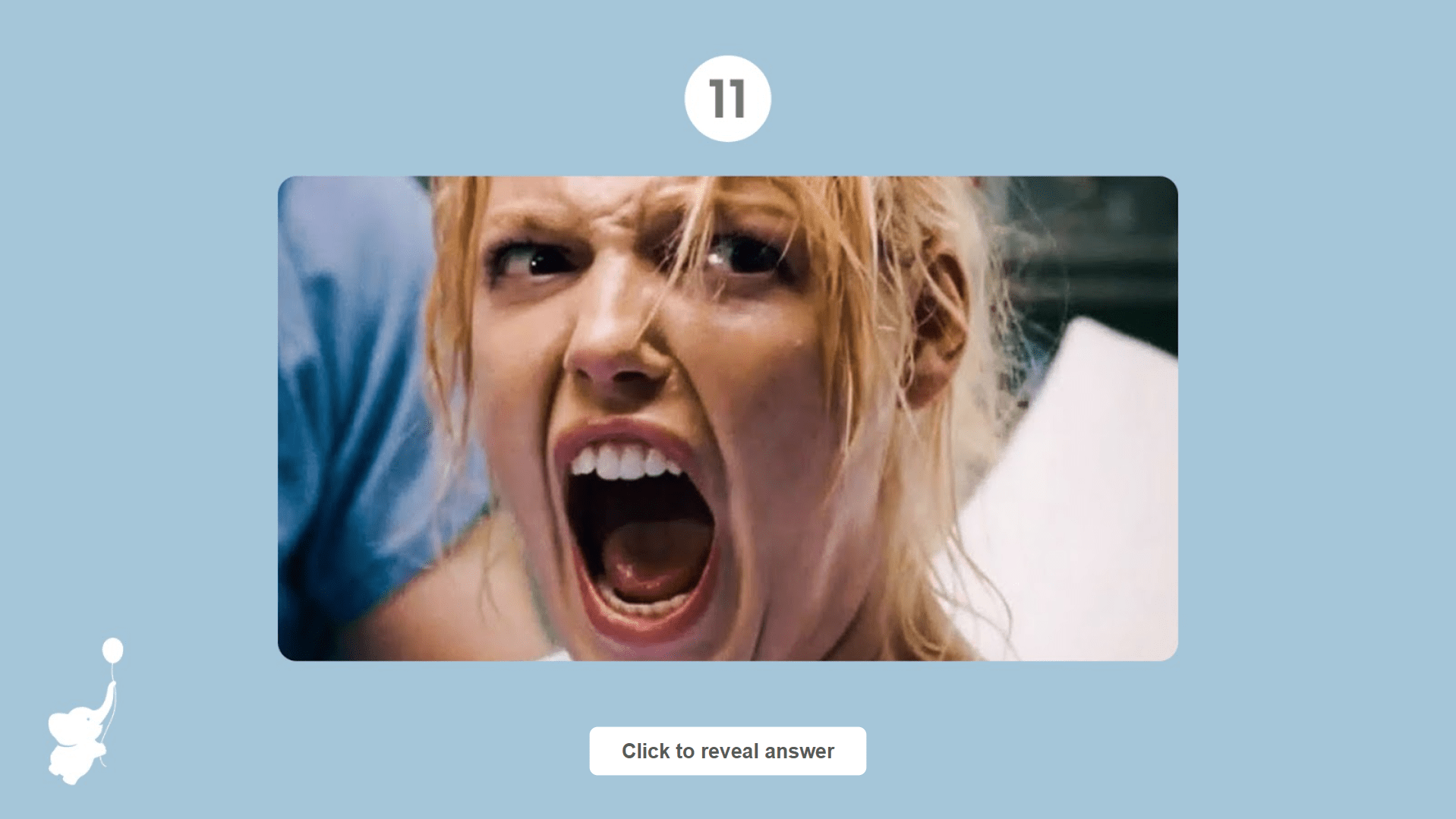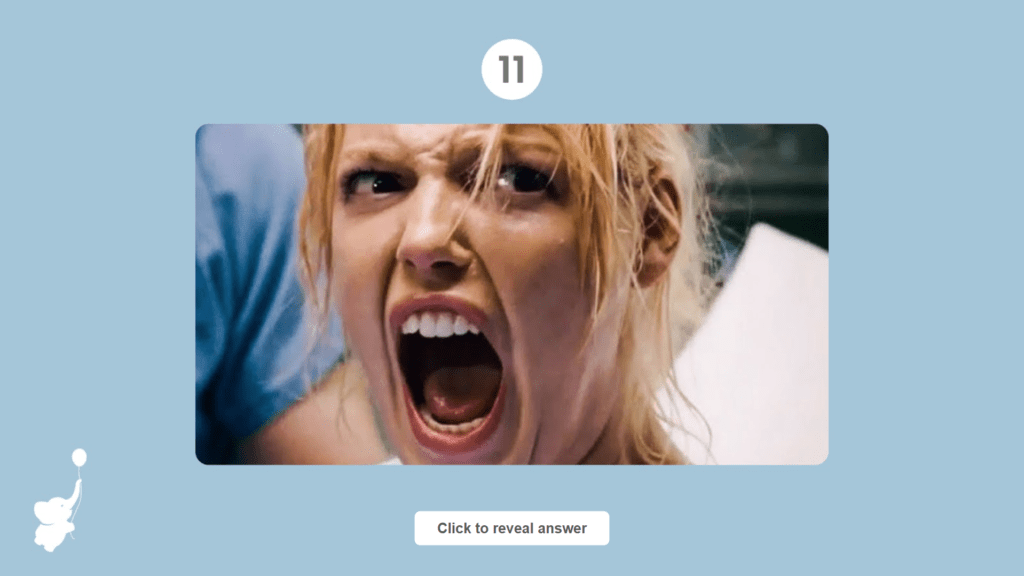 That's the game, and its hilarious for the right crowd.
Long version, your guests will look at photos of women who are either in a horror scene or a labor scene in a movie. Then, they'll guess as to which kind of scene it is. It can be surprisingly difficult to tell! This game is super simple & sure to get some laughs. Here are the directions:
Get the WebBabyShower printable for the Labor or Horror Movie Scene game.
Get a pen and paper to record guests' scores.
Show each image to guests and record their answers as either a labor scene or a horror movie scene. You can do this by a show of hands, or, if you want, you can have each person write down their answers on their copy of the printable.
Tally up the answers.
The guest with the most correct answers is the winner!
Give the winner a prize.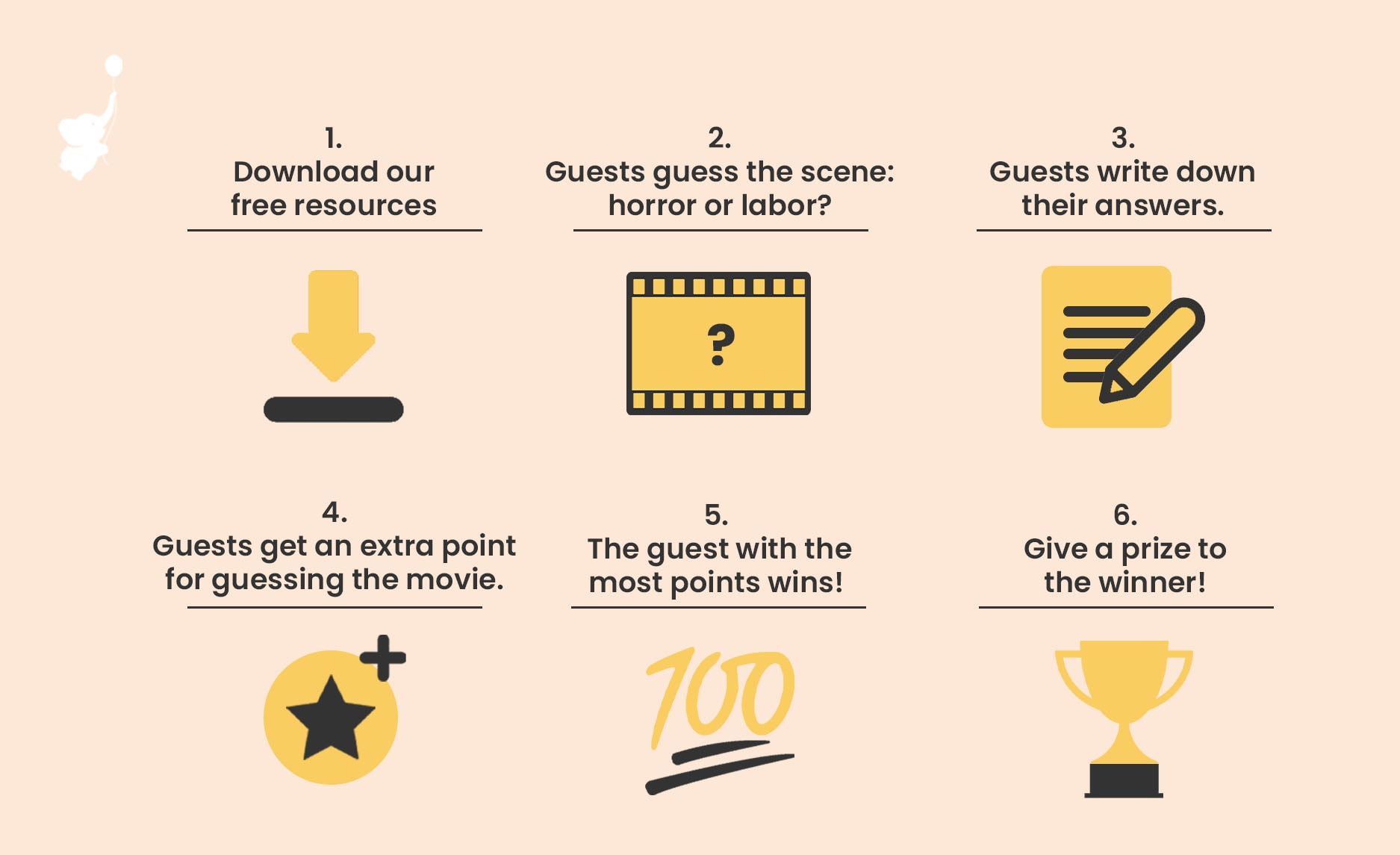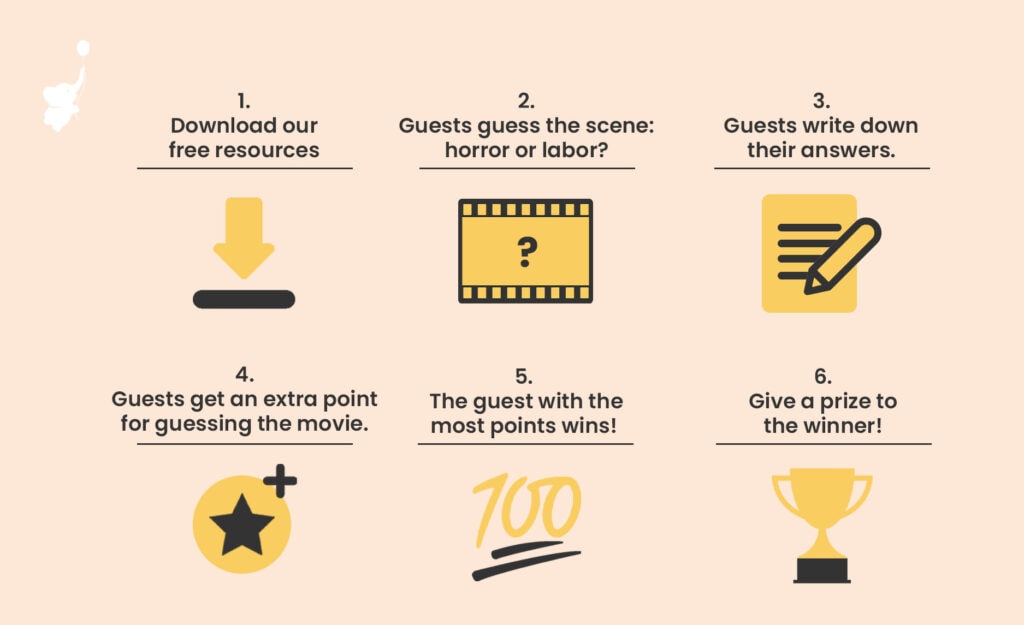 It's that simple! Your guests will enjoy it, and it's an excellent way for the host to plan an activity that doesn't require a lot of extra setup or items to buy.
In-person or Virtual
At WebBabyShower, our goal is to make things easier for baby shower hosts and guests. You've got plenty to do with planning; games should be simple! This game is pretty straightforward, making it fun to play in person and virtually.
WebBabyShower is here to keep things simple for you when you're planning. If you're having an in-person baby shower, you can access our printable for this game. Then give each guest a paper and something to write with. This will make it easy to keep track of scores, and you can gather up all of the game sheets at the end of the round.
This game also works well for a mail-in or drive-by baby shower. You can send out the printable by mail with instructions. Then the guests can fill it out and mail it back to you. You can announce the winner through email or Zoom. For a drive-by baby shower, you can mail out the game sheets in advance, so everyone just gives them to you already done at the drive-by event. This takes a bit of planning, but it should all come together fairly easily.
Have the Best Games for Your Baby Shower!
• All Games Included – In-app, zoom games & printables
• Free Trial – 7 Day Refund for any reason
• Only 1 Minute Setup!
• 40+ Custom Themes & Matching Invites
• Use Any Online Registry
• Send Unlimited Matching Invites and Updates
• Baby Shower Games with Scoreboards, Give Prizes!
Build Your Shower
---
If you're planning on hosting a virtual baby shower, you can use our Google Slides version for this game. That way, you don't have to spend a ton of time on preparation. You'll simply need to show the slide, and guests will tell you their answers or write them down.
Download your free labor vs. horror game here
Other Baby Shower Game Ideas
You know your guests, so if you think they'll want more games to play than just the Labor or Horror Movie Scene game, here are some other fun ideas you can try out.
Quiz Games
Quiz games are a fun way to break the ice and get everyone involved. They work exceptionally well for virtual events, though you can play them in person, too. On our website, you'll find quiz games like Baby Animals or Baby and Pregnancy Trivia. Check out our virtual baby shower quiz games section to find out about how you can keep track of your guests' scores on your web page.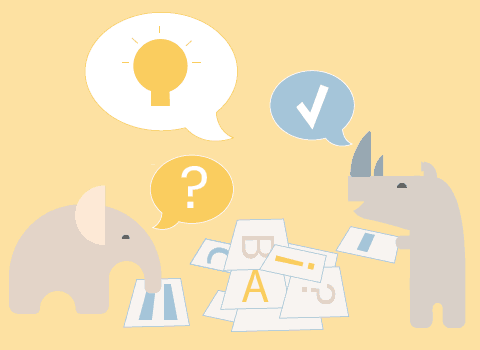 Don't Say "Baby" Game
The Don't Say "Baby" game is straightforward, and you can use it in an in-person or virtual setting. Your guests will each get some sort of token, like a pin, and if they say "baby" at all, they can lose their token to whoever catches them slip up. When you reach the end of the baby shower, see who's collected the most tokens or pins — they're the winner! The good thing is you can play this game throughout the party while you're doing other activities, but it keeps everyone paying attention.
Baby Shower Word Search
If you want to add in an easy but fun game, check out our Baby Shower Word Search printable. It's a simple baby shower-related word search that your guests can work through on their own time or during the baby shower. It's up to you when you want to include this in the party. Guests can play virtually or by using the printable, so it's convenient for any type of event.
Conclusion
Remember that baby shower games are fun for everyone. With all of the resources at WebBabyShower, it's easy to put together an event that guests will remember. The Labor or Horror Movie Scene game is an entertaining game that most groups will enjoy, and, of course, you can add in some other activities, too. Visit our game page for tons of free printables and ideas to help you get started. And remember that you should always include prizes when possible — guests usually enjoy the competition more if they can win something at the end.
If you're looking for a way to include every friend and family member, even those who live far away, throw a virtual baby shower. WebBabyShower gives you all the tools and ideas you need to put together an online shower, including a web page, games, invitations, and more. Sign up now to check out how easy it is to throw a virtual baby shower.
When you plan a party with WebBabyShower, you'll get access to six games that come with the app and four amazing baby shower interactive slide games you can play on Zoom. WebBabyShower is the platform that helps you plan an event with ease. If you want to see what other virtual games we have available, check out our Zoom baby shower games. Any party, virtual or in-person, can be more fun with a few great activities.