Are you expecting a new baby? Congratulations! It's so exciting to prepare your home for a newborn. You may already have a list of what you need, but before you know it, that list can fill your mind with a lot of questions! Things like, is it too soon to buy baby clothes? Or, when should I childproof the house?
If you're confused about when is the best time to buy baby stuff, don't worry. WebBabyShower recommends that you begin your shopping somewhere between 15-20 weeks of the pregnancy (about month 4 or 5).
That way you have time to get all the items you need. It's also a good idea to throw a shower (at least, we think so), because you'll likely get gifts from your registry given to you. There's actually a lot to think about when it comes to buying baby stuff – so WebBabyShower is here to answer all of your questions.
When is the Best Time to Buy Things for the Baby?
If this is your first child, you may not have any baby items yet. And you're probably eager to get started with shopping.
Our advice? It's a good idea to wait until the first trimester is over. By the second trimester, you are probably starting to tell relatives and friends about the baby, and it's an excellent time to begin looking for baby stuff.
If you do let people know about the pregnancy, they may begin offering you items for the baby. This can be very helpful if anyone has a big-ticket item, like a crib or a stroller that's in good condition. However, you may also have to pass on some things that are very old or no longer in good enough shape.
The best way to gather all the baby stuff you need? Have a baby shower and start a registry. A baby registry removes the guesswork and allows friends and family to start buying baby stuff for you. You will likely get a lot of big-ticket items without having to buy them on your own. It can save some money, and it's fun to celebrate with everyone before the baby is born.
Even if there is a typical time for when to buy baby stuff, if you want to start earlier or later than the second trimester, that's for you to decide! Pregnancy is an exciting time, and we aren't going to tell you to pass on that adorable onesie or baby blanket if you really want to buy it. While it's good to be reasonable and wait on some of the more expensive things until later in the pregnancy, buying a few items is part of the fun.
Throw a Virtual Baby Shower so Everyone

Can Celebrate!

• Free Trial – 7 Day Refund for any reason
• Only 1 Minute Setup!
• 40+ Custom Themes & Matching Invites
• Use Any Online Registry
• Send Unlimited Invites and Updates
• Baby Shower Games with Scoreboards, Give Prizes!

Build Your Shower
---
When Should You Start Buying Baby Clothes?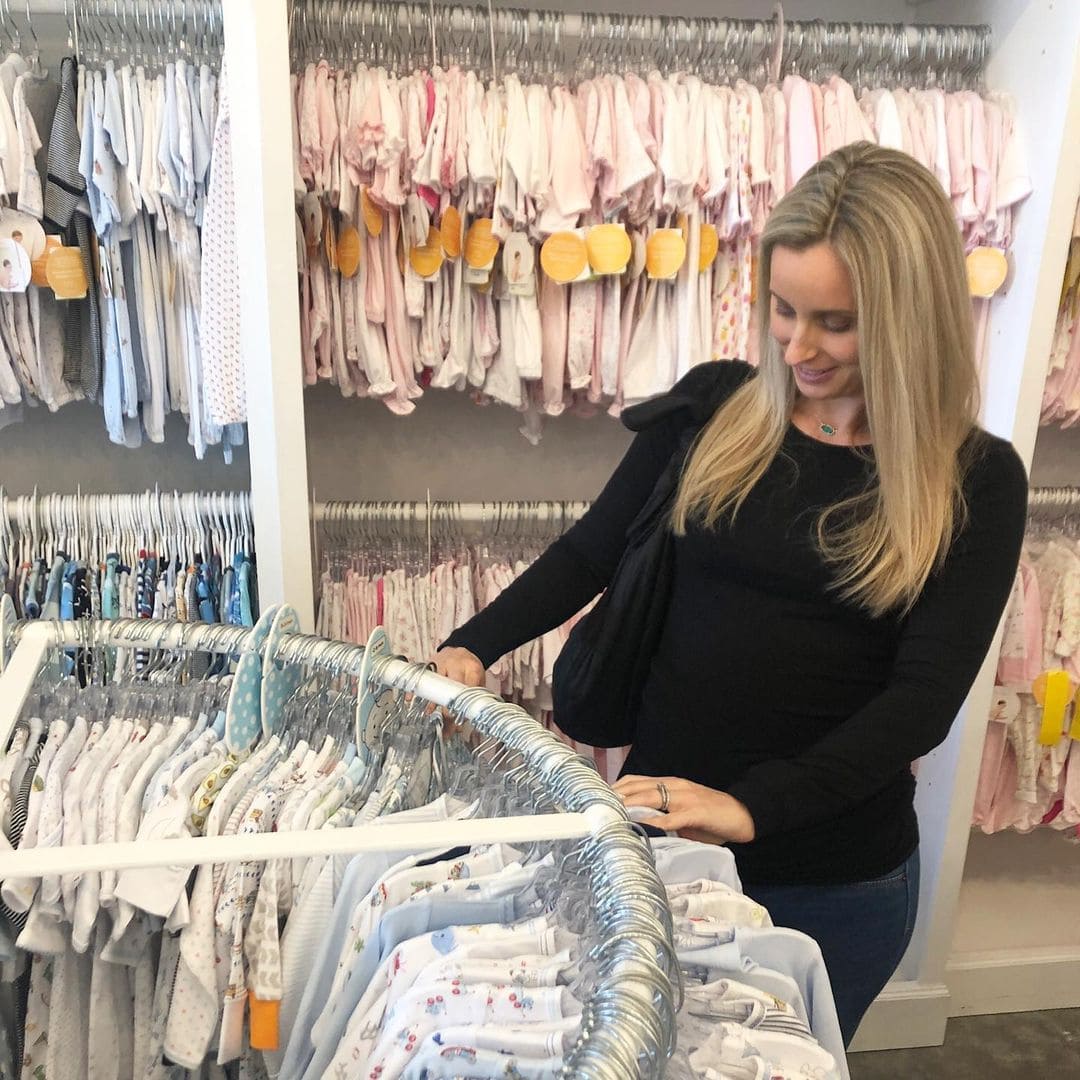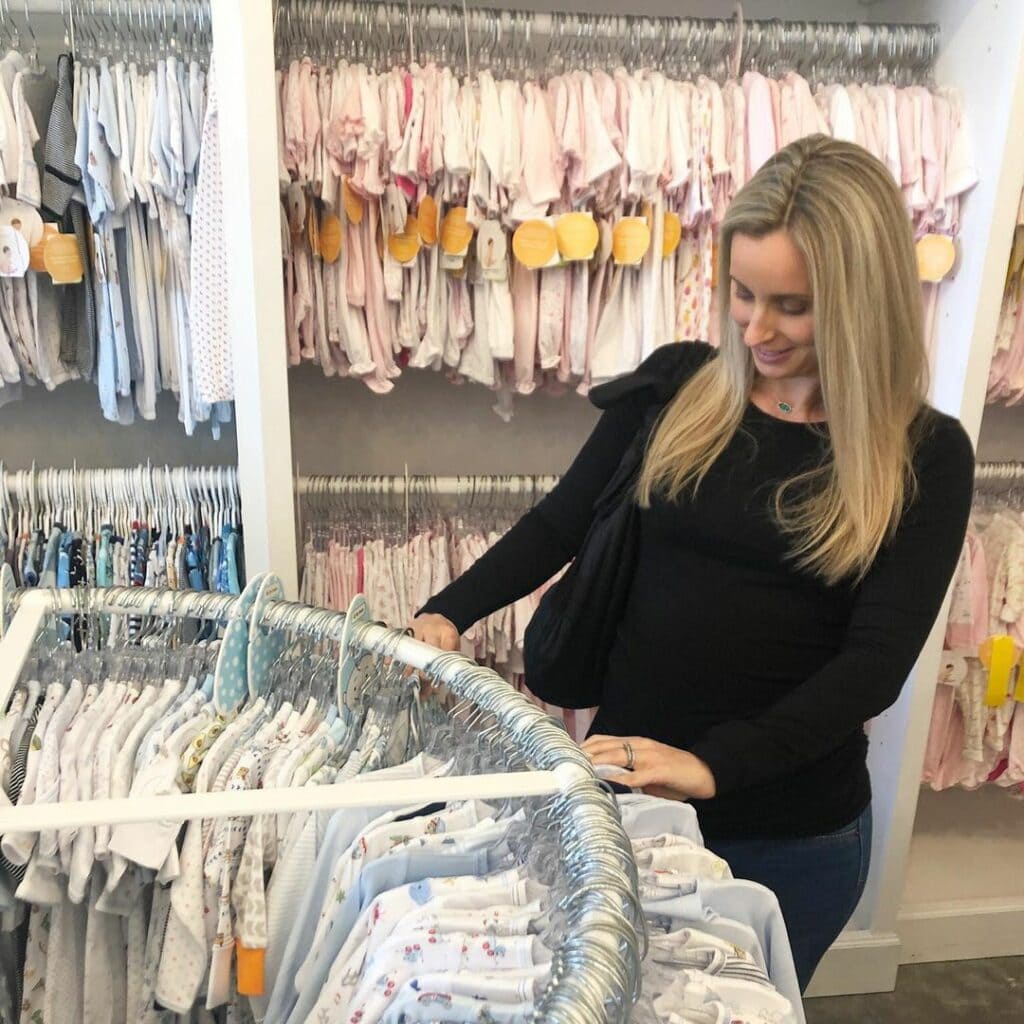 Sometimes it's very tempting to buy every baby outfit in the store. But WebBabyShower recommends a bit of a different approach – don't shop for baby clothes. According to Emmie Martin of Business Insider, buying too many clothes for babies isn't a good idea. It could seem like it isn't much money, but those little expenses really add up, and babies grow so fast that they don't stay in the same size for very long. She advises asking friends and family for old baby clothes instead.
You can also check out some thrift stores. There's usually plenty of baby clothes at a fraction of the price, so you won't end up spending a crazy amount of money on clothes they'll only need for a few weeks or a couple of months. However, if you just have to buy some adorable baby clothes, go for it! We just advise that you don't buy too many.
A good time to buy is around month 4 or 5 of the pregnancy when you find out the baby's gender. Or, if you plan on keeping the gender a surprise until later, you can always buy neutral clothes and ask your friends and relatives to do the same.
You can also ask around if your relatives or friends might still hold on to some of the baby clothes their child no longer wears. They may just give them to you, or they may allow you to borrow them if they want them back later. It's a great way to save some money, since babies rarely wear the same clothes for very long.
When to Buy a Stroller and Carseat During Pregnancy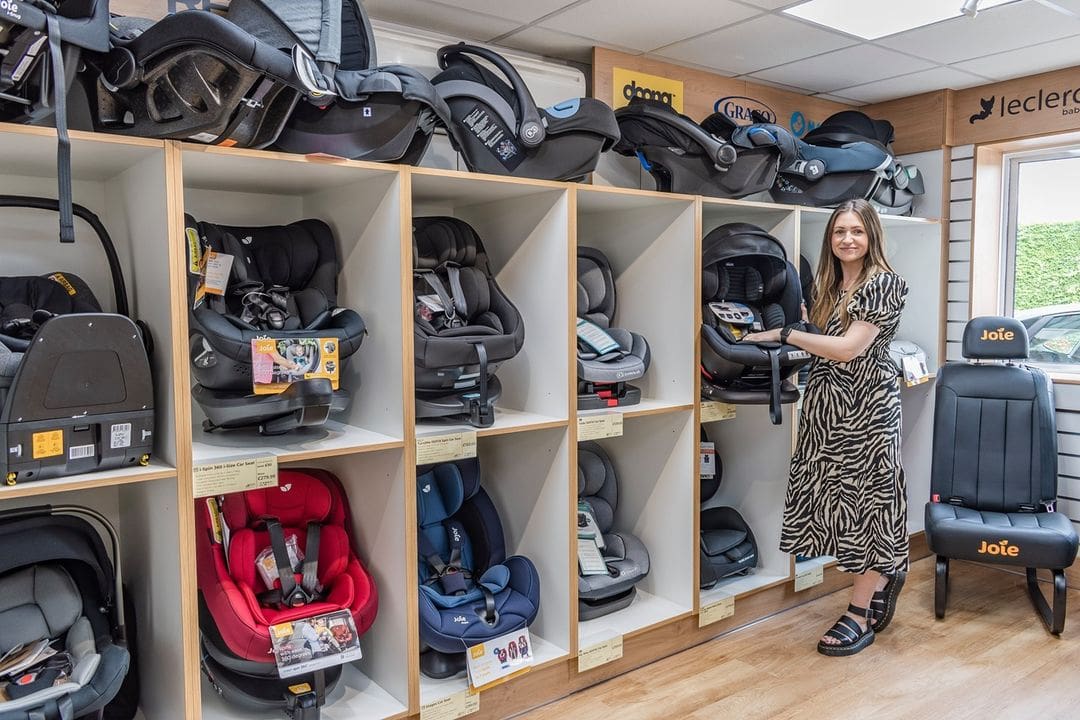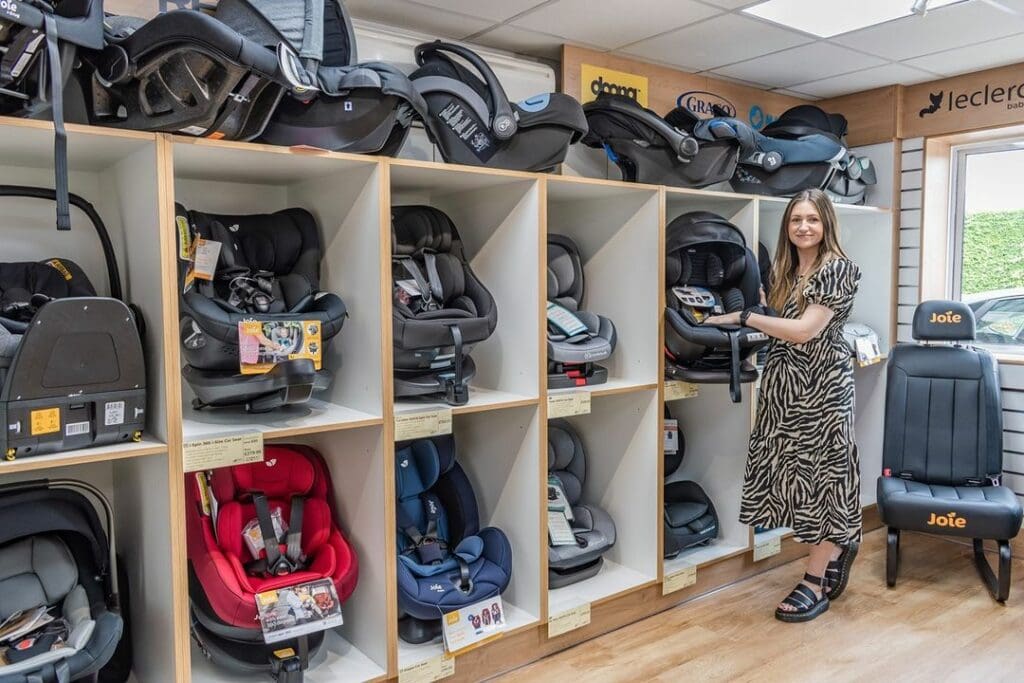 Both of these are big-ticket items that are very important to have. You'll need them before the baby is born, but you'll still want to buy them a bit later in the pregnancy.
Waiting until the 8th month is usually good. It isn't too early, but you'll have it ready in case the baby is early. Plus, since this is an expensive item, you can also wait to see if someone gives it to you as a present. Most likely someone will, but if not – aim for month 8.
When you're picking out a stroller and car seat, take your time and do a little research. Depending on what your family needs, there may be some choices that are better than others. For example, you can find strollers that are also car seats or strollers that turn into baby carriers. Some are ideal for jogging and others are double strollers if you have more than one child. Car seats have different safety features, and some are made for infants or are convertible. Since these items tend to be expensive, don't rush into anything and be sure what you want before buying.
Your Ultimate Checklist of Baby Essentials
An easy way to figure out what you need is to look at it in list form. We've created a list for you that is just the absolute essentials that you can't do without when the baby arrives. Obviously, every family is different, so there may be additional items that you need that are not on the list.
Check out the WebBabyShower list below to help you plan out what you need. You can download this list on this page!
Safety Items
You'll need some safety items around the house to protect your new little one. These are the primary safety things you don't want to be without.
Baby Monitor – to check on the baby while they're sleeping and make sure you hear them if they wake up.
Night light – so you don't have to stumble around in the dark when the baby wakes up at 3 am.
Thermometer & aspirator – the thermometer is for checking temperatures if your child has a fever, and a nasal aspirator can unclog a stuffy nose.
Changing bag – a bag to keep diapers and other items needed for diaper changes.
Baby gates – these block stairs and various sections of the house for safety. You might be surprised how much you need these!
Outlet caps – to plug into the outlets, so they aren't exposed.
Furniture/ TV straps – will help hold the furniture and TV in place so they can't fall over.
Nursery Items
While decorating the nursery can be really fun, there are some items that you'll need, as well.
Crib & accessories – accessories like crib sheets and a mattress pad are crucial, as this provides – everything your baby needs to sleep comfortably.
Changing table or dresser – this is essential for easy changing.
Changing mat – a changing mat is important as it provides chushioning for while the baby is being changed
Changing mat covers – it goes over the changing mat and can easily be cleaned.
Baby clothes – check out a complete list here. You will need clothes for various seasons, and make sure you match them with the baby's age. For example, you don't want summer clothes for a newborn if your baby will be six months old by then.
Feeding Items
This list depends on whether you are breastfeeding or going the formula route. Just narrow down the list a little based on what you need.
Nursing bra and breast pads – for when the mother is nursing.
Breastpump – These are covered by most insurance.
Breast milk storage bags – especially helpful if you are going to be away from the baby for a while and leaving your baby with a family member or caretaker
Bottles – whether you are breastfeeding or using formula, you'll need these.
Bibs – you'll want several bibs because these tend to get dirty quickly.
Burping cloths – same as bibs, you will need quite a few of these.
Nursing pillow – many moms feel like these are a life saver!
High chair – these range from $100-$1000 so make sure you research what will work for you.
Bathing Items
Most babies love bath time. Here are some items we love that are essential.
Baby bathtub – this makes bath time easy and safe
Hooded towels – they are super handy and make for adorable photo moments!
Washcloths – you can usually find these in packs, so buy a bunch at once.
Baby body wash and shampoo – make sure to get a baby-approved one so it doesn't sting their eyes.
Baby lotion – a lotion that is safe for babies is essential.
Bath toys – these are nice to have to keep the baby entertained.
Bath thermometer – keep baby safe and make sure the water is a perfect temperature.
Baby nail clippers – to safely clip baby's nails – trust us – baby nails are sharp!
Baby hairbrush – a baby hairbrush is designed to be softer than a regular hairbrush.
Diaper Items
Maybe one of the least fun parts, but still important.
Diapers – you'll need a lot of these; there are cloth or disposable ones.
Baby wipes – you'll go through a lot of these, as well, so having extras is good.
Diaper rash cream – essential to have on hand just in case.
Diaper bag – to carry diapers and extra items around with you.
Out and About Items
Whenever you go out, whether it's to the grocery store or the park, you'll need a few items for the baby. Here are the basics.
Car seat – this will keep the baby safe while riding in the car, and there are a ton of options, including convertible ones.
Stroller and accessories – there are jogging strollers, convertible ones that are also a car seat, and more.
Travel crib and fitted sheets – in case you're out of town or away from your home during nap time.
Baby carrie – to make carrying the baby around more convenient and comfortable. You'll love feeling super close to your baby too!
Download Your Ultimate Checklist of Baby Essentials Now!
Use WebBabyShower to Help You Get the Stuff You Need
When to buy baby stuff is probably one of the top questions on any expectant parent's agenda. Hopefully by now, you'll not only know when to buy things for the baby, but also what you should skip buying, and what you can likely expect to be gifted to you. . It's good to be prepared with all the basic things your newborn needs, and it's fun to shop for some extra stuff, as well.
If you're planning a shower to celebrate your new arrival, this can be a great time to check a few things off your 'to buy' list.
WebBabyShower makes planning your baby shower a joyful experience that's simple and easy. . With our ready-made themes your shower site will be adorable and is so easy to set up. We also have articles that answer all of your questions, planning your baby shower will be nothing but fun!WebBabyShower is the premier service for designing a virtual baby shower. You can find out more about our platform here.
We hope you've enjoyed this article featuring when to buy baby stuff, and remember that there's always time to buy what you need.