When you're planning an event, it's important to include a digital element. Many people like to use online tools or even build special websites for the big day—and baby showers are no exception.
But while this can be helpful for a baby shower, it can also create confusion for the host. Doing so adds another place to track RSVPs if they're sending traditional paper invitations or if they're using a service like EventCreate.
If you're thinking of using EventCreate for a baby shower, we want to introduce you to an easier alternative—one which helps you to have that digital element to your baby shower, as well as helps you to keep everything organized and in one place.
WebBabyShower is a fantastic EventCreate alternative for many reasons.
With WebBabyShower, you get an inclusive, joyful, exciting experience. We keep your baby shower elements organized and in one place.
From sending and tracking invitations (we even have the ability to send and track RSVPs via Facebook!) to create a fully customizable experience, WebBabyShower is the best way to incorporate a digital element into your baby shower.
Let's take a look at some of the most compelling reasons to choose WebBabyShower over EventCreate.
Why Choose WebBabyShower
If you're planning a baby shower with a digital element, you've likely landed on EventCreate. And, while EventCreate does general events well, WebBabyShower has so many more options that focus specifically on baby showers.
Here's why WebBabyShower is preferable to EventCreate for your baby shower.
More Than Just a One-Time Party
Unlike EventCreate, WebBabyShower allows guests to celebrate for more than just a 40-minute Zoom call. We allow an unlimited number of guests, and visitors to your WebBabyShower site can come and go as they please at a time that works best for them.
WebBabyShower is a great way for people near and far to celebrate during the entire pregnancy.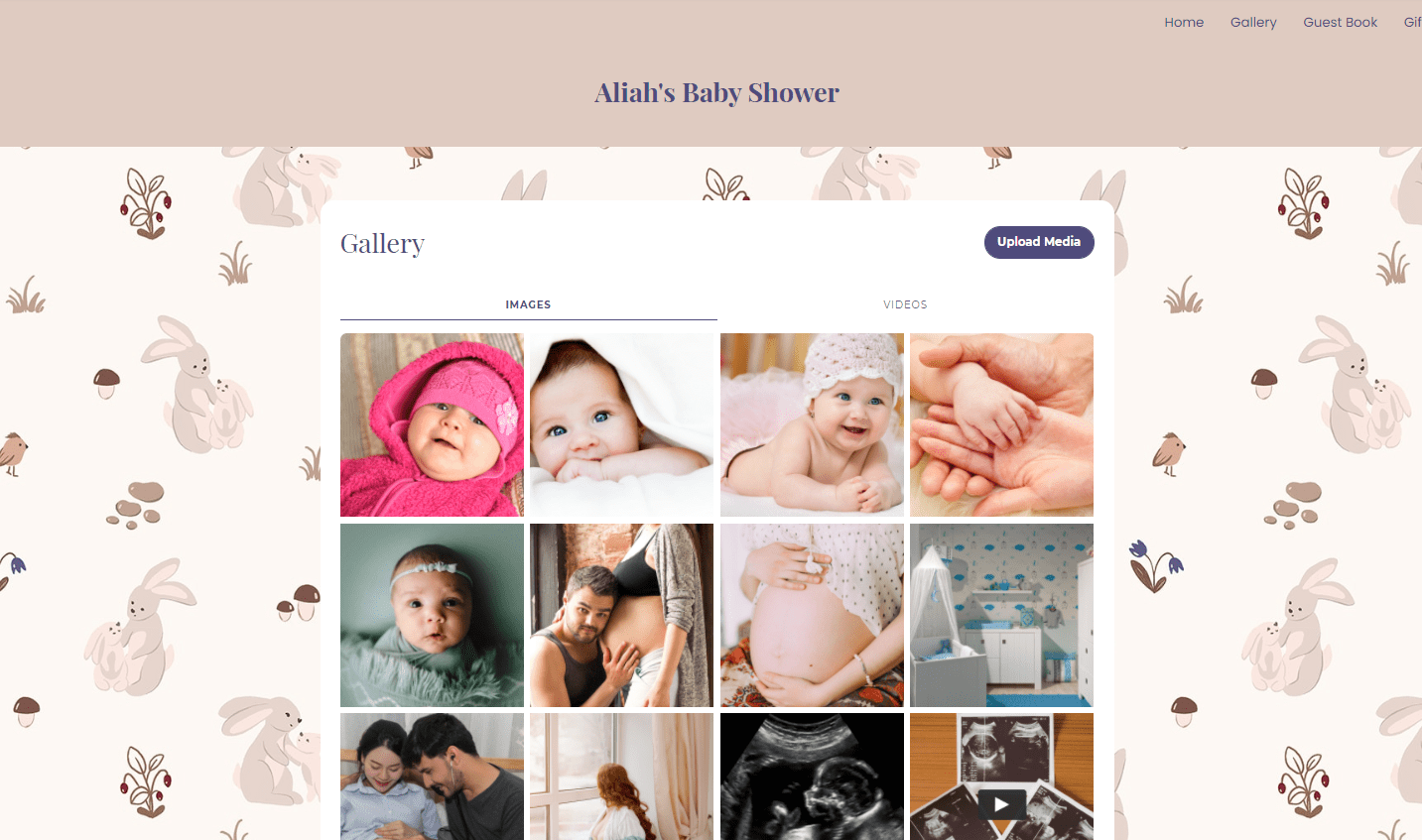 Hosts can post pregnancy updates (like belly and ultrasound photos) leading up to the baby shower to help guests feel involved in the whole experience. Plus, you can extend the celebration by using WebBabyShower for all of your baby-related events—like gender reveals and sip-and-sees—once the baby is born.
Have an Inclusive Shower
WebBabyShower lets you extend your invitations to anyone around the world! If mom-to-be has loved ones that can't attend an in-person shower, WebBabyShower is the perfect way to include them in the celebration.
With WebBabyShower, the only limit to the kind of shower you can create is your own imagination. Don't get bogged down by traditional baby shower etiquette—have the baby shower you truly want.
Have an Easy Shower
One of the best things about WebBabyShower is how easy it is. Planning a baby shower can get hectic, and the key to throwing a successful event is keeping things organized.
WebBabyShower helps you keep everything in one place.
With WebBabyShower, you can keep track of Zoom links, gift registries (you can have as many listed as you want!), photos, guest books, and invitations. In fact, our platform lets you send an unlimited amount of invitations, and provides both RSVP and open tracking.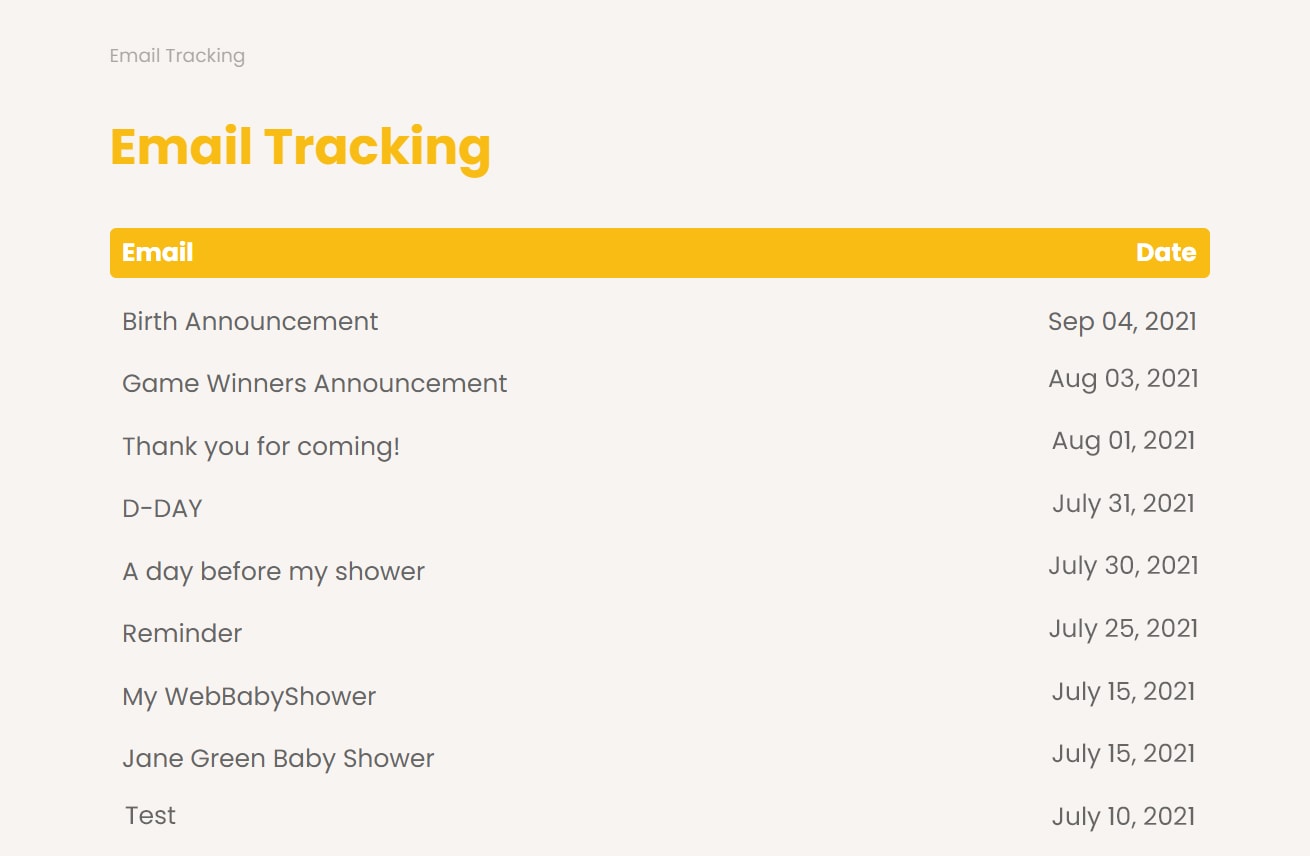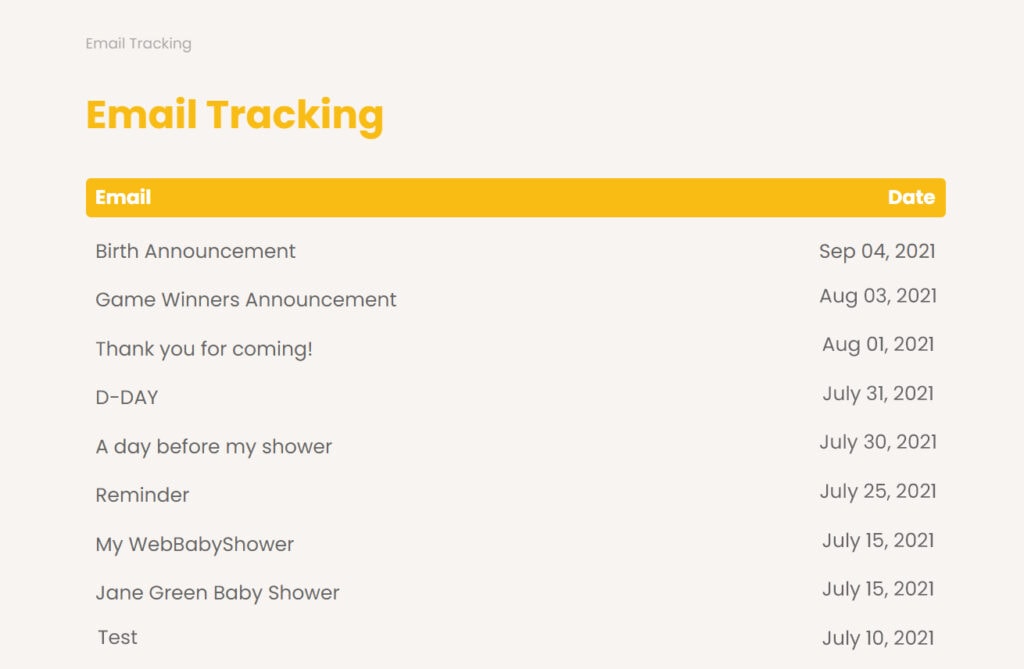 And, if you get close to the shower and still have people who haven't opened the invitation, we'll help you simply send them a reminder. Easy peasy!
Throw a Virtual Baby Shower so Everyone

Can Celebrate!

• Free Trial – 7 Day Refund for any reason
• Only 1 Minute Setup!
• 40+ Custom Themes & Matching Invites
• Use Any Online Registry
• Send Unlimited Invites and Updates
• Baby Shower Games with Scoreboards, Give Prizes!

Build Your Shower
---
WebBabyShower vs. EventCreate Comparison Table
Feature
WebBabyShower
EventCreate
Price
$79 for 6 month plan
$129 for year plan
$29/mo for Personal plan$49/mo for Personal+ plan$119/mo for Business/Agency plan
Trial Period?
Yes. 7 days
Yes. 7 days
Gift Registry
Yes. WebBabyShower works with all registries, and there is no limit!
Yes
Invites Included?
Yes
No (pay extra)
RSVPs Included?
Yes—as many as you like
No (pay extra)
Co-Host Feature?
Yes
No. You can add 'collaborators' but with upgrade to Business plan
Guest Book?
Yes
No
Gallery that hosts and guests can upload to?
Yes
No
Do you get your own Site with a Unique URL?
Yes
Yes
Customizable Pages?
Yes
Just one page
With Games?
Yes
No
Printable Keepsakes?
Yes
No
Is there a Guest Limit?
No limit
Yes.
WebBabyShower vs. EventCreate
We've talked a lot about the benefits of WebBabyShower vs. EventCreate. Now, let's look at some visuals and further explanations so that you can really understand why WebBabyShower is a great EventCreate alternative.
1. Unlimited Invites at No Extra Cost With RSVPs
With WebBabyShower, you can choose an adorable theme and customize your invitations to convey all the necessary information. With EventCreate, you have to pay extra for sending invitations.
WebBabyShower's pricing includes unlimited invitation sending and RSVP-tracking.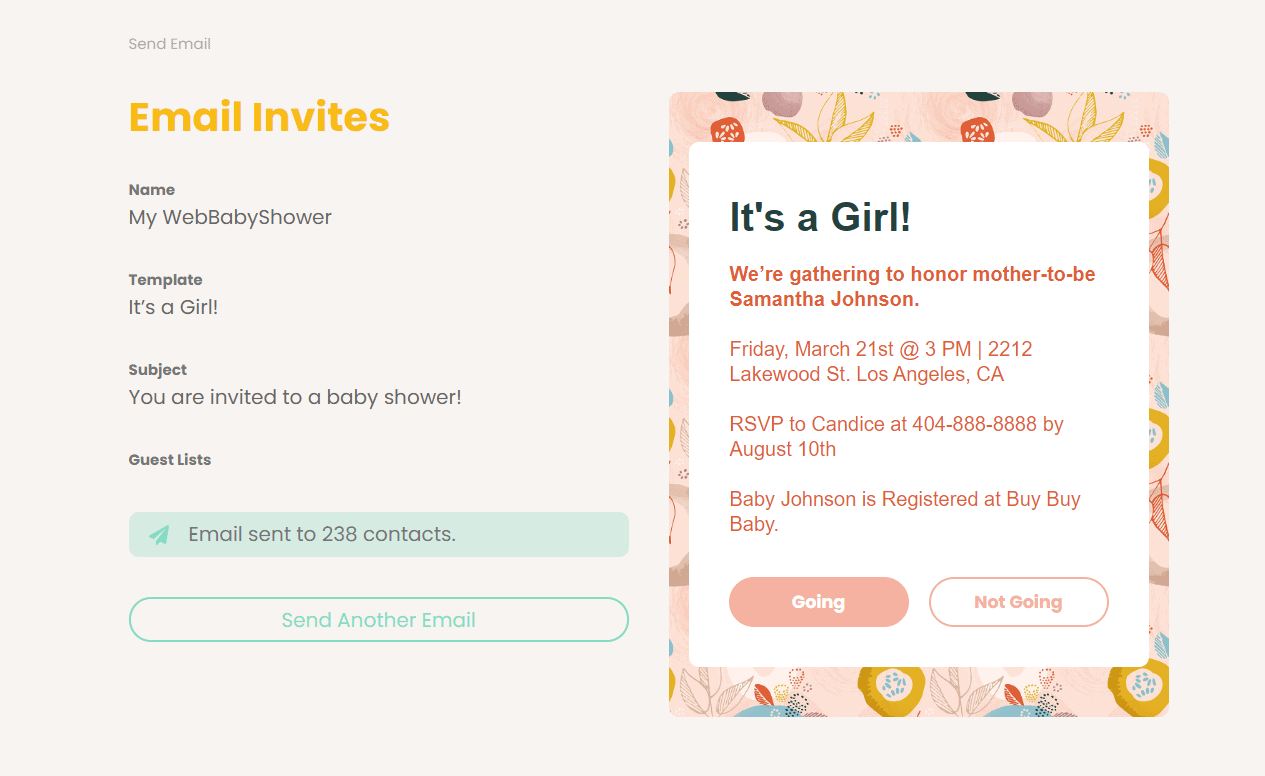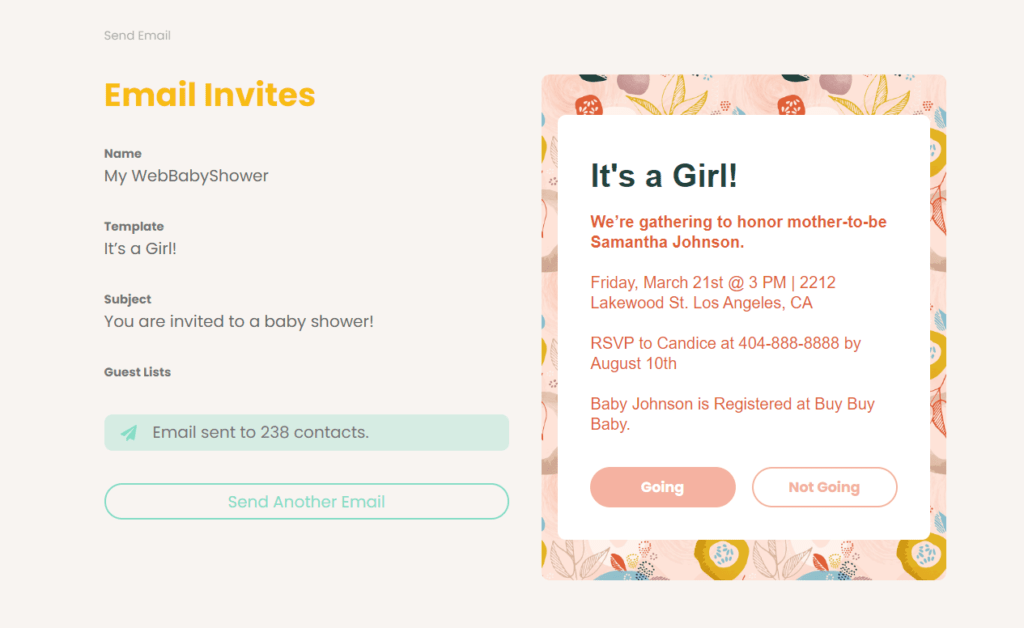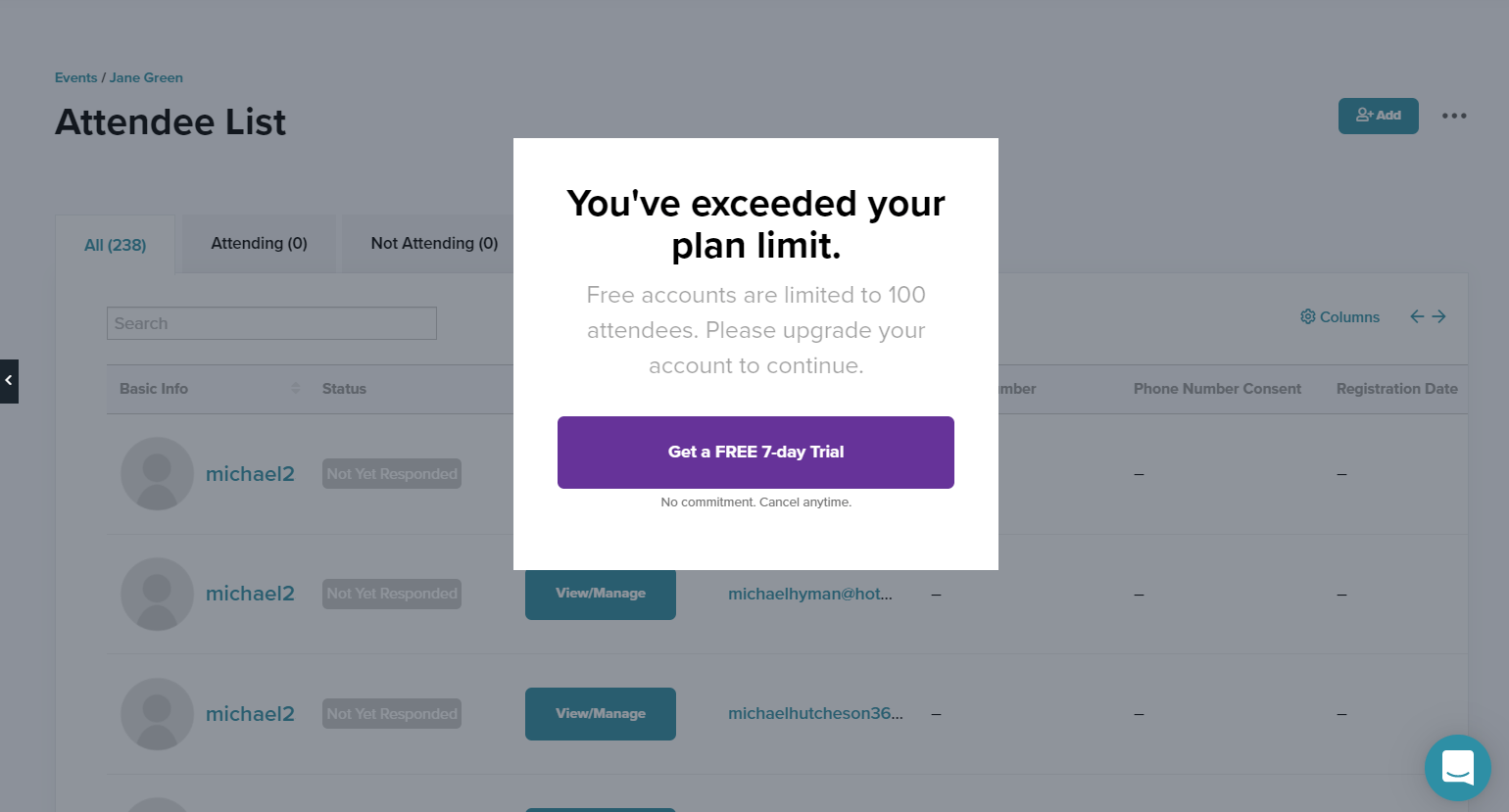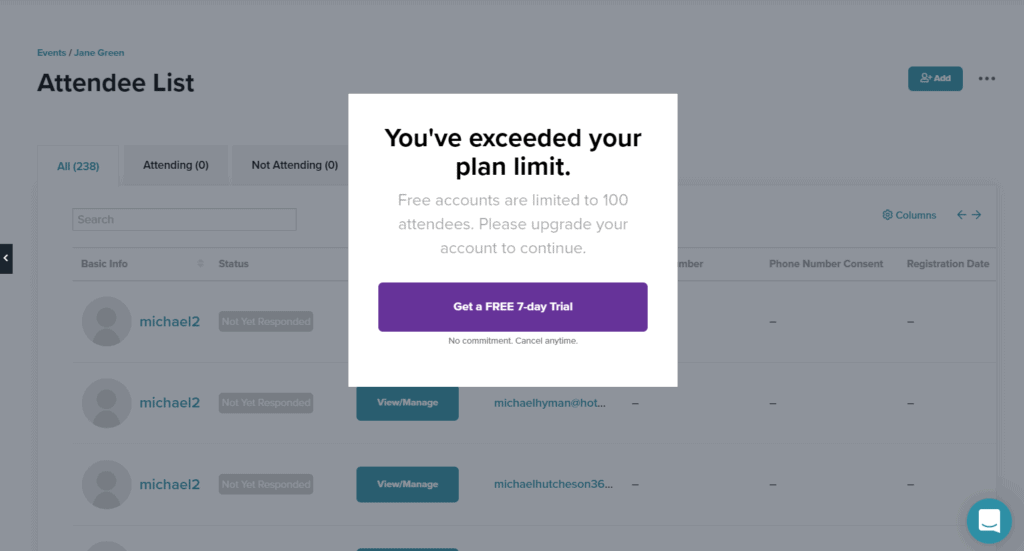 2. More Than Just a Page: A Website With Multiple Pages for Guest Interaction and Games, Not Just Information
WebBabyShower is more than just a page—it's an entire experience. Choose your theme and build a baby shower website with multiple pages for guest interaction, games, quizzes, a guest book, and so much more.
EventCreate's event pages are static and information-only. When you build your WebBabyShower pages, you get to add elements for guest interaction to create a truly inclusive and fun experience for everyone involved.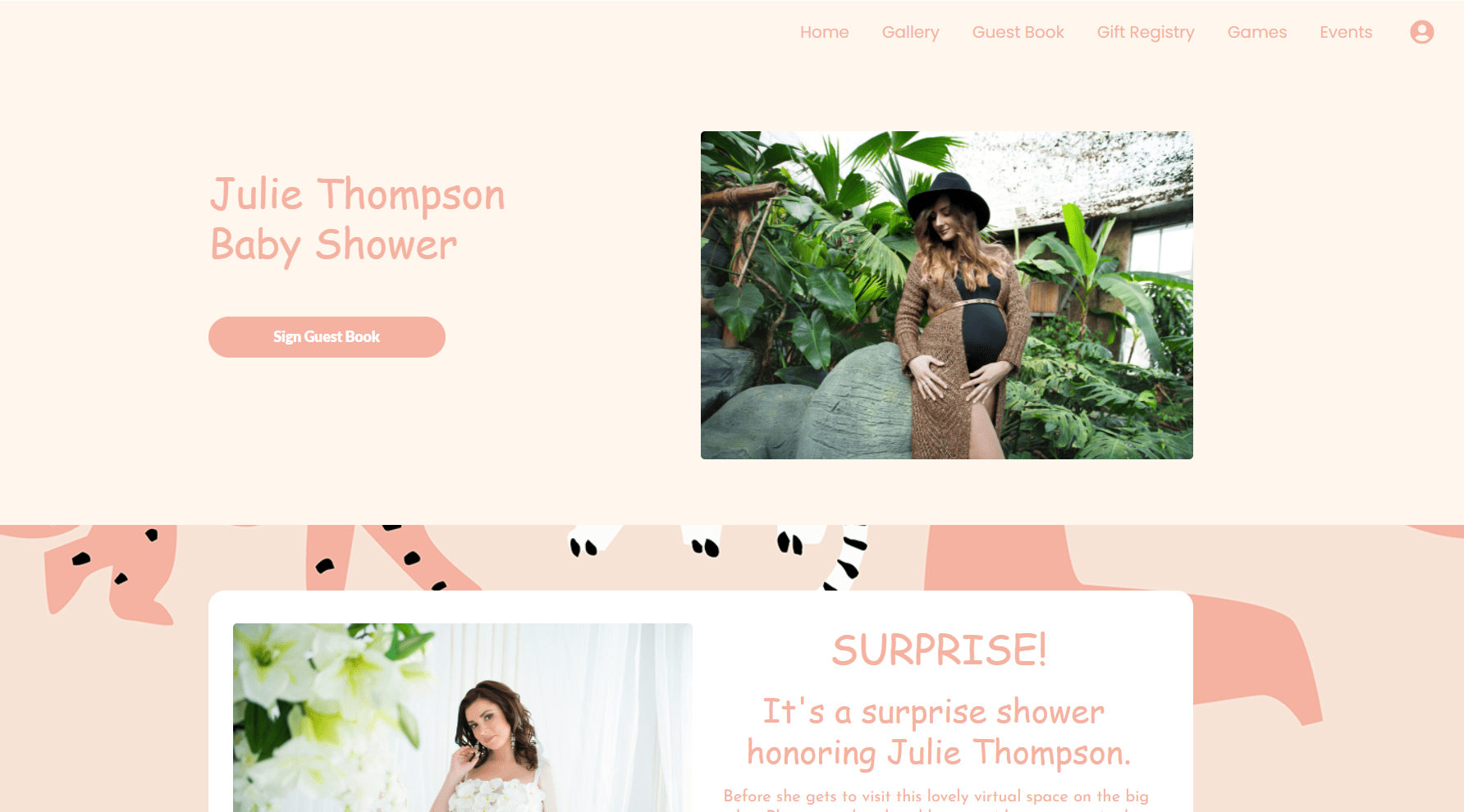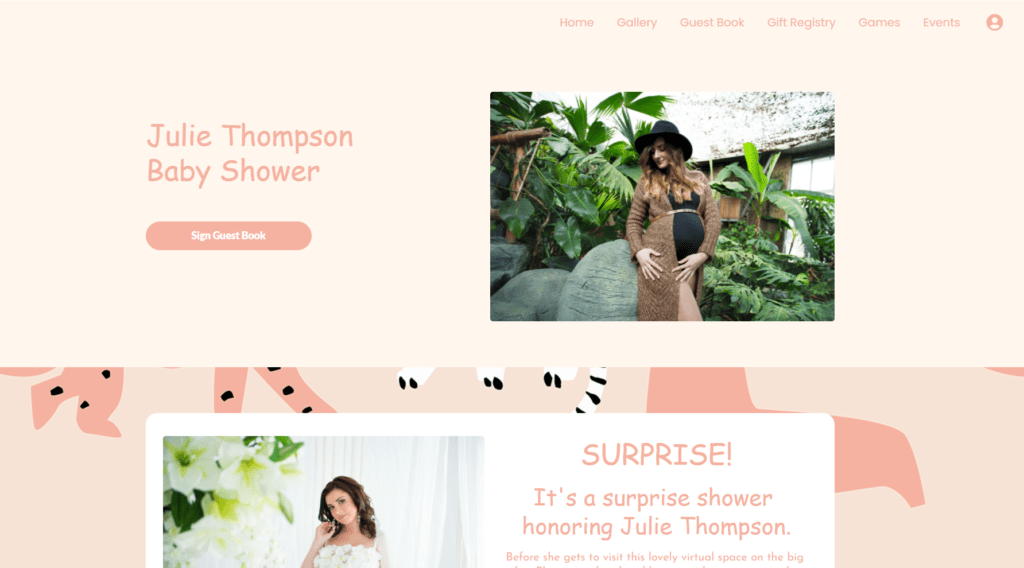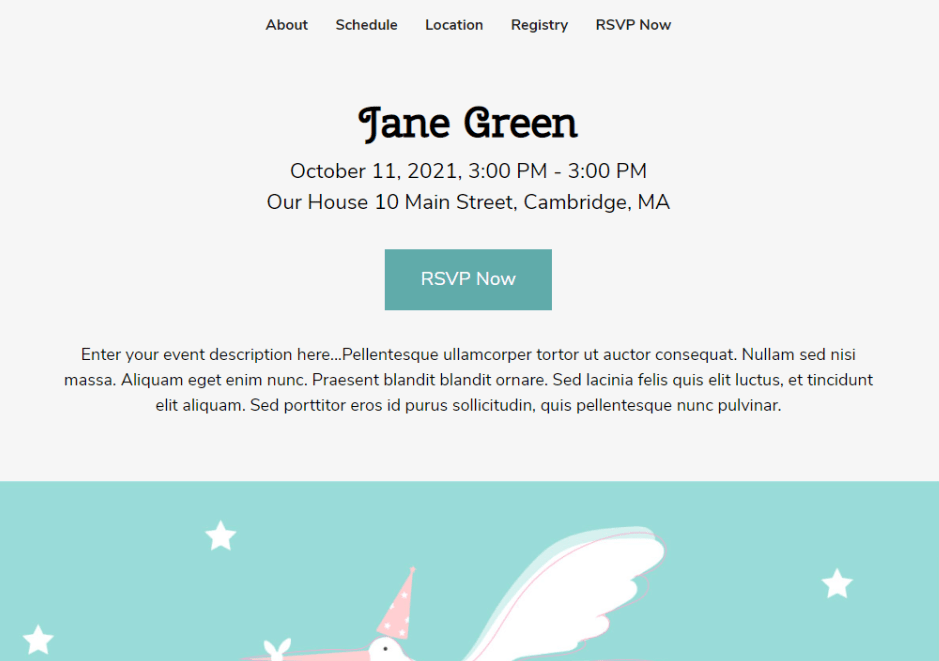 3. Unlimited Guests on WebBabyShower
Our goal with WebBabyShower is to make things as easy as possible for you. That's why we don't have any hidden costs or fees—what you see is what you get!
With EventCreate, you have to pay extra to send invitations. With WebBabyShower, invitations and RSVP tracking is included… and you can send as many invitations to as many events as you want!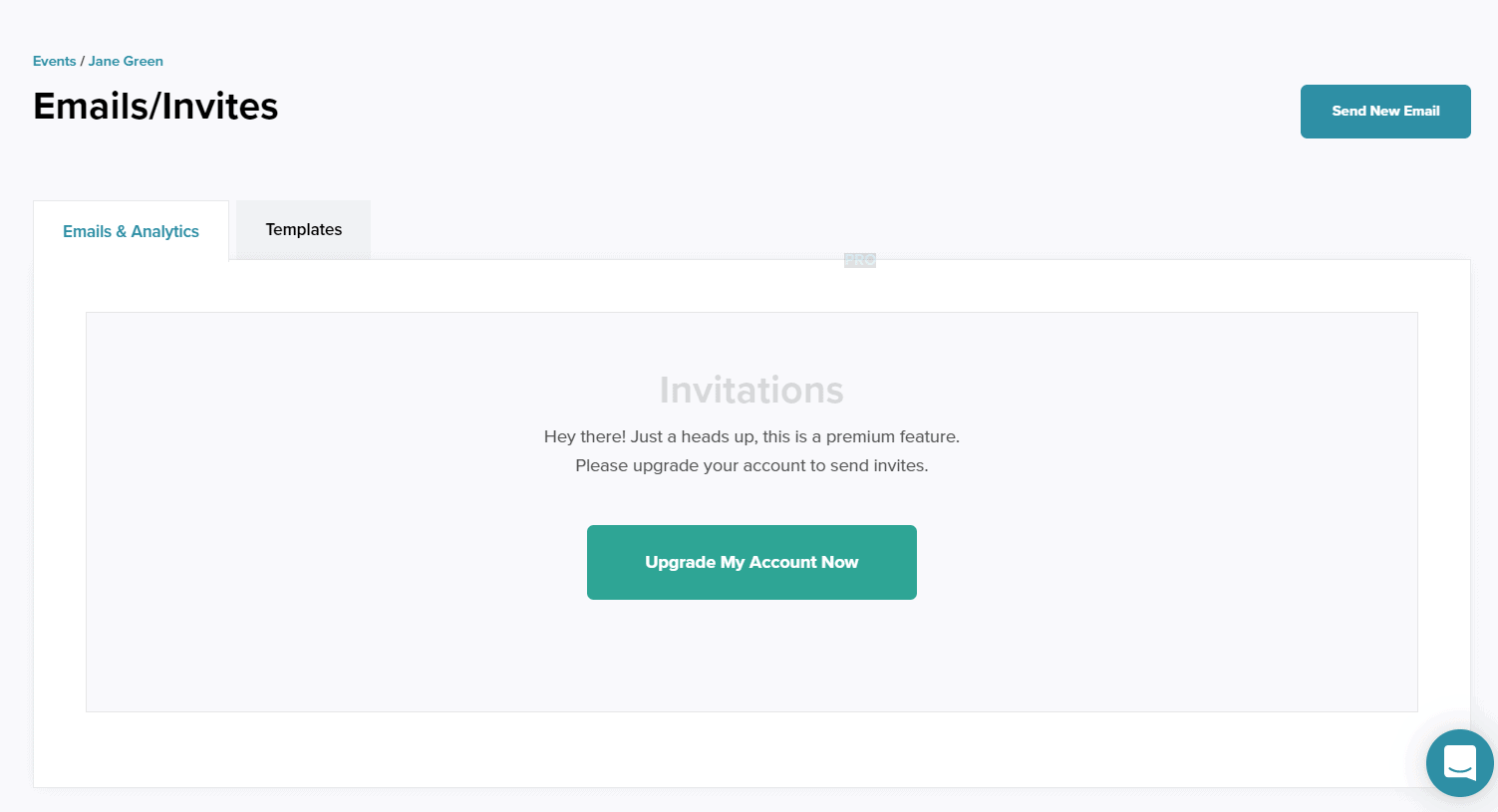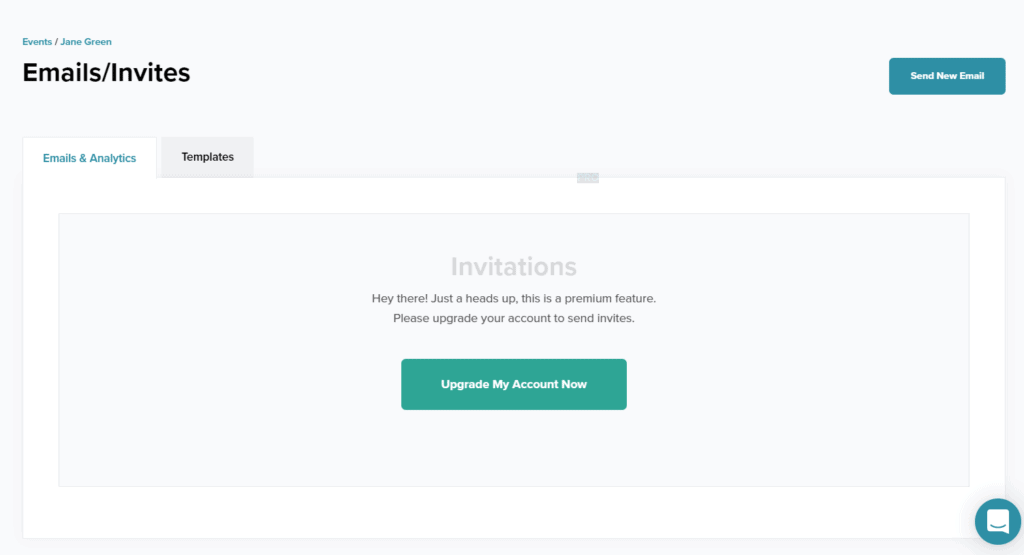 WebBabyShower: The Perfect EventCreate Alternative
You have several options when incorporating a digital element into a baby shower, but the choice for who to pick is clear.
WebBabyShower is the stand-out choice for hosting a digital or hybrid baby shower.
We specialize in helping families all across the globe throw beautiful, exciting, fun baby showers. We are unique in our ability to keep everything in one place, as well as in our unlimited invitation sending and tracking, our interactive games, and our expertise.
We have helped over 10,000 happy families throw amazing digital baby showers, and are the #1 market leader in virtual baby showers.
When you choose WebBabyShower, you're getting an experience that's easy, quick, and all-inclusive. Click the button below to get started today!