When you're planning a big event, you need a website. There's no way around it. And baby showers are the same way — for many people, coordinating this event is way more manageable if you have one.
But isn't it challenging to create a baby shower website? The hands-on, DIY way involves getting a domain name and then adding all of the design elements and information from scratch. Manually building a website is time-consuming, and definitely not as easy as it sounds. You're already planning a baby shower — you have enough on your mind.
Thankfully, there's a much simpler way to create a baby shower website and host a virtual baby shower. And when you create a space for people to connect online, everyone can be there. Even guests that live far away.
WebBabyShower can help you quickly create a baby shower website without all the hassle.
Adorable designs and a simple setup are at your fingertips with our unique virtual baby shower experience. When you choose a WebBabyShower event, we provide you a way to bring your friends, co-workers, and family together in the easiest way possible.
Using WebBabyShower makes you the ultimate party host, and gives you access to tons of fantastic features:
Unlimited guest list and invite sending. Send your invites to as many people as you want! No limits on the numbers.
A prepped and ready website. No need to buy a domain name or set anything up — it's already done for you! just add some personality and make it yours.
Theme and decor changes in seconds. We have multiple website themes for you to choose from, and it's always simple to switch it up.
A cohesive theme and invite setup. Match your theme and invitations seamlessly to create exactly what you want.
Extensive communication with guests and RSVP tracking. Communicate quickly and openly with guests, check who has seen their invitation, and see who is attending the party. Plus share photos and messages with guests, even after the event!
Throw a Virtual Baby Shower so Everyone

Can Celebrate!

• Free Trial – 7 Day Refund for any reason
• Only 1 Minute Setup!
• 40+ Custom Themes & Matching Invites
• Use Any Online Registry
• Send Unlimited Invites and Updates
• Baby Shower Games with Scoreboards, Give Prizes!

Build Your Shower
---
How to Create a Baby Shower Website
Here's how to quickly and easily make your own virtual baby shower website. These instructions will break the process down into a few simple steps.
Step 1: Select a Theme for Your Baby Shower Website
Right after you purchase your WebBabyShower, you'll be asked to select a theme. There are a ton of options you can choose from — all with various colors, patterns, and designs.
We have some adorable baby shower themes for boys, with designs like Royal Prince and our baseball centric option. If the mother-to-be is expecting a baby girl, see our beautiful themes for girl baby showers. There are also plenty of gender neutral options if you're looking for something more unique.
After choosing a theme, you'll create a simple and one-of-a-kind URL to help your guests to find your website in the future.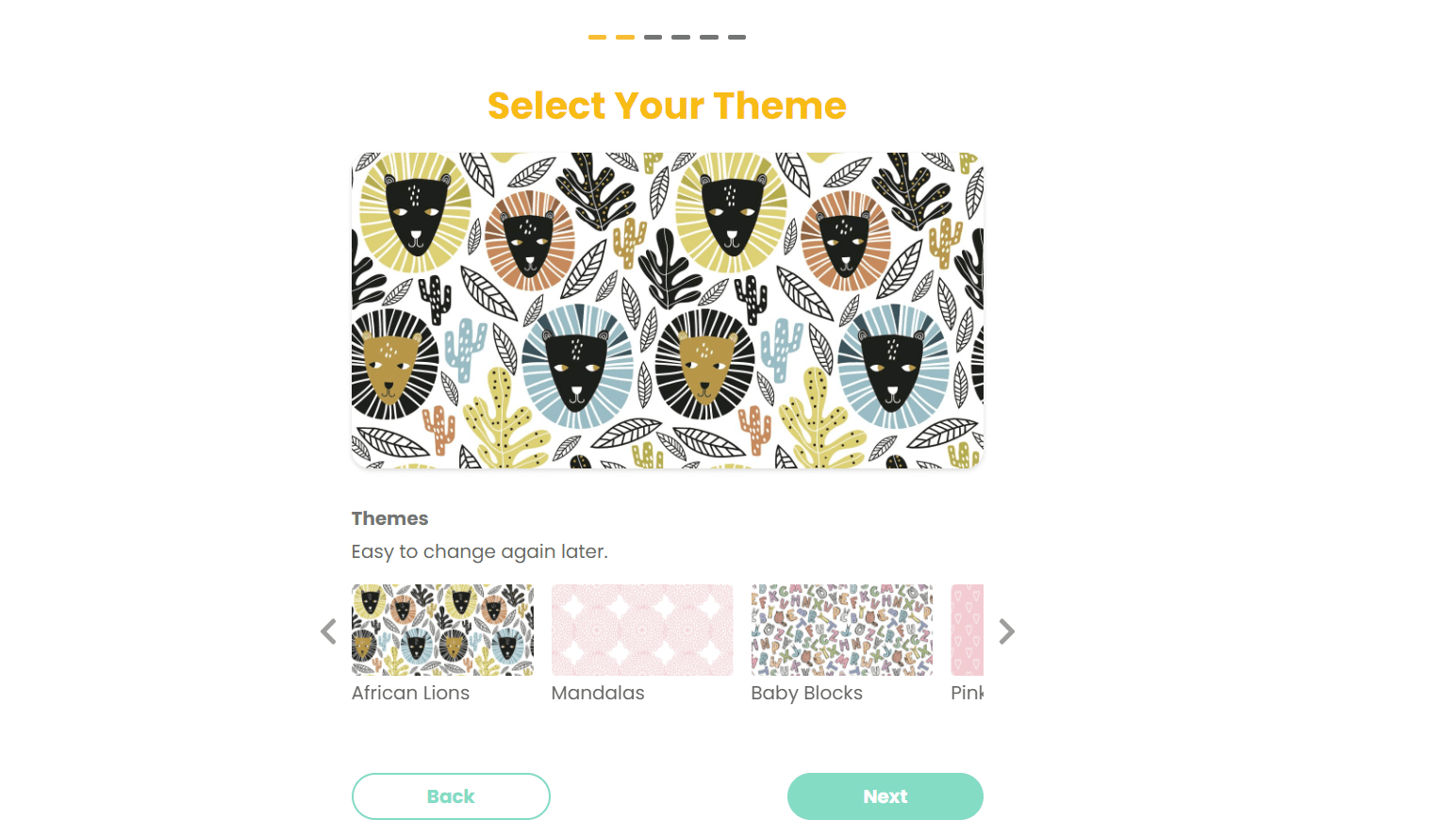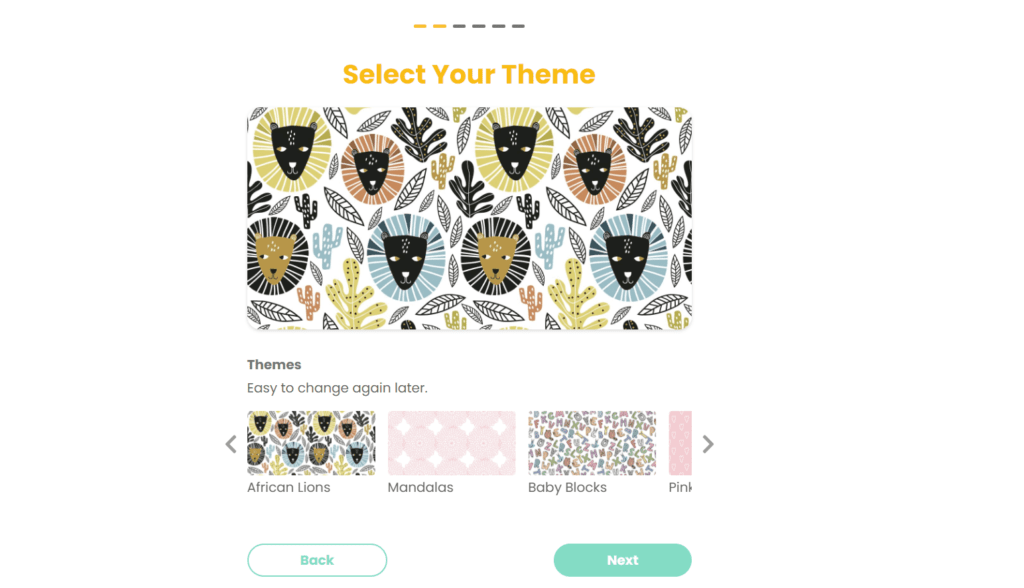 Step 2: Start Adding Photos
Once your website has a theme and a name, you can add any photos you want to include on its pages.
Start by adding a couple of adorable pictures to the homepage — it's an excellent place for photos of the mother and father-to-be, especially if they have any pregnancy pics. Try ultrasound or bump photos, too. These are always a hit.
This personalization of your website lets guests know they're in the right place, and helps them feel connected to the event. Pick out some fun images, and your website is almost complete!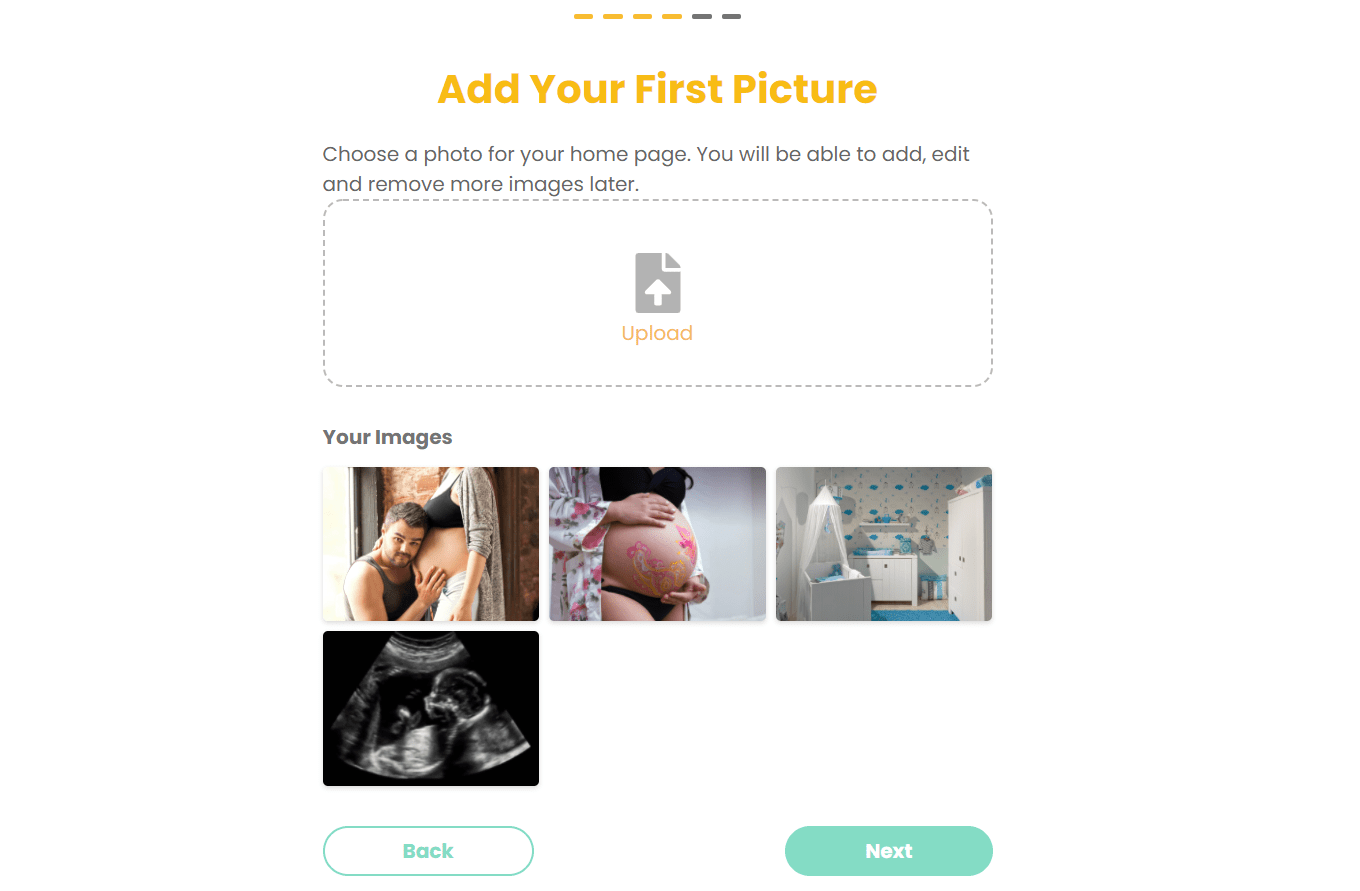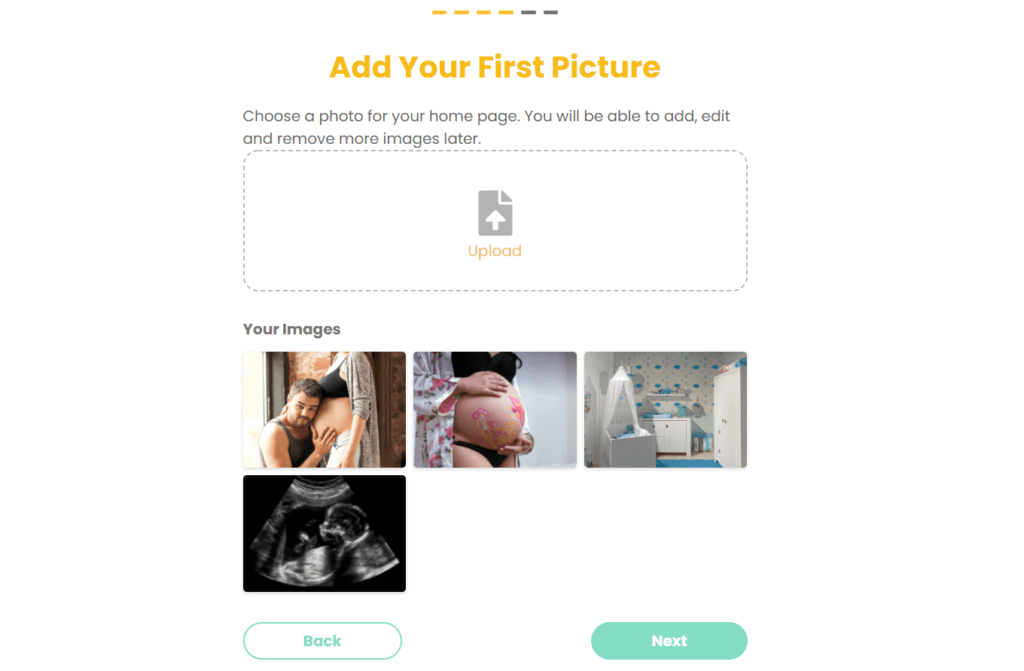 Step 3: Invite Co-Hosts to Start Helping With Building a Shower
Planning a baby shower is way more fun with friends! Invite as many people as you want to be your co-hosts for the event. They can help you with planning and with setting up the rest of the website. Plus, they may have some great photos to add to the website or good ideas for invitation wording.
To add a co-host, click on the "Admin" button on the top left of your screen. You'll see the main admin page come up, and here you'll find a blank space for adding new co-hosts. An easy way for you to add your friends!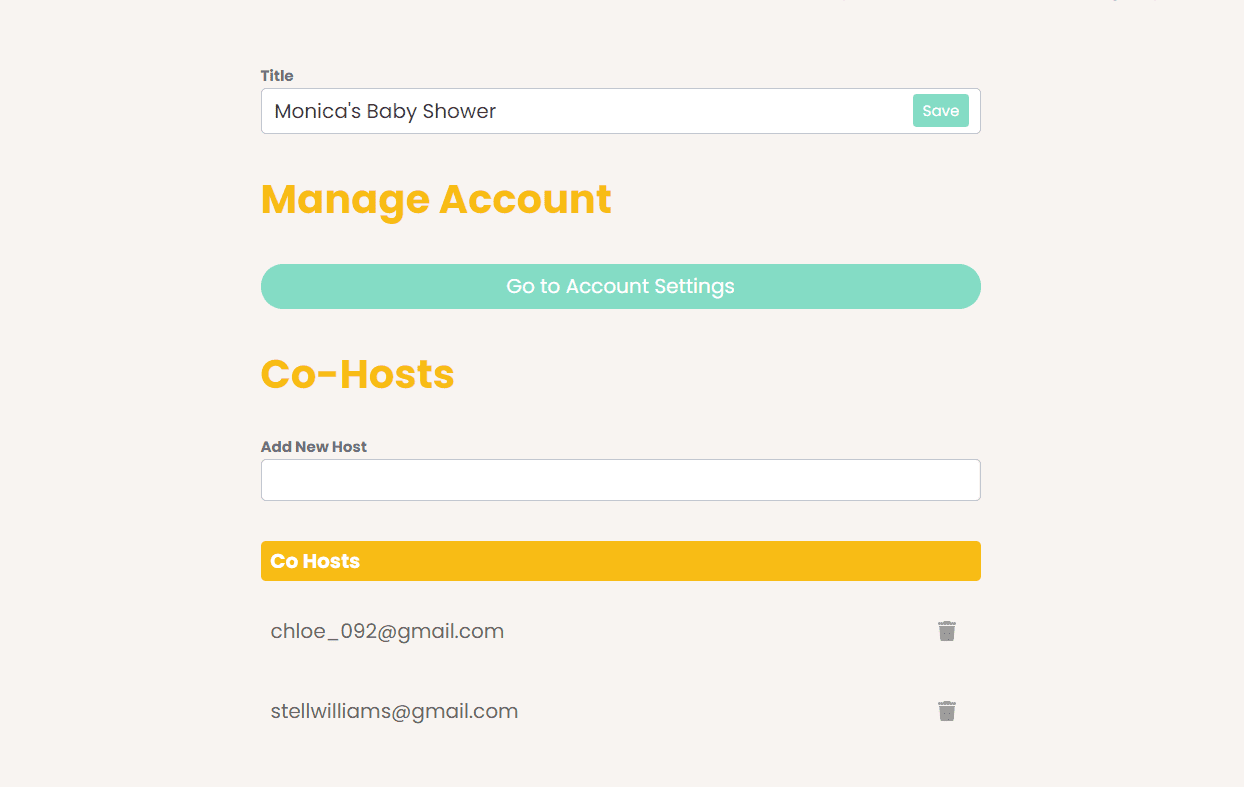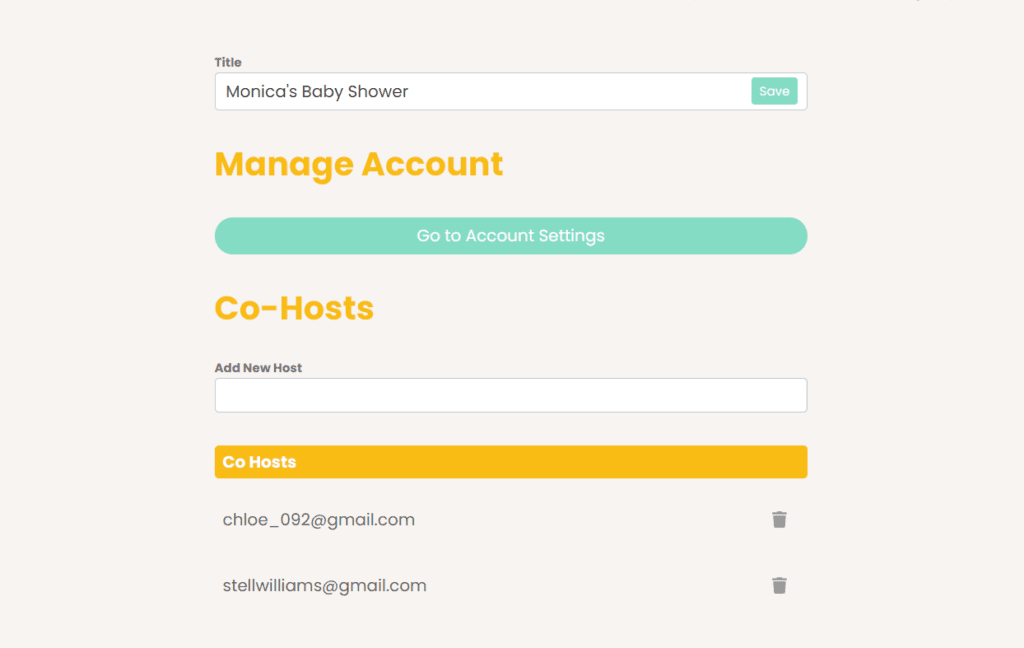 Step 4: Customization
This part is fun — it's where you get to make the baby shower your own. Start by setting up a gift registry. With WebBabyShower, you can keep track of the registry, send invites, and host the baby shower all in one place!
To add a registry, simply click on the "Gift Registry" section in the top right corner of your webpage. You'll see a button to add a registry, and when you click on this you'll be prompted to add the name and the link. You can also edit the address, so people know where to send their gifts.
After setting up the registry, you can add a welcome video on the main page — a great way to welcome guests and let them know what to expect. You can also easily add more videos and photos from the "Gallery" page.
After adding photos, videos, and the gift registry, go through each page on the website and add your own text. You can edit the text boxes by clicking the "Edit" button.
Then, select the games you want guests to play. To do this, go to the "Games" page and click on the "Edit Text" space. There, add a message for your guests and choose which games to display using the sliding button.
As an extra bonus, you'll notice a baby shower to-do-list feature on your website. This is a checklist on the Admin page that's provided to help you stay organized as you plan.
Step 5: Sending Invitations
Once your website looks perfect with your chosen theme, photos, and text, it's time to invite guests to check it out and come to the baby shower.
There are many ways to word invites, and we have some great suggestions.
To send your invites, click on the "Admin" section and go to "Create Invites." Click "New" and you'll be prompted to add details like the baby shower name and the invite theme. You are also able to have guests RSVP or visit the shower.
Add the text to your invite by editing where it shows the preview on the right. When you're done, click "Create."
After this, go to the next step of creating the guest list by adding its name. Click on the list to add the contacts that you want to invite and simply add their emails (one line for each).
Then it's time to send your invitations! Choose the correct template, add a subject line, and add the correct guest list. From there, you'll see a preview on the right. And when you're ready, hit "Send."
Here's a tip: It's always a good idea to send a test invite to yourself first, to make sure everything looks just like you want it.
When your guests get the finalized invite, they can click "Going" or "Not Going." It's simple, fun, and when they confirm they'll join you for your celebration, the invitation will automatically direct them to your website.
Plus, if you aren't sure about who viewed your baby shower website message or about who is coming to the event, you can check out the RSVP tracker on the Admin page.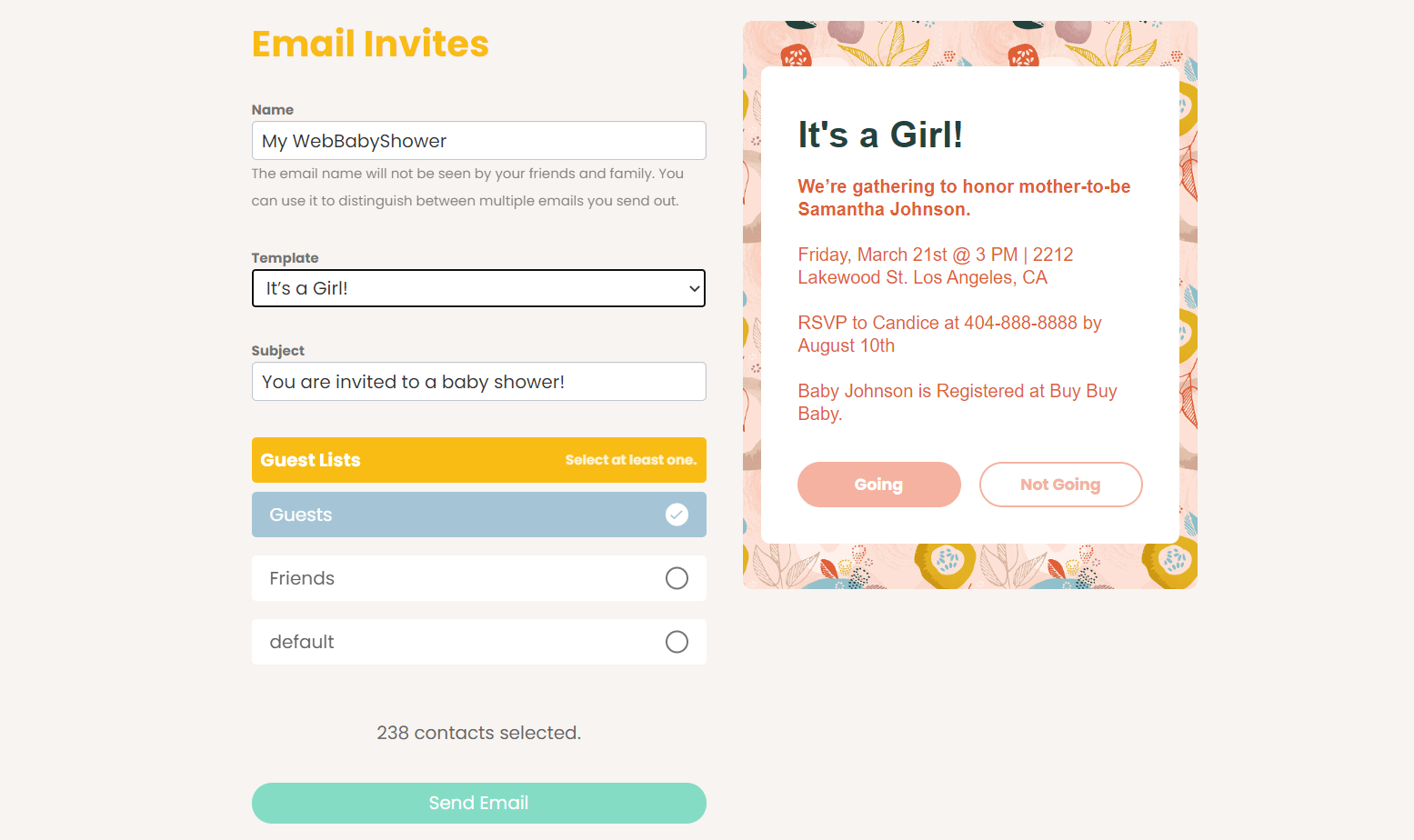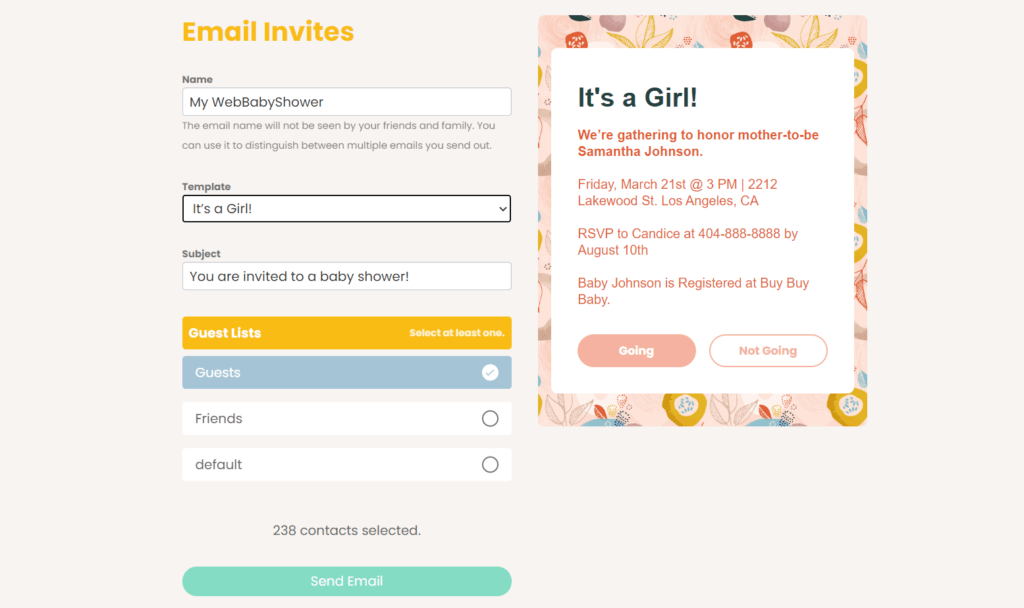 Step 6: Setting Up a Date for the Video Chat
The entire goal of creating a baby shower website is to bring everyone together. With this in mind, it's time to set up a date for the video chat!
To do this, go to "Events" and click "Edit Page" on the top of the screen. After that, choose "Add Event," where you'll be prompted to include the date, time, event name, and the link for the video call.
You are also free to add an unlimited number of events if you want to host several or have video chats for different time zones.
If you've never hosted a virtual event or don't know how to throw a Zoom baby shower, it's thankfully pretty straightforward and a great way for people to connect with the mom-to-be. You can play games, have food, and decorate, just like with an in-person event.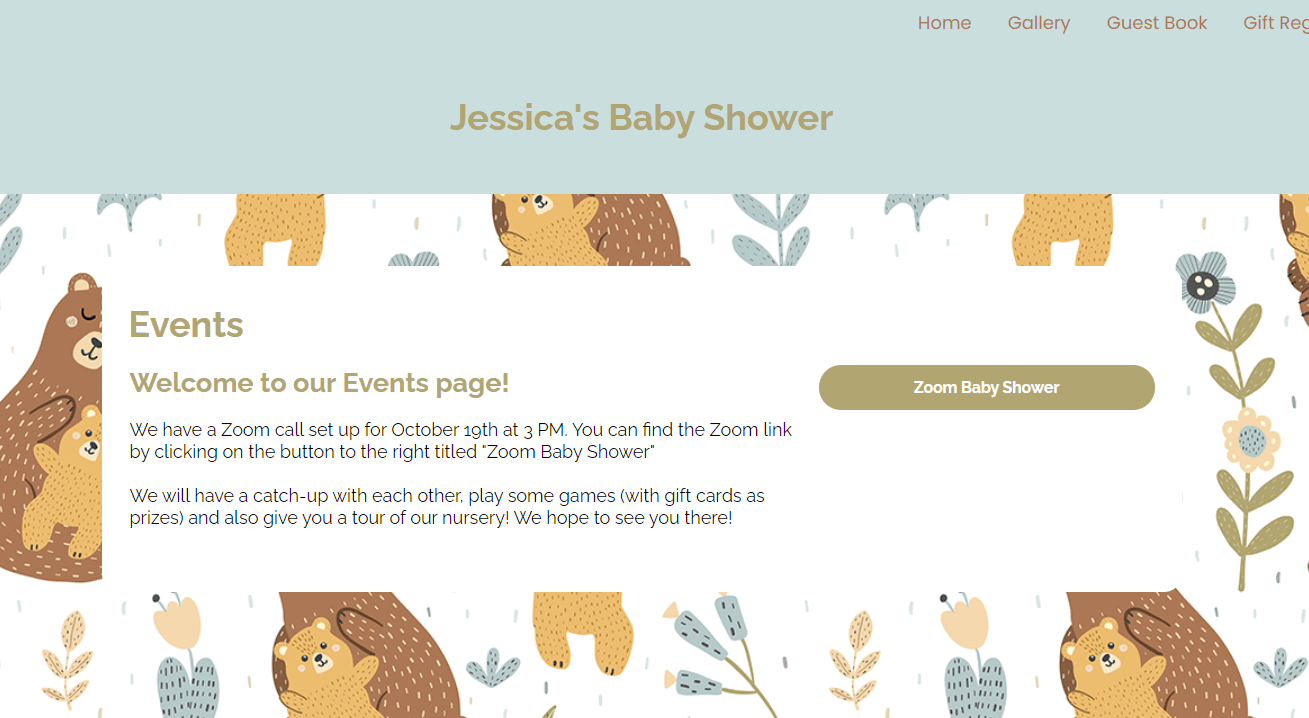 Step 7: Guests Visit Your Website
Your guests will be able to visit the website via their invitation, and when they do, they'll find it's very interactive.
They can leave messages by signing the "Guest Book" page, add pictures of the parents-to-be on the "Gallery" page, and play the games you chose when you set up the site.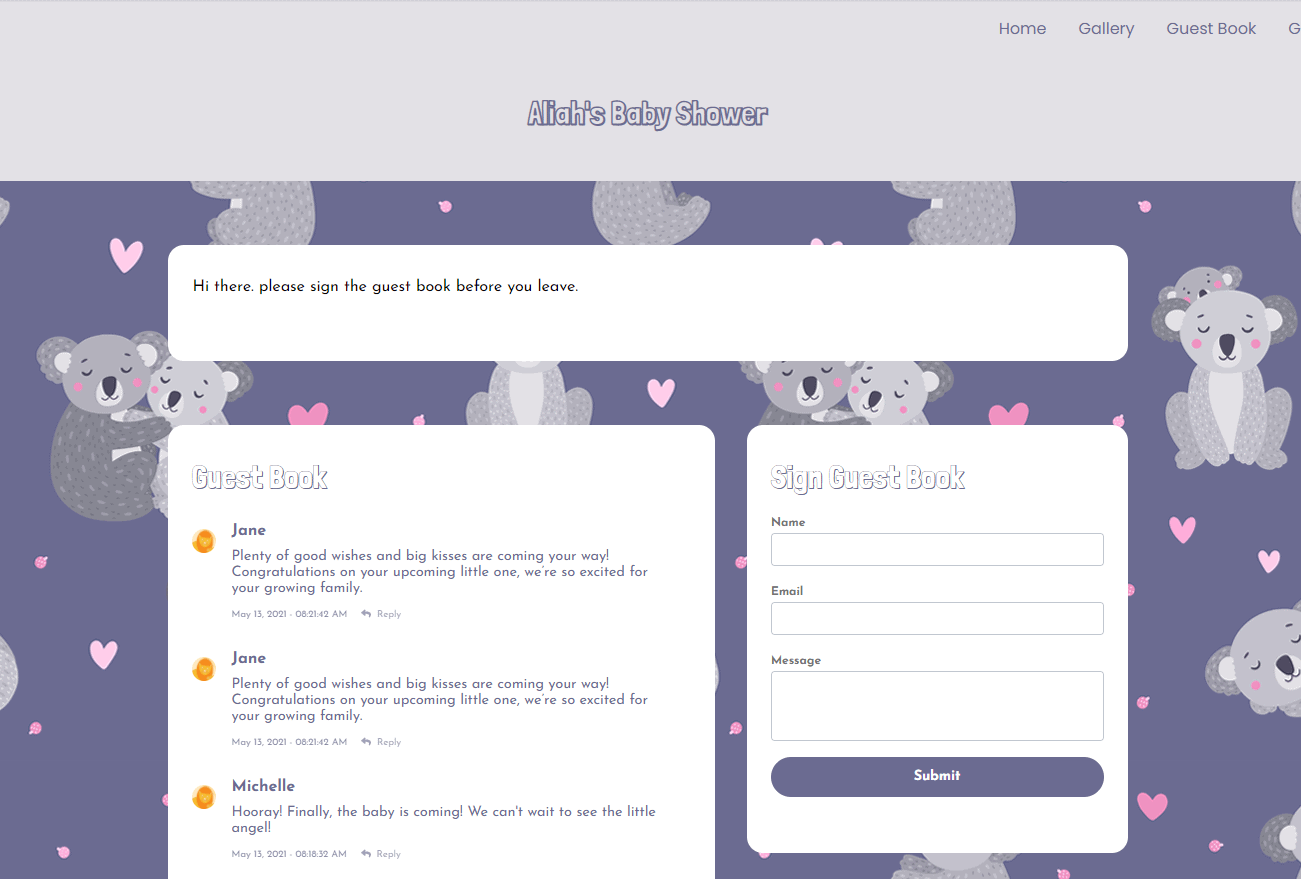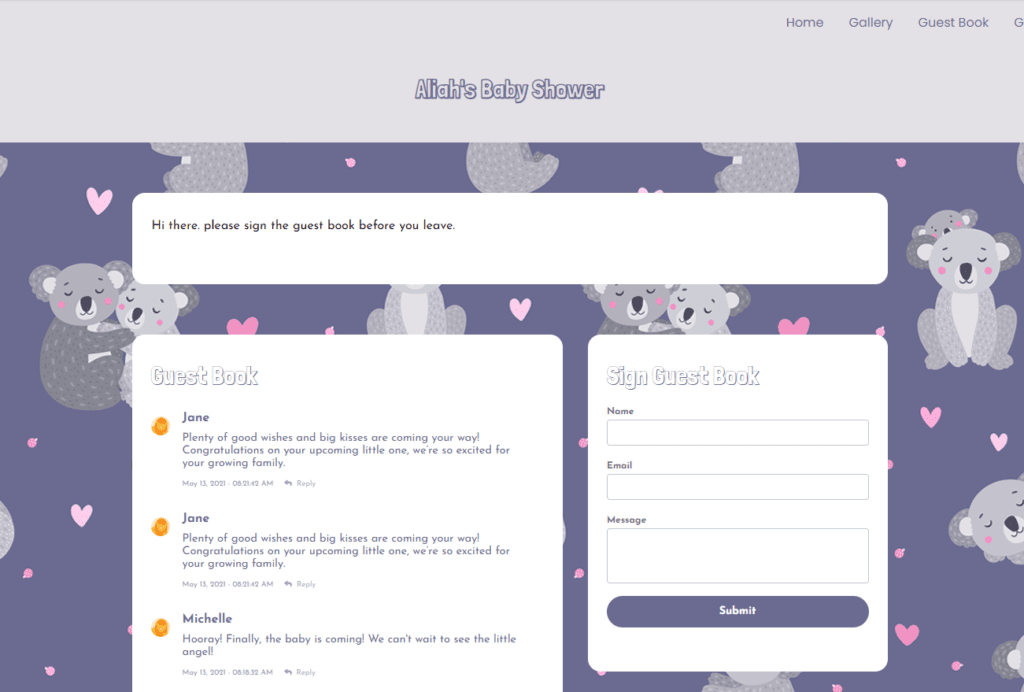 Step 8: Sending Updates
The fun doesn't have to end after the video call and the virtual baby shower! You'll still have access to your website.
WebBabyShower knows all about virtual baby showers, and we can help you with what to expect from a virtual party, too.
You can easily thank the guests for being part of the day using the invite manager, which is a great way to stay in contact with everyone. You can also use WebBabyShower to announce any game-winners and make special announcements from the parents-to-be through the invite system.