You don't want to forget any gestational journey milestones – whether it's the wonderful (and weird!) body changes at Week 7, late-night food cravings at Week 22, or finally, picking the perfect baby name at Week 38. But with the non-stop pre-baby prep, like googling car seats and researching pediatricians, how can you remember all the little moments that made your pregnancy so special?
It's easy! Chronicle your journey in a Pregnancy Journal. Jotting down your thoughts, feelings, and new experiences throughout your pregnancy preserves those special memories and creates personalized Mommy Memoirs that you (and your baby!) will treasure forever.  If you are looking for a planning checklist, you can try visiting our blog!
#1 Why Keep a Pregnancy Journal?
Honestly, it's impossible to remember every single detail of your pregnancy, particularly if you are the Mama of multiple children! (Was it pregnancy #1 or #3 when you survived that horrific heartburn?) If you don't jot down details like this in a pregnancy journal now – even the trivial ones – you may not remember them later. Writing down your thoughts today ensures these memories will last long into the future.
In this babycenter article, author Leslie Kirk Campbell, says a woman who keeps a pregnancy journal confronts, rather than ignores, issues that arise during pregnancy. "Her quiet time of introspection and writing will be among the most important moments she spends on her journey into motherhood," Kirk continues.
What's more, did you know that journaling can help center you and is medically proven to relieve stress? It's true! Find out more in this National Center for Biotechnology Information article.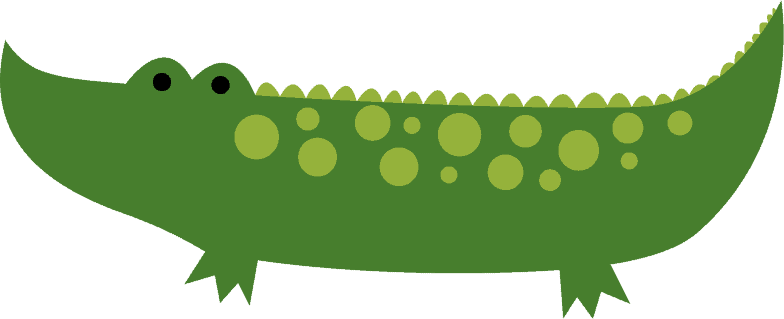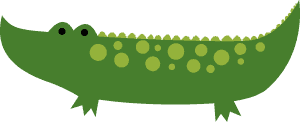 #2 How to Start a Pregnancy Journal
Maybe you've considered starting a pregnancy journal, but then squashed the idea of adding one more item to your ever-growing To-do List. Journaling doesn't have to be another chore! Don't feel obligated to write every day or even every week, if you're short on time. Writing as you can is the first step in creating something that you enjoy and likely want to continue.
Not sure how to begin journaling? First, choose a time of day when you're feeling most creative or when you have some down time, like riding the subway to work. And allow yourself the flexibility to write at your own pace.It's okay if you jot down 10 words to note what you ate for breakfast one morning or an entire page chronicling your emotions when you heard baby's heartbeat for the first time. Avoid chaining yourself to a certain word limit!
What should you write? How about documenting the advice your well-meaning family members and friends have been giving you lately, such as your great-grandmother's tried-and-true tips for soothing a crying baby?
On the flip-side, you may even want to make a list noting bizarre advice that you DON'T plan to use, but still want to remember for laughs (like applying a used, pee-pee diaper to eradicate baby's pimples – Ewww, just don't!). Keep in mind, this is YOUR personalized journal. Make it as unique as your pregnancy!
#3 How to Keep a Pregnancy Journal
You did it – you've decided to begin a pregnancy journal! But once you start, how can you keep it up? First, consider what format is right for you. There are tons of different pregnancy journals available. So find the one that best fits your needs.
Be sure to capture any unexpected, impromptu moments, like noting a fave song that becomes your pregnancy anthem by instantly boosting your spirits. Or perhaps you received a surprise card or gift from a childhood friend. Such seemingly minor details may be the hardest to remember later on, yet some of your most meaningful memories. Jot them down!
Would a writing prompt be right for you? A writing prompt is a thought or an idea that is used to inspire beginning writers. You know, just to get your creative juices flowing. Mindful School's Rose, Thorn, Bud activity makes a great daily prompt. The basic idea? Rose=A success or a positive happening. Thorn=A challenge. Bud=New ideas that have blossomed.
Here's another sweet idea! Create a journal filled with letters from you to baby. This BabyDoppler article has lots of suggestions to get you started, like: "My hopes for you are…" and "I promise to…" Writing letters to your unborn child is a wonderful way to create a maternal journal AND a special pregnancy keepsake – all in one!
Track changes! Your pregnant body is growing and changing on a seemingly daily basis. How can you keep up with it all? A pregnancy diary is a perfect place to record all those measurements that keep moving, like your weight changes and baby's heart rate from check-up to check-up.
Focus on details and small moments. For example, jot down a vivid dream. A fear you have. Or even the names of new books you've read during your pregnancy. Someday, your baby will enjoy reading all the details – even the small moments – that made your pregnancy unique.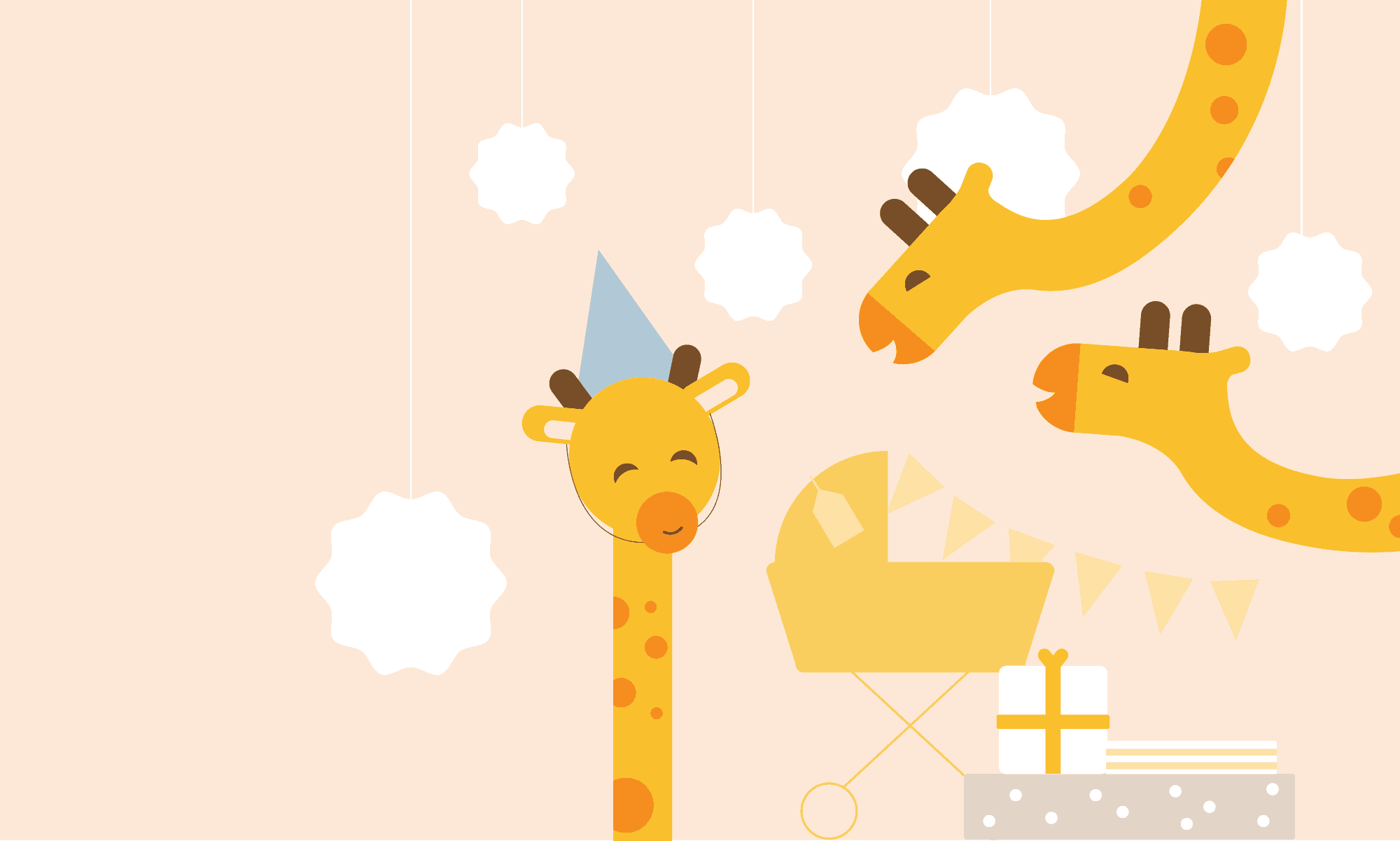 #4 Which Diary is Right for You? How to Choose the Best Pregnancy Journal!
When it comes to pregnancy diaries, selecting the right one is nearly as daunting as settling on baby's name. It's important to choose the journal that best fits your personal pregnancy needs. (Mom Loves Best) These ideas will help you decide:
Baby Diary. You already enjoy writing, so you need space (and lots of it!) to let your ideas flow. If this sounds like you, select a diary with less list-making and lots of room for creativity.
Tips sound good? Some pregnancy journals offer tips or other relevant information right on the pages. Decide if you would like handy info spread throughout, or if a blank slate is more appealing.
Other journals feature monthly questionnaires. This can seem less restrictive if you're already feeling short on time. Plus, questionnaires allow you to look back over your pregnancy at a glance (Mom Loves Best). On the other hand, monthly questionnaires may not allow you to log some important details.
Do you want a maternity journal that has space for photos? Then be sure to check out a scrapbook-style journal to blend your words with your photos!
Design. Does the look of the journal make you want to pick it up? Is it your favorite color? Does it feature an inspiring quote? Since you'll be spending time journaling, choose a design that is visually appealing!
Is the keepsake sturdy enough to survive your real #pregnantlife? Pre-natal check-ups, the gym, a spur-of-the-moment babymoon – your journal will be on the-go as much as you are. Select a journal that is sturdy enough to travel with you!
Size does matter! You may not feel up to lugging a big book around on all of your pregnancy adventures. You might prefer a journal small enough to slip into your day bag.
Don't cramp your writing style (or your fingers!) chronicling your pregnancy journey in a too-small journal either. Is your journal big enough that you can comfortably write in it?
If you really want to get creative, make your own DIY pregnancy journal! This YouTube video shows you how.
#5 Would a Pregnancy Journal App be Better for You?
If putting pen to paper isn't your thing, but…you still want to create a pregnancy journal – no worries! Consider an online pregnancy journal app. Google Play's highly-rated 280 Days: Pregnancy Diary is a free pregnancy record and diary app. Features weekly pregnancy advice for both Mommy and Daddy, plus encouraging message cards to cheer you on!
Sprout Pregnancy offers daily and weekly info about your growing baby, pregnancy checklists, and a pregnancy journal with free PDF to view or an option to print. The app includes over 350 journal entry ideas! (Available only in Sprout Premium Version)
Considering a photo journal? Moment Garden allows you to save memories as they occur – through photos! Touted as "fun, secure, and easy as email," this app can be accessed from your iPhone, Android device, tablet or computer. Plus, your memories are shareable with family and friends. The best part? It's free (or upgrade for a small monthly fee) AND you can add personalized journal notes and stories to your photos or videos.
Throw a Virtual Baby Shower so Everyone

Can Celebrate!

• Free Trial – 7 Day Refund for any reason
• Only 1 Minute Setup!
• 40+ Custom Themes & Matching Invites
• Use Any Online Registry
• Send Unlimited Invites and Updates
• Baby Shower Games with Scoreboards, Give Prizes!

Build Your Shower
---
#6 WebBabyShower's Top Choices for the Best Pregnancy Journals
We've compiled a list of pregnancy journals to help you get started. Check them out below!
The Diary-Style Pregnancy Book: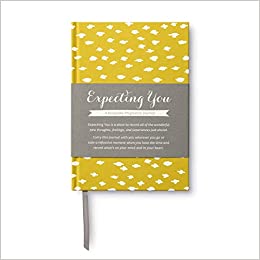 Hardbound. 144 pages. One cover only. Pregnancy-specific with prompts and monthly sections. Many well-designed, visually-appealing inner pages, with lots of room to write. Gushing reviews. Suitable for single moms (or dual moms!), i.e. no "Daddy" prompts. See for yourself on Youtube!
2. Personalized Journal Notebook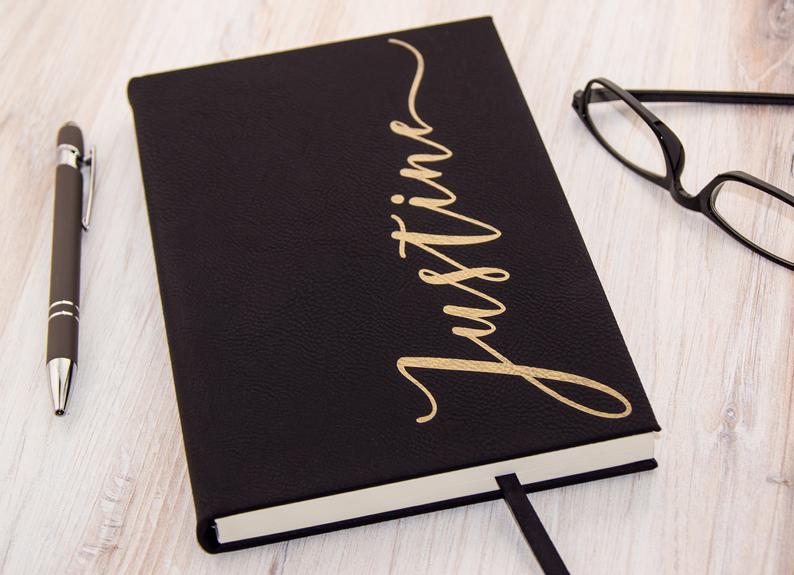 Hardbound, custom laser engraved cover. 12 colors (including pink). Handmade – leatherette. Not pregnancy-specific. 112 gorgeous pages with integrated ribbon bookmark. Slips in a tote bag for on-the-go journaling. Excellent reviews.
3. Single Parent Pregnancy Journal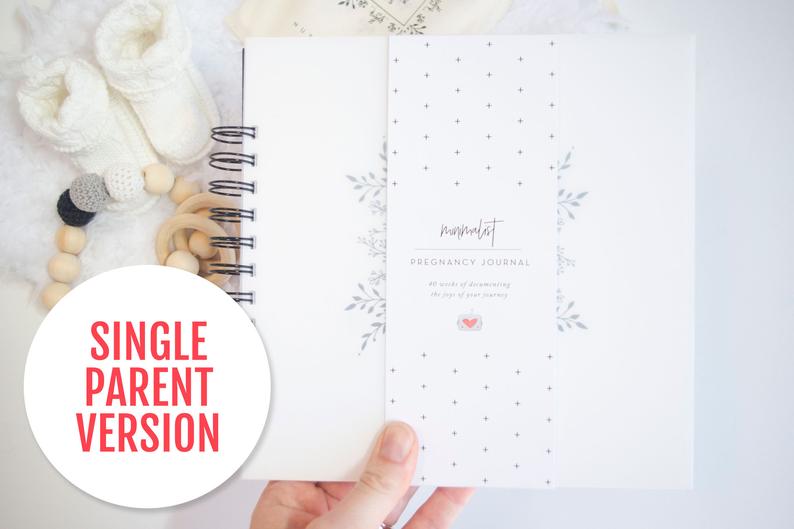 Interestingly, this spiral bound journal is available in both a single parent and two-parent version. Nice design. Gender neutral. A cross between a diary & photo book.
4. One Line a Day Pregnancy Edition Journal/Diary/Memory Book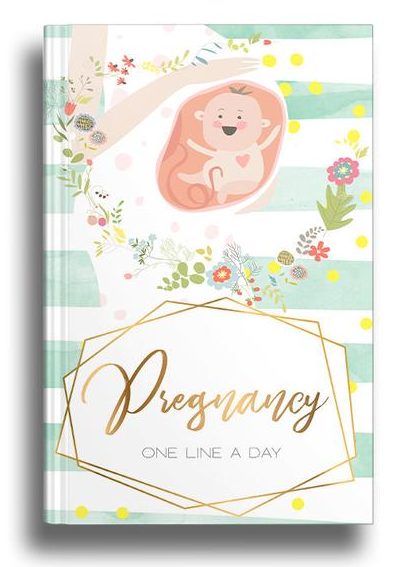 This hardbound book features the "one-line-a-day" journaling method and comes with many cover options. Plus, there's room for a few photos. Great reviews.
Scrapbook Memory Baby Books: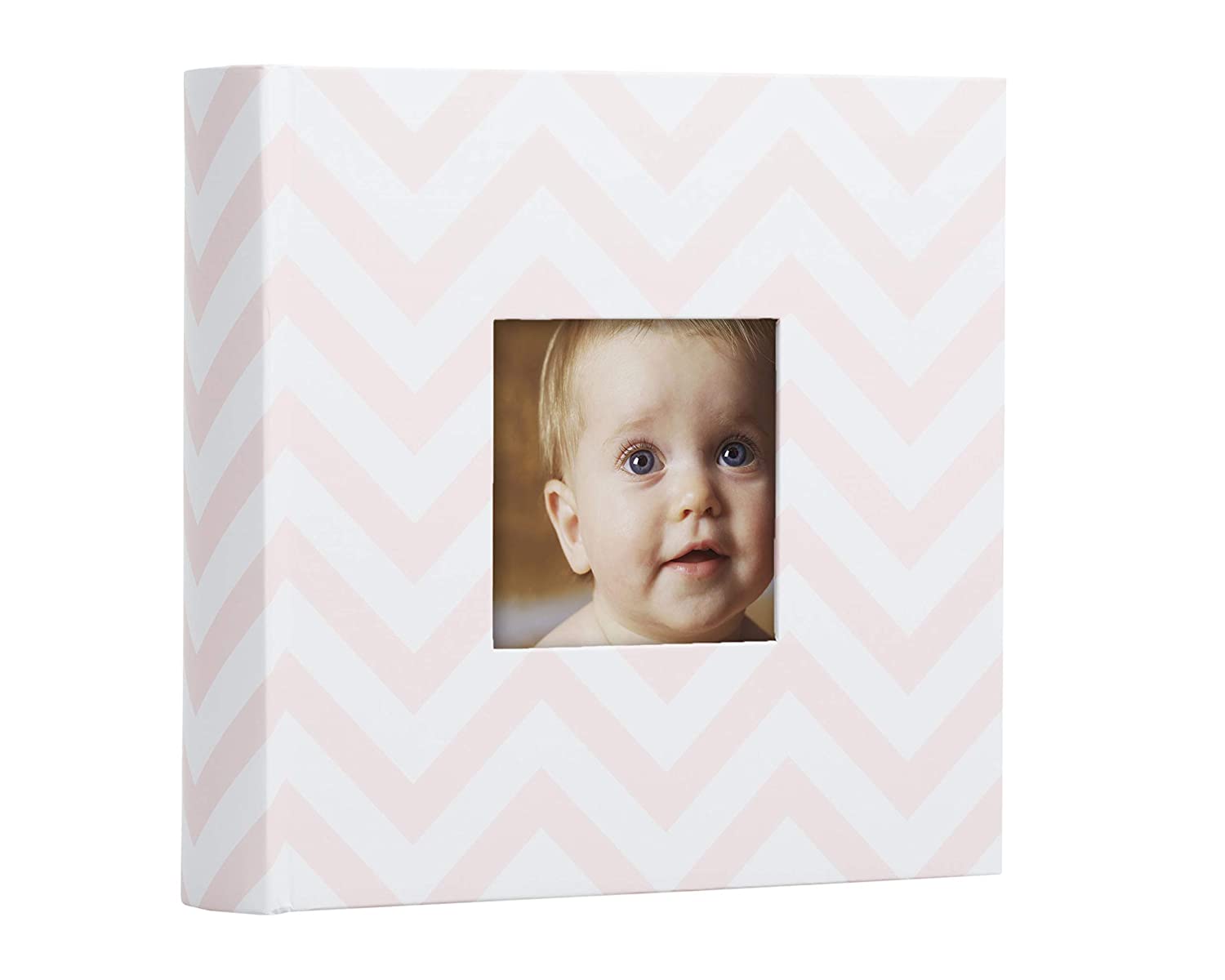 A photo journal. 48 pages. Spiral bound. Holds about 200 photos. Available in different covers and sizes on Amazon. Check prices, as they vary!
2. Pregnancy Journal & Memory Book for Expectant Moms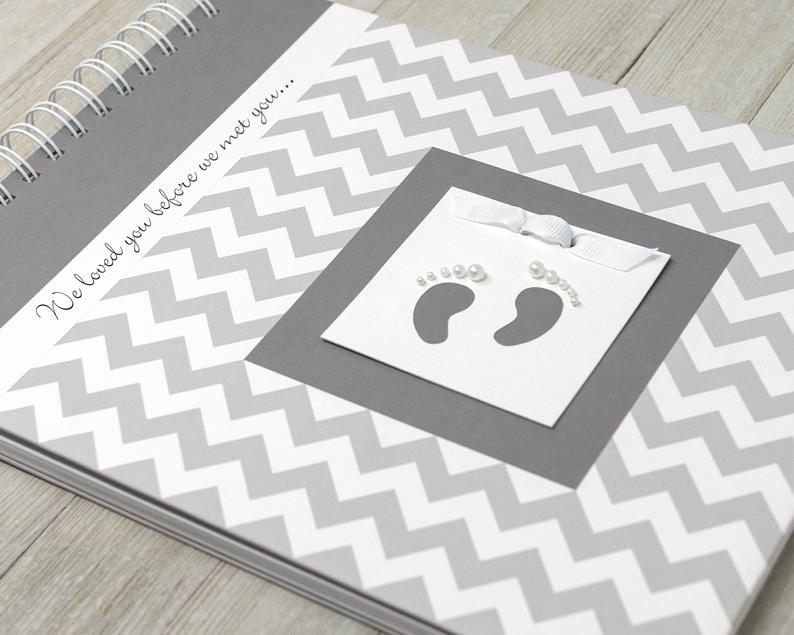 Spiral bound. Also comes in a gray chevron pattern but is larger-sized, more pages, and a tad pricier. You can personalize the cover a bit. Pregnancy or pregnancy + baby shower planner option available. Highly-rated.
3. My 9 Month Journey Pregnancy Journal and Baby Memory Book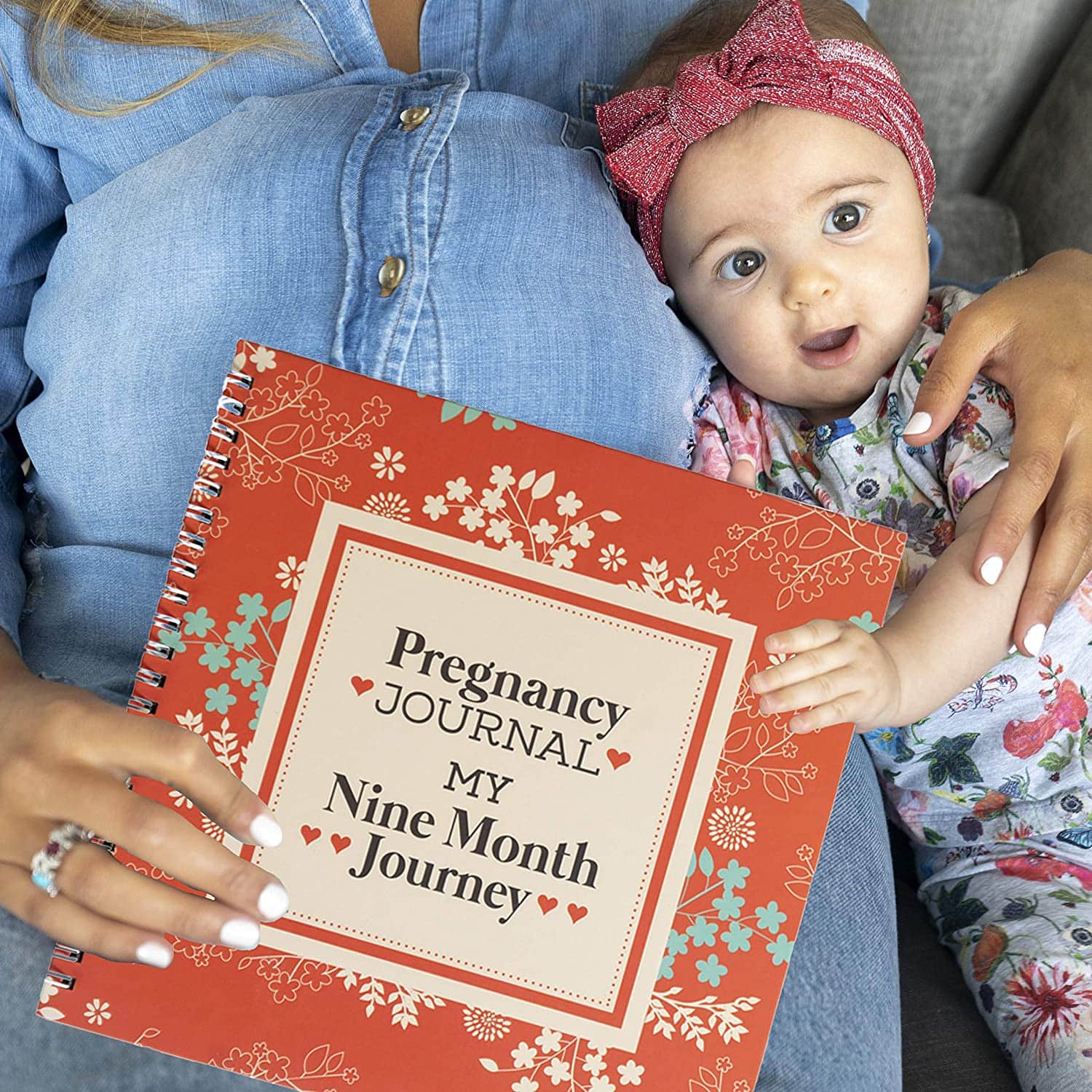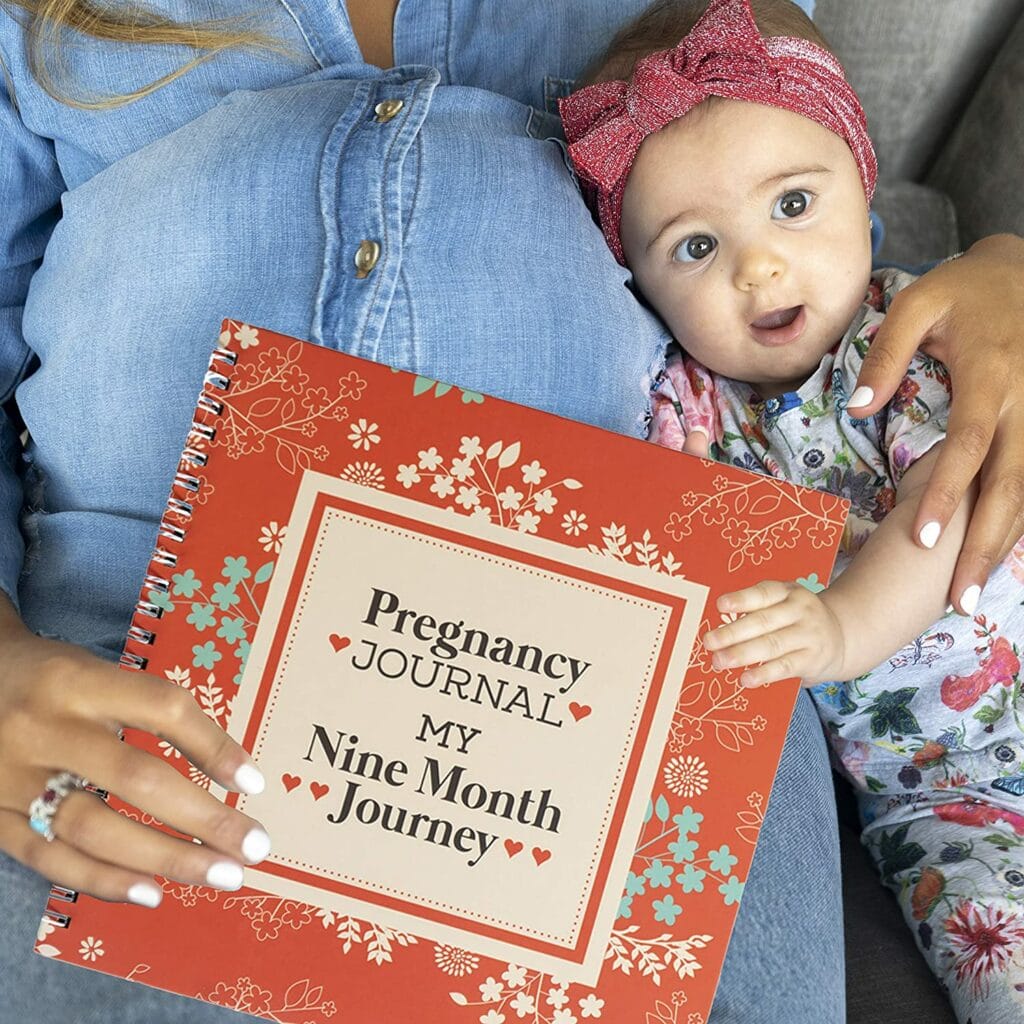 Spiral bound. Hard cover. 40 multi-colored and designed inner pages with writing prompts. Stickers included.
Info and Checklists: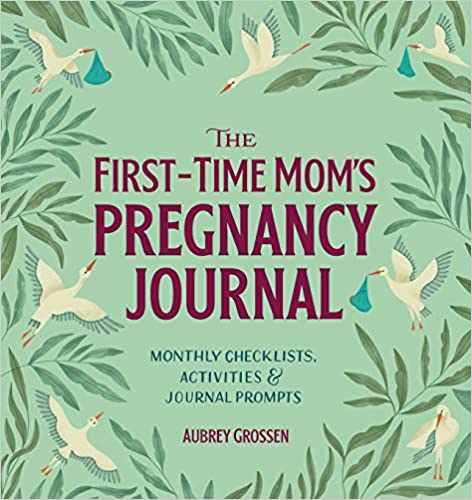 Softcover. Beautiful, unique designs. Activity and journal prompts, plus checklists. Trimester sections.
2. Bloom Daily Planners, New Pregnancy and Baby's First Year Calendar Planner & Keepsake Journal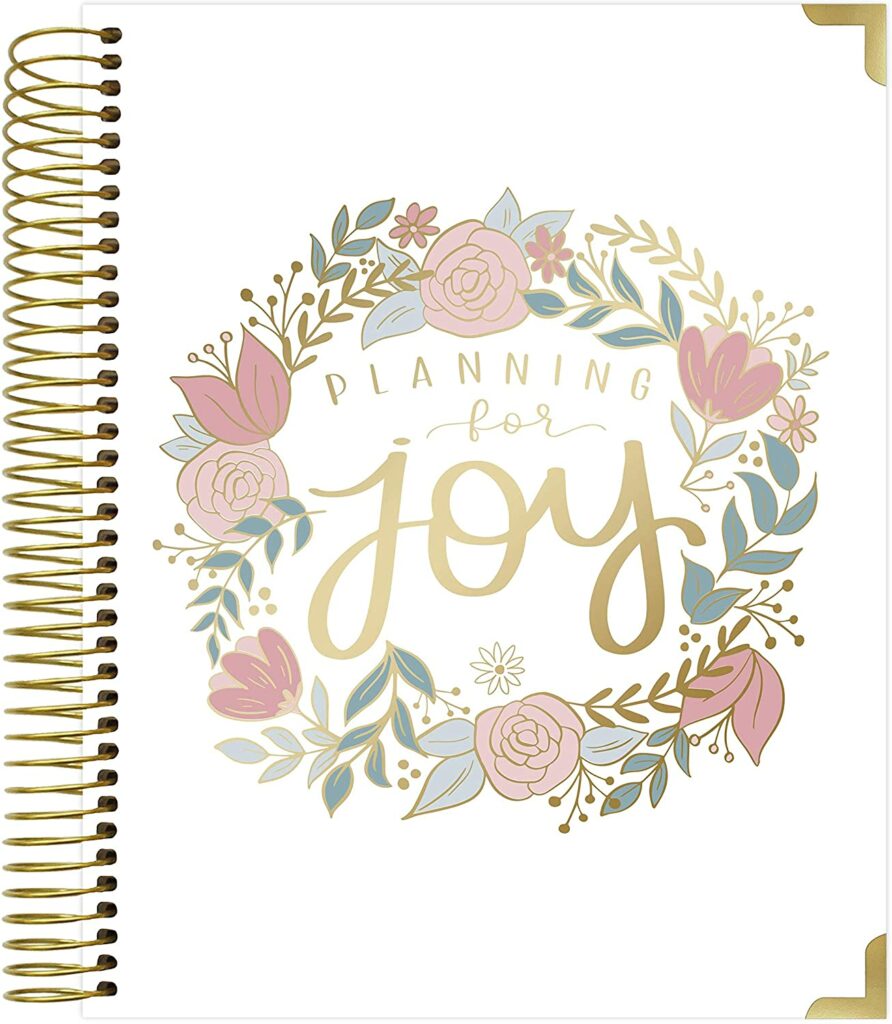 Spiral bound. Tabbed sections, with guidebook, medical logs, journal, scrapbook, and lots of planner-style layouts. Two pages of full-color stickers.
Free Downloadable Pregnancy Journals:
Download this stylish diary from Three Bird Nest. Features a page per week style, plus sections for a birth plan, nursery ideas, appointment logs, and more! For more information, contact

[email protected]

.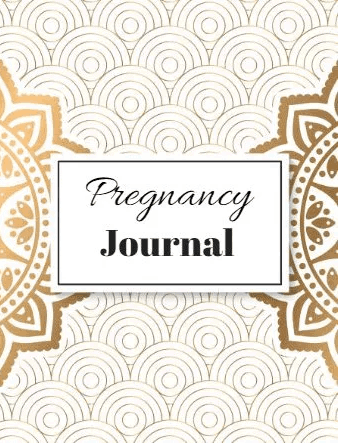 2. Tips & Health Info Style from the National Women's Health Resource Center
This free, 52-page trimester-by-trimester pregnancy planner comes complete with FAQs, guidebook, and checklists. Includes a month-to-month daily log section.
Go Mobile with Pregnancy Journaling Photo Apps:
Why go digital? Capturing special moments with the perfect photos has never been easier! Pregnancy journaling digital apps are more photo-based than writing. We have an upcoming pregnancy photo journal apps review, but in the meantime, here are three options to explore:

Save and privately share your child's precious moments with the people who matter most.
It's fun, secure and easy as email.
2. tinybeans

Chronicle your child's growth through photos. Free, secure storage for unlimited photos and videos. Social media-style, but private. Journal in one convenient space.
3. Backthen

Keep your child's photos and videos safe on one timeline. Share only with the people you want.

Create customized journal entries with options to change themes, styles, and backgrounds whenever you want. Add multimedia files – photos, videos, sound. Set reminders to ensure you never miss an appointment!
See how a great online baby shower works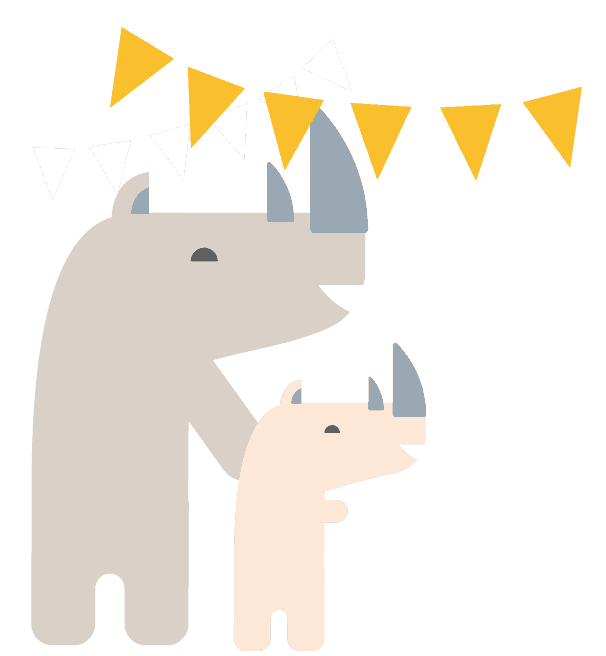 Have you enjoyed our list of tips and ideas for beginning your own pregnancy journal? We hope so! Just remember -journaling is about finding a fun, stress-free way of chronicling your unique pregnancy journey. You'll create your own personal Mommy Memoirs, preserving memories that you'll treasure for a lifetime. A pregnancy journal is a gift that you give to yourself (and your new baby!).