Evite is among the top 3 invitation platforms for events, but does that mean you should consider using them for a baby shower? While their site helps people send digital and customized invitations for baby showers and many other types of parties, it's worth taking a closer look at the features to see if they stack up.
Is The Evite Service Suitable for Baby Showers?
There's no denying that when it comes to planning events, sending digital invitations is easier (and cheaper) than sending out physical invites. This is basically Evite's bread-and-butter; they don't offer much beyond that.
You can choose between premium and free invites. The premium ones have prices between $14.99 and $79.99, taking into account your guest list size.
You simply collect guests' e-mail addresses, pick a cute design, send 'em out and watch the RSVPs roll in. So, if you're organizing a shower and you've already planned and prepped everything other than invitations – then an invitation system that specializes in cute party invitations like Evite might be your first stop.
But if you're wanting something more than that – and need help organizing all aspects of your shower, then Evite doesn't really stack up
Throw a Virtual Baby Shower so Everyone

Can Celebrate!

• Free Trial – 14-Day Refund for any reason
• Only 1 Minute Setup!
• 80+ Custom Themes & Matching Invites
• Use Any Online Registry
• Send Unlimited Invites and Updates
• Baby Shower Games with Scoreboards, Give Prizes!

Build Your Shower
---
Planning a Shower is More Than Just Sending Invites
To save you time and effort (as well as a lot of potential stress) you may want to try another solution- other than using a service that specializes in just sending invites. Such as a site that has many extra features and allows you to add details for your baby shower. If you want:
A user-friendly and customizable baby shower website with its own URL and the opportunity to add your own videos and pictures to keep guests informed.
A mobile app that hosts, guests, and guests of honor can use to keep in touch and give updates.
An add registry feature lets baby shower guests know where to shop for presents and easily access the right stores.
Beautiful themes (over 80 to choose from) allow you to make your website and invitations unique.
Virtual games for guests to enjoy, with scores available.
Built-in video chat to help people connect and celebrate.
Unlimited digital invites, with RSVP tracking, for free.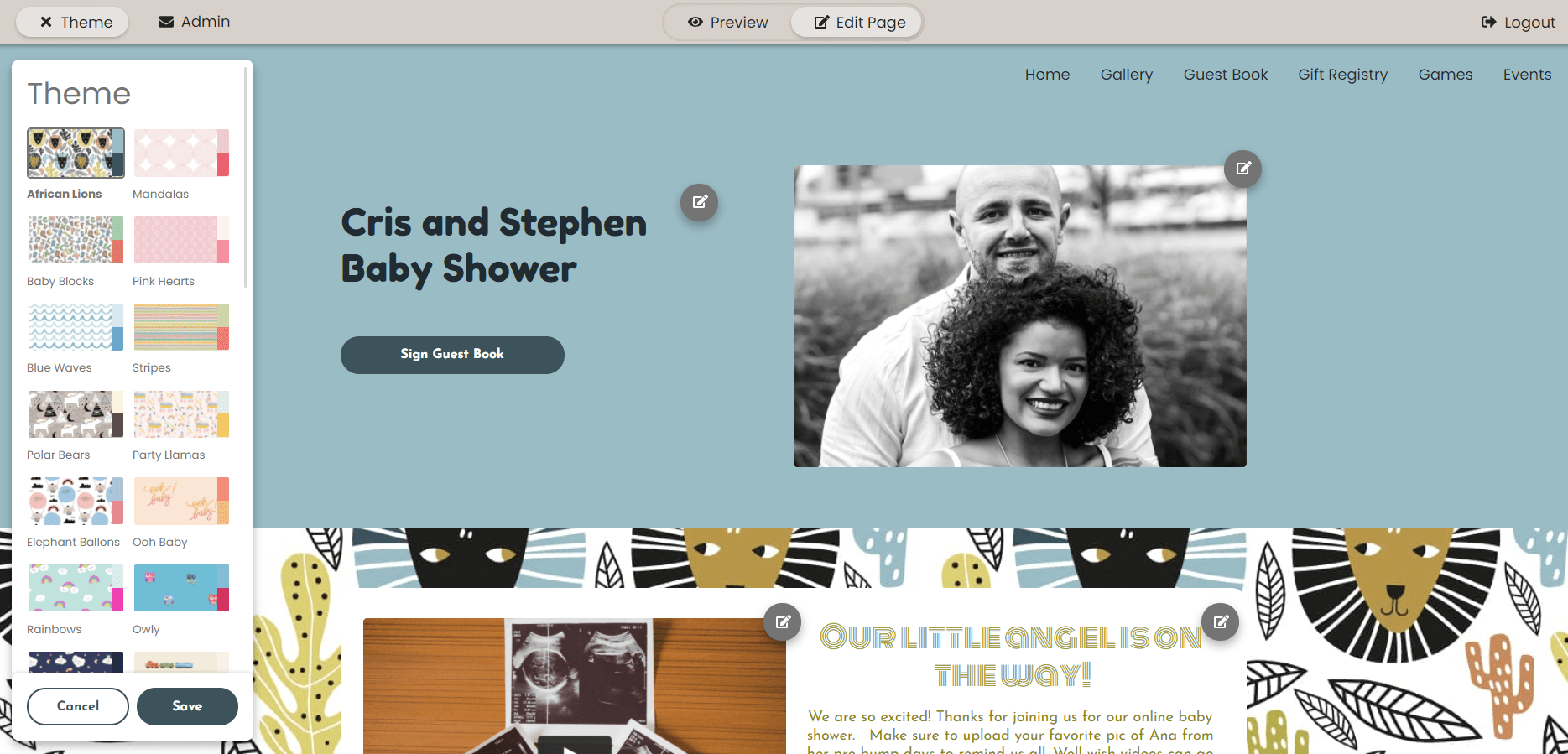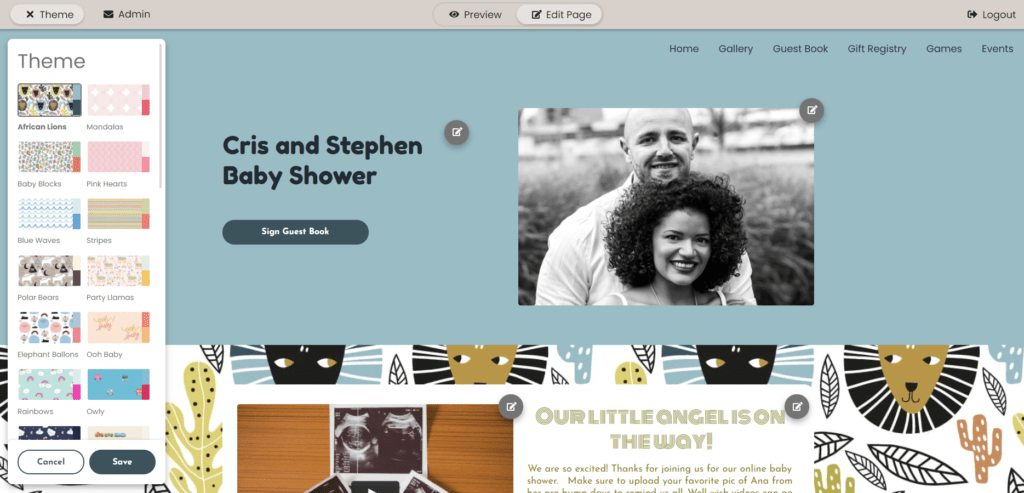 Then WebBabyShower is a perfect choice.
WebBabyShower is the #1 industry leader in online baby showers – offering a complete baby shower experience, from set-up and beyond—and yes, we have dozens of adorably themed baby shower invitations for you to use! Our service goes beyond simply sending the online invitations – which is why we've decided to compare WebBabysShower with Evite – so that you can see the differences head to head, and decide if our WebBabyShower is right for you.
WebBabyShower Vs. Evite
Feature
WebBabyShower
Evite
Invites
Yes. Inbuilt Unlimited Invitation Sending with
RSVP tracking
Yes
Mobile App for Host & Guests
Yes
No
Built-in Video Platform
Yes
No
Gift Registry Page
Yes. And WebBabyShower
works with all registries
and there is no limit!
No. Only on the invite and then only at Target, Amazon, and Walmart.
RSVP
Yes
Yes
Your own site with a unique URL
Yes
No
Multiple events all in one place.
Yes. Combine multiple
events like a Gender Reveal party, a Sip n See, Baby Shower, and more.
No
Co-host feature
Yes
Yes
Guest book
Yes
No
Gallery that hosts and guests can upload to
Yes
No
Customize your baby shower
Yes
No
Games
Yes
No
Printable Keepsake
Yes
No
Guest Limit
No Limit
750
Price
– $79 for a
6-month plan
– $129 for
an annual plan
– Free
– Evite Premium: $14.99-$79.99 per event based on the size
– Evite Pro: $249.99 billed annually
Trial
Yes. 7 days
Yes. 14 days
Have a Real Party Instead of Just Sending an Invite
All babies deserve to be celebrated, and mom-to-be deserves to be pampered and surrounded by love! That's why baby showers are such a joyous occasion for everyone involved.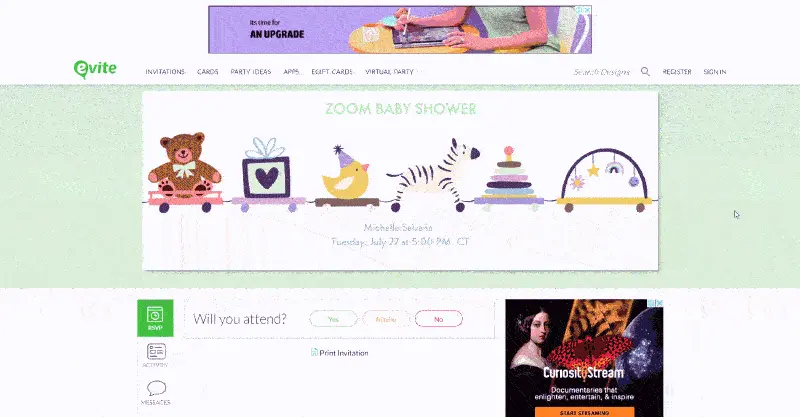 When you choose Evite, the main thing you're getting is virtual invitations—which is great, but it ends there. With WebBabyShower, you get so much more than just invitations. You get a guest book, games, the ability to upload photos, and an entire website dedicated to the baby shower. It's definitely more of a celebration!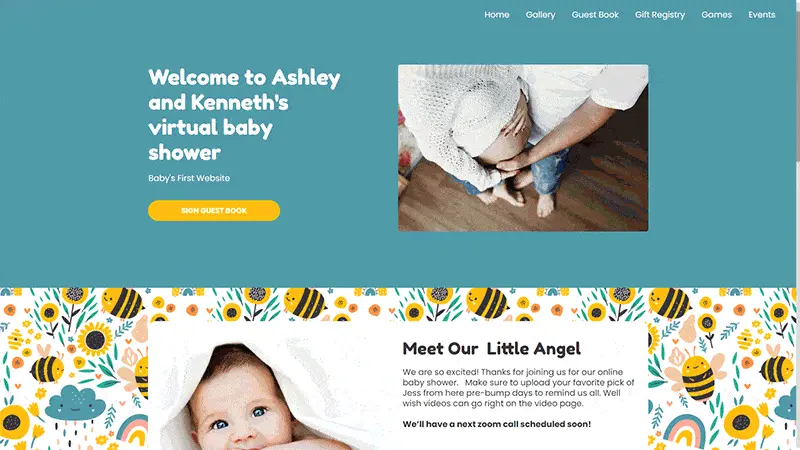 Be Unique
With Evite, you get a randomly generated URL that looks like a code and is hard to remember. With WebBabyShower, you get your own dedicated URL that can look like anything you want!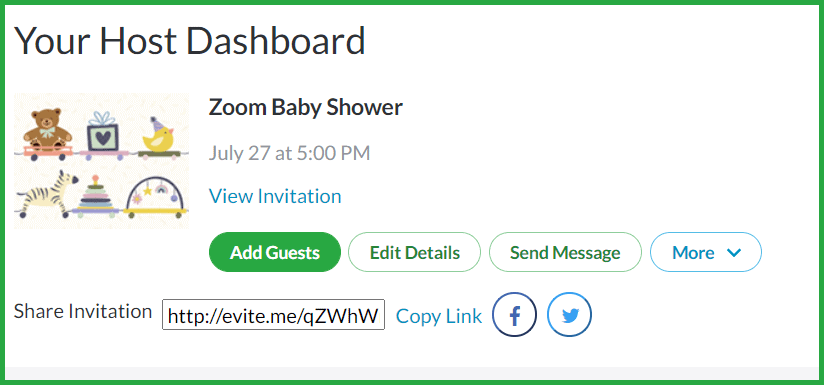 This is ideal for a few reasons: guests and hosts alike will remember it, it looks nicer and cleaner on an invitation, and it is more like an actual party invitation and less like a meeting link! (I think we can all agree we've had enough Zoom meeting links to last a lifetime.)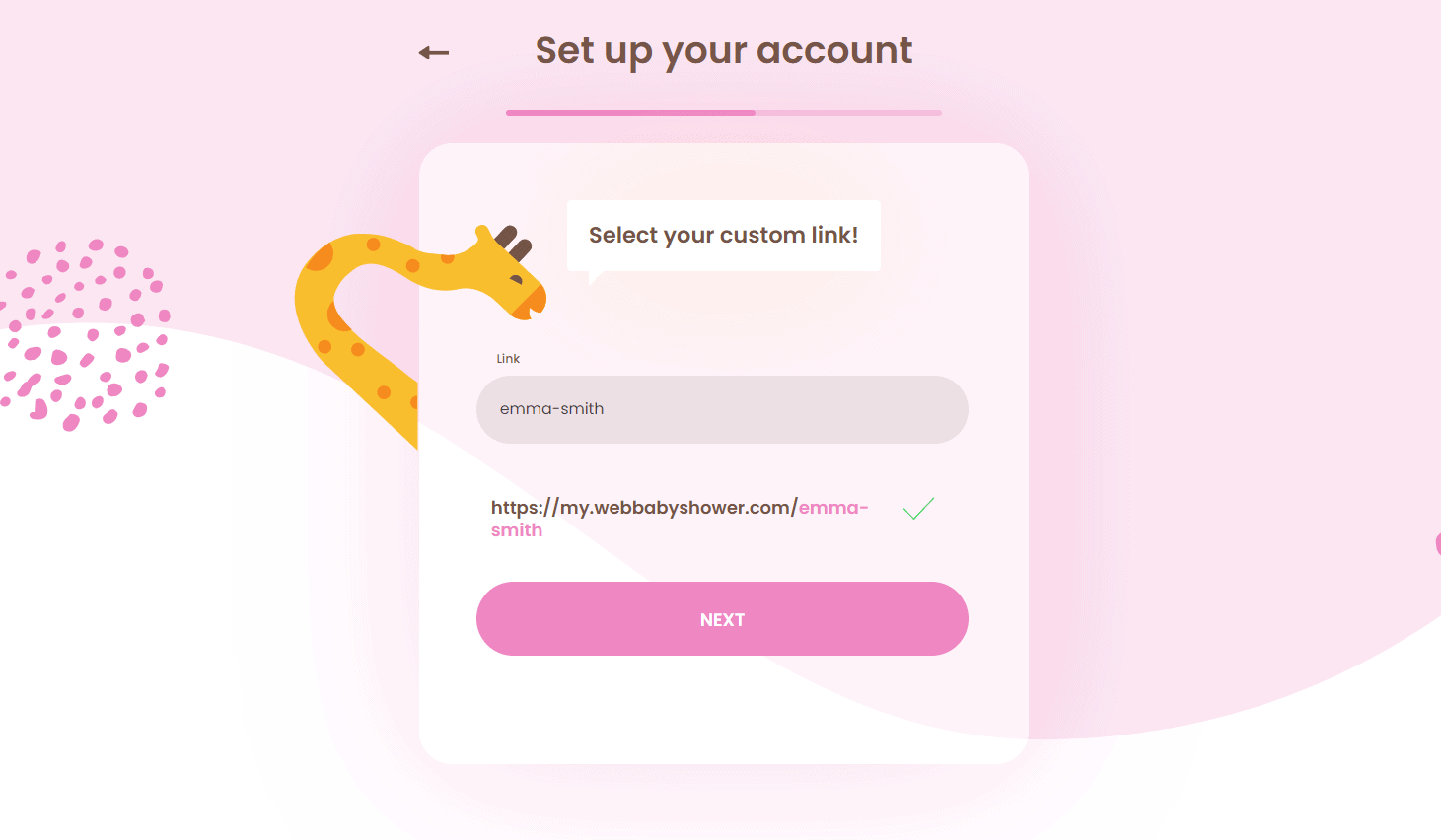 Multiple Events All in One Spot
Why limit the celebration of a new baby to just a baby shower? WebBabyShower's events page allows the host to show guests more than one event. With Evite, you'd need to send new invitations for every event you host! This makes hosting multiple events easier.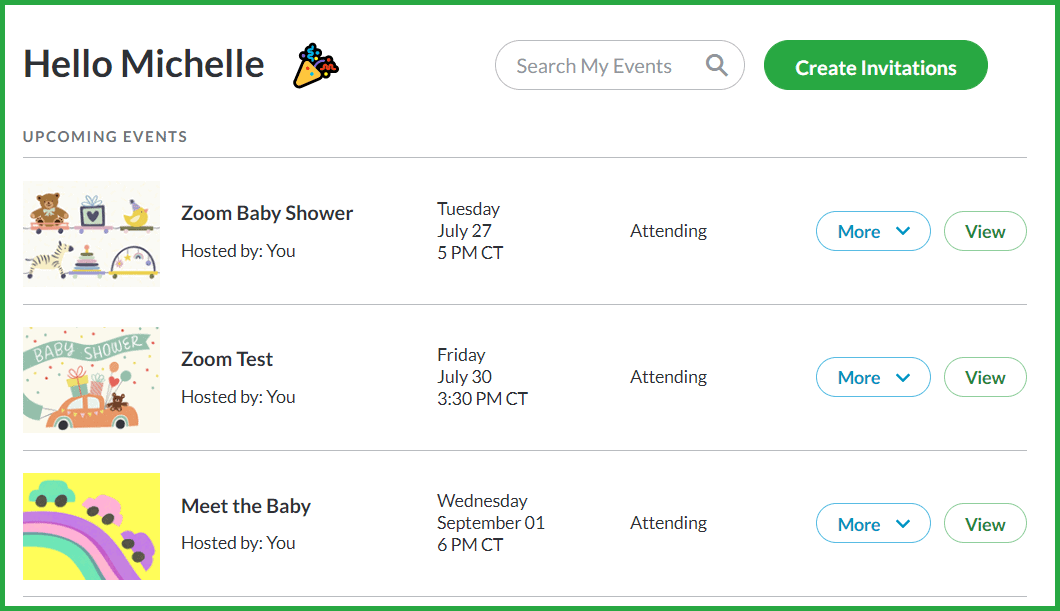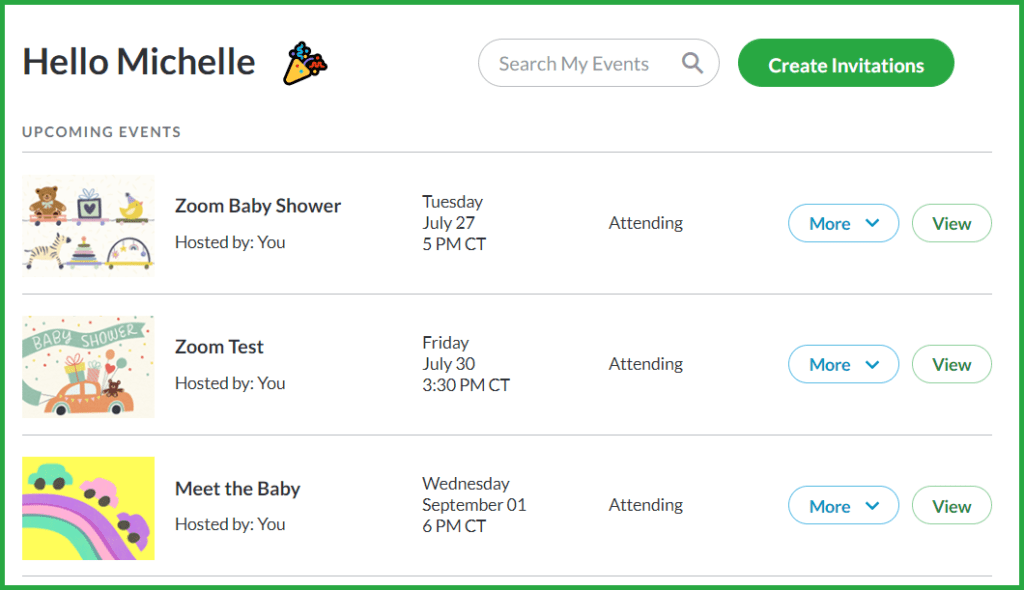 For example, if you're planning on having a gender reveal, a baby shower, and a sip and see once the baby arrives, WebBabyShower organizes your events into one place. This makes it a fantastic Evite alternative and also a great substitute to other services that are invitation-based and are limited on what they can do to accommodate multiple events.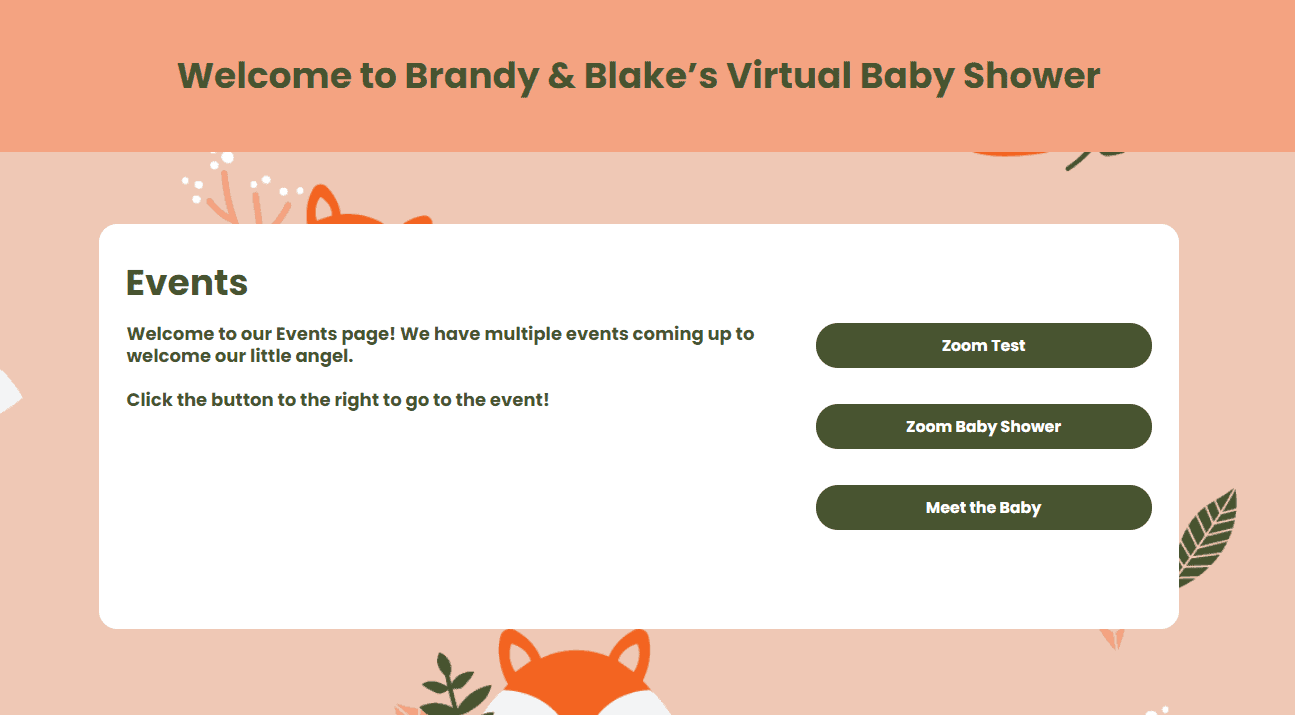 WebBabyShower: The Perfect Alternative to Evite
When planning a baby shower (or multiple events to celebrate the arrival of a new baby), simplicity is key. At WebBabyShower, our goal is to make the process as quick, easy, and exciting as possible! We believe that baby showers are unique events that should be as fun and inclusive as possible.
WebBabyShower takes an event and turns it into a true celebration. From customized designs to games; from guest books to galleries, we're the one-stop shop for your baby shower. Our expertise, experience, and customer service will help you throw a baby shower that guests will talk about for months to come.
When you choose WebBabyShower, you get quick & easy setup, clear pricing, and a 7-day money-back guarantee – a great alternative to Evite that comes with a whole party package and not just an invitation-sending service.