A sweet baby boy or girl is on the way, and you're over the moon excited. As you plan to welcome a precious addition to your family, you're likely thinking about all of the things you need before they arrive. That's where a baby registry comes in. But what is a baby registry, and why do you need one? Keep reading for the benefits of creating a baby registry and what items to include.
What Is a Baby Registry?
A baby registry is a list of items from an online or brick-and-mortar retailer that you need for your arriving little one. Amazon, Target, Pottery Barn Kids, and Babylist are just a few retailers offering baby registry services. Family and friends can access this list and support you and your family by purchasing one or more of the items you need.
From clothing and bedding to toys and nursing essentials, you can include anything you'd like on your baby registry checklist. The more you include, the more choices loved ones will have as they shop.
Benefits of Creating a Baby Registry
Instead of guessing what you want or need for your baby, loved ones have a curated list of options. While some may stray from this list, most will choose a gift from your registry.
A baby registry is also a great tool for staying organized before your baby arrives.
Along with serving as a suggestion for gifts, it's also a shopping list you can reference to see what you still need to purchase for your baby. Depending on the retailer, baby registries often come with perks like completion discounts and free samples to help you prepare for your baby's arrival.
When Should You Start Creating Your Baby Registry
Most parents-to-be created their baby registry after the first trimester, around the 12th week of pregnancy. Some wait until the halfway mark at 20 weeks. Whatever you decide, make sure you have enough time to make a registry of all the items you want before friends and family start shopping, usually before your baby shower.
Read: When Should You Start Your Baby Registry – A Practical Timeline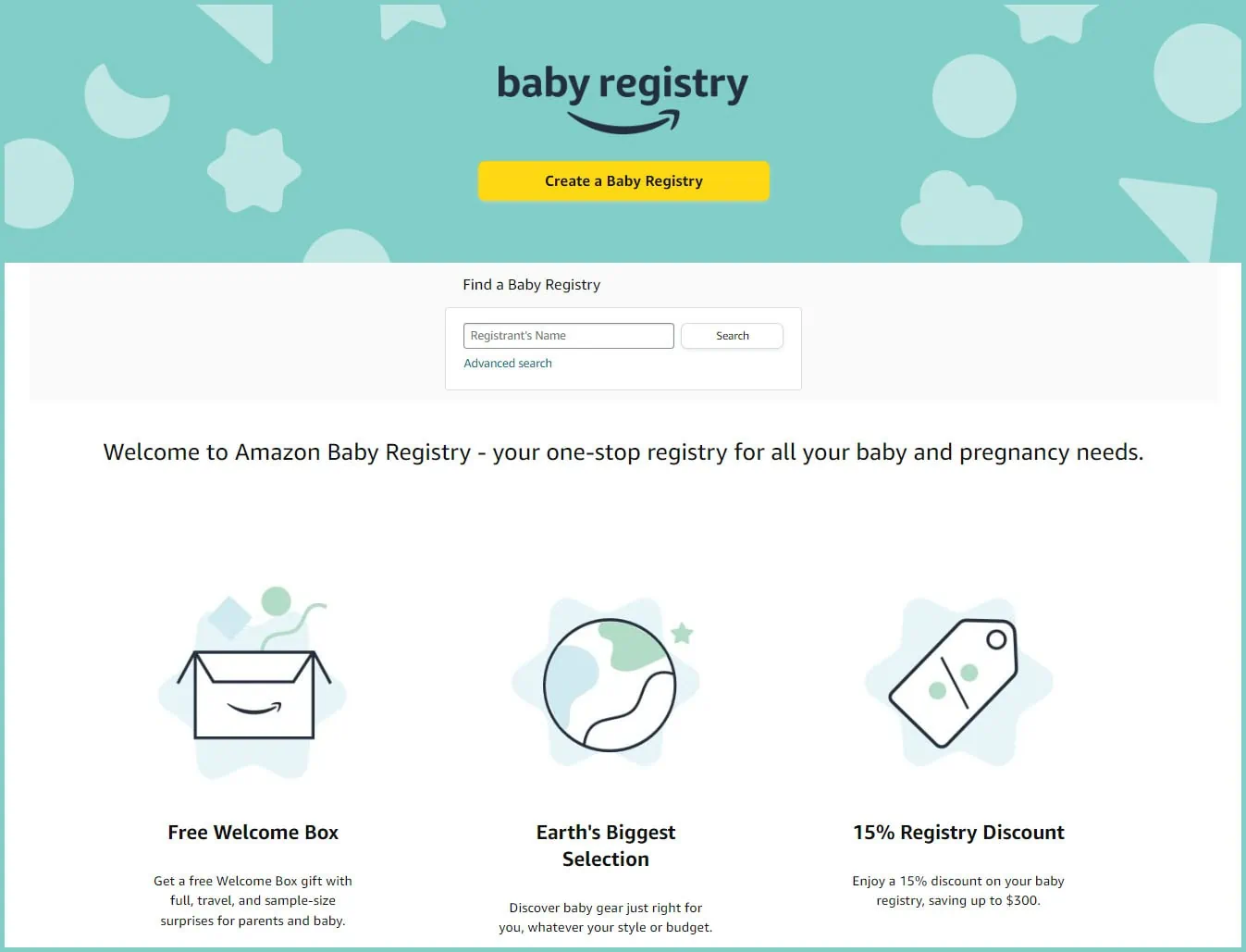 8 Things to Consider When Choosing Your Baby Registry
Choosing a baby registry comes down to your personal preferences. The best baby registry is the one that fits your needs. Whether you're looking for additional perks like discounts or options for group gifting, choose a registry that offers those options. Before you choose your baby registry, here are a few factors to consider.
Product variety: Select a retailer that offers a wide variety of items instead of options in a niche category. Look for registries that let you add diapers, feeding essentials, toys, nursery decor, and more to your wish list.
Different price points: Along with including various items on your registry, it's also important to include a range of price points. That way, there is a gift option available for any budget.
User-friendly interface: Nothing is more frustrating than not knowing how to add an item to your baby registry or for loved ones to be unable to figure out how to even find your registry at all. Check out reviews of baby registries to see what customers have to say about the user experience.
Discounts and freebies: Who doesn't love freebies and discounts? Some baby registries send you a welcome kit full of samples when you create your registry. Others also send you a discount coupon a few weeks before your due date so you can buy any last-minute items at a discounted price.
Return policy: Your hands will be full once your newborn arrives, which means you might not have a ton of time to run to the store to make a return. Some registries allow you to return items anywhere from 90 days to up to a year.
Group gifting options: Group gifting is a great way for loved ones to pitch in together to purchase bigger ticket items like strollers, car seats, and cribs. If you have people in your life who might want to purchase gifts together, look for registries with this option.
Universal registry: Some registries let you add items from any website, making it easy to include everything on one list. This is convenient if you want to include items from boutique shops like Etsy or other retailers that don't offer a registry service.
You can choose more than one: Don't feel like you have to be tied down to one baby registry option. Many parents-to-be choose more than one registry option. You can go with an online store like Babylist and also choose a brick-and-mortar option for those who prefer to shop in person.
Throw a Virtual Baby Shower so Everyone

Can Celebrate!

• Free Trial – 14-Day Refund for any reason
• Only 1 Minute Setup!
• 80+ Custom Themes & Matching Invites
• Use Any Online Registry
• Send Unlimited Invites and Updates
• Baby Shower Games with Scoreboards, Give Prizes!

Build Your Shower
---
What to Include on Your Baby Registry
There are many necessities you'll want to include on your registry, especially if this is your first baby. Clothing, diapers, baby gear, and feeding supplies are just a few of the baby registry items you need. The list below will get you started on what to add to your baby registry.
Clothing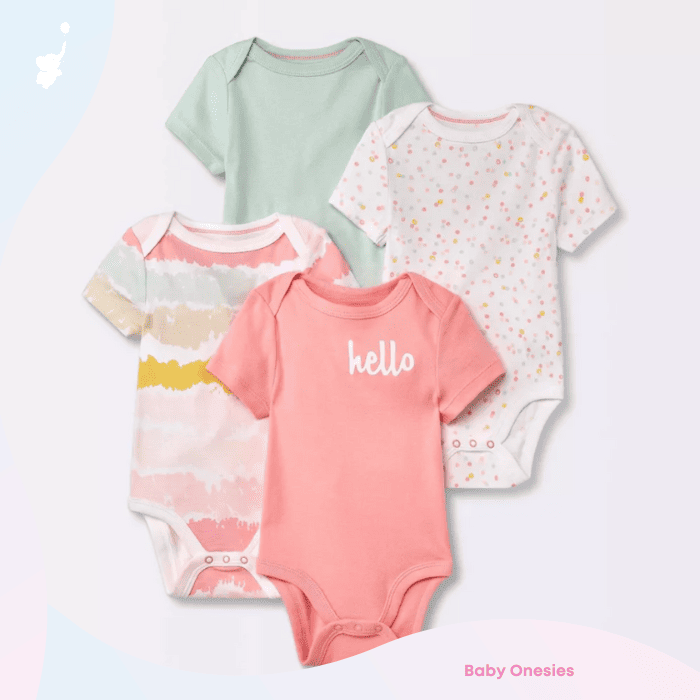 Onesies
PJs or sleep n' play outfits
Baby bunting for winter
Socks or booties
Winter or sun hats
Mittens
Baby gear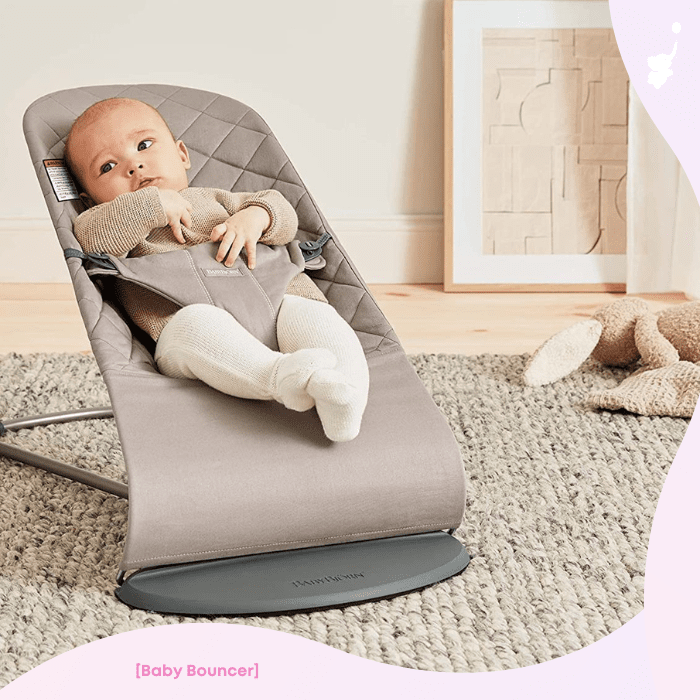 Stroller
Car seat
Baby wrap or carrier
Swing or bouncer
Playard
Nursery items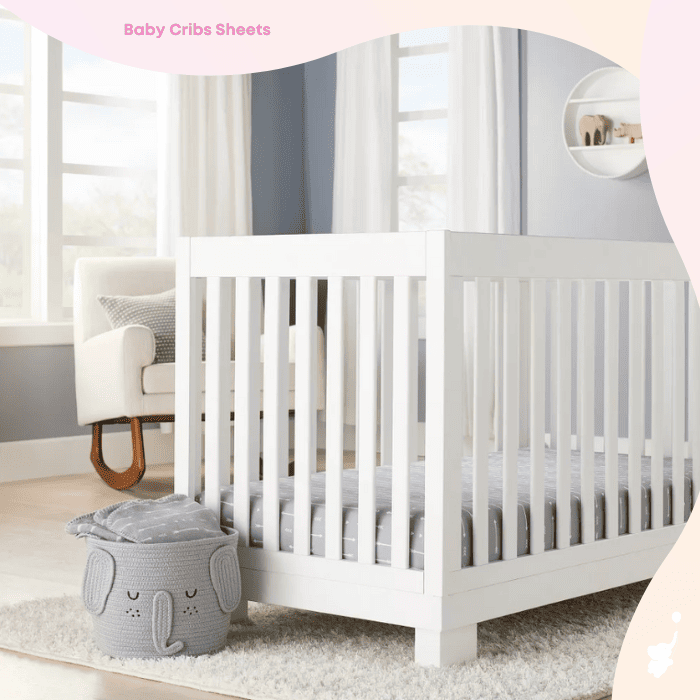 Crib or bassinet
Changing table
Dresser
Crib mattress
Mattress cover
Fitted sheets
Baby monitor
Swaddle blankets
Feeding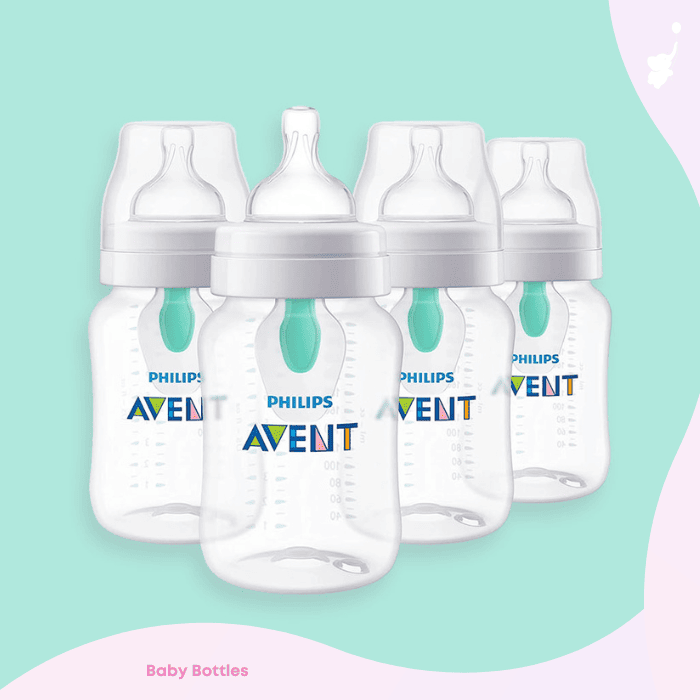 Bottles
Burp cloths
Bibs
Breast pump
Nursing pads
Nipple cream
Formula
Nursing pillow
Diapering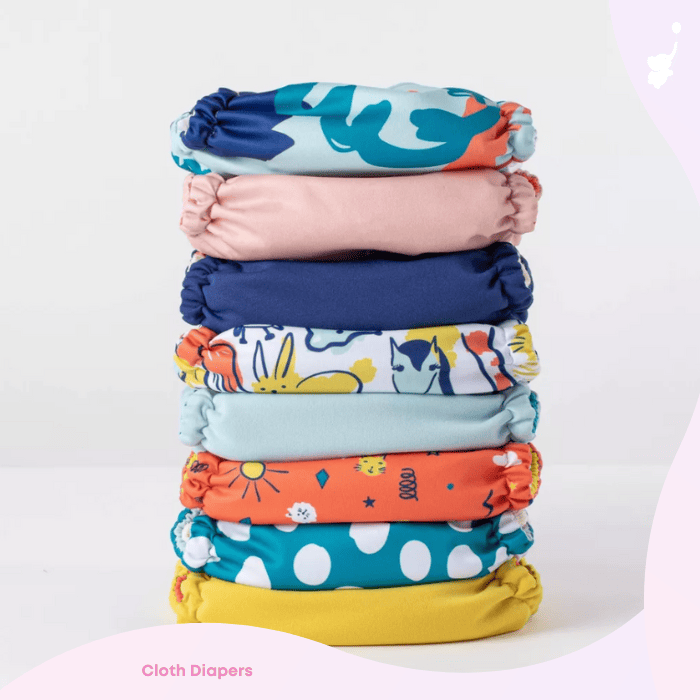 Disposable or cloth diapers
Baby wipes
Rash cream
Diaper pail
Diaper bag
Bath and health products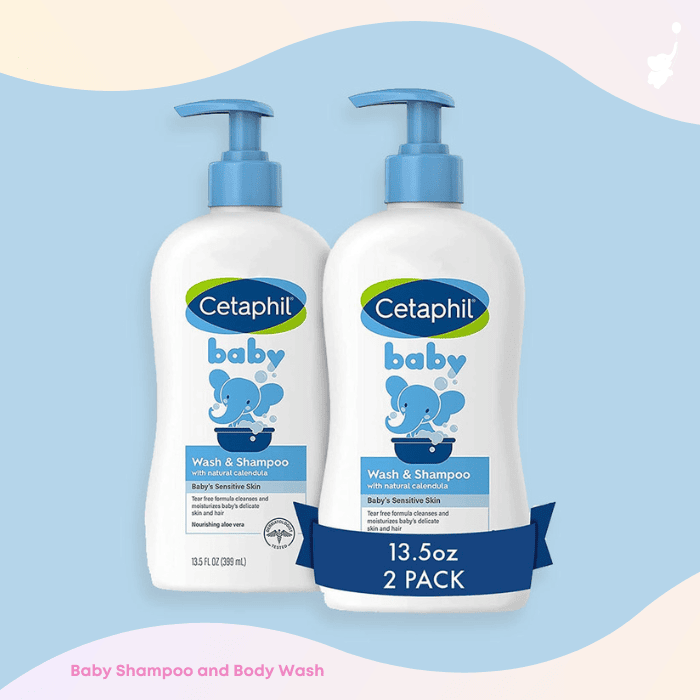 Soft washcloths
Pacifiers
Convertible baby bathtub
Baby shampoo and body wash
Baby lotion
Hooded towels
Baby hairbrush
Nail clippers
Baby thermometer
Nasal aspirator
First aid kit
What Not to Include on Your Registry
While your Aunt Milly might suggest adding a wipe warmer to your registry, you really don't need one. Here are several items you can leave off your registry.
Crib bumpers: While they might look cute on the crib, you don't need crib bumpers for your newborn. Babies should not have anything in their crib except a mattress with a fitted sheet for the first year. Crib bumpers, loose blankets, and stuffed animals cause a potential suffocation risk for little ones.
Baby shoes: Most people can agree that baby shoes are adorable, but they're not necessary until your child is walking. While babies are first learning to walk, shoes may impede their progress, so bare feet are best when they take those first steps.
Wipe warmer: Your baby's bottom will get clean no matter the temperature of their wipes. And babies who become accustomed to warm baby wipes might fuss if you later use cold wipes while you're out of the house.
High chair: This might seem controversial, but if you want to keep a minimal space when your baby is born, hold off on registering for a high chair. It will sit in its box unused until your child is starting to eat solid food around six months.
Why Create a Baby Registry?
A baby registry lets loved ones know what you need for your growing family and helps you keep track of what you still need before Baby arrives. Share your list before your baby shower so guests know what gifts to bring. Also, if your baby shower registry offers a completion discount, take advantage of the savings for anything else you need before your due date.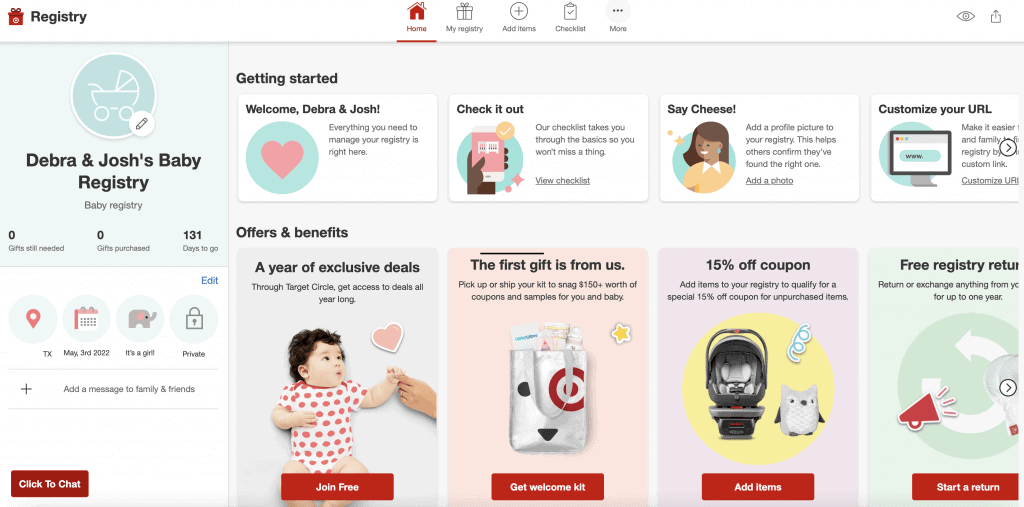 Frequently Asked Questions
Q1. What's the point of a baby registry?
A registry allows you to share what your need for your baby with friends and family. Loved ones can purchase gifts from the registry, often before your baby shower. It's also a great way to keep track of everything you need and often comes with perks like discounts and samples.
Q2. How do you create a baby registry on Amazon?
Sign in or create an Amazon account, then find the baby registry page in the Gifting and Registry menu. Fill out your information, including your due date, and click "Create my baby registry." From there, you can start adding items to your list.
Q3. What is the best approach to building a baby registry?
Start with the essentials you know you'll need, including clothing, a crib or bassinet, a car seat, feeding supplies, and diapers. After you build your must-have list, feel free to add any other items that might be nice to have, like stroller toys or a bottle drying station. Include items of various prices so people can choose a gift based on their budget.
Q4. Is it rude to buy a gift not on the baby registry?
Encourage your baby shower guests to stick to your registry for gifts. If someone purchases a gift that isn't on your registry, you can choose to return or keep it, depending on the item. Sometimes family or friends want to include a handmade item or special hand-me-down tied to precious memories. These gifts can't be found elsewhere and serve as keepsakes for your little one.
Q5. What price range should I stay in for my baby registry?
Baby gifts range from a few dollars for small toys and pacifiers to $500 or more for nursery furniture sets or stroller and car seat combos. Include a variety of items in different pricing tiers so gift-givers can stay within their budget. Loved ones may also choose to group gift an item with a higher price tag.