Care Bear Baby Shower Theme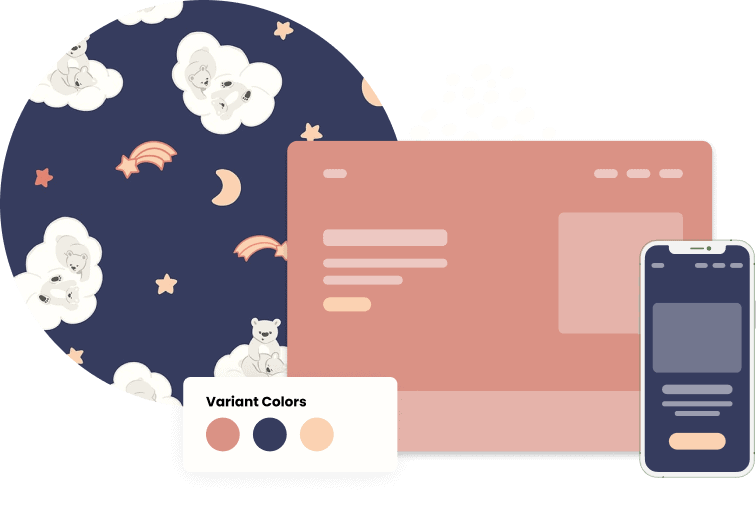 Care Bear Baby Shower Theme Ideas: A Cloud of Cuddles and Rainbows
In a world filled with love, magic, and rainbows, the Care Bears have been a symbol of joy, friendship, and care for generations. Celebrate the upcoming arrival of your little one with a Care Bear Baby Shower. This theme, bursting with colors, clouds, and heartwarming characters, promises a celebration that's as magical as the Care-a-Lot kingdom. Let's journey to the land of rainbows and discover enchanting ideas for the ultimate Care Bear Baby Shower.
Why Choose a Care Bear Baby Shower?
The Care Bears, with their unique belly badges and caring missions, represent the values of love, kindness, and friendship. This theme is perfect for parents-to-be who want to surround their baby with positive vibes, colorful memories, and the magic of childhood.
Care Bear Baby Shower Invitation Ideas
Rainbow Cloud Invitation
Feature a vibrant rainbow arching over fluffy clouds with Care Bears sliding down. Add a cheerful message like "Join us for a day filled with love and rainbows!"
Care Bear Kingdom
Design the invite with the magical Care-a-Lot kingdom, showcasing the iconic Care Bear castle and floating hearts. Pair it with a phrase like "A little star is about to join our Care Bear family!"
Belly Badge Invitation
Highlight a specific Care Bear, like Tenderheart Bear or Cheer Bear, showcasing their unique belly badge. Add a touching note like "Our heart is full of joy as we await our little bundle!"
Care Bear Baby Shower Decoration Ideas
Rainbow Balloon Arch
Create a mesmerizing balloon arch with all the colors of the rainbow, reminiscent of the magical world of the Care Bears.
Care Bear Centerpieces
Use plush Care Bear toys as table centerpieces, surrounded by colorful confetti and heart-shaped decorations.
Cloud and Star Decor
Hang fluffy white clouds and shimmering stars from the ceiling, creating a dreamy ambiance reminiscent of Care-a-Lot.
Care Bear Baby Shower Cake Ideas
Care Bear Adventure Cake
Design a multi-tiered cake showcasing the Care Bears on a cloud adventure, complete with rainbows, stars, and hearts.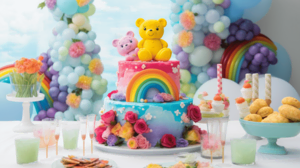 Belly Badge Cupcakes
Create cupcakes topped with edible images of the Care Bears' belly badges, offering a variety of flavors and designs.
Rainbow Layer Cake
Opt for a cake with vibrant layers representing each color of the rainbow, topped with a Care Bear figurine.
Care Bear Baby Shower Food Ideas
Rainbow Fruit Skewers
Combine fruits of various colors, like strawberries, oranges, pineapples, kiwis, and blueberries, to create vibrant skewers.
Cloud Marshmallow Treats
Offer fluffy marshmallow treats shaped like clouds, perhaps with a sprinkle of edible glitter for added magic.
Care Bear Cookies
Serve cookies shaped and decorated like the iconic Care Bears, complete with their unique belly badges.
Care Bear Baby Shower Favor Ideas
Care Bear Keychains
Gift your guests with adorable Care Bear keychains, ensuring they carry a piece of the magic with them.
Rainbow Bath Bombs
Offer colorful bath bombs as a relaxing and vibrant memento of the special day.
Heart Badge Stickers
Provide stickers of the Care Bears' heart badges, allowing guests to showcase their favorite characters.
A Care Bear Baby Shower is a theme filled with love, magic, and the timeless charm of childhood. With these ideas, you're set to create a celebration that's as enchanting as a day in Care-a-Lot. As the rainbows shine and the Care Bears dance, you'll know that this theme was the perfect choice for this joyous occasion.