Baby shower backgrounds are the centerpiece of a baby shower. A cute baby shower background will ensure everyone knows your theme. Plus, they make really great photo backdrops!
Backgrounds range in materials, from wood to fabric to vinyl. They also come in various styles, including gender-neutral baby shower backgrounds, boy backgrounds, and girl backgrounds.
In this article, we go through some of our favorite backdrops to help you find the perfect one for your baby-to-be. We also discuss free virtual baby shower backgrounds for those planning to host an online event. Craft masters will appreciate our DIY section, that'll help you create your own fabulous backdrop from scratch.
Throw a Virtual Baby Shower so Everyone

Can Celebrate!

• Free Trial – 14-Day Refund for any reason
• Only 1 Minute Setup!
• 80+ Custom Themes & Matching Invites
• Use Any Online Registry
• Send Unlimited Invites and Updates
• Baby Shower Games with Scoreboards, Give Prizes!

Build Your Shower
---
Boy's Baby Shower Background
Boy's baby shower backdrops are adventurous and fun, with bold colors and exciting scenes. Below, we list six of our favorites you can incorporate into your baby shower.
This elegant, baby blue curtain backdrop is perfect for a boy's shower. Hang it on a curtain rod in your house for a cute (and simple) baby shower background that doesn't require too much setup. This backdrop will work for a wide variety of themes. You could also repurpose it for your little one's bedroom after the event.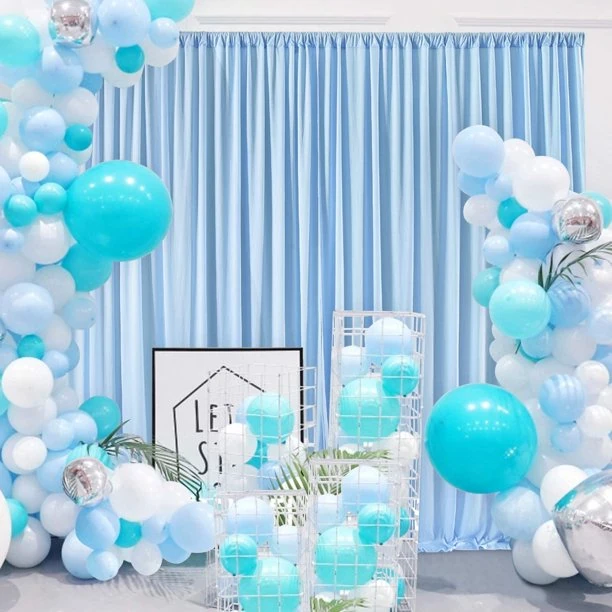 Take a walk on the wild side with this adorable jungle baby shower background. This photo backdrop features a bunch of baby animals, jungle leaves, and a cute cursive title saying "baby shower" in the middle. It's made from durable vinyl, allowing you to bring the party outdoors for a more natural, jungle-like setting.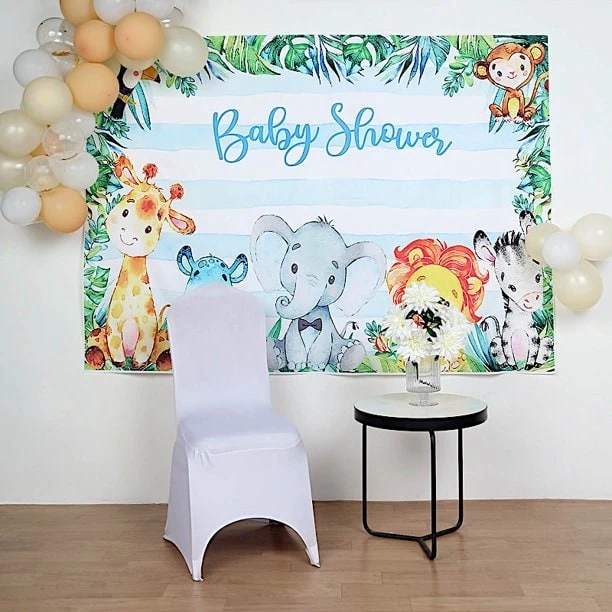 This Dinosaur Baby Shower Background features four adorable baby dinos with a circle of leaves surrounding the phrase "it's a boy" in the middle. The vinyl backdrop is bright and colorful, making it the perfect photo backdrop. It measures 5 feet by 7 feet, so it's large enough for a group picture.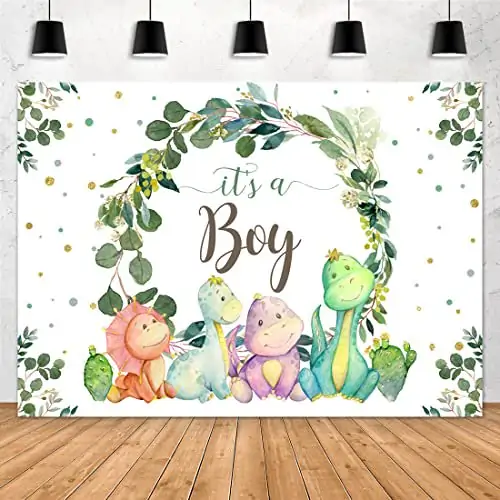 Make your son feel "super" before he's even born with this awesome cartoon comic baby shower background. It features a cityscape with the words "zap," "pow," and "bam" written above, like an old comic book strip. You can use this backdrop for a party themed after your favorite hero or a general superhero theme. The high-quality cloth material is durable and lightweight, allowing for long-lasting use.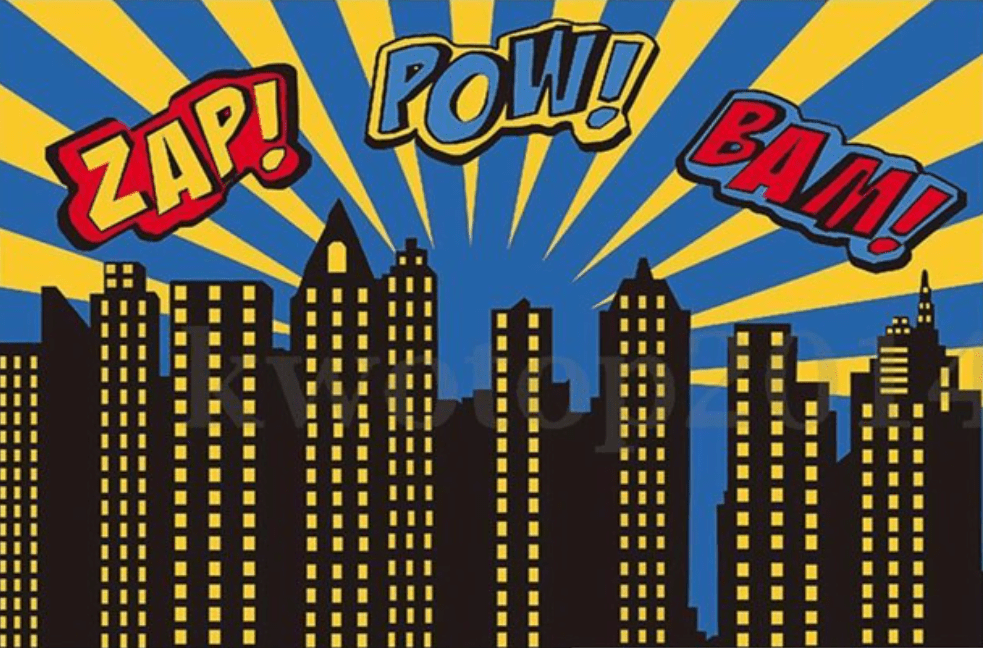 This three-piece backdrop set is perfect for a little explorer with an exciting life of adventures ahead of him. It features three cartoon planes flying over a town, with the adorable phrase "oh, the places you'll go" on the center arch. The covers are made from durable fabric, which you can put on arch frames (sold separately) to create an adorable flying scene.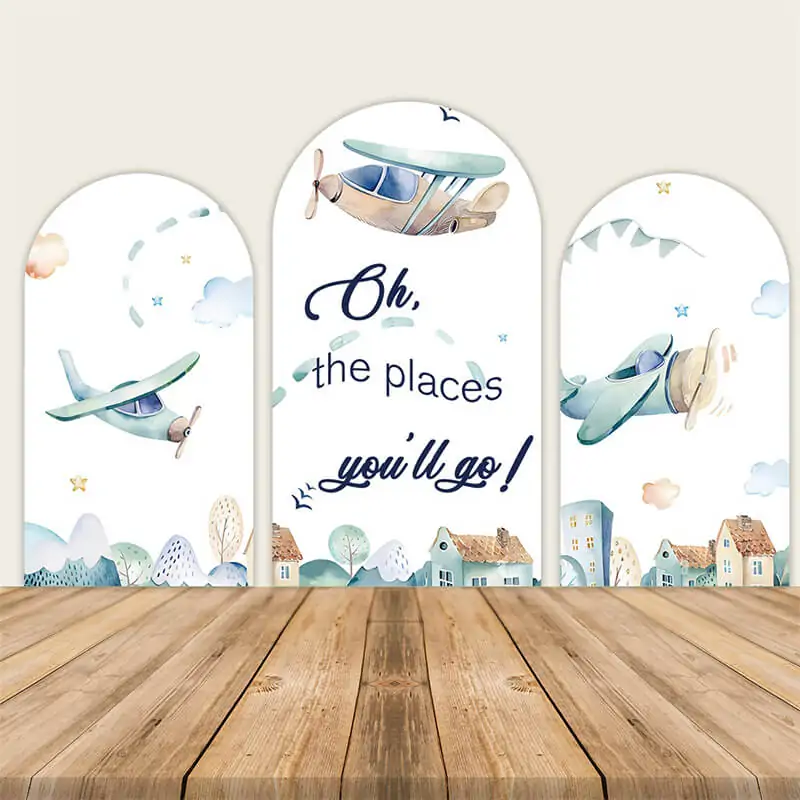 Your little champ will take life head-on with this awesome Boxing Baby Shower Background. The background is red and white, featuring a baby with boxing gloves in a boxing ring and the phrase "a little champ is on the way." It's made from soft and foldable microfiber that is machine-washable for quick n' easy cleanup.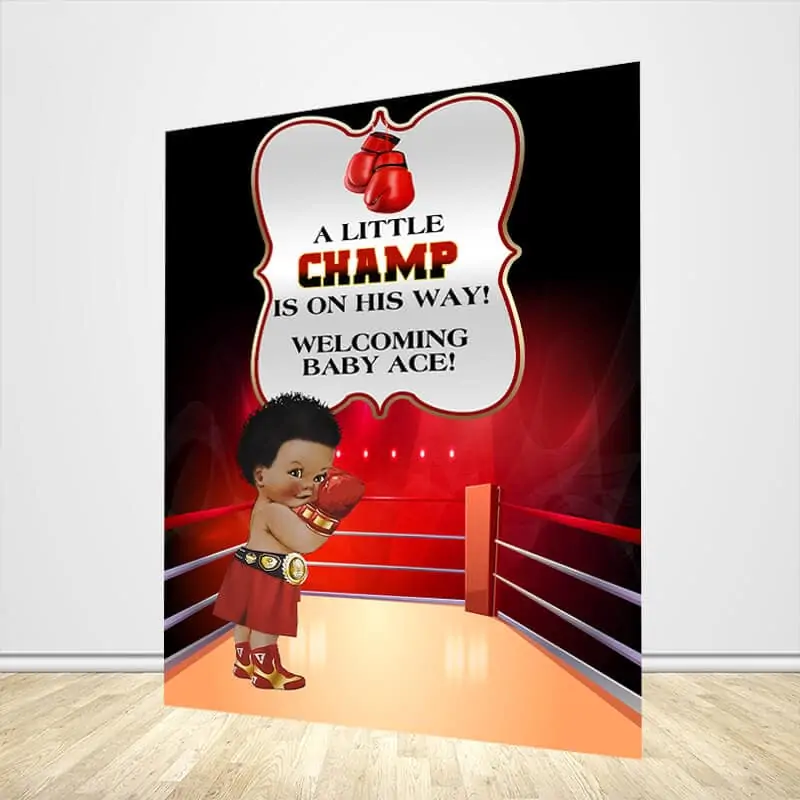 This uber-cute backdrop features an elephant sitting on a pillow wearing a silver crown. On the top, you can add custom text, including your baby's name, a cute baby shower phase, and more. This backdrop is blue, white, and gray, making it ideal if you want to do a royal baby shower theme but don't like the traditional gold and navy blue color scheme.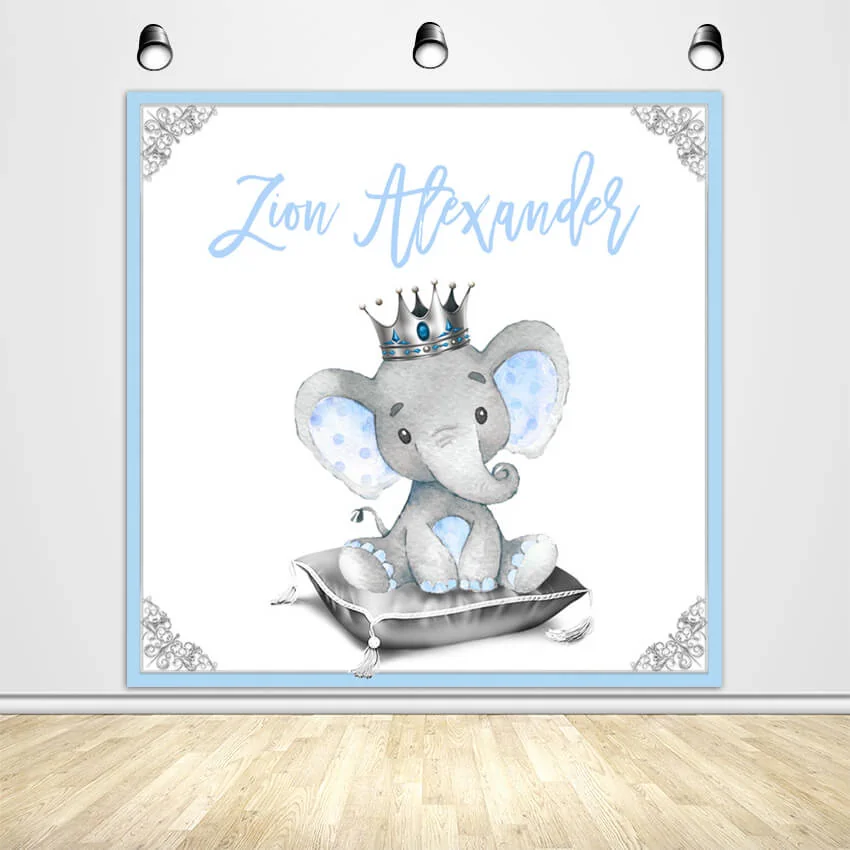 Girl's Baby Shower Background
Girl baby shower backgrounds are usually cute and bright, with adorable, feminine touches. Below, we discuss seven lovely backdrops you can use for your daughter's baby shower.
Boho baby showers are trendy, making this Boho Chic Backdrop a stylish addition to your event. It features a crisp white backdrop with flowers and pampas grass bouquets emerging from diagonal corners and the phrase "a little baby is on the way" in the middle. Two corners are plain white, so it'll be easy to add balloons without covering up the lovely backdrop images.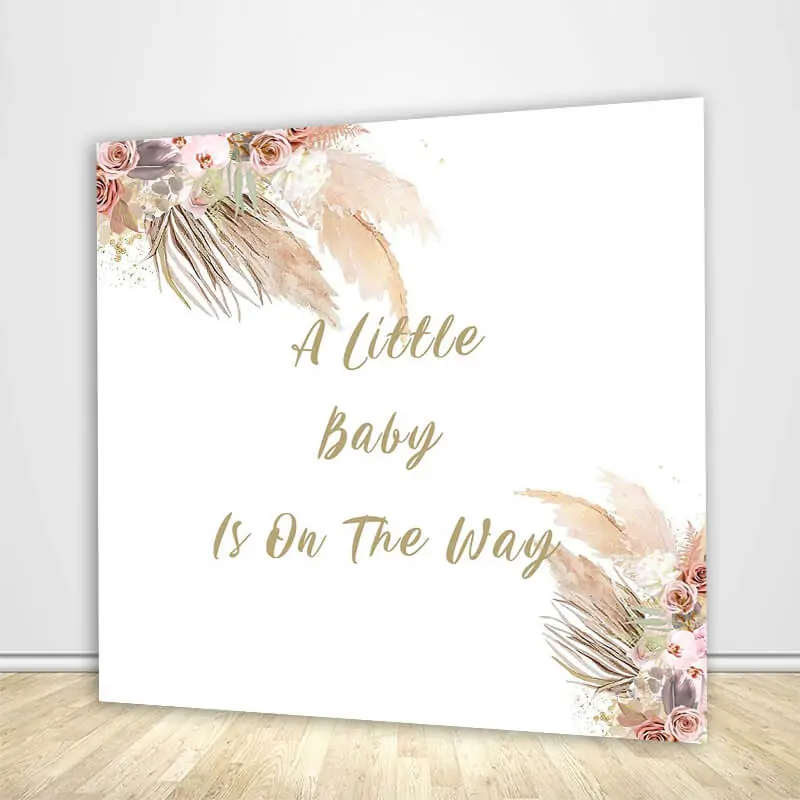 Are you a huge little mermaid fan? Then, this Under the Sea Background is certainly one to consider. This high-resolution baby shower background features a beautiful ocean-floor scene with purple, pink, and blue coral and shells. The backdrop doesn't have any text, so you can easily repurpose it for a mermaid-themed birthday party later on.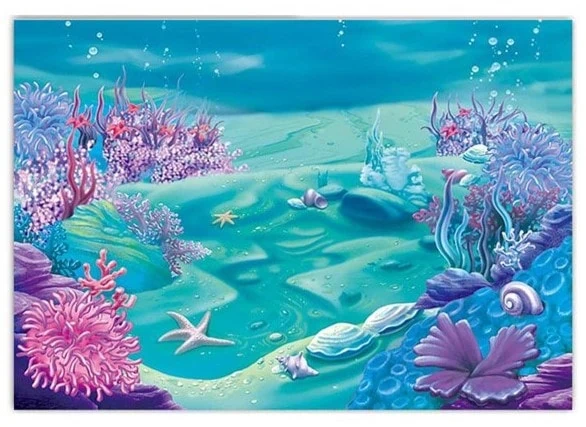 This backdrop is fresh and lovely – perfect for a spring baby shower. It features beautiful pink flowers along the edges, with the phrase "it's a girl" elegantly displayed in the middle. This vinyl backdrop is waterproof and light-resistant. So feel free to use it outside for an elegant tea party, a whimsical garden bash, or any other floral baby shower theme that comes to mind.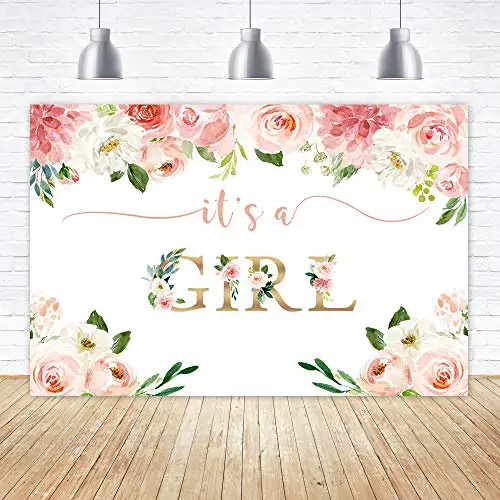 This pink backdrop has a gold border, a crown, and a baby in cute pink attire, with the phrase "a little princess is on her way." The baby looks like she's wearing a tutu, so the backdrop could also work for a ballet-themed shower. The microfiber material is fade-resistant and washer-safe, so there's no need to stress about dirt or other messes.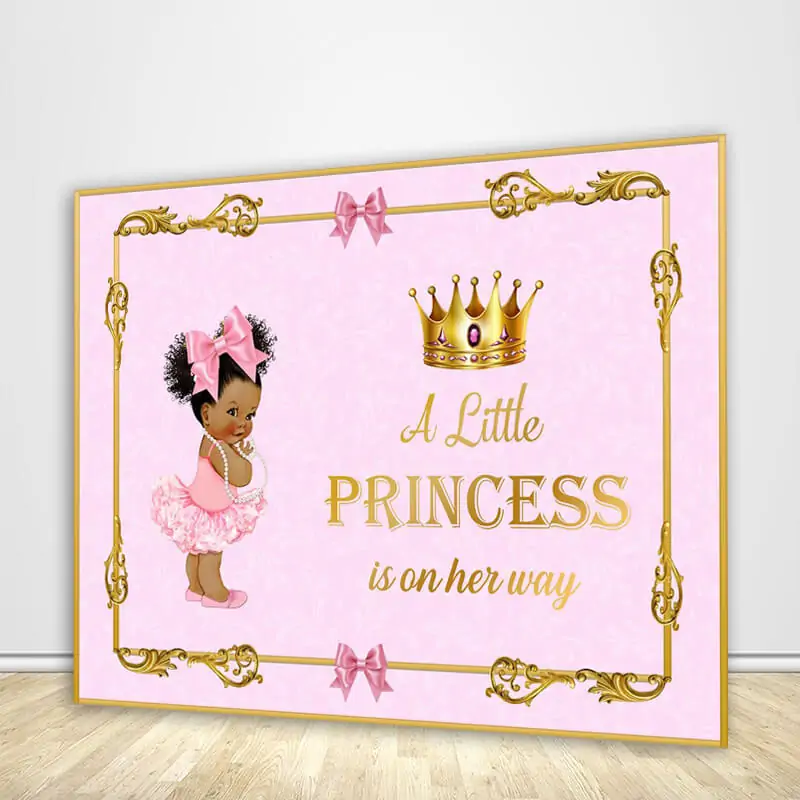 This baby shower background features three arch covers in light pink, dark pink, and purple. To create a chic baby shower backdrop, put the fabric arch covers on the arch stands (sold separately), then add balloons and a sign saying "oh baby" or "it's a girl." The solid-colored arches can easily be used for future events, making them an excellent long-term investment.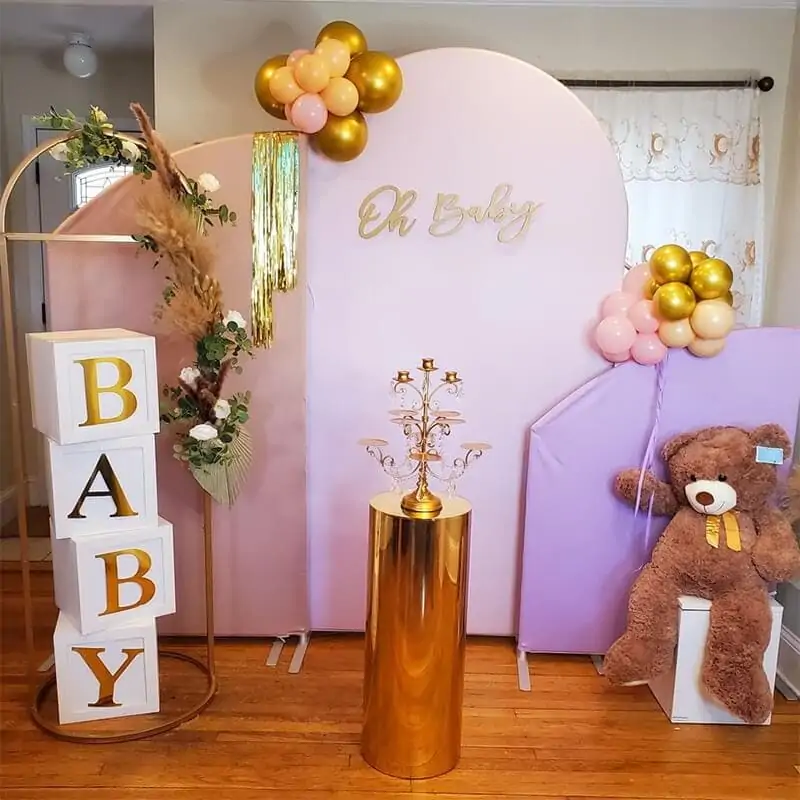 If you love farmhouse decor, this It's a Girl Sunflower Backdrop could be an instant favorite. It features a rustic, wooden backdrop with string lights, sunflowers, and the phrase "it's a girl" in the middle. Perfect for a summertime shower in the backyard. The backdrop is made from non-reflective vinyl for the perfect photo-op.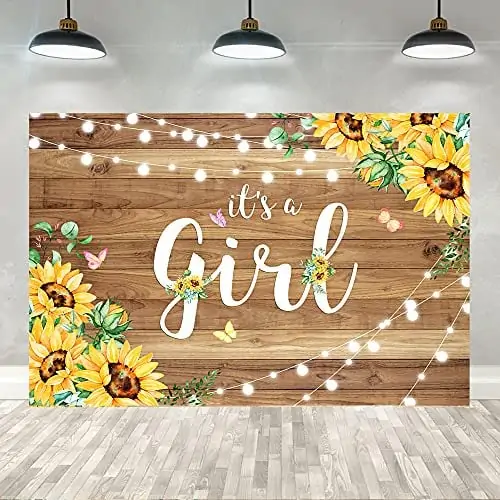 Make your daughter's baby shower feel magical with this adorable Unicorn Backdrop. It featured a unicorn surrounded by a wreath of flowers on a mint-colored background with the words "baby shower" inscribed on the bottom. The polyester backdrop measures 5 feet by 7 feet, making it big enough for group photos.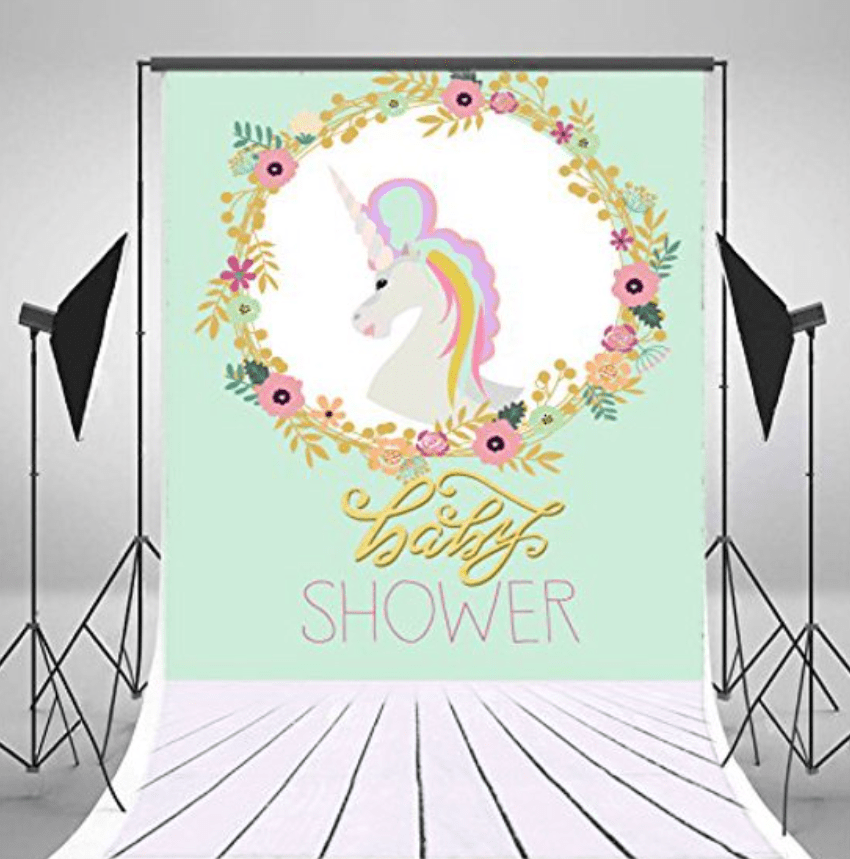 Gender Neutral Baby Shower Background
Gender neutral baby shower backgrounds are all the rage, with many parents preferring them over the traditional "pink and blue" backdrops. They tend to be neutral colors – like tan and brown – but there are more colorful options, too. Below, we review six of our favorite gender neutral baby shower backgrounds for your newest addition.
This circular backdrop is made from microfiber, but it looks like wood, making it a great alternative to creating a solid (and heavy) wooden backdrop. This backdrop is versatile and can easily be used for gender-neutral themes, such as a rustic farmhouse, teddy bear, or boho baby shower.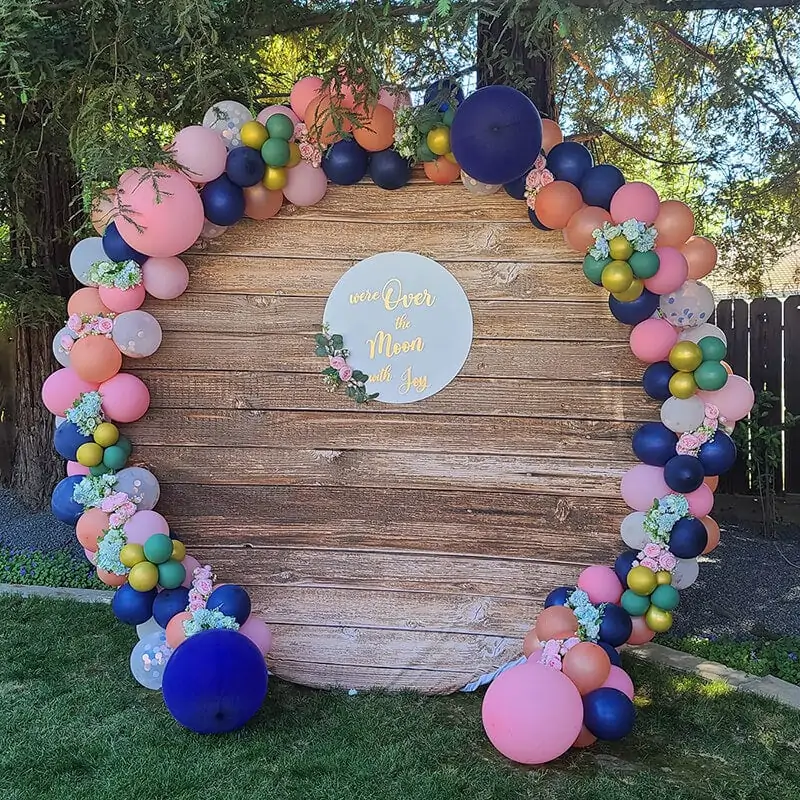 If you love neutral decor, this Boho Baby Shower Background may be the one. It features a crisp, white background with a wreath of neutral-colored palm fronds and flowers surrounding the text in the middle. You can customize the text to say your baby's name, the date of your baby shower, or anything else you'd like to include. The microfiber backdrop can easily be washed and reused in your baby's bedroom.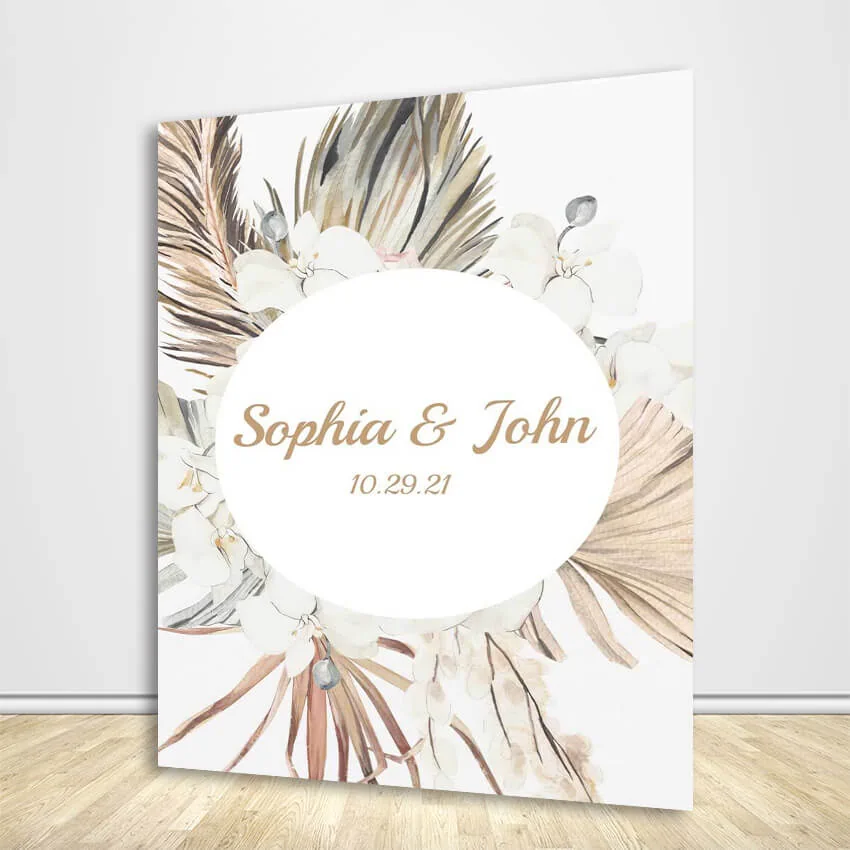 This adorable teddy-bear-themed backdrop features a flying bear holding a bunch of balloons with the phrase "we can bearly wait to meet you" written beneath. You can buy the circle backdrop in diameters ranging from 5 to 8 feet, giving you various options to choose from. The brown and tan color scheme is perfect for a gender-neutral event.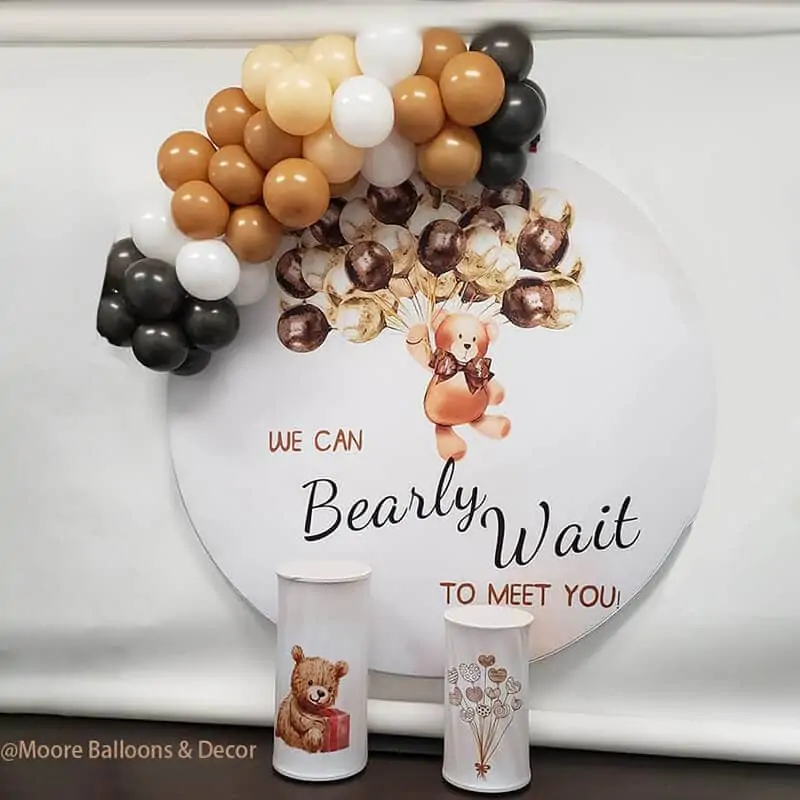 This gender-neutral baby shower background is truly "out of this world," featuring a night sky with shimmery stars, a moon, and the phrase "twinkle twinkle little star, do you know how loved you are?" in glittery gold letters. All you'll need is some tape to transform your wall into the galaxy of your dreams. After the party, you can fold the thin vinyl material for easy storage.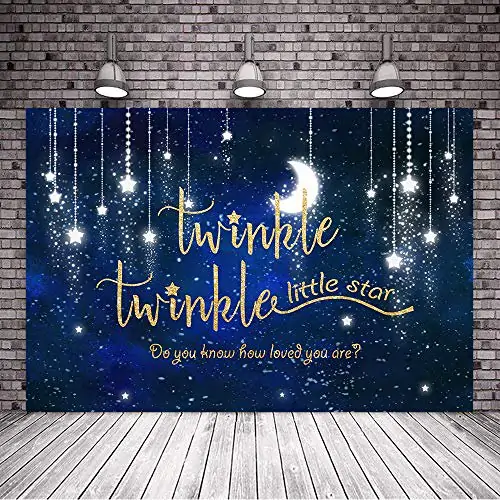 This lovely backdrop features a striped green and white background with a glittery rain falling from the top, greenery, and the phrase "oh baby" written in shimmery gold. This is an excellent option for plant lovers or those who want a gender-neutral backdrop that isn't brown or tan.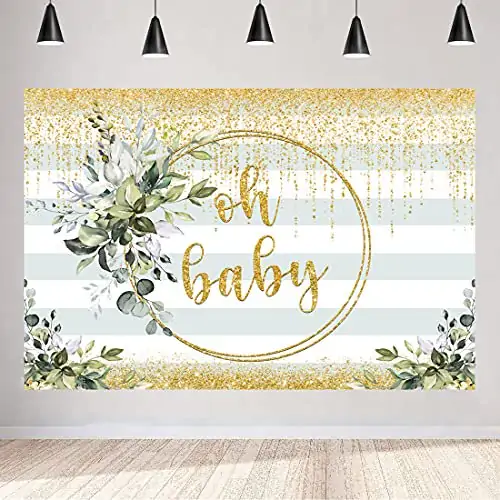 Transport your baby shower to an enchanted forest with this whimsical backdrop. It features deer, butterflies, and mushrooms lining a beautiful forest path. Diameters range from 5 to 8 feet, so you can choose whichever size fits your space the best. You can use this backdrop for a traditional forest theme or add a magical twist with fairies, gnomes, and other spritely woodland creatures.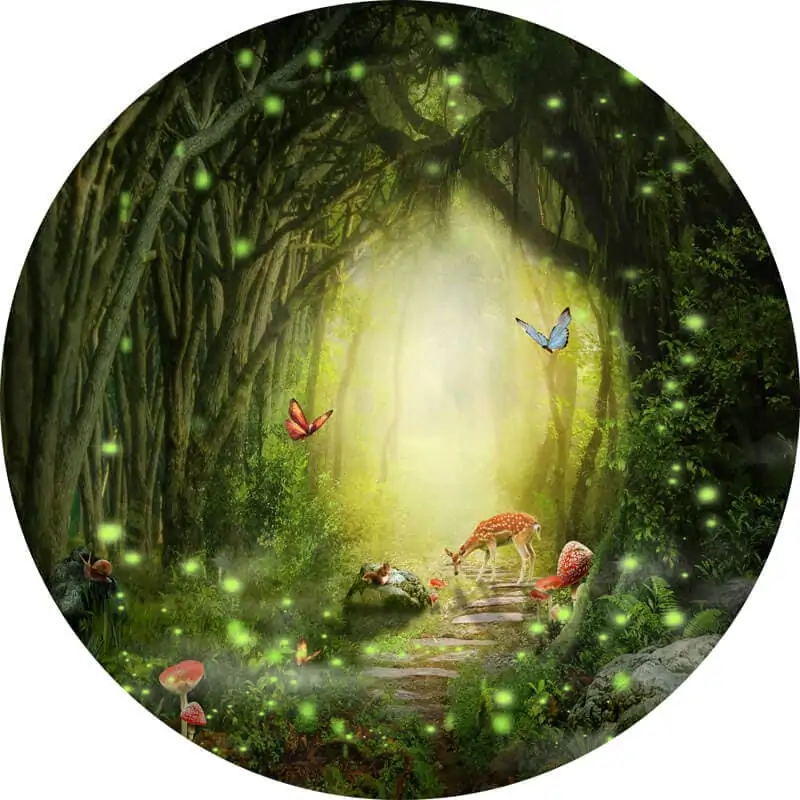 Fall is in the air, making the adorable pumpkin baby shower backdrop the perfect pick for the autumn season. The round backdrop features an orange pumpkin in the middle with elegant text around the edge saying "a little pumpkin is on the way." The orange and white color scheme is cozy and festive.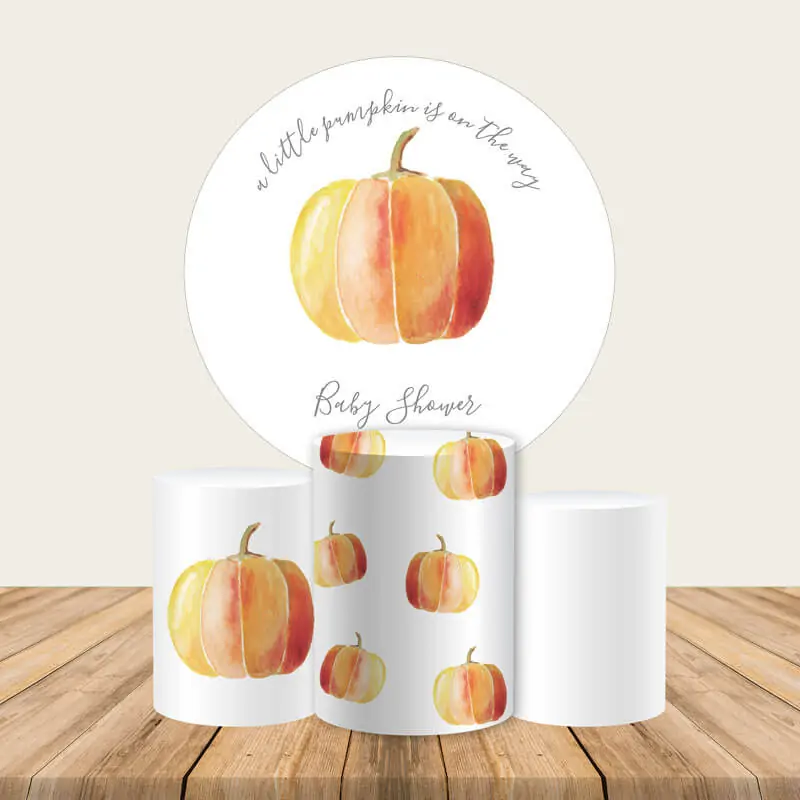 Winter is fast approaching, making this beautiful white scene background the perfect option for a winter-themed baby shower. It features several barren trees, snow, a white bench, and cute white winter animals like bears, bunnies, and deer. The backdrop has no text. So, after your baby shower, you can reuse it for your holiday card (or other winter photos).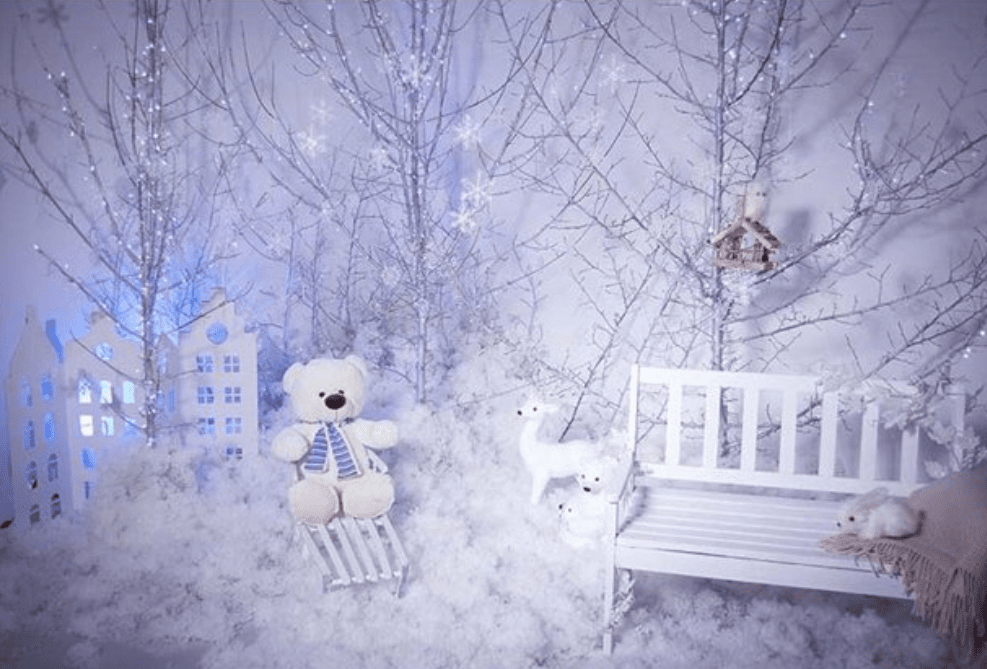 Zoom Baby Shower Background
Just because you are hosting a virtual baby shower doesn't mean you can't have a fabulous baby shower background. Below, we discuss five of our favorite zoom baby shower backgrounds from WebBabyShower to give you some inspiration.
Nursery Jungle
This jungle-themed virtual baby shower background features monkeys, lemurs, palm leaves, plants, fruit, and flowers, all in an aesthetically pleasing jumble. The colors are gender-neutral enough for a baby of either gender.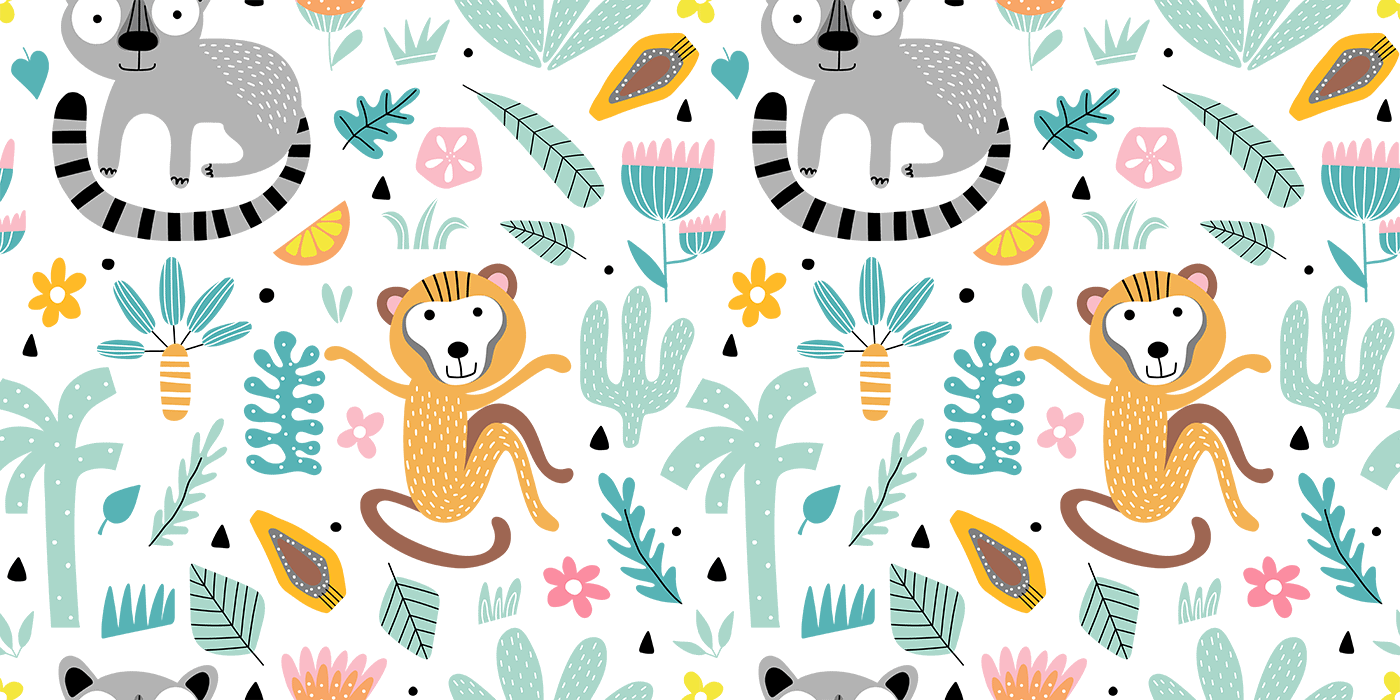 Elephant Balloons
This free baby shower Zoom background features tan elephants floating in hot air balloons in a sky full of rainbows and clouds. The balloons are pink and blue, making this the perfect virtual baby shower background for a baby shower/gender reveal party.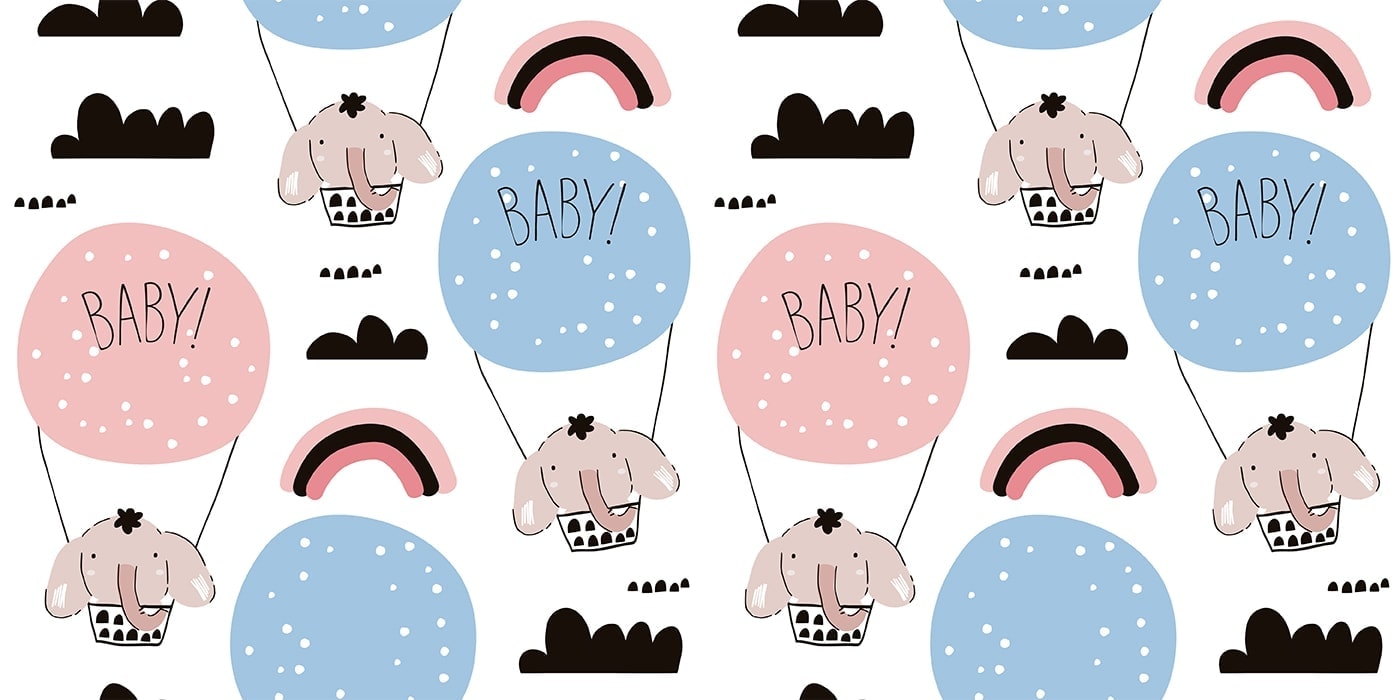 I Love You to the Moon and Back
This Zoom baby shower background includes a bunch of smiling suns, moons, and clouds, giving it a happy, youthful vibe. The color scheme is orange, yellow, and gray – perfect for a gender-neutral event.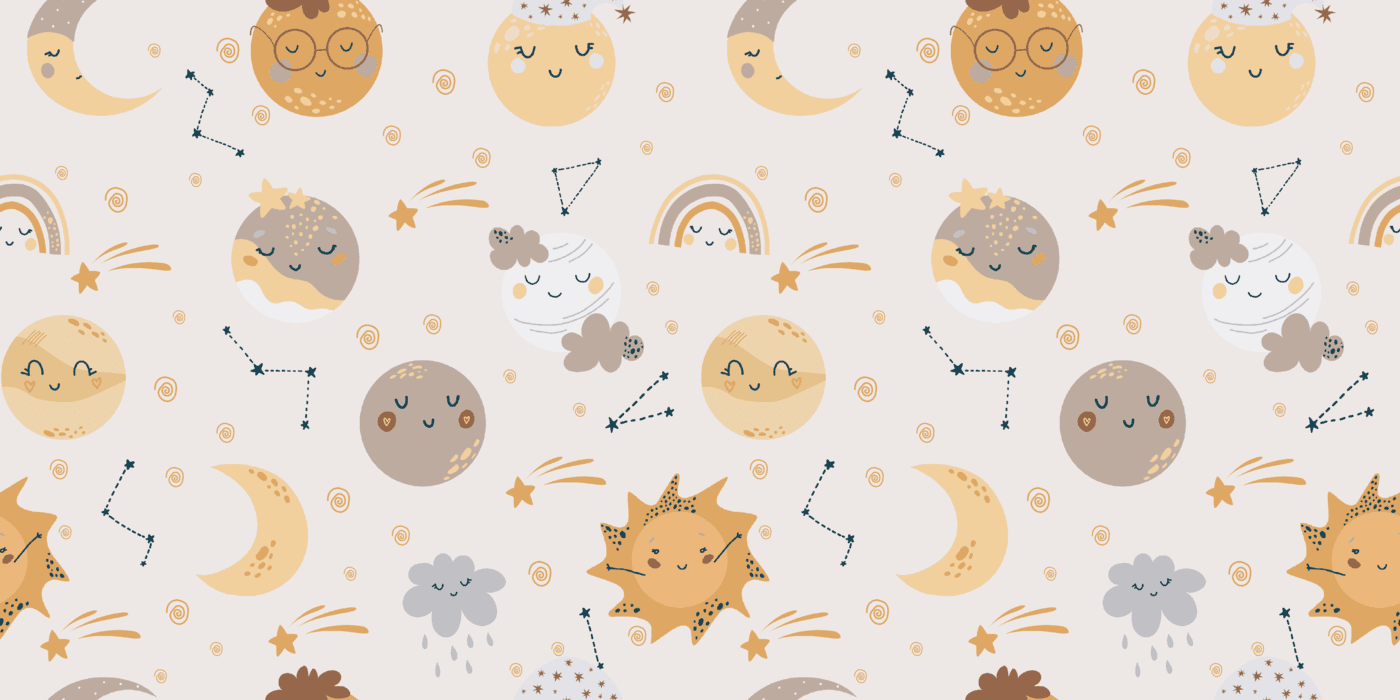 Watercolor Rainbow
Feminine and lovely, this pink and orange virtual baby shower background is ideal for a little girl. It features rainbows, clouds, and hearts painted in watercolors, giving it an artsy feel.
Two Scoop
Do you have two little ones on the way? Then, this Two Scoop theme may be the perfect free virtual baby shower background for you. The image shows purple and blue ice cream scoops with stars and moons swirling around, giving it a subtle space theme.
Do you want to look at some more free baby shower Zoom backgrounds? If so, check out this article.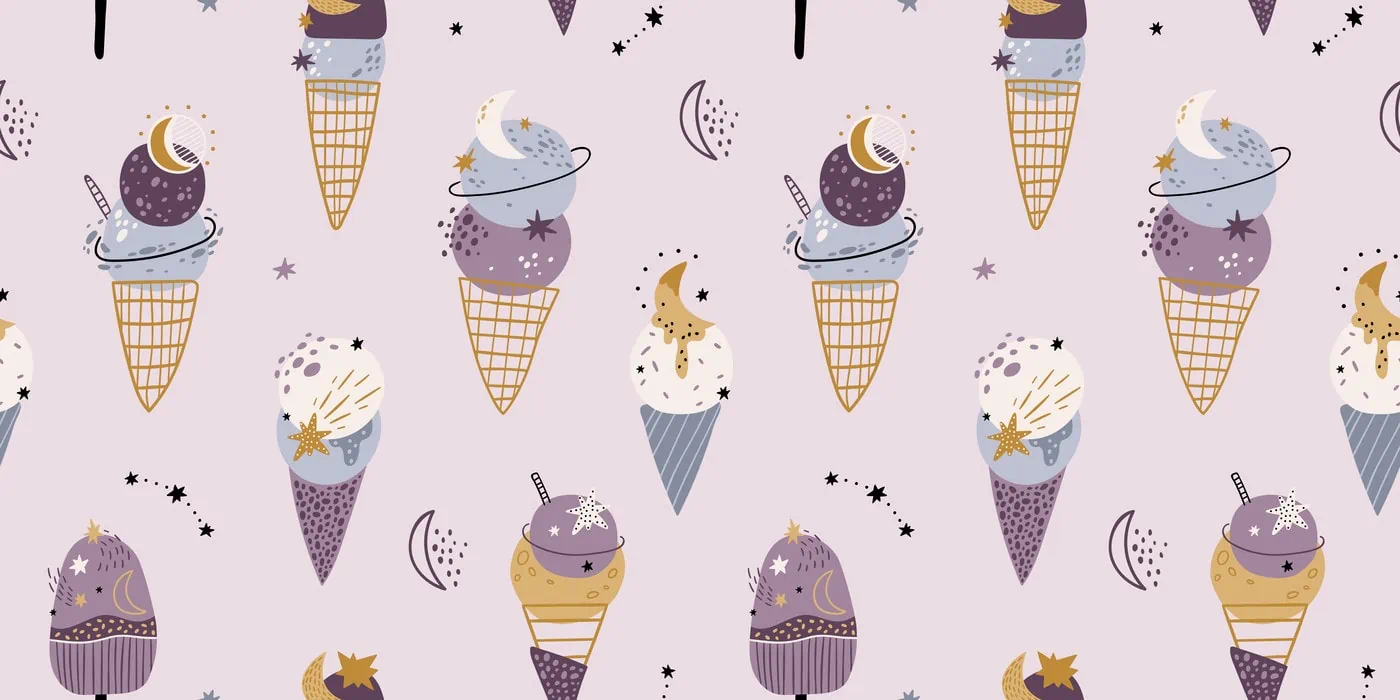 How to Create a DIY Baby Shower Background
DIYing may be the best option if you have a specific vision in mind for your baby shower background.
Before you begin, consider your color scheme, budget, and the "vibe" you are going for. Then, choose your backdrop material. Potential options include wood, fabric, pallets, sheets, streamers, or curtains.
Once you've chosen your backdrop material, determine what accessories you want. For example, for a white fabric backdrop, you can add balloons, multicolored streamers, or a glittery curtain on top to make it really pop. Other accessories include stuffed animals, printed images, string lights, and flowers.
Adding a sign onto your backdrop saying your baby's name, a cute baby-related phrase, or your due date could be a really sweet touch. You can make your own sign out of paper, cardboard, or another craft material or buy a lighted or wooden sign that you can reuse in your little one's room.
Make sure you have tape, staples, tacks, and a hot glue gun while constructing your background to ensure everything stays in place.
When your backdrop is complete, you can adhere it to the wall using tape or tacks. Another option is to buy a photo backdrop frame and sew pockets on each side of your backdrop for a more professional look.