Writing a baby shower card is customary when you're invited to a baby shower. However, coming up with what you should say is more challenging than it seems. If you're having difficulty writing a sweet message for future parents, you're in luck.
In this article, you'll find plenty of well-wishes and quotes to incorporate into your baby shower card. Whether you want something simple, funny, or sweet, we've come up with plenty of adorable ways to congratulate the parents–to–be.
Throw a Virtual Baby Shower so Everyone

Can Celebrate!

• Free Trial – 14-Day Refund for any reason
• Only 1 Minute Setup!
• 80+ Custom Themes & Matching Invites
• Use Any Online Registry
• Send Unlimited Invites and Updates
• Baby Shower Games with Scoreboards, Give Prizes!

Build Your Shower
---
Baby Shower Wishes & Quotes Parents-to-be Will Love
Have these quotes at ready for whenever you need to write a message of love and support for any expectant parents in your life.
---
Baby Shower Wishes for Baby Boy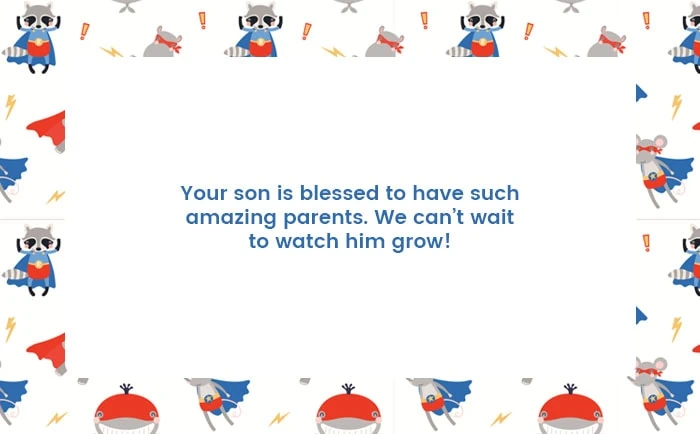 Congratulations on having a son. We can't wait to meet him.
We hope your son is as handsome and wonderful as his dad.
Little boys definitely keep you on your toes! Sending you lots of love on the exciting journey ahead.
There's nothing more fun than having a son! Wishing you endless smiles and laughter.
Wishing your son a lifetime of happiness and love.
Your son is blessed to have such amazing parents. We can't wait to watch him grow!
Baby Shower Wishes for Baby Girl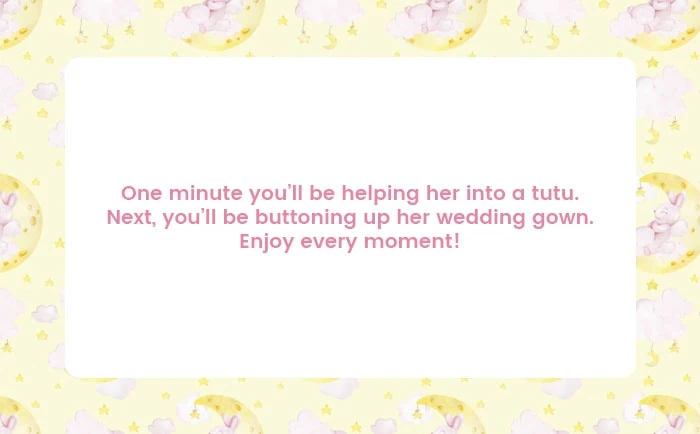 We are tickled pink that you have a daughter on the way! Sending you all of our love.
When you look into your daughter's eyes, it'll change your life forever. We hope you enjoy this special time.
Get ready for tiny feet and sweet baby giggles! We hope your little girl is the light of your life.
We can't wait to spoil your little princess. We already love her so much!
Congratulations on your beautiful baby girl. We can't wait to meet her.
Your daughter will grow up in a blink of an eye. We hope you savor each and every moment.
One minute you'll be helping her into a tutu. Next, you'll be buttoning up her wedding gown. Enjoy every moment!
Baby Shower Wishes for Twins
Twins means two babies to love and adore. We can't wait to meet them.
Twins are twice as much fun (and produce double the dirty diapers)! Sending you lots of love (and baby wipes) as you prepare for this exciting journey.
Having twins means your babies will be automatic best friends. We can't wait to watch their special bond blossom.
We are seeing in double – because you have twins on the way! Wishing you a lifetime of smiles and joy.
One baby means there is lots of love in store. Two babies means there is even more! Sending your growing family all of our love.
We hope raising twins is better than you could've ever imagined.
Some miracles come in pairs. Congrats on your twins!
Read: 21 Best Twin Gender Reveal Ideas to Share Your Double Blessing
Baby Shower Wishes for Any Gender
Tiny feet make the greatest impressions in our hearts. Wishing you lots of joy during this special time in your life.
Cheers to the many wonderful moments that await you on your parenthood journey.
Having a baby will change your life forever. We hope your little life-changer is everything you could've imagined (and more).
Congratulations! Your little one is so lucky to have you both as parents.
Wishing your baby a lifetime of happiness, adventures, and dreams come true.
Baby Shower Wishes for Health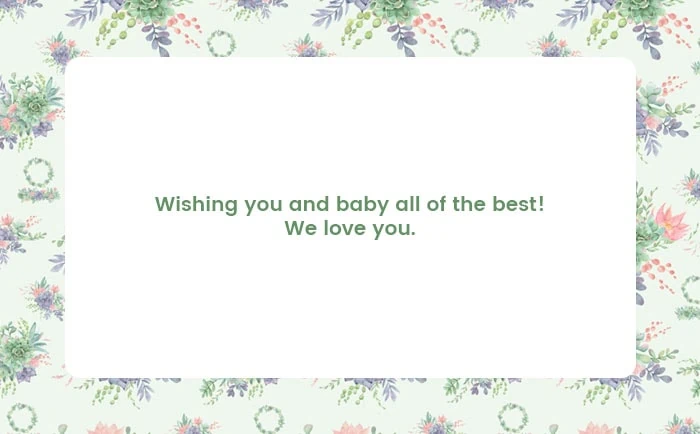 We (or I) couldn't be happier for you. Wishing you an easy and healthy pregnancy.
Sending you all of our love during this special time. We hope you have a safe and healthy delivery.
We are so excited to meet your newest addition! Wishing them a lifetime of health and happiness.
Here's to smiles, laughter, and joy. We hope you have a healthy little girl or boy!
Wishing you and baby all of the best! We love you.
Religious Baby Shower Wishes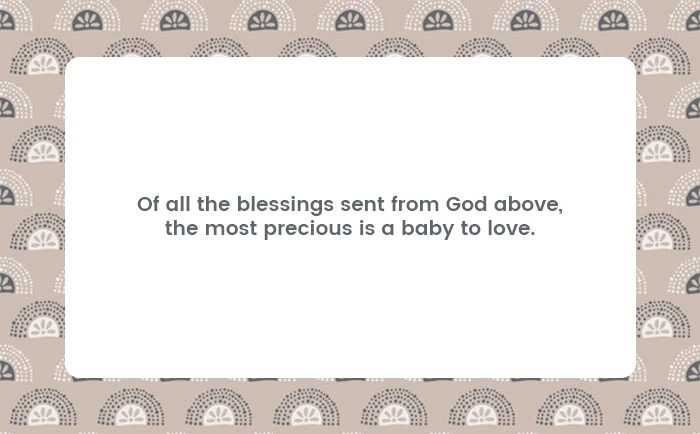 Babies are blessings from God. We hope your tiny blessing brings you endless joy.
Your little angel is truly a gift from above.
Praise the Lord for blessing you with such an amazing gift. You are truly blessed!
A little piece of heaven has just made it to earth. We can't wait to meet your precious angel.
Of all the blessings sent from God above, the most precious is a baby to love.
Simple Wishes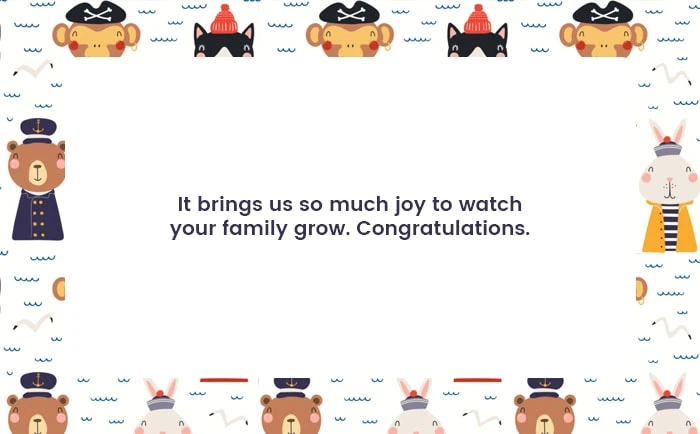 We can't wait to meet your little one.
Sending you all of our love and joy during this special time.
You are going to be phenomenal parents!
We hope parenthood is better than you could've ever imagined.
It brings us so much joy to watch your family grow. Congratulations.
Funny Wishes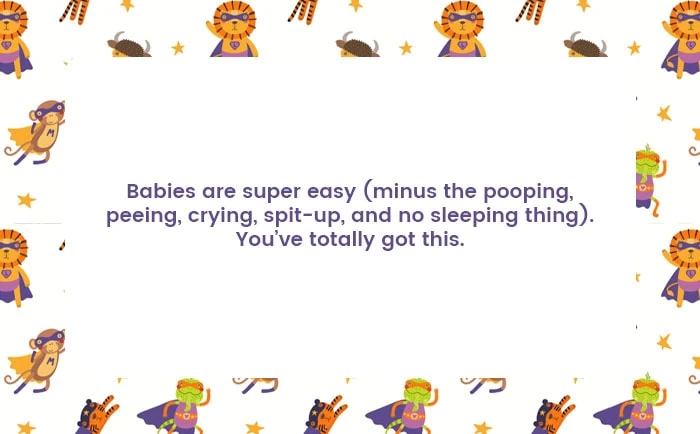 Remember all of those late nights we spent partying? Those were practice for parenthood. Congratulations.
You just earned yourself a new alarm clock. Get ready for some early morning wake up calls!
May the bags under your eyes be as big as the joy in your heart. We love you guys.
Parenthood is kind of like a survival show – you're always hungry, tired, and worried about what's going to happen next. Wishing you luck on your greatest adventure.
I'm looking forward to all of the baby pictures you are going to post on Facebook! Congrats on your new selfie-buddy.
Babies are super easy (minus the pooping, peeing, crying, spit-up, and no sleeping thing). You've totally got this.
Gift-related Wishes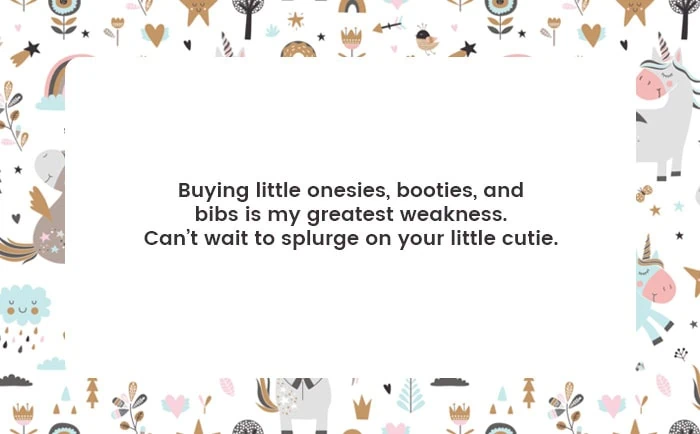 Just wanted to send you a little gift and lots of love for your newest addition.
We hope your baby shower is filled with lots of laughter, love, and gifts for your baby-to-be.
We can't wait to shower your cutie pie with tons of love (and gifts)!
Buying little onesies, booties, and bibs is my greatest weakness. Can't wait to splurge on your little cutie.
Wishes for the Parents-to-Be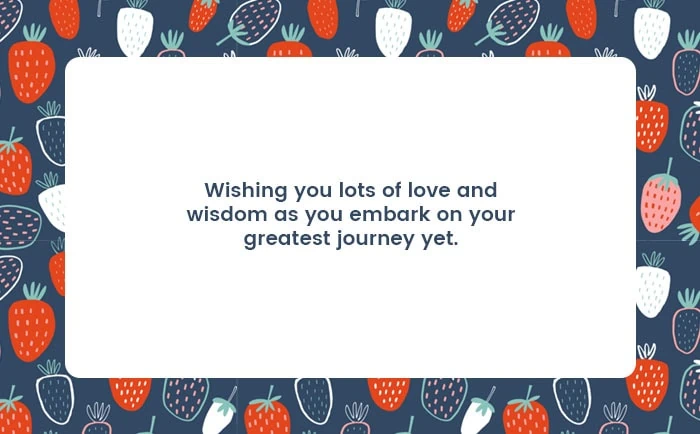 Wishing you love, joy, and patience as your family grows from two to three!
Congrats on your baby's arrival! I know you'll be terrific parents.
Parenthood is hard – but also super rewarding. We will be here for you every step of the way.
What a lucky baby to be born into a family so full of happiness and love.
Don't stress about becoming parents. You're going to be naturals!
Wishing you lots of love and wisdom as you embark on your greatest journey yet.
Wishes After the Baby Has Arrived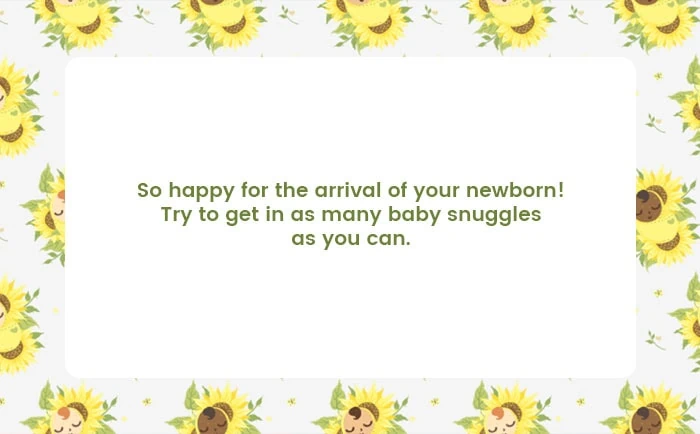 Congrats on the delivery of your happy and healthy baby.
Welcome to the world little one! We can't wait to watch you grow.
A warm welcome to your newest addition and healing thoughts to mom. We hope everyone recovers quickly.
Congrats mom and dad on the arrival of your greatest blessing. Sending all of our love.
So happy for the arrival of your newborn! Try to get in as many baby snuggles as you can.
Baby Shower Wishes for Second Baby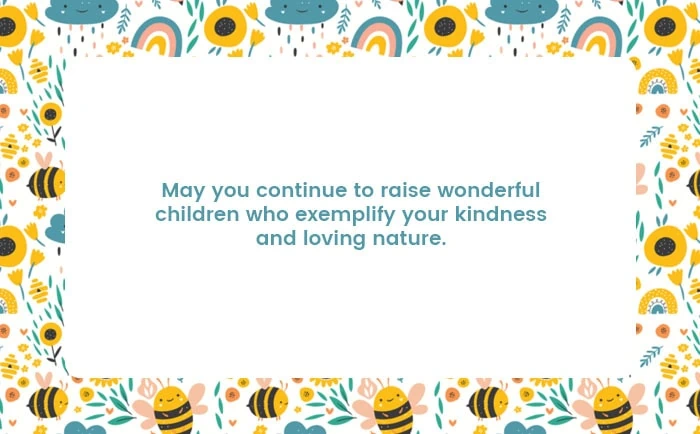 Baby number two? You make parenting look easy! So excited for you and your growing family.
Seems like the stork is a fan of you two. Congrats on your newest addition!
Here comes more trouble! Excited to meet baby number two.
Can't wait to see another mini-version of you. You have the cutest babies!
May you continue to raise wonderful children who exemplify your kindness and loving nature.
Adoption Baby Shower Wishes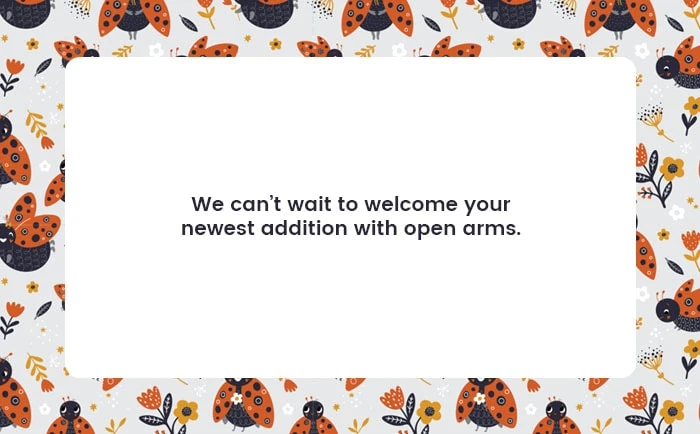 Congratulations on the adoption of your little one. We can't wait to welcome him/her into the family.
Sending you all of our love and happiness on your adoption journey.
We are so happy that your longtime dream of adopting has come true.
We can't wait to welcome your newest addition with open arms.
Baby Shower Quotes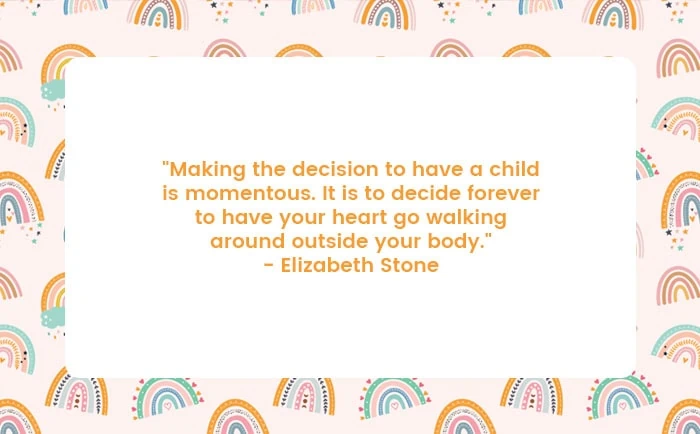 "Children make you want to start life over." – Muhammad Ali
"There are no words that can describe the euphoria you feel when your baby recognizes you for the first time and smiles." – Jared Padalecki
"A baby is God's opinion that the world should go on." – Carl Sandburg
"Children bring us a piece of heaven on earth."- Roland Leonhardt
"Before I formed you in the womb I knew you, before you were born I set you apart." – Jeremiah 1:5
"All those cliches, those things you hear about having a baby and motherhood – all of them are true. And all of them are the most beautiful things you will ever experience. – Penelope Cruz
"Having a baby is like falling in love again, both with your husband and your child."- Tina Brown
"It is a smile of a baby that makes life worth living." – Debasish Mridha
"Sometimes the littlest things take up the most room in your heart." – Winnie the Pooh
"Making the decision to have a child is momentous. It is to decide forever to have your heart go walking around outside your body." – Elizabeth Stone