What do you do when you can't get all of your friends and family together in one place to celebrate this occasion?
You have a virtual baby shower, of course! All a guest needs to attend this virtual baby shower is a phone, tablet, or computer with camera capabilities, and they are a part of the festivities!
Traveling can be stressful for both friends and families of the mommy-to-be, but also for the new mom herself. She may have strict bed rest orders or be instructed not to fly by her doctor. Alternatively, it may be difficult for guests to arrange travel plans to attend the shower.
Anyone who's hosted a shower of any kind knows how much time and money goes into the celebration. There are invitations, decorations, food, beverages, favors… the list goes on. Whether friends and family of the new mommy are local or distant, there are so many reasons you should consider hosting a virtual baby shower with us.
Here are 10 reasons to host with WebBabyShower.
1. Reputation, Safety, and Security
First things first, WebBabyShower is the original online baby shower service. Yup, we were the first! We have thousands of happy customers around the world.
We've been featured on sites like Baby Center, Today Show, and the Bump. WebBabyShower is a safe alternative to other online services that may not be as secure. We don't hit you with ads while you are using our service, (ahem Facebook.)
Social media apps like Fb may include a feature that allows users to create private events to share with invite-only guests. However, the downfall to this is that your guests must have an account to access the event, and then you can all get targeted with ads, yeah.
When you create a WebBabyShower and set up your unique URL, only guests you share that URL with will be able to view your shower. Your URL will not be searchable on search engines so you can be confident that your private event stays private.
2. You Know What You're Getting
Hosting a virtual baby shower on a website means that every aspect of having a baby shower will be thought of and accounted for by the website designer. This means less pressure on you, the host, to remember all of the small details. You will have the option to choose the package that fits the type of shower for your guest-of-honor, and you will know exactly what you are paying for. It's one flat fee and not an endless list of 'we need that too' like an in-person shower.
3. It's in the Name
A baby shower website is just what it says it is. Unlike social media websites where hosting an event is an added feature, a baby shower website is dedicated to virtual baby showers and only virtual baby showers. This means the website covers every aspect of the baby shower process, unlike a social media website that may offer a feature for you to be able to "make it work" to have a virtual baby shower.
4. All-Inclusive
The baby shower website will take care of the many areas that a baby shower entails. Invitations, registry information, and even baby shower games are included on the baby shower website. In a traditional baby shower where you are the host, you have to gather a list of information from the guest-of-honor. With a virtual baby shower, the mommy-to-be can log into the website and add Facebook friends or email addresses to send a personalized invitation to guests who want to celebrate the occasion.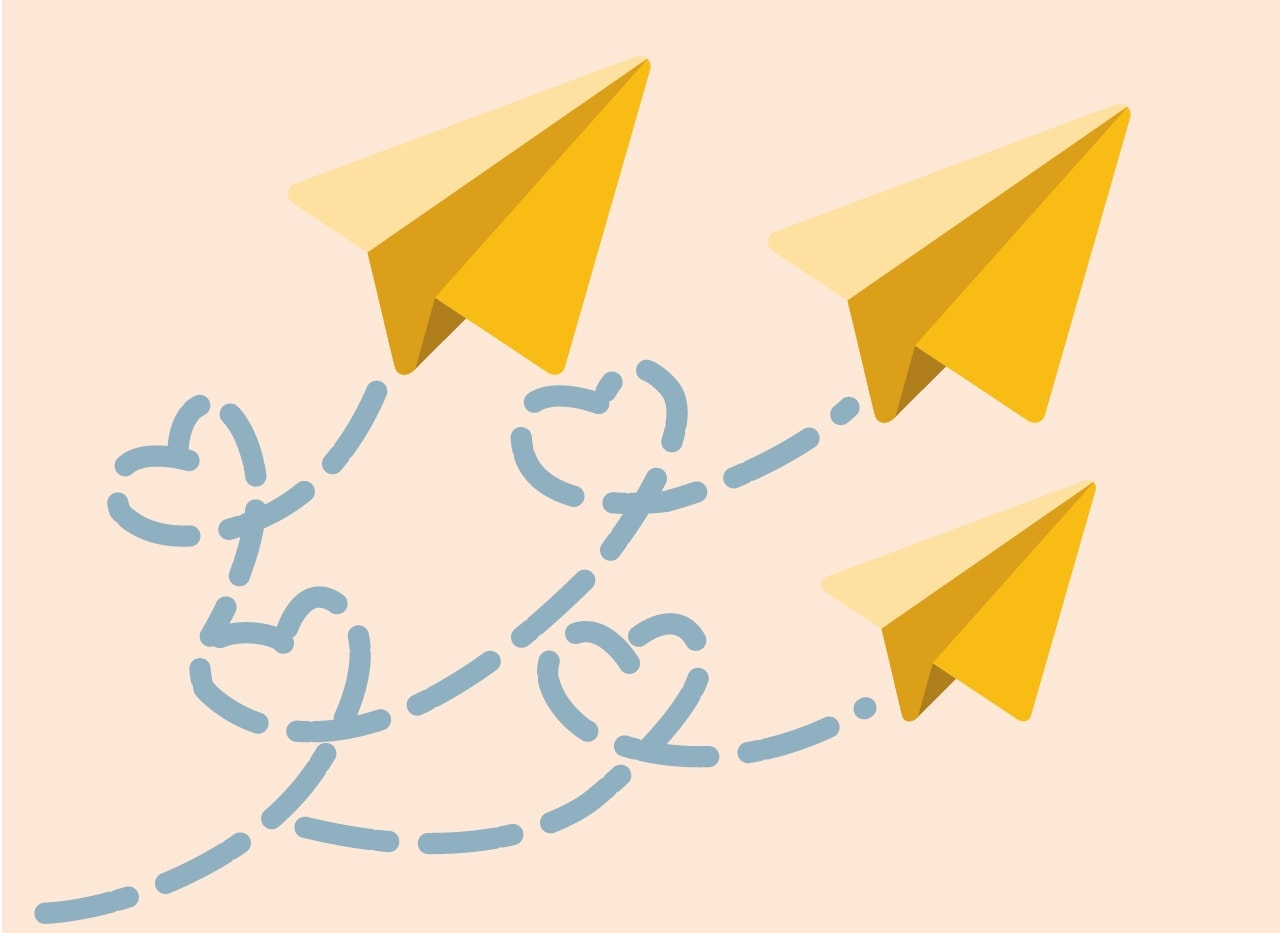 5. Invitations Won't Get Lost in the Mail
As a host of a baby shower, you know how difficult it is to know if the guests have received their invitation in the mail, especially if the RSVP's have not begun coming in. With a virtual baby shower, you can see who has opened their email and who has not with the email tracking feature. If a guest has not opened their email, you can send it again or touch base with the guest to make sure they know what to look for.
6. The Baby and Family are Put First
Okay, let's all be honest. We have all weaseled our way out of attending a celebration at one point or another. Sometimes we decide not to attend a festivity simply because we just wanted to stay in our pajamas in the comfort of our home that day.
A virtual baby shower takes care of those times when a guest RSVP's with good intentions, then changes their mind, leaving the mommy-to-be without potential items that she may want or need.
A virtual baby shower also allows guests to accept the invitation without the added burden of putting on real pants to attend. This means the mommy-to-be and baby do not miss out on gifts and the celebration they deserve.
7. Everyone Participates
With a virtual baby shower, everyone can participate in their own time. Let's say you want guests to participate in a game, but you are unsure how that can virtually happen. With a baby shower website, there is a feature in the dashboard that will allow you to include games.
These games can be played at the guests' leisure in the days or weeks leading up to the date of the baby shower. Games that require guests to submit answers are perfect for engaging guest interaction in the weeks before the shower.
8. Nothing to Download
Once you sign up to host a virtual baby shower, there is no additional software or programs you need to download for it to work. All you will need is an application to video chat, such as Zoom, Skype or Google Hangouts, to do a live chat if you want that. The virtual baby shower website will handle the rest!
9. Personalization
With WebBabyShower, you are able to customize every detail of the website to match the mommy's request. You can personalize fonts, colors, gender, and upload pictures to give the website a personal touch to both the mommy and the guests. If the mommy is practicing serious willpower and will not know the baby's gender until delivery, you can design a gender-neutral website without being a web designer.
10. Positive Reviews
When virtual baby showers first began, there were no reviews to read through to see the benefits of this innovative idea. Now that virtual baby showers have grown in popularity, reviews have come flooding in. These reviews have proven to show the many positives of this once unorthodox idea. Guests, hosts, and the mommy-to-be have all agreed that virtual baby showers still allow everyone to be connected to celebrate the upcoming baby without sacrificing any areas of a traditional baby shower.
Games, food, and gifts are all part of a virtual baby shower; the same as a traditional shower. With virtual baby showers having these same attributes, the only difference is that guests are attending the baby shower from the comfort of their own home.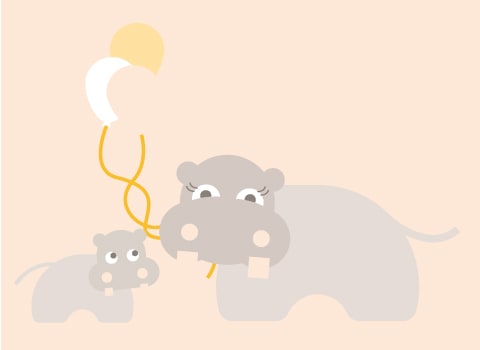 How to Take Your Virtual Baby Shower to the Next Level
Guests who attend traditional baby showers enjoy being fed, so how do you feed guests through a screen? Guests also enjoy playing baby shower games, so how do you play games with guests on a computer? All of these questions are understandable, and WebBabyShower took each of these into consideration when creating their baby shower website.
Send Goodies to the Guests
After you have sent invitations to the guests, step it up a notch by sending each guest a fun treat. Themed-cookies are always a hit, so if the mommy-to-be has a nursery theme she is using, send cookies to match. Your guests will enjoy receiving these unexpected treats in the mail. (And guests who receive treats may be more likely to send the new mommy a gift, too!)
Plan to Have Some Fun
A staple of the traditional baby shower is the variety of games that guests can choose to play. The host will typically have fun games that engage all of the attendants. Fortunately, there are many games that guests can play prior to or during the virtual baby shower, so guests do not have to feel like they are missing out on this fun aspect of the traditional baby shower.
WebBabyShower not only comes with six games you and your guests can play directly on the app but also have 6 free slide games and 14 printable games to choose from!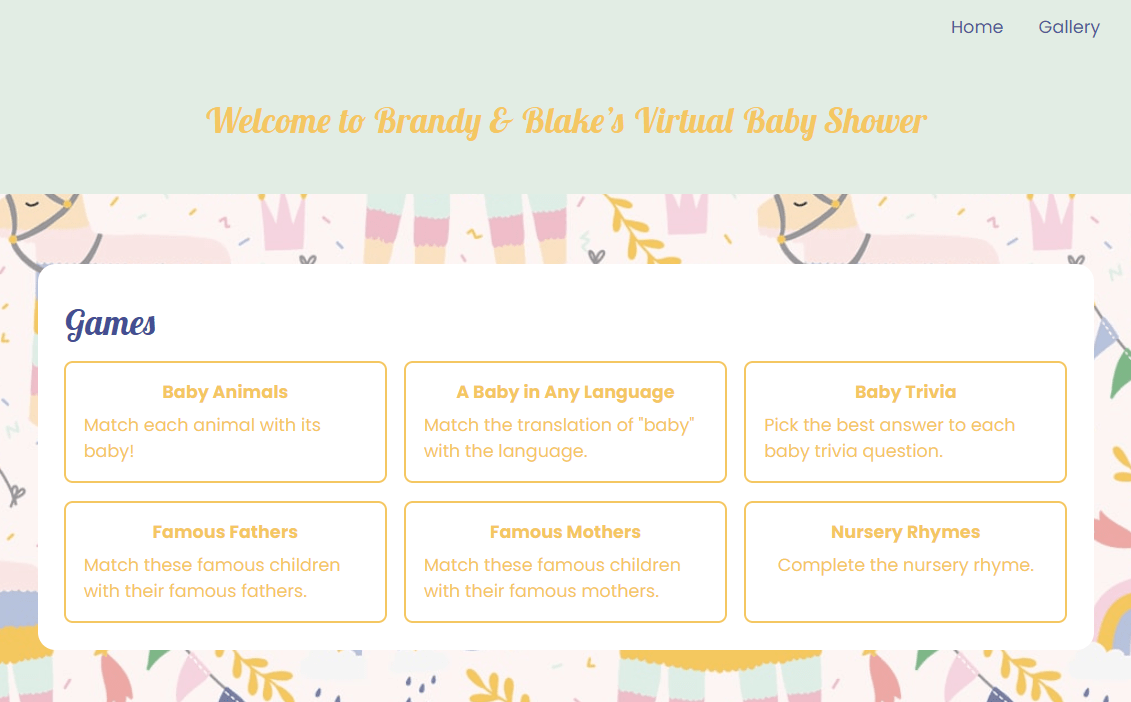 Use the Guest Book
The baby shower website will automatically create a guest book for the host to add to the guest-of-honor's website. This will allow guests to stop by and leave a personalized note for the new mom and baby. Afterward, the baby shower website can take all of those entries and put them into a printable memento for the mom to have as a keepsake.
Gift Registries Made Simple
Gift registries are all found online, and new parents will typically register at two or three different stores. With this simple integration tool, the gift registries can be found in one place on the baby shower website. Additionally, the parents-to-be don't even have to visit the store to make the registry. They can simply create the baby registry online. Afterward, it will link to the baby shower website for guests to view and fill accordingly!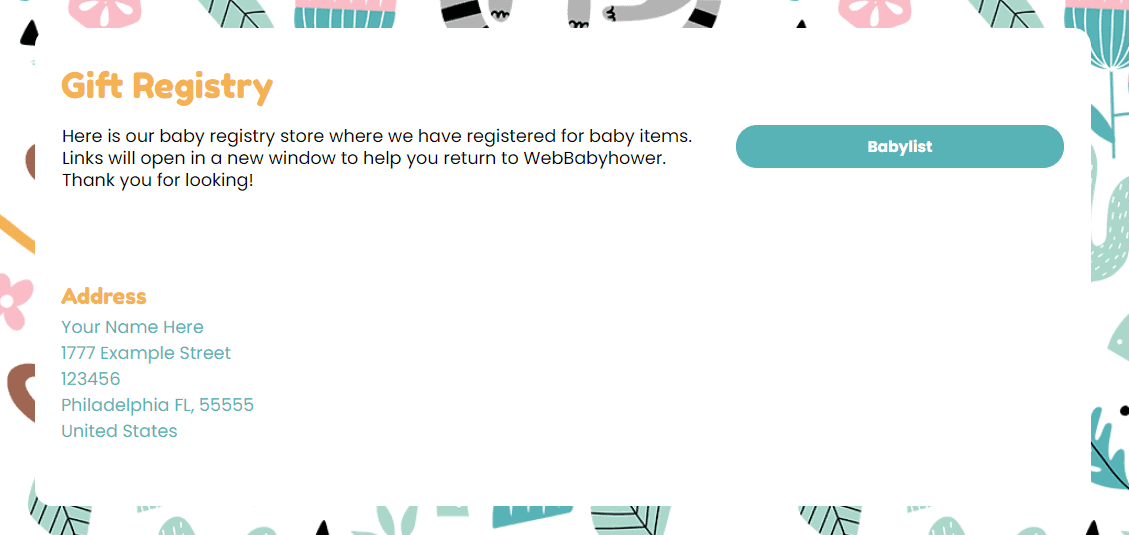 Take Advantage of the private gallery
Spoiler alert, but not every guest can be in the delivery room when the baby is born. However, this doesn't mean that every guest has to miss out on this special moment. While the new parents may not want the birth live-streamed across social media, they may want some of those "first 48" hours to be shared among family and friends. The last thing the new parents will have time to do while in the hospital is update their online baby shower website. As the host of the baby shower, take these moments and share them among family and friends on the gallery page on the website as long as you have the permission of course!
A Few Things to Remember
Always check with the mommy-to-be to make sure the virtual baby shower is what she has and mind and what she wants it to be. With WebBabyShower, you can implement as many or as few resources as you want. The biggest advantage of WebBabyShower is the completely private and secure platform for guests to gather and celebrate the upcoming bundle of joy.
WebBabyShower will also remove your website after a certain period of time. This way, the new parents don't have to try to remember another thing to take care of once they arrive back home with baby.
WebBabyShower is a safe, secure website that will take all areas of the traditional baby shower and allow guests all around the world to partake in the festivities. Virtual baby showers are perfect for moms who:
– may not be able to travel
– live away from family
– do not have the means to travel until the baby is born
WebBabyShower offers a personalized platform to host an online baby shower.