Do you need gender neutral message ideas, funny lines, girls, boys, or from grandparents? We have you covered. A baby shower card is a lovely gesture and we have over 80 ideas for different situations.
Not exactly sure what to write in your card? We've collected ideas to get you past any pesky writer's block.
What to Write in a Baby Shower Card
There are a few things to consider before you start writing your message. That includes the gender of the baby, who is receiving the card, and your relationship with the parents-to-be. Keep reading so you can decide what to write in a baby shower card.
Who to Address
Does the baby shower invitation mention if both parents will be in attendance? Or maybe your gift is meant for both of them. In that case, address your card to the couple. Of course, if you are close friends with the mom-to-be, you can decide to focus on your special bond with her as you write your message.
Baby's Gender
Is a little girl or a little boy on the way? You can tailor your message to reflect the baby's gender. Or if the parents are keeping it a secret, stick to a gender-neutral message that can work in any situation.
How Close You Are to the Parents
Whether you're a sibling, parent, or childhood friend, you likely have a special bond with one or both of the parents-to-be. Include an inside joke or fond memory as your write your baby shower wishes. A personal message always resonates the most. You picked out the perfect baby shower gift, let's nail the card!
Gender-Neutral Messages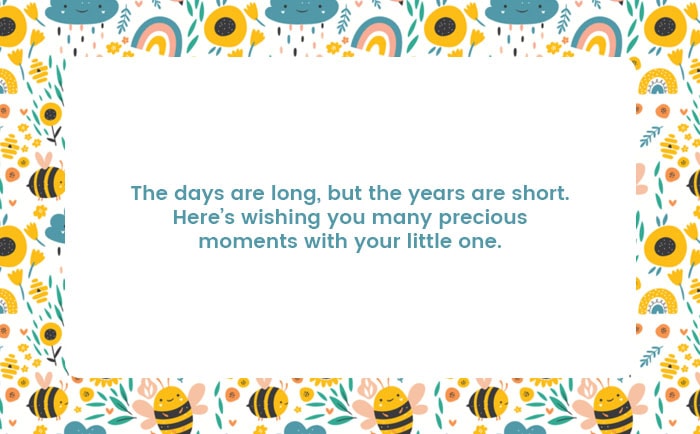 With a gender-neutral message, you can keep it simple and sweet. These baby shower card ideas are great if the parents-to-be don't know (or aren't telling) the gender of their baby. They also work for a gender reveal baby shower.
Wishing you many blessings and joy your sweet baby with bring.
Congratulations on the adorable new addition joining your family.
Amazing people make amazing babies. We can't wait to meet your little one.
Your bundle of joy is already loved by so many.
Congrats on this new adventure into parenthood.
The days are long, but the years are short. Here's wishing you many precious moments with your little one.
Best wishes on the arrival of your first baby!
You'll both be incredible parents. Congratulations!
Get ready to feel love like never before. Best wishes on your new journey.
This sweet baby is already so blessed to have you as parents.
Baby Shower Card Messages Focusing on the Gift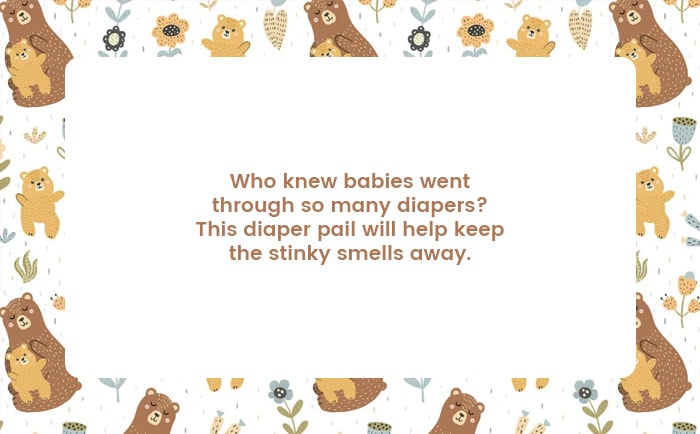 As you write your card, you might mention your gift as part of your message. Keep reading for a few ideas of baby shower card messages that focus on the gift.
This crocheted bunny is like the one you had as a little girl. We hope she loves it just as much.
Wishing you lots of sweet bathtime moments with this lavender bath set.
Don't let spit up get you down! These bibs and burp cloths should help.
I hope this handmade blanket keeps you and your bundle of joy cozy and warm for many years to come.
Who knew babies went through so many diapers? This diaper pail will help keep the stinky smells away.
We loved this book as kids and hope your little one loves it too. Wishing you lots of precious storytime memories.
I love your jungle nursery theme! These crib sheets will match perfectly with your decor.
Here's hoping these swaddle blankets will comfort your little one for nights of peaceful sleep.
Every mama needs a comfy place to snuggle her baby. Please enjoy this relaxing glider.
He might grow out of them in three months, but we know your little guy will look adorable in these elephant pajamas.
Funny Messages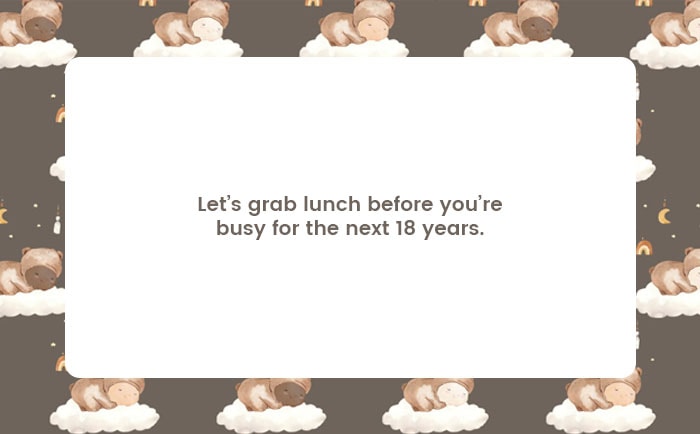 If the parents-to-be are familiar with and appreciate your style of humor, consider writing something that will make them giggle. Here are a few funny baby shower well-wishes to write inside a baby shower card.
Enjoy your moments of peace and quiet. They'll be your last ones for a while.
Great job creating a mini version of yourselves!
Hello baby, goodbye sleep! Get your 8+ hours in now while you still can.
Let's grab lunch before you're busy for the next 18 years.
Here's to dirty diapers, sticky floors, and a happy baby.
We're excited to meet your tiny alarm clock!
We already know your baby will be cuter than all the other babies.
Get ready for a new appreciation for the words "me time."
The new ruler of the house is arriving soon!
Keep calm and diaper on. You're going to be a great mom.
What to Write in a Baby Shower Card for a Boy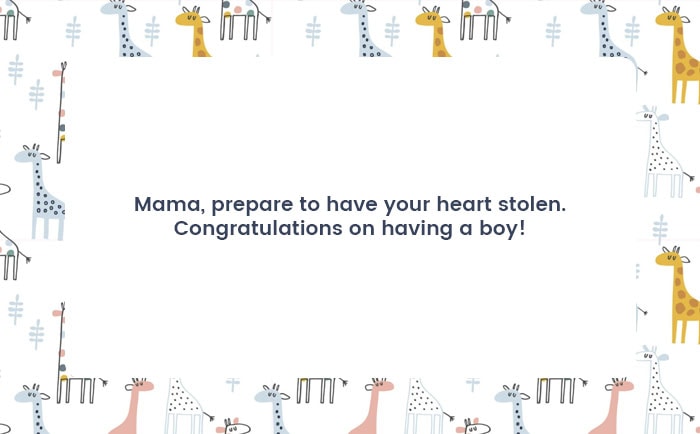 If you know the mom-to-be is having a baby boy, mention that in your message. Check out a few ideas on what to write in a baby shower card when a little boy is on the way.
Praying for an easy and safe delivery, and a healthy baby boy.
A giggle, a toy, and a sweet baby boy!
Oh boy! We can't wait to meet your bundle of joy!
Wishing you lots of energy to keep up with your little boy.
We're excited to meet the handsome new man in your life.
Sending lots of love to you and your little prince.
Mama, prepare to have your heart stolen. Congratulations on having a boy!
The end zone is near! Congrats on the arrival of your future quarterback.
Can't wait to watch your family grow. Best wishes for you and your baby boy.
Congratulations on the soon arrival of your darling baby boy.
Throw a Virtual Baby Shower so Everyone

Can Celebrate!

• Free Trial – 14-Day Refund for any reason
• Only 1 Minute Setup!
• 80+ Custom Themes & Matching Invites
• Use Any Online Registry
• Send Unlimited Invites and Updates
• Baby Shower Games with Scoreboards, Give Prizes!

Build Your Shower
---
What to Write in a Baby Shower Card for a Girl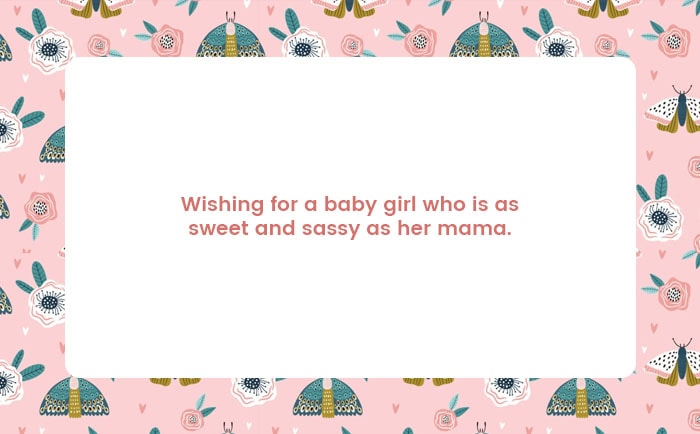 A sweet baby girl is on the way. Take a look at what you can include in your baby shower card to congratulate the parents-to-be.
Congratulations on your adorable mini-me!
The princess is arriving soon. Wishing you lots of love and patience.
We're tickled pink to hear you're having a baby girl. Congratulations to your and your growing family!
Wishing for a baby girl who is as sweet and sassy as her mama.
You'll soon be wrapped around the tiny fingers of your baby girl.
A precious baby girl will fill your heart and home with love.
May your little girl have beauty, grace, and strength.
Best wishes on the arrival of your baby girl.
Whether your days are filled with tea parties or mud pies, enjoy the precious moments with your darling girl.
Hip, hip hooray! A sweet little bunny is on her way!
What to Write in a Baby Shower Card for Twins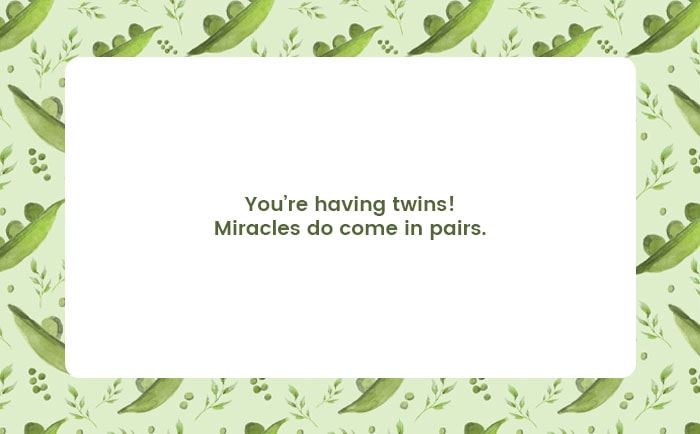 Is the mom-to-be expecting twins, triplets, or maybe more? Have fun acknowledging this in your written messages and well-wishes. Here are just a few ideas of what to write when multiples are on the way.
Your home will soon grow by four feet!
Get ready for double the trouble, double the fun, and double the love.
You're having twins! Miracles do come in pairs.
If there is anything more exciting than having one baby, it's having two. Congratulations on the arrival of twins.
Twins means two sets of smiles to fill your day.
Get your running shoes ready! Twins will keep you on your toes.
Enjoy those extra snuggles! Congrats on having twins!
Your family is growing in leaps and bounds. Best wishes on the soon arrival of your darling twins.
Twins will reinvent your whole world. Enjoy every moment.
May this new adventure bring days filled with play, hugs, and lots of love. Congratulations on having twins.
What to Write in a Baby Shower Card for a Close Friend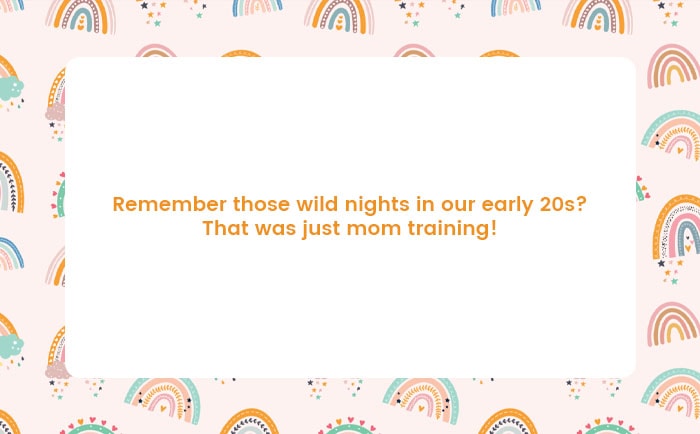 One of your favorite people in the whole world is having a baby, and you want to include a personal message in her card. Check out a few ideas if you're a close friend or relative of the mom-to-be.
From swingsets to college and now having children of our own. I'm honored to celebrate this new chapter with you.
I'm so proud of you, and know you're going to be an incredible mom
To the amazing woman who can do anything: You've got this!
Remember those wild nights in our early 20s? That was just mom training!
I'm lucky to call you friend, and your baby is lucky to call you mom. Congratulations!
Sending you so much love and blessings for this exciting new chapter. I'm here anytime you need me.
I can't wait to meet the mini version of my very best friend!
You're already such a fabulous friend, I just know you're going to be an amazing mom.
Dear little one, please sleep through the night and nurse gently. Love, your mom's best friend.
How lucky are we that we get to be moms together? I can't wait for many future play dates.
What to Write in a Baby Shower Card From Grandparents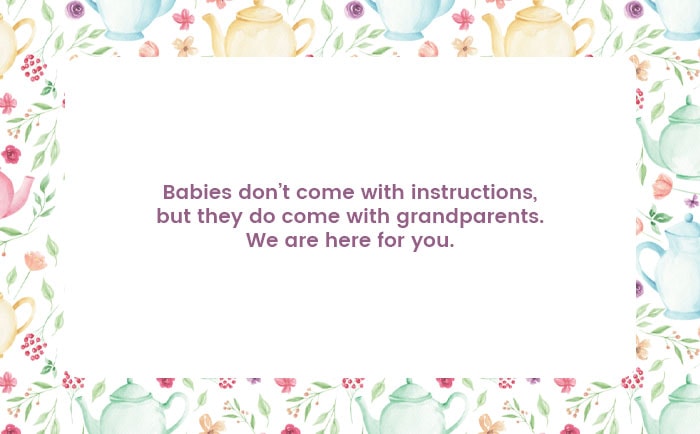 If you're lucky enough to be one of the grandparents-to-be, you might have something special in mind for your message, especially if the mom-to-be is your daughter. Include a sweet anecdote or heartwarming message in your card. Need a little help getting started? Check out our ideas below.
We're proud of the beautiful woman you've become. We know you are going to be a wonderful mother.
Are you ready for us to babysit yet? We're so excited to meet our darling grandson/granddaughter.
Babies don't come with instructions, but they do come with grandparents. We are here for you.
May you be blessed with a baby who is as sweet as you. You're both going to be wonderful parents.
We're excited to spoil our grandchild and also be there for you for whatever you need.
We can't wait to be grandparents and shower you and our darling grandchild with love.
Little boys/girls grow up so fast (we would know). Wishing you so many precious moments with your sweet baby.
You can't return them when they misbehave, but you can always drop them off with us.
We're beyond excited to meet our baby's very own baby. We love you and couldn't be happier.
We've babyproofed the house and are already memorizing "I Love You to the Moon and Back." We can't wait to be grandparents.
Be Creative
Don't be afraid to craft a personal message for the parents-to-be. As you write your baby shower well wishes, you can include a funny story, fond memory, or something positive about the future parents. If you're a parent yourself, any unique insight is appreciated as well. Have a card, but are still looking for a great present? Don't forget to check out our list of the best baby shower gift ideas.