Funny Baby Shower Gifts
Baby showers are all about joy, celebrating the baby-to-be, and, of course, showering the future parents with gifts. While many guests go for the essential baby items like diapers, bottles, and cribs, there's a whole world of funny baby shower gifts waiting to be explored.
Becoming a parent can get pretty stressful, right? Well, these funny baby shower gifts are a fantastic way to ease the tension. They let the parents-to-be chuckle away some of that pre-baby stress. In this guide, we'll introduce you to some hilarious yet super useful baby shower gift ideas that'll surely be the talk of the party!
Playful Baby Toys
Breakfast Teether:
For the first six months or so, babies stick to a strict breast milk or formula diet, but that doesn't mean they can't have a bit of breakfast fun! Picture this: a bacon-shaped teether that makes it look like they're munching on some tasty bacon. It's cute and gives parents a little chuckle in the morning while they enjoy their real breakfast. Plus, it's totally safe for babies, as baby teethers are made free from harmful chemicals.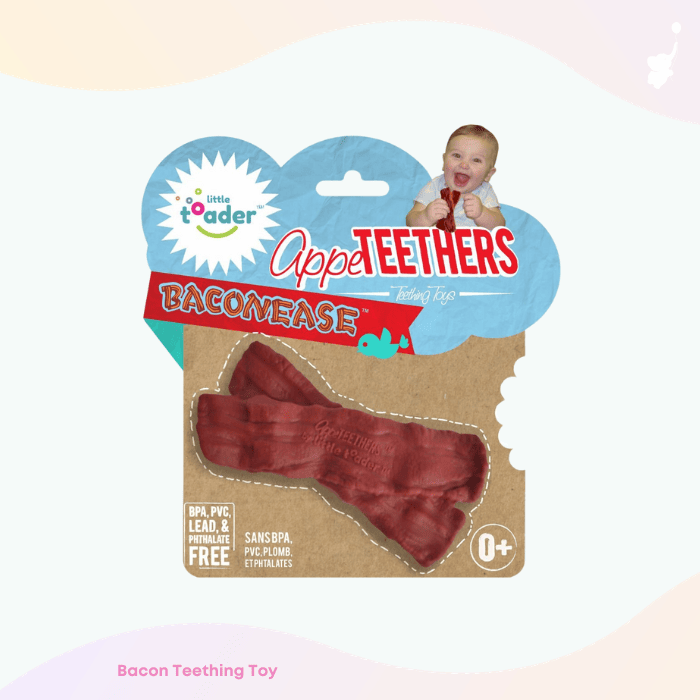 Fitness Enthusiast Rattle:
If the parents-to-be are gym buffs, why not kick start their little one's fitness journey with a dumbbell-shaped baby rattle? It's a hilarious way to introduce their bundle of joy to the wide world of working out. Imagine the adorable sight of the baby doing reps with their tiny "weight" – it's sure to bring lots of laughs!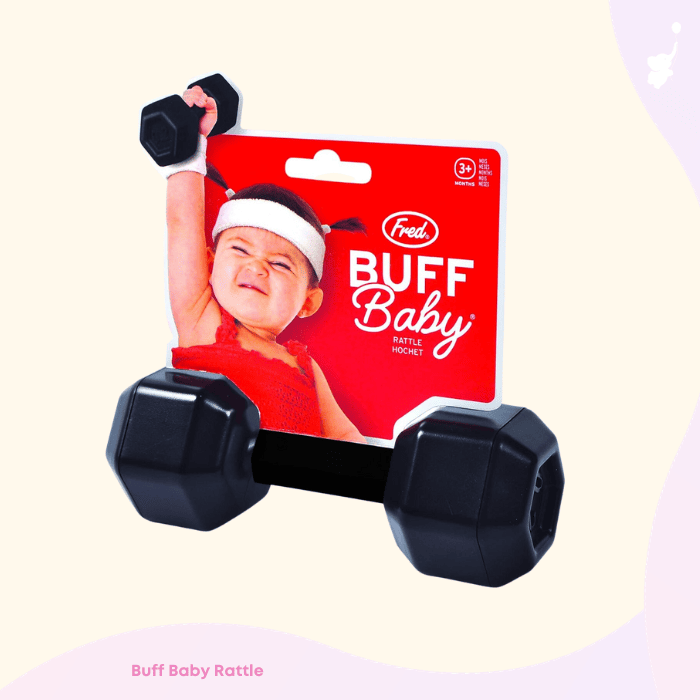 Retro Gaming Teether:
The baby-to-be won't ever get to experience the time when Game Boys ruled the roost and were the hottest thing around. So, why not gift the baby a Game Boy-shaped silicone teether to give the parents that hit of nostalgia? Plus, when the baby's older, the parents can use it as a teaching moment to explain what a Game Boy even is. This is a funny baby shower gift for dads who love the classic gaming era.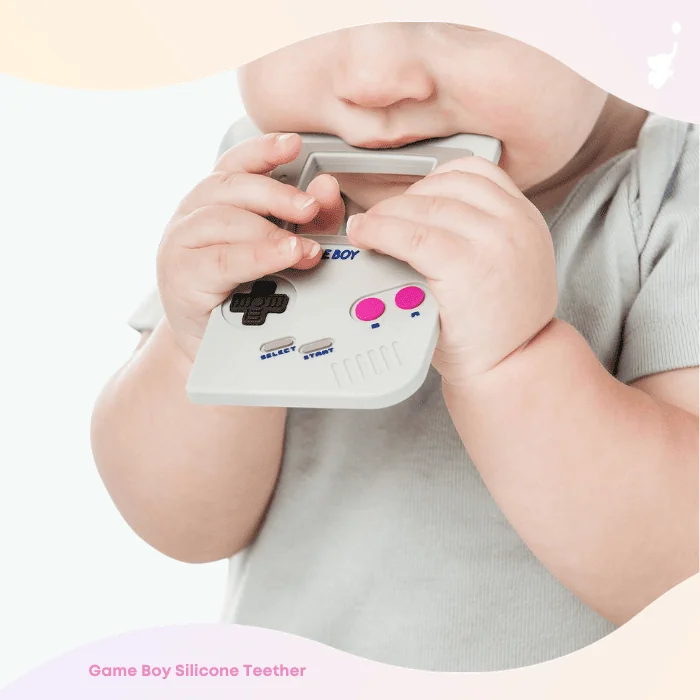 Throw a Virtual Baby Shower so Everyone

Can Celebrate!

• Free Trial – 14-Day Refund for any reason
• Only 1 Minute Setup!
• 80+ Custom Themes & Matching Invites
• Use Any Online Registry
• Send Unlimited Invites and Updates
• Baby Shower Games with Scoreboards, Give Prizes!

Build Your Shower
---
Keepsakes with a Twist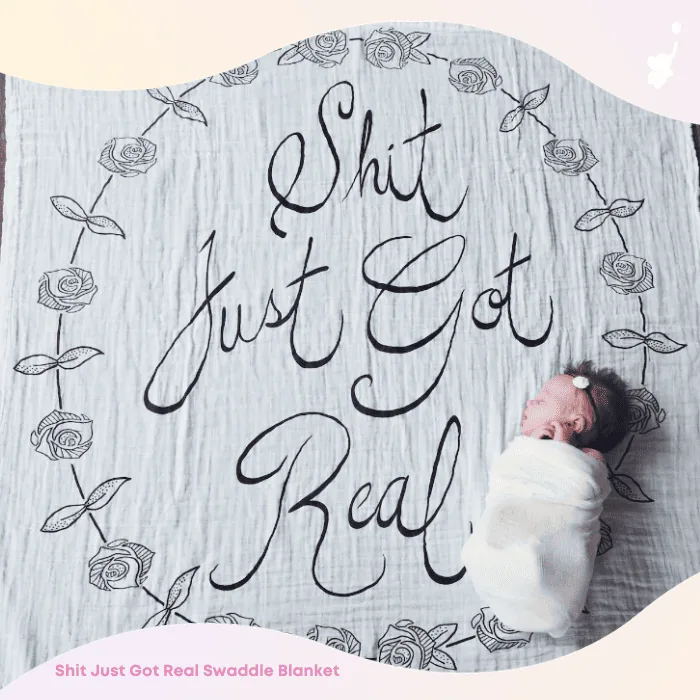 Honest Swaddle Blanket:
Babies are many things; a bundle of joy, heartwarming, and totally life-changing. But, let's face it, they can also be a handful! Sometimes, new parents just want to keep it real and acknowledge some of their parenting challenges. A swaddle featuring a humorous new-parenting truism like "Sh*t Just Got Real" can be a great way to help them laugh off some stress. Plus, these gifts can spark fun conversations about parenting!
The Unfiltered Baby Journal:
There are tons of special firsts, like a baby's first word or their first step. But hey, there are also plenty of not-so-glamorous milestones, like their "first apocalyptic poop." An unfiltered baby journal offers a funny and realistic take on parenting, letting parents catalog the good, the bad, and the downright gross parts of parenting.
Humorous Reads for Baby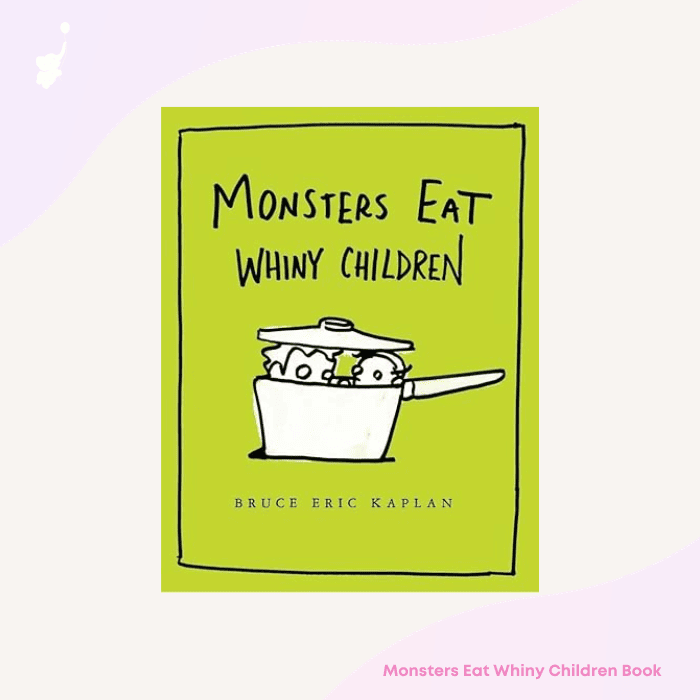 Whimsical Morals:
You know, throughout history, there've been loads of funny (and maybe a bit scary) stories meant to teach kids those big life lessons. Take the classic "Monsters Eat Whiny Children," for instance. A hilarious book with these tales could be a great addition to the baby's library, giving the parents a chuckle or two.
Early Life Lesson Classic w/ Poop!:
Babies have a lot to learn, especially about their own bodily functions. A great way to fill them in on all the amazing (sometimes silly) things their bodies can do could be with humorous books centered around natural processes, such as Everyone Poops. This guarantees giggles all around!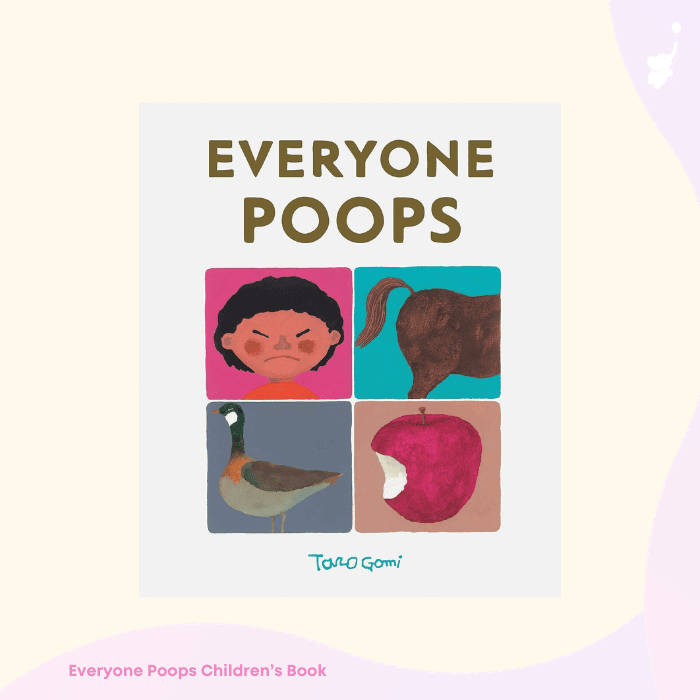 Parental Lullaby:
When a baby arrives, parents find a whole new level of love and joy, but there's one thing they suddenly have a lot less of – sleep. Parental lullabies are funny baby shower gifts for sleep-deprived parents, giving them a good laugh (or maybe even a good cry) about their nonexistent sleep schedules. It's a fantastic gift for new parents, even if it's not read aloud to the baby.
Quirky Baby Essentials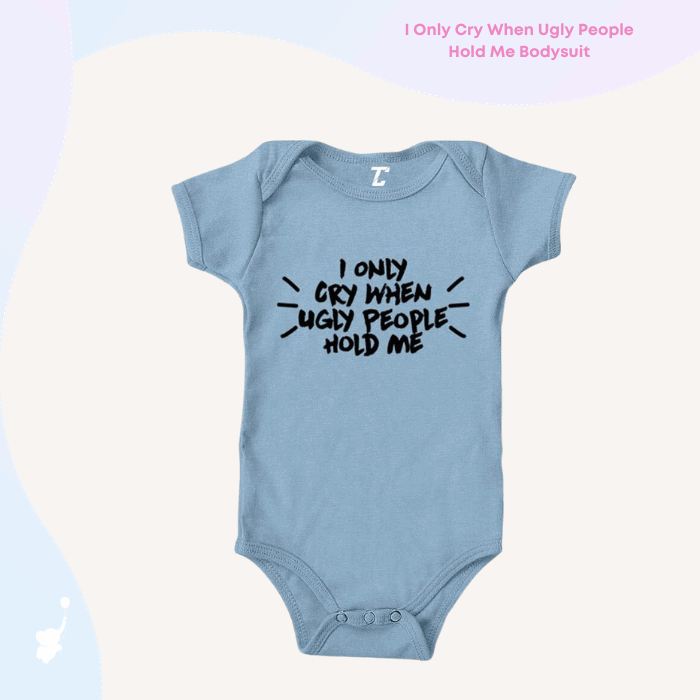 Statement Onesies:
Onesies are a must-have for new parents. To add a hilarious touch to this typical baby shower gift, think about getting one with a dose of humor, like "I Only Cry When Ugly People Hold Me." A onesie like this is bound to make parents laugh (even if the person holding them isn't all that cheerful).
Wild West Accessories:
Sometimes, being a new parent can feel as wildly exciting as living in the Wild West. To add a playful touch, consider gifting the parents some funny Wild West accessories, like a mustache pacifier, bandana bibs, or a tiny cowboy hat. With these amusing essentials, the baby will rock the cowboy or cowgirl look from day one.
Practical Yet Hilarious:
Sometimes, essential baby items can be downright hilarious. Take "NoseFrida the Snotsucker," for instance. It sounds funny, but it's incredibly useful, especially when the little one has a stuffy nose. It's a perfect choice if you're after funny baby shower gifts that blend humor with functionality.
For the New Mom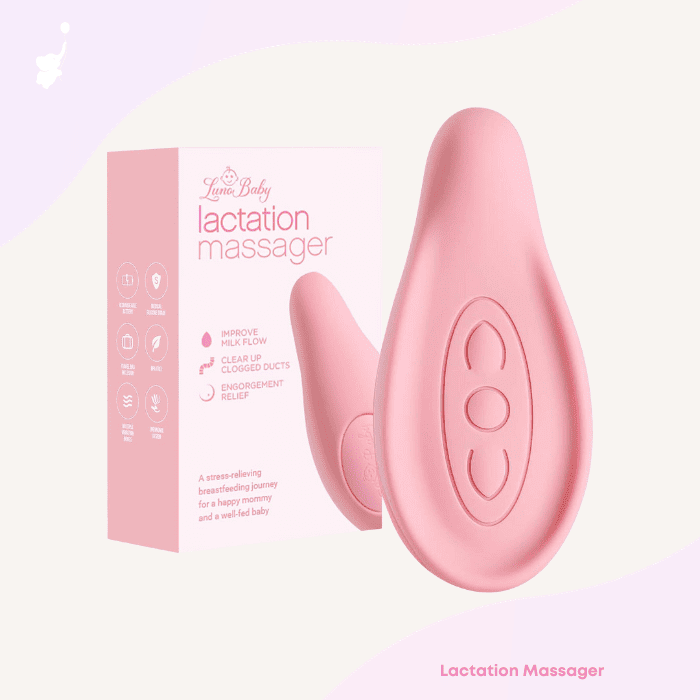 Unique Massagers:
Giving the mom-to-be a breast massager might raise a few eyebrows or cause a couple of awkward chuckles, but she'll be singing your praises when she gets a clogged duct. Massagers can really ease discomfort, making it a funny yet thoughtful gift she's sure to treasure.
Soothing Sounds:
Like we said earlier, moms-to-be are generally running on low sleep. Products like the "Baby Shusher" are funny yet practical, mimicking the soothing sounds of the womb to help baby doze-off quicker. This hilarious gift will be a real lifesaver for mom when she's trying to get in a nap alongside the baby.
Entertaining Reads:
Feeding the baby is a wonderful bonding experience, but it can also take time. To make those moments fly, think about gifting the mom a funny book. From activity books tailored for expectant moms to hilarious owner's manuals for babies, there's something for every moms with a sense of humor to enjoy.
For the New Dad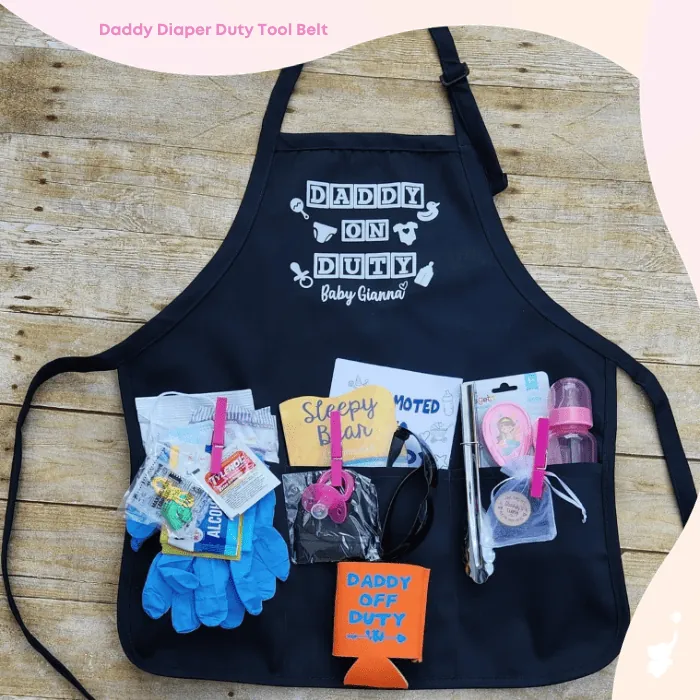 Dad's Survival Kit:
Let's face it, baby-rearing isn't a walk in the park. So, why not lend dad a hand with a hilarious survival kit stuffed with all the new parenting must-haves, like earplugs, energy drinks, or even a mini guide on "Understanding Baby Cries"? These funny baby shower gifts for men definitely come in handy during those first few months when mom and dad are just trying to survive.
Daddy Duty Apron:
The dad-to-be will soon be changing more diapers than he could possibly imagine. Give him a hand by hooking him up with an apron stuffed with all the baby essentials: diapers, wipes, and toys. Make sure the apron has some witty labels for extra laughs. This funny baby shower gift for dad is both practical and adorable!
Dad Joke Books:
A dad's transition to fatherhood wouldn't be complete without a collection of eye-roll inducing dad jokes. Help the new dad up his joke game by getting him a book filled with classic zingers he can use over, and over, and over again. It's a gift that keeps on giving, especially as the little one grows up.
Conclusion
You know, funny baby shower gifts aren't just for the laughs– they can be practical and memorable too. Picking a gift that blends humor with usefulness guarantees you'll make a lasting impression at any baby shower. Whether it's for the baby, mom, or dad, there's definitely a funny gift out there that's perfectly fun – and perfect for the occasion!