Introduction to Gender Reveal Boxes
If you've looked on Facebook or Tiktok recently at your pregnant mom friends, you've more than likely come across gender reveal boxes. These fun boxes are the latest trend for gender reveal parties since they are a fun and affordable way to reveal a baby's gender. Plus, they look awesome in pictures, ensuring you'll have some special memories to look back on.
In this article, we'll explore all the ins and outs of gender reveal boxes, including what they are, how to DIY your own, and some gender reveal box ideas to make your gender reveal party truly unforgettable. So, let's jump right in!
What is a Gender Reveal Box?
A gender reveal box is, quite literally, a box filled with pink or blue balloons. During your baby's gender reveal party, simply open the lid of the box and the balloons will float out, revealing the gender of your baby. Or, you can hang the box upside down and pull on a string to open it, releasing pink or blue confetti. Whichever method you choose, gender reveal boxes are a super creative way to let your baby's gender out of the bag (or, er, box).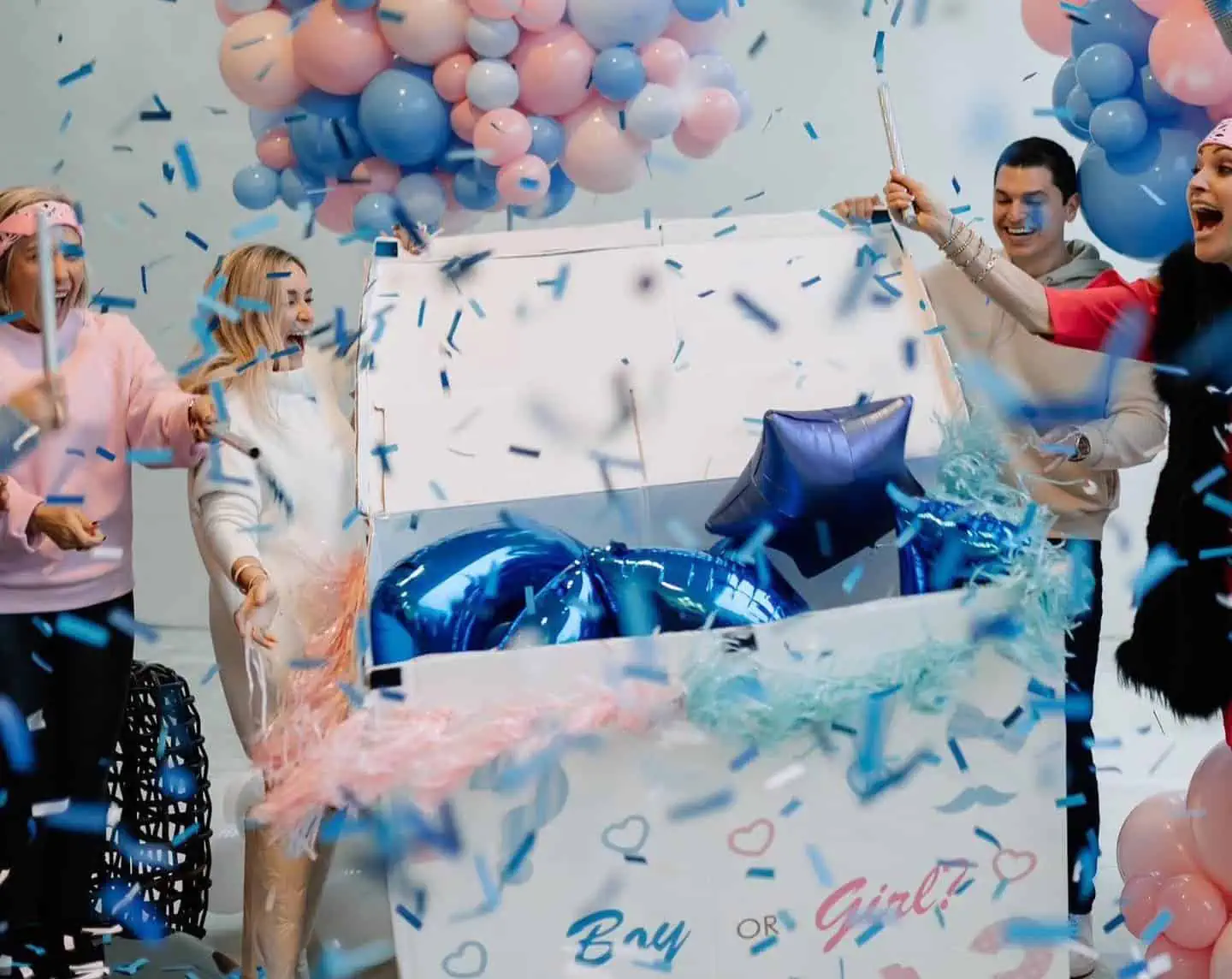 Why Choose a DIY Gender Reveal Box?
There are many reasons why DIYing your gender reveal box is an incredible idea. You have the option to personalize it according to your personality, aesthetic, or baby shower theme. Whether you like neutral tones such as tan and brown or vibrant pops of red, orange, and blue, you can customize the box to match your personal taste.
Moreover, it is a cost-effective option! No need to spend a fortune on expensive store-bought items. All you need is a large box, some pink or blue balloons, and a few other small supplies to bring your extraordinary gender reveal box to life.
Another significant advantage is the opportunity for creativity. You can integrate fun balloons, unique designs, and more to let your inner artist shine. The possibilities for customizing your gender reveal box are limitless. So, let your imagination go wild.
Throw a Virtual Baby Shower so Everyone

Can Celebrate!

• Free Trial – 14-Day Refund for any reason
• Only 1 Minute Setup!
• 80+ Custom Themes & Matching Invites
• Use Any Online Registry
• Send Unlimited Invites and Updates
• Baby Shower Games with Scoreboards, Give Prizes!

Build Your Shower
---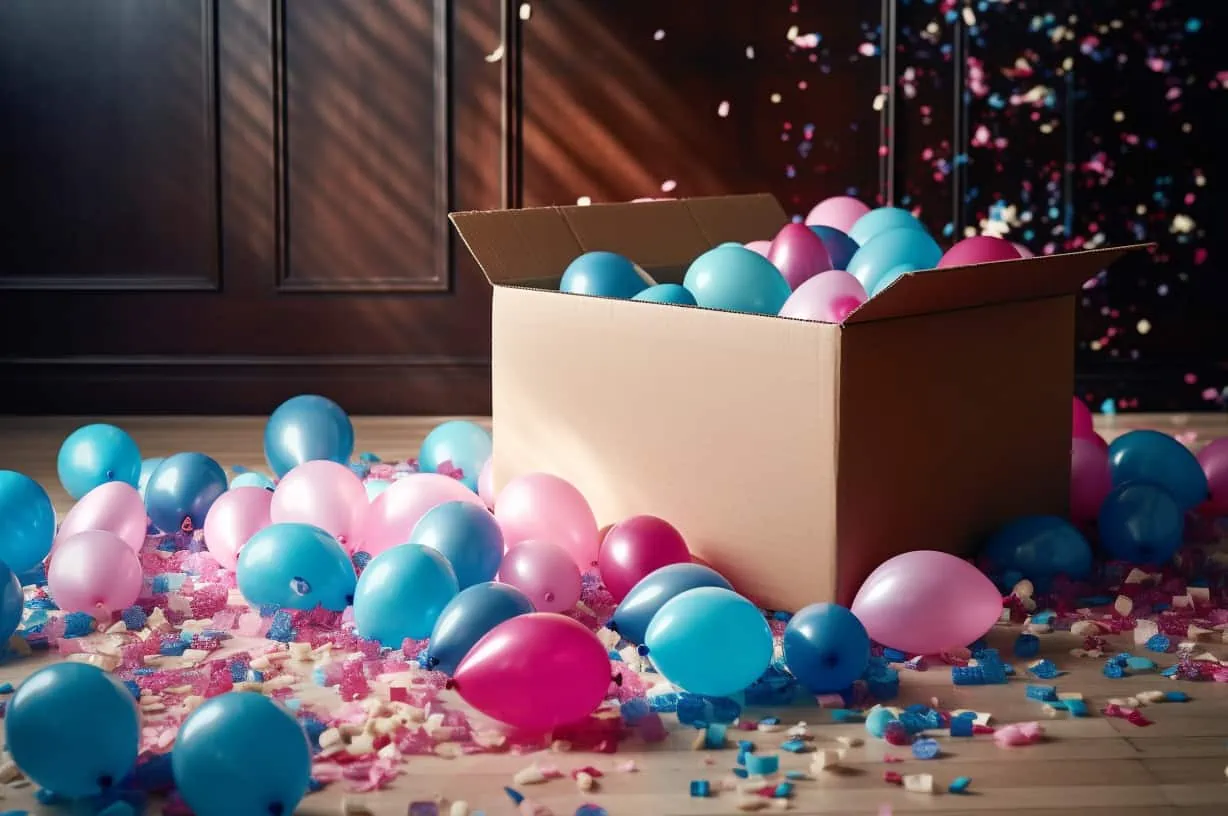 How to Make a Gender Reveal Box
Creating a DIY gender reveal box is a fantastic way to add a personal touch and unleash your creativity. Here's a step-by-step guide to get you started.
Planning Your Gender Reveal Box Design
The planning stage is super important since this is when you decide what theme or vibe you want to convey. Let your style shine through, whether whimsical, elegant, or rustic. Use Pinterest or a quick Google search to gather some inspiration pics.
Gathering Your Supplies
When preparing to assemble your gender reveal box, it's important to collect all the required items beforehand. Find a durable box that's the appropriate size, with dimensions of about 24 x 18 x 18 inches. Remember to include pink or blue balloons, scissors, tape, and fun decorations such as stickers, ribbons, or markers. Having everything ready, you can easily assemble your box and bring your creative concept to reality.
Assembling Your Gender Reveal Box
Select a fully intact box with no missing pieces or holes (we don't want to ruin the surprise, right?). Secure the box with packing tape to prevent any mid-gender-reveal-box-breaking mishaps. If you're covering the box with paper, wrap it like a present, ensuring smooth and aesthetically pleasing edges for an Instagram-worthy look.
Decorating Your Gender Reveal Box
There are many cute ways to reveal your baby's gender, such as using themes like Twinkle Twinkle Little Star or Bowties, adding cutouts to a reveal box, using LED lights or glow sticks, or writing a message on a chalkboard. Don't forget to add a personal touch with a meaningful quote!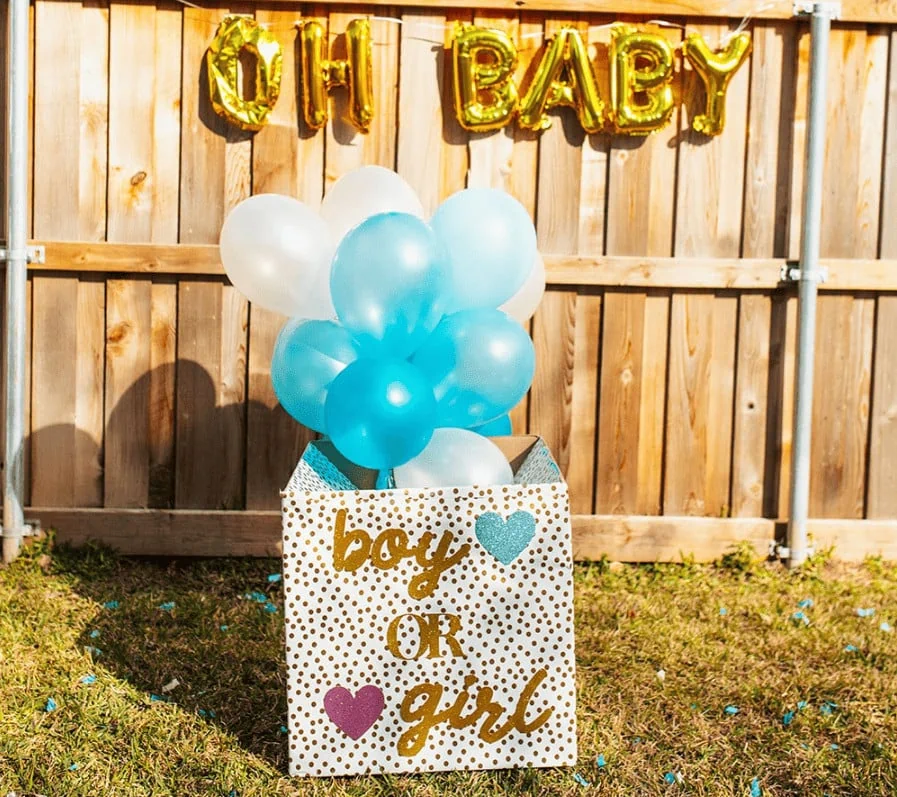 Inserting Balloons
While inserting balloons into a box sounds self-explanatory, there are a few important tips to follow.
Firstly, inflate the balloons with helium so they can fly out of the box during the reveal. Including the right number of balloons is crucial—too few won't have the desired impact, while too many may overcrowd the box and hinder their smooth flight. Generally, using 5 to 8 helium balloons should do the trick, depending on the box size.
Next, attach a string or ribbon to each balloon, ensuring the strings are long enough to reach outside the box once the balloons are placed inside. Secure the balloons to a balloon weight within the box. With everything prepared, carefully arrange the balloons inside the box, ensuring they won't become tangled or obstructed. Then, lightly tape the top of the box to keep the balloons inside until you're ready for the reveal.
Ready-Made Gender Reveal Boxes
Short on time to DIY your box? No problem! You can find plenty of ready-made gender reveal boxes online.
For a cute space-themed party, check out the Large Twinkle Twinkle Gender Reveal Box from Party City. It's adorned with stars and the phrase "Twinkle, twinkle, little star… How we wonder what you are?"
The white Nejoe Baby Gender Reveal Box from Amazon is another great option, featuring a heart with "It's A?" written inside, along with adorable hearts and baby feet all over.
If you're in a time crunch and want an all-in-one solution, go for the Gender Reveal Balloon Box Kit from Amazon. It includes a large black box, pink and blue balloons, and 90 small decorations, providing everything you need for the big reveal.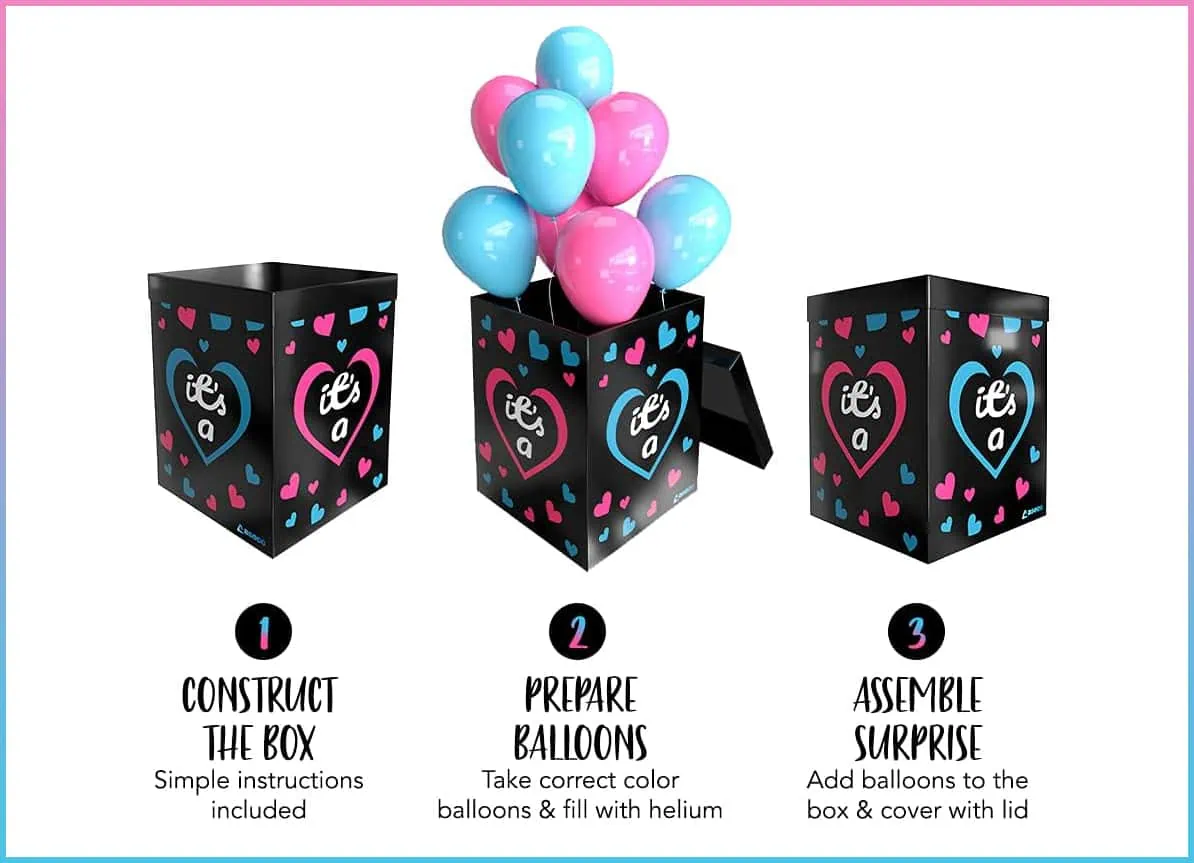 Pros and Cons of Ready-Made Gender Reveal Boxes
Like everything else in life, buying a ready-made gender reveal box has its perks and drawbacks. Let's explore them together!
Pros of a Ready-made Gender Reveal Box
Convenient and time-saving option for those with limited time or DIY skills
Eliminates the need to gather individual supplies and design from scratch
Often comes with pre-designed decorations and accessories for a cohesive look
Can be easily ordered online and delivered to your doorstep
Cons of a Ready-made Gender Reveal Box
Limited customization options compared to DIYing your own
May not perfectly match your unique preferences or party theme
Some ready-made boxes may be more expensive than DIY alternatives
The box could be less personalized or less sentimental than a handmade creation