Welcome, future parents! Today, we're talking about a trend that has recently "exploded" in popularity – gender reveal parties! These parties are usually awesome (unless dangerous explosives are actually involved 🙂 )
But don't worry, we'll help you avoid becoming the stars of the next "gender reveal gone wrong" viral video. After all, we're here to celebrate, not to make the 5 o'clock news.
So, what exactly is a gender reveal party? And why is everyone so excited about them? Well, they're basically special events where the parents-to-be gather their nearest and dearest to reveal the gender of their future baby.
Typically, the celebration happens during the second trimester, because this is when gender testing is available. You can use non-invasive prenatal testing (NIPT), chorionic villus sampling (CVS), amniocentesis, or a trusty ultrasound to reveal your baby's gender.
Without further ado, let's go through gender reveal party planning 101 to explore ways you can make your party a total blast (in a fun way, not in a fireworks-gone-wrong kind of way!)
Setting the Date
When it comes to gender reveal party-planning, picking the perfect date is essential. But, it's actually a bit tougher than it sounds.
You want to ensure your baby is healthy and that you know their correct gender. But, you don't want to wait so long that you're out of your second-trimester bliss and into the "get that baby out of me" third-trimester phase.
While today's medical technology is quite reliable, there's still a small chance of a gender mix-up, even at the 20-week mark (although this is rare). By allowing a little extra time between getting your test results and hosting your party, you minimize the odds of any last minute surprises.
Therefore, most parents host their gender reveal parties during the mid-to-late second trimester. This ensures that mama still feels comfortable, and the baby's gender is pretty much a sure-thing.
So, if you can keep your baby's gender a secret until the middle of your second trimester (and we know how tough this is), consider postponing your party until this stage.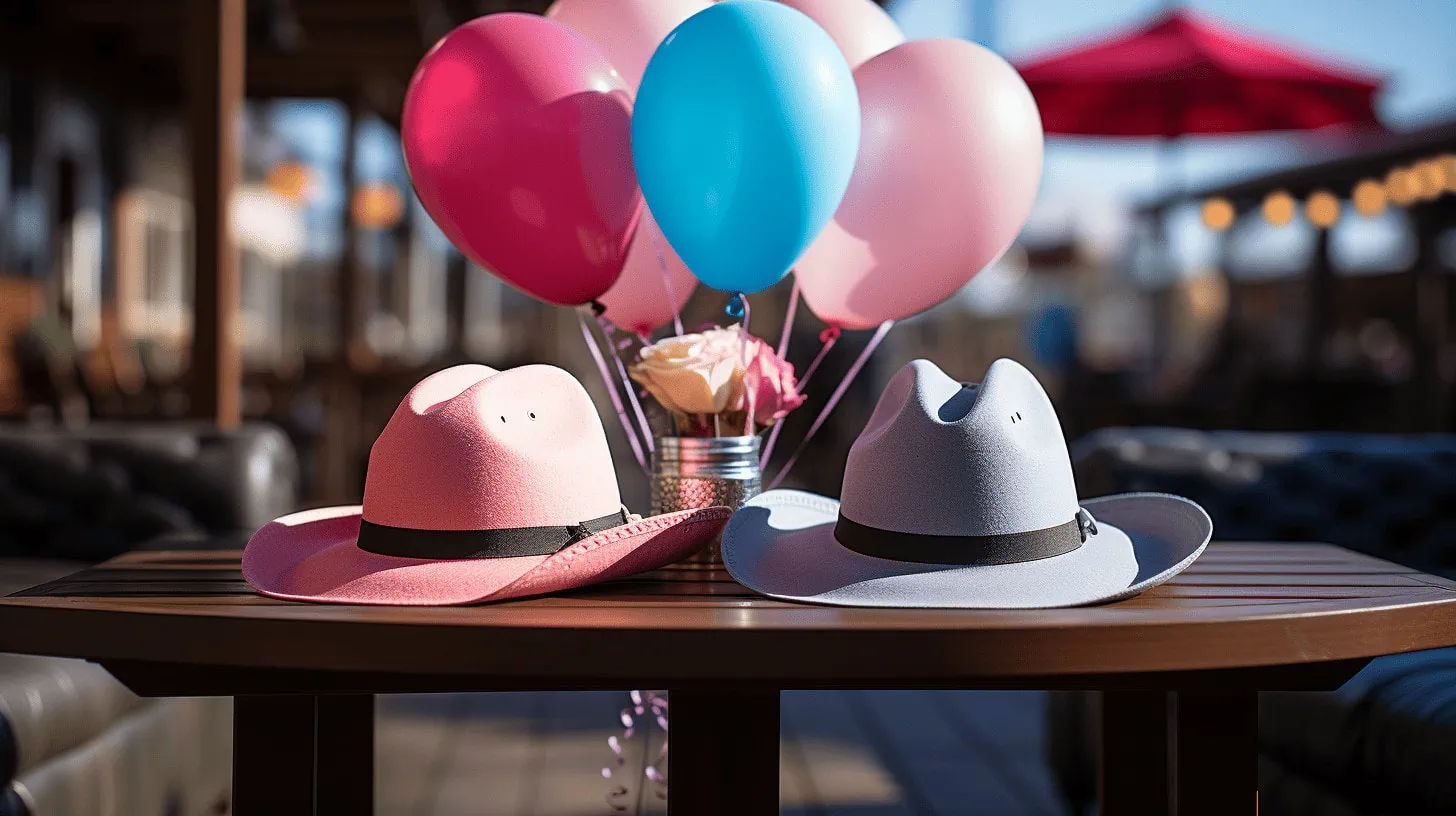 Choosing the Theme
Now, let's talk about one of the most important parts of planning a gender reveal: choosing the theme!
There's no hard and fast rule stating your gender reveal theme has to match your baby shower theme. However, if you're someone who thrives on meticulous planning and loves keeping things coordinated, feel free to choose corresponding themes.
So, how do you go about choosing the perfect gender reveal theme? Well, it's pretty simple – pick something that fits your style and preferences.
Need some ideas to get the ball rolling? Consider something fun and creative, like a "Wild West" theme, with banners saying "Cowboy or Cowgirl?". You can even deck the place out with fun Western decorations like pink and blue bandanas.
Or, for a magical twist, consider a "Harry Potter" theme. You can hang banners saying "Harry or Hermione?" and use the famous sorting hat to reveal your little one's gender.
If you want more awesome theme ideas, check out this article. We provide plenty of creative options that will make your gender reveal the talk of the town.
Throw a Virtual Baby Shower so Everyone

Can Celebrate!

• Free Trial – 14-Day Refund for any reason
• Only 1 Minute Setup!
• 80+ Custom Themes & Matching Invites
• Use Any Online Registry
• Send Unlimited Invites and Updates
• Baby Shower Games with Scoreboards, Give Prizes!

Build Your Shower
---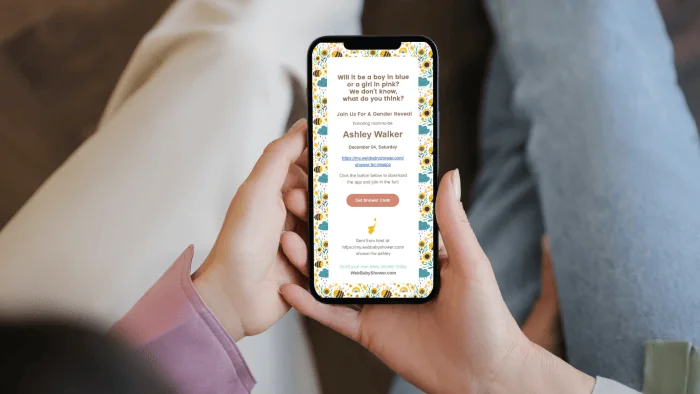 Sending Invitations
Now, let's move to the next thing on your gender reveal planning checklist: sending out the invites.
You can opt for digital invites or paper invites, depending on your preferences. Digital invites are usually free, which can be a lifesaver when you're saving for your little bundle. Plus, they have online RSVPS, making it easy to keep tabs on your guestlist.
Paper invites are classy but expensive. Plus, they are time-consuming, since you'll have to ask your entire guestlist for their addresses.
If you are going the digital invite route, WebBabyShower allows you to send online invites through a share-anywhere mobile link and via email. So, if you don't have some guests' emails, you can just text them the link. Easy, right?
To give your loved ones ample time to RSVP, aim to send out your invites four to six weeks before the event. This will give them plenty of time to clear their calendars for your gender reveal bash.
Planning the Menu
Now, onto the tastiest part of planning a gender reveal – the menu. The key here is to make sure your menu jives with your theme and the time of day you're throwing your party.
Remember, the actual "gender reveal" moment at your party will go by quickly. So, once it's over, it's a good idea to have at least some basic food offerings on deck to keep your guests around for a while. Think finger foods, appetizers, and other easy-to-grab bites.
If you're going for a casual vibe, consider doing something lowkey like a cookout. This is an easy at-home party idea, where everyone can pile their plate high with simple goodies, like hamburgers and potato salad.
Make sure you have plenty of pregnancy-safe food options for the mom-to-be to enjoy, such as a pickle bar, gender-reveal deviled eggs, or mini taco cups. If you're seeking pregnancy-safe food inspiration, check out our article for some tasty ideas.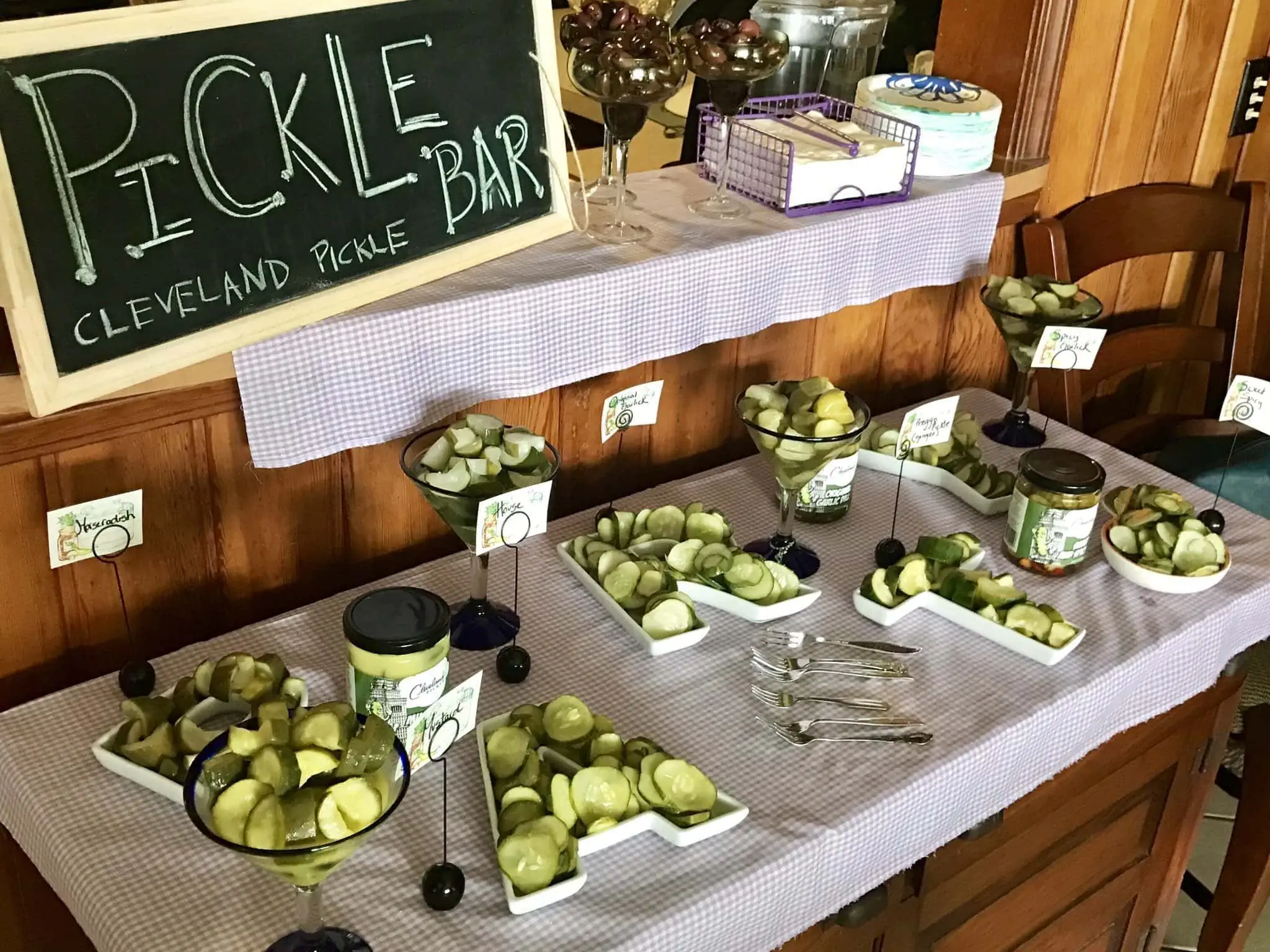 Games and Activities
As we mentioned before, the big gender reveal moment happens in the blink of an eye. So, having a few gender reveal games planned is a great way to break the ice and keep your guests entertained.
There are plenty of fun games you can incorporate into your gender reveal. For example, there's the baby block tower, where you'll paint Jenga blocks pink and blue, stack 'em high, and play until the tower comes toppling down.
Or, you could try balloon darts, where guests throw darts to pop balloons filled with confetti corresponding to your baby's gender.
Another fun one is the baby gender relay race, during which guests will compete in baby-themed challenges, until one team reigns supreme.
The Big Reveal
You've got plenty of options for the "big reveal" moment. Try the classic balloon pop, where pink or blue confetti spills the secret. If you love sweets, go for a cupcake reveal, where the color inside unveils your baby's gender. Or, let guests whack at a piñata filled with pink or blue candies. If you're thinking of an explosion, stick with a smoke bomb – nothing that'll make the evening news.
Make sure to assign a friend to be on photo and video duty to capture the big moment. Trust us, you'll want to relive it again and again. If you're craving more creative gender reveal ideas, check out our updated list for 2023.
Party Favors
Party favors are the icing on your gender reveal party cake. They are the perfect little tokens of appreciation for your awesome guests. For superhosts, they're an absolute must!
You can keep it simple with personalized cookies, mini succulents, or even funny "I survived [Your Name]'s Gender Reveal" fridge magnets. They can be as creative and unique as you are, so don't hold back. For some popular party favor ideas, check out this article.
Virtual Gender Reveal Option
Can't gather everyone in person? No problem! Consider throwing a virtual gender reveal party instead.
Not to toot our own horn, but Webbabyshower.com has been called the #1 platform for hosting virtual baby showers due to all of our awesome features, including:
Personalized website
Integrated group video calls with screen capture feature
Guest messaging tools
Photo and video uploads
Built-in games for easy hosting
Creative invitations to match your theme
Unlimited RSVP tracking
And more!
On WebBabyShower, you get access to your personalized website for 6 months (or more) depending on the plan you select, meaning you'll have plenty of time to host your gender reveal party and baby shower. Even better, after you sign up, your entire contact list will be in the app, making it easy to keep guests updated on important info, like when your baby registry is ready.
Conclusion
In a nutshell, planning a gender reveal requires you to pick the date, select a theme, send out invites, plan the menu, decide on games, and pick out party favors. And, of course, decide how you're going to do your big reveal!
Whether it's in-person or through the convenience of WebBabyShower, gender reveal parties add love and excitement to your parenthood journey. Hopefully, our party planning 101 guide will help your celebration go off without a hitch!
Frequently Asked Questions
Q1. Can the gender reveal party be combined with a baby shower?
Absolutely! Just make it a two-in-one celebration where the baby shower takes center stage for most of the gathering, while the gender reveal adds a fun twist towards the end. For more details on how to blend these two celebrations, check out this article.
Q2. What if the ultrasound results are inconclusive?
If the ultrasound results are inconclusive, don't worry. You can still plan a gender reveal party and use additional testing to find out your baby's gender, like NIPT or CVS. Or, you can host a "gender guessing" party instead, where loved ones make their guesses and don't find out who's right until the baby's born.
Q3. Is it necessary to have games at the party?
Yes, having games at the party is a great idea as they serve as icebreakers and add a fun element to the gender reveal. For some exciting game ideas, be sure to check out our list of gender reveal games for inspiration.