Hello, soon-to-be parents and party lovers!
Gender reveal parties are all the rage, and for good reason – they're a fun way to spill the beans about your baby's gender to loved ones.
So, what makes these parties so special? Well, it's all about the baby shower decorations. They're key to building excitement and making your celebration unforgettable.
The good news is there are loads of creative gender reveal ideas. Whether you like things simple and sweet or want to go all out with something fancy, you'll find a decoration that suits your style and budget.
In this article, we'll explore various gender reveal decoration ideas, from traditional pink and blue decorations to more unique options. Your gender reveal should reflect your joy, just like your decorations should. So, let's find the perfect ones to suit you and your growing family!
Throw a Virtual Baby Shower so Everyone

Can Celebrate!

• Free Trial – 14-Day Refund for any reason
• Only 1 Minute Setup!
• 80+ Custom Themes & Matching Invites
• Use Any Online Registry
• Send Unlimited Invites and Updates
• Baby Shower Games with Scoreboards, Give Prizes!

Build Your Shower
---
Top 10 Best Gender Reveal Decoration Ideas
These awesome gender reveal ideas range from simple and cute to creative and fun! Let's dive into our top ten favorites now.
Gender Reveal Cake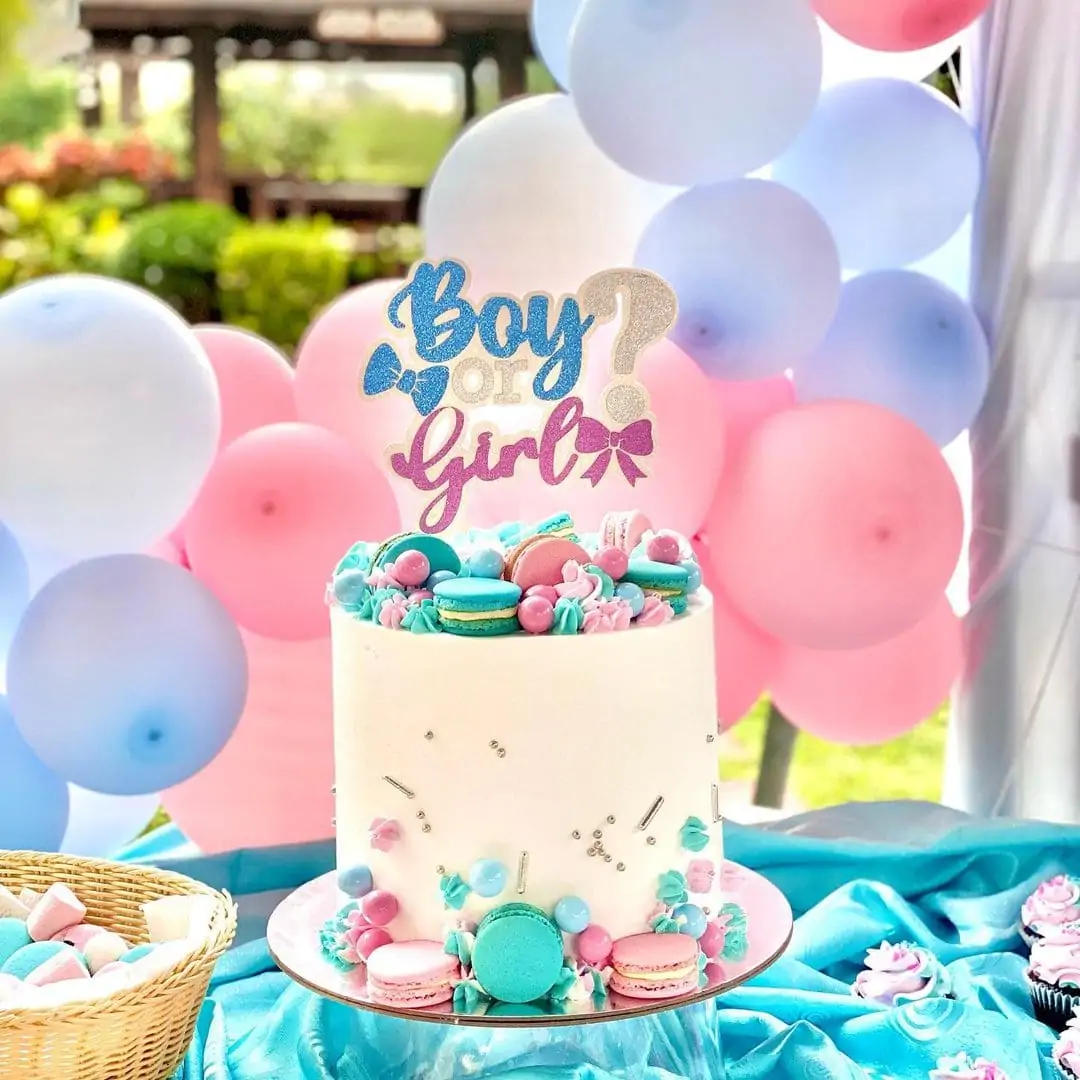 The star of the show at any gender reveal party? You guessed it – the gender reveal cake! This delightful treat is more than just a dessert; it's a thrilling surprise that will have everyone buzzing with excitement.
Now, picture this: a gorgeous, frosted cake with a simple, unassuming exterior that hides a delicious secret. You can jazz it up with cute decorations – think tiny question marks, baby booties, or even a cheeky 'boy or girl?' message written in frosting.
As you make that first slice, anticipation grows, and then it happens – ta-da! The cake's inside reveals either pink or blue batter, revealing the baby's gender. The gender reveal cake is a delicious, simple, and charming way to let your secret out.
Gender Reveal Balloon Box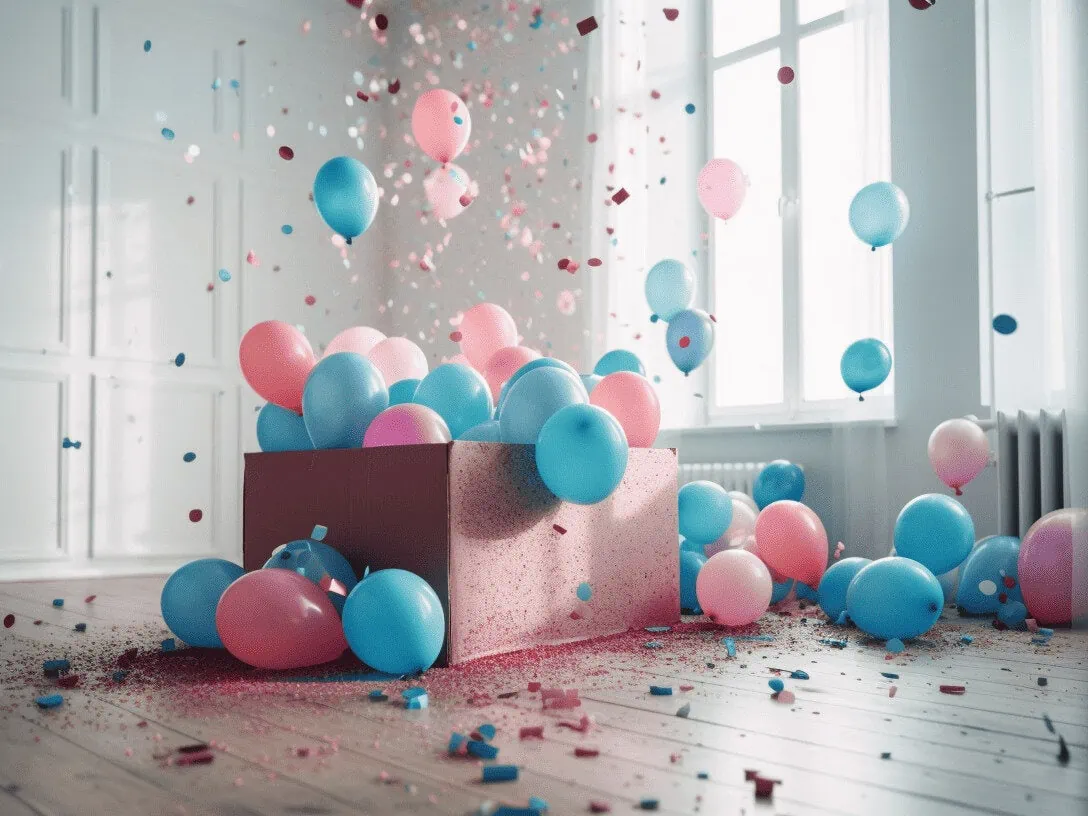 Let's have some budget-friendly fun with a DIY gender reveal idea – the balloon box!
Start with a plain cardboard box. Spruce up the outside with neutral colors, pink and blue, or whatever suits your theme. Get crafty and add question marks or a playful "boy or girl?" for extra excitement. Then, pop in either pink or blue balloons to match your baby's gender.
Now, the big moment! Gather everyone around, do a countdown, crack open that box, and voilà! The balloons burst out in a joyful explosion of color, creating a gender reveal memory that's sure to bring smiles all around.
Eco-friendly Plant Reveal
Looking for an environmentally friendly twist on gender reveal celebrations? Then, the plant reveal might be just what you're looking for!
Here's how it goes: you plant special seeds, and as time passes, they sprout into lovely pink or blue flowers, revealing the gender in a natural and meaningful manner.
Alternatively, you can give your guests seed packets without pictures of the flowers on the cover, so they only discover your surprise when the flowers bloom!
It's not only an eco-conscious choice but also a beautiful symbol of new life and fresh beginnings.
Pink and Blue Photo Booth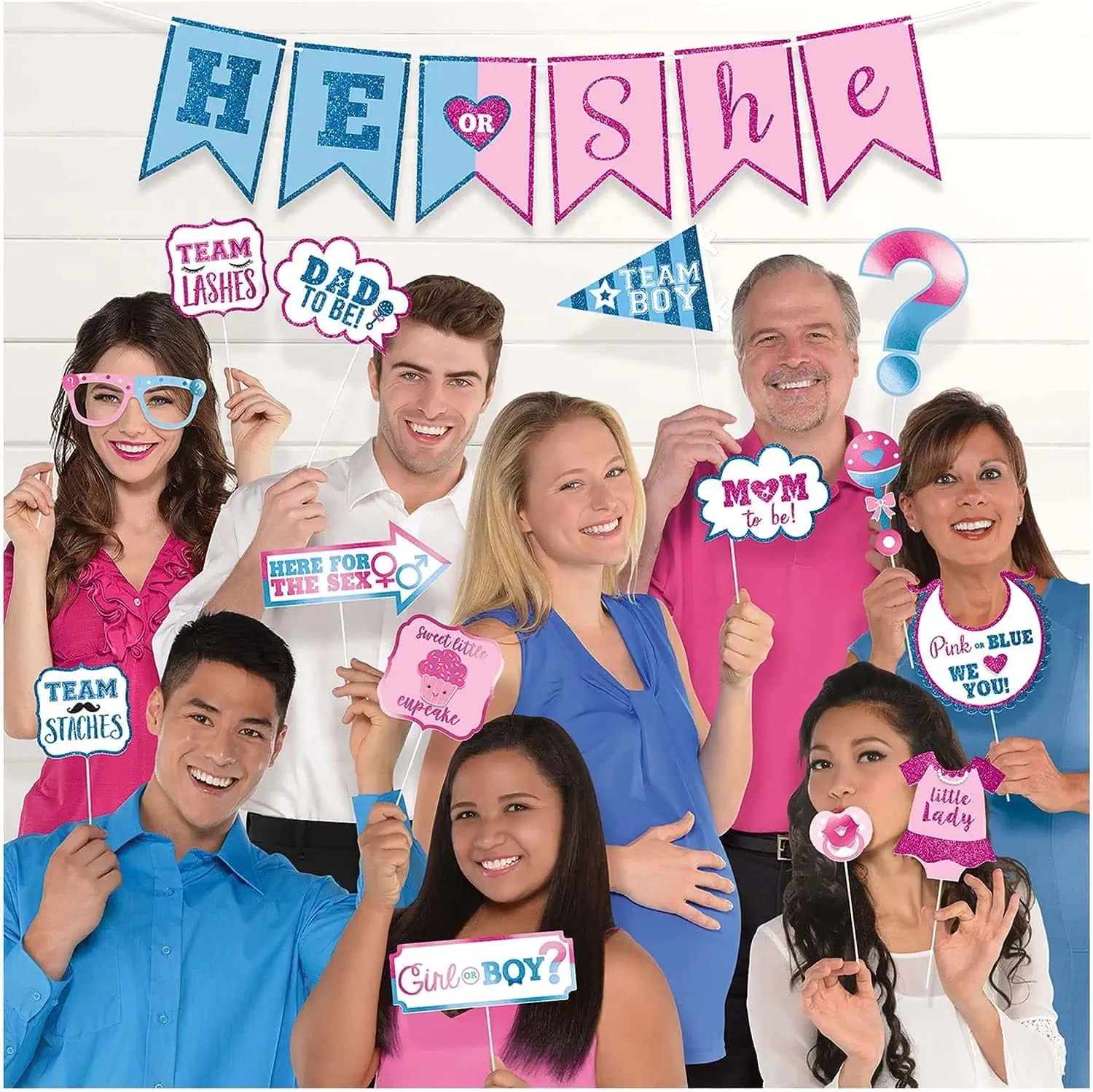 Get your guests engaged in the excitement with an interactive pink and blue photo booth at your gender reveal party. This booth comes fully equipped with props related to boys and girls – think tiny bowties, mustaches, cute bows, and tiaras.
Before the big gender reveal, you and your partner will step into the booth for a snapshot. Use props that hint at your baby's gender – like a football, sword, or mustache for a boy, or a tiara, tutu, or pink boa for a girl.
Then, when it's finally time for the grand reveal, you'll share this special photo with everyone. It's a creative gender reveal idea that will also provide you with a keepsake you can cherish forever.
Musical Reveal
This is the perfect gender reveal for music lovers, allowing you to unveil your baby's gender through a carefully curated playlist. Song titles or lyrics provide subtle clues about whether you're having a boy or a girl.
Start with subtler songs, like "Blue Moon" by Frank Sinatra or "Sweet Child O'Mine" by Guns N' Roses. Then, during the big gender reveal moment, play a more obvious hit, like "Isn't She Lovely" by Stevie Wonder or "Let's Hear it For the Boy" by Deniece Williams.
This is a fun gender reveal option that'll turn your party into a musical guessing game, keeping everyone engaged.
'What Will It Bee' Gender Reveal Cake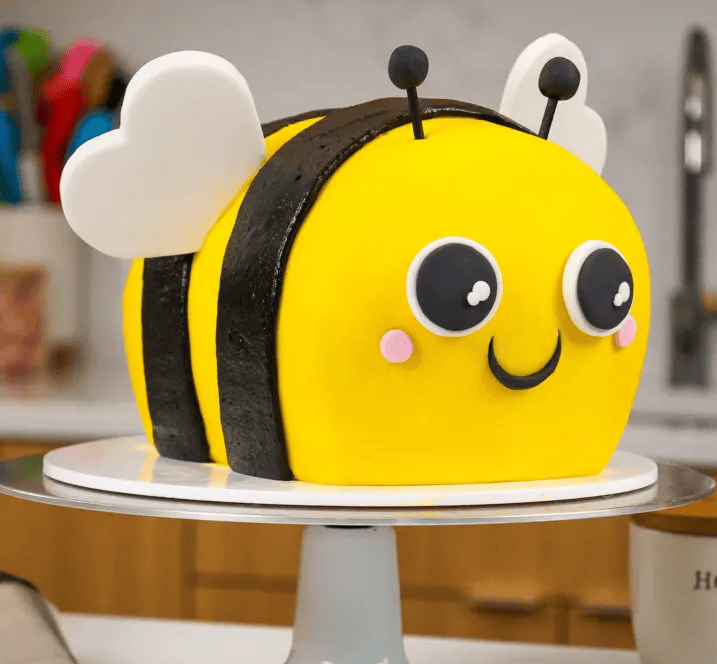 This sweet gender reveal cake is perfect for a bee or garden-themed gender reveal, especially if it's happening in the spring.
To make this "bee" a success, first, you'll need to buy or make the bee cake. If you're a baking whiz, you can whip up a bumblebee-shaped cake or one shaped like a beehive.
If those ideas seem a little too challenging, keep it simple and decorate your cake with cute bee-themed items like honeycombs, bee toys, and a little sign that says "What Will It Bee?"
When you cut into your bee cake, the color of the filling reveals the gender of your soon-to-arrive bundle of joy. It's a unique and charming way to unveil whether your baby will "bee" a boy or girl.
Book-themed Reveal
For this fun reveal, each guest participates by taking a personalized bookmark and inserting it into a children's book that hints at the baby's gender, like "Peter Pan or Wendy?"
As the votes pile up, books start to populate either the "B" or "G" shelf, representing boy or girl. It's a fun and interactive way for everyone to make their guess and share in the joy of your upcoming addition to the family.
Next, the parents-to-be can read a poem or a short story, revealing the baby's gender. It's a delightful and memorable addition to your gender reveal celebration that brings a touch of classic literature into the mix.
Gender Reveal Smoke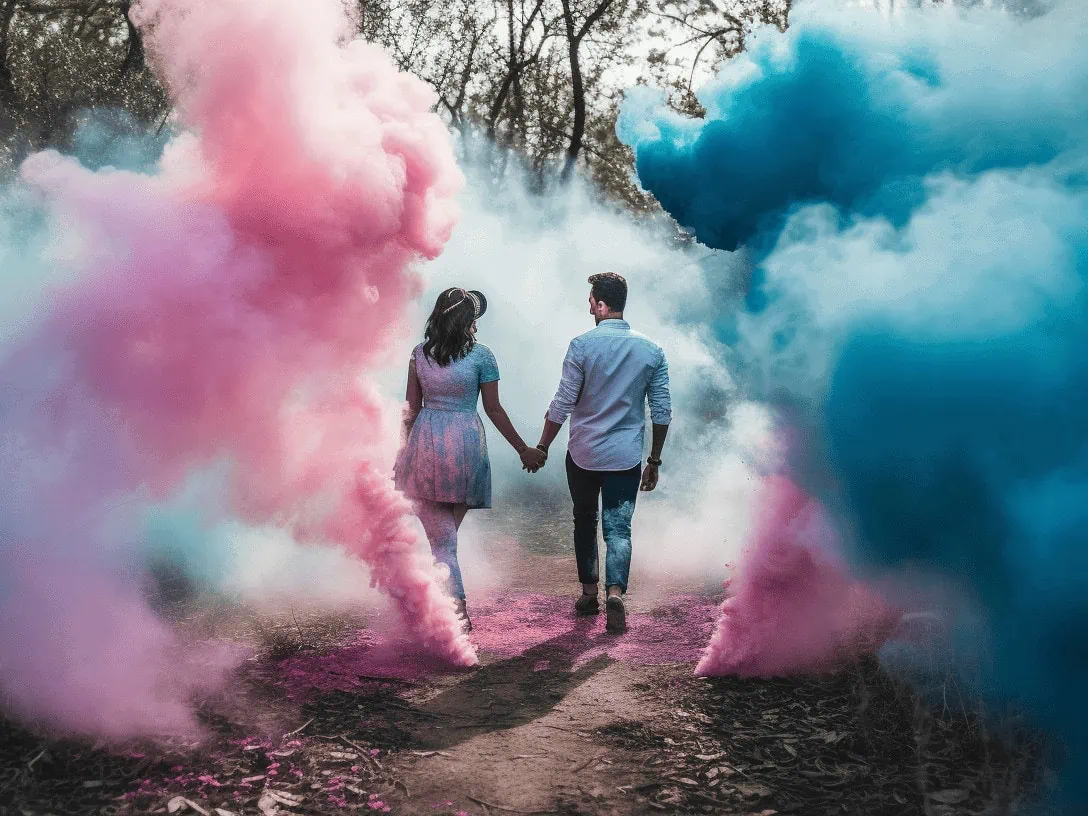 Gender reveal smoke is a trendy and easy-to-use decoration. Whether it's a smoke bomb or a cannon, these cool devices release either pink or blue smoke, creating a beautiful burst of color.
It's a memorable and eye-catching way to announce your baby's gender, adding a unique and Instagram-worthy element to your special day. And guess what? Setting it up is a breeze! Just grab the right color smoke bomb or cannon, and you're all set for some colorful excitement.
Magic Potion Reveal
The magic potion reveal adds an enchanting twist to the traditional gender reveal, involving drinks that change color to either pink or blue when a secret ingredient is introduced.
You'll start with a clear, unassuming drink in front of your guests. Then, as the moment arrives, you add that special ingredient, and the magic begins. The drinks undergo a dazzling transformation, turning into vibrant shades of pink or blue right before everyone's eyes, unveiling the baby's gender in a truly enchanting way.
This unique gender reveal idea is perfect for celebrations around Halloween, adding a touch of mystery and wonder to your event!
Puzzle Reveal
The puzzle reveal is a delightful and engaging activity where guests come together to assemble a puzzle that, when completed, unveils the baby's gender.
You can purchase a premade gender reveal puzzle or even special order one with a picture, quote, or other information that is unique to your growing family.
This is an awesome gender-reveal option, especially suitable for smaller, casual, and low-key celebrations. It adds a touch of fun and togetherness to your special day.