Last-Minute Gender Reveal Ideas for an Unforgettable Announcement
Gender reveal parties are a popular way for parents to share their baby's gender. If you want to have a gender-reveal party but are short on time, don't worry. There are plenty of fun and creative ways to unveil your baby's gender with little to no preparation.
Last-minute gender reveals vary widely. Some reveals are dramatic and suspense-building, while others are cute and laid back. We've devised ten last-minute gender reveal ideas to suit everyone – whether you want an exciting or low-key reveal.
Whatever gender reveal option you choose, the most important thing is to have fun and enjoy this special time with your loved ones.
Create a Baby Shower Website
• Free Trial – 14-Day Refund for any reason
• Only 1 Minute Setup!
• 80+ Custom Themes & Matching Invites
• Use Any Online Registry
• Send Unlimited Invites and Updates
• Baby Shower Games with Scoreboards, Give Prizes!
Build Your Shower
---
10 Last-Minute Gender Reveal Ideas
These last minute gender reveal ideas are a great option if you're planning a last-minute party. These ideas are best for trusted individuals who know the baby's gender, and want to throw a gender reveal party for a pregnant loved-one, but are short on time!
Expectant parents can also take part in some of these ideas, but they will have to be careful not to accidentally discover the gender before it's time to reveal! If you want to throw a last-minute party for the parents-to-be, then you'll surely get some useful inspiration from these ideas.
Gender Reveal Cake
A gender-reveal cake is perfect if you're short on time! All you'll need is a box of cake mix, pink or blue food dye, and chocolate or vanilla frosting. Bake your cake, incorporating the blue or pink dye into the batter, then frosting the exterior. Cut into the cake during the party to reveal the gender of the baby.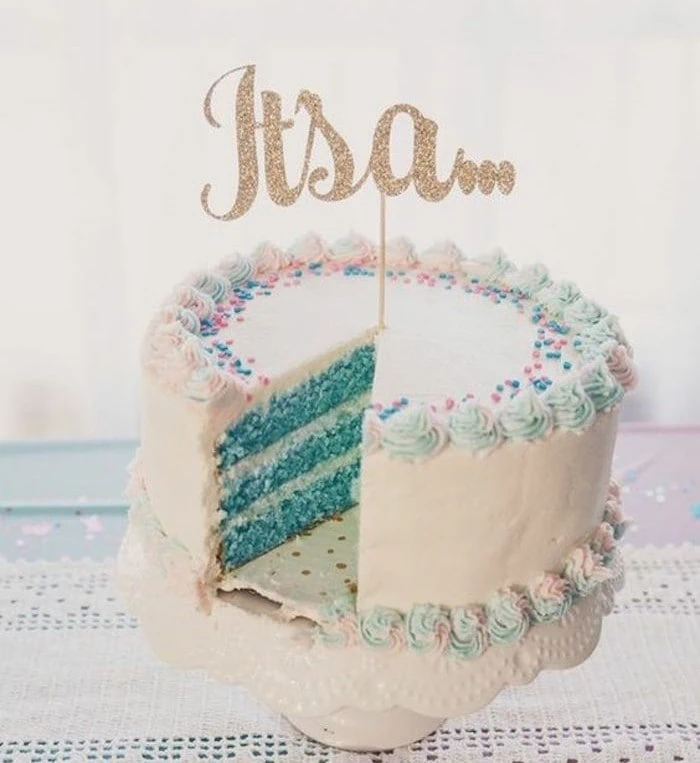 Gender Reveal Cupcake
Cupcakes are another simple gender reveal option if you're short on time. Make a batch of standard cupcakes, adding a thick layer of frosting. Put a pink or blue filling inside one of the cupcakes. One guest will receive the special cupcake during the party, revealing the surprise.
Read: 18 Gender Reveal Cupcake Ideas: Sweet and Surprising Ways to Share Your Baby's Gender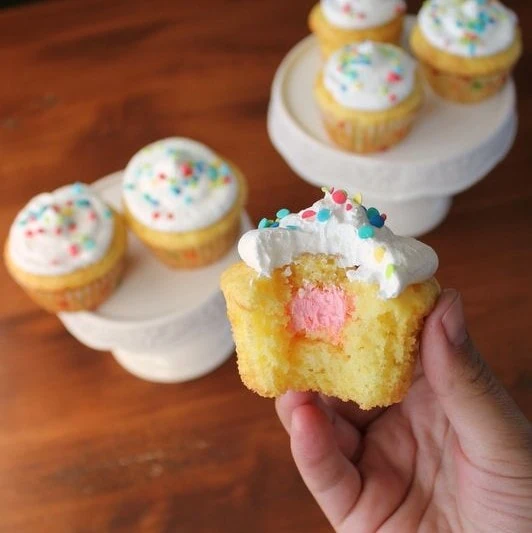 Gender Reveal Balloons with Confetti
Are you looking for easy last-minute gender reveal ideas you can complete in under an hour? Then, these gender-reveal balloons may be perfect! Buy black balloons and fill them with pink or blue confetti. Ask your guests to pop the balloons simultaneously for an exciting (and effortless) reveal.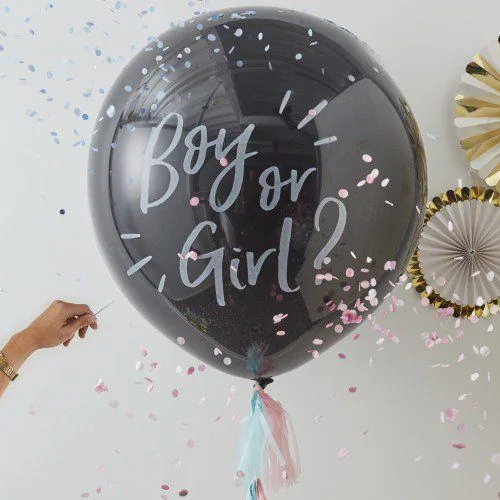 Gender Reveal Smoke Cannon
If you're looking for last-minute gender reveal ideas that don't require any DIY, the smoke cannon is an excellent option. Go to your local Walmart or party store and buy a pink or blue smoke cannon. Ask party guests to count to three, then release the smoke to unveil the baby's gender.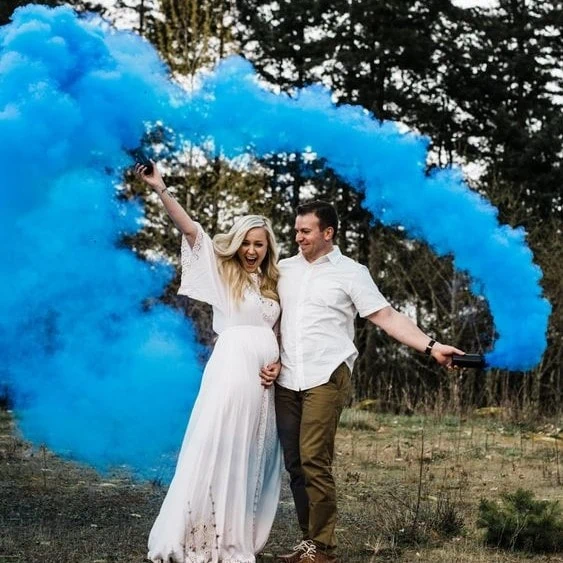 Gender Reveal Box with Balloons
This is one of our favorite last-minute DIY gender reveal ideas, only requiring a large cardboard box and some pink or blue balloons. If time allows, glue wrapping paper to the outside of the box, then write "boy or girl?" to make it more aesthetically pleasing. Blow up the balloons and put them in the box. Open the box and let the balloons fly out to reveal your baby's gender.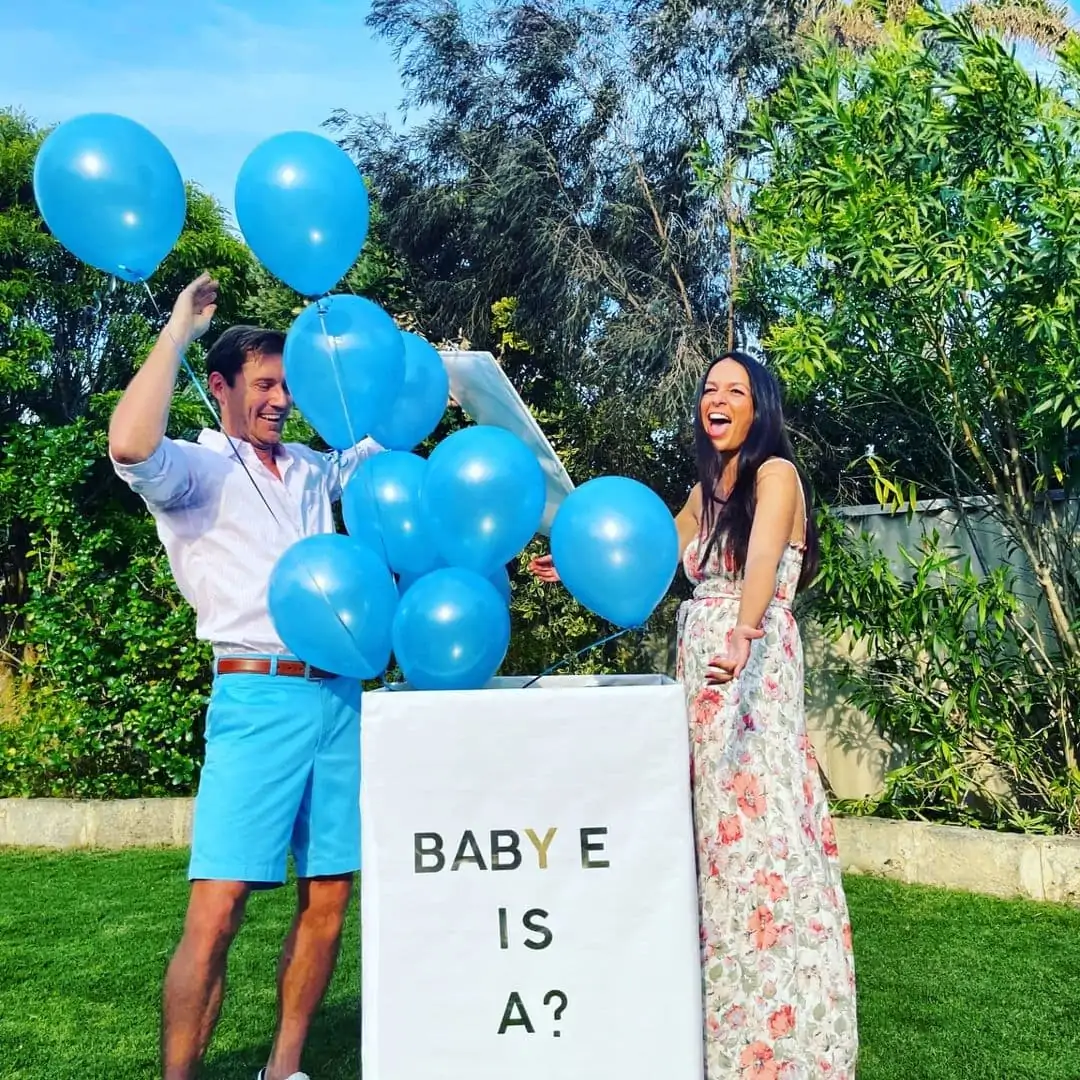 Gender Reveal Pinata
For this last-minute gender reveal idea, you'll need to go to your local Walmart, Target, or party store to buy a pinata. You can get a baby-themed pinata or one that matches the baby shower theme. Fill the pinata with pink or blue candies corresponding to the baby's gender. When the candy falls out, everyone will know the big secret!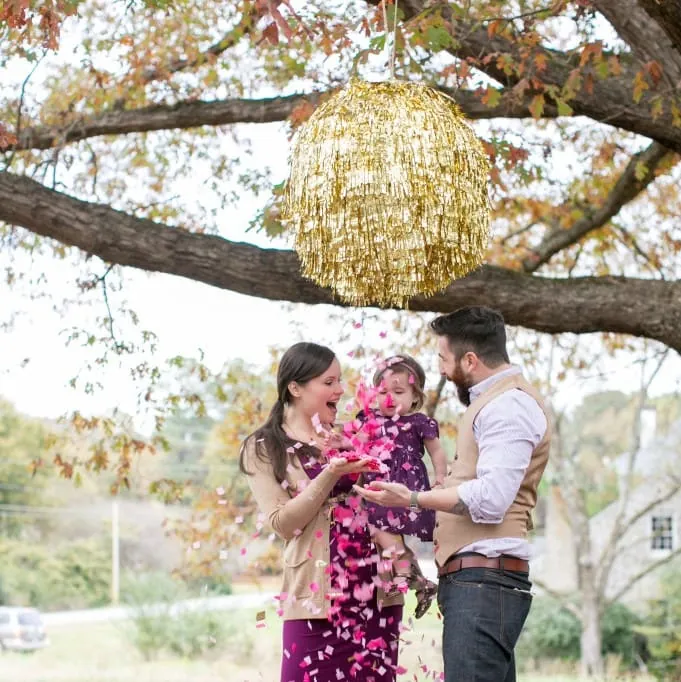 Gender Reveal Competition
For a fun activity that involves friendly competition, try hosting a gender-reveal contest with your loved ones. All you need are some clothespins and blue or pink markers. Simply ask your guests to choose their team – either "team boy" or "team girl" – and wear the corresponding clothespin. Then, organize some competitive activities like relay races or baby trivia. Finally, reveal the winning team by holding up a poster board with the baby's gender at the end of the competition.
Gender Reveal Confetti Cannon
Confetti cannons are simple and festive – perfect for a last-minute gender reveal. You can buy confetti cannons from a local store or make your own from toilet paper rolls, balloons, and tape. Ask guests to shoot off their cannons simultaneously for an exciting reveal (and a great photo op)!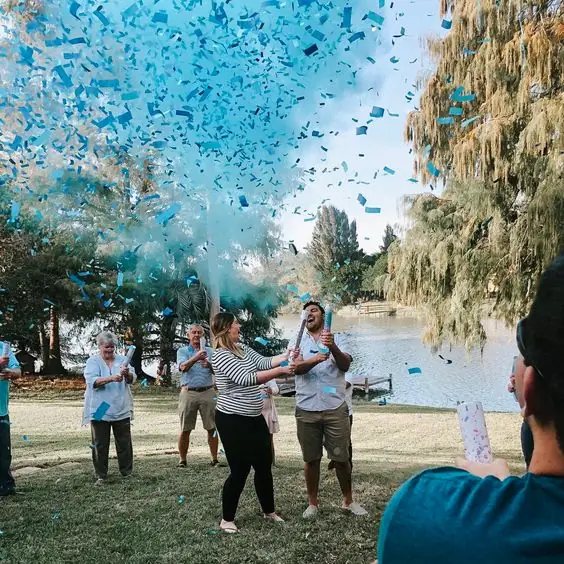 Gender Reveal Balloon Darts
Are you looking for last-minute DIY gender reveal ideas that are easy and fun? Then you should try gender-reveal balloon darts! Buy some dark balloons, then fill three with confetti corresponding to the baby's gender and two with the alternative color. For example, if it's a girl, fill three balloons with pink confetti and two with blue. Hang the balloons on an exterior wall and let guests pop them with darts. When three balloons of the same color are popped, your guests will know what the baby's gender is.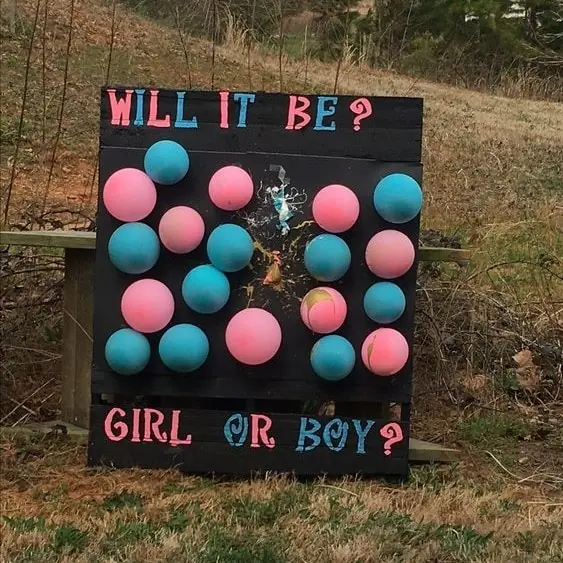 Gender Reveal Present
Buy a onesie that says "Oh boy" or "Oh girl." Wrap up the onesie, then ask the parents-to-be to open it during the baby shower to unveil the baby's gender. This easy last-minute gender reveal idea is simple and practical – and doubles as a thoughtful gift too!
Related Article: