Having a baby is a memorable and exciting time. You may look forward to a baby shower as an opportunity to share your joy with your closest friends and family. However, when no one offers to throw you a baby shower, those feelings of happiness and excitement can quickly turn into sadness and despair.
Your feelings are valid, and we sympathize with what you are going through. We hope this article provides comfort and helps you recognize that you aren't alone.
Next, we'll discuss the stories of many parents (just like you) who have had not-so-great baby shower experiences. We will also offer guidance to help you get through this challenging time and find joy.
Share your registry with WebBabyShower
• Free Trial – 14-Day Refund for any reason
• Only 1 Minute Setup!
• 80+ Custom Themes & Matching Invites
• Use Any Online Registry
• Send Unlimited Invites and Updates
• Baby Shower Games with Scoreboards, Give Prizes!
Build Your Shower
---
Did Nobody Offer to Throw You A Baby Shower? It's More Common Than You'd Think
Next, we'll share examples of parents in this situation (and other situations like it) to demonstrate that you aren't alone. While these stories are unfortunate, they also demonstrate that there are ways to find happiness, even when things don't go as planned.
"No Shower Was Offered for My First Pregnancy"
One user on the messageboard for DC Urban Mom shared her disappointment at not even being offered a shower, despite it being her first pregnancy.
"I'm 4 months pregnant with my first baby, and none of my friends have even brought up the possibility of a shower for me. (Neither has my sis, my sis-in-law, or either mom, but all probably feel that it's not really appropriate for family to host, with which I generally agree.)
Two of my girlfriends are also pregnant (I'm even hosting a shower for one) and my sis-in-law has a 5 month old. Several other friends are trying or almost ready to start. So babies are not a new thing for my friend group."
It's a sad reality, but sometimes these things happen. The responses on the message board definitely help to restore our faith in humanity, though. Women share their advice and their own experiences with the same thing. One user writes:
"So glad you posted this! I'm 5 months and in the same boat. The part that bothers me most is people keep asking, "Are you having a shower?" to which I always kinda stammer, "Uh, I don't know." In a couple months I plan to just have my husband ask my sister to throw a small shower. Not technically proper, but I've been to a ton of showers hosted by family!"
As this user demonstrates, it's ok to ask for what you want. So, don't be afraid to tell your close friends and family that no one is throwing you a baby shower. Sometimes, your loved ones may assume that someone else is doing it, which is why they haven't offered. If still no one offers, there's no need to worry. You still have plenty of options we'll discuss later on.
"I Had A Baby Shower, But Nobody Showed Up"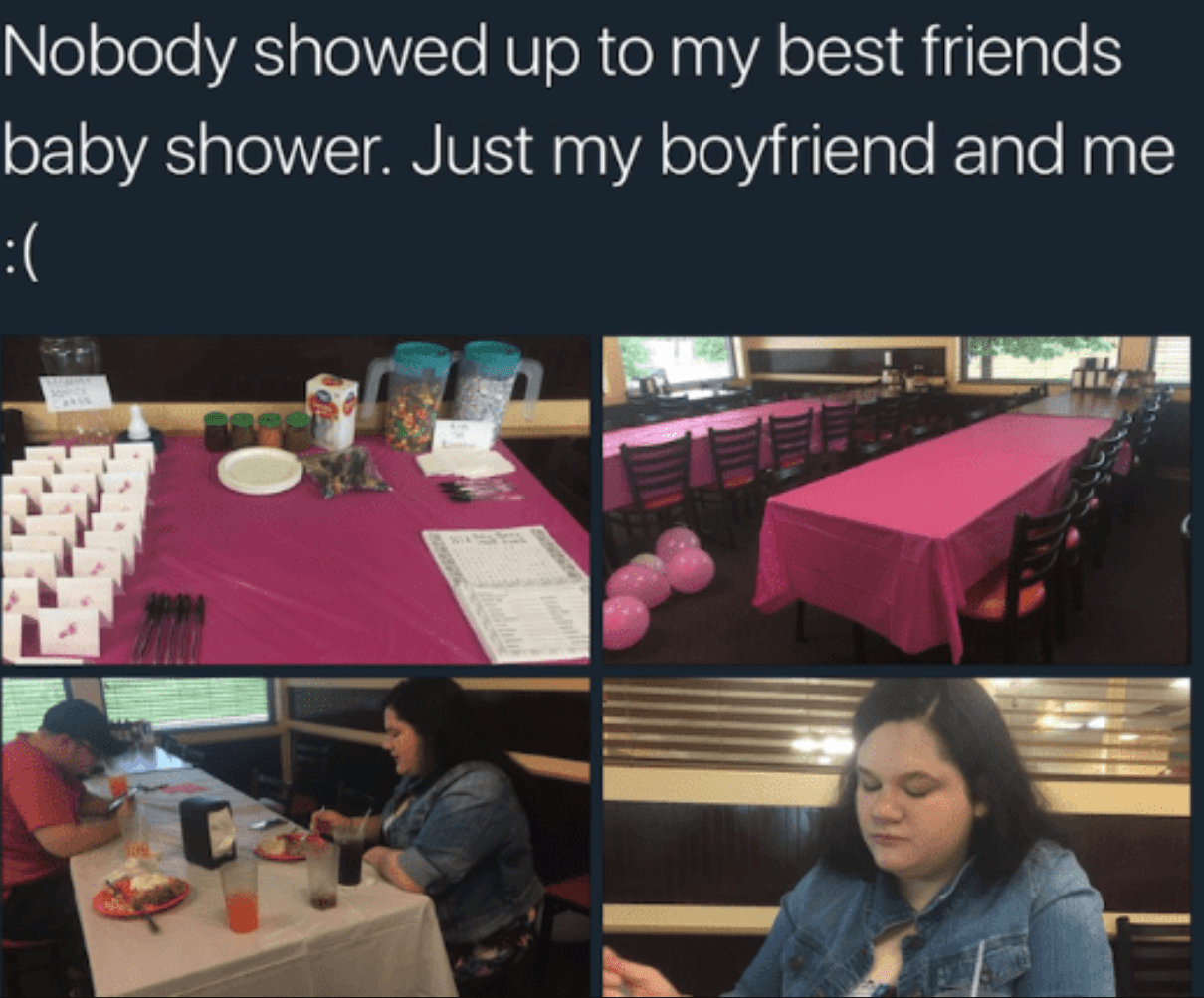 Even if someone offers to host your baby shower, it doesn't always go as planned. One mother-to-be shared on the DC Urban Mom message board about how sad she felt when so few of her loved ones attended her shower.
"Had my baby shower today. One friend came and the rest were the people who put my shower together. It's not the fact that I didn't get anything or still don't have anything for my little one that upsets me. It's the lack of support from family and friends that I've helped and been supportive of over the years. It took everything in me not to cry today, especially because no one would make eye contact with me because they all felt horrible and were afraid if they looked at me I'd cry."
Sadly, this experience has been shared by many parents-to-be, leaving them feeling unsupported by the people who matter most. It also causes many parents to feel hurt or embarrassed, as demonstrated by this mother's post on Baby Center's messaging board.
"My baby shower was today. I sent out 25 invites and only 2 people showed up. My own mother didn't even show up. I'm hurt to the core. Today has really shown me who my friends and family are. I felt so embarrassed and humiliated. I never ever want to have another baby shower. I don't want to go through that again with another child. The sad thing is that this is my FIRST CHILD. I'm just sorry I'm bringing my baby into this stressful world."
People not showing up for such a special event in your life can feel devastating. While sometimes friends and family can be negligent and forget about your special day, other times they may have travel or health concerns that prevent them from attending. Luckily, there are ways around this we will discuss at the end of this article.
"People Mentioned Hosting My Baby Shower, but No One Followed Through"
Sometimes, loved ones will hint at throwing you a baby shower at the beginning of your pregnancy. But, you may be left feeling disappointed if no one actually commits. On Baby Center's messaging board, one user shares her experience with this, stating:
"At first, many friends and family mentioned the baby shower and were excited. But now they've either all forgotten, don't care, or think someone else is doing it. When the mother-in-law asks, I tell her NO ONE is doing it. But she makes it seem like a hassle to find a date. Everyone can do it. So, apparently, it's a big inconvenience. I don't like talking to my husband about it, so I decided I won't have one. It's our first, and we're young parents, but I hate asking for things and don't want to seem selfish."
Unfortunately, cases like these demonstrate that even the people you love can get caught up in their own lives and forget to celebrate your baby-to-be. But, there are ways for you to celebrate even if you loved ones don't host for you, as mentioned by this user:
I hope your family comes through for you. If not, tell your hubby to put together a little party. You don't have to be traditional if it's too expensive for you, get some food, drinks, and just invite people. If you plan something they will come (hopefully with gifts too).
Asking your spouse to throw you a baby shower is a great alternative if none of your friends and family follow through. But, it isn't your only option (more about this later on).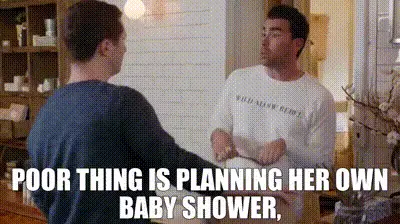 "My Best Friend Doesn't Want to Host My Baby Shower"
Your best friend is your best friend for a good reason. They stay with you through thick and thin and are there for you when you need them. So, when your best friend doesn't offer to host your baby shower, you might feel hurt, like this user who posted on The Bump's messaging board.
"Hey guys! I really want to hear what other people think because I'm pretty sad over my best friend. She has been my best friend for almost nine years, and she is not throwing me a baby shower? Should I be mad? Sad? Or just get over myself? If I put the shoe on the other foot, I would totally throw her a baby shower, so I just don't understand why she said no."
While you expect your best friend to be there for you, it's not a requirement for anyone (even your best friend) to throw you a baby shower. Your friend may be in a tight financial situation or have other life circumstances preventing them from throwing your shower. Another user on The Bump's discussion board shares this sentiment, stating:
"My best friend didn't throw me a shower for my 1st son (she is the godmother), and she's not throwing one for this baby either. She didn't go to my 1st son's shower as she was scheduled to work and couldn't get off. I was disappointed about her not being able to be there, but certainly not mad. Some people don't think about that stuff or know how to organize it."
Life circumstances can get in the way, even for your best friends. But, that doesn't mean you can't still have an awesome celebration.
"Someone Committed to Hosting My Baby Shower Then Backed Out"
Did someone in your life offer to host your baby shower, only to back out at the last minute? That is seriously hurtful, and we are sorry you are going through that. But, you aren't alone. One user shared her experience with this on The Bump's discussion board.
"My best friend actually committed to throwing mine and then backed out. Well, actually she never backed out, she just stopped responding to emails from my mom about planning it. When we tried to get her to commit to a date, she wouldn't. Finally, my mom gave up and told her not to worry about it. It sucks. I'm disappointed. But I can't make her do anything. I'm not even sure she's going to attend, she says so, but she's not very reliable right now. She has her own reasons and I understand them so I'm just letting it go."
As this user demonstrated, sometimes letting go and moving on is best. This will allow you to focus on what's important – celebrating your baby-to-be! Try to keep your chin up and focus on having an awesome celebration.
"I'm Uncomfortable Having Someone Else Host My Baby Shower"
Are you one of those people who cringes at the idea of someone else hosting your baby shower? Maybe you don't want to put a financial strain on your loved ones. Or, perhaps your close friends and fam are super busy. Whatever your reasons, you aren't alone, as demonstrated by this user's post on The Bump's discussion board.
"In my situation I am not comfortable with the idea of someone throwing me a shower but being forced to. The fact that many people will spend money they may not have on things that I will probably not use or that the baby will grow out before ever getting to wear is not exciting at all. And to have to give them ideas on what I need makes me feel greedy. I did not get pregnant so others could contribute."
If you are like this parent and hate the idea of others contributing to your baby shower, you're in luck. Nowadays, it's perfectly acceptable for the parents-to-be to host their own soiree.
What Should I do if Nobody is Throwing Me a Baby Shower?
So, no one has offered to throw you a baby shower, and you want to know what to do about it. Well, have you ever considered hosting your own?
If you've been on a discussion board recently, you might've seen some users posting about how throwing your own baby shower is "tacky." But, our customers at WebBabyShower demonstrate this etiquette rule is outdated, with nearly 30% of our users being moms who are throwing their own baby showers.
If you are considering throwing your own shower, WebBabyShower can be an awesome tool. Our online hosting platform allows you to plan your event, invite guests, and link to your registry on your customizable webpage.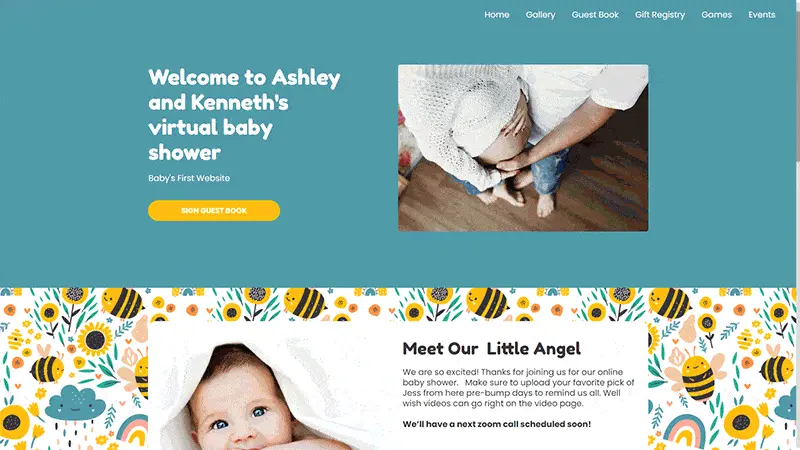 If most of your loved ones live out of town, you can use WebBabyShower to host a virtual baby shower. Our integrated video platform allows you to interact with guests, send emoji reactions, and take screenshots to capture special baby shower moments.
We also have virtual baby shower games, so your loved ones can partake in the fun even when they are miles (or countries) away.
WebBabyShower is also awesome for hybrid baby showers (AKA when some loved ones attend in person and others attend online). You can share pictures, message guests, and video call on your computer or through our app, to keep all of your in-person and virtual guests in the loop. The app comes in handy during the present opening, nursery tour, and other baby shower events where you need to move around.
Want some more guidance on throwing your own baby shower? Check out this article.
Conclusion
It can hurt when no one offers to throw you a baby shower. But this article demonstrates how you can turn an unfortunate situation into a positive one by taking matters into your own hands.
If you plan to host your own baby shower, WebBabyShower is a fantastic tool for online, hybrid, or in-person events. You can customize your webpage, send invites, and plan and host your baby shower from our easy-to-use platform.
We hope this article has empowered you to do what's best for you and your baby-to-be. Know that you deserve an excellent baby shower – whether you host it yourself or not!