Walmart Baby Registry Box 2023
Hey there, soon-to-be parents and baby enthusiasts! We've got the inside scoop on the incredible Walmart Baby Registry Box for 2023. Picture this: practical samples from top brands, no strings attached, and a box filled to the brim with surprises that'll have you squealing with joy.
We'll tell you everything you need to know about the box, including whether or not it's actually free, what kind of stuff you can expect to receive, and its various pros and cons.
So buckle up, and get ready to dive into the ultimate guide to the Walmart Baby Registry Box for 2023.
Is the Walmart Baby Registry Welcome Box Free?
When it comes to "free" baby boxes, it's frustrating how many of them come with sneaky strings attached. Suddenly, you're expected to make purchases, jump through hoops, and complete all sorts of registry acrobatics before you can even lay your hands on that supposedly "free" box. Seriously, it's enough to make your head spin!
But fear not, because the Walmart Welcome Box breaks free from this crazy circus. All you have to do is create a registry with Walmart, and voila! You're in for a truly free treat. No mandatory purchases, no secret codes to decipher—just pure, unadulterated free goodies.
Throw a Virtual Baby Shower so Everyone

Can Celebrate!

• Free Trial – 14-Day Refund for any reason
• Only 1 Minute Setup!
• 80+ Custom Themes & Matching Invites
• Use Any Online Registry
• Send Unlimited Invites and Updates
• Baby Shower Games with Scoreboards, Give Prizes!

Build Your Shower
---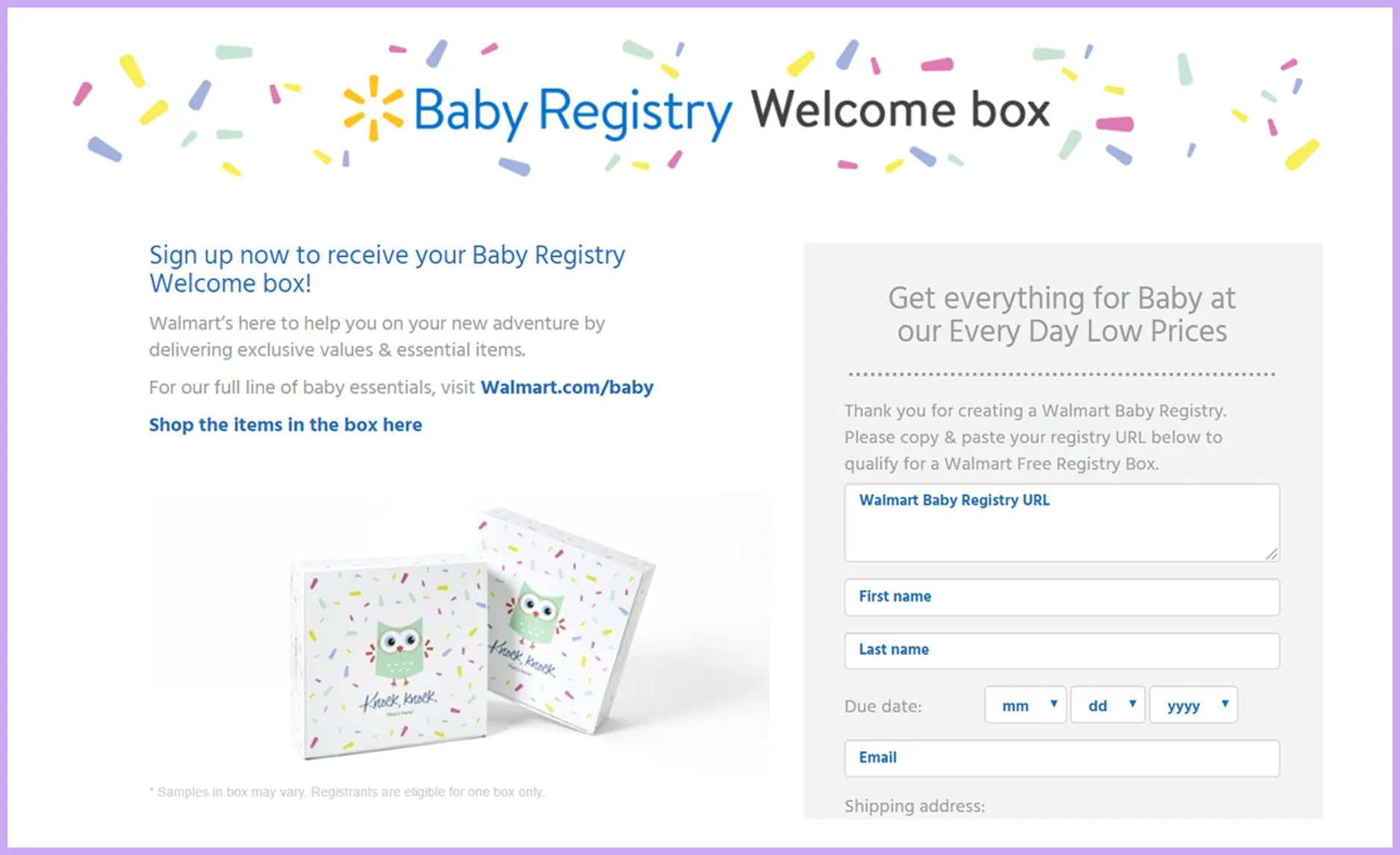 How To Get the Walmart Baby Registry Welcome Box?
Claiming the Walmart welcome box is super straightforward. All you have to do to be eligible is create a baby registry with Walmart. So simple, right? Once you've completed this step, visit Walmart's Baby Registry Welcome Box page, where you'll be asked to provide important deets, like your registry link, name, email, due date, and shipping address. After submitting these details, just sit back and relax as your box gets shipped to your doorstep. It's as easy as that!
What Comes in Walmart's Free Baby Registry Box?
Like many other free baby boxes, Walmart keeps what's included in its box under lock and key. So, you'll have to wait and see what items they'll give you. However, they often include products from top baby brands like Huggies, Dr.Brown, Dreft, and Enfamil, so you'll have plenty of awesome stuff to look forward to!
To give you an idea of what to expect, here are some items that were included in a few of Walmart's Baby Registry Boxes in 2023:
Liquid IV pouch
Frida Mom breast mask
Aquaphor sample
Organic Valley baby formula sample
Poise pad sample
Desitin diaper rash cream
Two Dr. Brown baby bottles
Three-pack of Huggies diapers
Pipette body lotion
Baby milestone cards
Pamper wipes sample
Baby cold medicine samples
Dreft laundry detergent sample
Johnson and Johnson baby wash
Johnson and Johnson lotion
Various product coupons
As you can see, the Walmart baby registry box encompasses a wide range of products for both mom and baby. From nourishing essentials to practical items, you and your little one will have the opportunity to explore and discover new favorites that you can add to your baby registry.
What Are the Pros and Cons of the Walmart Baby Registry Box?
Receiving free stuff is downright awesome, and we're super grateful for Walmart's Free Baby Registry Box, no matter what's inside! But let's dish out the deets on why Walmart has the upper hand compared to other free boxes, like those from Target and Amazon, as well as some areas where they might lag behind a bit.
Now, let's start with the pros that make the Walmart Baby Registry Welcome Box rock:
It's absolutely, positively free. We know we've already mentioned this, but it's worth repeating. Unlike other welcome boxes that have all sorts of hoops to jump through, Walmart's baby registry box doesn't come with any catches. You won't have to make purchases or meet specific registry requirements. It's just free, plain and simple.
Even the shipping is free. When we say free, we mean FREE. Even the shipping on the box is free. So, you literally won't have to spend a dime.
Higher valued products than Amazon. Walmart's box has around a $40 value, while Amazon's clocks in at $35. On top of that, Amazon makes you jump through hoops by requiring a purchase and completing a hefty chunk of your registry checklist before you can even qualify. So, Walmart's box comes out on top in many ways.
Say goodbye to store pickups. While some other welcome boxes require you to trot down to the store to pick them up, Walmart's baby welcome box is shipped right to your doorstep. No need to worry about finding a store nearby or squeezing it into your already busy schedule. Convenience is the name of the game!
Practical samples from top brands. Walmart knows how to pick 'em. Their samples are not only useful but also come from well-loved brands like Huggies, Dr. Brown, and Enfamil. Plus, they often throw in items from up-and-coming brands, giving you the chance to try out some of the best products of 2023. It's like a mini treasure trove of baby goodness!
Offering a limited-edition postpartum care box. As if one free box wasn't enough, Walmart now for a limited time is sending a free postpartum essentials box during your third trimester. Packed with goodies like lactation sweets, poise pads, tea, postnatal supplements, lotions, and more, this box is your ticket to healing and rejuvenation after your little bundle of joy arrives. Don't miss out—keep an eye out for the email about your Walmart Baby Registry Welcome Box and opt-in for this fabulous bonus.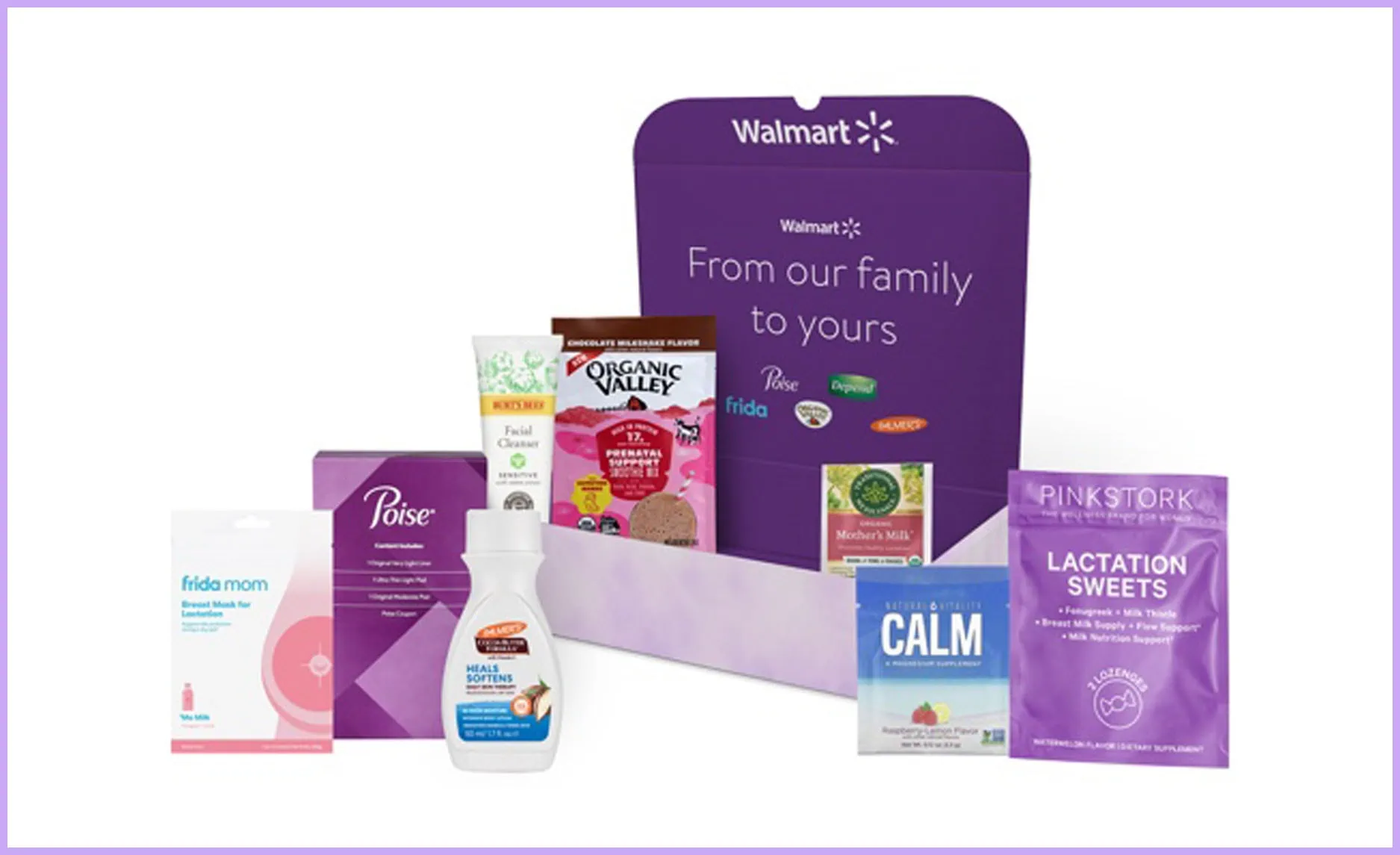 But, hey, let's keep it real and discuss a few minor cons:
Patience is a virtue. Some moms who've ordered the box mention that shipping can take a while. We're talking weeks or even months, folks. So, if you're in a hurry to get your hands on that box of goodies, Walmart might not be the fastest option out there.
Elusive availability. Brace yourself for this one—the box tends to go out of stock pretty frequently. That means you might end up on a waitlist, leading to a longer wait time. Registering early in your pregnancy helps, but if you're late to the game, you might miss out on some samples. Bummer!
Fancy isn't always the name of the game. Some other boxes out there might seem a bit fancier, with higher-priced items. However, keep in mind that they often come with more requirements to qualify. So, while Walmart's box might not scream "luxury," it still packs a punch in terms of practicality and value.
Includes fewer products. Compared to Amazon and Target, the Walmart welcome box tends to include fewer products. For example, a typical Target box includes 13 to 17 items, whereas a typical Walmart box includes 11 to 13. Walmart's Welcome Box also has more samples than full-sized products. But, once again, it's easier to acquire than Amazon or Target's boxes, so you'll have to weigh the costs against the benefits.
There you have it, the scoop on Walmart's Welcome Box. It's pretty awesome overall, with a few minor quirks to keep in mind. So, go ahead, get that registry going, and enjoy the freebies that Walmart has to offer.