It's baby shower time!
There are many things that go into planning your baby shower: the menu, the theme, the guest list, and of course, the games. At WebBabyShower, we want to help you plan the perfect baby shower that has lots of unique, personal touches. We're the industry leader in virtual baby showers, and love helping people all over the world host truly memorable events!
So, trust us when we say that one of the easiest ways to make your baby shower special is to incorporate a baby shower slideshow.
This is a fantastic way to share the special memories and moments you've enjoyed throughout your pregnancy with your friends and family. It's the perfect addition to what is sure to be an already memorable day.
So how can you add a slideshow to your baby shower? We've got everything you need: from getting started with a baby shower slideshow, to make it absolutely perfect, we've got you covered. Let's get started!
Where Do I Start With My Baby Shower Slideshow?
If you've ever been to a party with an especially touching slideshow, creating one yourself might feel like a daunting task. But the good news is that creating a slideshow for your baby shower is surprisingly easy—and the results are adorable. If you start with the basics, the rest will follow. Here are some easy ways to get started.
Throw a Virtual Baby Shower so Everyone

Can Celebrate!

• Free Trial – 7 Day Refund for any reason
• Only 1 Minute Setup!
• 40+ Custom Themes & Matching Invites
• Use Any Online Registry
• Send Unlimited Invites and Updates
• Baby Shower Games with Scoreboards, Give Prizes!

Build Your Shower
---
Gather Cute Photos for Your Baby Shower Slideshow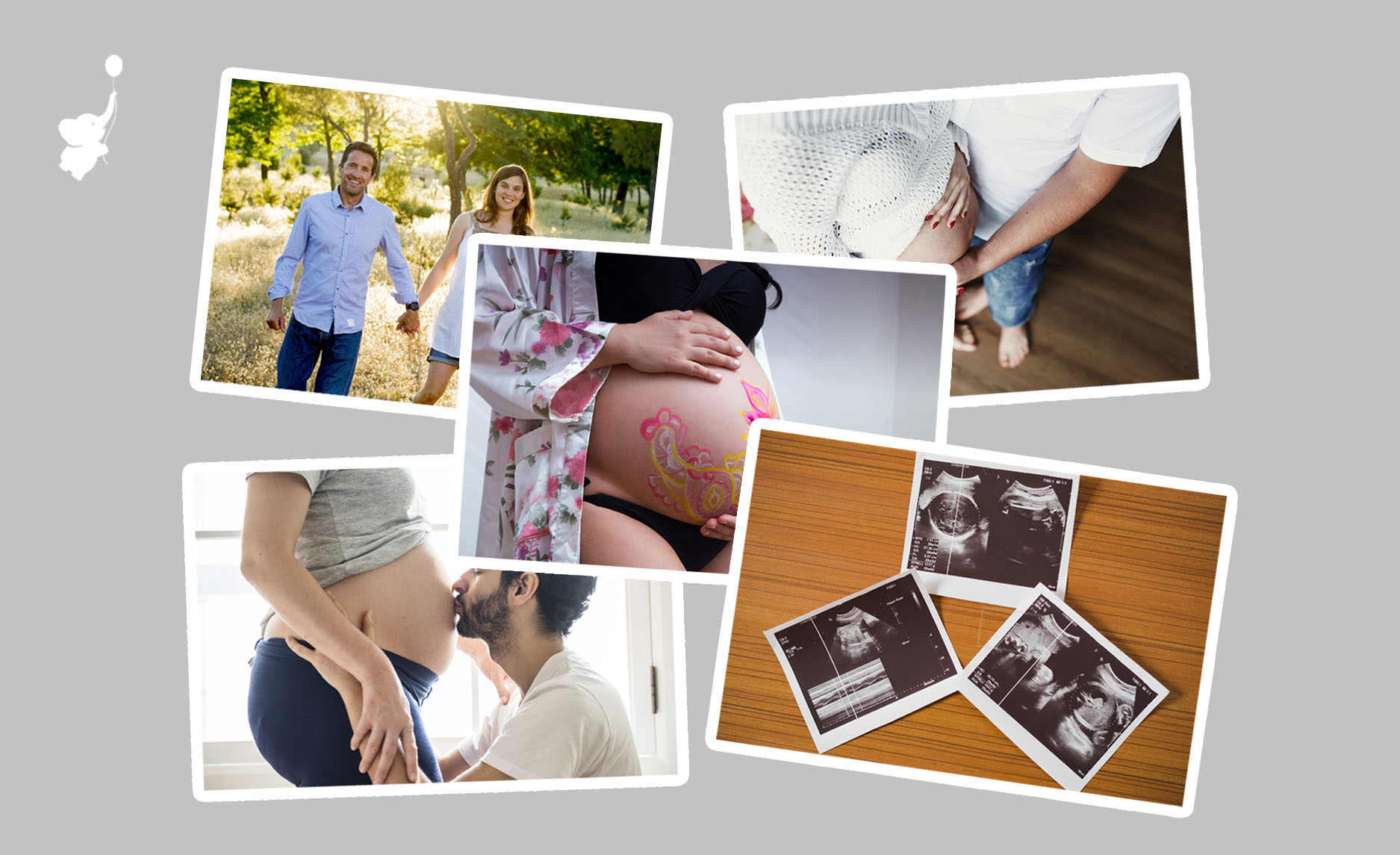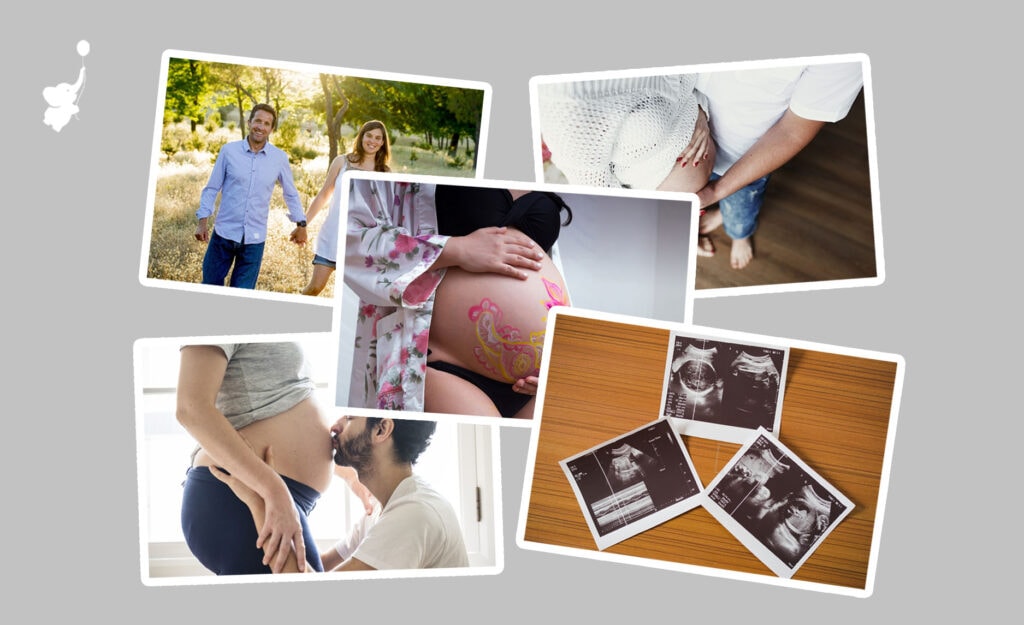 First thing's first: get the photos you want to include in your baby shower slideshow together, and go from there!
Collect photos of your pregnancy announcement, gather any baby bump progression pictures you've taken and make sure to include lots of photos of you and your partner together. If you surprised the grandparents-to-be with your pregnancy announcement and caught their reaction on camera, this is the perfect place to share those photos!
Baby pictures of you and your partner make a great addition to baby shower slideshows, but you may not have access to those photos digitally. That's okay! Just grab the physical photos and scan them—now you have digital versions that you can not only use in your slideshow but can save for your kids to look at when they get older.
Invite your guests to share their photos, too. WebBabyShower is the perfect place to coordinate guest correspondences. We make it easy to contact all of your guests in one place without having to send physical party flyers, invites, or cards – and guests can even use the WebBabyShower gallery feature to upload their photos!
Choose Your Software
Once you've collected your photos, it's time to choose your slideshow software. We definitely recommend doing some research and choosing the software you're most comfortable with. If you aren't sure where to begin looking, we have a few simple options for even the technologically challenged!
Google Slides: This allows you to create a simple—but cute—slideshow, but the downside is that you can't add audio. If you want a slideshow with music, Google Slides probably isn't a great choice, though you could create a Spotify playlist to play in the background as you show the slides.
PowerPoint: This platform is simple to use like Google Slides, but unlike Google Slides, you can add audio!
Icecream Slideshow Maker: For those wanting a more artistic flair, check out Icecream Slideshow Maker. This is a great, free tool that helps you create beautiful slideshows. Features include artistic transition effects, text addition, and the ability to add music. The downside to this app is that it's only available for Windows, not Apple.
Choose a Theme
You've got your photos, you've picked your slideshow software, now it's time to choose a theme! Do baby forest animals make your heart flutter? Or maybe you want something inspired by a certain child wizard with a lightning bolt scar.
If you're entirely at a loss for inspiration, WebBabyShower has a fantastic collection of themes to choose from in our theme gallery! If you do choose a WebBabyShower theme, you can pair it with your slideshow by choosing similar colors, animals, and other imagery!
Pro Tip: If you're really into making things match, install an extension to your Chrome web browser like ColorPick Eyedropper. You can use this color matching tool to "grab" the colors in your WebBabyShower theme.
Once you have the colors, you can make sure everything matches (like your slideshow background!). You can also use this tool to match any printed invitations and decorations with your WebBabyShower theme!
Choose Your Music
A playlist that's well-coordinated with your slideshow will evoke all the right emotions, so choosing the right music is a crucial step. Whether you include songs directly in your baby shower slideshow or make a Spotify playlist, music is a must-have feature.
Here's a list of our top ten favorite songs to consider for your slideshow, to get you started:
"You'll Be in My Heart" by Phil Collins
"I Knew I Loved You" by Savage Garden
"Lullaby" by Billy Joel
"Mouth's Cradle" by Bjork
"Lullaby for Wyatt" by Sheryl Crow
"Blue (ft Blue Ivy)" by Beyonce
"Miracle" by Celine Dion
"Just the Two of Us" by Will Smith
"Count on Me" by Bruno Mars
"Better Together" by Jack Johnson
To get your friends and family involved, make your Spotify playlist collaborative! This way, your guests can add their favorite songs to the playlist.

It's easy to create a public playlist and make it collaborative:
Log in to your Spotify account on a desktop computer.
Below your existing playlists, click the "+ New Playlist" button. Give your playlist a name, description, and choose an image if you want one. (Great opportunity to match it to your WebBabyShower theme!)
Once you've created your playlist, you can now make it collaborative.
Next to the green "PLAY" button is a series of three dots. Click the three dots, and select "Collaborative Playlist."
Click the three dots again, and select, "Share," then "Copy Playlist Link." Share the link with anyone you want to become a baby shower playlist collaborator, and you're done!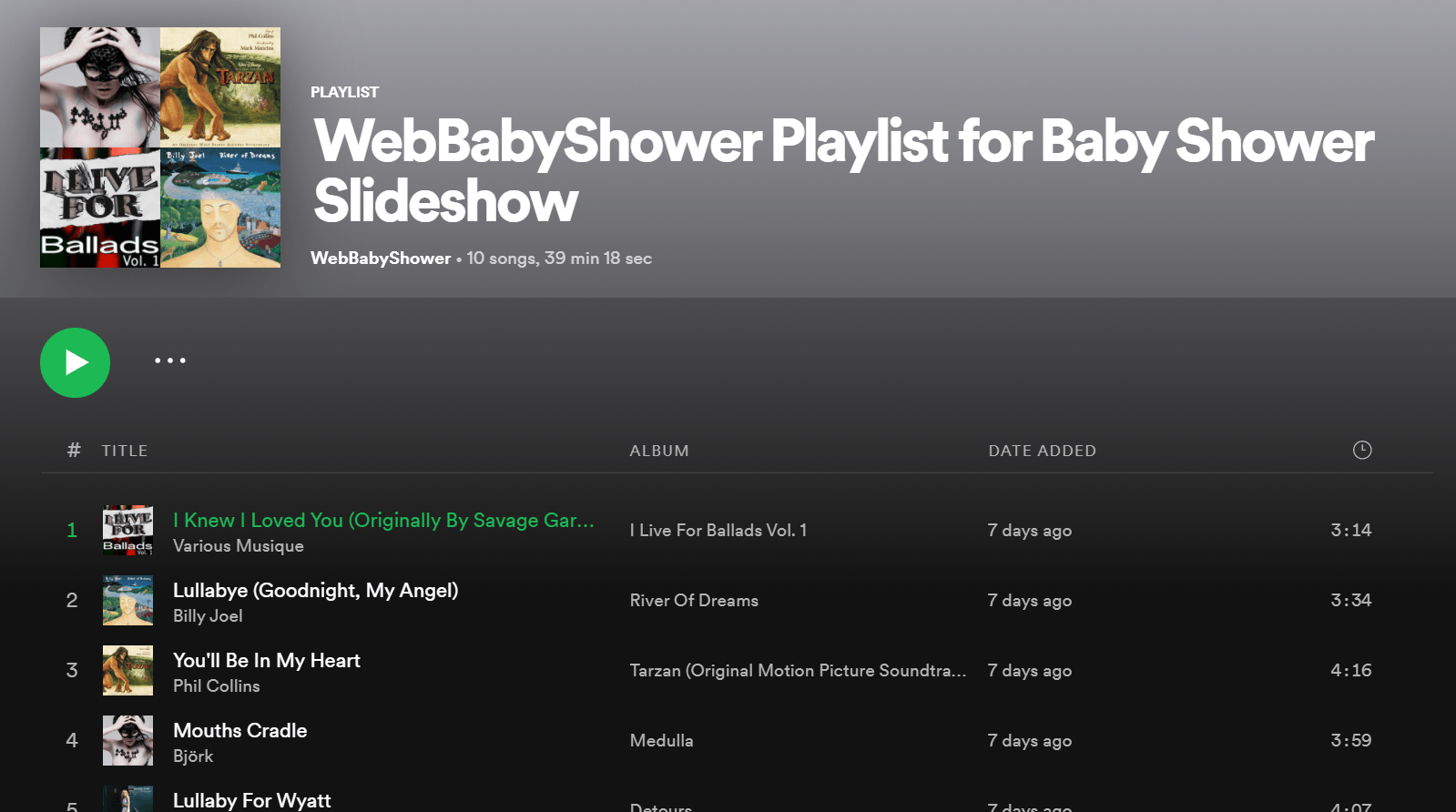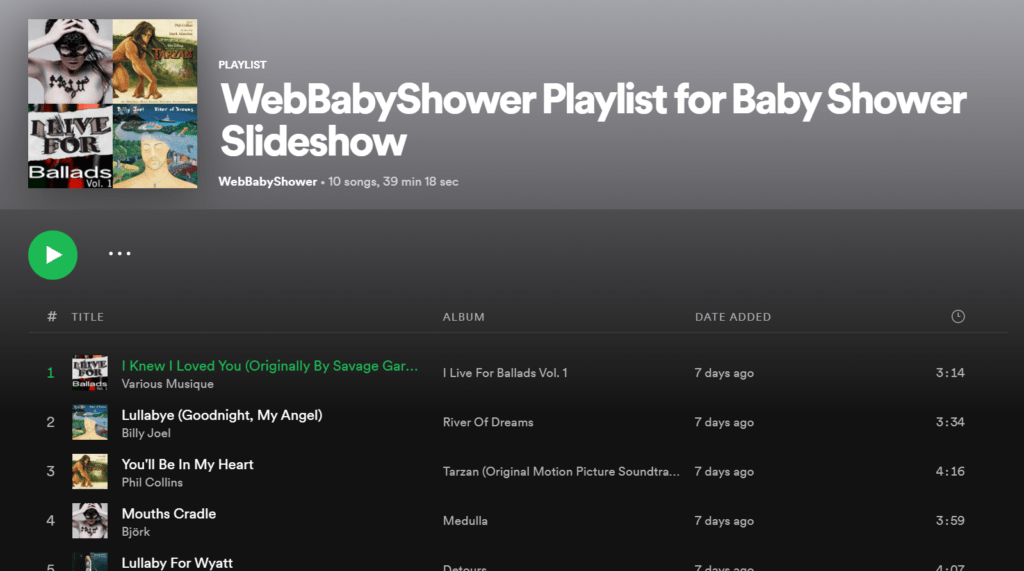 If you don't have the time to make a Spotify list, we've gone ahead and made one for you here. Be sure to click the heart icon to save this playlist to your Spotify library. You're welcome!
A Baby Shower Slideshow Can Make a Great Gift
If you're the baby shower host, or a close friend or family member of the parents-to-be, creating a baby shower slideshow can make a fantastic gift! While diapers, wipes, and bibs are definitely essential for babies, creating a slideshow gives the parents-to-be something they can keep and cherish forever.
Creating a slideshow for mom and dad is perfect as a long-distance gift—but you can make it a physical gift, too. You can purchase USB data sticks cheaply from Amazon (in packs of 10 or 20) and upload the slideshow onto them. This way, you can give them as a gift to both the parents-to-be and baby shower guests! It's a relatively inexpensive gift, but there's a lot of love and thought that goes into it.
How Do I Utilize a Baby Shower Slideshow?
Alright, so you've made your perfect baby shower slideshow. You chose great photos and paired them beautifully with the perfect playlist. Now what? Here are a few quick tips on how to best utilize your baby shower slideshow.
Make sure it's not too long—any longer than two minutes and guests may get bored. You can even create collages rather than showing each individual photograph as its own slide, which provides a bit of variation in your slideshow and also helps with the overall aesthetic appeal.
There are several ways you can include your slideshow in the actual event, and the way you include them depends on the type of shower you're having:
If you're having a light-hearted shower with more of a 'party' atmosphere, consider creating a funny slideshow and showing it at the beginning as an icebreaker (this works great for virtual showers too).
If your slideshow is more emotional, include it at the end of the baby shower to end on a sentimental note.
You could also leave it out of the actual baby shower completely and just use it on the WebBabyShower platform—or on a USB stick to hand out as a baby shower favor!
Here's how to utilize your baby shower slideshow depending on whether you have a virtual baby shower, an in-person baby shower, or a hybrid baby shower:
Virtual Baby Shower Slideshow
If you're hosting a virtual baby shower, WebBabyShower makes it easy to showcase your beautiful baby shower slideshow. Here are a few ideas to incorporate your slideshow into a remote baby shower with WebBabyShower:
Add the baby shower slideshow to your WebBabyShower homepage so guests see it as soon as they visit your shower.
Send it out in a link via e-mail using our built-in e-mail system.
If you're doing a Zoom call during your virtual baby shower, you can also use it as an intermission halfway through to break things up and prevent the dreaded Zoom fatigue.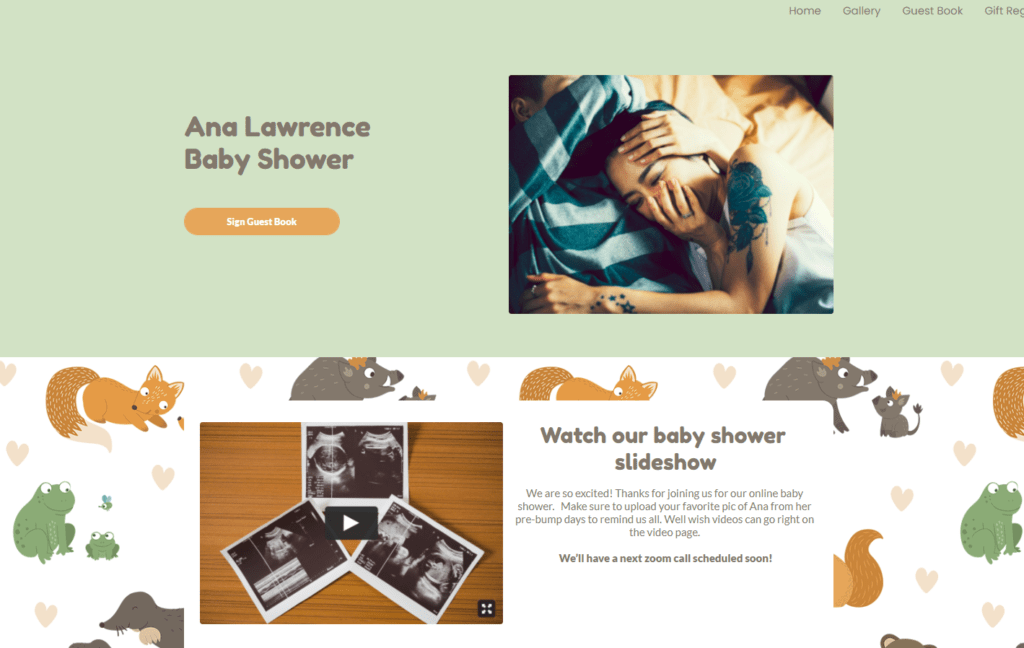 In-Person Baby Shower Slideshow
If you're hosting an in-person baby shower, there are several ways to utilize your baby shower slideshow! Here are a few ideas to make your slideshow a hit at a traditional, in-person baby shower.
Set up a projector close to the entrance of your baby shower and have the slideshow playing on a loop so people can watch at their leisure.
Set up a designated time for everyone to sit, gather, and watch the slideshow. (Just like with the virtual shower, you could use it as an intermission while people eat or chat!)
If you want to get really creative, use your baby shower slideshow as a way to play a baby shower game. For example, anytime mom-to-be's bump is shown, someone could shout "BUMP!"
Hybrid Baby Shower Slideshow
Having a combination of an in-person and virtual baby shower? No problem! You can incorporate your baby shower slideshow. Here are a few ideas on how to include it in your hybrid baby shower.
Use it to play the "BUMP!" game we mentioned above for both in-person and virtual guests.
Set up a slideshow screen that's being shared both in-person and on Zoom.
Use WebBabyShower to upload the slideshow so virtual and in-person guests can view it anytime they like!
Baby Shower Slideshows: Easy, Fun, and Memorable
We know that thinking about creating a baby shower slideshow can feel overwhelming, especially on top of all the other things that come along with planning a baby shower! Between not knowing what to include, what type of music to play, what software to use, or how to fit it in with your baby shower, it can feel like a lot.
Whether you use your slideshow during an in-person baby shower or a virtual one, baby it's a simple but powerful way to bring people together to celebrate the start of a new life. You can turn the slideshow into a keepsake or include it as a feature of your WebBabyShower page that people can access at any time.
Hopefully, our how-to guide helps answer all of your questions, and gives you the confidence to make a baby shower slideshow that you and your guests will love and cherish for years to come!