"Not another Zoom call!" Sound familiar? Sometimes a video chat can be downright awkward for several reasons. People run out of things to discuss or get bored. They tire of looking at the screen or having their face on camera. If you're hosting a virtual baby shower using Zoom, maybe you have questions about Zoom fatigue. How do you make sure the conversation doesn't lag and everyone stays entertained? We're here to help with tips about how to prevent your virtual baby shower from becoming yet another Zoom call.
Apparently, Zoom Fatigue Is Still a Thing
We all started to experience Zoom fatigue in 2020 after realizing that it can be pretty weird to have a meeting online, especially if you're meeting with others using Zoom for extended amounts of time every week. Zoom fatigue is the term for the burnout people experience when they overuse virtual communication platforms. This exhaustion may occur from having too many video meetings for work or simply from using Zoom to communicate all too frequently with friends and family. And now, since Zoom meetings are so common, people may be feeling over it.
With COVID-19 still keeping many people home, we've all gotten used to new ways of doing things. People are now able to chat using video services like Zoom easily. It's an excellent example of how people adjust to their circumstances, but it may be at the point of being too much.
We may perhaps begin to associate Zoom with our jobs or we may simply be annoyed with it and automatically feel frustrated with it, without knowing exactly why. It can make it challenging to get into a fun mood if someone suggests a video chat.
The frequent use of Zoom has started to affect all of us, but there are ways to make video calls fun; you just need some new ideas. As the No. 1 leader in virtual baby showers, WebBabyShower has some excellent suggestions for keeping your party light.
Throw a Virtual Baby Shower so Everyone

Can Celebrate!

• Free Trial – 7 Day Refund for any reason
• Only 1 Minute Setup!
• 40+ Custom Themes & Matching Invites
• Use Any Online Registry
• Send Unlimited Invites and Updates
• Baby Shower Games with Scoreboards, Give Prizes!

Build Your Shower
---
Not Another Zoom Call
Since Zoom calls are not always associated with parties, it might be tempting to worry that your virtual baby shower will be just another Zoom call, similar to a meeting at work. So, how do you create a party atmosphere that doesn't make people feel tired from using video chat?
First of all, a WebBabyShower includes more than just a video chat element. After all, there's so much more that makes an event a baby shower. WebBabyShower has a variety of beautiful invitation templates and themes for your personal baby shower website that will brighten up anyone's computer screen, and there are even games you can play to keep guests entertained and prevent Zoom fatigue..
To really understand Zoom fatigue, you should know the reasons people feel this particular kind of burnout. According to Jeremy Bailenson, a communications professor at Stanford who published his theories on Zoom fatigue in the journal Technology, Mind, and Behavior, there are four things that make Zoom calls difficult for people.
First, people tire of making eye contact. On Zoom, it feels like people are closer to us than they are, making eye contact feel stressful after a while.
Second, people experience a kind of cognitive overload. We're seeing people's expressions, and we may interpret them in specific ways without having the full context, overthinking social cues. It exhausts our brains. We also feel that our behavior is constantly being watched by others, making us more aware of everything we do.
Next, seeing yourself on screen for a prolonged amount of time can make you tired because you judge your own behavior.
Finally, you can't move around when you're on a Zoom call; you're pretty much stuck in one spot, and most people prefer to have the freedom to stand up or move to a different room.
Fortunately, there are ways to fight Zoom fatigue!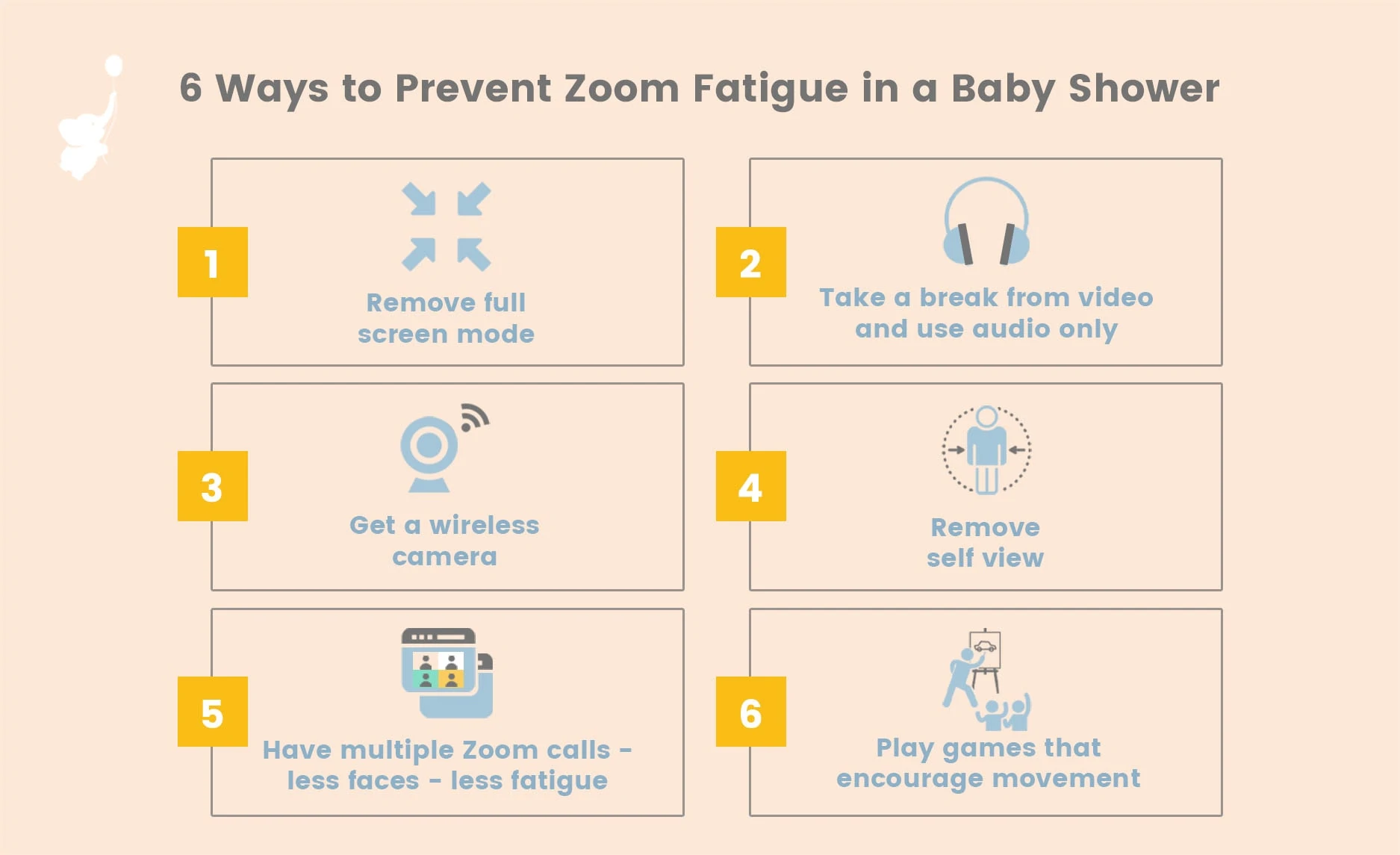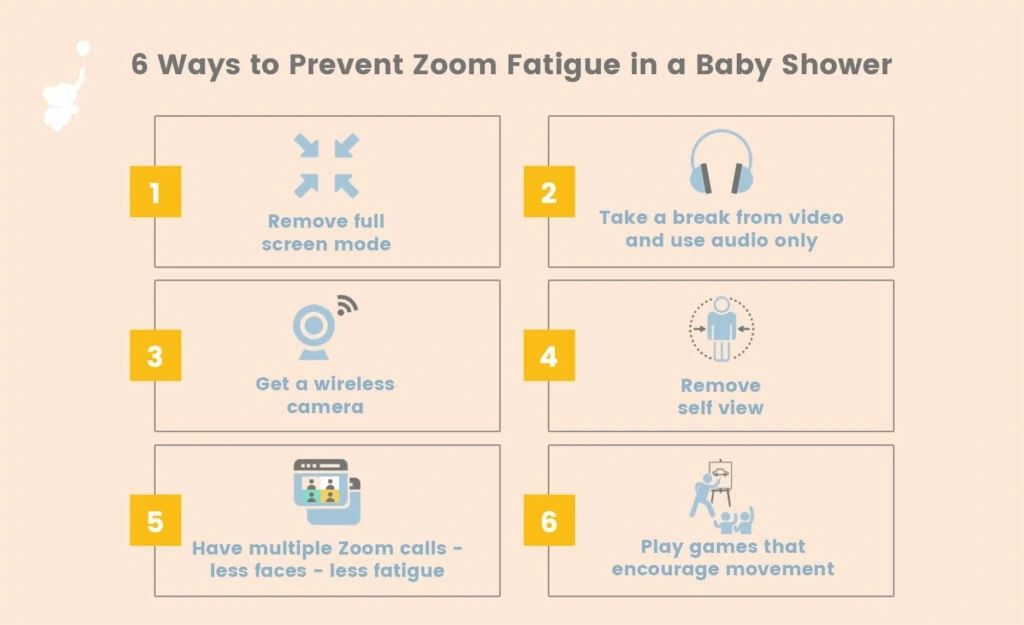 How to Prevent Guest Fatigue During a Virtual Baby Shower
With these four critical causes of Zoom Fatigue in mind, it's time to consider some solutions, so you can enjoy your Zoom baby shower. With these ideas, your guests will be happy to participate, even if Zoom calls are a constant in their lives or if they just got done working at a computer all day. Your event will feel exciting and new!
1. You don't have to full-screen it
Rather than having the camera on full screen, you can make things less intense by making the people's video calls appear smaller on the Zoom call. You can do this by using Gallery view, which you can access in your settings. This way, all your guests can see one another, but there's less pressure. It doesn't feel like the other video callers are in your space as much, reducing the stress caused by interpreting social cues.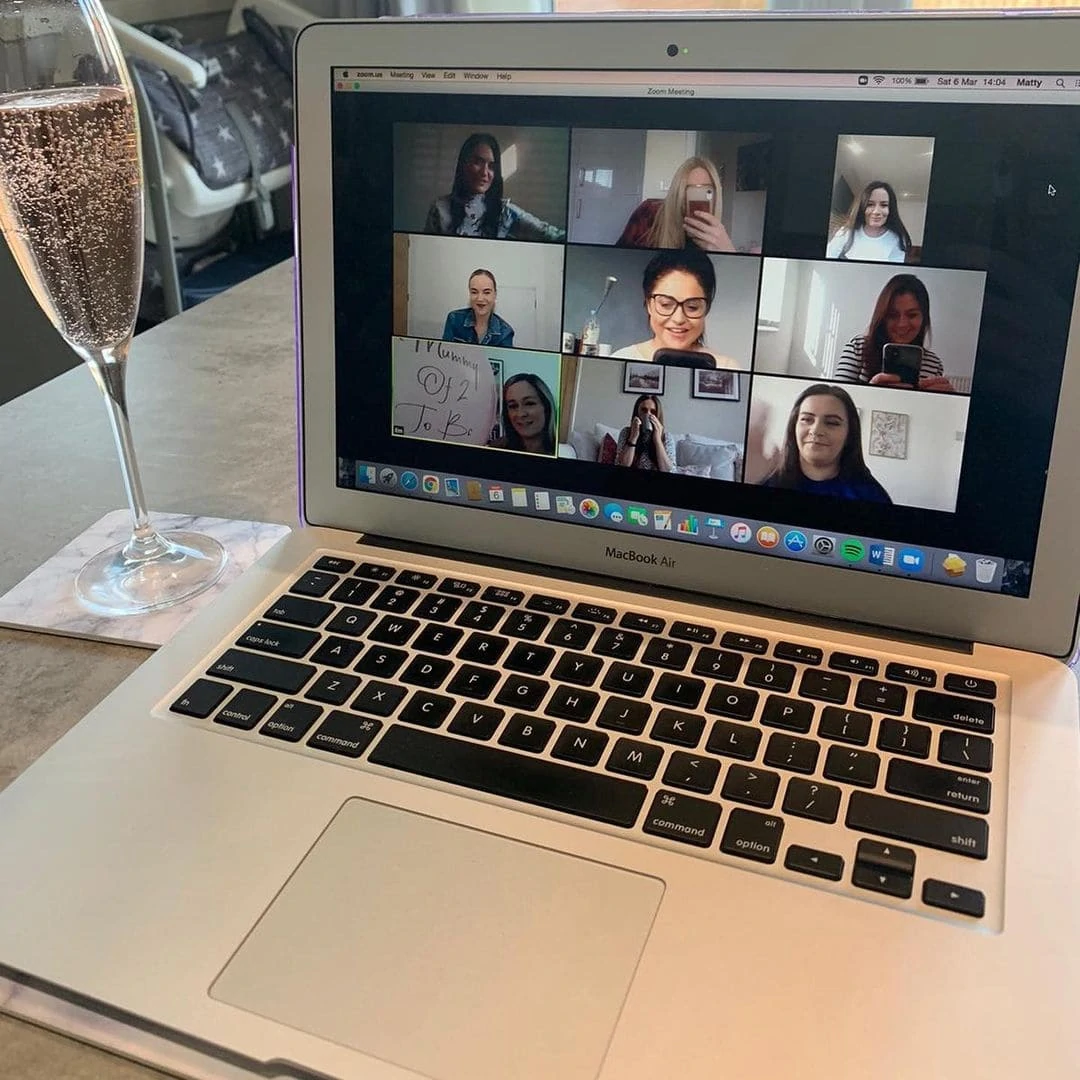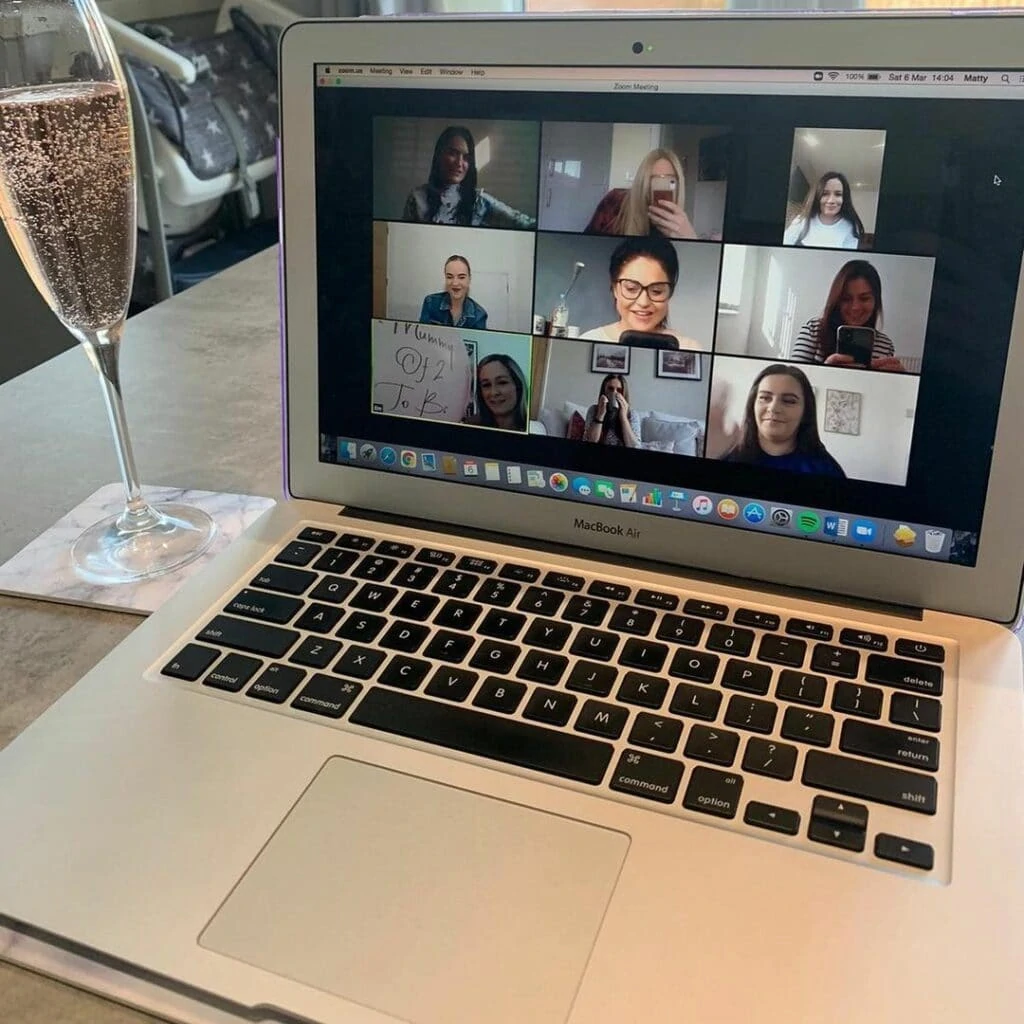 2. Take breaks from video
You can still connect with guests without video chat. Try playing some live games on your WebBabyShower website. Guests can also enjoy baby shower games that only require audio like Baby Jeopardy or Name that Tune. This way, people can take a break from constant face time. It also gives your brain something to do other than stare at the screen. Providing this relief from eye contact is essential for a good baby shower video chat.
3. Suggest to guests to get a wireless camera so they can place it away from their device
In order to create more freedom of movement, it's a good idea for guests to have a camera that they can walk around with or one that can be placed away from their device and moved easily. That way, they aren't restricted to just one room or one chair for the entire event. Plus, this makes the vibe more relaxed, and it will feel more like a party. Instead of guests dealing with wires and restricted movement, suggest that they purchase some wireless headphones for the Zoom baby shower, or consider doing the call on mobile on your home wifi. They can stand up, walk around, and not feel confined to one place. Even if they choose to stay in one spot, they can move around if they want to, which helps people feel better mentally.
4. Tell your guests to remove self-view (be polite about it!)
Removing self-view can make many people more comfortable. They won't feel like they have to look at themselves on the screen all the time. It reduces the tendency to judge ourselves or constantly focus on what expressions we're making. You can kindly ask people to remove self-view by telling them that it creates more room on their screen to see the other guests' faces.
Giving the option to remove self-view can help many people feel better, especially if they're unfamiliar with technology. You can remove your image from your screen by going to the settings menu during a video call and selecting "Hide Self-View."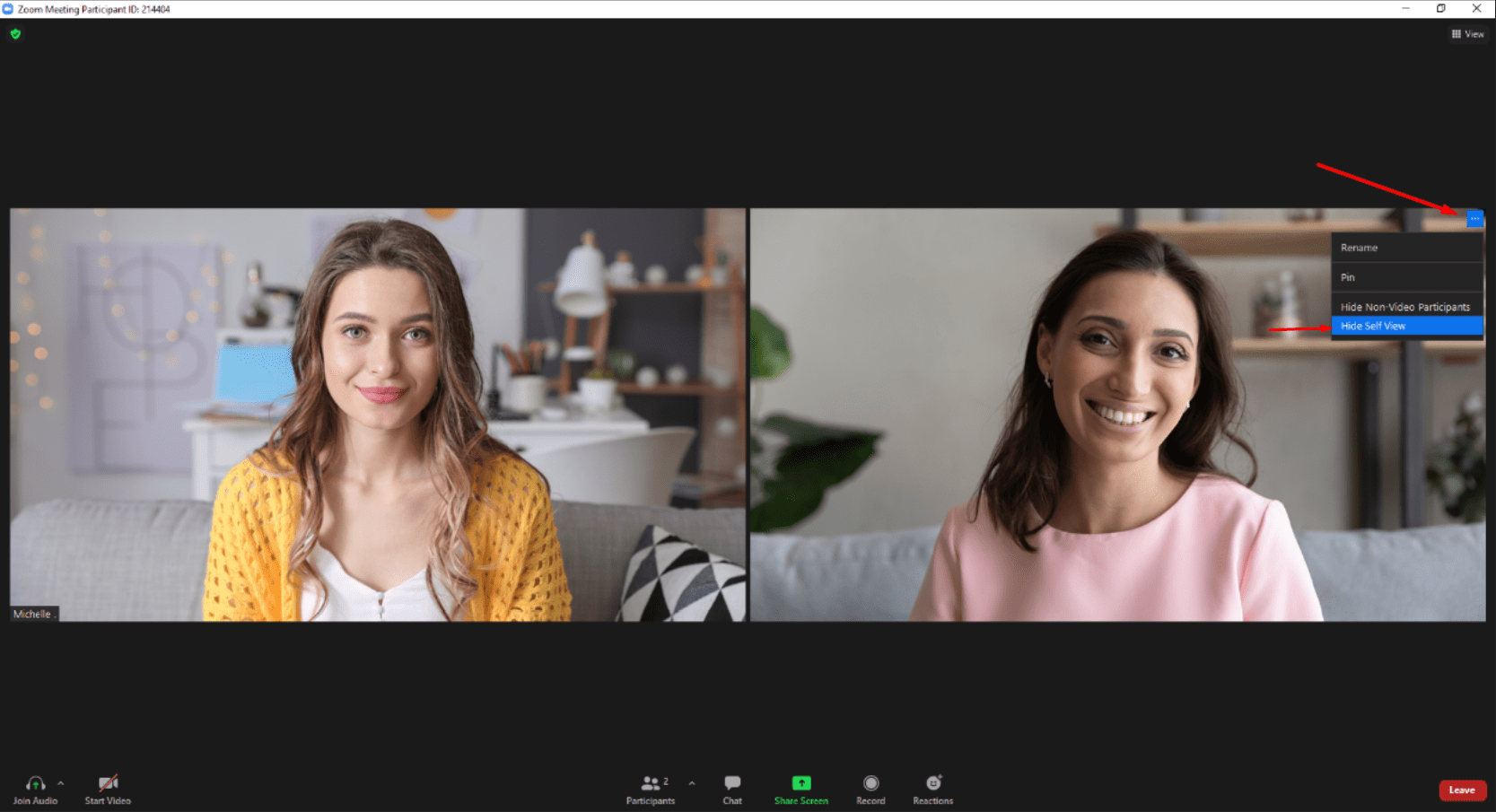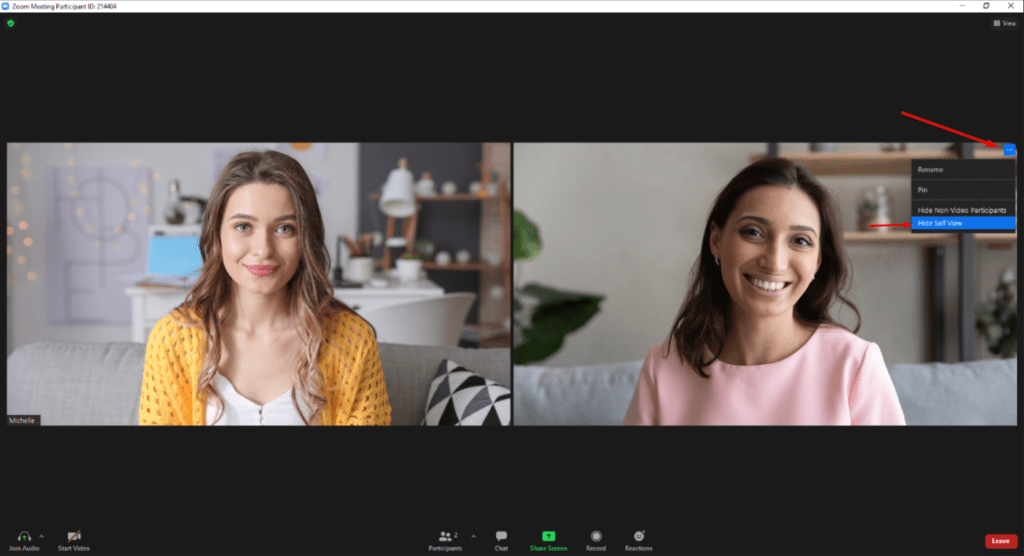 You may also have friends or family who prefer not to be on camera at all. Let your guests know that this is perfectly okay, and they can still join in the call with audio. Making guests feel comfortable is the No. 1 priority at any fun event.
5. Have multiple Zoom calls
One of the most awkward things at a party is when guests don't get along or don't know each other well. You can prevent this uncomfortable situation by scheduling multiple Zoom calls, grouping together people who are familiar with one another. To give you an example, you might want to keep close family in one group and work friends in another. That way, people feel that they're part of the party and don't get uncomfortable.
Plus, if you have fewer people on a video chat, it can be much more relaxed. Four people, for example, is much more manageable than 20.
It's very common to host more than one baby shower, so separating guests into different parties isn't anything newYou can do this by making each Zoom call last for a short amount of time (say, 20 to 40 minutes) and tailoring the party's experience a bit based on who is attending. For example, you might choose to play many games with the co-worker group, but perhaps close family and grandparents prefer just to talk and see the parents-to-be open presents. Determine what makes sense for each group, and do that.
Are you wondering how to invite everyone when there's more than one shower? WebBabyShower has an effortless way to share invitations to multiple guest lists. Our invitation maker helps you to design custom invites for guests. You can have lists for friends, relatives, colleagues, and more. Everyone will feel included and welcomed at the event with your custom invites.
6. Play a game that requires your guests to move around
One of the causes of Zoom fatigue is that people feel constricted to one space. Do away with that altogether by playing games that require movement. It will keep people from sitting too long and feeling tired, too! Keeping guests energized is one of the most important things for a good party atmosphere.
Scavenger hunts can be tons of fun for a Zoom baby shower. You, as the host, will have a list of items that need to be found. As you call these out, guests can move around their homes looking for things that match the description. Have fun with this! You might choose to have them find something like a children's book, a baby blanket, or other baby-themed items.
It allows guests to take a break from staring at the screen, relieving one of the main problems with Zoom. It also gets them to move around and get exercise, which releases endorphins, and everyone loves that!
Remember that you want to keep a happy and positive atmosphere when hosting a shower through Zoom — it's a party, after all!
WebBabyShower Is More Than Just a Zoom Call
The very best solution for Zoom fatigue is to use WebBabyShower in addition to Zoom. We offer so many creative ideas for the perfect virtual baby shower. Check out some of our fantastic options:
You can choose a theme that best reflects the style of your baby shower, and there are plenty of options to look through if you're unsure of what you'd like. You'll find various colors and designs for an adorable party look that's right for you. We also have some great information on the latest trends for baby shower themes.
You can interact with guests on WebBabyShower's platform. You can communicate with guests via your WebBabyShower website, update them about the pregnancy, and more.
Guests can sign in online and leave messages for the new parents to read. Who wouldn't want to keep a baby shower guest book?
From WebBabyShower's gallery page, guests can upload photos or videos to say hello and congratulations to the parents-to-be.
You can play games on the WebBabyShower platform anytime.
Presents for the new baby can be sent ahead of time using WebBabyShower's gift registry page hosts can link to multiple gift registries. Your guests will know exactly what the new parents need.
You can thank everyone who attended your shower or sent you gifts with our invitation maker. Thank you notes have never been easier to send out!
With your WebBabyShower website, keep your guests informed about the baby long after your virtual baby shower has ended. You can send out baby announcements, pictures, and videos to your relatives and friends.
Want a real-life example? Here's how one of our customers used Zoom and WebBabyShower to create the perfect party.
Conclusion
With COVID-19 keeping us all at home for so long, new problems have arisen, like Zoom fatigue. However, using our expert tips, you can ensure that your guests have a great time using video chat at your baby shower. You can use our highly interactive platform to play games, send invitations and updates, and more to make for a great day. We hope you've enjoyed this list, and now you know how to prevent your baby shower from becoming yet another Zoom call. Thanks for reading!