Are You Expecting? If so, you probably have questions – and lots of them! Like "How much is baby growing this week?" And "Is this normal???" Slow down! Take a deep breath. There are tons of pregnancy apps available to help you prepare for everything from upcoming doctor visits and tracking baby's development to helping you connect with other moms. But don't stress about choosing the right app for you. WebBabyShower has created a list of the top 9 best pregnancy apps you need in your life. Go on, check them out!
---
Pregnancy Apps for iOS and Android:
---
1.The Bump – Pregnancy Countdown.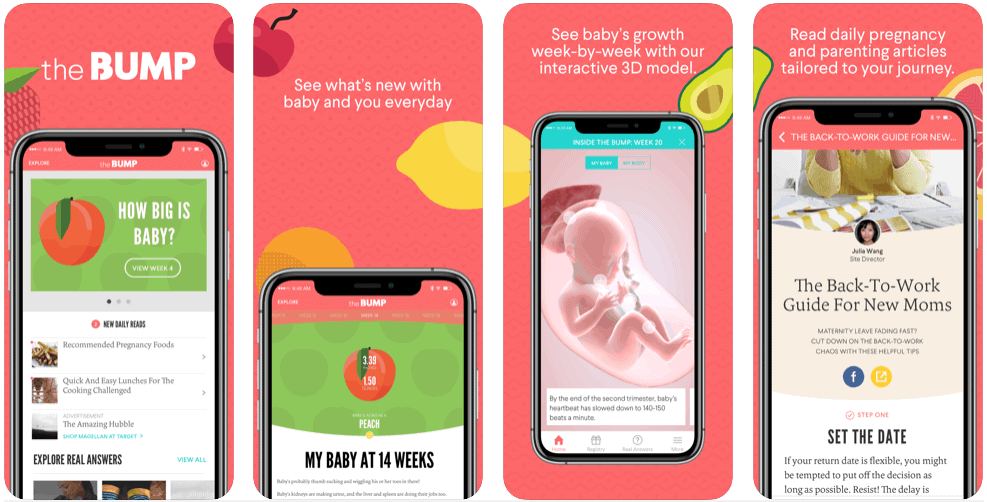 4.8 Stars, 17.6K Ratings for iOS
4.8 Stars, 30,277 Ratings for Android
This FREE app prepares Mom-to-be for each doctor visit, from the first through the third trimester. It features exciting and exclusive 3D interactive visualization of baby's growth week-by-week. A planner feature integrates appointments seamlessly with your iOS calendar. The Pregnancy Countdown app also gives you daily contents tailored to your unique pregnancy journey, and there are cool features like a registry, plus belly and baby photos! Best Products recommends using the weekly photo albums to document your pregnancy.
Find out why Jenelle Nicole loves the Bump app in this Youtube video.
2. Full Term – Contraction Timer.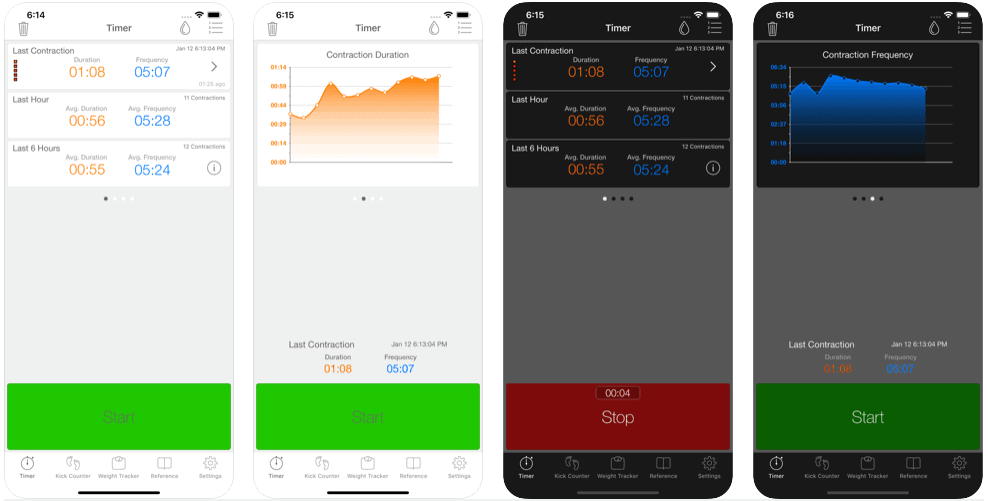 4.8 Stars, 5.3K Ratings for iOS
4.7 Stars, 290 Ratings for Android
The free Contraction Timer app is THE most convenient way to keep track of your labor contractions. How does it work? Tap a single button to track the start and end of each of your contractions, and Full Term takes care of the rest! The app is designed to keep track of the times, durations, and frequency of the entire labor period. Easily view your complete contraction history in chronological or reverse chronological order. Verywell Family says the app is bright enough to see the buttons at night, without waking others. The Contraction Timer also includes a Fetal Kick Counter and a Weight Tracker for Mom-to-be.
3. Expectful Pregnancy App.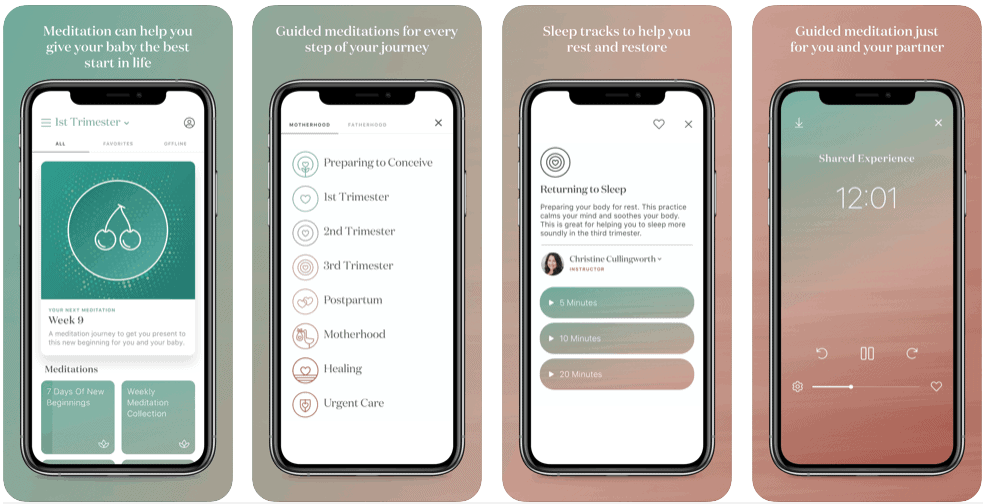 4.7 Stars, 988 Ratings for iOS
Looking for ways to give your baby the healthiest, happiest start in life? The Expectful Pregnancy App does this and more! Expectful Pregnancy is the #1 guided meditation and sleep app for your fertility, pregnancy, and parenthood journey. Just as you may take a prenatal vitamin for your body, Expectful's meditations are like a prenatal vitamin for your mind. As a result, the Expectful Pregnancy App can help you conceive and have a happier, healthier pregnancy – and baby. If you're feeling stress overload, Best Products recommends downloading this app ASAP!
Available in IOS
4. Ovia Pregnancy Tracker.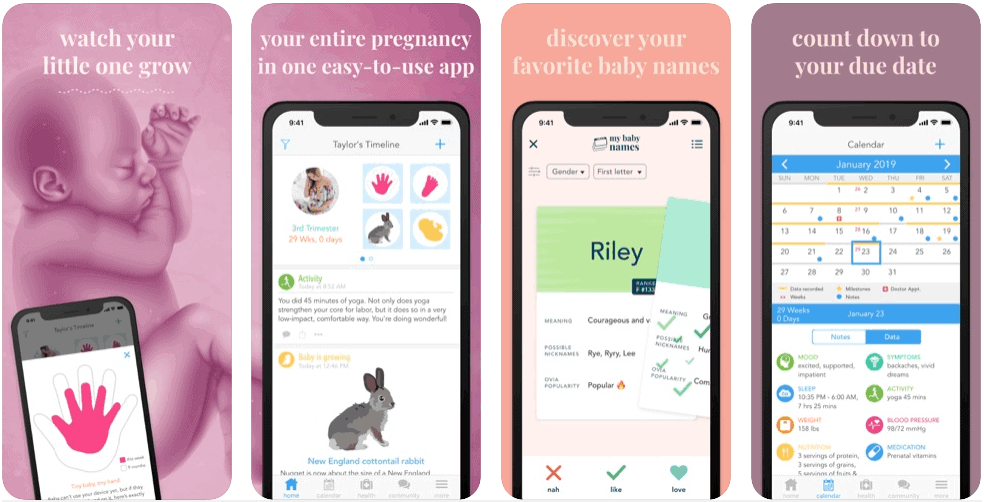 4.8 Stars, 125,892 Ratings
This app tracks your baby's development, so you can see baby's daily growth. It features a customizable health tracker, with a variety of tips and tools – assess your weight progress, chart your sleep, learn pregnancy symptoms and health risks, know nutrients needed for baby's development, plus there's information regarding safe medications. Ovia Pregnancy Tracker puts the focus on YOU, according to Best Products.
Additional fun features include Baby Size Comparisons, comparing baby's size with fun themes, such as fruits and vegetables, animals, and Parisian pastries. Did you know? At week 17, baby is the size of a creme brulee!
Want to hear from an Ovia app user? Check out this Youtube video!
5. Glow Nurture Pregnancy App.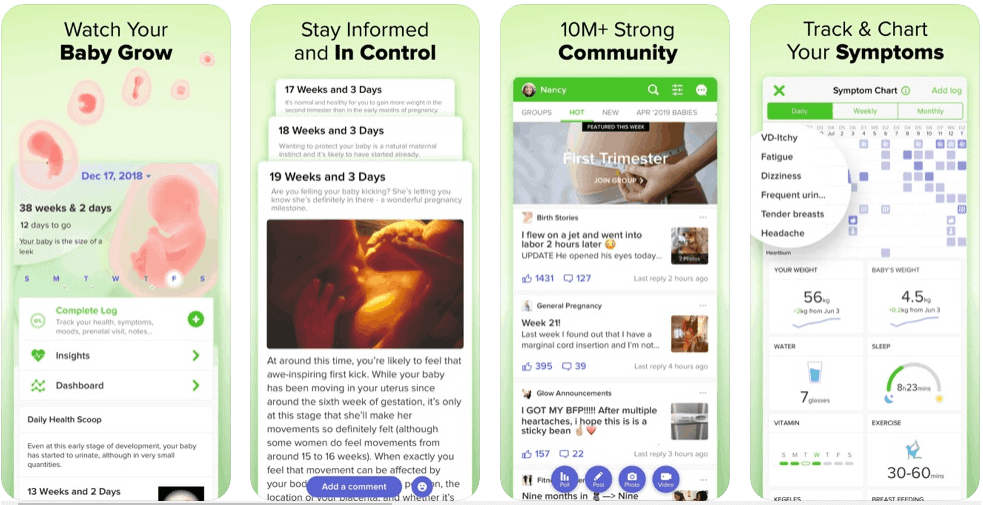 4.7 Stars, 7.4K Ratings for iOS
4.5 Stars, 22,656 Ratings for Android
With this completely customizable app, you can watch your baby grow and get a daily health scoop. Easily track and chart your symptoms, as well as set medication and appointment reminders. Women's Health says this app's simplicity sets it apart from the crowd.
Photo sharing lets you show off that gorgeous baby bump! For community support, connect with other expecting Mamas to gain advice and recommendations on pregnancy or baby related products. Once baby arrives, you can still receive post-partum support, including breastfeeding and pumping.
6. Totally Pregnant App.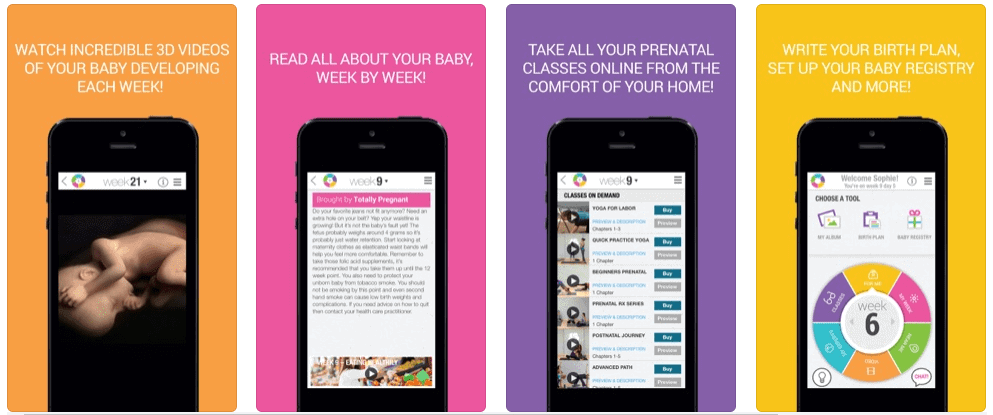 3.5 Stars, 1,308 Ratings for Android
Would you like to meet other new moms to share your pregnancy experience with? Totally Pregnant is a casual app that helps Mom-to-be meet new mom friends. Share your pregnancy journey together, as well as tips and tricks. You can snap and store bump photos and watch 3D fetus development videos. Best Products says this app is best for first-time moms. As an extra perk, take all your prenatal classes online from the comfort of your own home!
See how a great online baby shower works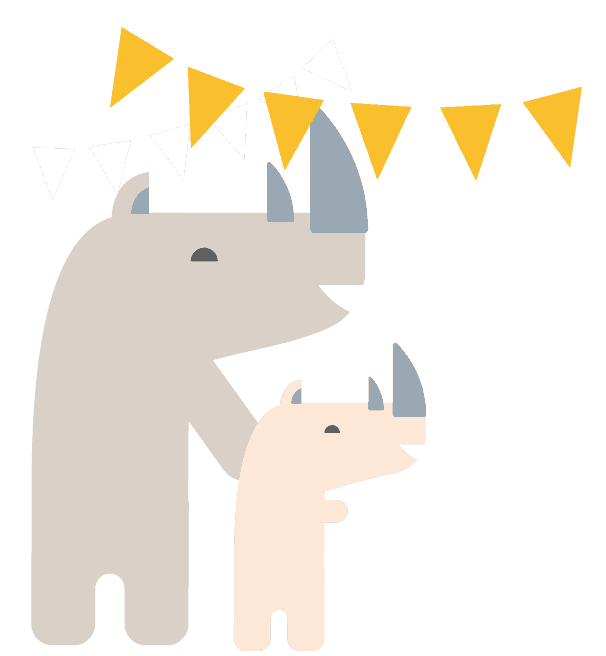 7. Hello Belly: Pregnancy Tracker.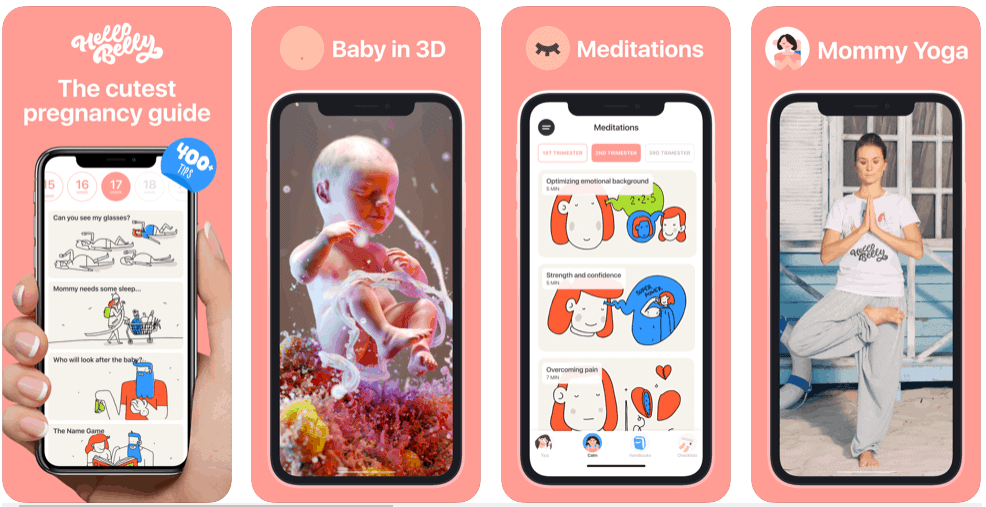 4.1 Stars, 1.4K Ratings for iOS
4.2 Stars, 2,012 Ratings for Android
8. Baby Names.
This helpful app lets you know what's going on with your developing baby week-by-week. Find daily tips – written by the experts – on what to do and what to learn before birth. The app also includes yoga and meditation video classes, plus helpful pregnancy checklists and handbooks with information on nutrition, symptoms, shopping, and more! Best Products says this app might have "the cutest guides ever." And Women's Health likens Hello Belly to "sitting down with your pregnant bestie."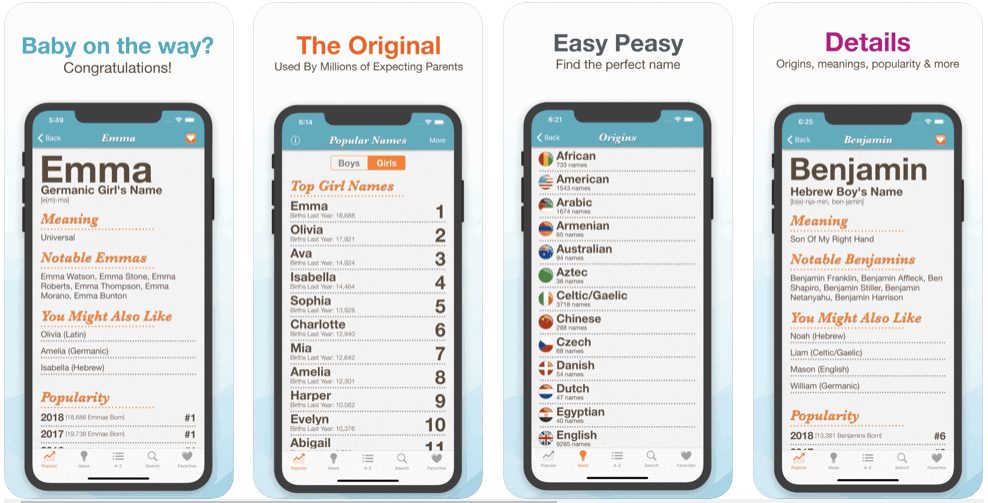 4.8 Stars, 34 Ratings for iOS
Still making a list of baby names for your new little one? Search no more! The Baby Names app has thousands of names that will help you find the perfect one for your baby. This user-friendly app gives details of each name, including origin, meaning, pronunciation, and even the name's popularity. There's also a custom search feature to narrow down your results by trends, popularity, origin, parts of a name, and the name's meaning. Save names you like to a favorites list! Baby Names also made the cut for Women's Health best pregnancy apps list.
Available in iOS
9. Baby2Body.
4.5 stars, 41 Ratings for iOS
In need of a prenatal and postnatal fitness and wellbeing coach? Look no further than the Baby2Body app! This app offers healthy lifestyle coaching from top experts. You'll get tailored pregnancy workout plans, nutrition guidance, and keep track of healthy activities, like exercise and water intake. Receive reminders throughout your day with different exercise sessions. This app made Healthline's list of 2019 best pregnancy apps. Stay fit, eat well, and live more mindfully in pregnancy – and beyond – with Baby2Body!
Available in iOS
Did you enjoy our list of the top 9 pregnancy apps you need in your life ASAP? We hope that the many app features – symptom trackers, daily baby development updates, and pregnancy tips – offer support throughout your pregnancy.Download the apps to embrace each day with confidence as you countdown your pregnancy journey! Find more helpful articles at WebBabyShower.