A baby shower wouldn't be complete without some fun baby shower games. One of the most popular nowadays is the diaper raffle – a game where guests bring a pack of diapers as their "ticket" to enter into a raffle and potentially win a fantastic prize.
How many prizes you need, what kind of prizes you should buy, where to find great prizes, and how much you should spend on prizes are all questions you need to answer before you can begin the diaper raffle.
You've got enough going on planning for your little one to arrive. The last thing you need to do is research!
So, we've written this article to answer your burning diaper raffle prize-related questions. Additionally, we've come up with ten fabulous diaper raffle prize ideas that are sure to wow your friends and family.
Throw a Virtual Baby Shower so Everyone

Can Celebrate!

• Free Trial – 14-Day Refund for any reason
• Only 1 Minute Setup!
• 80+ Custom Themes & Matching Invites
• Use Any Online Registry
• Send Unlimited Invites and Updates
• Baby Shower Games with Scoreboards, Give Prizes!

Build Your Shower
---
How Many Diaper Raffle Prizes Should You Give?
You don't want to have too many diaper raffle prizes at a baby shower since this will reduce the prizes' specialness and cost you a lot. But, having too few prizes is also unideal and may discourage guests from participating since they won't have a good chance of winning.
How many prizes you'll need depends on how many people are coming to your event. We recommend getting 2 to 3 small prizes and one large prize for a small baby shower with 10 to 30 people. For a larger event of 30+ people, we suggest getting 5 or 6 small prizes and one larger prize.
Getting an appropriate number of prizes will make your diaper raffle exciting and fun (without bankrupting your budget).
10 Best Diaper Raffle Prize Ideas
Now that you know how many gifts you need, you're probably wondering what exactly you should get. But don't worry. WebBabyShower is here to help!
Below, we go through 10 of our favorite themed baskets. Some are ideal for specific times of the year (like fall, winter, and summer), while others are perfect all year round, giving you plenty of options to choose from.
We are confident everyone will want to bring a pack of diapers (or two) to compete for these awesome diaper raffle prizes.
Holiday Cookie Basket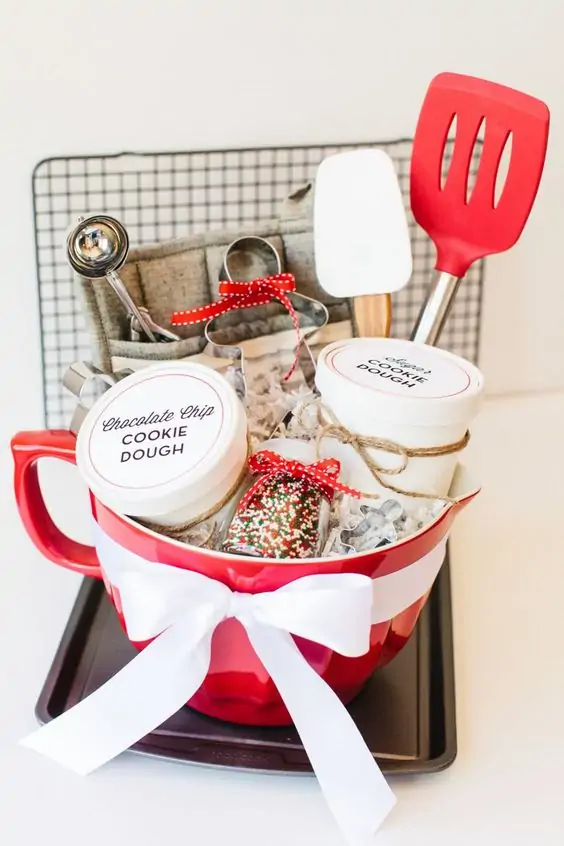 The holidays are fast approaching, making a cookie basket the perfect gift to get your guests in a festive mood. Potential items you can add to this basket are cookie dough tubs, spatulas, sprinkles, cookie cutters, oven mitts, cooking trays, and measuring spoons. To make this gift a bit fancier, buy items from high-end cooking stores, like Crate and Barrel or Williams-Sonoma.
Movie Basket
A movie basket is the perfect diaper raffle prize for a coed baby shower since couples will both reap the benefits of this awesome prize. You can include movie tickets, candy, microwavable popcorn, popcorn seasonings, and soda, in a large popcorn tin.
Self-Care Basket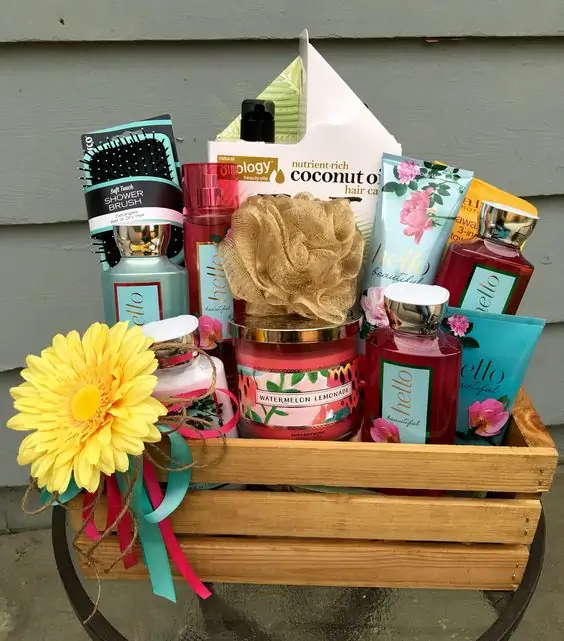 Everyone could use a bit of self-care, making this an awesome diaper raffle prize that most of your guests will appreciate. Some items you can include are lotion, bath bombs, fancy soaps, candles, shampoo, conditioner, hair masks, sleep masks, body scrubs, face masks, essential oils, and tea. It's best to stick to non-scented or lightly scented products made with high-quality ingredients, to accommodate your guests with sensitive skin.
Gourmet Foodie Basket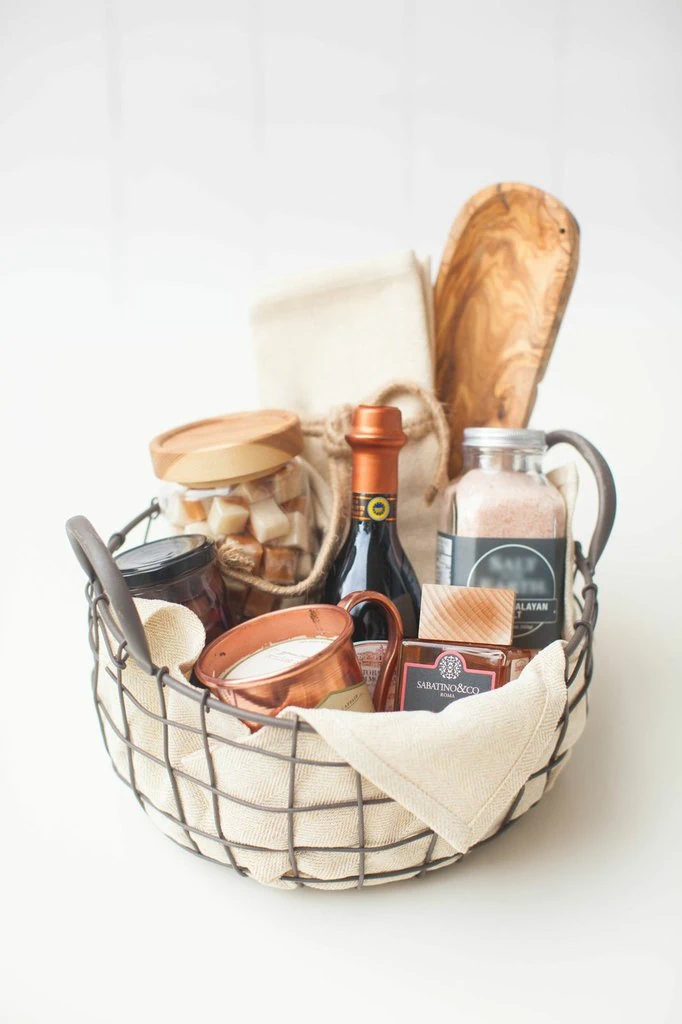 Allow your guests to bring out their inner chef with this fabulous gourmet foodie basket. You can include fancy nuts, a wooden spatula, truffle oil (or another fancy oil variety), Himalayan sea salt, gourmet seasonings, fancy olives, decadent cheese, and a nice bottle of wine. Gift the basket in a high-end wooden cooking bowl or baking dish to make it even nicer.
BBQ Basket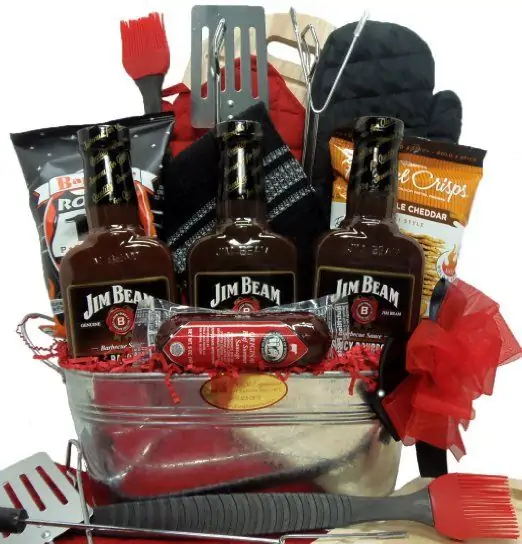 A BBQ basket is the perfect diaper raffle prize for the summertime. Include all the BBQ classics, such as a spatula, basting brush, BBQ sauce, cooking mitt, wood chips, a grill scraper, meat seasonings, and more. If you're worried your guests will already have the essential BBQ items, fill your basket with high-quality marinades, sauces, and spices instead.
Date Night Experience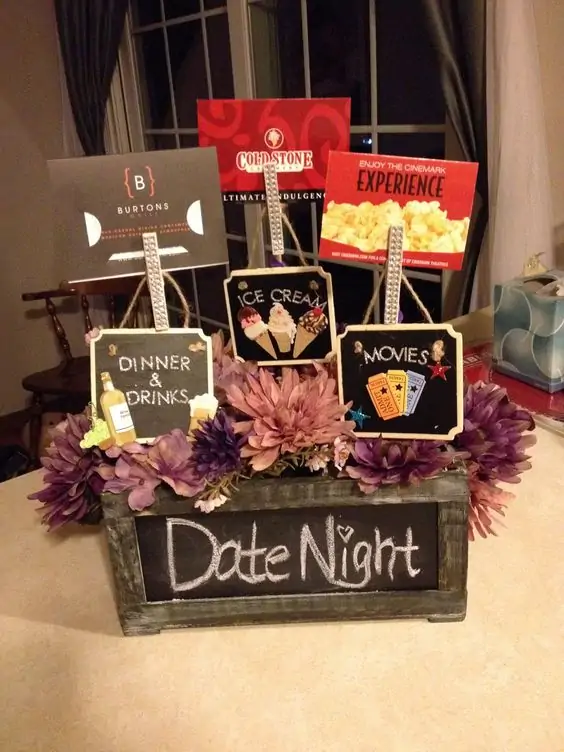 This is the perfect diaper raffle prize for a coed event with many couples in attendance. You'll need gift cards to a few of your favorite date spots, such as a movie theater, restaurant, and ice cream parlor. If this is too expensive, get one gift card, then add date-related items, like a bottle of wine, a fun couples game, or chocolate-covered strawberries.
Chocolate Gift Basket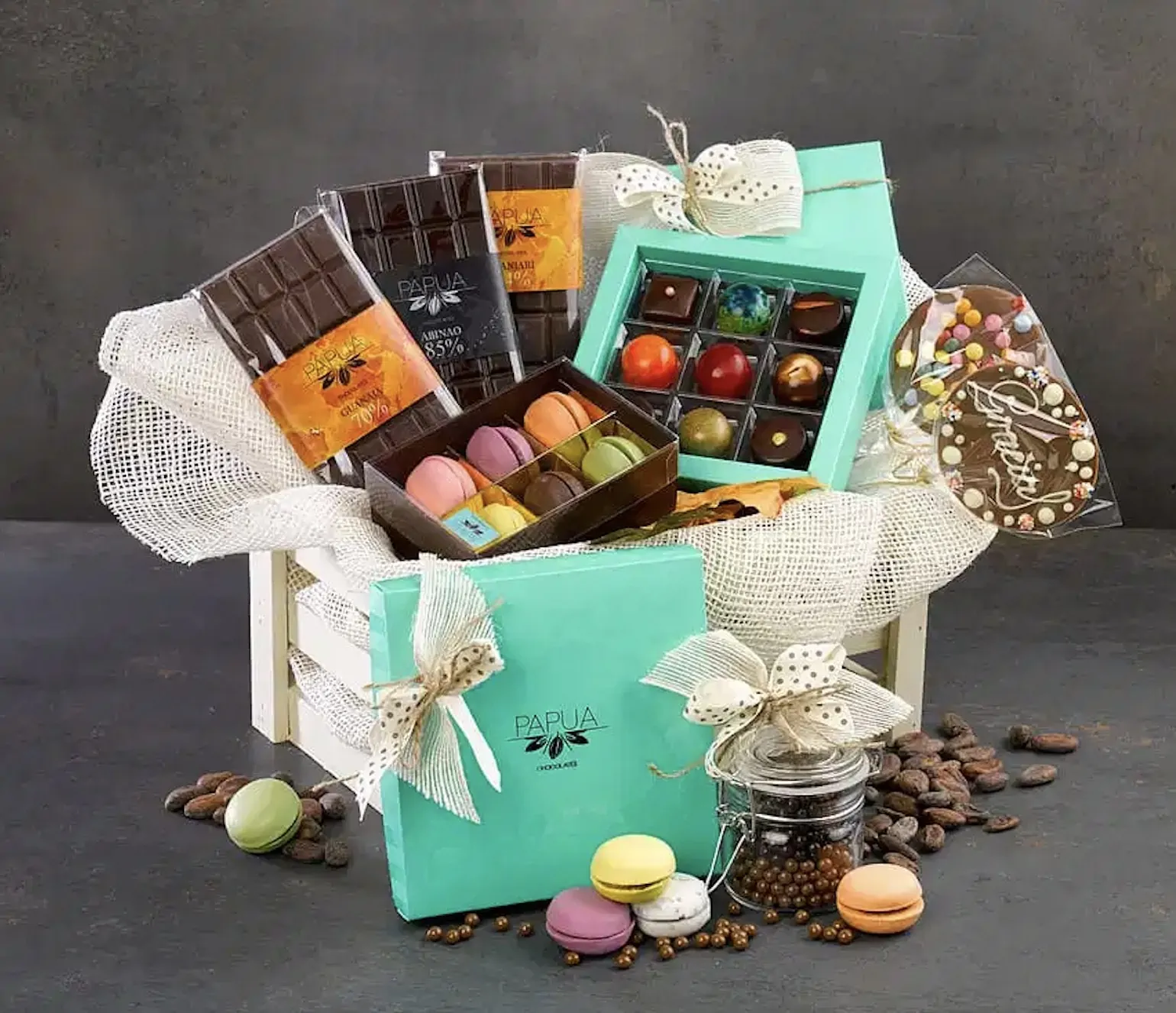 Everyone loves chocolate, making this the perfect diaper raffle prize for a diverse guest list. Include a wide variety of items, such as milk chocolates, chocolate truffles, chocolate chip cookies, chocolate caramels, chocolate-covered pretzels, and more. Pair it with a bottle of red wine for a sophisticated touch.
Bookworm Gift Basket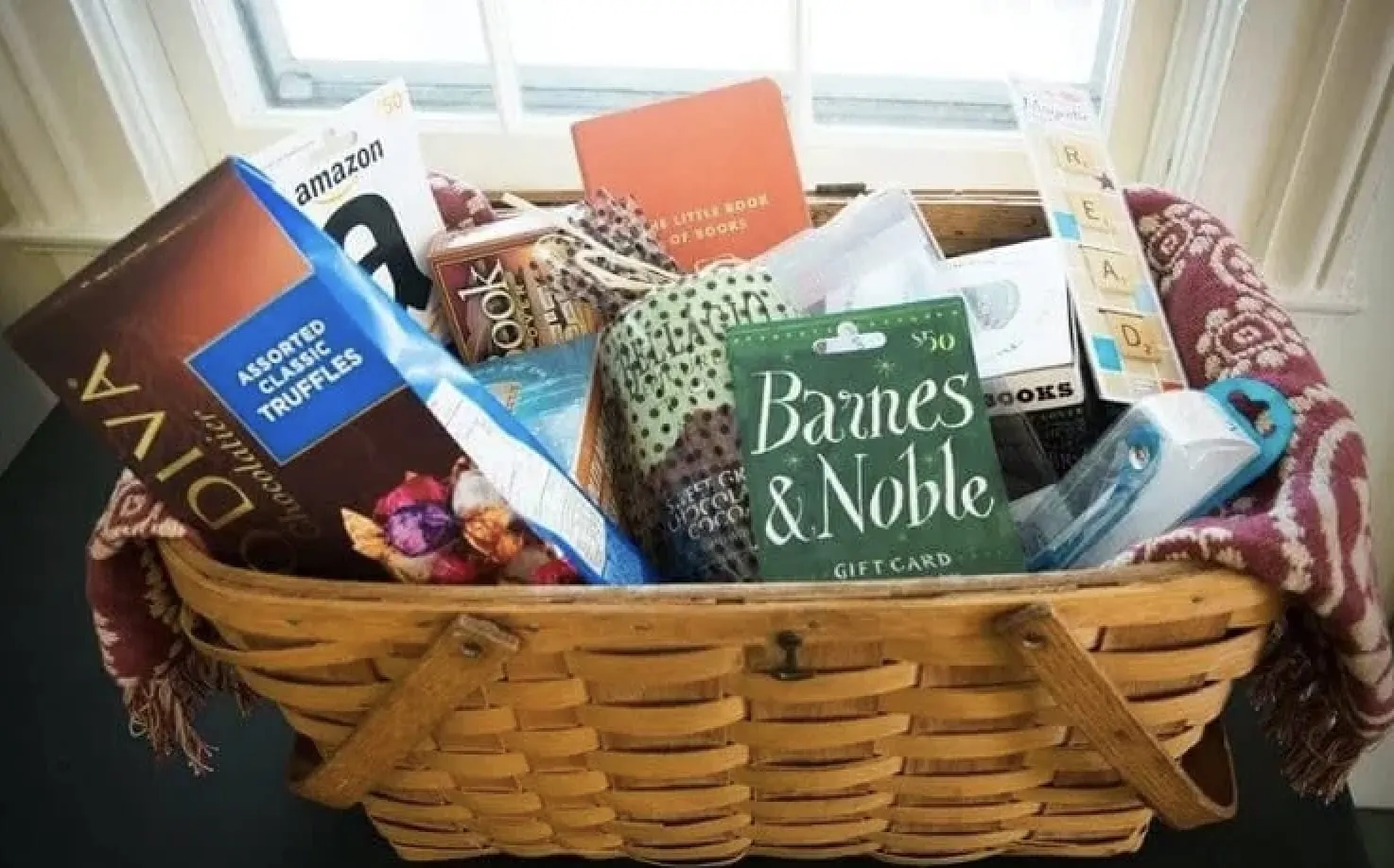 Nothing is more pleasurable than curling up on the couch to read a good book. Give your loved ones this pleasant experience with these bookworm gift baskets! You can include a Barnes and Noble gift card, cozy socks, a bookmark, chocolate, a reading light, a book-related coffee mug, and a candle to set the mood. For a personal touch, include your favorite book.
Summer Fun Basket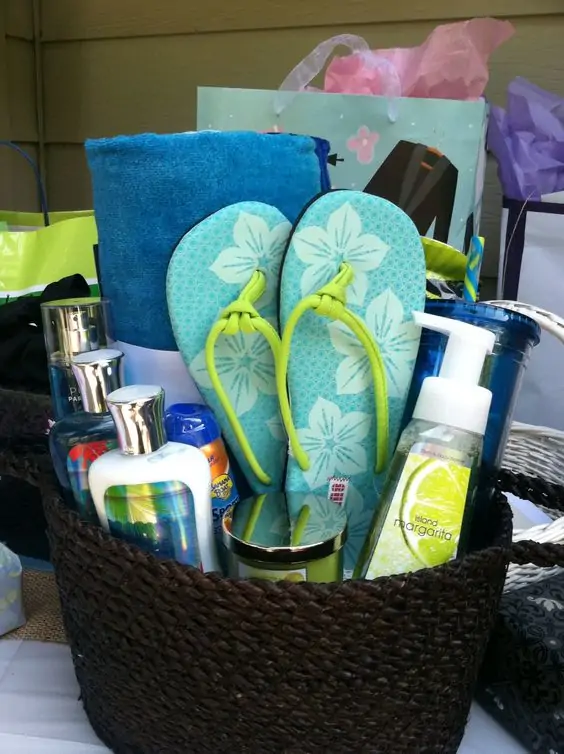 This Summer Fun Basket is the perfect diaper raffle prize for the summertime or the late spring. Include all the summer essentials, such as sunscreen, aloe, flip-flops, beach towels, beach blankets, an insulated cup, drink koozies, and more. To upgrade this prize, include a gift certificate to your favorite beachside restaurant.
Cozy Fall Basket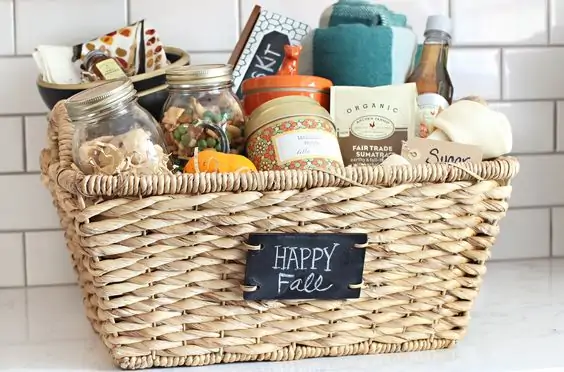 This Cozy Fall Basket is the perfect diaper raffle prize for the autumn. Include all your favorite fall items, such as a pumpkin-scented candle, pumpkin coffee, apple pie in a jar, a cozy orange blanket, delicious teas, a fall coffee mug, and any other pumpkin or apple-related items you encounter. Add tiny pumpkins and a "happy fall" sign for a festive touch.