Are you searching for a fantastic baby shower game that's simple, fun, and entertaining? Then, this mad libs baby shower game is sure to pique your interest! This hilarious game is just like normal mad libs – but with an adorable baby shower twist.
It's an excellent game for a coed baby shower since everyone can join in on the fun. It's also perfect for virtual baby showers – you can play via WebBabyShower's slide-based Mad Libs game – we'll show you how:
Have the Best Games for Your Baby Shower!
• All Games Included – In-app, zoom games & printables
• Free Trial – 14-Day Refund for any reason
• Only 1 Minute Setup!
• 80+ Custom Themes & Matching Invites
• Use Any Online Registry
• Send Unlimited Matching Invites and Updates
• Baby Shower Games with Scoreboards, Give Prizes!
Build Your Shower
---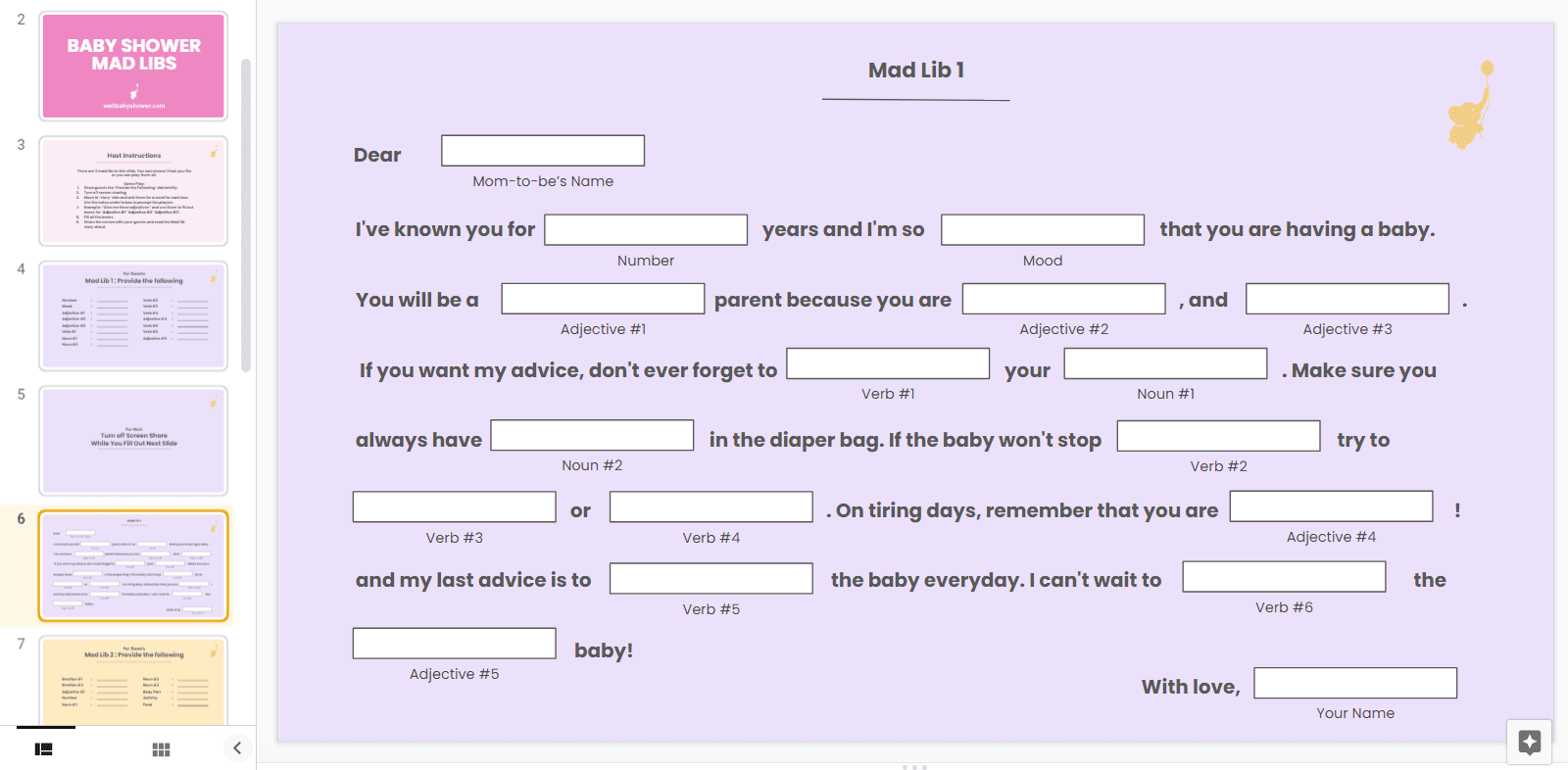 How to Play the Mad Libs Baby Shower Game
Playing the mad libs baby shower game is a piece of cake with WebBabyShower's free slides.
To start, the host will pull up the slides containing an instructions page and several short baby-related mad lib stories. Each story has blanks that fall into various categories, such as adjectives, verbs, food names, etc.
The host will tell the guests what blanks they need to fill in. For example, the story may require two adjectives, two verbs, and two nouns.
Next, the host will turn off screen sharing mode and switch over to the story slide. The host will ask the guests for the words they came up with and fill in the blanks. Once the blanks are filled in, the host will share their screen again to reveal the completed story.