What is a Minimalist Baby Registry?
A minimalist baby registry only includes essential items, focusing on practicality, durability, and versatility. It emphasizes quality and functionality over quantity, only including things that will truly enhance your baby's life.
Who Is It For?
Perhaps you're a practical parent who prioritizes the essentials. Or, maybe you value mindful consumption, opting for fewer high-quality items that can adapt as your child grows. Perhaps you live in a small home and have to be strategic with what you buy. A minimalist baby registry can be appealing for several reasons!
Questions Every Minimalist Should Ask When Creating A Baby Registry
Before making your minimalist baby shower, ask yourself these questions. The answers will help you determine which baby items you need depending on your lifestyle and living situation.
What are the essential items my baby will need? If the item doesn't serve a vital function for your baby, then it likely isn't necessary.
Can I find alternatives or repurpose items I already have to meet my baby's needs? While some baby gadgets may be convenient, they aren't necessary. If you already have an item that can perform the task, you don't need another one.
Can this item adapt and be used as my baby grows? Try to select items that will grow with your child, such as convertible car seats, cribs, and strollers.
Will this item fit well in my living space? If you live in a small space, choose compact and space-saving items, such as a mini-crib, instead of a full-sized one.
Is this item safe and free from potential risks or hazards? Read online reviews and check each product's safety rating to ensure it's the safest choice for your little bundle.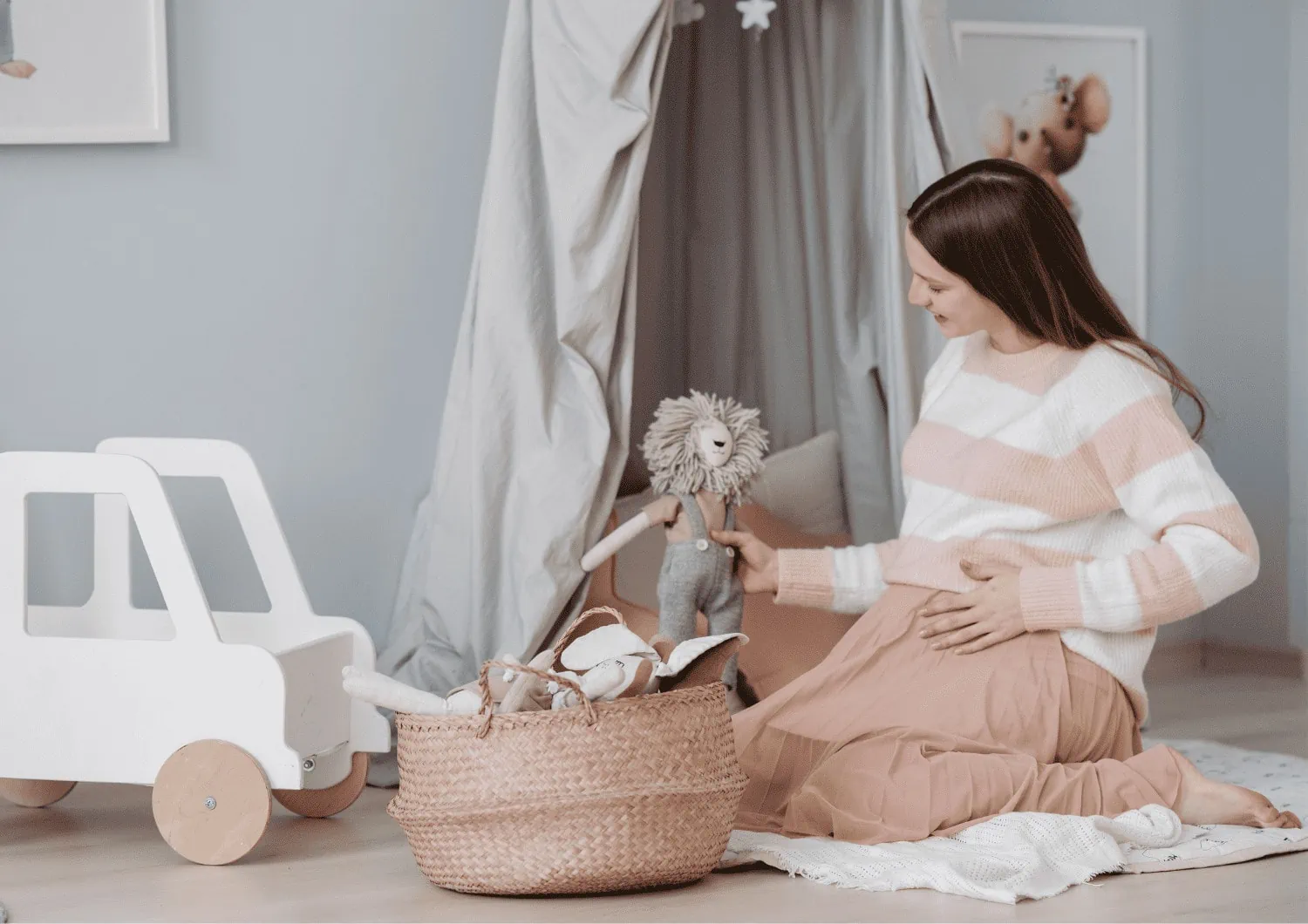 Throw a Virtual Baby Shower so Everyone

Can Celebrate!

• Free Trial – 14-Day Refund for any reason
• Only 1 Minute Setup!
• 80+ Custom Themes & Matching Invites
• Use Any Online Registry
• Send Unlimited Invites and Updates
• Baby Shower Games with Scoreboards, Give Prizes!

Build Your Shower
---
The Registry Essentials Checklist
We've researched the essential products necessary for your baby's sleeping, feeding, diapering, clothing, and transportation to ensure you'll have everything you need to keep your baby healthy and safe (without any unnecessary stuff).
Minimalist Baby List for Sleep
Baby Monitor
Alternatively, you could use an indoor security camera and later repurpose it for home protection.
Crib
Look for convertible cribs that can turn into playpens, toddler beds, or twin-sized beds.
Crib Mattress
Pick a firm mattress that maintains its shape. Avoid memory foam crib mattresses or mattress toppers.
Crib Mattress Protector
Get at least two mattress protectors in case one of them needs to go in the wash.
Crib Sheets
Get two to three crib sheets if you are on top of your laundry or only want to change the sheets once per week. Get four or five if you do laundry less frequently.
Swaddle or Sleep Sack
Swaddles can only be used until your baby starts to roll over, around two to four months. Sleep sacks can be used from infancy through the toddler years, making them more versatile.
Minimalist Baby Registry for Feeding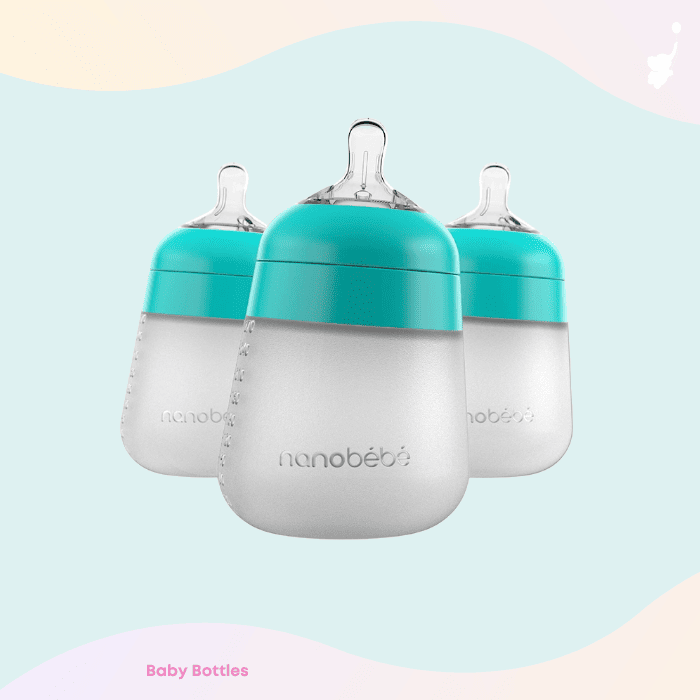 Baby Bottles
Get at least four baby bottles made from high-quality silicone. Their lids should have soft nipples designed for easy latching. Comotomo and Nanobebe are great options.
Bottle Brush and/or Dishwasher Basket
Get a silicone bottle brush and nipple brush. A dishwasher basket can also be helpful if your bottles are dishwasher safe.
Burp Cloths
We recommend getting seven or eight burp cloths so you have one for every day of the week.
Bibs
We recommend getting seven to eight bibs since they get dirty fast!
Formula (if Formula Feeding)
You will likely need at least four large 35-ounce cans per month.
Breast Pump (if Breastfeeding)
Check with your insurance to see if they will provide one for free.
Breast Milk Storage Containers or Bags (if Breastfeeding)
You can buy plastic milk storage bags like these from Lansinoh. Freezer-safe glass jars can also be used if you sterilize them properly.
Minimalist Baby List for Diapering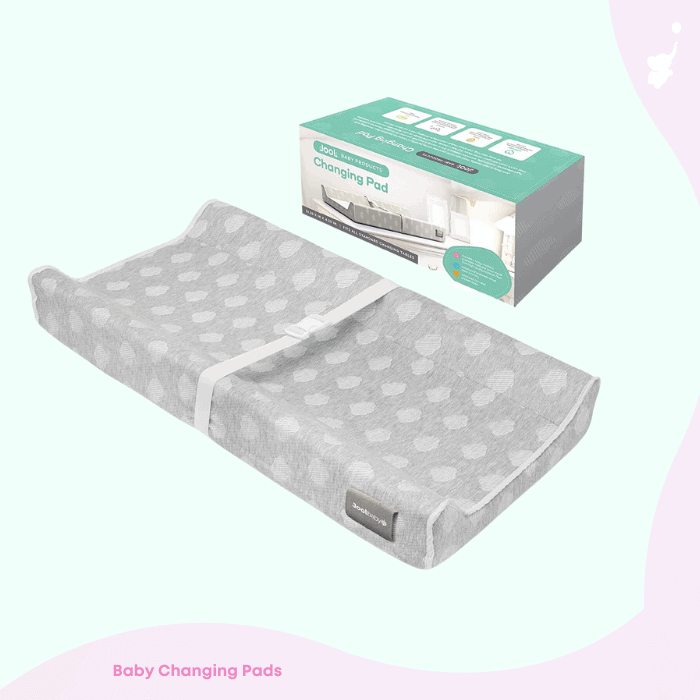 Changing Pad
Look for waterproof changing pads to prevent mold and mildew.
Changing Pad Covers
Get at least two or three – accidents happen!
Diaper Rash Cream or Ointment
Aquaphor or Desitin's diaper rash cream are tried-and-true options.
Diapers
Throw-away diapers are easier, whereas cloth ones are more challenging to clean, but save money. You may also want to do a combination, such as throw-away diapers at night and cloth ones during the day.
Wipes
WaterWipes are great for sensitive baby skin. The Honest Company's compostable, plant-based wipes are ideal if you want something eco-friendly.
Minimalist Baby List for Health and Safety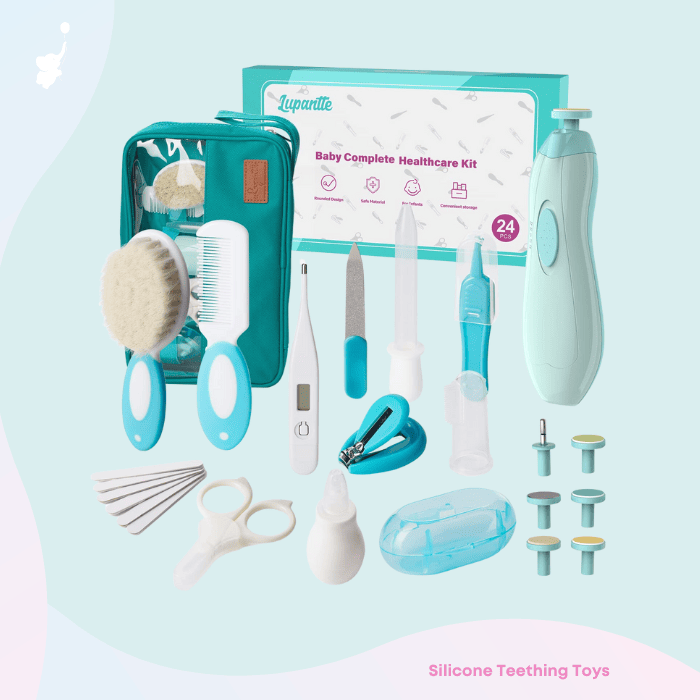 First Aid Kit
It's good to have a thermometer, medicine syringe, blunt scissors, nail clippers, and a nasal aspirator. You can buy a kit with these things or piece one together yourself. If your son is circumcised, you'll also need petroleum jelly and gauze.
Pacifiers
Get at least two pacifiers, as one is bound to get lost or end up on the floor.
Baby Proofing Supplies (Dependent on Your Home)
Cover all outlets with furniture or use safety plugs. Get bumpers to cover sharp edges. Get rid of blinds with looped cords or install cord stops.
Baby Medicines (Ask Your Doctor For Recommendations)
Some typical baby medicines are infant acetaminophen, baby gas drops, and antibiotic ointment.
Minimalist Baby List for Baby Clothing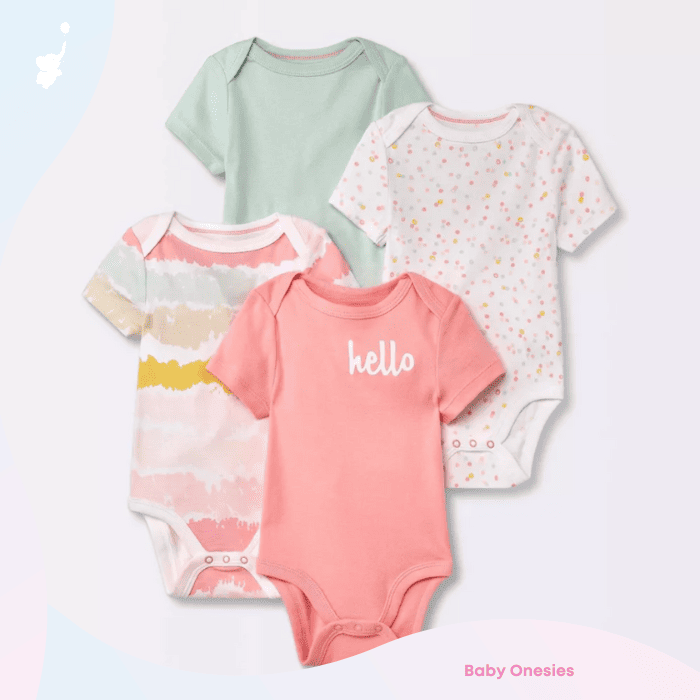 Short and Long Sleeve Onesies
Get five to seven onesies, with two in the newborn size and three or four in the three month size.
Pants
Get three to five pairs of pants, with one or two in the newborn size and three pairs in the three month size. Your baby can wear them with shirts, or you can pull them over a onesie for added warmth.
Shirts
Get three to five shirts, with one or two in the newborn size and three in the three month size.
Sleepers, Gowns, or Footie PJs
Get four or five PJs, with one or two in the newborn size and three or four in the three month size.
Jackets or Sweaters
One or two jackets or sweaters should suffice, unless your baby is born in winter. Then, you should get two or three, with one heavy jacket for really cold days.
Newborn Caps
Get two caps to keep your little one's head nice and cozy.
Socks
We recommend getting five to seven pairs of socks. Newborn shoes aren't necessary.
Scratch Mittens/Winter Mittens
Even if it isn't winter, mittens can be a good idea to prevent your little one from scratching themselves. We suggest getting at least two pairs.
Summer Hat
This may only be necessary if your little one is born in the summer. But, hey, sun protection never starts too early!
Winter Hat
Get one warm winter hat if your little one is born in the colder months.
Minimalist Baby List for Baby Gear
Convertible Car Seat
Look for convertible car seats that go from infant to toddler to booster seat.
Convertible Stroller
Look for strollers you can use for infants and toddlers. If you plan to have two children close together, try to find a stroller that can fit two kids at once.
Baby Carrier
Try to find convertible baby carriers that can be worn frontwards or backwards, and that can accommodate newborns through toddlers.
Minimalist Baby Registry Tips
Katie – a professional Baby Planner and newborn care specialist – has given us some helpful tips to consider while making your minimalist baby registry. Let's go through them now!
Tip 1. One of Katie's main tips is to weigh each item's convenience against its cost and size. She says, "Basically your baby needs to be clothed, diapered, bathed, fed, and have a safe place to sleep – so when you narrow it down to those categories, you can eliminate a lot of clutter. You must balance the convenience of having items like a bottle warmer with the cost and the clutter." Some examples are using a pack-n-play instead of a bassinet and crib, a regular trash can instead of a diaper pail, or hot water in a mug instead of a bottle warmer.
Tip 2. Katie suggests looking for items that can grow with your child, stating she's a big fan of "4-in-1 items like car seats that transition into a booster seat or cribs that transition into a full sized bed." Convertible items can be pricer but tend to save you money in the long run, making them worth the investment.
Tip 3. Another tip is to choose items based on the season in which your baby will be born. For example, Katie says, "For clothes – just focus on zipper footies and maybe a jacket or hat if you live in a cold area." If your little one is born in the summer, invest in short sleeved onesies and a sun hat.
Tip 4. While organizing and washing your baby's clothing sounds like a great idea, Katie says you should hold off until your little one is born. She recommends "only wash/use a few items to get you through the first few weeks. Some babies grow out of newborn clothing in a flash, while others are in it for several months. Once you see how fast your little one is growing, you can decide which clothing you need and which you can return so you can use that money on other baby essentials."
What Baby Items Are Not Necessary?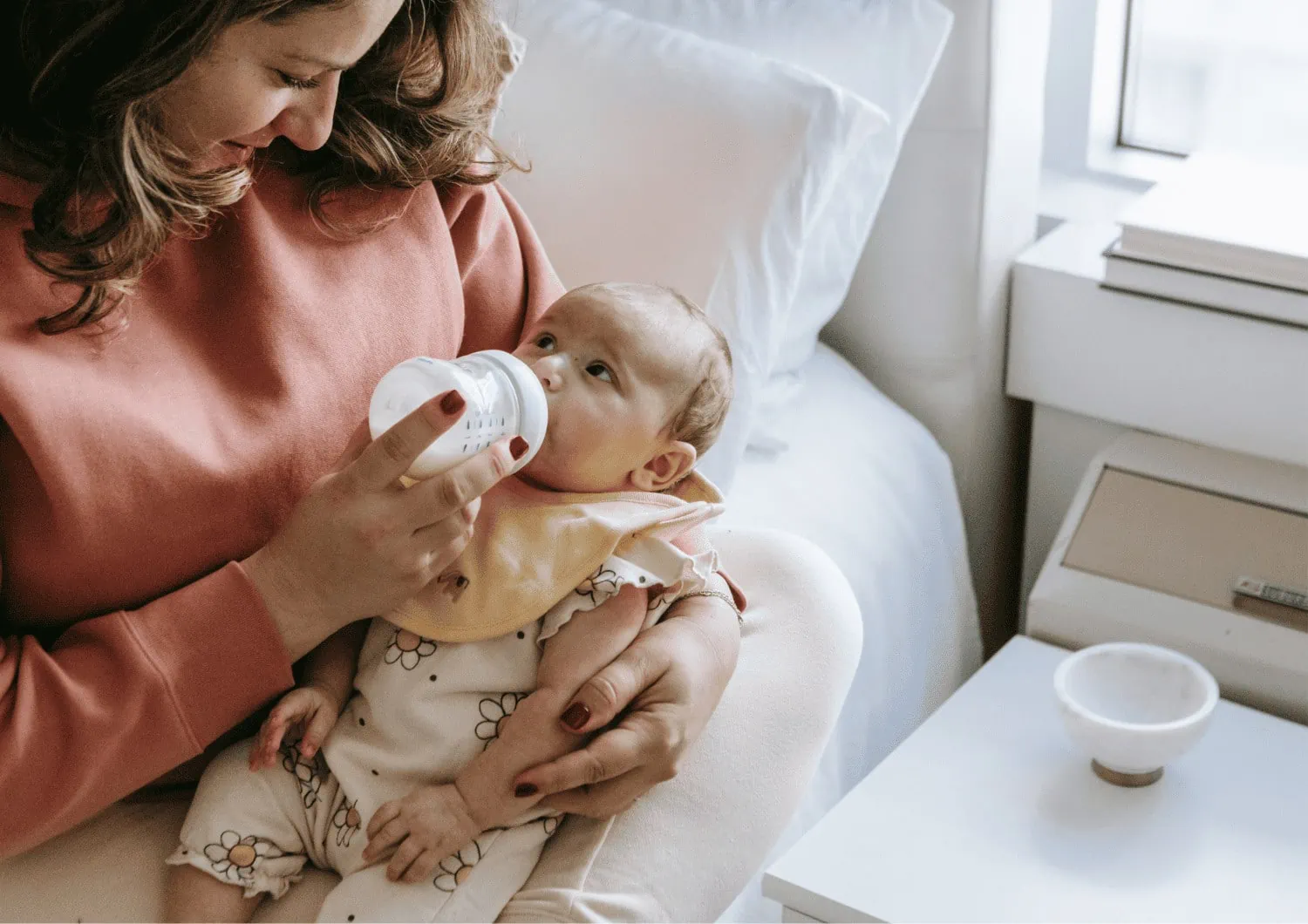 One of the best ways to determine if something is unnecessary is if you have existing items in your household that perform the same function. For instance, you can warm your baby's bottle in the microwave instead of purchasing a bottle warmer. Other non-vital items include wipe warmers, baby bottle sterilizers, humidifiers, bathtub thermometers, baby food blenders, and diaper pails.
Other unnecessary items are downright dangerous. For example, you should avoid using baby blankets and crib bumpers, as they can pose a suffocation risk. Other unsafe items are sleep positioners, crib pillows, crib tents, and baby walkers.
Some items, while not wholly "unnecessary," have limited uses, so it's better to opt for alternatives. For instance, you can go straight for a crib rather than purchasing a separate bassinet since your baby will outgrow it quickly. Additionally, you can opt for a changing pad instead of a changing table to save space.
When Should You Start Your Baby Registry?
Most experts recommend starting your baby registry around 12 weeks into your pregnancy. But feel free to start even earlier if you want. This will give you plenty of time to ponder each item to ensure it deserves a spot on your minimalist baby registry. You want every item you add to be high-quality, safe, and versatile.