The concept of baby showers goes back a long way…like, a really, really long way. Baby showers have roots in Roman times when women gathered together to make gifts for a new baby. The modern American baby shower started in the 1940s and 50s postwar boom. In both scenarios – ancient and modern – baby showers celebrate new life by gathering friends and family.
Today loved ones may be scattered far and wide, but that doesn't lessen our collective desire to join in the joy of celebrating a new baby and mom-to-be. This is where the need for an out-of-town baby shower pops up!
In this article, we'll discuss out-of-town baby showers: what they are, how to throw them, and everything in between. At WebBabyShower we know about baby showers, especially virtual baby showers. Out-of-town baby showers often have a virtual element to them, and we are so happy to say we've helped over 10,000 families share in the joy with loved ones near and far.
Let's jump right in with everyone's first question: What is an out-of-town baby shower?
What Exactly Is An Out-Of-Town Baby Shower?
An out-of-town baby shower is a baby shower that finds opportunity in the reality of distance, and it means the baby shower is not strictly local or completely in-person. Many out-of-town showers contain a virtual element, so people often refer to virtual showers as "out-of-town showers."
Let's take a look at the different types of out-of-town baby showers.
Throw a Virtual Baby Shower so Everyone

Can Celebrate!

• Free Trial – 7 Day Refund for any reason
• Only 1 Minute Setup!
• 40+ Custom Themes & Matching Invites
• Use Any Online Registry
• Send Unlimited Invites and Updates
• Baby Shower Games with Scoreboards, Give Prizes!

Build Your Shower
---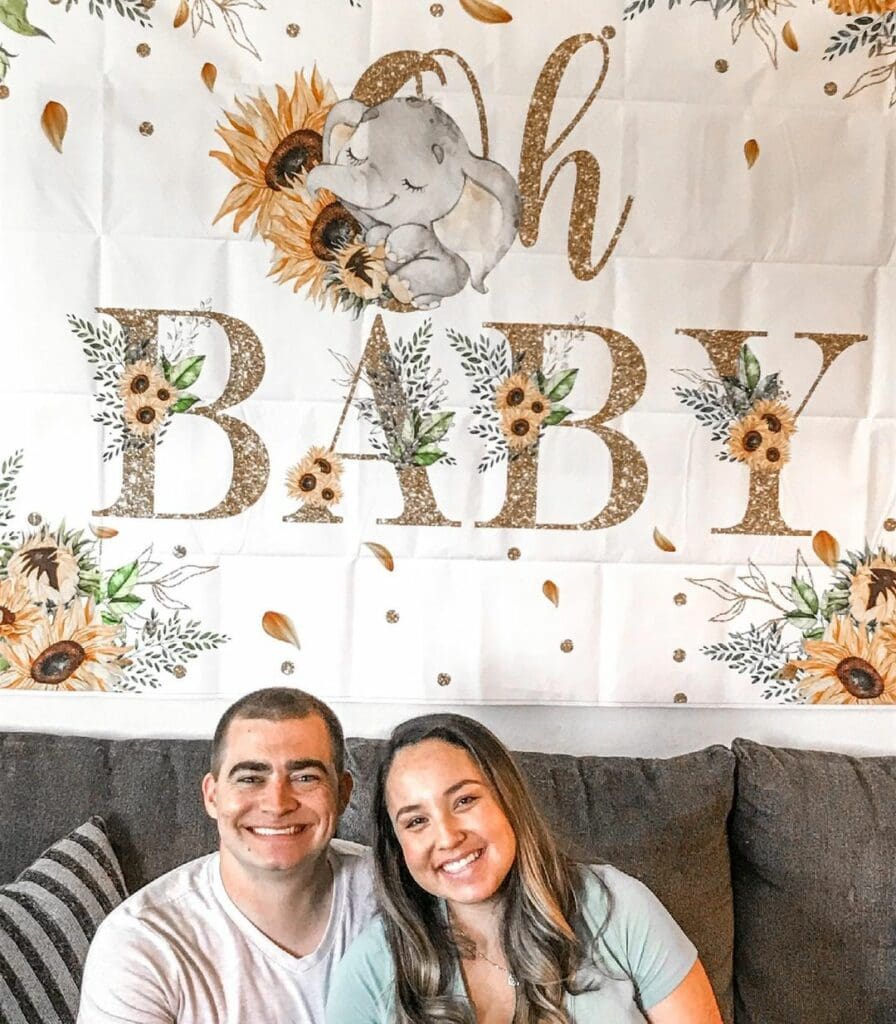 Different Types Of Out-Of-Town Baby Showers
There are a few scenarios in which an out-of-town baby shower makes sense.
Mom is far away. An out-of-town baby shower may be the perfect solution when mom's in a different location than most of her guests. Maybe she's recently moved to a new town or state, maybe she's in the military or partnered with someone in the military, maybe she's in a temporary work location faraway…you get the idea. If mom's in a different place from her friends and family, an out-of-town baby is a great option!
Everyone lives in different locations. These days it's not unusual for friends and family to live all over the country, or even all over the world. When loved ones are sprinkled across various locations, an out-of-town baby shower can bring a community together without any one person needing to shell out tons of time or money to travel.
Out-of-town baby showers often involve a virtual element, and sometimes people throw hybrid showers. A hybrid shower is when some people attend in-person and others attend virtually.
The type of out-of-town baby shower most suited to your needs will affect how best to plan. So, how do you successfully throw an out-of-town baby shower?
How Do You Throw An Out Of Town Baby Shower?
Since most out-of-town baby showers have a virtual element, throwing a successful one is akin to throwing a virtual baby shower.
Virtual baby showers offer everyone a chance to join in celebrating the mom-to-be through Zoom, Skype, or a similar video messaging service. Virtual baby showers can have all the traditional elements of an in-person baby shower: gifts, games, decorations, and even shared food and drink. (You may have to get a little creative with that last part; you can mail guests a delightful packet of non-perishable treats or snacks, or invite everyone to cook a family's cherished dish from a recipe you've previously shared with your guests.)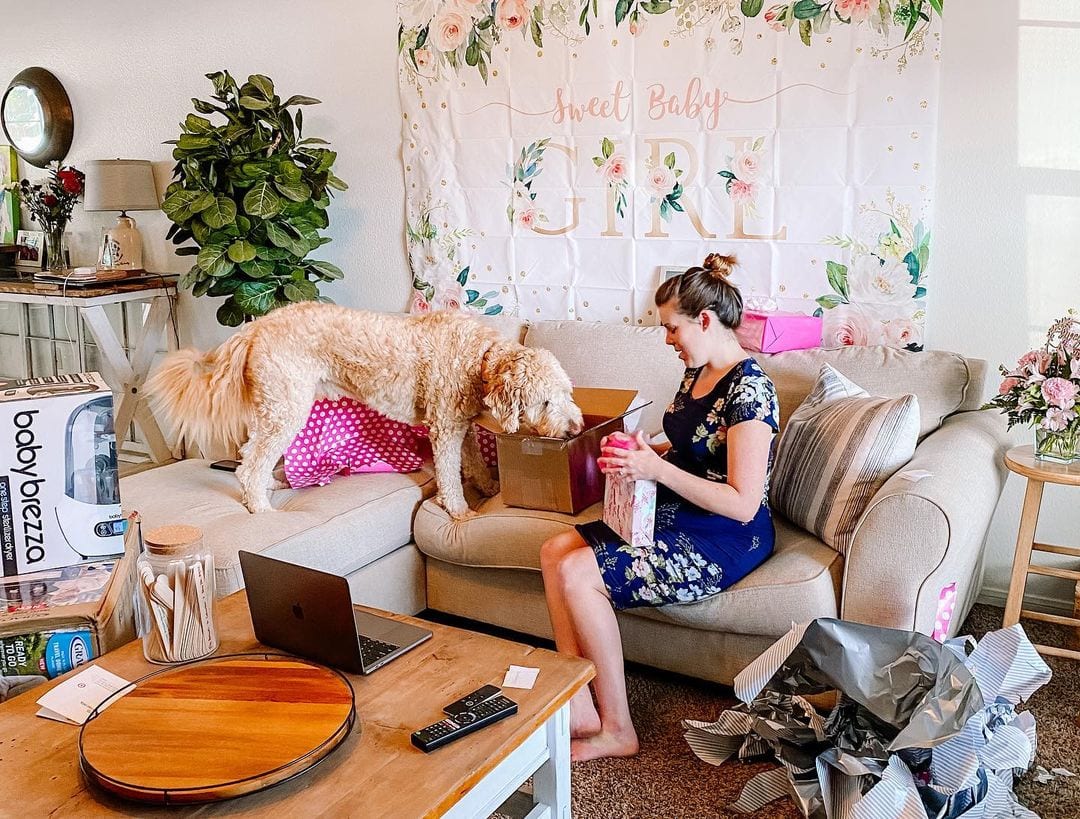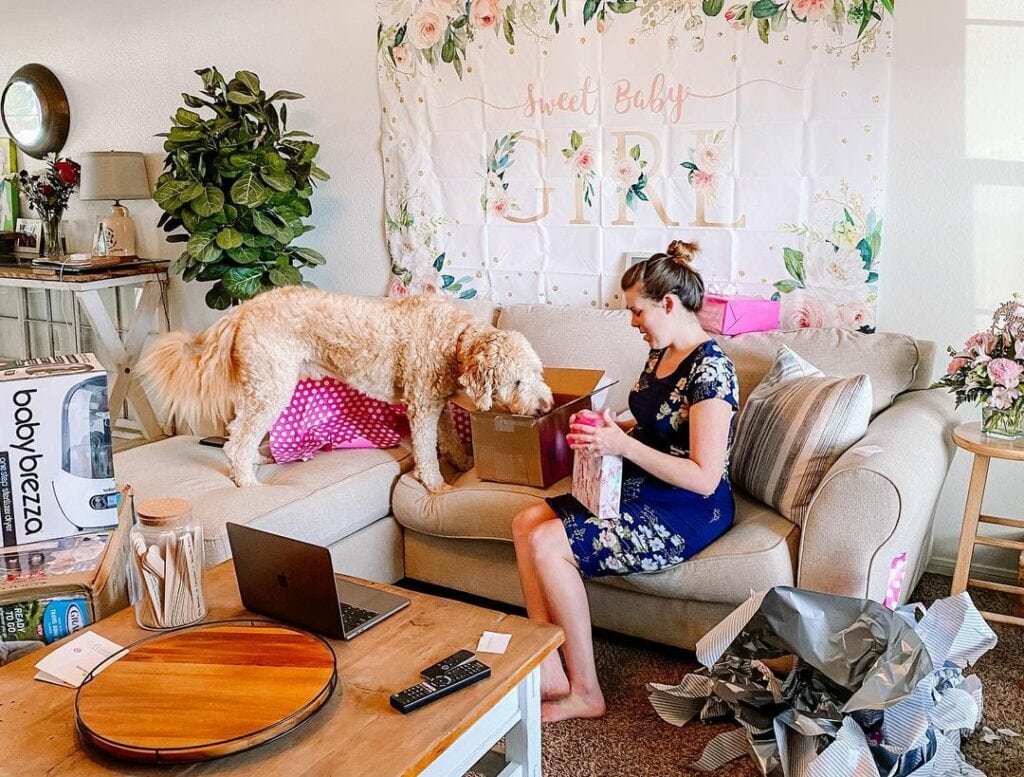 Throwing an out-of-town baby shower may seem like a lot to handle, but it doesn't have to be! WebBabyShower is the perfect way to organize a joyful and memorable out-of-town shower. WebBabyShower offers all your planning elements in one place: you choose a theme, customize your WebBabyShower website and registry, choose matching invitations and send them to your entire guest list. Once your invitations are sent, you can track opens and RSVPs with ease.
Every out-of-town baby shower has unique qualities, so communicating with guests about party times, game preparations, and gift registries are important. WebBabyShower serves as a single hub to send and receive all communications, making sure everyone's in the loop.
Out Of Town Baby Shower Invites
Out-of-town baby shower invitations are uniquely different from traditional ones; evites or online invitations are the typical formats. An out-of-town or virtual baby shower invitations include a link to the baby shower website and detailed instructions for a video chat call.
WebBabyShower can help with every part of out-of-town baby shower invitations. It's fun and easy to choose a theme and customize your invitation to your taste. Once you have your invitations ready, you can send them outright from WebBabyShower, and afterward, you can track your opens and RSVPs. As the day of the shower approaches, you can send reminder invitations to anyone who hasn't yet opened or RSVP'd. You can also use WebBabyShower as a hub to send updates or communications all along the way.
When creating your out-of-town baby shower invites, we suggest the following elements:
The date and time of the event
The fact that it is a virtual or out-of-town baby shower, so everyone is welcome to join no matter where they live!
The baby shower website link
Gift registry information (with WebBabyShower, you can list unlimited registries!)
The details of the Video Chat Call (time, timezone, service platform & timing of link.)
RSVP-by date
Here's an example of how your out-of-town baby shower invitation might be worded: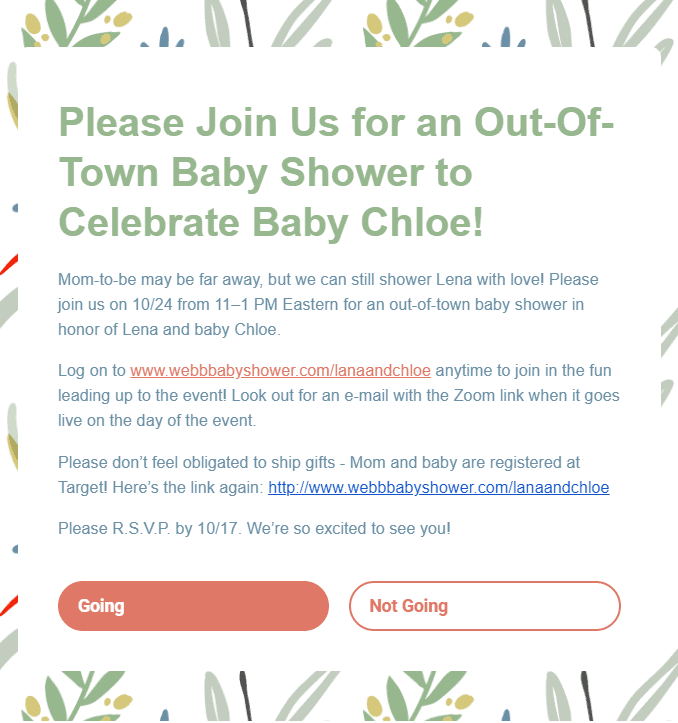 Out-Of-Town Baby Shower Etiquette
Since out-of-town baby showers are a new trend, some people may not know what to expect. Communication matters when organizing a baby shower where many – or sometimes all – of your guests are remote.
The baby shower host helps set your guest's expectations. Always include information about event times in your communications, as well as any links that guests need to access party elements and gift registries. It's important to have a clear R.S.V.P. date so the baby shower host can organize and coordinate all the elements.
Gifts For An Out Of Town Baby Shower
Giving a gift shouldn't be a requirement to attend a baby shower, and with an out-of-town baby shower, it's especially important to communicate this concept to your guests. People may feel obligated to ship a gift directly to the mom-to-be, adding expense on top of the cost of the gift. It's simple and considerate to communicate on your invitations, and in any subsequent correspondence, that if guests wish to send a gift, they're welcome to use the registry. A timetable for optional gifts can be useful too; guests can order the gift through the registry so that the mom-to-be receives it in time for the baby shower.
WebBabyShower's gift registry helps keep people organized. It allows you to coordinate all gift registry links and communication in one place. After you send the gift timetable email to your guests, you can post it on your WebBabyShower site along with any gift registry links so that people have easy access – all in one place!