Are you searching for fun and creative games to add to your virtual baby shower game list? The Emoji Pictionary game is entertaining, and guests will love it. Plus, it's super easy to plan because you only need a few items — perfect for virtual baby showers and stress-free party planning.
Here's how to easily play this imaginative game. Also, check out our other exciting games for your next baby shower!
The Emoji Pictionary Baby Shower Game
The virtual baby shower emoji game can be set up in no time at all, and playing it will ensure your guests stay completely entertained at the party. See our instructions here if you need answers for your baby shower Emoji Pictionary game.
Things You Need to Play
You won't need too many things to play this game, but here's a quick list of the items you should have before you get started. Make sure you have enough for everyone to join in!
Find out how many people will be in attendance, send out items in advance, or tell guests what to have on hand. You can also have a few extras and access to the free printable in case you have any last-minute guests join in.
Pen, so everyone can write their answers and the host can keep score.
Paper for the host, as they keep track of points.
Free printable for every participant.
How to Play
This game is pretty similar to regular Pictionary, and the best part is, it's totally free! It's also pretty interactive, and you can choose whether to play in groups or individually.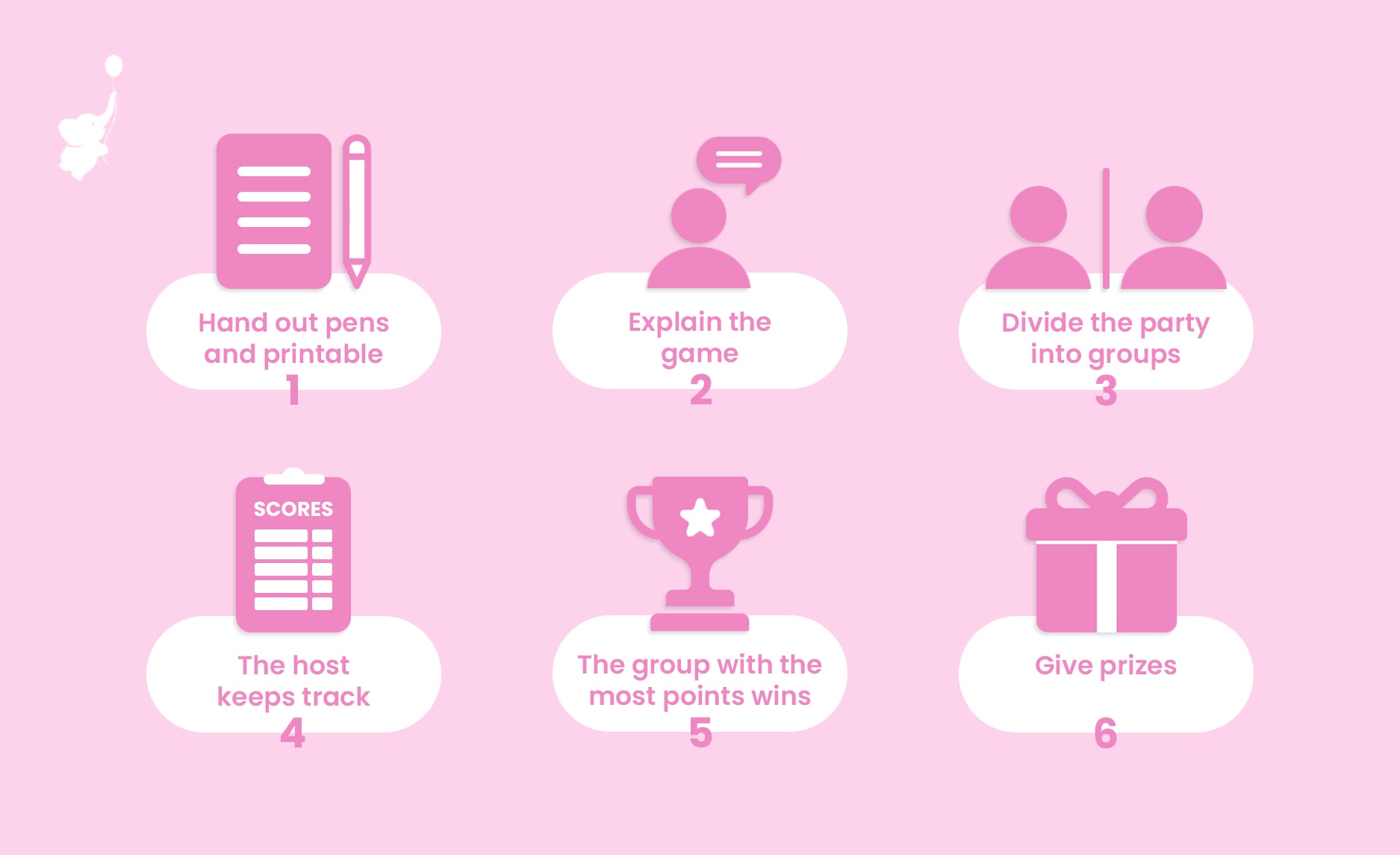 This game works well as an ice breaker, because it doesn't need much explanation and is a ton of fun. Here's how to play:
Hand out pens and a free printable to each guest.
Explain that they will find emojis that relate to a baby phrase on the printable. (As an example, you might see two baby emojis, which means twins.) Then, they must guess the phrase and write it in the blank next to the emojis.
You can divide the party into groups and take turns guessing. Alternatively, each guest can play individually against each other. This works well for smaller parties where dividing into teams might be challenging.
The host keeps track of which group has the most correct guesses using pen and paper.
The first group or single player to get to a certain amount of points is the winner! You can also play for a set amount of time, with whoever gets the most points in that time frame winning.
Give prizes! Your guests will have more fun if they know they could win something. You may want to show off prizes before you get started, so that way, there's more incentive for the guests.
This game is fun for all types of parties, including small, large, or co-ed events. And it's easy to play virtually while on a video call. Just divide the group into two teams and make sure everyone gets a chance to participate.
Throw a Virtual Baby Shower so Everyone

Can Celebrate!

• Free Trial – 7 Day Refund for any reason
• Only 1 Minute Setup!
• 40+ Custom Themes & Matching Invites
• Use Any Online Registry
• Send Unlimited Invites and Updates
• Baby Shower Games with Scoreboards, Give Prizes!

Build Your Shower
---
Why the Emoji Game Is Perfect for Virtual Baby Showers
This is the perfect game for virtual events! It's unique and much less traditional than some games, yet it is extremely simple to play. With a video call, you can easily add it to the party festivities and modify it for your group.
If your group contains less than four people, everyone can play individually. For large parties, opt for teams.
Your older family members will also enjoy it and will likely recognize the similarities to regular Pictionary. You can send all the prizes via mail after the event. And each person can print out the free printable version of the game, or the host can send it ahead of time.
If you are baby shower planning in a bit of a hurry, the virtual baby shower emoji game will not disappoint. You will be able to prep for it easily, and it doesn't require too much explanation.
Some of the best virtual games are printables like this that are fun and easy!
Emoji Pictionary Variations for Your Baby Shower
There are tons of versions of the virtual baby shower emoji game that will suit your event. You might even choose a couple of them to play.
The best way is to pick out one or two variations — that way, if people are really into it, you can play a second round. If not, one round is plenty in most cases. Pick a variation that your guests will likely know the answers to, or pick something more challenging if the group is competitive!
This version shows emojis that lead the players to come up with baby phrases, such as "delivery from the stork." It's an exciting version that your guests will easily understand.
This version works well for guests who have a bit of nursery rhyme knowledge. The emojis will lead them to guess things like "Twinkle Twinkle Little Star." It's pretty fun and super straightforward.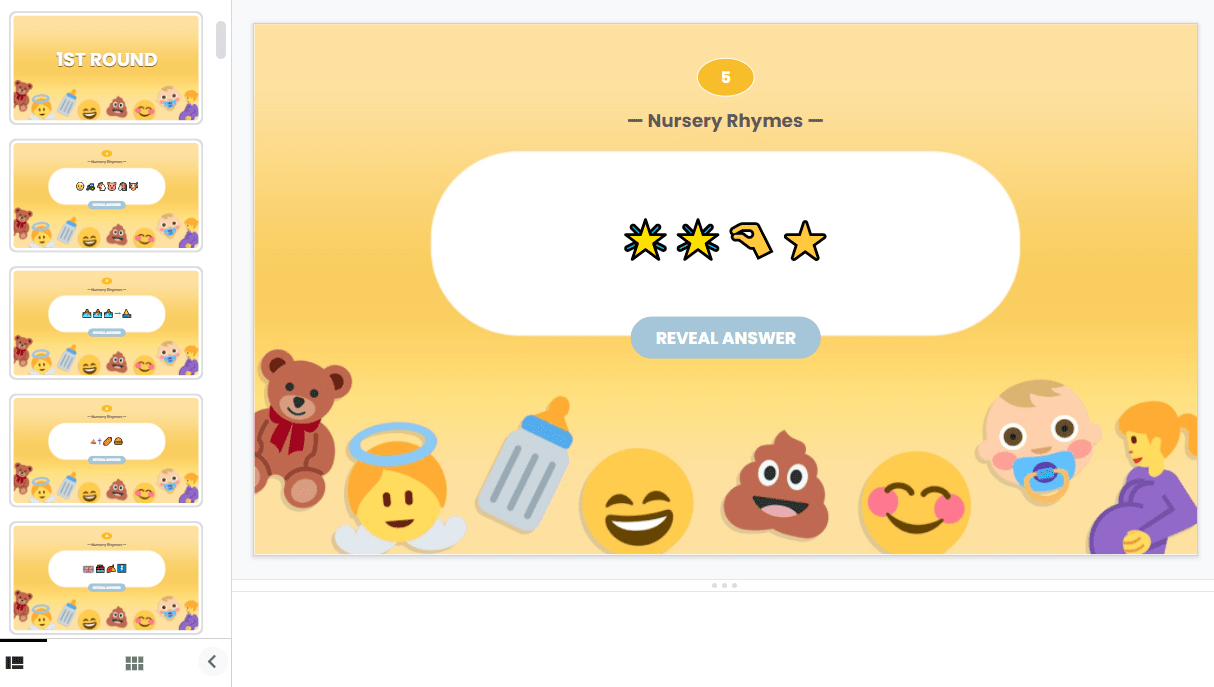 Guessing the baby book can be more challenging, but it'll still hold the crowd's interest. The players can guess book titles like "If You Give a Mouse a Cookie" or "Good Night Moon." Everyone will have a blast — especially if they team up!
Guess the Movie With the Word "Baby" in It
This version might be the toughest one to guess, and your guests may need to brush up on their movie knowledge. You can stump them with movie titles like "Boss Baby" or "Baby Boom." Be prepared to do some research as a host, too!
The Virtual Baby Shower Emoji Game Is Fun and Versatile
This game suits the needs of every party with its different variations and excellent potential for laughter and conversation. If you want the group to mingle, divide it into teams. If the group is small, play individually.
You can choose from baby movies, phrases, books, and nursery rhymes. And you can even come up with more variations by using your imagination!
This classic game with modern details is sure to keep your guests entertained and asking when the next party will be!