Remember when we could celebrate important events like baby showers at work?
Now, virtual offices and a global pandemic have taken over the world. Work baby showers have gone online, and — realistically — they will stay that way for a long time.
So, let's embrace your inner online party animal and throw a virtual work baby shower that your co-workers will love!
If you're thinking of hosting a virtual baby shower for a coworker, follow this guide to plan the perfect event!
Should I Host a Virtual Work Baby Shower for My Coworker?
Preparing for a baby is both a thrilling and stressful time. Balancing baby plans with work tasks can be challenging! Planning a baby shower for your coworker is an amazing gesture of support from your whole team. Plus, it's a super exciting reason to connect and have fun!
Holding an online work baby shower is simple, and much easier than hosting an in-person baby shower. Many of your guests will also be relieved to have a safe, socially-distant celebration!
Relax! WebBabyShower Makes Shower Planning Astoundingly Easy!
We get it — everyone wants to succeed at work, and you want to WOW your co-workers and the mom-to-be with a fantastic celebration.
With WebBabyShower, you can find everything you need for a virtual shower at your fingertips. In a few quick clicks, your shower will be ready to go!
First, you can choose one of 40 built-in themes to create your beautiful custom baby shower website. Then, send out digital invitations, which include a one-click RSVP button for fast replies. And, finally, add the gift registry, photo gallery, and message board.
Simple, right? It gets better.
You can invite co-hosts to help you set up the shower. So, rally the troops and get ready to rock this virtual work baby shower!
Throw a Virtual Baby Shower so Everyone

Can Celebrate!

• Free Trial – 7 Day Refund for any reason
• Only 1 Minute Setup!
• 40+ Custom Themes & Matching Invites
• Use Any Online Registry
• Send Unlimited Invites and Updates
• Baby Shower Games with Scoreboards, Give Prizes!

Build Your Shower
---
Don't Miss a Single Detail! Your Virtual Work Baby Shower Checklist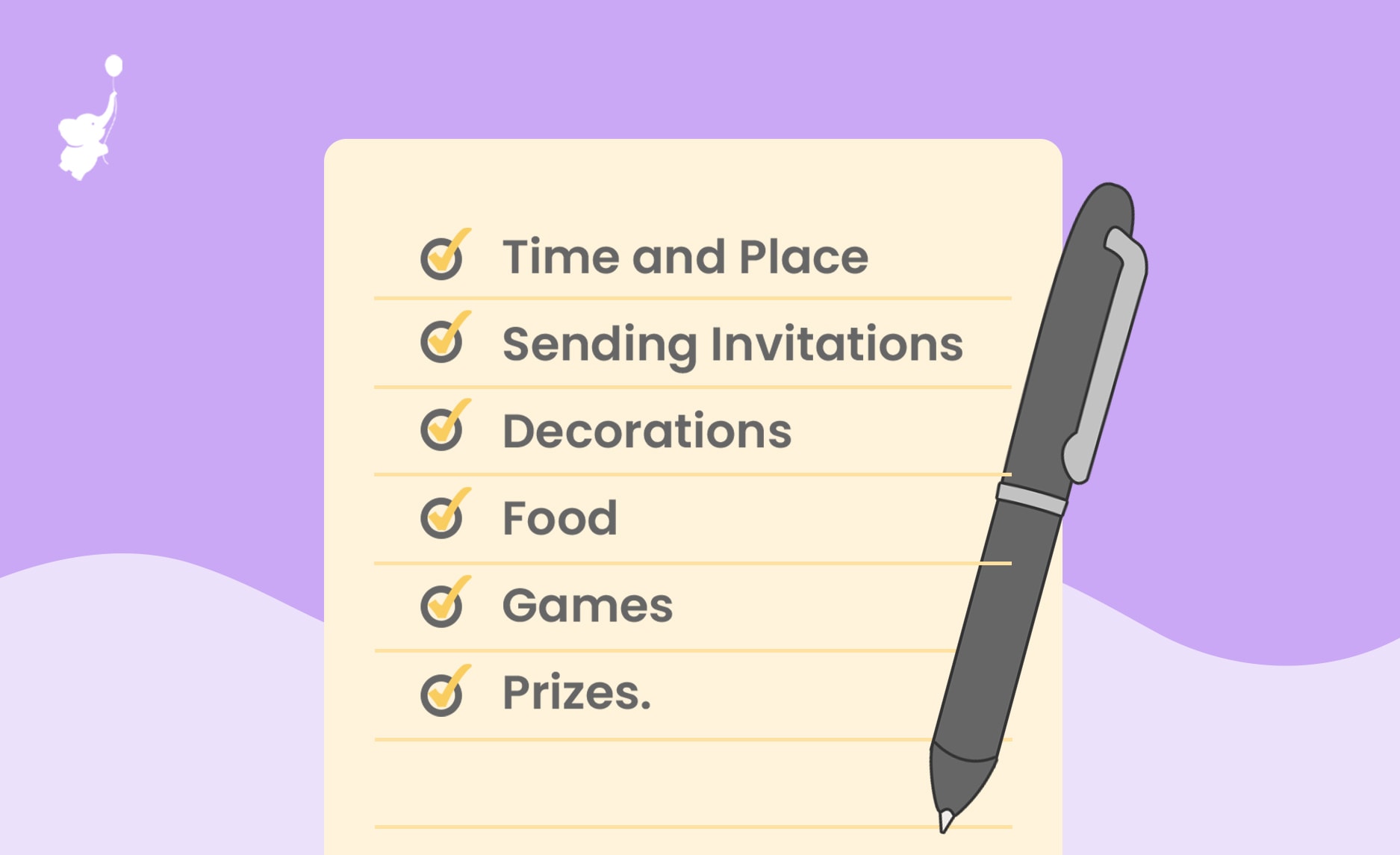 Any significant event will have plenty of parts and pieces to track. As you plan, you will want to stay organized and communicate clearly with the guests and the expectant parent.
It's also possible that you might be planning your own baby shower, which is becoming more and more common as shower etiquette evolves. Remember your social circle wants to support you!
Whether you're planning a virtual baby shower for a coworker or for yourself, here are the details to remember:
Time and Place
Sending Invitations
Decorations
Food
Games
Prizes
Choose the Perfect Time and Place
Consider a time and place that will be convenient for your office community. Think about your organization's culture, working hours, and socialization styles. By choosing a time and place based on these considerations, you can increase the likelihood that everyone will be able to attend.
Plus, since your office baby shower is virtual, you have endless options. Your guests will love the convenience of a more casual event that they can attend from their desk or home!
Dazzle Your Guests by Sending Fun Invitations
Roll up your sleeves and get creative! Designing your work baby shower invites is fun and gives you a chance to set the mood for the event.
Your invitations will let your guests know that the work baby shower is an official, legitimate occasion — even though it's being held online.
A tool like WebBabyShower makes the invitation process effortless. You can create invites that match your chosen theme, have an RSVP button, and can be sent instantly to your contacts.
Add Glitz and Glam With Virtual Baby Shower Decorations
Going virtual does not mean foregoing decorations! Decorating for an online baby shower is just as exciting as decorating for an in-person shower.
Choose decorations to use during the baby shower video call. You can also use your decorations for a baby bump photo shoot and then post the pics to your baby shower website.
Think through your decoration options. You can go big, bright, and bold. Or perhaps you will channel your calm, sophisticated, and chic style. Or, maybe you'll choose whimsical, dreamy elements for a light, charming décor.
All these styles are available for online baby showers. Simply choose balloons, streamers, backdrops, or other display items and then use them during your video call or in your photo updates!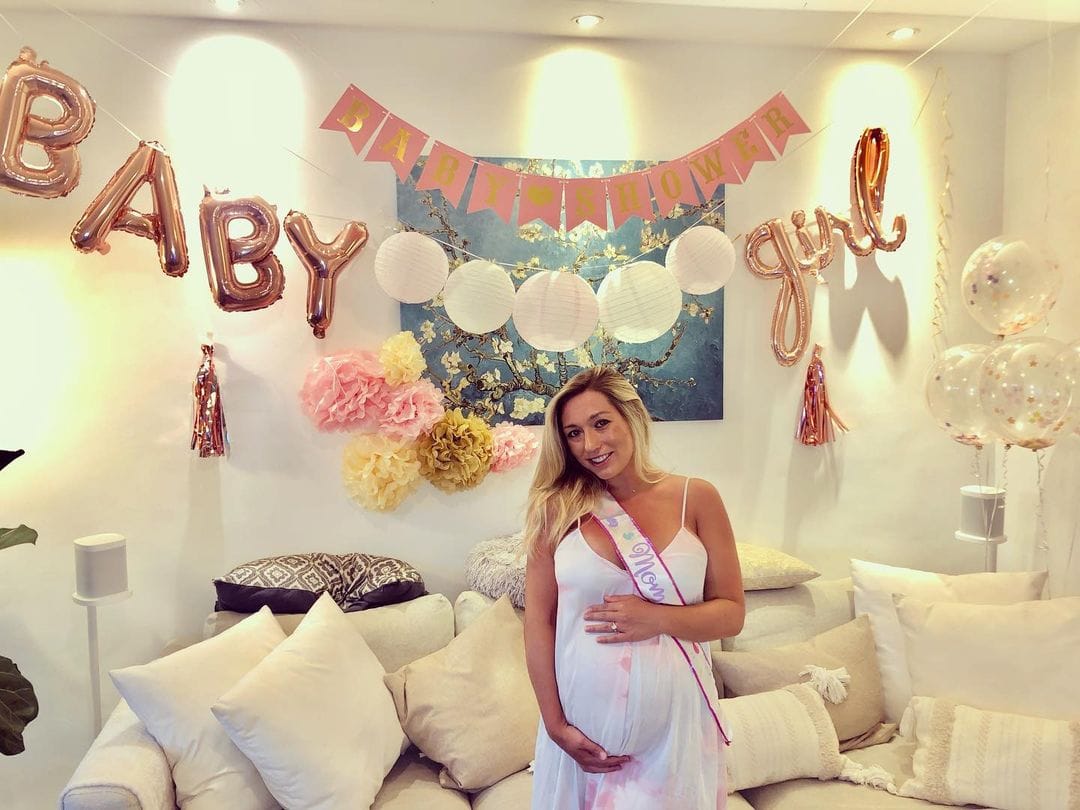 Your Virtual Shower Guests Will Be Hungry! Remember the Food!
Like decorations, food can also go virtual.
Before your event, consider sending out cookies, cupcakes, fruit baskets, chocolates, or other goodies.
There are options for almost every budget and theme. You may want to have your treats customized, and you can also include a note with the food that has images, colors, or other elements that match the party.
Entertain Your Guests With Hilarious, Work-Appropriate Games
The internet is flooded with virtual work baby shower ideas, including party games.
With 41 different baby shower games, WebBabyShower gives you options that will fit with any office culture and team dynamic. Check out our master list for virtual baby games here.
Baby Jeopardy!
If you have a Zoom event planned for your shower, consider adding Baby Jeopardy! to your agenda — this game is perfect for video chat.
A spin on the classic Jeopardy! trivia game, Baby Jeopardy! focuses on facts, tips, and knowledge that all parents-to-be will want to know.
Playing virtual Baby Jeopardy! is easy — all you'll need is the Baby Jeopardy! PowerPoint file and a buzzer or whistle. You can find the file and other information on our Baby Jeopardy! Guide.
The Price Is Right
The Price Is Right (Baby Edition) tests your guests' knowledge on the current costs of having a baby. All you need to do is make a list of items from the parents' baby registry.
You will share the list and the guests will guess the costs of each item. If you play this game via Zoom, you can download our Baby Shower Price Is Right slideshow which makes it super easy to run the game virtually.
Guess the Baby Picture
This game is perfect for a virtual baby shower and very appropriate for work settings. Ask your co-workers to send you a baby photo of themselves in advance. During the shower, you will display the photos, and your guests will write down who they think is who.
At the end of the game, go back through the photos while sharing the answers. The guest with the most correct guesses is the winner!
Get Guests Excited With Great Virtual Baby Shower Prizes!
With planning, ingenuity, and imagination, you can include prizes in your virtual work baby shower.
Keeping prizes small will keep distribution easy. Look for little things that go a long way: votive candles, stationary sets, lotions, soaps, and so on.
Want to go bigger? Gift sets, tumblers, scarves, and more can be captivating prizes. Just remember to consider how you will get the prize to the winner!
Whether you play the baby shower games before, during, or after your virtual shower event, make arrangements for shipping or dropping off the prizes. Plus, ordering prizes from a place like Target or Amazon gives you the opportunity to ship directly to the recipient while adding a cute note of congratulations on winning the game.
Finishing Touches: Throwing a Virtual Baby Shower With Your Co-Workers
Virtual baby shower planning has never been easier. Modern technology helps you get the whole event set up with a couple of clicks!
WebBabyShower makes the process manageable and work appropriate so you can focus on celebrating and connecting with your co-workers.
Virtual Work Baby Shower Tips, Tricks, and Etiquette
We've walked you through the basics of a virtual work baby shower, and hopefully you are feeling ready to dive in! Before you get started, review these final tips on navigating the finer details of your event.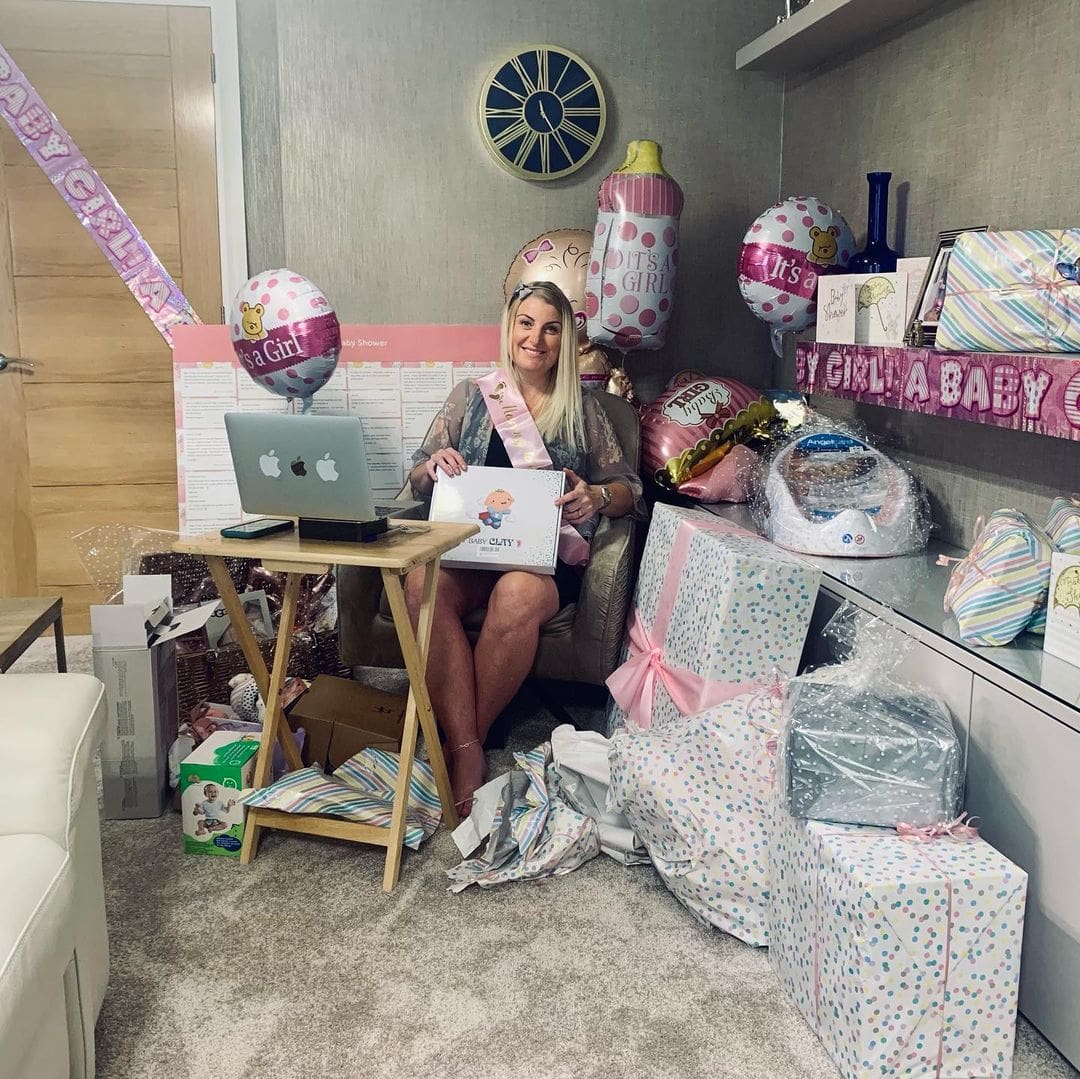 Can I Host My Own Virtual Work Baby Shower?
There are tons of reasons to throw your own baby shower — don't feel uncomfortable if you choose to host your own shower. Your family, friends, and co-workers want to celebrate with you.
More than ever before, expecting parents are hosting their own showers. At WebBabyShower, more than 60% of our clients are throwing their own shower.
Compared to an in-person shower, your virtual baby shower planning will be low stress and straightforward. You can rest assured that co-workers far and near can join in. With a virtual platform like WebBabyShower, your colleagues can connect and actively participate before, during, and after the event.
How Much Will a Virtual Work Baby Shower Cost?
Virtual work baby showers can fit any budget, and typically cost much less than in-person showers. Depending on the options you choose the average cost ranges from $20 to $200.
Factors like venue, number of guests, decorations, food, prizes, and party favors will affect your total cost.
Virtual showers give you maximum flexibility. For example, with a virtual shower, it's acceptable to forgo sending food or prizes to participants. Most guests expect a more casual approach for online events than in-person celebrations. They will not be surprised if you choose to skip the process of shipping out extra party items.
Although you do not need to pay for a physical space for your virtual event, you might discover other costs like video hosting software or custom domains. These hidden costs can be avoided with a full-service solution like WebBabyShower.
With WebBabyShower, you can create a baby shower website to host your virtual baby shower for only $79, which includes 6 months of total access!
How to Host the Perfect Virtual Work Baby Shower
You can amaze your workplace with a fantastic virtual baby shower — you just need the right tools. Finish preparing yourself for the special event by reading our important tips that will help you host a perfect virtual baby shower.
Follow these simple steps, and know that your virtual work baby shower will be a great experience for everyone!