There's so much to love about planning a baby shower. From deciding the menu to finding — or crafting — decorations and favors, throwing a party to honor the parents-to-be and their precious baby is so much fun. You could say we're more than a little enthusiastic about baby showers at WebBabyShower, where we've hosted thousands of games!
One of our absolute favorite parts of planning a baby shower is selecting baby shower games. There are so many fun games to pick, with the perfect game out there for just about everyone. Whether you're looking for funny baby shower games or are interested in more traditional ones, we've got you covered.
One of our favorite baby shower games is the baby shower alphabet game. It's a classic game that's fun, easy to play, and best of all, easy to prepare for.
We've got everything you need to make this game successful at your next baby shower, including what you need, how to play, and even a FREE printable!
Throw a Virtual Baby Shower so Everyone

Can Celebrate!

• Free Trial – 7 Day Refund for any reason
• Only 1 Minute Setup!
• 40+ Custom Themes & Matching Invites
• Use Any Online Registry
• Send Unlimited Invites and Updates
• Baby Shower Games with Scoreboards, Give Prizes!

Build Your Shower
---
How To Play The Baby Shower Alphabet Game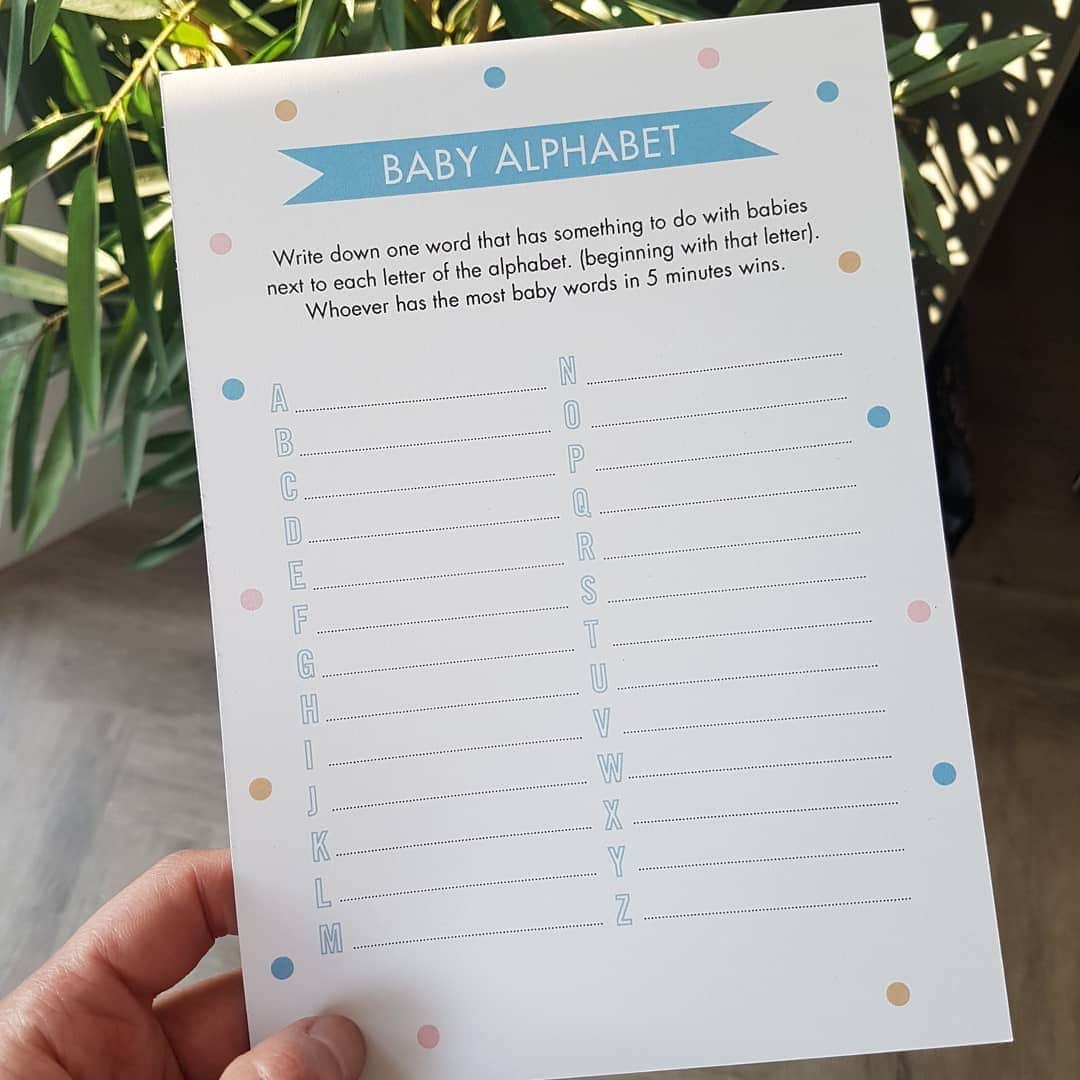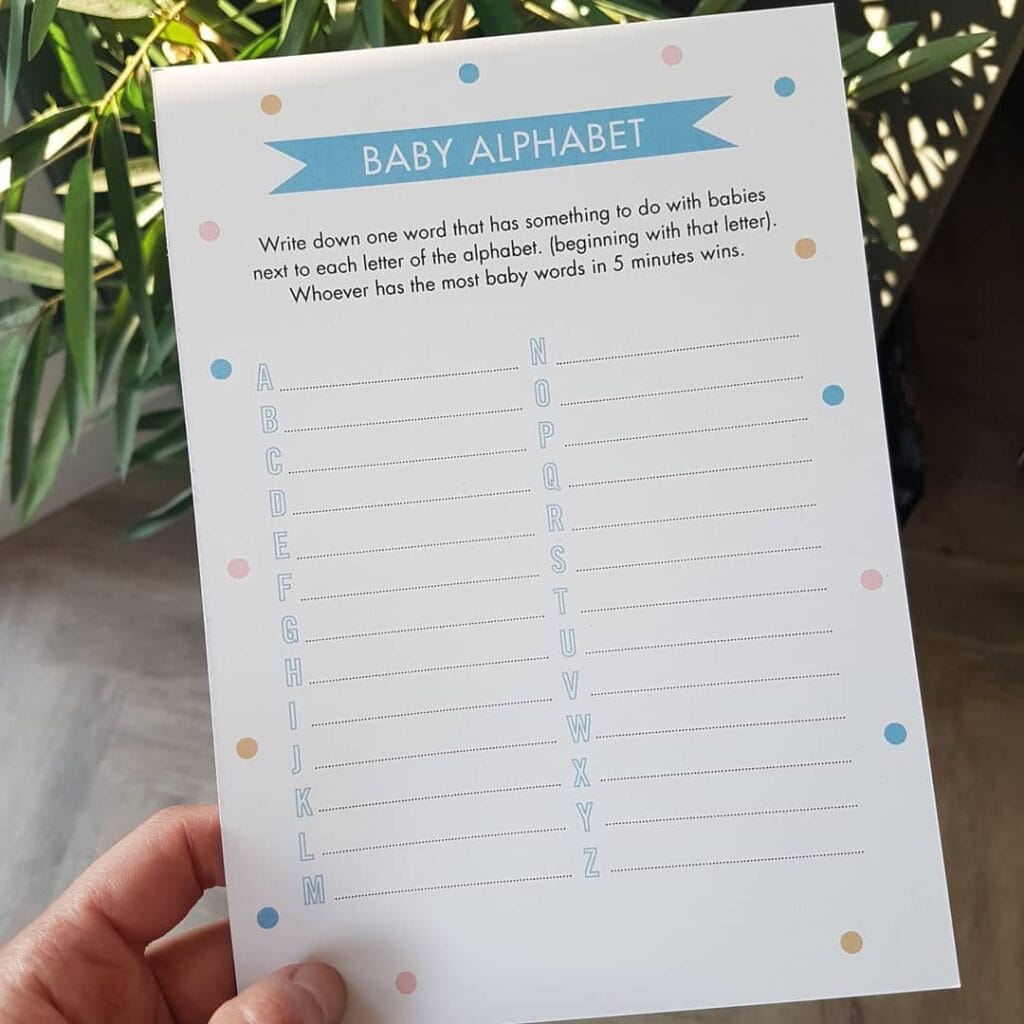 This alphabet game is ideal for all types of baby showers. It doesn't require a lot of materials and is easy to learn. Your guests will love it! Here's what you need, and how to play the baby shower alphabet game
You'll need a pen and a sheet of paper with the letters of the alphabet listed, A–Z.
To play the game, hand out a pen and a copy of your printed baby alphabet game sheet to each guest.
Set a timer (we recommend 2–3 minutes) and instruct guests to come up with a word for each letter of the alphabet — the catch is that the words must be pregnancy or baby-relatedd! (Example: Applesauce for A, Bib for B, Crib for C, etc.)
Whoever has the most complete list of baby alphabet words at the end of the time is the winner!
The baby shower alphabet game is great for in-person baby showers, but with just a little more preparation, you can easily play it during virtual showers, mail-in showers, and drive-through baby showers! 
For virtual baby showers, you'll gather the supplies each guest will need to participate well before the shower and mail them to your remote guests. We suggest including instructions on how to play so guests are prepared.
If guests are attending virtually, they can keep their game cards blank and play on the day of the shower. They can also fill their game cards out and mail them back to you (make sure you include a return envelope and postage in this case). For drive-thru showers, have your guests fill their cards out before they arrive and drop them off with their gifts.
WebBabyShower is perfect for sharing virtual, mail-in, or drive-thru alphabet cards. Simply upload them to your gallery and share them with guests so they can see the responses everyone came up with!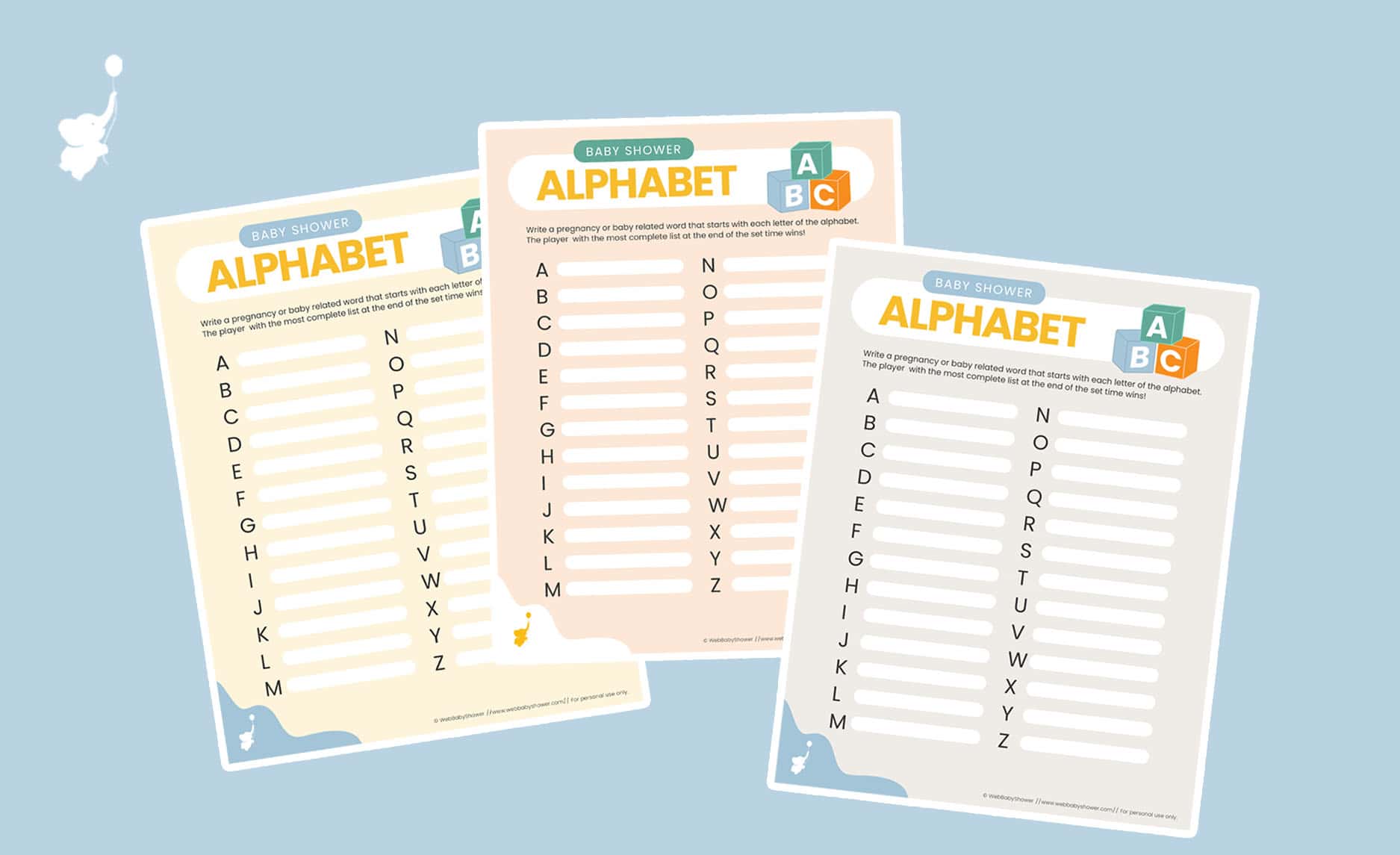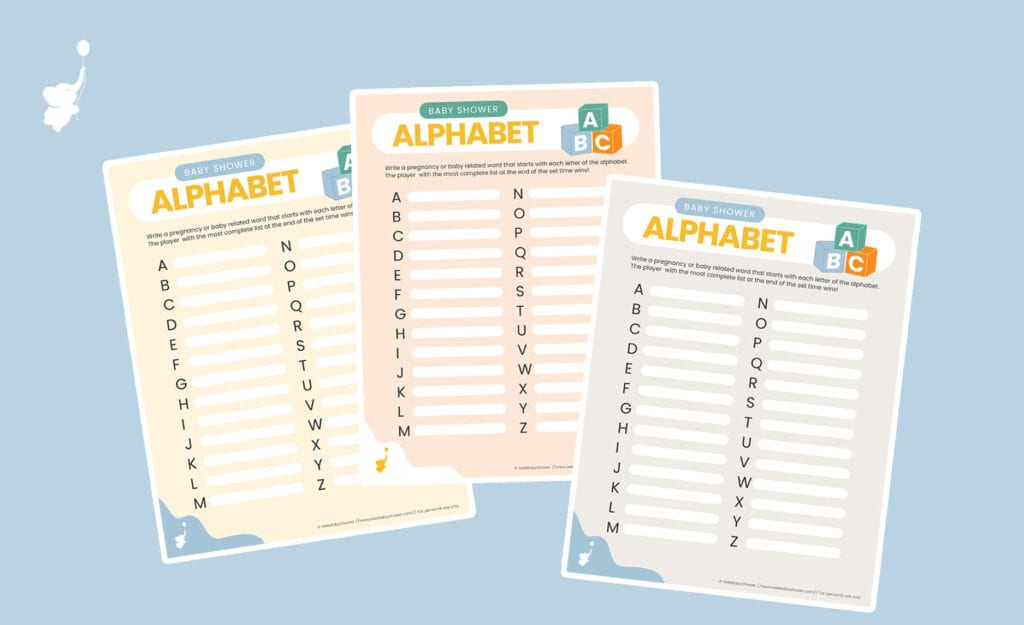 The Alphabet Game Downloadable Printable
If this sounds like the perfect game for your shower, download our FREE printable!
This will make your job even easier, as you don't have to design your own or find one that's suitable elsewhere. Our printable comes in several different versions so you're sure to find the perfect one for your shower!.
Tip: If your baby shower is kid-friendly, these printables make excellent coloring pages for littles. Simply hand the kids some crayons, turn the printables over, and let them go to town. Plus, the game itself is simple enough that older kids can play along, too!
Click the button below to snag your FREE Baby Shower Alphabet Game printable!
Baby Shower Alphabet Game: Easy, Fast Fun For Your Next Baby Shower!
It can be tough to find good baby shower games that are easy, fun, and won't break the bank. That's why we love the baby shower alphabet game. It's perfect for any type of baby shower and it's easy to prepare for.
If you're looking for more interactive games that are designed to be played virtually, check out our comprehensive list of great Zoom baby shower games. And if you're hosting a virtual baby shower soon, make sure you check out WebBabyShower! We make throwing remote baby showers easy from start to finish.