This past year provided four ladies in particular with an incredible opportunity: the joy of childbirth. These women focused on their growing families and were able to celebrate this happy time in their lives, despite it not being easy dealing with a global pandemic while you are carrying a world of your own inside you.
These four amazing women persevered through a challenging pandemic and came through it all with an incredible feeling of accomplishment, happiness, and gratitude. They each learned just how strong they are and that there are others who have and who are walking similar paths. They instinctively know that having a baby, no matter the season of life, truly makes the future look bright.
We'd like you to meet Jewel, Caitlin, Kimberly, and Katherine, remarkable women who live in different cities from coast to coast. They were delighted to share their pregnancy stories amidst the COVID-19 pandemic, revealing not only their worries (which we all have during this time) but their focus on the positive aspects of having a baby during such monumental times. Let's just say their laughter and tears of joy far outweigh the stress and anxieties.
Furthermore, each of these moms had the experience of a lifetime by enjoying a virtual baby shower through WebBabyShower. We were thrilled to help them experience an upbeat, joyful, and unique celebration they will remember for years to come. We offered them a fun solution to still enjoy a baby shower in the comfort of their own homes with a safe, interactive, and fun-filled event.
Jewel's story:
When Jewel fell ill early last spring, she thought she had contracted COVID-19. Experiencing another pregnancy was not on her list of priorities at the time. She already had a young daughter and enjoyed a smooth, sickness-free pregnancy with her. So when the nausea and exhaustion caused her to become bedridden in April, Jewel just assumed she had fallen victim to the virus and asked to be tested for COVID. Little did she know at the time that a pregnancy test would reveal the actual reason behind her ill health.
At the time of this writing, Jewel had met her due date and was simply anticipating the arrival of her son. However, she easily recalled how being pregnant throughout the pandemic made her feel on an emotional level.
"I was very nervous and so afraid at first, as I found out I was pregnant at the peak of the virus," she recalled. "I had no idea what the protocol would be nor how my body would react to any PPE measures."
Her concerns were further heightened when she realized her husband could not attend any of her prenatal appointments."He was devastated about that, as he was very involved with my first pregnancy," Jewel expressed. "Fortunately, they will allow him to be at the delivery."
Taking extreme caution to keep herself and her baby safe, Jewel remained at home as much as possible throughout her nine months of pregnancy, refusing to go out in public unless absolutely necessary. "My husband has been phenomenal," she said. "He has been taking care of everything."
Jewel indicated she had been going out a bit in recent days, only because she was beginning to feel somewhat trapped at home. However, just leaving her home is a daunting task. "I find it very difficult to breathe with a mask on, and I am always worried if I am wearing it correctly," noted Jewel, who wears an N95 mask and feels protected but still complains of breathing difficulties with it on.
Jewel works from home as a social worker, which allows her to watch over her daughter and avoid the additional worries of a daycare setting during a pandemic. It has been somewhat isolating, as her family lives in another state, as do many of her friends. Fortunately, when it was time to have a baby shower, technology came to the rescue, joyfully bridging the gap between isolation and reunion. Jewel, who used WebBabyShower to coordinate her own event, loved the ease of using the platform.
"I set it all up myself because I tend to be very picky about things,' she laughed. "It was so convenient to have a virtual shower, using Zoom to connect with several of my family members and friends. I also loved having all the gifts just delivered to our home."
With the traditional baby shower Jewel had for her daughter, she and her husband actually had to rent a truck to bring the gifts home, as there were over 120 people at that shower. In retrospect, Jewel appreciated the unique intimacy offered by a much smaller, virtual baby shower. "It was nice to just enjoy it in the comfort of my own home while still being able to connect with family and friends," she reflected.
Caitlin's Story: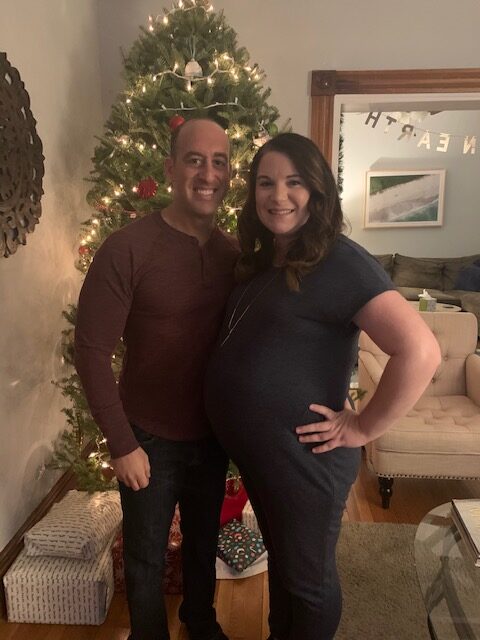 On Jan. 23, 2021, Caitlin delivered a beautiful baby girl. What a fantastic way to start the new year, especially after enduring a pregnancy throughout the somewhat tumultuous previous year.
When she found out early last summer that she was expecting a baby, Caitlin was thrilled. She and her husband had been planning to have a baby and thought it would actually take much longer to conceive than it actually did. "Because we were planning on having a baby, I wasn't really nervous about COVID," Caitlin said. "I only got somewhat nervous towards the end of my pregnancy and chose to stay home and keep things low-key.
Caitlin, who works in the environmental and energy industry, actually worked at the office until the final month of her pregnancy. That's when a co-worker contracted COVID-19, forcing Caitlin to begin working from home.
Throughout her pregnancy, Caitlin successfully maintained all of her doctor appointments but was frustrated. Her husband could not go with her to most of them, except for a couple of appointments mid-way through the pregnancy. He did, however, stay with her through labor and delivery.
"It was a challenge for him throughout my pregnancy because he is a nurse and always had so many medical questions, so he would make a list of questions for me to take to my appointments," recalled Caitlin.
When it came time to celebrate this stage of her life, Caitlin was thrilled with her WebBabyShower. She loved her online baby shower because so many friends and family members from all parts of the country could attend. Her sister helped to coordinate the whole event, which proved to be such a great success.
"Thanks to the virtual shower, it was easy to make a list of guests to invite, and so many more were able to participate who otherwise probably would not have flown in into town to celebrate," emphasized Caitlin. "The WebBabyShower site is great. It's nice to be able to leave messages and upload updated photos of me for others to see." She added, "Everyone had a great time."
See how a great online baby shower works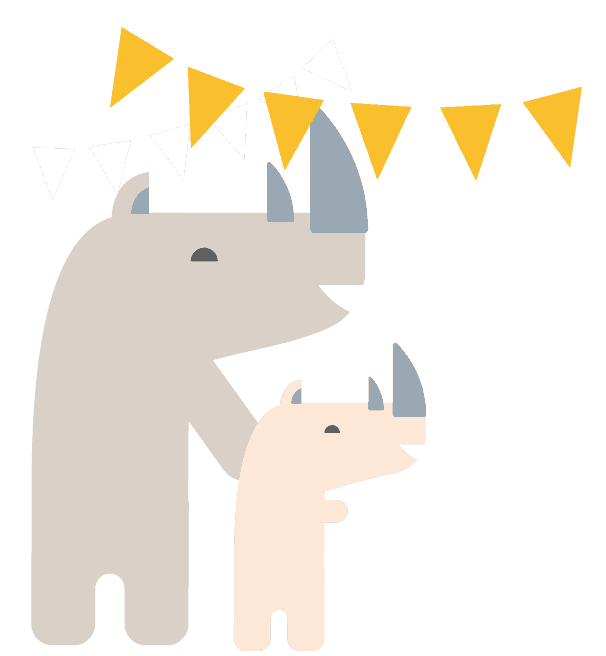 Kimberly's Story:
Kimberly conceived her first child last year. She and her husband had been trying for quite some time, but when the pandemic hit in early 2020, they initially hesitated and wondered if they should pull back on their enthusiasm. "We thought maybe we should put the brakes on that plan," she noted. "But the universe apparently had other plans.'
As residents of Los Angeles, Kimberly and her husband were very aware of the inherent dangers the pandemic would hold in such a dense geographic setting. When she found out she was pregnant in mid-June of last year, the initial excitement was somewhat overshadowed with concerns over how to protect herself and her baby from the virus.
When Kimberly began experiencing pregnancy symptoms, such as nausea and fatigue, she wondered if perhaps she actually might be mistaking those for symptoms of COVID-19. Fortunately, she did not present with COVID and was merely experiencing what many women do in their first trimester.
She was blessed in that her company had requested its employees to work from home since March, so Kimberly, a reality television show producer, had not been moving about in large circles. She enlisted her husband to undertake most of the shopping duties. He worked outside of the home but was tested weekly for the virus.
"The total unknown of it all is what made me most anxious," admitted Kimberly, who confessed to exercising extreme caution at all times. "If I went outside, I would cross the street far away from everyone and remained highly vigilant about mask wearing and hand washing."
Kimberly said, "Our biggest concern was actually more for my husband, as he has asthma," noting, "However, there was so much we didn't know about the virus and how it might potentially affect the fetus and the overall pregnancy."
Kimberly referred to her pregnancy as a "geriatric pregnancy," in that she is 35 and is considered to be on the "older" end of the spectrum. She managed to get to all of her prenatal appointments and labs while trying to avoid contact with people as much as possible. But she was disappointed that her husband was not allowed to accompany her to any of her appointments.
Fortunately, however, Kimberly's husband was allowed to be with her in the delivery room. Before being admitted, they both had to be tested and then were required to remain in the room. Kimberly gave birth to a baby girl and appreciates that her pregnancy experience was probably less stressful than those of women who had babies in early 2020, right as the pandemic hit. "There is a much better system in place now, I think," she said. "Plus, being able to work for home has been such a blessing."
Thanks to technology, Kimberly did not have to miss the fun of a baby shower.  Despite the restrictions of COVID, she had a couple of virtual showers conducted via Zoom that filled her cup in more ways than one. She shared, "We were still showered with lots of gifts and got everything we needed."
Kimberly enjoyed having her shower through WebBabyShower, most notably because of how simple it was to use and how the platform had everything in order for her. "If I've learned anything in this past year, the future is very hard to predict, but when we discovered the WebBabyShower website, we thought it was great," she said. "We still got to celebrate the upcoming birth of our baby with family and friends in a user-friendly way that was still very interactive."
Katherine's Story:
Katherine's love story with her new baby started differently than most. She was pregnant in 2019, but had experienced a miscarriage when she was five months along. However, she was blessed to realize she was pregnant once again in January 2020. The pandemic had yet to make appreciable waves in the United States at that point, so Katherine had the opportunity to prepare herself well for this pregnancy. Her family was excited, and everyone wanted to be a part of the journey. Then COVID hit and forced a change of plans.
"I have other health issues, so COVID became more of a challenge for me," said Katherine, who has a law degree and works from home in an auditing capacity. "I barely left the house, except to take care of my mom, who had cancer."
Sadly, her mom passed away three months before Katherine's daughter was born., making the overall circumstances even more challenging for Katherine.
"I feel for anyone going through a pregnancy during Covid," she expressed. "It's been huge, but we all do what we have to do. I am just happy my work can be done remotely and that I can be at home with my daughter."
Katherine certainly knows how to find the silver lining. Because hers was considered a high-risk pregnancy, she opted to have her baby shower after the birth of her daughter. With a virtual gathering of about 25 friends and family members, this was a chance for Katherine to just relax, have fun, and catch up with others.
In addition to using all of the fantastic services provided by WebBabyShower, Katherine hired a woman to draw caricatures of everyone and hired an acoustic guitarist to play as guests arrived and while they were leaving.
Katherine also honored each guest with a special delivery of her own. "I sent care packages to everyone ahead of the shower," she indicated. "I had a Sip & See and ordered little personalized drink shakers for everyone, along with a little cigar and a pink box filled with chocolates."
And when it was time to be on the receiving end of the fun, Katherine and her fiancé greatly appreciated the ability to register for baby shower gifts online. "I had a gift registry on Amazon, which was great for those guests who were not comfortable going out in public to shop, and I enjoyed the fact the gifts were all sent directly to my home," she reflected.
Katherine also appreciated the availability of all the online baby shower games to play through WebBabyShower, but she confessed that another activity took up a lot of her time. "We all just wanted to talk, as many of us had not seen each other for so long," she shared. "We had an amazing time."
The First Nine Months Are Just the Beginning!
Experiencing a pregnancy and delivering a baby is a beautiful time of a person's life, no matter what's going on in the world at the time. But it's still comforting to know that others have and are successfully navigating that path.
There are stumbling blocks during any new experience — even pregnancy. Hearing the stories of the women warriors who are forging their own paths during this unique time in history only proves just how much strength women have as they turn those stumbling blocks into stepping stones. These are the moments from which superheroes are made! You deserve to celebrate such an accomplishment!