It can be easy to put off planning a baby shower until a later date. ]Perhaps you got roped into planning last minute, the baby shower duties got passed to you by someone else, or you simply are short on time and need to get it done quickly.
If you've found yourself looking for something to help you plan a last-minute baby shower, we have some helpful tips for you. Having helped more than 10,000 families throw memorable virtual baby showers, WebBabyShower understands just what's needed to make your party one to remember.
Here's how to get everything together for a baby shower even on short notice. By the end of this guide you will know exactly how to quickly throw a great shower.
How to Pull Off a Last-Minute Baby Shower
When you need to get a baby shower planned with little free time, you may feel a lot of pressure to create something unique quickly. You may feel overwhelmed or wonder if people will even show up for the party..Just remember there are three things that matter the most when planning a last-minute baby shower: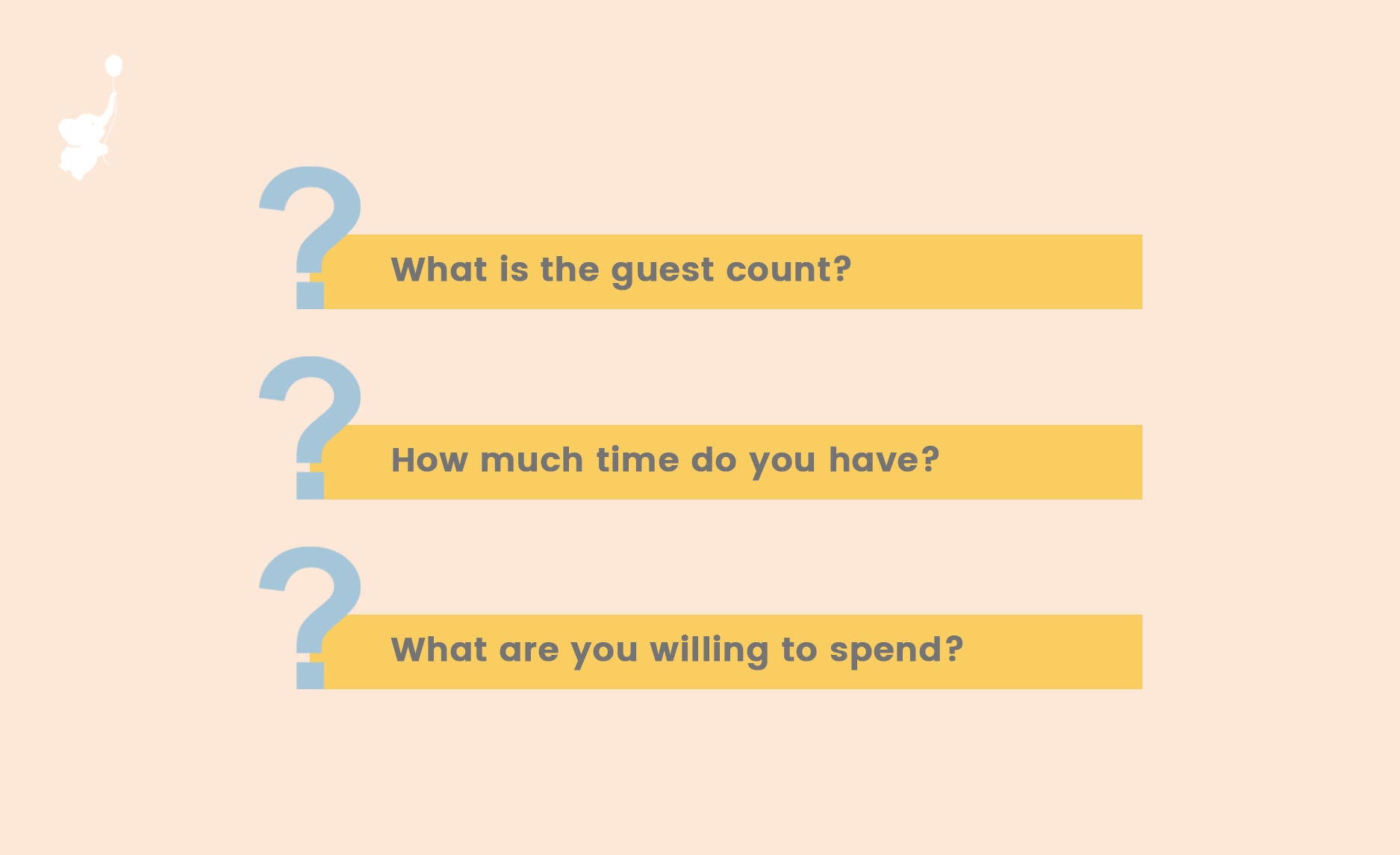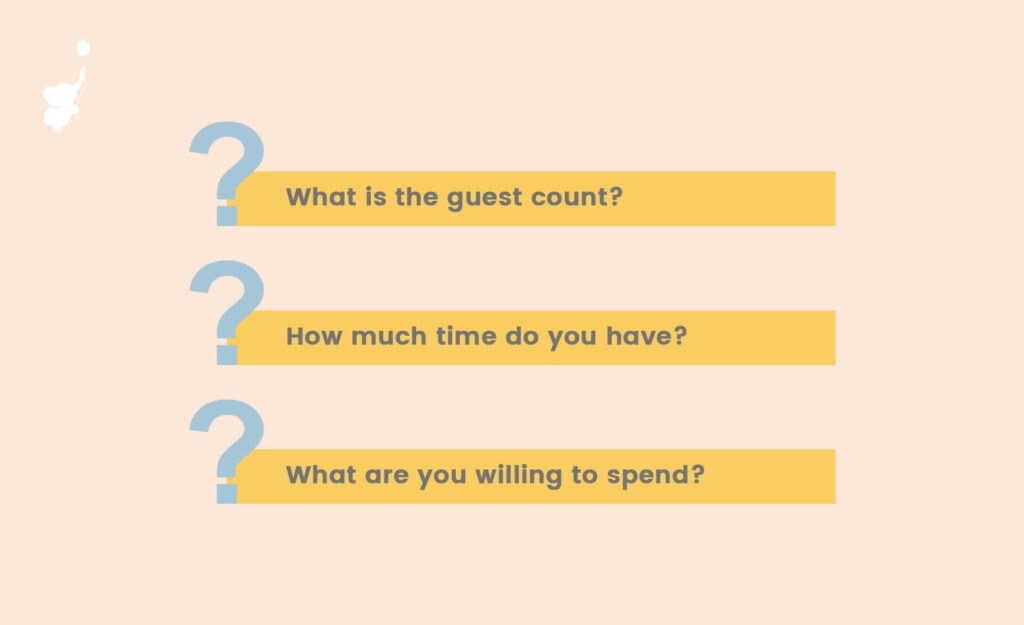 What is the guest count? Determine how many people you will invite and find out who will make it to the event. Guest count can help you focus your next decisionson activities, games, and food. The first thing to decide is how many people will be in person, and how many will join online?
How much time do you have? Last minute can mean different things. If you have a month, that's enough time to mail invitations out if you choose. If you just found out you're in charge and have, say, two weeks, you'll want email invites and an easy link to share.
Either way, assess the guest list and start getting emails, Facebook messenger contacts, mobile numbers, whatever you can. For people joining online you can share the shower just like any website url; it's fast.
What are you willing to spend? Your budget greatly influences the type of baby shower you'll plan, and even what you buy at the store for food or decor. Going in person can mean $20 a guest DIY style, or up to a $100 per guest for catering. Yikes. For the virtual component, invite as many as you like for under $100 and save your money for the mom to be's registry.
When you're short on time, a virtual event is a simple solution that can save you hours and help you to plan the party quickly. Using WebBabyShower, you can send out invitations and plan games and even the shower's theme in no time at all.


• Free Trial – 7 Day Refund for any reason
• Only 1 Minute Setup!
• 20+ Custom Themes & Matching Invites
• Use Any Online Registries You Want
• Send Unlimited Matching Invites and Updates
• Private Video Hosting for everyone
• Baby Shower Games with Scoreboards, Give Prizes!
Build Your Shower
---
How to Plan a Last-Minute Baby Shower
When you're putting together a last-minute baby shower, there are a few vital things to consider.
How Many People Are You Expecting?
A baby shower with a standard-sized guest list will probably be somewhere from 20 to 50 people. But, of course, you may have more or fewer guests depending on how last minute the baby shower is.
With a virtual baby shower, you have no limits on how many people you can invite to the event. Another bonus is that you may end up getting more guests to RSVP last minute with a virtual event because people won't have to leave their homes to join in on the fun.
What Is Your Budget?
The amount of money you spend on the party will depend on your guest list, preference, and if the event is in person or virtual. An in-person baby shower can cost somewhere between $100 and $1000, which is a wide price range. Factors like food, activities, and guest count all play a part.
With a virtual baby shower through the WebBabyShower platform, just $79 pays for your virtual event and more. Invitations, a personal baby shower webpage, games, and more are all included in an expansive package that makes baby showerplanning easier.
No Time to Plan? Go Virtual!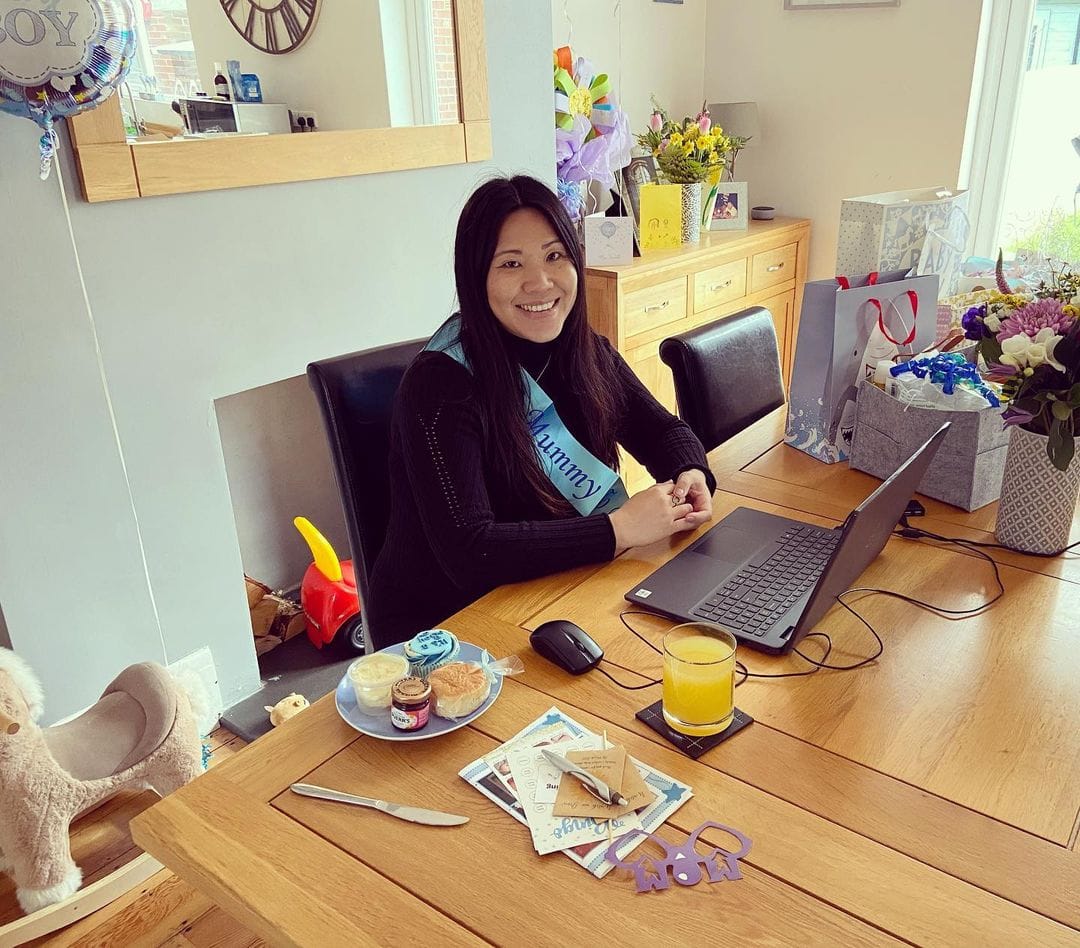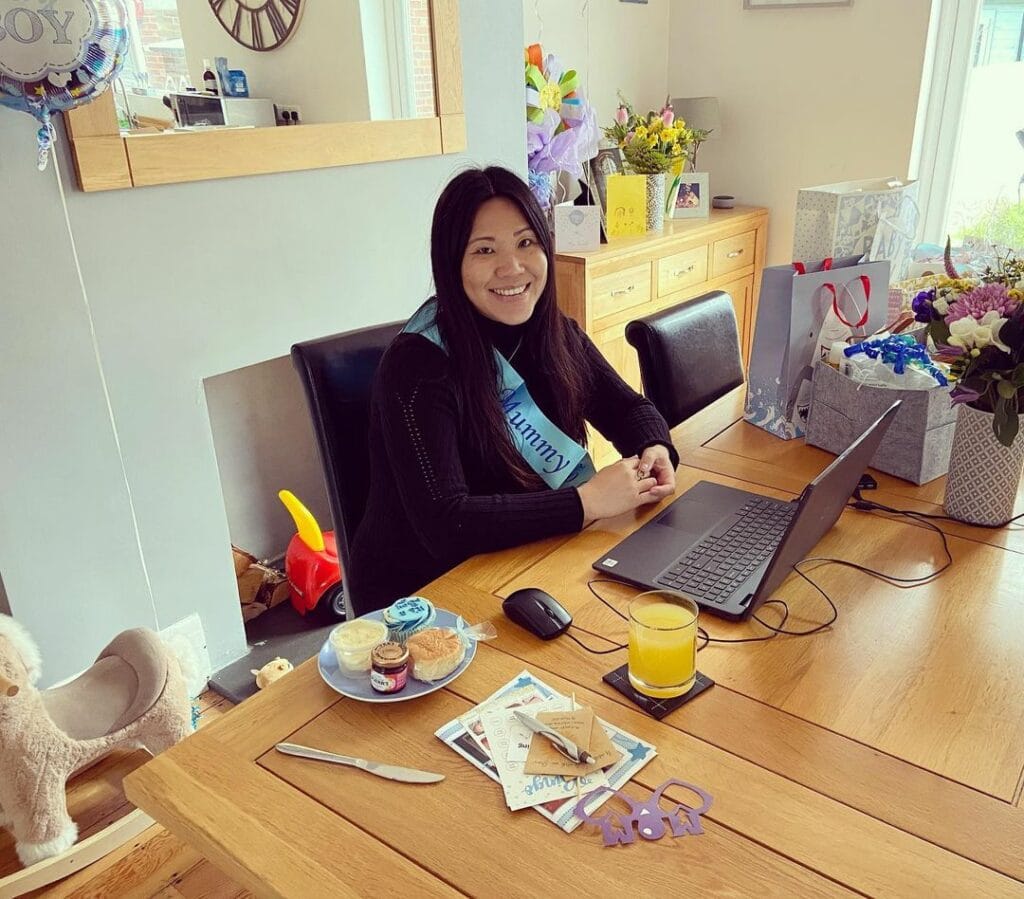 With WebBabyShower's one-minute setup feature, you can relax, even if the baby shower you're planning is last minute. The program is simple and helps you plan quickly, so no one has to miss out on a fun baby shower.
Our built-in invite system allows you to send out invitations, reminders, and announcements to your guests at any time online directly through WebBabyShower. In addition, our co-host options will enable you to plan the event with a friend, saving both of you time. Don't have all the guests' emails? No problem. Instead, you can communicate with guests via text.
A last-minute baby shower may seem like a difficult task at first. But with WebBabyShower's amazing features like a welcome message, photo gallery, and places to add extra information for guests, you'll be set up in a minute — not weeks.
If you're still concerned about there not being enough time, know that a WebBabyShower can involve much more than a scheduled video call. Using your WebBabyShower website, you can allow guests to stop by virtually as they please, with no set dates for the event. As a result, they'll have time to communicate with the guest of honor and have fun without a time constraint.
Food, Decor, Games, and Everything in Between
Food
If you are hosting a baby shower in person, you can't beat pizza for a last-minute event. You might even try a theme that incorporates it, such as "Our Little Slice." Alternatively, you can offer easy appetizers like a veggie or fruit tray or crackers and cheese. For dessert, you can put out store-bought cake or cookies.
With a virtual event, food solutions are even easier. For example, you can use the WebBabyShower invite maker to send out some easy recipes to your guests in advance. That way, people can whip up a quick recipe in their own homes and enjoy a treat during the party.
Decor
For a last-minute baby shower, check out your local dollar store. You can find most anything there for a low price. Stick with simple decor and opt for one or two colors for a minimalist approach. Balloons, matching plates and napkins, and maybe a few cake table decorations are all you need.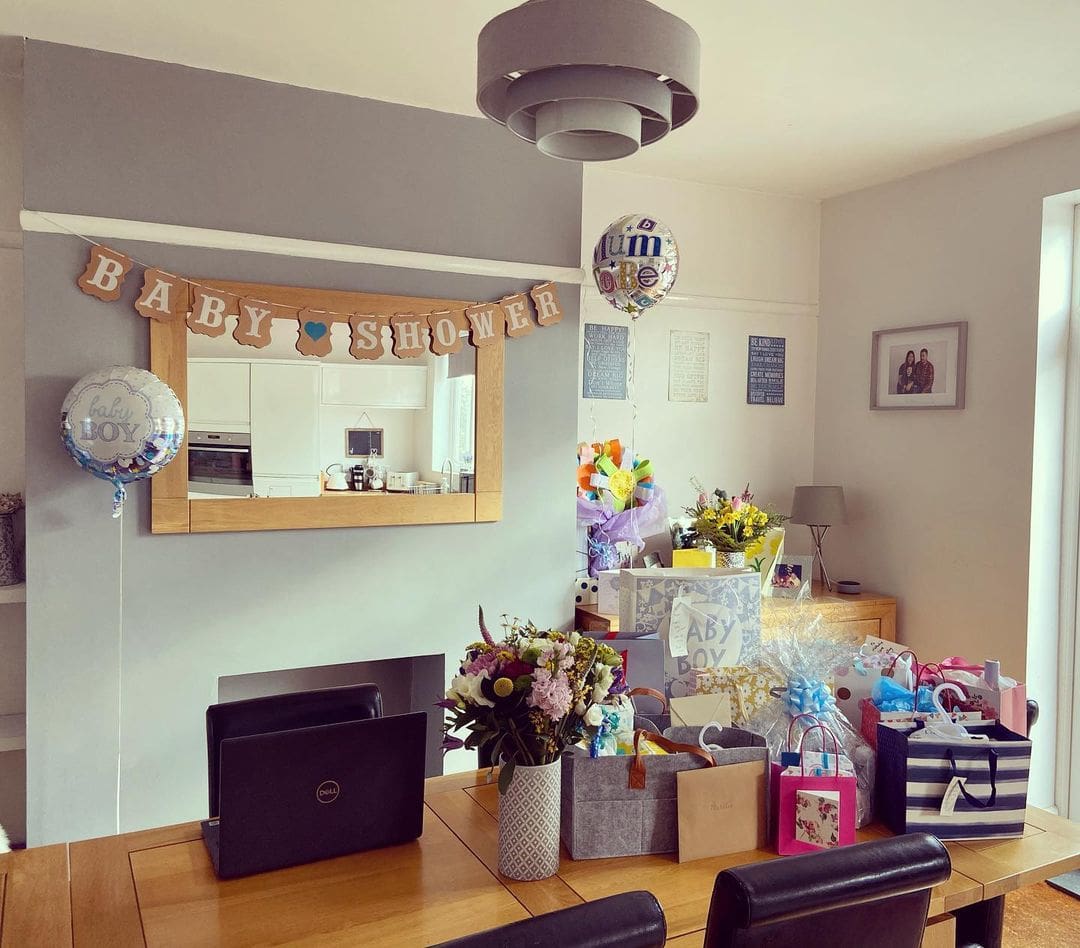 WebBabyShower has tons of themes available for decorating your website, along with matching invites! You can also add some fun details to your video call background to make things feel festive.
Venue
WebBabyShower is the modern venue of choice. Your guests can meet with you and the guest of honor from wherever they happen to be. If you're hosting in person, the home of a friend or family member is going to be your best bet for a baby shower location. Often other types of venues like community halls need a lot of notice. If hosting at home isn't an option, you can try a restaurant. Some will have a back room you can rent. You can also make reservations and then decorate the table for an easy solution.
Games
To save you from needing to plan too much, WebBabyShower offers six games online for you and your guests to enjoy. You can play them right on your website. The platform also gives you access to a lot of free Zoom games that your guests will love.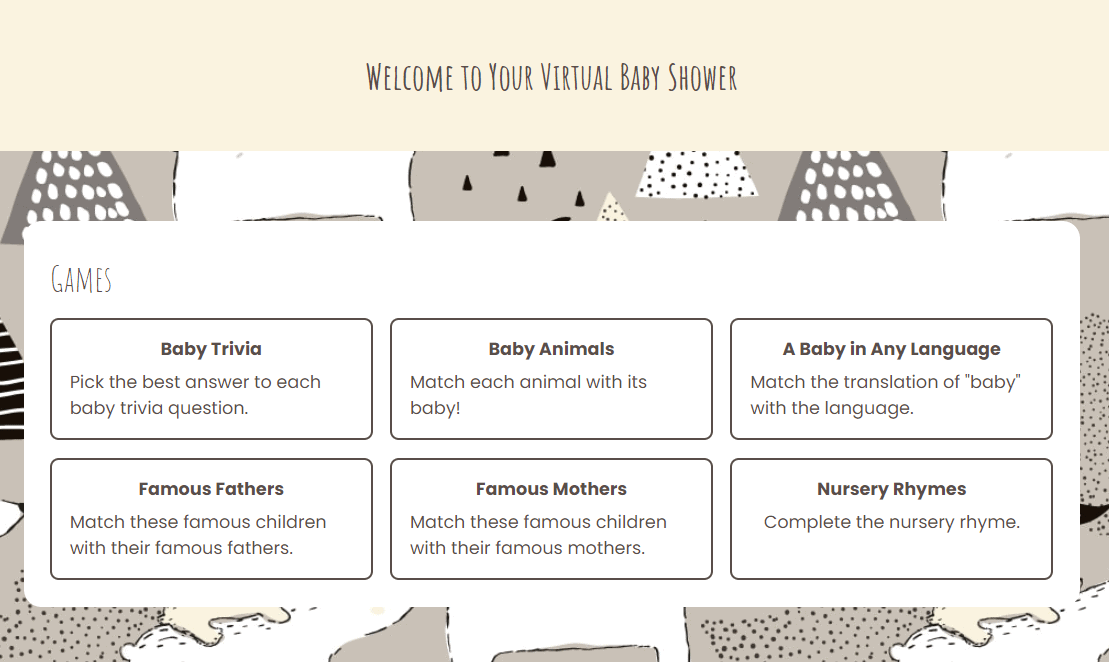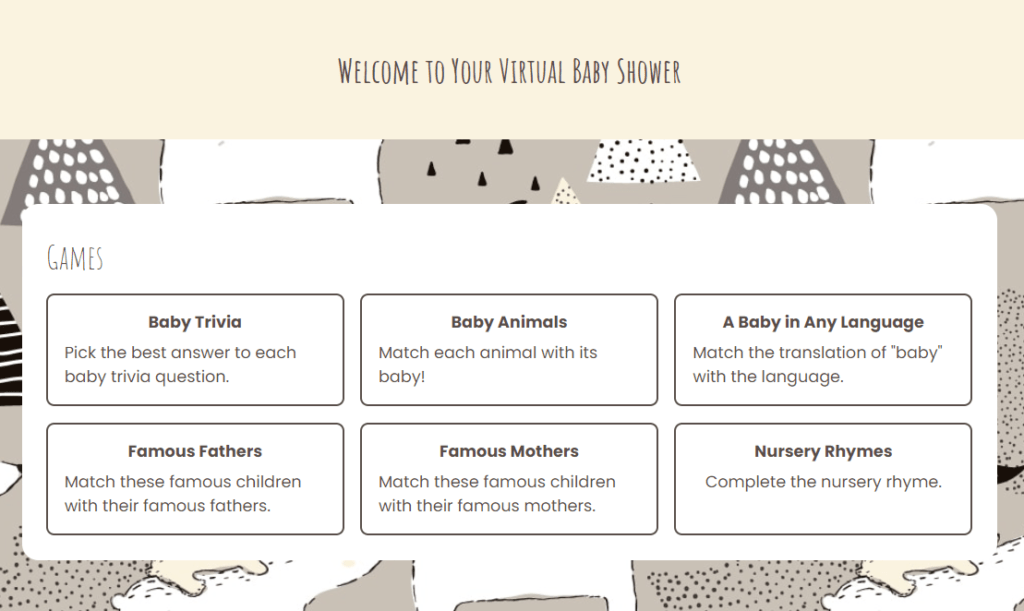 For an in-person baby shower, you should opt for easy games that require minimal setup. First, try the mommy or daddy game. This one involves your guests answering various questions, like who they guess will do what when the baby is born.
These are things like who will drive the child to soccer games or spend more time reading to the baby. After the guests have filled out their question sheets, the parents-to-be will give the answers.
Another quick and easy game is the don't say the word "baby" game. You give each guest a token of some sort when they arrive at the baby shower. It could be a bracelet or a pin. If the guest says the word "baby" during the event, someone else can take their token away. The person who collects the most tokens is the winner. You could also use other words like "nursery" or "presents."
Gift Registry
Most new parents need some items for the nursery, and they will likely create a registry to let others know what they're looking for. Get this registry information from the parents for the guests to have. You can use the WebBabyShower website to do this, adding links to their registries where guests can easily find them.
In a last-minute baby shower setting, guests may need a bit more time to purchase gifts. Receiving gifts at the baby shower is ideal for the new parents, but let guests know they can still buy items afterward. That way they won't panic if there isn't enough time to get to the store or to order something.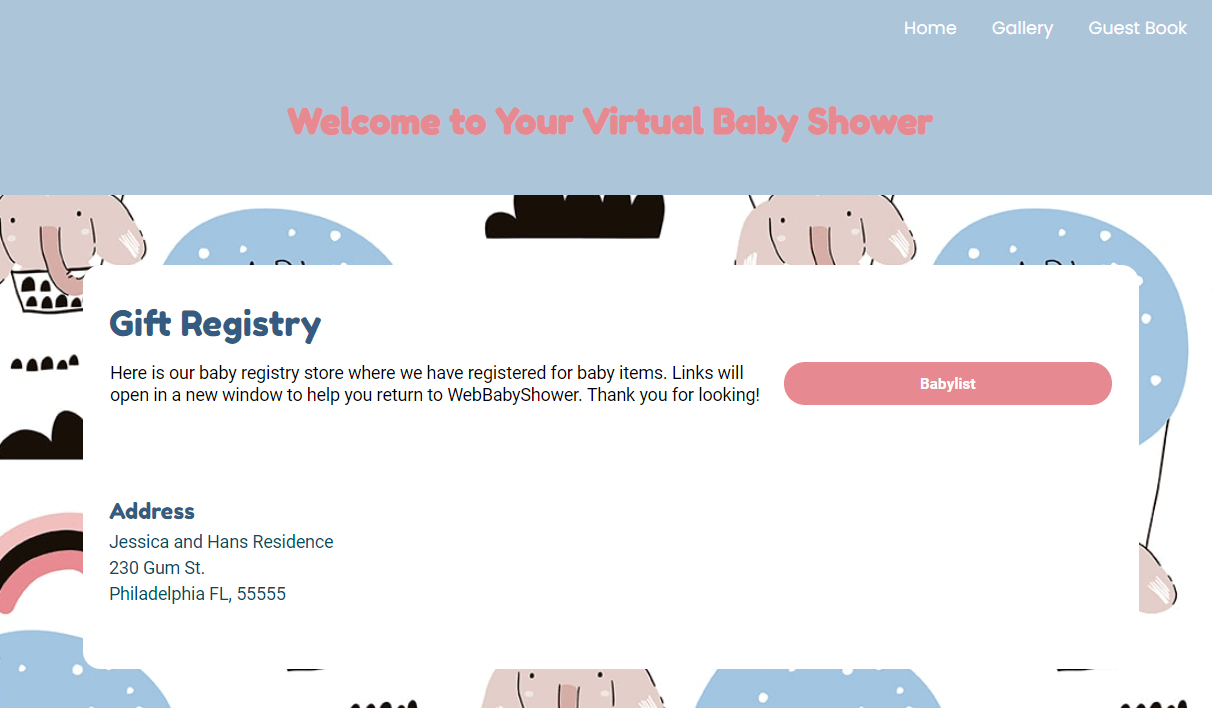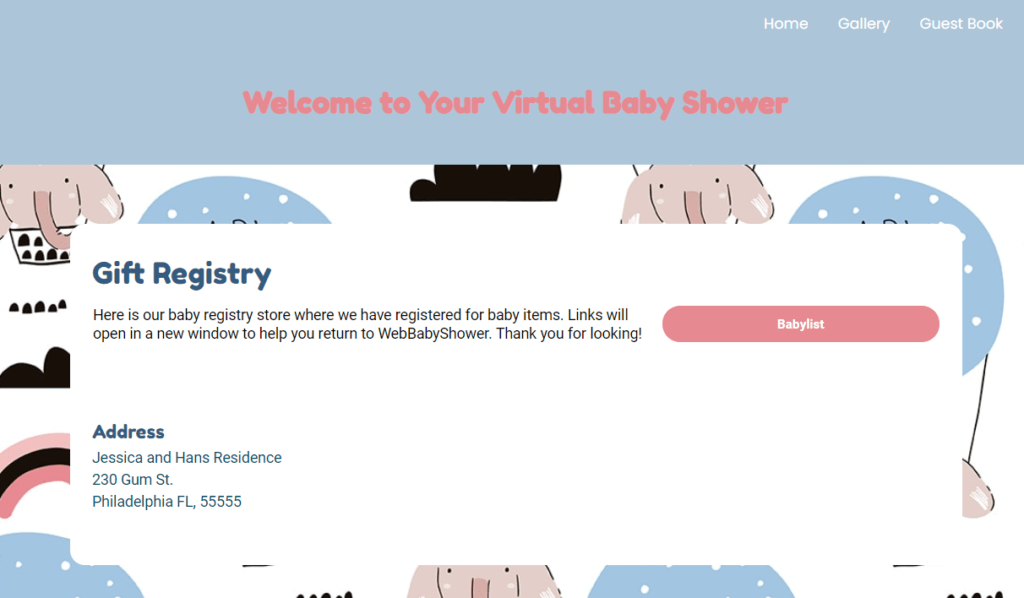 When to Host a Baby Shower
Usually, a good time to have a baby shower is somewhere around the seventh or eighth  month of pregnancy. However, some people may have them earlier or later, depending on their schedules. So, if you're planning a shower at the last minute, you may be past this mark already, which is fine. As you've read, there are lots of ways to plan a baby shower last minute. 
With a virtual baby shower, you have the option to host the event at any time, even if it's close to the baby's due date. You can also have a co-host help you out, giving both of you less to do. And you could opt for a virtual baby shower where guests can check in with the website at different times, freeing you up from planning for one specific day. Find out more about how a virtual baby shower works here.
See how a great online baby shower works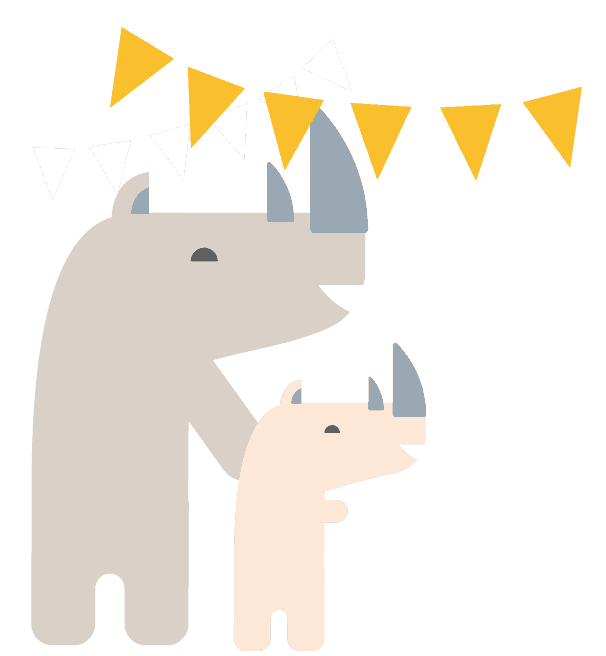 Adorable Last-Minute Baby Shower Ideas to Try
Here are some fun ideas for decorating a space quickly. You can also use these to decorate your background if you're hosting a Zoom call as part of the event.
These wall cones with paper flowers are simple to put up, and they brighten the room, making it the ideal setting for a baby shower.
A beautiful floral balloon can be the perfect focal point for party decorations. You can create this all on your own using this easy guide.
An umbrella baby shower decoration is a cute way to liven up a space, and it's a fun play on words.
When in doubt, a quick search on the internet should leave you with no shortage of free, easy, and adorable solutions for last-minute baby showers. Combine these with a virtual baby shower, and you've got an event that is sure to be perfect.
Final Thoughts
Now you know a lot more about planning a last-minute baby shower. Even though the idea of throwing together an event so quickly can be stressful, using WebBabyShower's unique interactive websites, you can easily create a great party.
No matter how much time you have, WebBabyShower offers a way to create an event the expecting parents and every friend and family member will love. Throwing a virtual baby shower is the ideal solution when you don't have much time but want to create something memorable.
Did you enjoy this article? What tips for throwing a last-minute baby shower do you have?