The Baby Shower Memory Game is super easy to set up and pretty fun to play. Hosts want their baby showers to be fun and for everyone to enjoy themselves, WebBabyShower, the premier online baby shower platform, has a foolproof solution: the baby shower memory game. It is not difficult to understand, but it can be hard to win! Check out these tips for playing the baby shower memory game.
How Do You Play the Memory Game?
You might have played memory games before. This one is the baby shower version. You'll need quite a few items to begin, but it's pretty likely that you'll have most of them already. Here's what you'll need:
A breakfast tray or cookie sheet
A lot of small baby accessories like books, teething rings, toys, etc.
A sheet or cloth to cover the tray
Paper or a themed game sheet for guests
Pencils or pens
What to do:
Add all baby accessories to the tray.
Cover the tray with a cloth.
Give each guest a paper and something to write with.
Set the tray in full view of everyone in the room.
Take away the cloth for a minute or less.
Place the cloth back over the tray.
Ask everyone to write down every item they recall from the tray.
Whoever guesses the most items is the winner!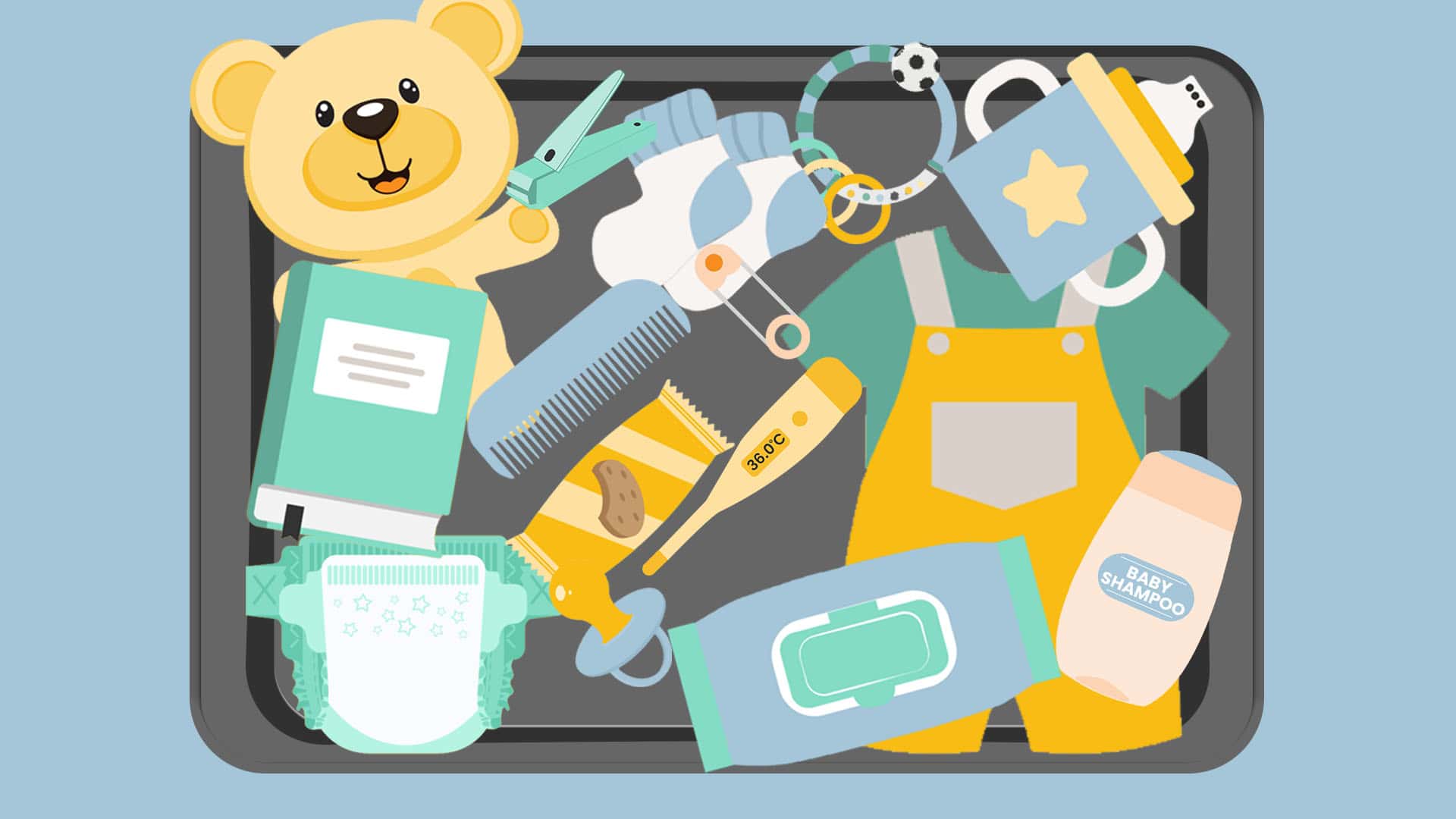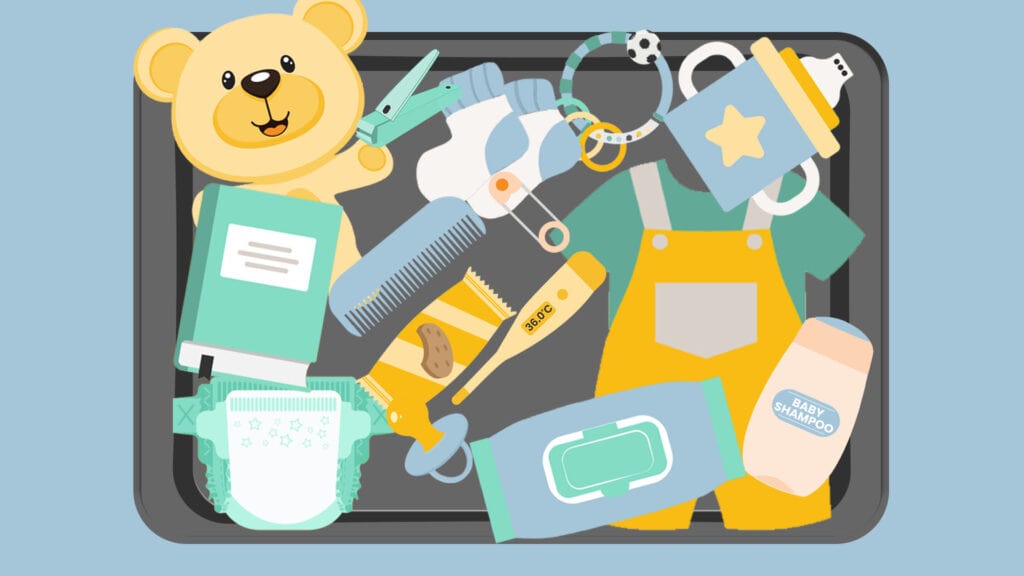 Throw a Virtual Baby Shower so Everyone

Can Celebrate!

• Free Trial – 7 Day Refund for any reason
• Only 1 Minute Setup!
• 40+ Custom Themes & Matching Invites
• Use Any Online Registry
• Send Unlimited Invites and Updates
• Baby Shower Games with Scoreboards, Give Prizes!

Build Your Shower
---
How Many Items Do You Need for a Memory Game?
You'll want to add lots of items because it gives people more chances to guess correctly. It can also be a lot to remember. If you feel like this game might be too challenging, you can have different rounds, starting with 10 baby items, then adding 15, and so forth. Here are some suggestions for what to place on the tray.
Knitted baby cap
Baby shampoo
Onesies
Bibs
Bathtime toys
Bottles
Baby sunscreen
Burp cloths
Diapers
How to Play Virtually
This game is super easy to play virtually. Let the players know ahead of time that they'll need a pen and paper. Or you can also email them a game printout to help them keep track of the baby items.
There are two ways to do this. The first way is to use Zoom. Explain the rules, and then show the tray full of baby items. Then take the tray away and allow time for the guests to write down their answers.
The other way is to download our handy Google Slides version and share your screen on Zoom. Either way will work; it just comes down to preference.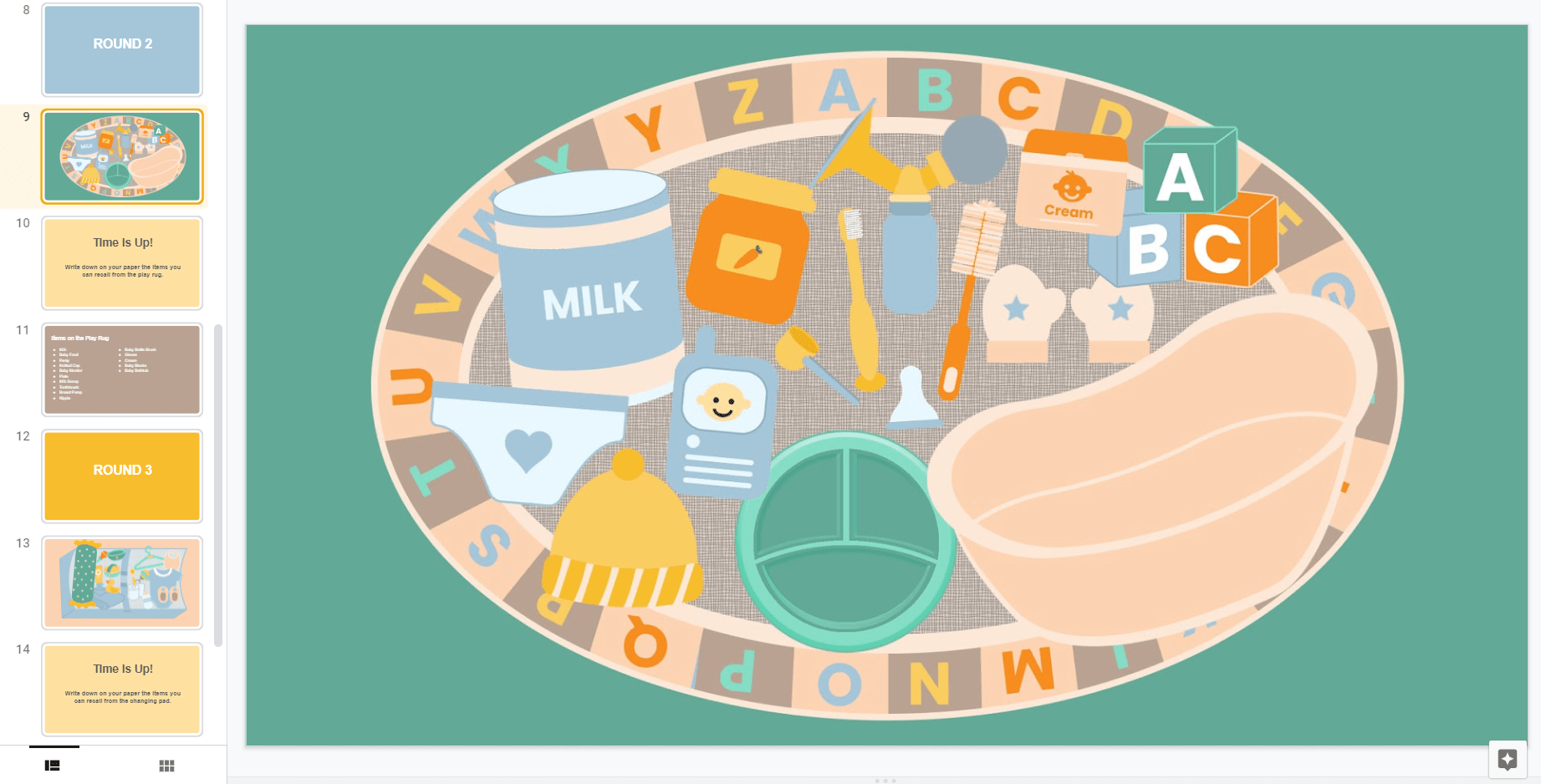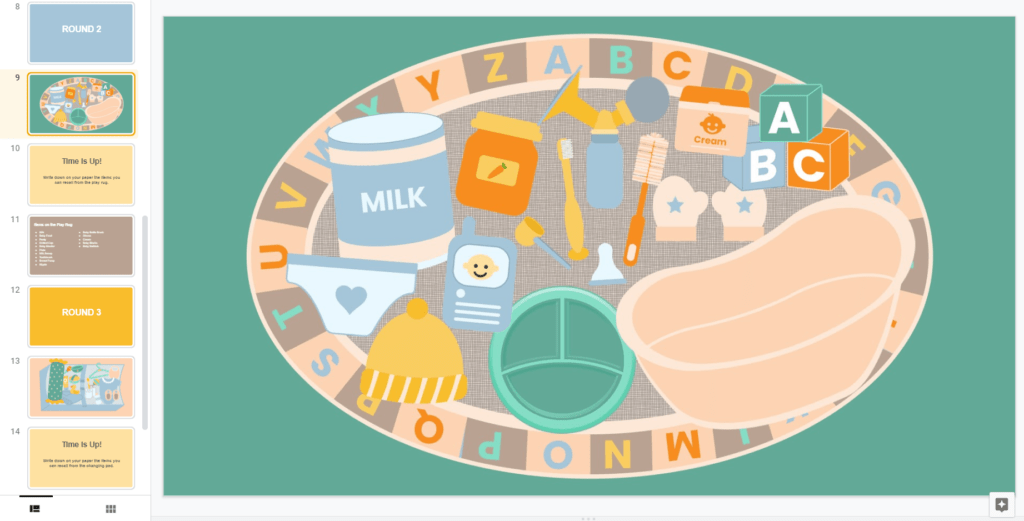 You might also be wondering how to avoid awkwardness when playing the baby shower memory game virtually. First, keep it fun! Try including music during the times when guests are examining the tray and as they write down what they remember.
You can also include prizes for a little healthy competition! Some fun gifts for guests could be things like gift cards, candy, candles, or whatever you think your group of friends would like. If you want everyone to have as much fun as possible, have a gift for every person who participates in the games, and some bigger prizes for the winners.
FREE memory game on google slides
Memory Game Alternatives
Although most people enjoy this game, it isn't for everyone. What if your guests don't want to play? No worries; we've got some different ideas for baby shower games that they'll definitely love. Here are the best memory game alternatives.
9 Fantastic Baby Shower Trivia Quiz Games That Your Guests Will Love!
Maybe your group is more into trivia games. If that's the case, we've got the perfect solution. Find fun games everybody will want to participate in, such as baby shower favorites like Famous Mothers and A Baby in Any Language. You'll definitely find at least two or three that will work well for your group. Check out our nine baby shower trivia games article for more info!
Name That Tune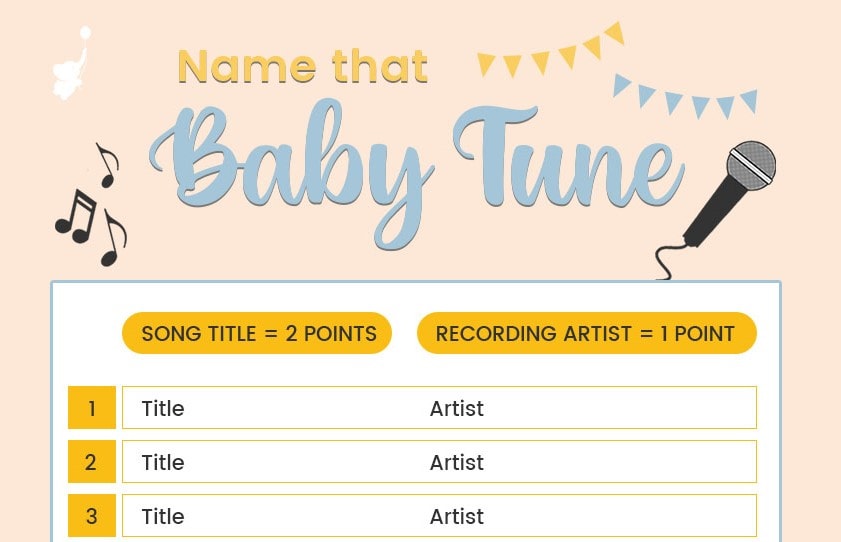 Choose your favorite baby-themed songs for this one! You'll play a tiny bit of each song, and your guests will need to guess the song title from hearing that portion of the music. Whoever gets the most songs right is your winner! Check out our Name That Tune article for details.
Baby Shower Scattergories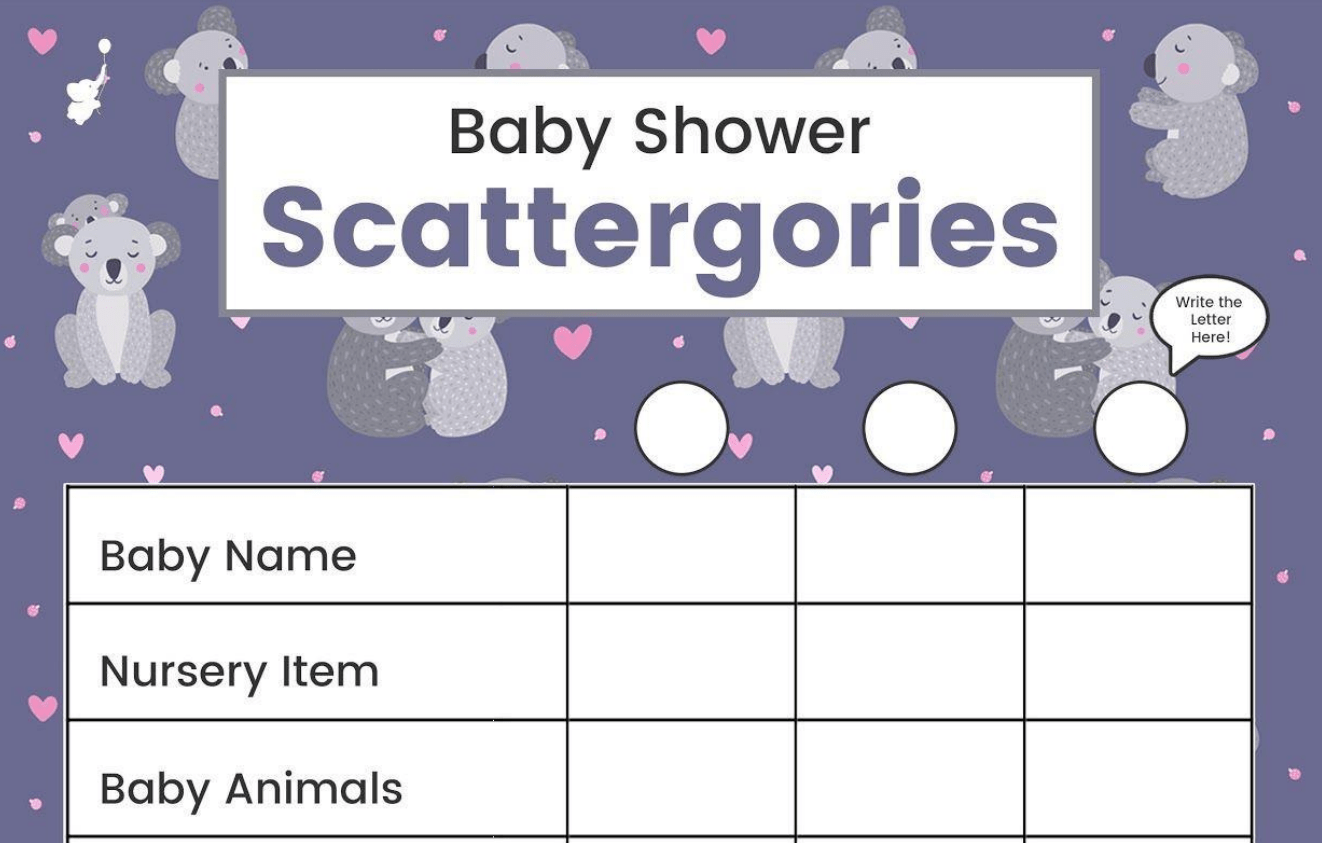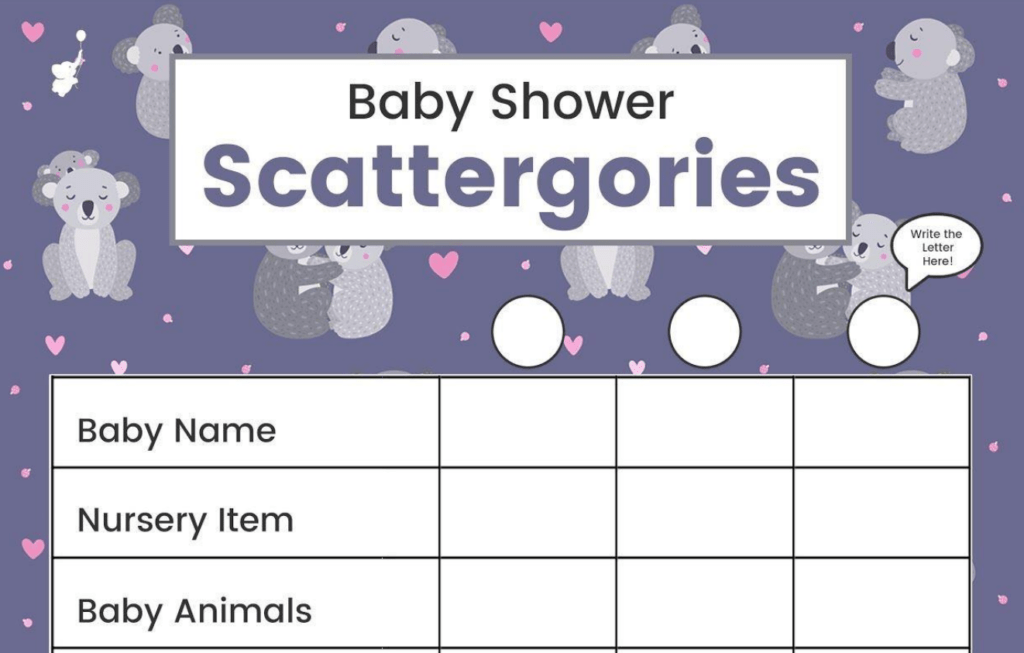 Baby shower scattergories is a fun game that involves guests writing down words from specific categories and letters to get points. You want to be as original as possible. There's a baby shower twist to this version. It's an exciting contest for guests that love words and are competitive.
No need to worry if none of these games sound like a good fit for your group. . There are plenty of ideas on WebBabyShower's games page, which includes a ton of free downloads. It makes it simple to get all of the activities ready for your baby shower quickly.
When planning games, aim for a variety. Try different combinations like a word game, a memory game, and a song game. That way, you can switch things up often and no one gets bored.
See how a great online baby shower works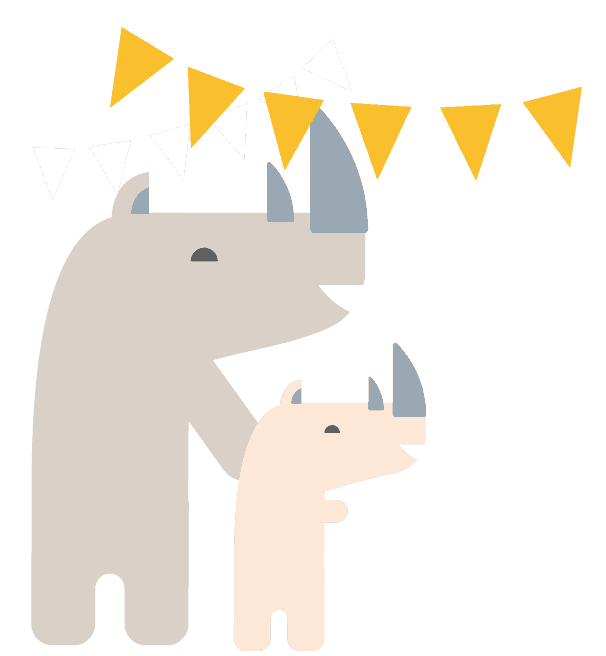 Virtual Baby Showers Allow Everyone to Celebrate Together!
A virtual baby shower ensures that everyone can be part of the celebration — including both guests near and far. You can all play games together online, and you'll have a lot of fun! Consider throwing a virtual baby shower that includes all the new parent's loved ones and friends.
Conclusion
Baby shower games are always fun! We've got plenty of game suggestions in this article. However, if there's another game you want to play, know that almost anything can be modified and played virtually. Usually, all you need is a little advanced preparation and a video call with your guests. Remember to gather all the supplies you need ahead of time, and enjoy the baby shower memory game and these other fun ideas!