When the fall season is here, it usually means there are a plethora of options for hosting a cute, seasonally-themed baby shower. But with so much involved with planning your baby shower, it's hard to stay up to date on all of the cute themes out there.
We've put together some adorable and unique baby shower ideas to help you narrow down the best options. Keep reading for the best baby shower themes and decor for your shower.
---
Cute Baby Shower Themes
There are so many cute baby shower options to choose from. If it feels overwhelming, start by narrowing down your theme choice to a girl, boy, or gender-neutral theme.
Below are a few adorable themes to get you started.
Sweet As Candy Baby Girl Shower Theme
Nothing is sweeter than a candy-themed baby girl shower. Serve a buffet of sweet confections including cotton candy, wrapped chocolates, lollipops, gumballs, fruit candies, and anything else you can think of.
Stick with a pink color scheme, or let the rainbow of candy colors be your decor inspiration. Include a balloon arch and tablescapes in complementary colors.
Baby Mickey Mouse Theme
Hot dog! Baby Mickey is a super cute theme for a boy's baby shower. With his big, joyful smile, your guests will fall in love with this iconic cartoon mouse. Include baby Mickey in your backdrop, centerpieces, dessert table decor, and favors. Don't forget your custom Mickey cake and cookies too.
Pumpkin Patch Baby Shower Theme
Celebrate the arrival of your little pumpkin with this fall-themed baby shower. Perfect for a gender-neutral party, this theme encompasses all things autumn. Decorate with checkered tablecloths, mini straw bales, and decorative or toy pickup trucks filled with pumpkins! Don't forget the pumpkin pie and pumpkin whoopie pies for dessert.
Teddy Bear Picnic Theme
While teddy bears are a classic baby shower theme, go for something a little different with a cute teddy bear picnic theme. Take your guests down to the woods with decor and treats inspired by the cute children's song. 
Include a picnic-style charcuterie board, greenery to give a forest vibe, wood elements on your tables, and lots of teddy bears scattered around the room.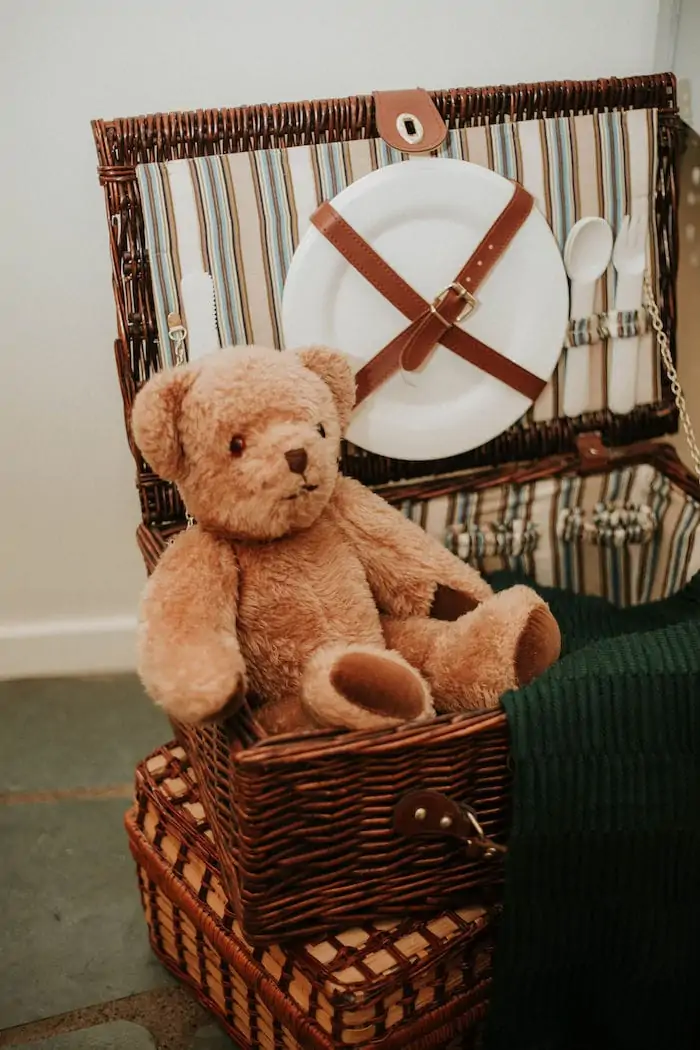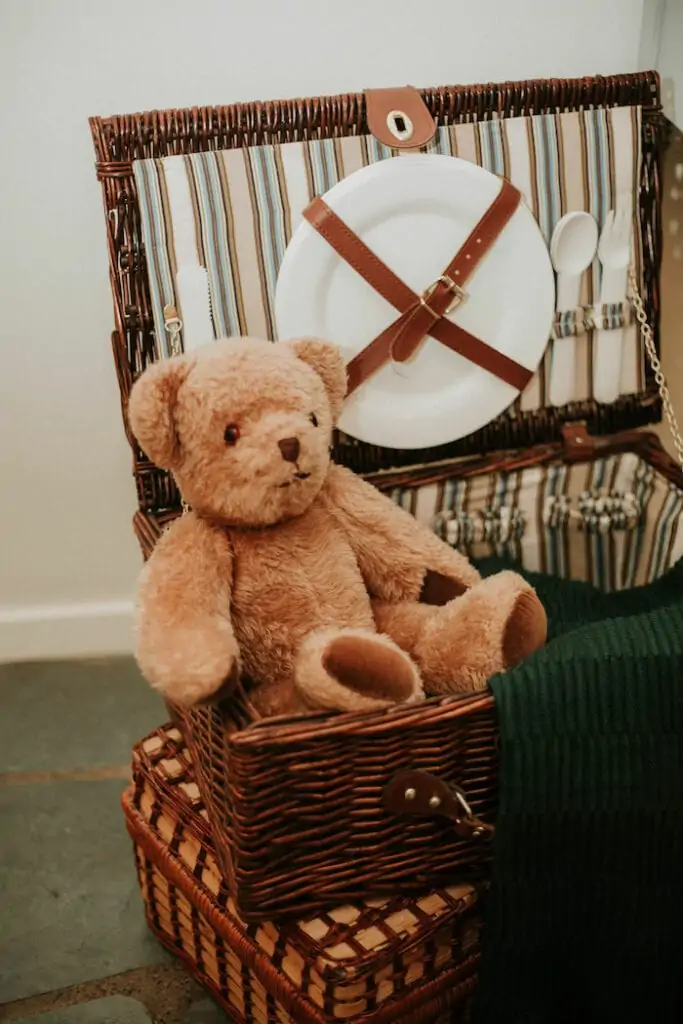 Blue Elephant Boy Baby Shower
Shower your celebration with good luck with adorable blue baby elephants. A cute option for a boy baby shower, include these blue pachyderms in every element of your event, from desserts to decor. Coordinate your flowers and balloon arch in shades of blue and white.
Little Cutie Theme
What's cuter than a cutie? It is in the name, after all. Take inspiration from this petite fruit with oranges and greenery in your centerpiece, orange-flavored cupcakes, cutie cake pops, and orange balloons. This is a great option for a gender-neutral or summer baby shower.
Book-Themed Baby Shower
For the parents-to-be who love to read or plan to fill their nursery with books, choose this unique baby shower theme. Feature favorite children's books like the Very Hungry Caterpillar, Chicka Chicka Boom Boom, and Goodnight Moon. For centerpieces, choose a different book for each table and decorate it to match the title. Include a cake that looks like a stack of books and custom cookies.
Read Articles:
Create a Baby Shower Website That Matches Your Theme
Free Demo
Baby Shower Invitations That Are Cute
Keep everything cohesive by matching your baby shower invitations to your shower theme. For invitations options, you can choose from platforms including Paperless Post, and Basic Invite.
We recommend creating a baby shower website with WebBabyShower. With WebBabyShower, you can keep everything organized from start to finish. Engage your guests, send unlimited invitations, track RSVPs, and more all on one platform. Learn more about how this works.
Need some inspiration for baby shower invitations? Here are five ideas that are loaded with cuteness.
Tutu Baby Shower Invitation
A little ballerina is on her way! Celebrate with this cute tutu baby shower theme. Adorable pink bunnies don their fluffy tutus as they dance and play.
Turtles Cute Baby Shower Invitation
The turtle theme is a cute option for a gender-neutral baby shower. These baby turtles are full of fun colors that will match any decor. Rainbows and leaves add to this lovely theme.
Koalas Baby Shower Invitation
If you're looking for a super cute baby shower invitation, you have to check out the koalas theme. Koalas nap and play with their little ones among eucalyptus leaves and flowers.
I Love You To The Moon and Back Invitation
Are the parents-to-be waiting to find out if they're having a girl or a boy? The I love you to the moon and back theme is a great option for a gender-neutral baby shower. The design includes sleepy moons on a background of dancing stars.
Two Scoops Twins Baby Shower Invitation
Celebrate the arrival of twins with the two scoops theme. This theme features delectable ice cream treats on a lavender background with moons and stars.
Read More:
Cute Decor Ideas
Match your theme and invitations with cute decor for your baby shower. We've curated a list of ideas to take the guesswork out of how to decorate. From centerpieces to food options, we've got you covered.
Centerpiece Ideas
Woodland Diaper Cakes
Create a baby shower centerpiece that is adorable and practical. Wrap white diapers or onesies in a piece of burlap. Print photos of cute woodland critters on cardstock, cut out the shapes and attach them to the burlap with hot glue. Mom-to-be can take these sweet centerpieces home after the shower.
Baby Elephant with Balloons
Match your cute elephant theme with this adorable baby elephant centerpiece. Start with a stuffed animal elephant and tie five or more balloons in your color scheme to its trunk. It will look like the elephant is holding the balloons and ready to take off into the sky.
Baby Shoes with Flowers
Baby shoes are one of the cutest items around. Dress up your tables with an adorable pair of baby shoes. You'll need a few pairs of inexpensive baby shoes and flowers. Use the shoes as an alternative to a vase, and place your flowers inside. You can use floral foam blocks to keep the flowers in place.
Ready to Pop Popcorn Tower
The mom-to-be is ready to pop. Celebrate with this cute tower of popcorn you can use as a centerpiece at each table. Fill clear bags with the popcorn of your choice and label each with a sticker that reads, "ready to pop." Place the bags on a small cake tower. The bags of popcorn double as party favors for your guests to take home.
Rubber Duck with Balloons
Kiddos and adults alike love rubber ducks. Purchase a handful of these fun bathtime buddies for your baby shower centerpieces. Attach balloons to each rubber duck to create your centerpiece. To add more height, elevate each ducky on smaller balloons, or a small cake stand.
Related: Baby Shower Games for all Types of Shower
Cute Backdrop Ideas
Draping with Twinkle Lights
Create a fairy wonderland with sheer draping and adorable twinkle lights for a stunning baby shower backdrop. This is a wonderful addition to any shower, especially if you have a twinkle little star or moon baby shower theme.
Balloon Arch
A balloon arch is always a classic option for a baby shower backdrop. Select an arch in silver, gold, or rose gold to match the accents in your decor. Decorate half of the arch or the entire arch with balloons.
Floral Wall Backdrop
This is an excellent option for a spring baby shower or any shower with a floral theme. Create a wall of silk flowers to place behind your cake table or as a place for guests to pose for photos. Add greenery, and balloons for an extra touch of elegance.
Shiplap and Evergreen
Going for a rustic baby shower theme? A shiplap backdrop with accents of evergreens will fit right in. Add flowers that complement your color scheme to tie everything together.
Floral Arch Backdrop
As an alternative to the traditional balloon arch, decorate a circle arch with flowers in shades that match your shower decor. Add drapery and greenery to add visual interest. Your guests will want to snap lots of selfies in front of this beautiful backdrop.
Cake Ideas
Related Article:
Your baby shower cake is the star of your dessert table. Find an experienced friend or local baker to create a confection that will match your baby shower theme. Or you can create one yourself.
Dr. Suess Cake
Perfect for a children's book theme baby shower, a Dr. Seuss cake celebrates the arrival of your new fish. Choose from a variety of Seuss characters for your design. Go with a Thing 1 and Thing 2 design for a twins baby shower.
Princess Cake
A sweet little princess is on the way! Complete your elegant pink baby shower with a cake fit for royalty. Play with different textures and designs on each tier, and top with a sparkling princess crown.
Baseball Baby Shower Cake
Get ready for the arrival of a little slugger with this cute baseball baby shower cake. Decorate in your shower theme colors, or in the colors of the parent's favorite team. Top your confection with mini baseballs, a baseball bat, and a baseball cap.
Baby Shoes Cake
What could be cuter than baby shoes and balloons? Decorate the tiers of the cake in pastel hearts that match your decor. Top with edible baby shoes (you could make some from modeling chocolate, icing, or sugar paste) and heart balloons for one of the sweetest cakes you've ever seen.
Baby Girl Shower Cake
Complete your baby girl shower with a cake that celebrates the arriving bundle of joy. Decorate with shades of pink, bows, and frilly details. The star of the cake is the topper, which features a sweet baby girl sleeping in her bassinet.
Check this out for more cake ideas: 13 Baby Shower Cake Ideas
Food Ideas
Chocolate Dipped Madeleines
Light and airy, chocolate-dipped madeleines are a cute addition to your dessert table. Make your own madeleines or pick up a couple dozen at your local grocery store. Dip in chocolate and sprinkle with the topping of your choice.
Creamy Cannoli Dip
Whip up a creamy cannoli dip for a no-bake option that's ready in minutes. Top with shaved dark chocolate and pair with waffle cone pieces, pizzelles, or graham crackers.
Roasted Cauliflower Tacos
Roasted cauliflower tacos are vegetarian-friendly and perfect for a summer baby shower. This recipe only takes 25 minutes to throw together and includes roasted cauliflower, slaw, and a savory blend of spices.
Cotton Candy Mocktails
Your guests will adore these super cute cotton candy mocktails. Coat the rim of a mason jar with lime juice and dip in sprinkles. Add your punch and top it off with fluffy cotton candy and a fun straw. These mocktails are sure to be a hit!