New parents need one thing more than almost anything else, and that's diapers!
If you're the baby shower host for a friend or family member, it's a great time to help them out by making sure they have a nice big supply of diapers for when the baby comes. Having a diaper raffle at your shower is the perfect way to do this – and WebBabyShower is here to show you how. Another great way of getting diapers is to make the parents-to-be a mini diaper cake.
We've helped baby shower hosts entertain over 1 million guests using our easy-to-use platform, so you might say we know a thing or two about playing baby shower games! Read on for an in-depth look at how you can incorporate the diaper raffle game into your shower, and create a fun and memorable experience for all.
How to Play the Diaper Raffle Game
Before you figure out how to do the diaper raffle wording for the invitations, it's important to know what a diaper raffle is. It's pretty simple, and new parents will love it.
Explain on the invitations that you would like each guest to bring a pack of diapers with them. (We'll look over the diaper raffle wording later, but for now, just know that you'll want to include this on the invite.)
Any guests who choose to bring diapers get a ticket for the raffle.
Once everyone has arrived, and you begin the games, you can draw a name from the raffle at random.
The winner receives a prize. We think gift cards are the easiest and most ideal but check out this list for more inspiration!
Throw a Virtual Baby Shower so Everyone

Can Celebrate!

• Free Trial – 7 Day Refund for any reason
• Only 1 Minute Setup!
• 40+ Custom Themes & Matching Invites
• Use Any Online Registry
• Send Unlimited Invites and Updates
• Baby Shower Games with Scoreboards, Give Prizes!

Build Your Shower
---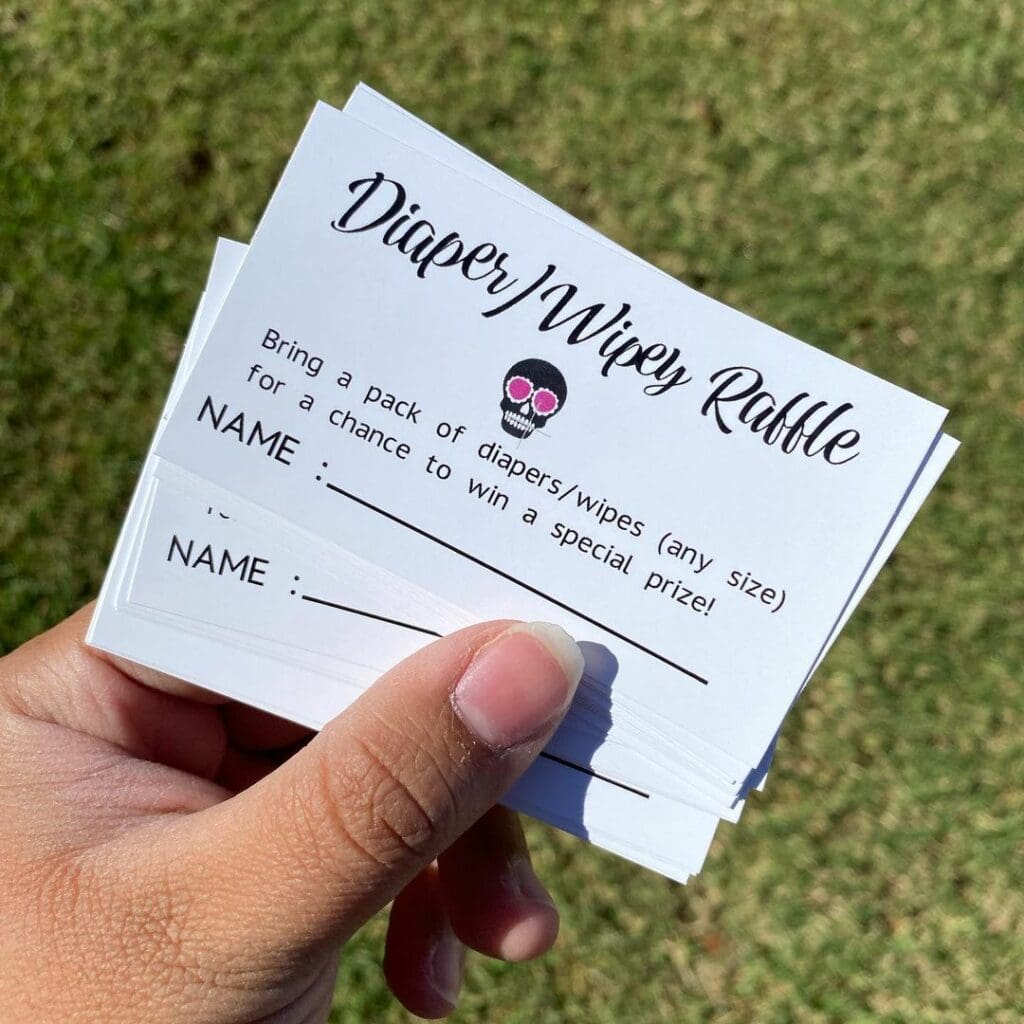 Tips on How to Host a Diaper Raffle?
Most importantly, make sure your guests know that they should bring a pack of diapers with them. You don't want anyone showing up confused about the raffle. When you send out your invitations, let the guests know on the invite that they should bring diapers for a chance to win the game.
You'll also want to think about how many guests will be present. If many guests are attending, have them bring different-sized diapers. You could divide your guest list into two or three groups and ask each group to bring a different size. That way, the parents don't get too many diapers of one size.
When you write this information on the invite, include the diaper brand that the parents prefer. Your guests will appreciate this as it will take away any guesswork when people go to buy diapers. If you're not sure what type of diapers to ask the guests to bring, and the parents don't have a preference, check out this link to the best disposable diapers.
Host a Raffle at a Virtual Shower
With a virtual baby shower, the raffle will be slightly different. On the invitation (or through email) you can assign each guest a number. Then, during the baby shower video call, select a random number, and that guest will be the winner. They can send the diapers by mail to the new parent's home.
Are you wondering how to win this game? As a former diaper raffle champion, WebBabyShower's marketing manager, Corinna, has a tip. "To win, just say that you never win anything to the guests around you…and somehow you win."
Invite Wording Examples
It can be a little confusing to add diaper raffle wording to the invitations. Here are some in-person baby shower examples to help:
Please join our diaper raffle! Bring a pack of diapers with you, and you'll be entered to win a fantastic prize.
Rather than a card, please bring a pack of diapers to the baby shower! We will enter your name in the party's raffle, and you could become the winner!
This baby shower includes an optional raffle. Bring a pack of diapers with you, and we'll add your name to the raffle list!
Check out these diaper raffle wording ideas for a virtual baby shower:
Please be part of our virtual diaper raffle! To play, send a pack of diapers to the new parents. Please inform the host, and you'll be given a number. During our group video call, the host will choose a number at random, and the winner will receive the grand prize!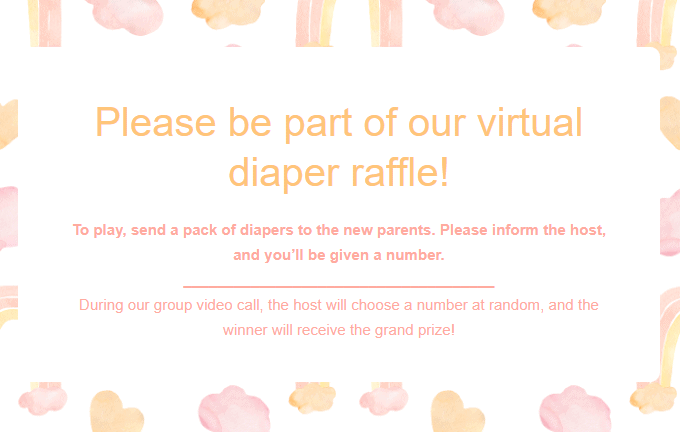 (You may also choose to include diaper sizes and brands in the wording to help the guests know exactly what to buy.)
How Many Raffles and Prizes Should There Be?
Are you trying to decide how many prizes you should give for the raffle? This mostly depends on the number of guests and t and how many participate in the raffle. Generally, you'll need between one and three prizes. Want to know more about prizes? Check out our guide on the best baby shower prizes.
A small raffle with less than six guests entered should only need one prize. If you have a mid-sized group of between six and ten guests, use two prizes. If your raffle has more than ten guest names, use three prizes.
Diapers can be a bit expensive, so it's nice to choose a good prize to reflect this. Make the prize something people will be genuinely excited about. Maybe movie tickets, a gift basket, or even an experience like a meal for two or a day at the spa!
Download Your Printable Diaper Raffle Instructions and Wording
Diaper Raffle Wording Doesn't Have to Be Confusing
Diaper raffle wording can be confusing at first, but with the examples here and our printable instructions and wording, it's simple. You can even modify this game and use it during a virtual baby shower; There are plenty of options, and WebBabyShower is here to help. We want every baby shower to be easy to plan and a ton of fun to host.