Introduction
Baby showers are a very special day for everyone involved. One of the most important aspects of planning your own shower is ensuring that there is plenty to do when the guests arrive. After all, if the guests are happy, the new mom is happy!
One of the best ways to keep everyone occupied and entertained is to pick a fun game to play, and there are so many great ones to choose from.
Baby shower Bingo is a Fave Baby Shower Game with a New Twist!
The classic Bingo game has always been a baby shower favorite. But here at WebBabyShower, we've created our own version. It's Bingo, with a twist! If you are looking for more free printables game, we also created a baby word scramble!
Throw a Virtual Baby Shower so Everyone

Can Celebrate!

• Free Trial – 7 Day Refund for any reason
• Only 1 Minute Setup!
• 40+ Custom Themes & Matching Invites
• Use Any Online Registry
• Send Unlimited Invites and Updates
• Baby Shower Games with Scoreboards, Give Prizes!

Build Your Shower
---
Get Your Free Baby Shower Gift Bingo Printable Now
What is Baby Shower Bingo?
Baby shower Bingo is a fun take on the classic game of Bingo. If you're familiar with the game, you'll pick up the concept right away. Each baby shower guest receives a game card, and they fill the squares with options from a set list (more on that below).
Bingo is a great game for a baby shower (or virtual baby shower) because it requires no skill, and gives everyone at the shower something to keep entertained. It's a fun, simple way to add that extra bit of excitement to the process.
Our Gift-Based Version of Bingo
Throughout the years, traditional Bingo has morphed as people have found new ways to play. We're offering our own gift-based version. It's fun! It's free! And it's printable! So no worries about having enough cards for all your family and friends to play.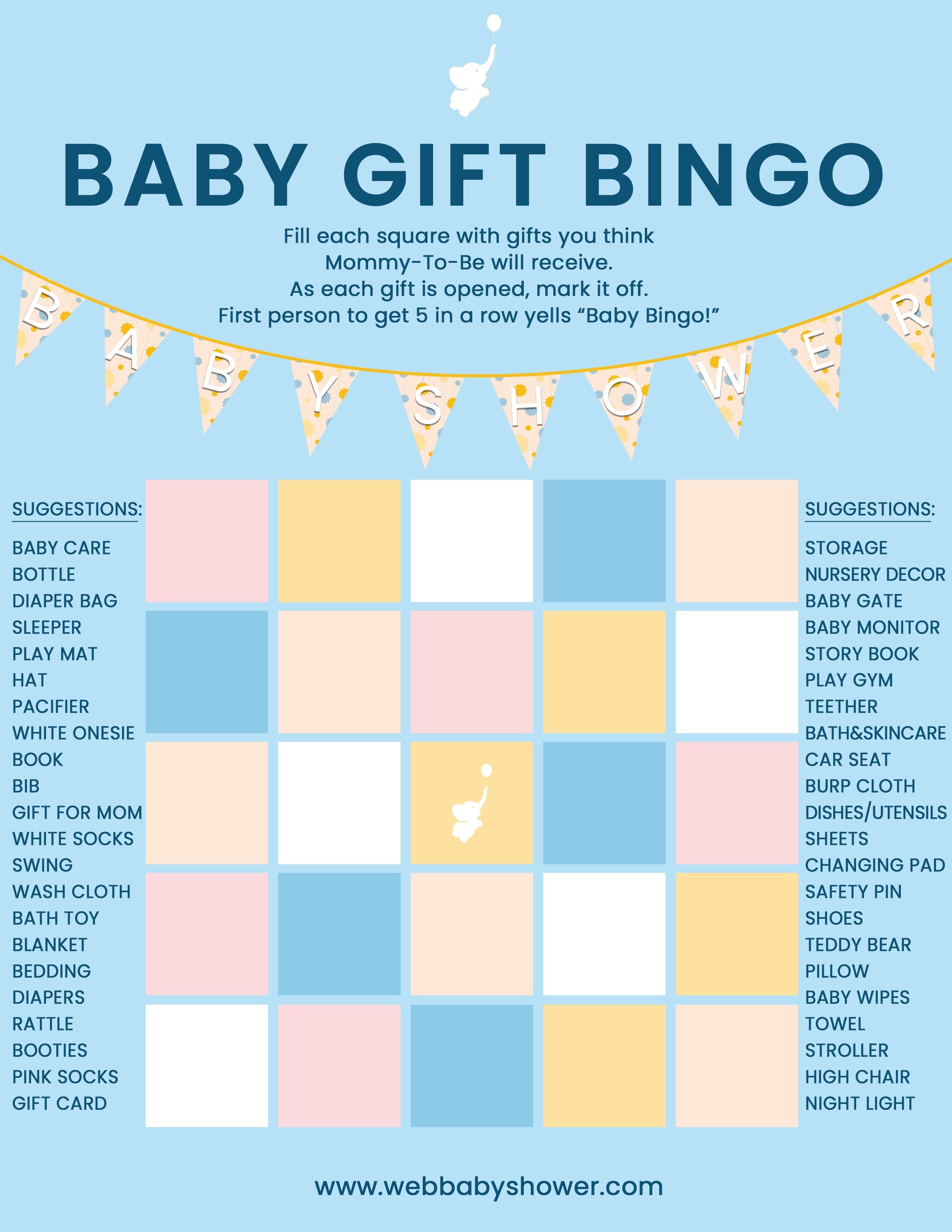 Baby Shower Bingo Printable
One common flaw with printable Bingo is the answers are all located in the same place on each card. That's not really Bingo! Our printable baby shower fill-in version of the game avoids this completely. Every card will be different! Plus, with a printable game, everyone gets a fun keepsake from this special day.
How to Play?
How to Play
First, everyone gets their own Bingo card. Instead of letters or pictures, the squares are blank. Guests will then fill in each square with a gift they think Mommy-to-Be will receive at the baby shower. But don't freak out! We have a list of suggestions to fill in the squares, so you can fill in the card quickly and easily.
Gift Bingo Suggestions
When it comes to filling in your blank Bingo squares, we have plenty of suggestions: Bottle, Sleeper, Bib, Diapers, Rattle, Baby Monitor, High Chair, and more! Remember, these are simply suggestions. Your guests can also come up with their own ideas if they think they have a better idea of the gifts that will be given
Bingo, We Have a Winner!
Once guests have filled in their squares with gift items, the game begins. As each gift is opened, mark it off. The first person to get five in a row (Up/Down, Across, Diagonally) yells, "Baby Bingo!" And we have a winner!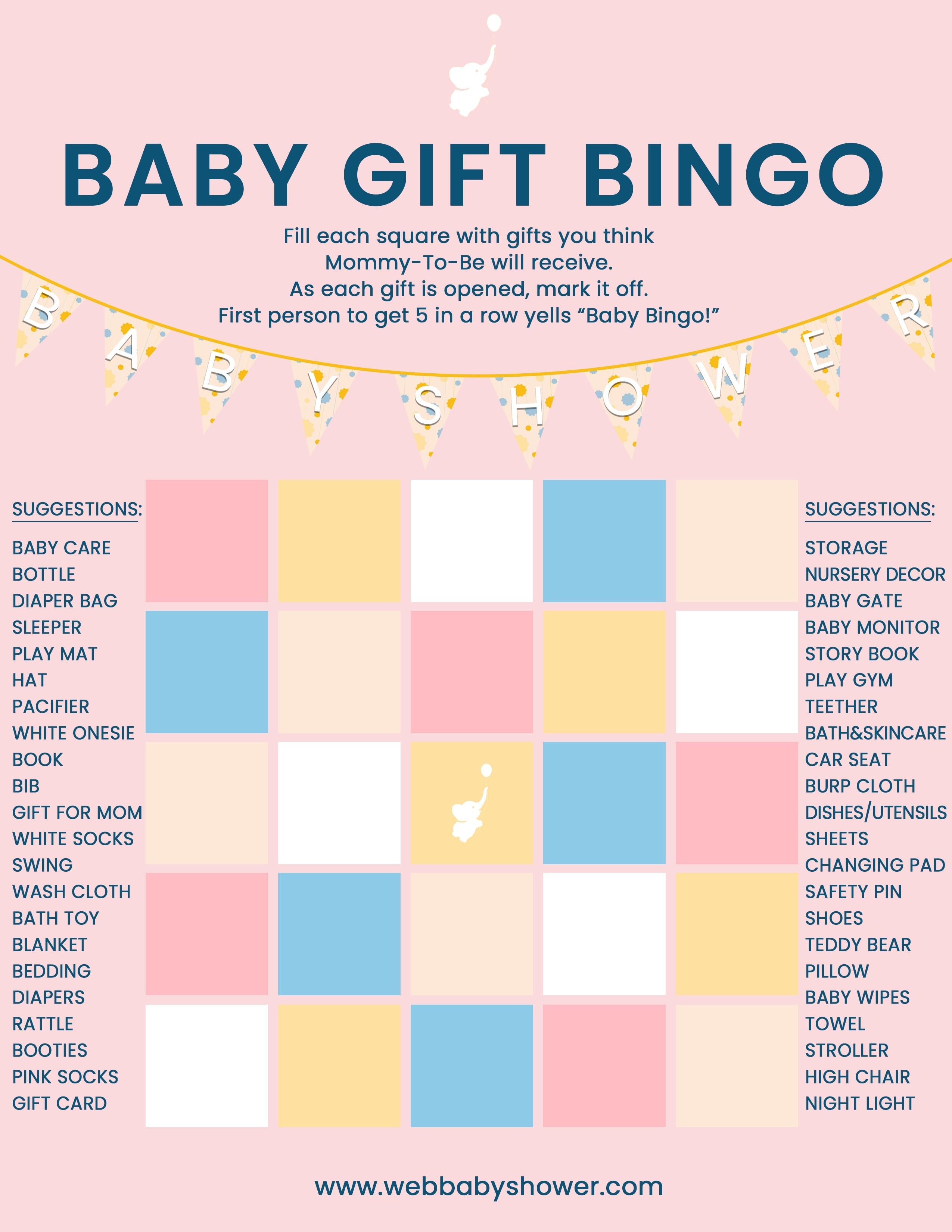 Customize and Print!
Want Color Options?
No problem – you've got them! Whether your baby shower décor is primarily pink, blue, or gender-neutral yellow, our Baby Gift Bingo cards will easily coordinate with your theme.
Baby Bingo
Ready to play our free, printable Baby Shower Gift Bingo? Then get your cards now! We promise your guests will have a blast predicting the gifts Mom-to-Be will receive next. This new spin on classic Bingo is sure to spark lots of guest interaction – and friendly rivalry! More games? We have our famous fathers and famous mothers printable baby shower game!
Perfect for a Virtual Shower
This game is also perfect for a virtual baby shower. Because our games are printable, you can have each guest print out their own version ahead of time. Not only can they get prepared on their own time, this gives them all their own tools to keep track of the process as it goes. This is a great way to ensure that all your virtual guests stay engaged and entertained throughout the entire party.
Download PDF of Baby Bingo Printable
Plan Your Baby Shower
Be sure to check out our latest articles, featuring even more games, gift ideas, and all-things baby shower. Here at WebBabyShower, we want to help make your baby shower – in-person OR online – is simply amazing!
More games
If virtual baby shower Bingo doesn't sound like your thing, then we actually offer several other games for you to play. After all, it's most important that you pick a fun baby shower activity for all your shower guests, and you know them better than anyone! So if you are looking for more free printables game, we also created a baby word scramble, and several other fun games that you can find on our website!
Why Have Games at Your Shower?
Before we wrap up, it's important to note that it's your shower, and you only have to include games if you really think they would be appreciated by everyone involved. Don't forget to keep the focus on planning the baby shower of your dreams. Games are a great way to get everyone involved, but no one knows what kind of activities are preferred by your guests like you do.
Many people like to add games to their baby shower because it is a great way to ensure that all your guests are entertained and engaged with the whole process. However, if your guests have no problem keeping themselves entertained, then games might not be necessary. Sometimes, the simple act of getting everyone together for good conversation is all that people need.
So, remember to keep your own preferences first and foremost! You will have a good time if the guests have a good time. And whether you are an expectant mother planning her own shower, or a close friend or family member of the mom-to-be, remember to keep the new parent's needs in mind above all!
See how a great online baby shower works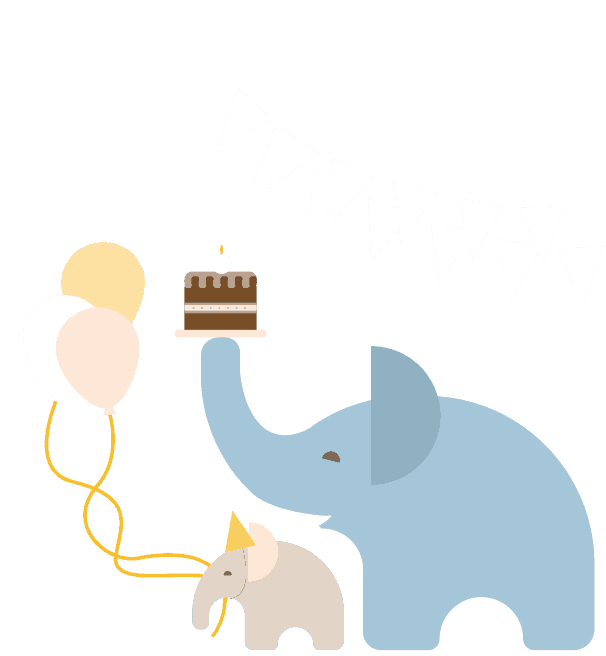 Conclusion
Thanks very much for reading our guide on baby shower Bingo! Bingo is a fun and simple addition to most any baby shower, and we hope we have shown you why with this article. If you think that Bingo is something your guests and the new mother will enjoy, then print off your own free copy with WebBabyShower!
If you have any questions or comments, feel free to leave them below!