The Modern Baby Shower Opens Up New Possibilities
We have updated this page for our lives in 2021.
Right now, more than ever, WebBabyShower makes sense, and that's just one reason BabyList, What to Expect, and Babypalooza all wrote articles about WebBabyShower recently.
In this article, we're going to give you all the tips you'll need to turn your traditional baby shower into a virtual baby celebration.
An expectant mom might be understandably upset at world events during this special time in her life, but we're going to give you all the baby shower ideas you need to hold a virtual event just as fun as an in-person party!
"For under $80 (cheaper than the average in-person shower), WebBabyShower offers an all-in-one place for all your baby shower needs"

How to Host a Virtual Baby Shower
Everything Needed to Host the Perfect Virtual Baby Shower
We'll break down all the details of planning for hosting a virtual baby shower—there's a lot of work to put together an event, but staying organized can make it all super easy!
First, learn how to set up an online shower, choose a theme, and get matching invites for the party. We at WebBabyShower will show you how to play games online, schedule multiple video calls, and more.
Get answers to your questions about how to include low-tech grandparents, and whether opening gifts during the video call is a good idea or not. We will cover all the planning details so you can get inspired to host a fantastic event!
Easily use WebBabyShower to make your planning stress-free and easy! Our virtual baby shower is ideal for any type of baby shower event, and you can get started in just a few minutes!
Throw a Virtual Baby Shower So That Everyone Can Celebrate!
• Free Trial – 7 Day Refund for any reason
• Only 1 Minute Setup!
• 40+ Custom Themes & Matching Invites
• Use Any Online Registries You Want
• Send Unlimited Matching Invites and Updates
• Private Video Hosting for everyone
• Baby Shower Games with Scoreboards, Give Prizes!
How it Works
---
Online Baby Shower Coronavirus Update
Just a quick note to say – virtual and online showers are more important than ever. And YES during your pregnancy you can still have a great shower experience. If you have any questions on how it works, just contact us at customer service Monday – Friday. customer.support (at) webbabyshower.com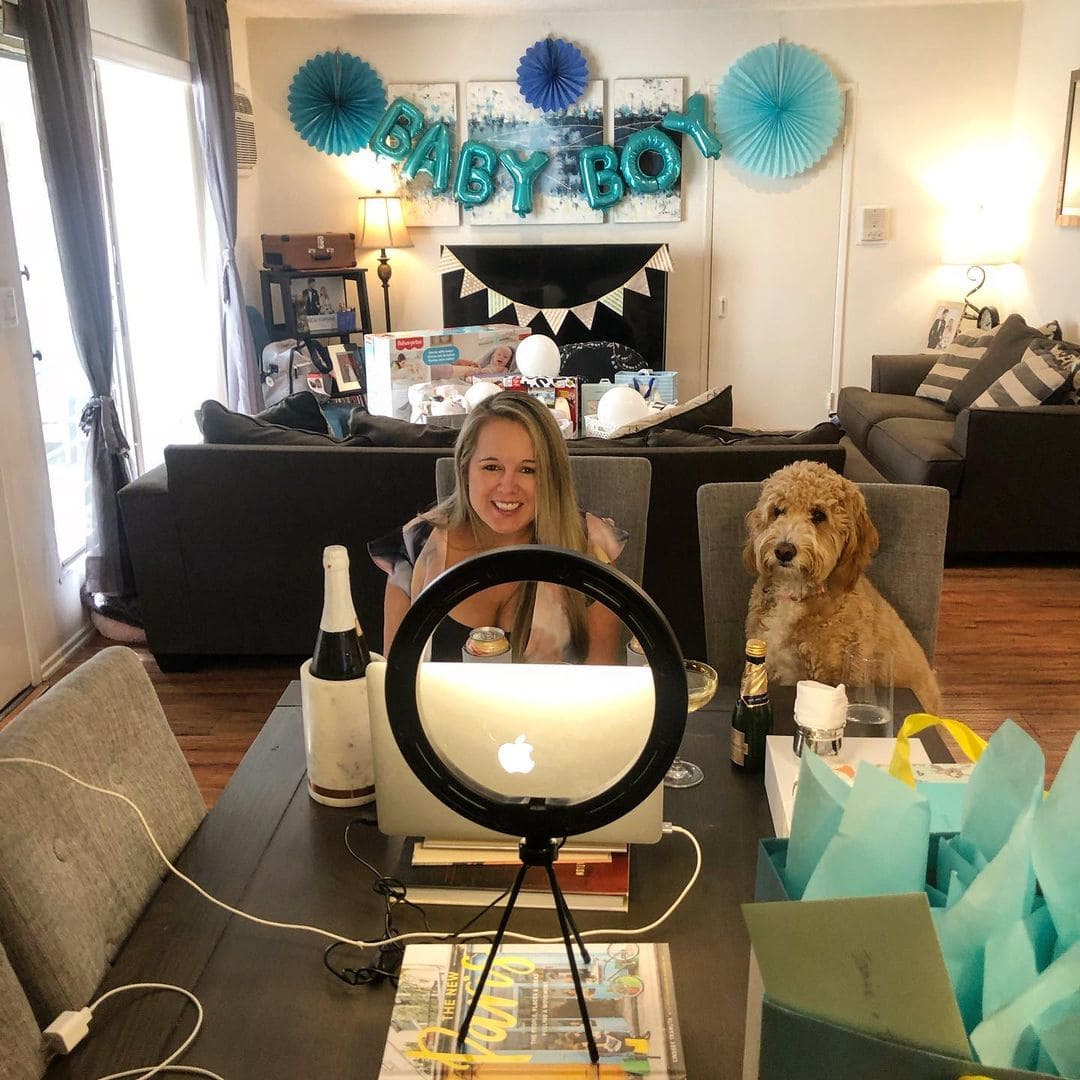 Virtual Baby Shower Website
Your event needs a website—it gathers all your party information into one place and gives your guests a place to communicate and ask questions, just like with a wedding.
Creating a virtual baby shower website makes your planning process a breeze, plus you can easily share information with guests and the parents-to-be. You'll also be able to set up your site in minutes and save yourself hours of work. And, unlike a Facebook page, your website is private, and only your guests can access it.
With WebBabyShower, you'll have access to baby shower themes that you can customize. You'll also be able to send out matching digital RSVPs with the date, time, and other party information.
Everything will look put together because of your unique theme.
As the host, you can quickly upload photos, videos, and messages on the website. Your guests can say hello to the expectant mother and hear updates as the baby shower gets closer.
With WebBabyShower, all of this is included in an all-in-one package.
Choose a Baby Shower Theme
After starting with WebBabyShower and setting up your website with our easy prompts, you'll have the chance to choose a baby shower theme that reflects the spirit of the event.
You can use the theme you choose to decorate the website background, make beautiful invitations, and even use it for video call backgrounds.
Send Digital Invitations
Send out tons of invites digitally! Using email, allow your guests to RSVP and schedule a time to video chat for the baby shower. You might also consider sending a Save the Date six weeks before the shower—enough time for you and the guests to get organized.
Both can be done separately from your WebBabyShower website, or you can combine them.
RSVPs let you know how many guests are coming—letting you decide if you want to do one video call or several.
If you need some suggestions for the digital invitation, we have lots of ideas for wording virtual baby shower invites.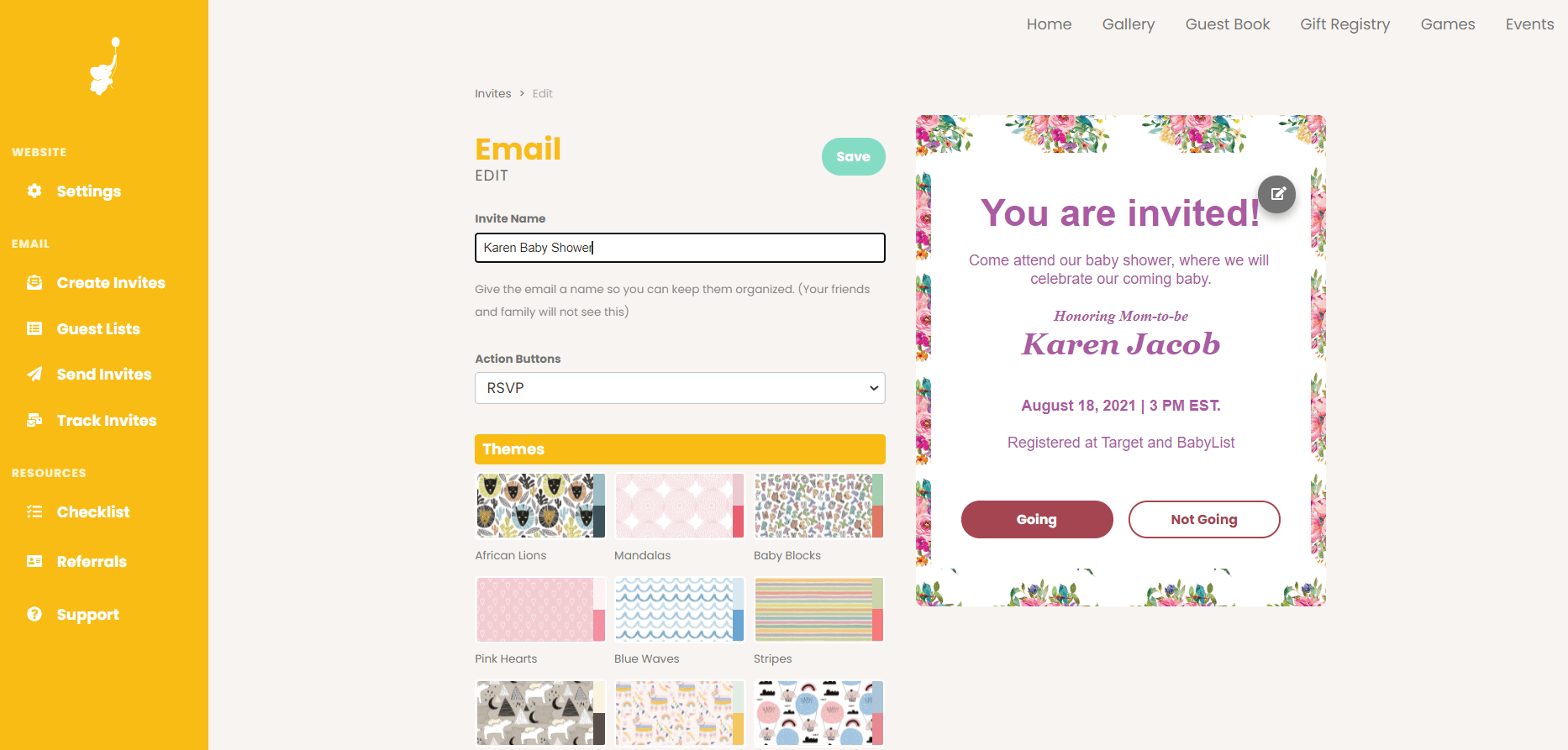 Create a Virtual Baby Registry
With WebBabyShower, you can offer your guests easy access to your registry. Politely share links to the baby registry on your website, and include them in your invites if you want to.
Decide on the Video Call Platform
After you set up your invites and registry links, you can decide on your video call platform. There are a lot of great platforms out there, like Zoom and Skype—and WebBabyShower is currenty in the process of building its own in-house video chat feature for future virtual parties.
Suppose you have family that is unfamiliar with video chats. In this case, you can always try out a video call before the event. A trial run can help them feel more comfortable.
Decorations
You should absolutely decorate for a virtual baby shower! Keep it festive with some background decorations, like banners and balloons, that work with your theme.
There are also tons of Zoom backgrounds available for your virtual baby shower.
Plan Virtual Baby Shower Games
For any party, planning some activities is a great way to get people talking and enjoying themselves. Add some virtual baby shower games to liven up the event!
And don't worry, we offer a wide variety of games—from traditional to unique. There are many options to help you choose the activities that best fit your guestlist.
For groups of close friends, try out a hilarious game like Labor or Horror. If your guest list includes grandparents or your co-workers, the classics might be better—we have baby bingo and trivia games available! And the best part is we have directions and even printables to make planning super simple.
The thing to remember is that the guests and new parents should have a good time. With our collection of more than 38 games, you can easily pick something everyone will enjoy.
Offering prizes is also a great way to encourage guests to participate. You can keep track of winners with our built-in scoreboards for some of our in-app quizzes on the website.
Keep in mind that when a party is virtual, multiple time zones are the norm. You can organize some games on the website that people can play in advance if they are on a whole different time schedule. That way, they can still be part of the festivities!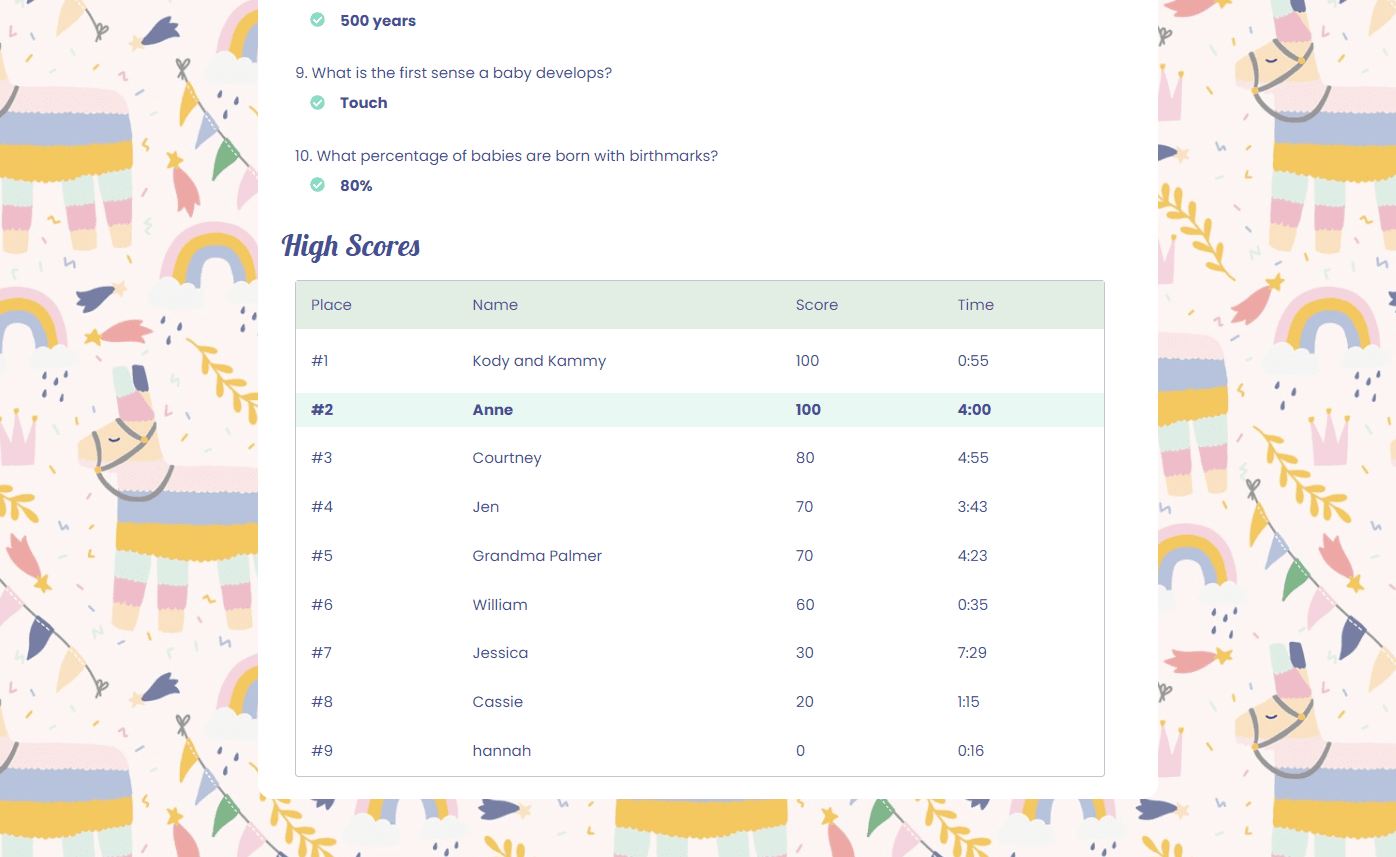 Opening Gifts
For a typical baby shower, mom will open presents during the event. But a virtual baby shower gives you other options.
Remember that it isn't necessary to open presents for a virtual party or during a video call. But if you want to, check out these suggestions:
Nursery Tour: Ask mom to unwrap all the presents ahead of time. Then, place them in the nursery and show guests the space through a video call.
Slow Boat: Mom can open presents one at a time on the video call, making time to talk with each gift giver. However, this can take quite a while and virtual events are more fun if things keep moving, so we don't suggest doing this.
No Nursery Tour: If the nursery isn't ready yet, try this. Unwrap the presents ahead of time, then show them off on the video call while thanking each guest. This saves time and is still fun!
Skip It: The new parents don't need to feel pressured to open their presents on camera. Instead, send out individual thank-you notes to each guest, letting them know the gift is appreciated. This means the most to guests!
Share Virtual Baby Shower Agenda
The host can share the baby shower video call itinerary ahead of time—guests like to know what is expected and how long the event will be. You can do this in a pre-video call email or send out a slideshow with the order of events.
It's best to keep the call schedule to an hour or less, and stick with fun activities that keep everyone entertained.
Not sure what to do? Here's a sample itinerary. It looks fast, but it only takes around 40 minutes:
Welcome — Hosts tell everyone hello and get things started. (2 minutes)
Icebreaker Activities — Ask guests to share parenting advice or introduce themselves if they don't know each other. (5 minutes)
Pregnancy Update — Mom talks about how she is feeling and gives an update.
Play 2 to 3 Games — Play some virtual games, or if the games were played online in advance, announce the winners and show off the prizes you'll be mailing. (15 minutes)
Virtual Nursery Tour — Show off the new nursery, or the gifts if the nursery isn't ready. (5 to 10 minutes, keep it short)
Wrap Up/Goodbyes — Let the guest of honor say goodbye and thank everyone for being there. (5 minutes)
10 Ideas for Throwing a Virtual Baby Shower
Below are our top tips for holding the virtual party that any expecting mom deserves. We understand that there are limitations with any technology, but these virtual baby shower ideas will help you have the enjoyable, engaging, and memorable celebration of your dreams.
With careful planning, the right choices, and a lot of enthusiasm, you will hold a virtual celebration that will make any mom feel appreciated and honored!
Virtual Baby Shower Etiquette
We have hosted thousands of successful baby showers for happy families spread across the globe. As with hosting any type of shower, you need to know the etiquette basics and how to be a good host.
Setting up an online shower, planning games, sending out invites, and all those other details can be made simple with our guide, Virtual Baby Shower Etiquette. Learn all the details you should keep in mind as a host.
1. Host Multiple Baby Showers
For most events—especially if your guests are from different groups, like work and family—you should host multiple baby showers. If there are too many people on a call it's hard for everyone to talk, and if guests don't know each other it can be awkward.
Plan for at least an hour-long video call with each group. That way, there's time for every person to participate and visit with mom!
2. Be Genuine and Honor the Mother
If you have a genuine need for a virtual baby shower, we've found that friends and family are thrilled to have a solution when everyone can't be physically together. Whether or not it is unusual really isn't a concern.
We know the etiquette police are in full force around weddings and baby showers. Still, it would be hard to imagine anyone being so snooty as to tell a pregnant woman on bed rest, on military assignment, or who has moved away from home for work or school that she can't have a shower just because she isn't at home.
We help women like that every day!
Now in a social distancing world, we expect that virtual baby showers are here to stay and are more relevant than ever. However, it always behooves a host to be tactful and not offend her guests' sensibilities. If you've already had an office shower, a girlfriends' shower, and a family shower, then having a virtual shower should be thought through.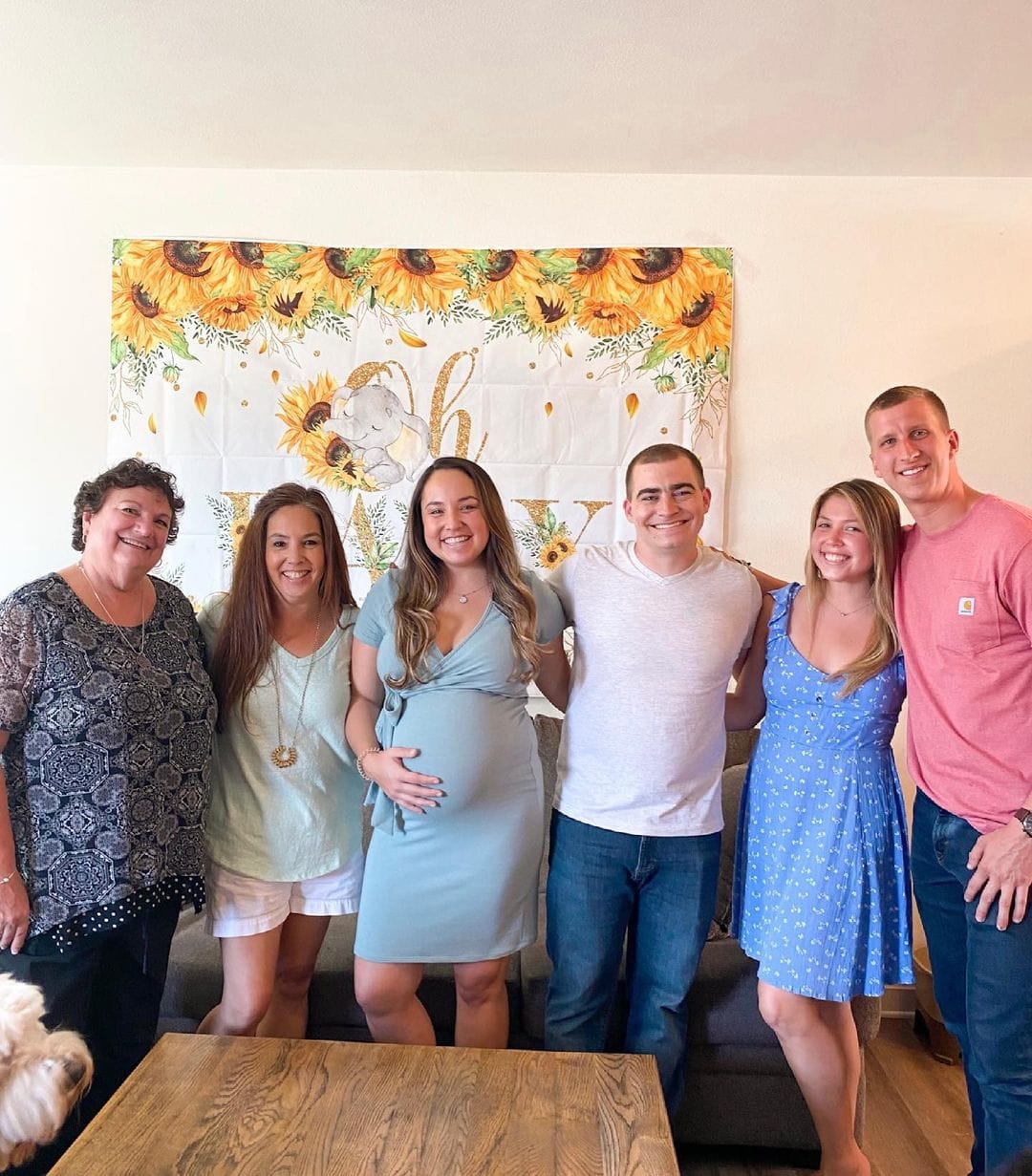 3. Don't Over Do It
Whether you are getting together for an in-person shower experience or online in real-time, make sure the shower is in honor of the expecting parent(s) and that the guests feel they have been invited to something unique. This is true of any type of party, really.
It's super easy these days to get caught in some Instagram envy and overdo it online. We all do it, and sometimes in our excitement, we overdo it without even realizing it. While you want everything to be perfect, from the virtual backgrounds to the virtual baby shower games, it's important to not get carried away.
So yes! We want to see your belly and ultrasound photos or sweet week-by-week pics, and we love to hear how everything is going, but let it happen naturally.
Our virtual baby shower can take place over months, not days, so there is plenty of time to share videos and even do a live event the easy way.
4. Keep Your Baby Shower Private and Special
WebBabyShower focuses on privacy—not only because we have expecting and adopting parents and their babies to protect, but also to provide a more intimate venue for friends and family to gather around the pregnancy.
Want to check out other great venues? Check out our best places to have a baby shower guide.
Suppose your social media "Baby Event" page becomes publicly available to anyone and everyone searching for online baby shower ideas. In that case, it's probably not going to make your guests feel like they've been invited to something unique.
This is the downside of a Facebook baby shower. Even if you don't use WebBabyShower, we don't recommend using public "events" or public social media tools built to sell you ads for your online shower. Keep it safe and special!
Of course, every shower URL is easy to share on Facebook, Twitter, etc., when you want to.
5. It's a Celebration—Give Your Guests More to Do Than Just Send Gifts
Would you invite everyone over to your house, grab the gifts out of their hands, and slam the door in their faces? Probably not! The biggest cry of "That's so tacky!" usually comes when guests feel you're just making a "thinly veiled" demand for gifts.
If your guests took the time to write baby shower messages and quotes inside the books, read them. This goes back to the first point about being genuine—which is a must—but also to hosting your virtual baby shower in a way that makes the guests feel they are more involved than just sending gifts.
WebBabyShower is already set up to accomplish this, and we've always been focused on creating an online gathering that is special to the pregnancy experience.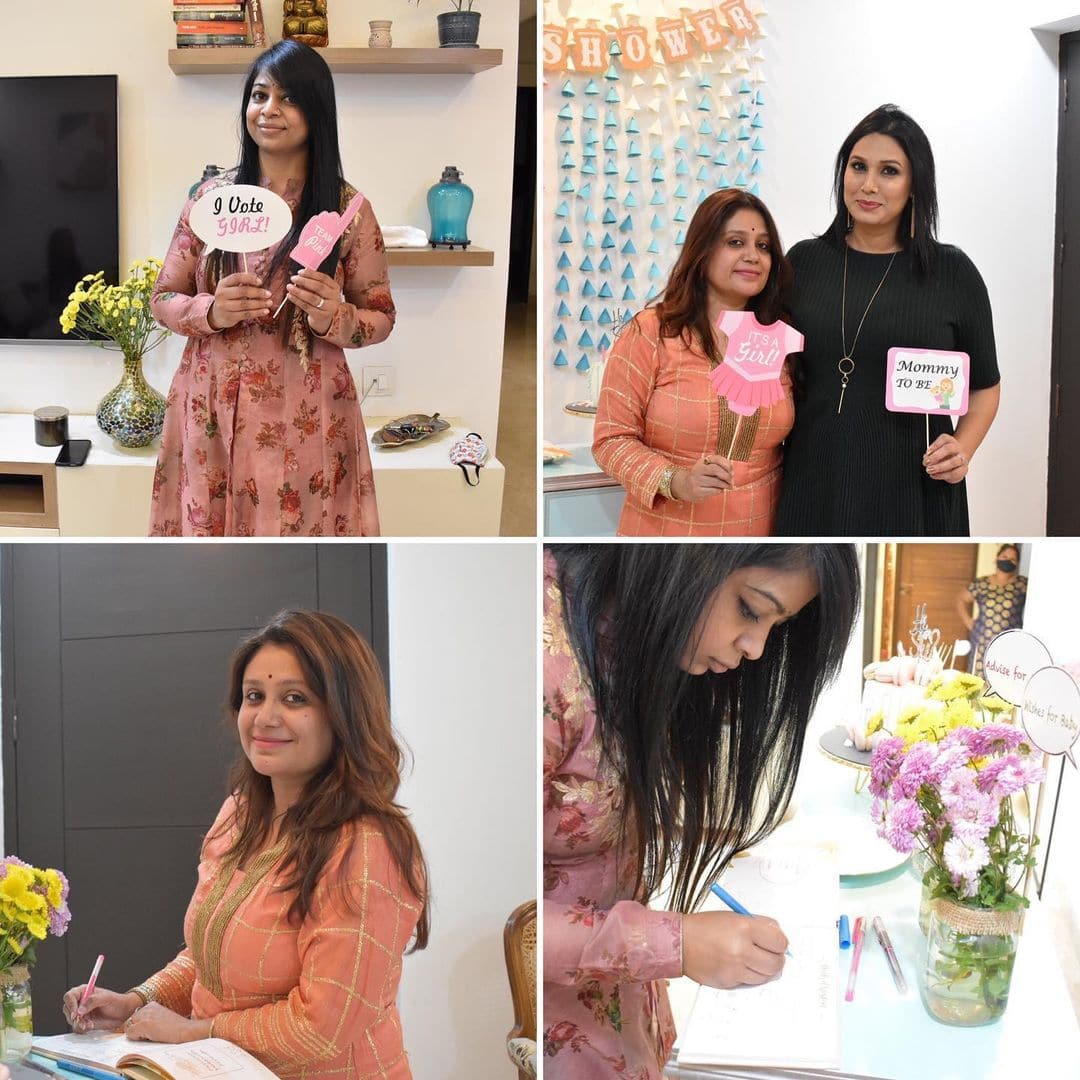 6. Have a Close Friend Help You "Host"
It's OK for the expecting or adopting parents or family to sign up for and even run a WebBabyShower—the old-fashioned etiquette rule that a non-family member should host is both dated and doesn't apply online.
But if you think your guests may be sticklers for this point, even with a virtual baby shower, then ask a close friend to co-host the shower with you. Solved!
Not only this, but another pair of hands can also be really useful if you are planning multiple baby showers.
WebBabyShower makes it easy to add friends and family as co-hosts so that they can help you send invitations, add to your baby registry, and manage the online shower.
7. Make Sure Tech Is Set Up for Everyone
Technical difficulties are not something you'll want to deal with during your virtual baby shower. That's why it's essential to ensure that either you or whoever is helping you organize the event has given guests all the information they need to call into the baby shower without any delays or technical problems.
As of late, Zoom has replaced Skype and has become the favorite tool to use for video calls. If you decide to use Zoom, make sure your guests know how to set up the application on their computer, and what's needed to make your virtual baby shower run as smoothly as possible for everyone involved.
Zoom is an excellent option for virtual baby showers because you can use virtual decorations and create customized backgrounds. No need to spend loads on streamers, balloons, and extra decorations!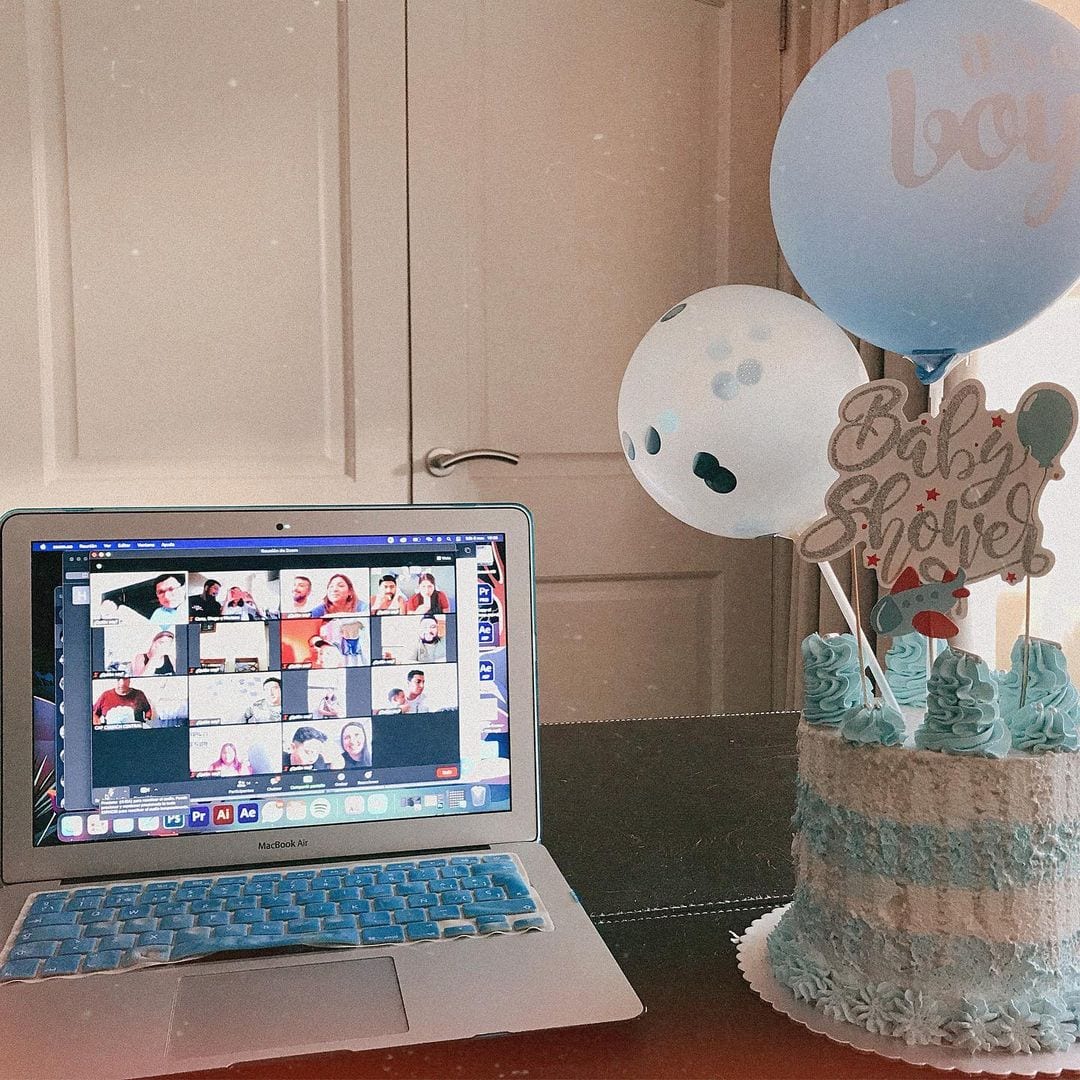 8. Thank Your Guests
It's up to you to decide if a handwritten note is needed, or if an email thank you would suffice (I know Miss Manners may disagree, but I am living in this millennium with you).
Either way, make sure you graciously accept your guests' gifts and let them know you are grateful for their participation in your long-distance baby shower.
We've even got some fantastic thank you messages for you in an awesome cheat sheet for every occasion.
With a little bit of virtual baby shower etiquette, throwing an online baby shower can be a tactful and fantastic social alternative when pregnant moms and expecting parents are not geographically close to family and friends.
9. Record It for the Memories
The new parents will want to look back on these memories later, so be sure to record through photos and videos. With WebBabyShower, you can record updates with the expectant mom leading up to the event.
Use all the tools available with WebBabyShower to keep family and friends in the loop—especially if they can't make it to the party. You can also add a video of the virtual baby shower on the website for guests who can't make it the day of.
Bonus TIP
Keep a checklist with you while doing the baby shower preparations. That way, you'll be prepared for anything! Download our checklist to help you plan.