Throwing a baby shower is one of the most special events for an expecting mom. It's an opportunity to have all your closest friends and family together to celebrate this amazing time in your life. However, when it comes to baby showers, you will quickly discover that they are steeped in tradition and custom.
But what if you want to forego this traditional baby shower entirely? What if you are more interested in doing things your way? This is where the virtual baby shower comes into play. Many moms are opting for a virtual baby shower these days, and this is a trend that was starting well before coronavirus concerns. A virtual baby shower simply offers the convenience of getting everyone together without the hassle of scheduling and getting everyone in one place.
In This Article
In this article, we're going over everything you need to know about planning a virtual shower with WebBabyShower. We'll give you tips and tricks to make your special day into an event that all will remember!
What Is WebBabyShower?
If you are wondering, "What is the best virtual baby shower website platform to use?"then you're in the right place. We are the original online platform for shower websites and have continued to lead the market. We have been recommended in major pregnancy publications like Babylist and What to Expect.
"For under $80 (cheaper than the average in-person shower), WebBabyShower offers an all-in-one place for all your baby shower needs"

WebBabyShower is ready-made to meet the individual criteria of a baby shower but with full privacy protection that you can't get with a Facebook event. An online baby shower is not actually a one-day event. With plans starting at 6 months, it's a shower plus a baby blog that can take an expecting mother all the way to birth! Of course, it also has tons of fun baby shower stuff for the guests and expecting parent(s).
To find out more, check out our How it Works page.At WebBabyShower, we give you the web tools to coordinate your remote baby shower so that your guests can either visit the site as they have time or participate in a specific, scheduled live chat or video call. It's really up to you!
Throw a Virtual Baby Shower So That Everyone Can Celebrate!
• Free Trial – 7 Day Refund for any reason
• Only 1 Minute Setup!
• 20+ Custom Themes & Matching Invites
• Use Any Online Registries You Want
• Send Unlimited Matching Invites and Updates
• Private Video Hosting for everyone
• Baby Shower Games with Scoreboards, Give Prizes!
Build Your Shower
---
Virtual Baby Shower Considerations
As you might imagine, there are many considerations that are quite relevant to hosting an online baby shower. Expectant parents have a lot on their plate, so it can be helpful to break down the responsibilities beforehand to be sure that everything will run smoothly. Here are some of the top factors to keep in mind when preparing for your online shower:
Budget
As with planning any type of party, you need to think about your budget. This is a very important consideration. Online baby showers tend to be on the lower end of the budget scale. This is due to the money saved by not having to rent a venue or provide food and drinks.
Connection and Video Chat
With a long-distance baby shower component, you are connecting everyone through an online website. However, this brings its own set of technological considerations. You need to think about whether your guests and the expecting parent(s) have internet access, their level of computer savviness, and what type of accounts they have for social media and live video chat or video calls.
Be sure to provide them with full and complete details of how to navigate WebBabyShower, and be sure to answer any questions that they may have for you.
Activities and Video Calling
Of course, with a baby shower, it is much more than getting everyone together. There are many other considerations that you may have surrounding the shower itself.
You will be happy to know that WebBabyShower has done the "heavy lifting" for you and your guests to make it easy to host a virtual, long-distance baby shower. We have put together a home page, guest book, gift registry links, photo album, video album, "Birthday Bets" game, baby shower quiz-style games, baby photo guessing games, adorable baby shower themes, a guest list manager, an invitation manager, privacy options and more. To use WebBabyShower, there is nothing to download and your guests do not have to create an account in order to participate.
Our focus is on giving you the options to create the party of your dreams! We don't want you to feel so restricted by the constraints of an online party. There is plenty of room for creativity, and that's what you get with our platform.
Hosting a long-distance baby shower can be as simple or as elaborate as you have the time, energy and budget for.
Guests
Guests are another important consideration. You want to be sure that everyone is included. We have touched on this throughout the article, but WebBabyShower's platform is ideal for ensuring that you can include everyone you want to.
Not only are you able to include people from near and far, but it is much easier to schedule a time that works for everyone due to the fact that travel is not a factor. Additionally, if someone can't make it, they can still leave a note or a message using the guest book at their convenience!
Gifts, Invites, and More
You can stick to using just the online features of your WebBabyShower, or you can add extra personal touches with favors, gifts, and a personalized shower invitation or thank you card.
Just because it's a virtual party, doesn't mean there can't be real-world elements such as invites and gifts. You can even choose to send your personalized invitations by traditional mail if you so choose. For gifts, you can register on a baby registry and help your guests to navigate the gift-giving process.
We have created a Thank You Card and Gift Tag printable which you can use freely.
See how a great online baby shower works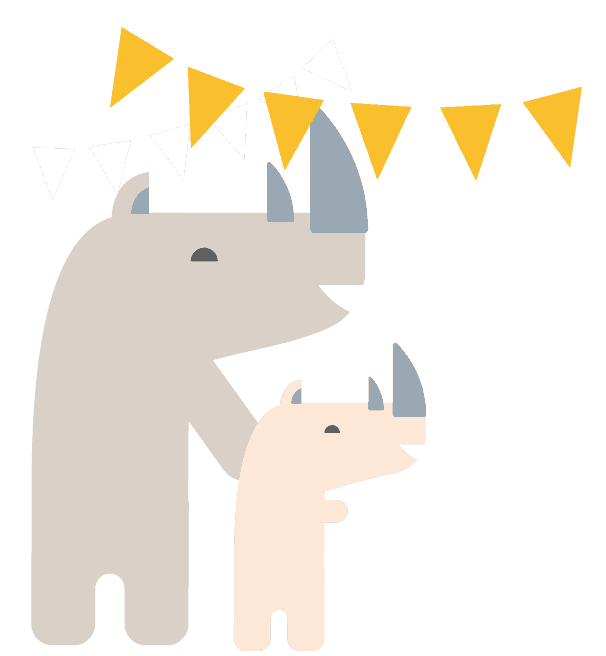 How Much Does It Cost?
Our plans start at 6 months so you can use your shower website all the way to a birth announcement. Unlike lower-quality offerings, we use one easy payment. Get started on our pricing page.
WebBabyShower Frequently Asked Questions
Here is a list of common concerns about hosting a virtual baby shower. The questions link to their answers in the WebBabyShower Help section or on the WebBabyShower FAQ:
Conclusion
Thanks so much for checking out our guide on how to create your own baby shower website to host your very own virtual baby shower! As you can see, the process is simple and straight-forward, and offers many of the same benefits you would find in a traditional shower. However, we understand that it is your party. Above all, you need to plan the shower that is best for you! We hope we have helped to make this decision easier!